"Thank you so much for bringing me here. This place is absolutely amazing!"
It was one of those moments a mom could never forget.
That fact that several hours into our trip, my son would take time out of his little life to pull me aside and thank me was truly something special. And more than anything, a testament to beauty, wonder, awe and joy that is Parc Omega.
The Ultimate Canadian Wildlife Experience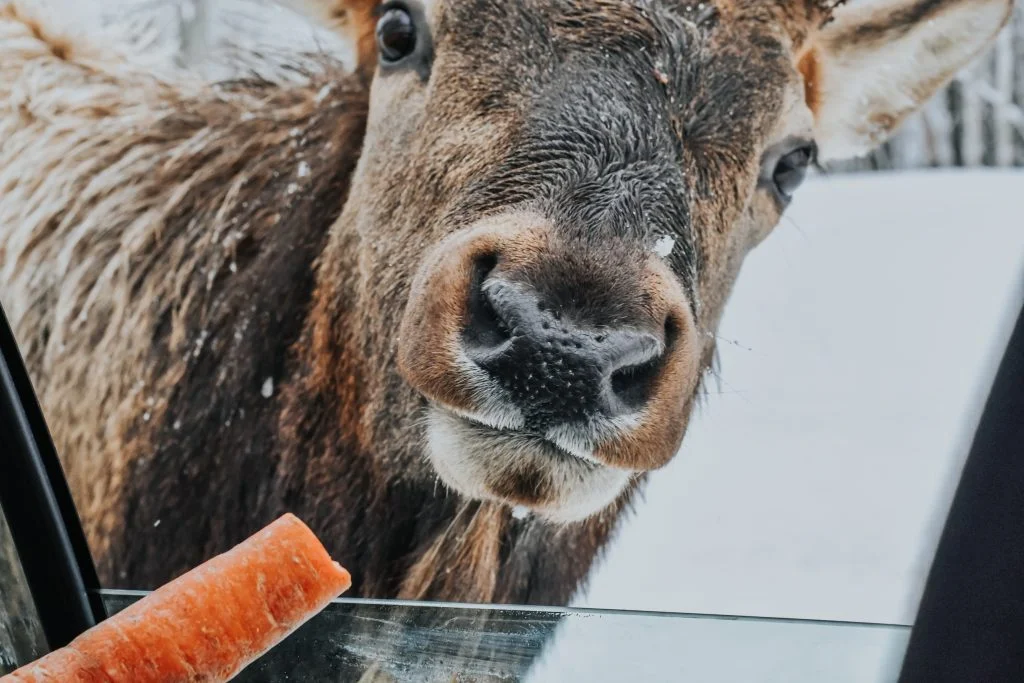 Located just one hour from Ottawa and one and a half hours from Montreal, Parc Omega is a wildlife experience unlike any other. There are so many things to do and see that it was hard to decide exactly where to get started, but in the end, we opted to begin our day with the park's famed 15km driving trail.
This trail winds through the entire park, allowing you and your family to get an up-close look at all the amazing Canadian wildlife from the comfort of your own vehicle. Over every hill and around every corner, my kids, husband and I spotted something new. And best of all, the park allows and encourages you to feed the animals (carrots only!), meaning you don't just get to watch your furry friends – you get to interact with them too.
And there was no shortage of animals to feed. Parc Omega winter is a magical time, with some of Canada's most famous four-legged residents out in full force, including:
Deer
Bison
Elk
Arctic Foxes
Wolves
& so many more!
As we made our way through the trail, my family and I couldn't help but feel like Parc Omega was our own Canadian Jurassic Park. Although the only screams here were screams of joy (as well as plenty of giggles) as we interacted with the animals.
My kids LOVED feeding all the deer and elk, who would walk right up to our car in anticipation of a tasty carrot. Even after giving them their treat, they'd often hang around in hopes of seconds, with a few going as far as to keep their gums pressed up against the window as they waited for more!
This front row seat for animal snot and silliness had my kids howling in laughter all afternoon. Mom and dad thought it was pretty hilarious as well…by the time we finished the trail, our cheeks were all sore from smiling and laughing so much.
Land of the Pioneers
Halfway through our car tour, we made our way over to another one of Parc Omega's famed attractions: Land of the Pioneers.
This area of the park offers several natural attractions at once, including a playground surrounded by friendly deer, a wolf and bear viewing area, a trading post with plenty of natural artifacts, the enchanting house, which is a beautiful original sculpture by artist M. Therrien, and the Lumberjack Camp, where we were able to warm up with a warm mug of hot chocolate while sitting around the fire discussing our favourite animals from the trail. And if that weren't enough, there is also a farm where the kids can pet donkeys, ponies, and rabbits, and an area with old native tipis where you can learn about the history of Quebec.
Unfortunately, we were on a very tight schedule, and had to depart before taking advantage of all Land of the Pioneers has to offer. Winter is an especially neat time in this area of the park, as they have several trails where you can snowshoe alongside the plentiful deer that roam the grounds. Before finishing our hot chocolate, our family made a pact to one day return to Parc Omega so we could take advantage of all these other amazing experiences.
Park House Restaurant and Gift Shop
After a day filled with excitement, we were famished, so we left Land of the Pioneers and made our way over to the Park House Restaurant and Gift Shop. This space is absolutely beautiful, offering some of the most wonderful sweeping natural views over the Canadian Winter wonderland. As we sat down is the spacious log cabin underneath the antler chandelier, the four of us went silent as we looked out through the large glass windows and soaked in the beauty of Parc Omega Winter.
The menu at Park House Restaurant was plentiful, and all of us were able to find a tasty treat that hit the spot after a long day of exploring the natural winter wonders of Canada. It was the perfect time to reflect on all we'd done already that day. While I do love to keep our family holiday itineraries full of activities, I do believe it's important to find time to sit down and decompress, sharing stories and cementing memories with one another. It brings me so much joy to see exactly which parts my kids loved the most, and I believe this activity helps us all create stronger bonds with one another, as well as memories that will last a lifetime.
And with the action-filled day at Parc Omega, this winter wonderland will most definitely be something we never forget.
On the way out the door, we made a point to stop by the gift shop to eye the local wares. While there were plenty of wonderful treats for all tastes and budgets, we ended up getting the one thing our kids couldn't resist…another bag of carrots to feed some more animals on our way out of the park!
The Accommodations
While we only visited Parc Omega for the day, we were able to see some of the beautiful accommodations the park has right on-site for anyone looking to extend their Canadian nature experience.
Parc Omega has some incredible lodging options to choose from, all of which stay true to the park's natural and historic roots. Your family can bunker down in a real tipi, log cabin, or even a house on stilts. Talk about immersing yourself in the historic wonder of Canada!
However, our favorites were most definitely the wolf cabins, wolf lodges, and wolf chalets. Parked right on the edge of the wolf preserve, these beautiful, private living spaces include all the comforts of home, with many accommodating up to 6 guests. But the best part? The panoramic windows that let you look right out onto the packs of wolves roaming the preserve. Talk about waking up with a view!
The Parc Omega Experience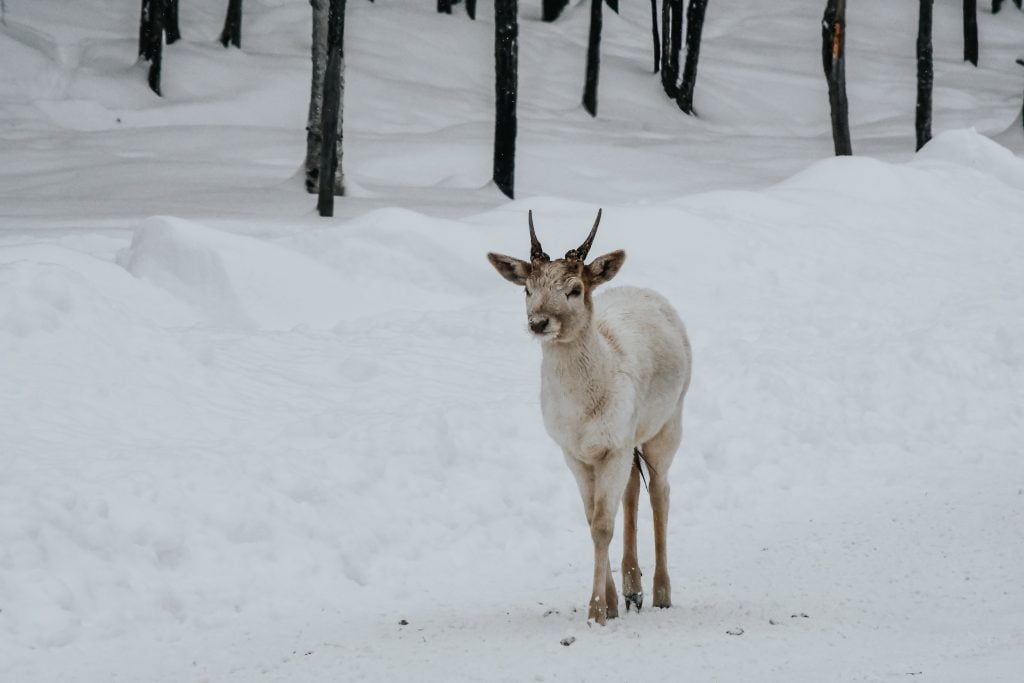 As our day wound down to a close, we couldn't help but feel like we had just visited another world. Our family has never been anywhere quite like Parc Omega. Full of natural beauty and wonder, this place really did have everything you could possibly want. Friendly critters just waiting to interact and pose for photos with guests. Beautiful landscapes and vistas. Amazing attractions and learning experiences. Wonderful food and lodging accommodations. And so, so much more.
While it's hard to describe, the best I can say about visiting Parc Omega in the wintertime is that it's like your favorite zoo has been dusted with a little bit (actually, quite a lot) of magic. Sight, sound, smell, touch, and taste – Parc Omega engages all your senses in the most wonderful of ways, and is the perfect backdrop for creating those special family moments that will last a lifetime. Moments like my son pulling me aside to say "thanks for brining me here," and of course the chorus of giggles from my kids as the animals wiped their gums and snot on our windows waiting for carrots.
These are the memories that will last a lifetime. And they're the memories you can make at Parc Omega.
Things to Know About Visiting Parc Omega in Winter
When to Go:
Parc Omega is open every single day of the year, even on holidays. During the winter, the park opens at 10am and closes at 5pm. During the summer these hours get extended.
Costs:
Winter admission to Parc Omega (October 13 – June 12) is as follows:
$30.44 for adults ages 16 to 64
$27.83 for seniors over 65
$21.74 for children 6 to 15
$12.18 for children 2 to 5.
Families of 4 or more can get a $10 family discount at checkout.
Location:
Parc Omega is located at:
399 Route 323 North
Montebello, QC J0V 1L0.
Learn More:
---
Planning an Ultimate East Coast Canadian Winter Road Trip? Check out these other articles for inspiration!
Is this a sponsored post?: Yes, while our visit to Parc Omega Winter is sponsored, all opinions and views are our own.