Click here to watch Jami Savage of Adventure Awaits, live on CTV News describing the exciting Hawaiian adventures that await travellers at Disney Aulani!
Her long blonde hair whipped back towards me as our double tube flew down the waterslide into the awaiting Waikolohe Stream. The squeals, the sun, and the splash made for a perfect day of adventures allowing my teenage kids to play like kids under the warm Hawaiian sun. This was the essence of our Disney Aulani experience…the unique combination of childlike play, exploring a new place, and paradise conditions, with a wand of Disney magic, waved over it all. Aulani, A Disney Resort and Spa is an award-winning world-class family experience, inviting you to the shores of Ko'Olina where you can create unforgettable memories with your family.
What does Aulani mean?
Aulani means, "Messenger of the Chief" and the legends that have been passed down through the generations are amplified through the resort and the whole Aulani experience.
What makes Aulani special?
Through the power of art, imagination, music, and storytelling you are immersed in the Hawaiian culture from the moment you pull up the driveway and walk through the grand entrance. As Disney are leaders in storytelling, they have shown their commitment to culture and to creating an educational and immersive guest experience at every turn. From architectural design to interior decor to art, music, and dance that is interwoven through your experience, it is the appreciation and education of the Hawaiian culture that makes this resort experience stand out.
What to expect at Disney Aulani
Located in beautiful Hawaii, Aulani a Disney Resort and Spa is the ultimate destination for a luxurious vacation. From cultural activities and spa treatments to delicious ocean-view dining, this resort does not miss a beat when it comes to creating an immersive and unforgettable experience. Guests can relax by the infinity pool or hit the beach for some watersports -both of which showcase stunning views and many magical photo opportunities. And if you're looking for something unique and special, opt for one of Aulani's exclusive excursions such as sailing on Moana's traditional Hawaiian canoe or snorkelling with turtles. For families with children of all ages, Aulani offers plenty of entertainment options that promise fun for all ages such as art classes, fireside stories, and even movie nights that will create unforgettable memories! Whether you're looking to relax or explore, Aulani has something that everyone can enjoy in paradise.
How to plan the perfect vacation at Aulani, A Disney Resort & Spa
While we were in the planning stages of our Disney Aulani adventure I realized that there was a lot of information online, but I wanted one go-to article that would help me understand "How to plan the perfect vacation at Aulani", so I created this guide. This is a step-by-step article showcasing the things you need to know to help you plan your own adventure. Be sure to watch for my "Insider Tips" where I share some of my best learnings from our recent trip to Aulani a Disney Resort and Spa.
Is Disney Aulani worth it?
Aulani, A Disney Resort and Spa is a luxury experience that comes with a luxury price tag. As a Disney resort the level of service, facilities, and experience is first class, ensuring that you get what you pay for, or in our case, your expectations are exceeded. Having won over 50 awards since opening 11 years ago, there's a reason that Disney Aulani is so popular and why so many guests return year after year.
Where is Aulani?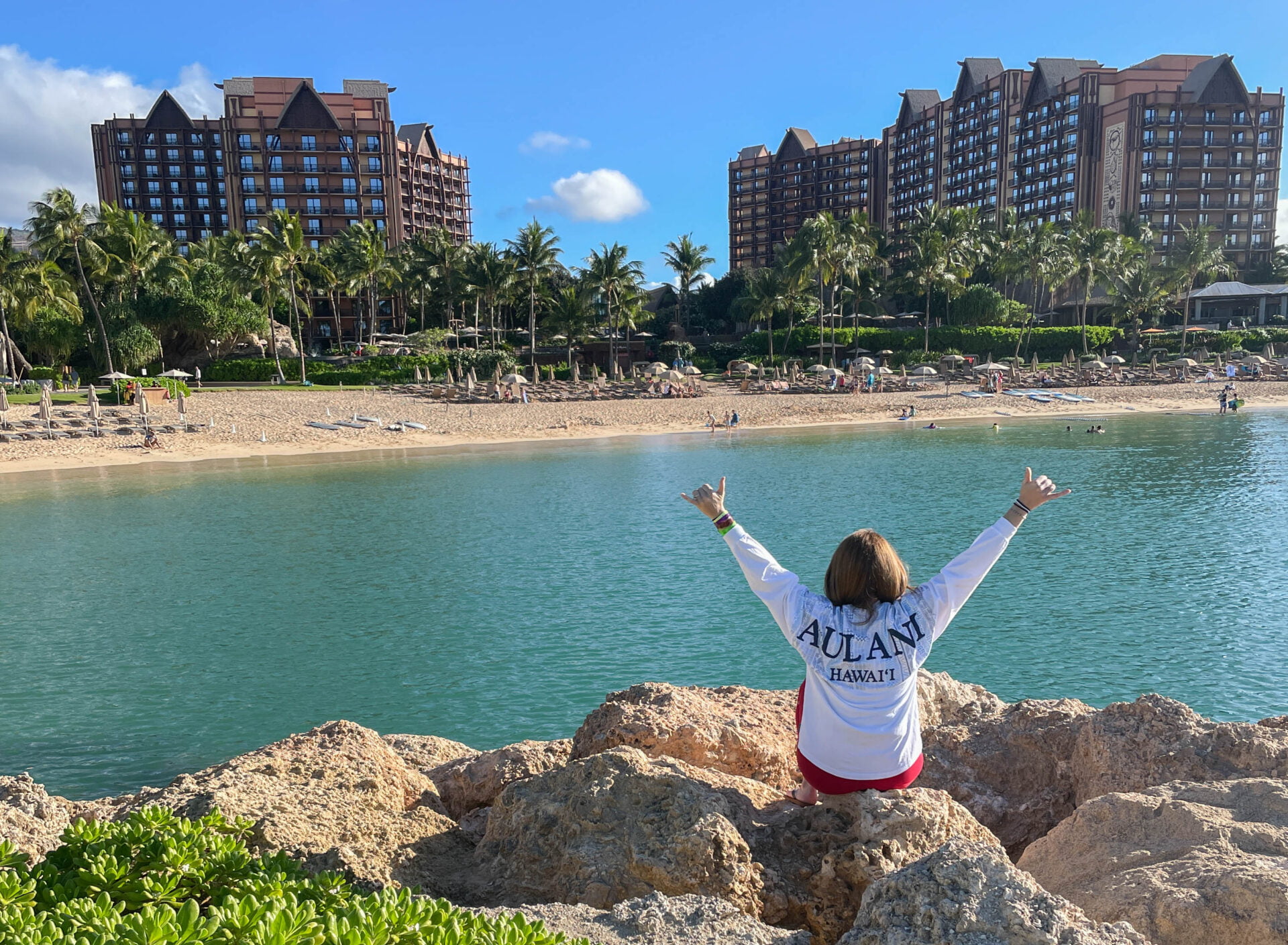 If you are wondering where Disney Aulani is, you're not alone. While Aulani is a Disney Resort it is across the Pacific from its sister Disney California theme parks and is located between the majestic Ko'Olina and Kahe Point on the western shore of Oahu. The resort's formal address is 92-1185 Aliinui Dr, Kapolei, HI 96707, United States but we preferred to call it "paradise".
What island is Disney Aulani on?
Aulani is located on Oahu, Hawaii's most populated island and home to the world-famous Waikiki beach. (But Aulani is not in downtown Waikiki, it is about 30 minutes North West of the downtown core in a small area called Ko'Olina).
What airport do you Fly into for Disney Aulani?
The closest airport to Aulani a Disney Resort and Spa is the Daniel K. Inouye International Airport in Honolulu.
How to get to Aulani from the airport
Once you've landed and grabbed your bags there are a few options for how to get to Aulani from the airport:
Uber / Lyft (Prices vary but range in the $55 – $80 USD depending on demand and traffic)
Taxi (Approximately $100 USD)
Car Rental – if you're going to book a car for your stay be sure to budget for parking at Aulani, as it is $37 USD per day. With so much to do at the resort, we opted not to rent a car, and take an Uber to the resort. If we wanted to rent a car, we could do so right from the resort on an "as-needed" basis (ie. groceries and adventures).
Aulani Shuttle
How much is the shuttle between the Airport and Aulani
The Aulani shuttle is $50 USD per person over 2 years old. If you book directly through the reservation system they can add this to your booking and include the logistics with your itinerary.
How far is Aulani from the airport?
Aulani, A Disney Resort & Spa is an easy 25-minute drive from Honolulu International Airport, making it a breeze for travellers to get from the airport to the resort.
Aulani Disney Resort Map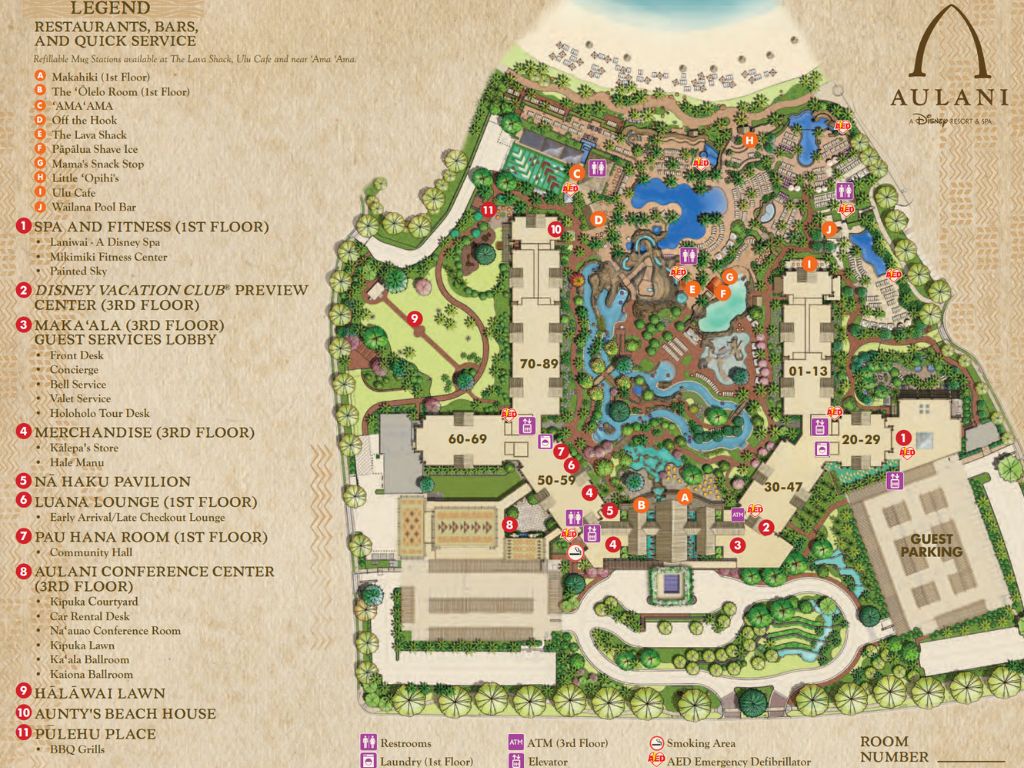 With over 21 acres to explore having a map to orient yourself is a great way to get acquainted with the resort. The design is very family-friendly, from ensuring ease of transition for those with a stroller, to safe spaces for bigger kids to run around and play, to hidden Mickeys and Menehune, there are more details to uncover every time you leave your room.
Map Overview:
Waterpark and adventure central are located in the middle of the resort
Restaurants are all on the edges of the waterpark, with four to choose from.
The beach is a public beach but is primarily used by resort guests. We split our time between the beaches and the pools.
The activity centre is where you sign up for everything.
Click here for a full interactive map!
What To Expect When Arriving at Disney Aulani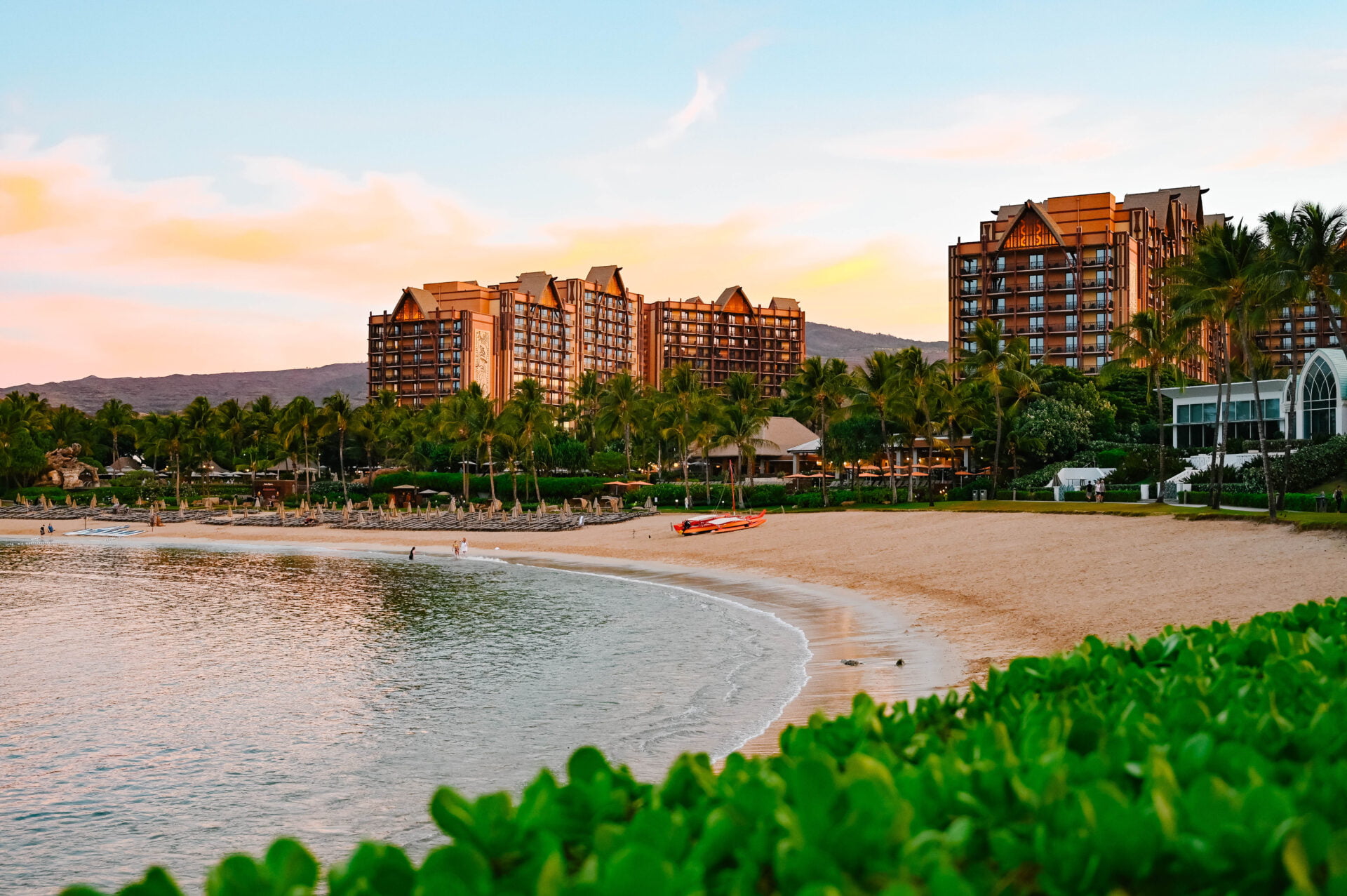 Driving up the main entrance to Aulani, you'll immediately know you're at a world-class resort in a very special location. At first glance, there is lush greenery and traditional Hawaiian horticulture but further investigation reveals that every design element is meant to welcome you and bring positive energy to your trip. From the Taro (or Kalo) the "first Hawaiians" who welcome you, to the 'umeke bowls, which traditionally are used to capture good energy and share it with those that come in.
Experiencing Aloha in the Aulani Maka'ala lobby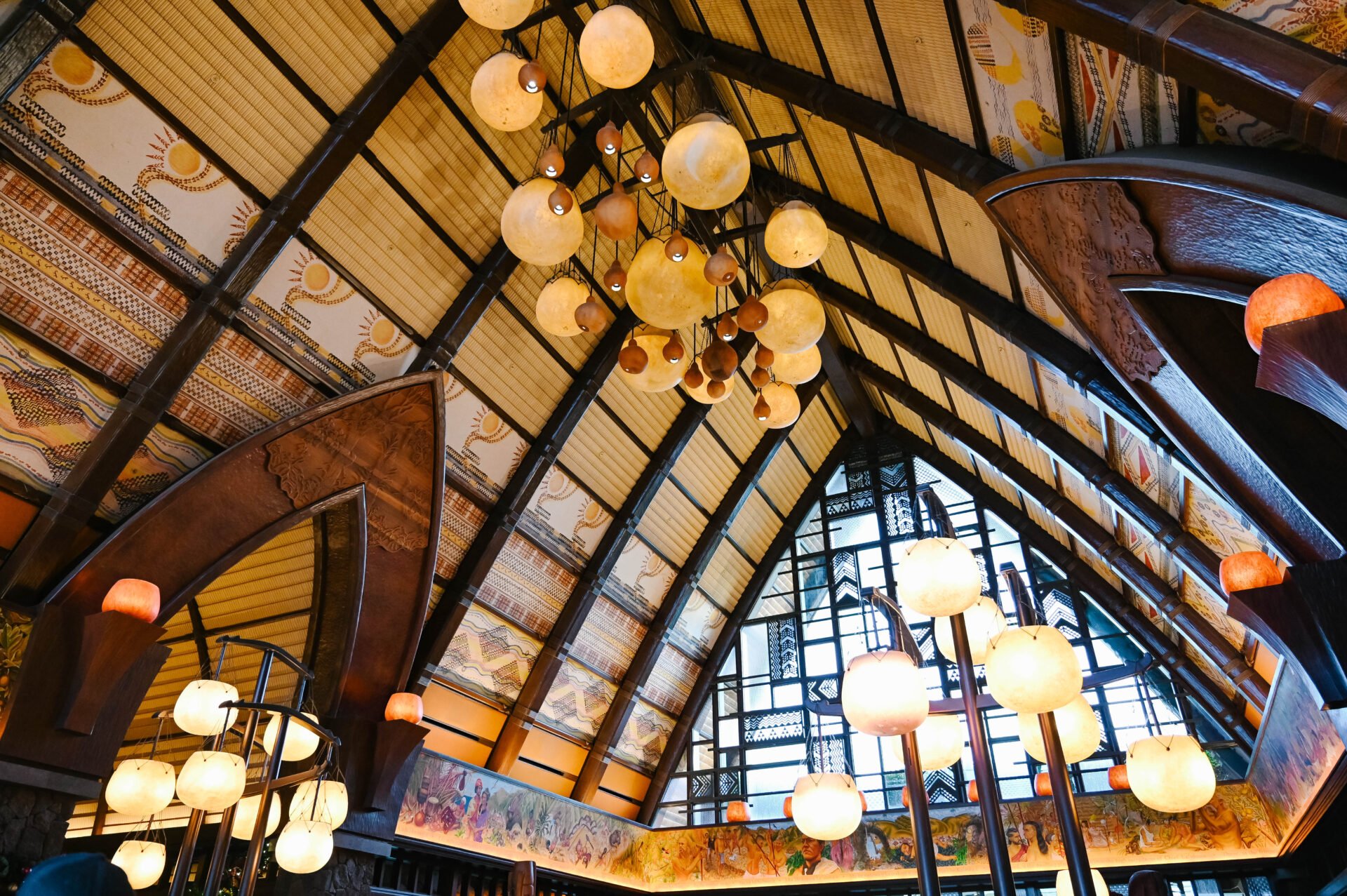 Once you walk through the grand entrance you are immersed in an overwhelming experience of "Aloha" or Welcome. The atrium is shaped like a traditional Hawaiian canoe, welcoming you in and carrying you to the balcony overlooking the adventurous waterpark, and then beyond out into the turquoise sea. Artist Martin Charlot designed the 200-foot mural surrounding the ceiling, sharing the story of the Hawaiian people and the traditional way of life including images of farming, fishing, music, and dance.
Insider Tip: Just to the left inside the main entrance is the Kalepa's Store, a merchandise and snack shop that you'll undoubtedly visit at least once. Across from the entrance to this store is a credenza, that looks like a piece of decor, and may have some items on it. Look for a keyhole in the middle of the credenza, and then look INSIDE the keyhole! (Hint, mischievous Menehune await) and if you didn't know about this it's easy to walk by this hidden gem!
Checking in at Aulani, A Resort and Spa
From the moment you get out of your vehicle, the Cast Members are dedicated to ensuring you have a welcoming experience. "Aloha" is heard by every Cast Member and questions about where you're from and where you need to transition to are clearly communicated, with the most welcoming open hearts. Strategically I noticed that after a friendly conversation with a Cast Member, he turned away and whispered "Savage guests are on their way" so that the front desk could be ready for us. While it was only a few steps around the corner, sure enough, they were ready to greet us and help us get checked in and off to our room. That's the Disney difference… they are always one step ahead in helping ensure you have the best possible experience.
Disney Aulani Rooms – How to Choose the Best Room for your Stay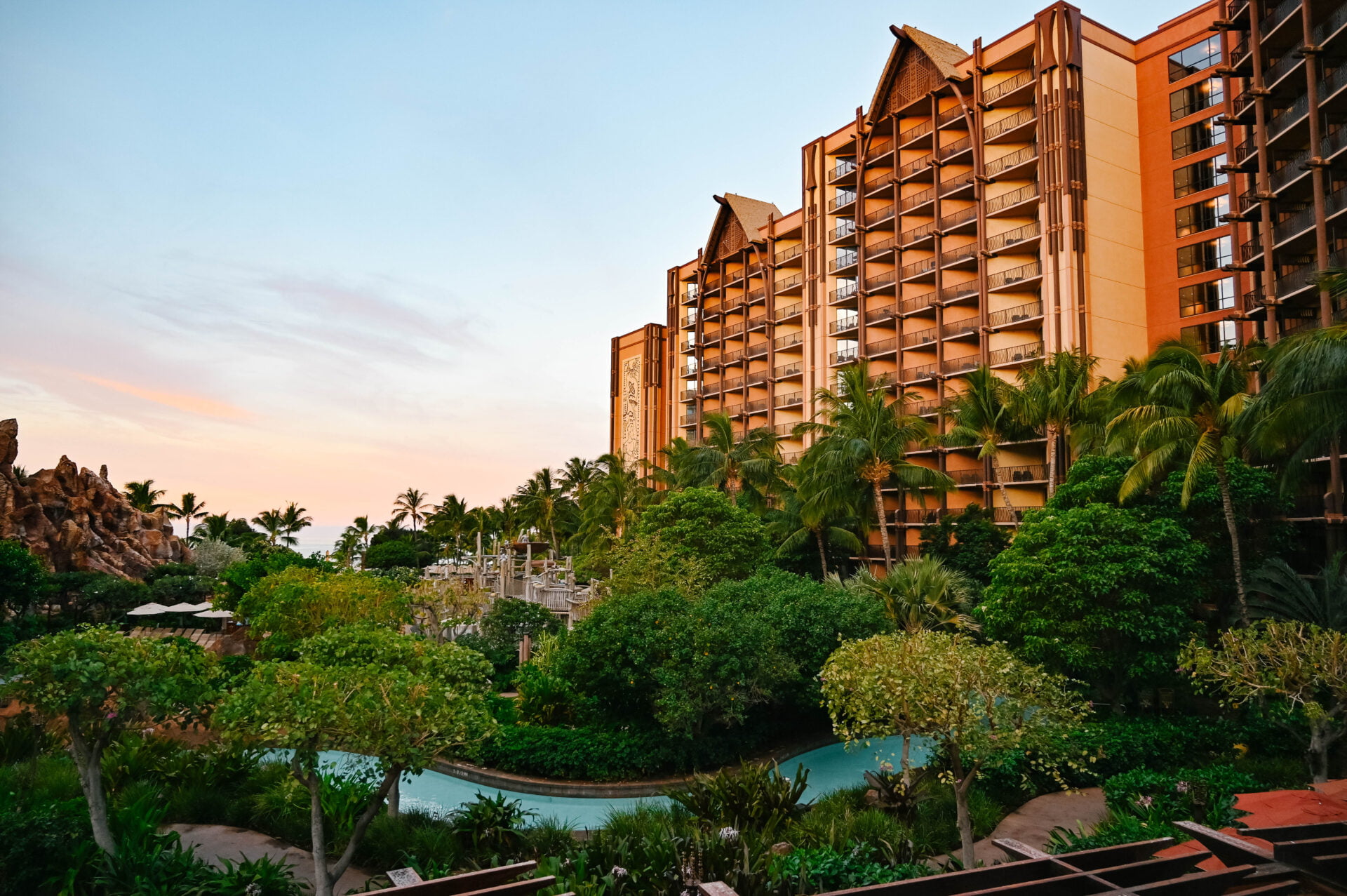 Walking into our room we immediately noticed our "Savage Ohana" name on the big screen TV…a warm welcome and a nice touch. We stayed in a traditional hotel room with a partial ocean view, and while the room was lovely, the view was what made the experience shine. From morning to night, we were out on our balcony, looking out over the pools and beaches, and watching the sunset each night. "You pay for the room but you stay for the view" became our motto… and we certainly didn't want to go home!
How many rooms are there at Aulani?
Aulani a Disney Resort and Spa offers guests three main different types of accommodations to choose from with 359 standard hotel rooms and 460 one, two and three-bedroom villas. Depending on the size of your party, and how you like to vacation, will help you determine what room is best for you.
Does Aulani use magic bands?
Yes, if you have a magic band or want to get one for the kids, your room as well as room charges can all be connected to your magic bands making the "Do you have a room key?" question and answer game disappear!
What hotel room views are available at Disney Aulani?
Ocean View: Includes at least a partial view of the ocean from the room or balcony
Partial Ocean View: Offers only a partial view of the ocean from the room or balcony
Poolside Gardens View: Includes at least a partial view of the pool, courtyards, water features or landscaping from the room or balcony
Island Gardens View: Includes at least a partial view of the mountains, spa or landscaping from the room or balcony
Standard View: Includes either a view of the conference center, parking lot or parking garage from the room or balcony
Standard Hotel Room at Aulani a Disney Resort and Spa
Perfect for a family who doesn't plan to spend much time in their room (which was us!) this 382-square-foot room has everything you need for a family of four. You can choose between 2 queen beds or 1 king bed and 1 queen sleeper sofa, one bathroom with a large tub, and enjoy amenities like a TV, in-room fridge, coffee maker, and essentials like the hair dryer. We were fortunate to be able to secure an ocean-view room which we highly recommend. Watching the sunsets over the Pacific was truly special.
Available views for a standard room: Ocean View, Particle Ocean View, Poolside Gardens View, Islands Gardens View, or Standard View.
Deluxe Studio
If you prefer to have a living room space over a second bed, this room is the right fit for you. Suitable for up to four guests, this room has 1 queen bed and 1 queen sleeper sofa, which is the living room during the day and bedroom at night. At 365 square feet, it's perfect for families with young kids.
Available views for a deluxe studio room: Ocean View, Particle Ocean View, Poolside Gardens View, Islands Gardens View, or Standard View.
1 Bedroom Suite at Aulani
If you're looking for more space or to accommodate more guests, the 1 bedroom suite welcomes you with space for 5 guests to spread out over 764 square feet. With one full and one half bath, this room gives everyone more space to get ready before heading out for the day, or to shower after a day of adventures. Your sleeping arrangements include 1 king bed in the master bedroom, 1 queen-sized sleeper sofa and 1 narrow twin-size pulldown bed in the parlour.
Available views for a 1 bedroom suite: Ocean View or Partial Ocean Views
Deluxe 1 Bedroom Suite at Aulani
If you're looking for luxury living, the Deluxe 1 bedroom Lei Hulu Suite invites you to enjoy over 1500 square feet of extravagance. Unique artwork and designs, a private bedroom, a butler pantry, and a separate catering entrance are all set atop the Waiane Tower, overlooking the waters of the Waikolohe Valley.
Available views for a deluxe 1 bedroom suite: Top floor ocean panoramic views
1 Bedroom Villa At Aulani
750 feet of luxury welcome you into this living space that feels like home (or maybe a lot cleaner and warmer compared to my Canadian home!). With island-inspired details and a bit of Disney magic, this room is great for up to 5 guests, has 1 king bed in the master bedroom and 1 queen sleeper sofa and 1 narrow twin-size pull-down bed in the parlour.
Available views for a 1 bedroom villa: Ocean View, Poolside Gardens View, Island Gardens View, Standard View.
2 Bedroom Villa At Aulani
Bring the Ohana (or friends) and settle into this 1,125 sq ft room. Suitable for up to 9 guests, this 2 bedroom Villa has 1 king bed in the master bedroom, 2 queen beds in the second bedroom and 1 queen sleeper sofa, and 1 sleeper chair in the living room. Designed with extended family in mind this villa encourages you to stock up on groceries and bond over shared meals before you and after all your Disney and Oahu adventures.
Available views for a 2 bedroom villa: Ocean View, Poolside Gardens View, Island Gardens View, Standard View.
3 Bedroom Grand Villa at Aulani
I'm not going to lie…the second I walked into the 3-bedroom Grand Villa at Aulani my jaw actually dropped and I knew I was standing in my dream vacation villa! Suitable for 12 guests, this luxurious setting invites you to bring the whole family (or friends) and settle in for an incredible stay. With three bedrooms and a living room that converts, you'll enjoy all the variety of sleeping configurations you'll need to ensure everyone gets rested, all while enjoying one big sleepover. Put all the kids in one room? May be fun! This grand villa includes 3 full bathrooms, 1 king in the master, 2 queens in the second and third bedroom, and 1 queen sleeper sofa and 1 sleeper chair in the living room. This is the ULTIMATE grand villa experience and as incredible as the room is, the ocean views out over the property and into the ocean are unparalleled. Paradise found.
Available views for a 3 bedroom grand villa: Ocean View – Best view on property. Standard View.
When is the best time to go to Aulani A Disney Resort & Spa?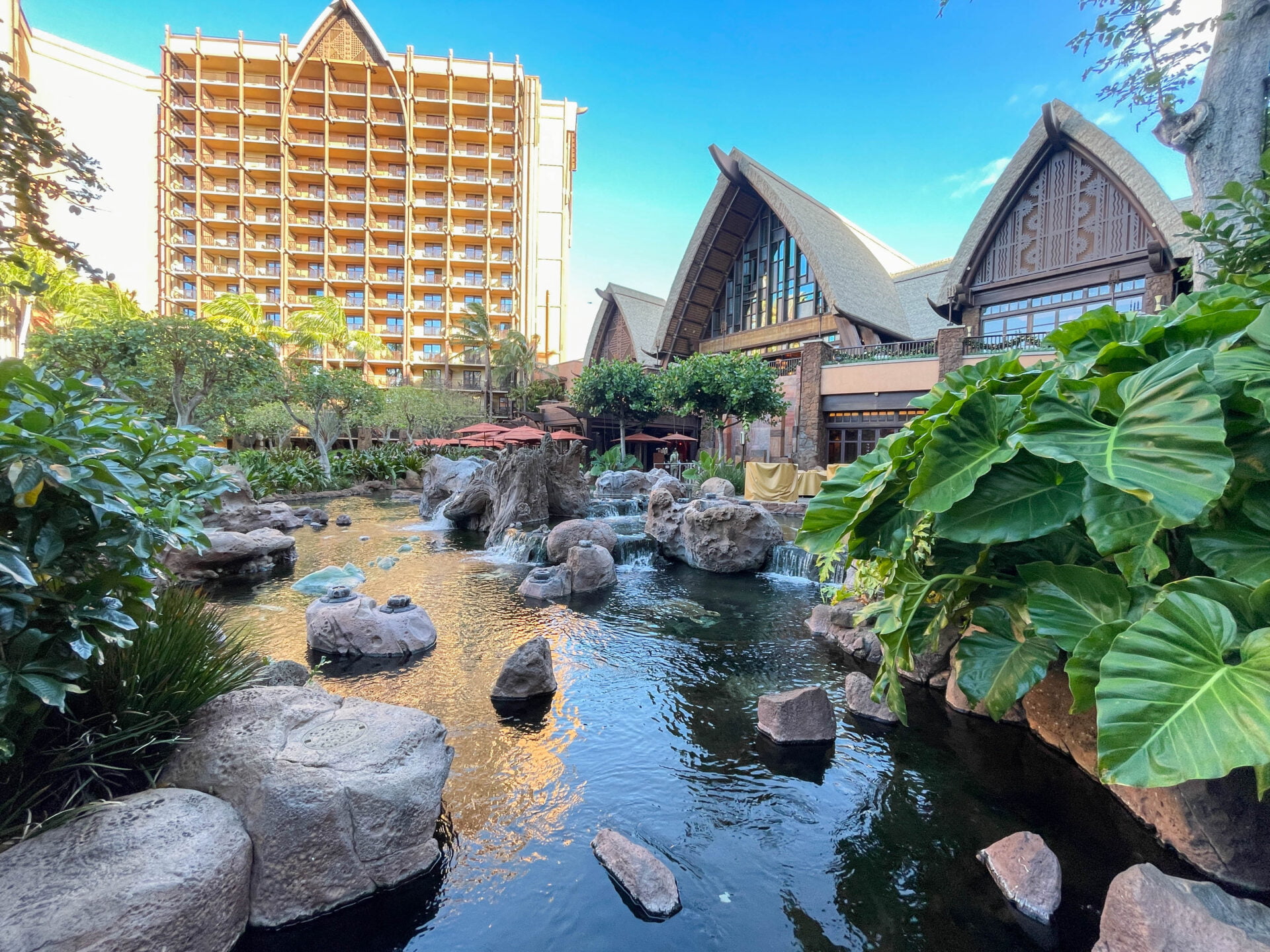 The answer to the question of when is the best time to visit Aulani, A Disney Resort & Spa on Oahu, Hawaii should depend on one's individual preferences. If a traveller seeks an ideal balance between an exotic atmosphere and moderate crowds and prices they might consider visiting during April – May or September – October as these months provide excellent weather and aren't peak season. Those who prefer a more traditional tropical outdoor experience can find that in the summer when temperatures are slightly higher but humidity is lower. Guests seeking deals will likely have success in finding discounts during March or November when winds often can make adventure activities less enjoyable but open up savings opportunities. No matter when you plan your getaway to Aulani, you're sure to experience unique Disney magic combined with a relaxing waterpark and beach vacation experience unlike any other.
Where to Eat at Aulani, A Disney Resort & Spa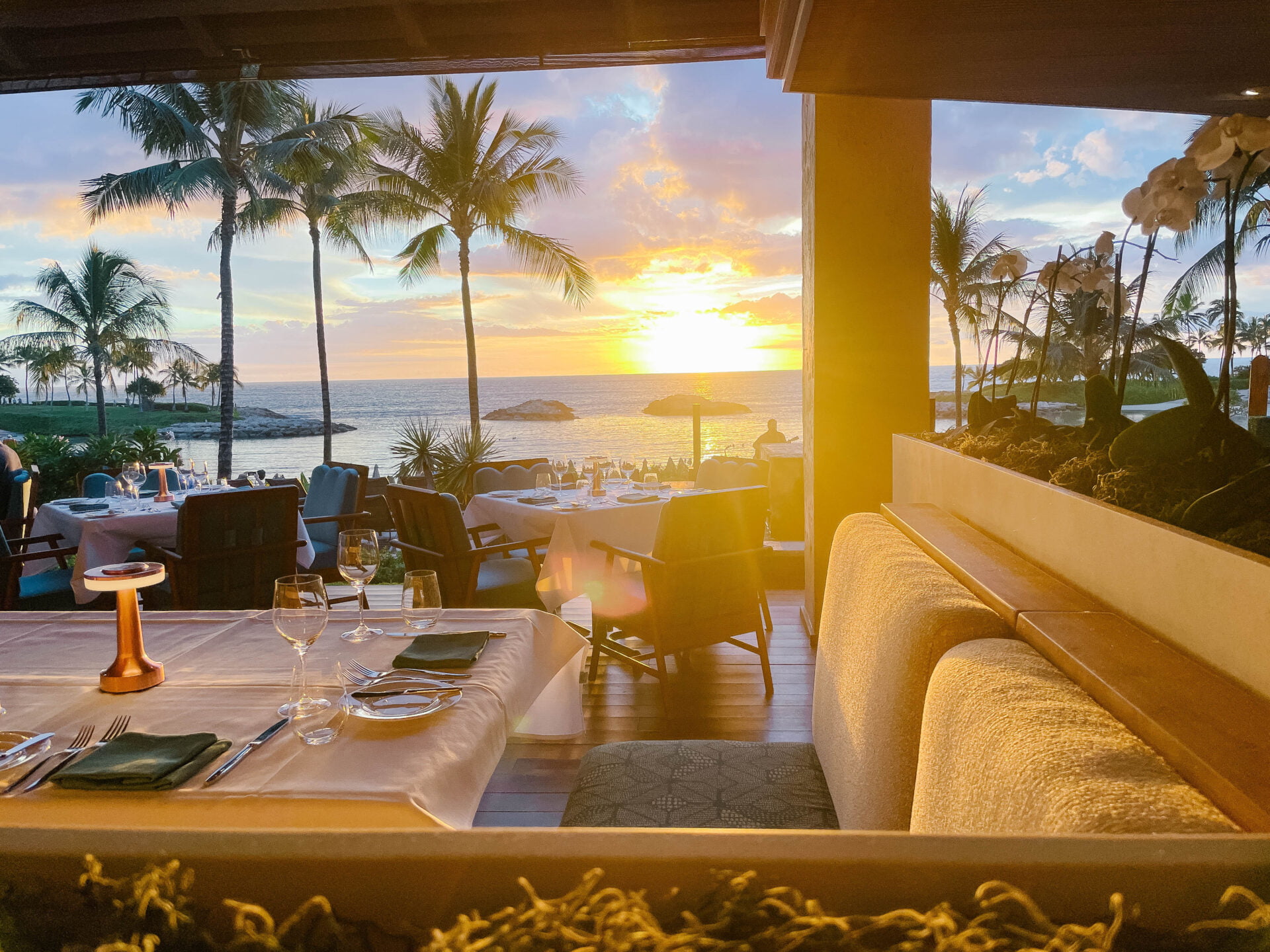 How many full-service restaurants at Aulani Resort?
With 10 different onsite dining options, you can decide exactly how to experience all that Aulani has to offer. They have everything from the Ulu Cafe, where you can quickly grab and go, to luxury 5-star dining at the newly reimagined Ama Ama oceanfront dining experience. Off The Hook offers you a more casual dining experience where you can savour creative ocean-inspired cuisine at the shores of their lagoon. Here's a peek into the restaurants we explored to give you an idea of what to expect.
Ulu Cafe
Located in the center of the resort is Ulu Cafe, where you can feel the energy of children running through the open-air entrance as they run to fill up their water bottles before hitting the waterpark again. Walking through the covered patio you'll find yourself with a variety of options, from fresh salads and sandwiches in the cooler to hot buffet-style meals with a rotating menu based on the time of day. Ulu is also known for its Poke Bowls which the staff were even raving about. If you're looking for a quick family fun meal, swing by and grab a pizza, served daily between 5 – 8 pm. They also have a great marketplace for everything in between where we stocked up on juice and fruit.
My son's favourite part of Ulu was ordering waffles and bacon every morning and I loved having breakfast with him on the veranda overlooking the ocean all while planning out our days' adventures.
Makahiki – centrally located for character breakfasts and fine dining
Makahiki is located one floor below the grand entrance, giving it an incredible view out over the resort's koi pond and Waikolohe Valley pool, all while feeling like you're tucked into a Hawaiian jungle. A more casual, family-friendly restaurant, Makahiki means "celebration of the harvest" and the spirit of this celebration is embraced through the delightful cuisine and local artwork.
As soon as you walk into the restaurant you'll notice unique glass artwork suspended in the air, that changes colours throughout the day with the setting of the sun. Makahiki is open for two meal services, including a Character Breakfast as well as a 3-course family dinner.
Character breakfast at Disney Aulani
Your morning breakfast experience starts off with a visit with the one and only, Mickey Mouse! With time to hug and pose for photos, this is a nice way to meet Mickey without feeling rushed. After your goodbye hugs you'll be taken to meet the "Head Chef" who to our surprise was Minnie! She had a whole pancake shop set up and was excited to show us her kitchen as well as pose for a few photos for us.
Once at our table, we were overwhelmed with food and drinks, as the character breakfast is a 3-course experience… which was too much food for us! From fresh pastries to personalized fruit platters, to the actual entree, we could barely fit all of the items on our table!
How much is Aulani character breakfast?
Adult: $48 USD
Keiki (Children 9 and under): $29 USD
Dinner at Makahiki
Dinner at Makahiki was a great excuse for us to change out of our bathing suits and sit around the table sharing stories from our day. While toted as a casual family-friendly dining option, it also boasts a 3-course meal, which my kids don't often experience so it was neat for them to see a set menu and choose their meals from the fancy menu. They got to choose a starter, entree, and dessert. The ambiance of the restaurant was as lovely as the food, as the warm breeze from the ocean and the smells of the sea settled in all around us while sunset tucked in for another night across the sea.
Cost for dinner at Makahiki at Disney Aulani
Adult: $70 USD
Keiki (Children 9 and under): $30 USD
AMA' AMA'- Newly Remingined Luxury Oceanfront Dining Experience
Situated on the shores of Ko'Olina Beach, the sounds of the ocean were a backdrop to the musicians who were singing "Somewhere over the rainbow" while we walked through the main entrance of the new Ama Ama. This open-air restaurant is a Hawaiian utopia, that meets at the intersection of beachside living with a thatched roof, mosaic designs, and a fountain and reflecting pool. Ama Ama means "fish" in Hawaiian, and has historically been the most abundant and vital fish of Hawai'i. Designers used this inspiration to create a magnificent 5-star 4-course dining experience. We opted to have the kids order in their own food all while enjoying a date night for 2 front row at Ama Ama.
Ama Ama Menu
Newly reopened in 2022, this creative fine dining experience offers luxurious cuisine at a whole new level. Crafted by Chef Nicholas Amoriello, each course embraces the spirit of the beautiful island and immerses guests into a flavourful meal experience, with each bite. The menu is focused on sourcing local fish and produce, is almost completely gluten-free, and offers plant-based options for those who don't love fish. As someone with a lot of allergies, I especially appreciated their commitment to providing variations, all while creating an incredible meal for me to enjoy. The most difficult part of the meal is ordering, as their menu is delectable, but if I have one recommendation to make it is to savour the Pork Belly with the scanlan sauce… it also comes with Kiawe honey and Okinawan sweet potato. This was a splurge-style meal that made for a wonderful sunset date night that we will never forget.
Aulani Disney Luau
If there's one thing that Disney knows how to do well it is to put on a show. The Disney Luau is unparalleled as they create a fully immersive guest experience from the moment you enter. From a welcome Lei to photos with the cast, to a custom Hawaiian drink, all of that happens in the first 3 minutes of your entrance. The pre-show includes a variety of hands-on activities including lei making, tattooing, taro pounding, and ukulele lessons.
Aulani Luau Menu
As a parent and a guest, I appreciated how quickly the event transitioned without feeling rushed or forced. But after the welcoming activities were done we made our way to our table where we settled in, visited, watched the opening band play, and got ready for dinner. A formal Aloha welcome was offered and we were sent off to the buffet to get our food.
As an allergy family, I really appreciated how well everything was labelled so that I could clearly identify what was safe for me to eat and what was best to avoid.
Aulani Luau Show
"We'd like to welcome our special guests up on the stage" and with that Mickey and Minnie popped up from either side of the stage, dressed in full luau gear and ready to dance the hula. Everyone was up on their feet as we were led through the simple steps on how to hula and then danced all together, being led by Mickey and Minnie themselves. Whether you were two years old, or 70, you could feel everyone embracing their inner child and getting into the fun of the experience.
After that, it was time for the professionals to take over, and wow, this show was spectacular. A unique blend of storytelling, art, culture, and professional performance, the show really helped you learn about Hawaiian culture through the tradition of a Luau. From honouring past traditions to sharing stories of brave warriors, to fire throwing, this show kept the whole family engaged from start to finish. Here are a few of our favourite photos from our Luau (I think I took 500 that night!).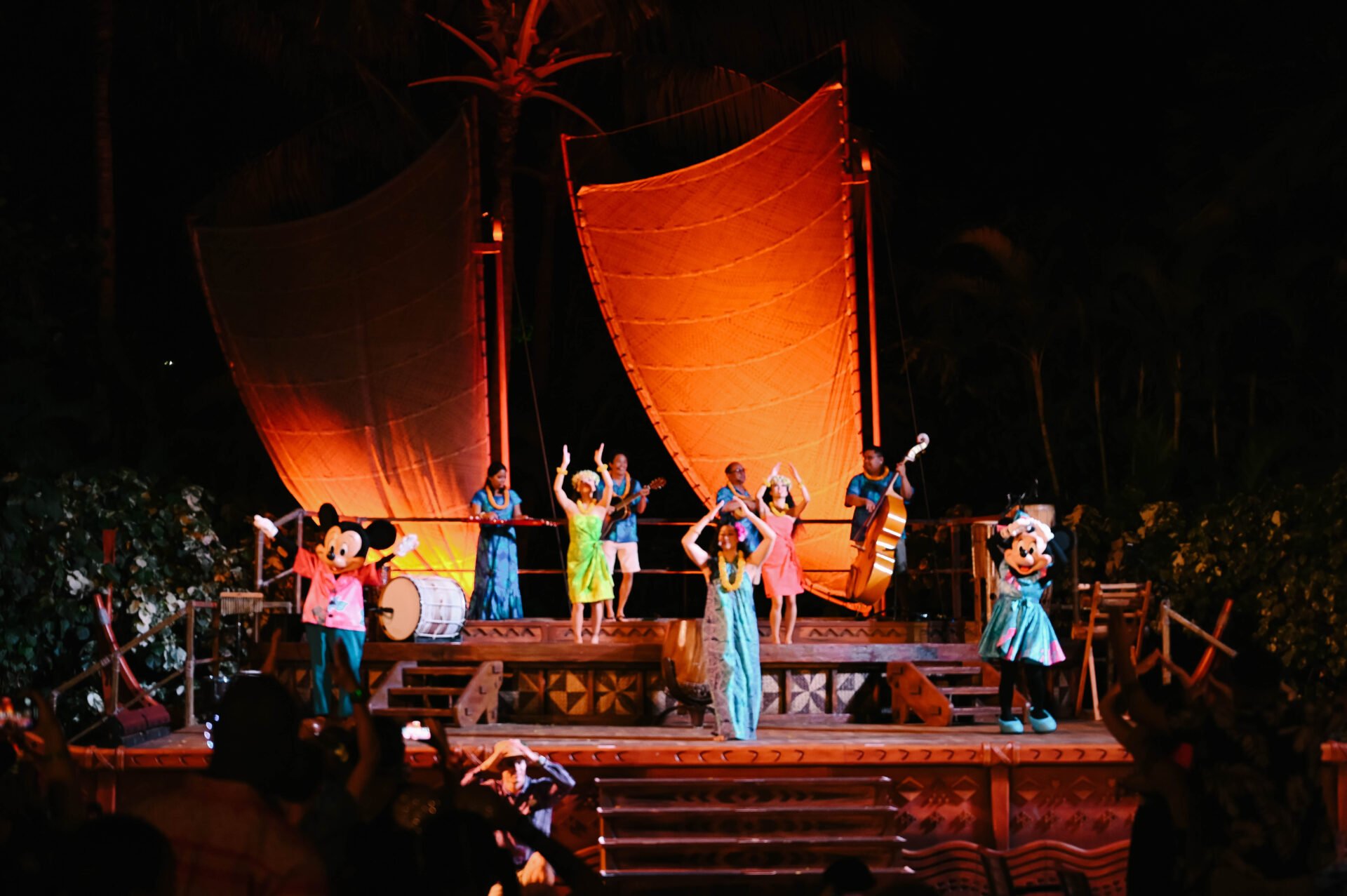 ---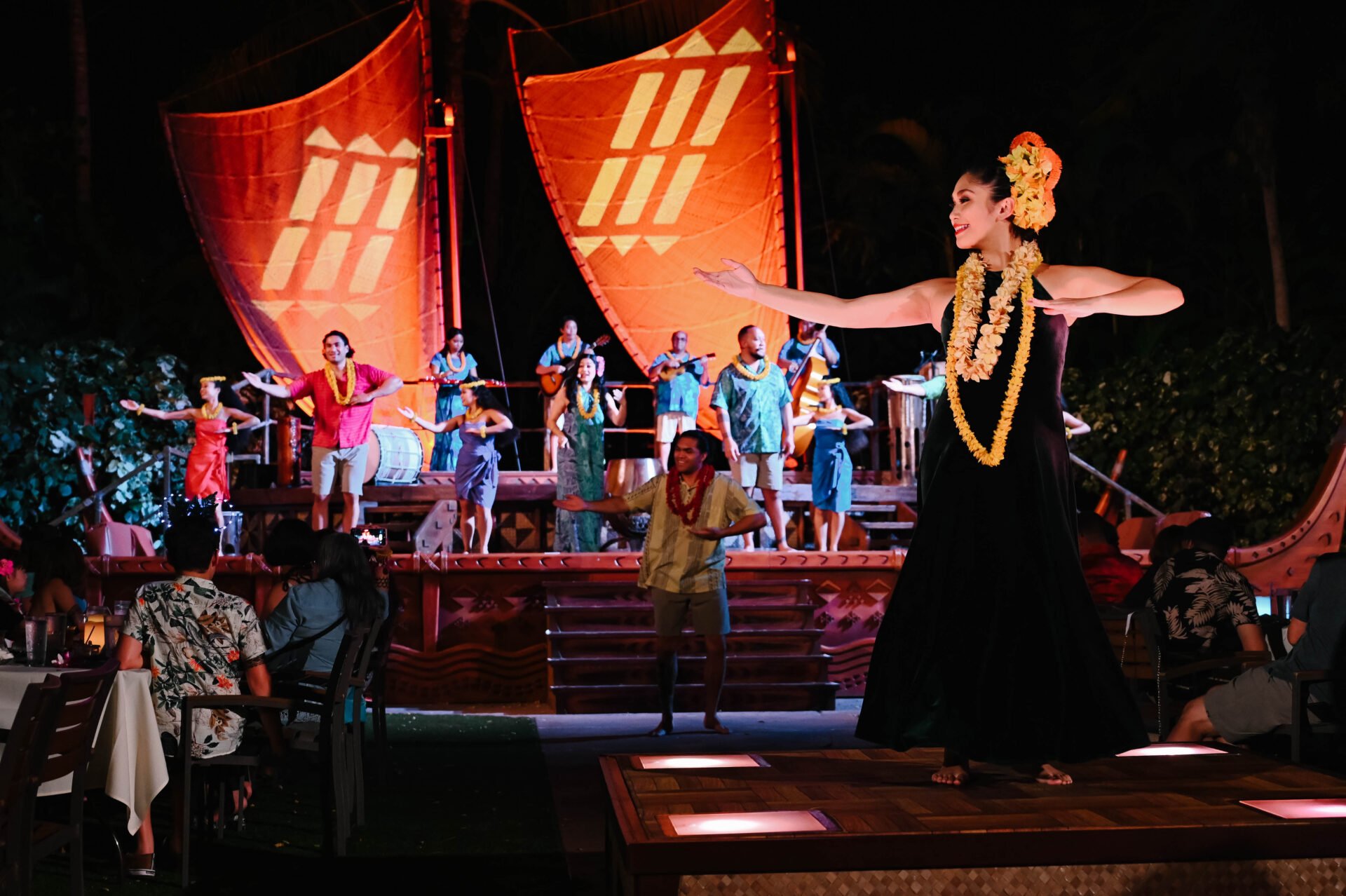 ---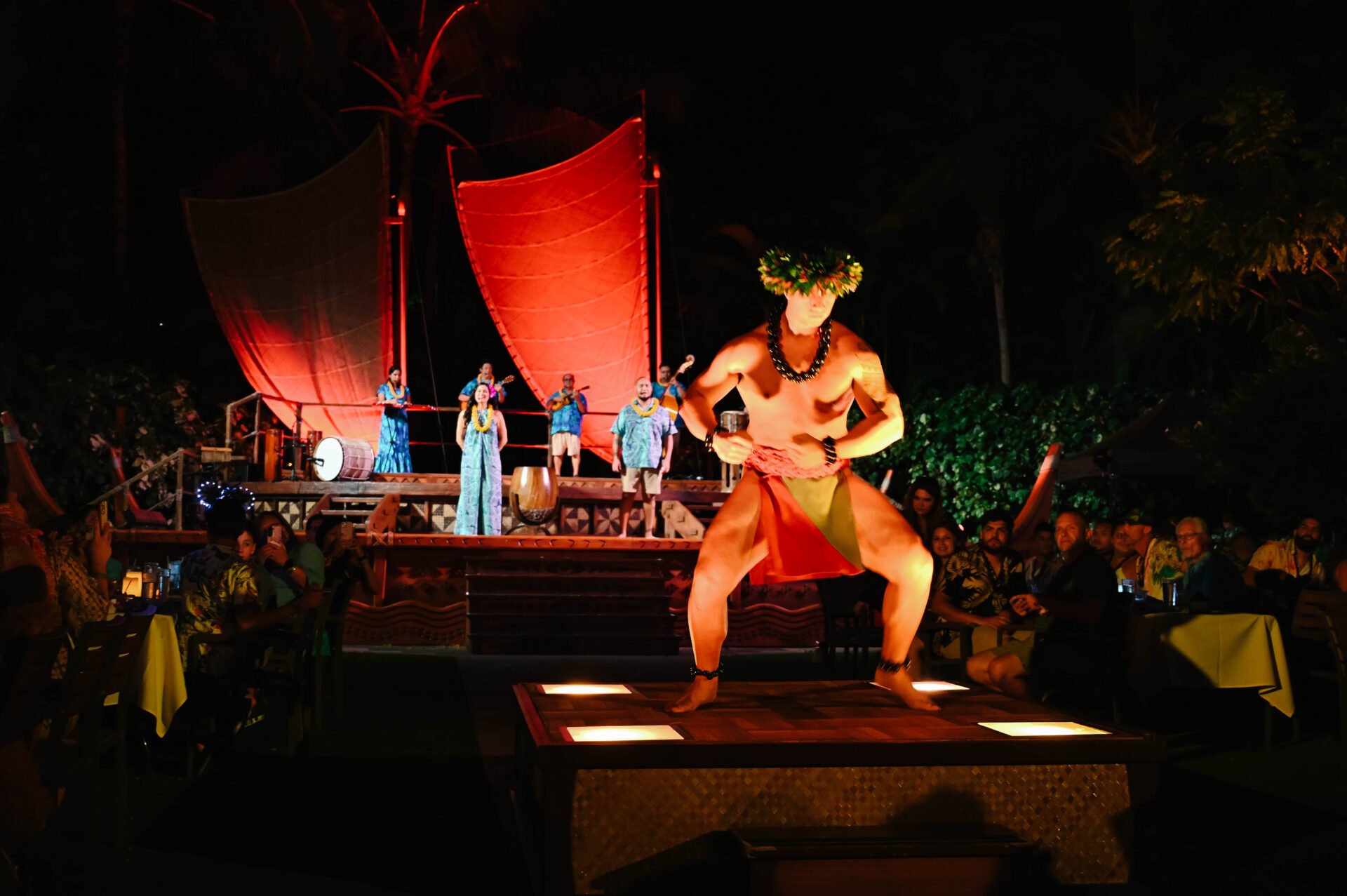 ---
---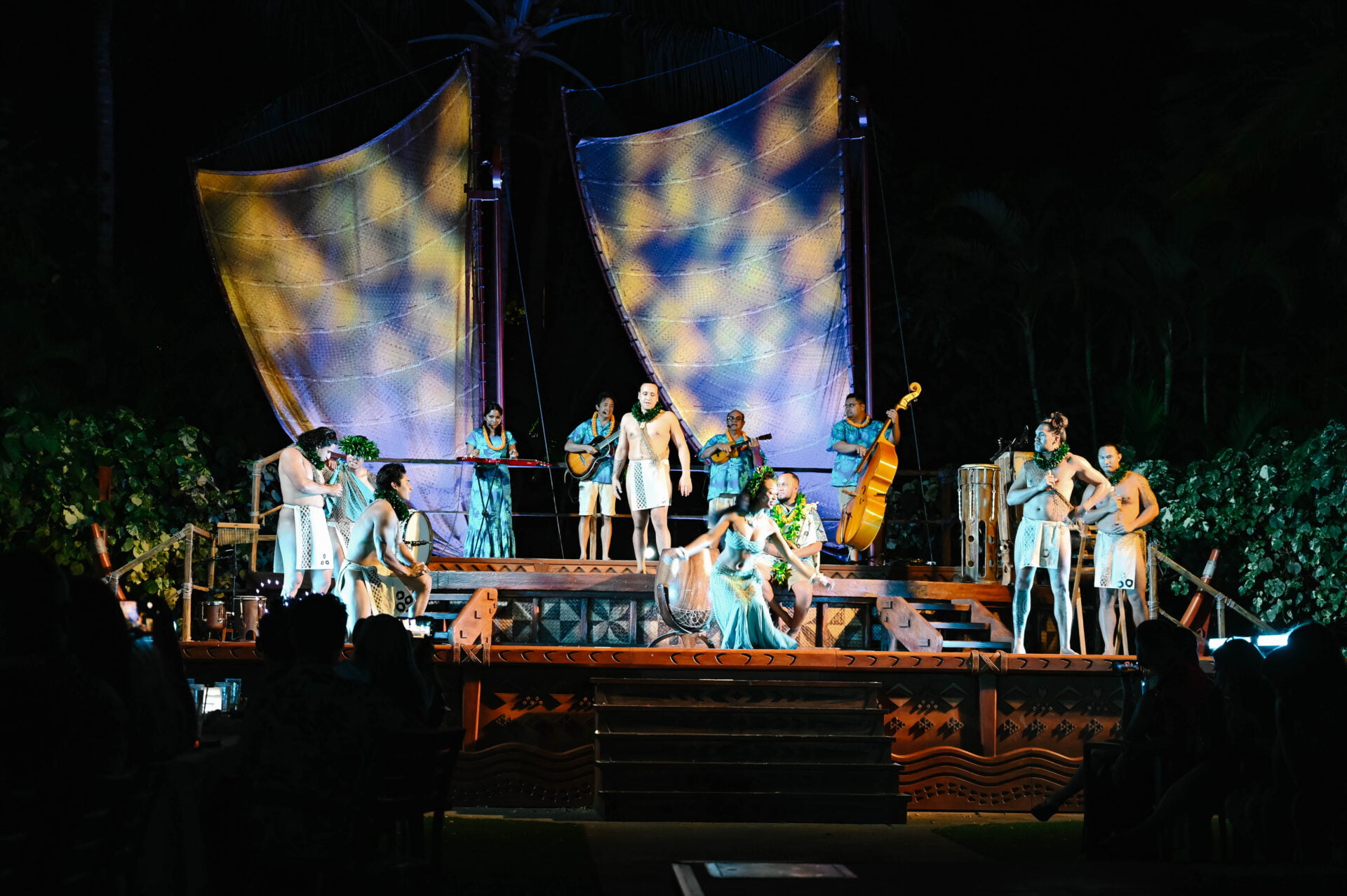 ---
Aulani Luau Review
I have had the opportunity to go to a lot of Luau's over the past 20+ years and I can honestly say that by far this was the best show and experience, it exceeded my expectations from the moment we walked out onto the lawn. From the pre-show activities to the buffet meal to the actual show itself, this was a cultural immersion experience like no other. While this is an expensive investment at $200 USD per person, I can say that I wish it was a bit more affordable, but you do get what you pay for in terms of food and entertainment that are delivered at the Disney level you'd expect.
How much does the Disney Luau cost?
Adults (10 years +): $199 USD
Children (3-9 years): $119 USD
Infants (0-2 years): Free
How to book Disney Luau tickets
To book your Disney Luau tickets, visit their excursion website.
Allergy-Friendly Meals at Aulani
We are an allergy family, I am lactose and gluten intolerant and my daughter has a life-threatening nut allergy. When both of us identified our allergies the staff took it very seriously, and each item that was brought for us at the table was identified as "allergy checked". However, in the United States, the FDA allergy requirements are different than in Canada and they do NOT have to identify if items "may contain" which Disney also discloses on their website.
Tips and Tricks for Meal Planning at Disney Aulani
Is food included at Aulani?
Food is not included at Aulani nor does Aulani have a dining plan. This allows you the flexibility to plan out your stay in a way that best accommodates your family's unique needs. Whether you opt to invest more in your stay by staying in a room with a kitchen and cooking your own meals or opt to indulge in the many food options and not have to worry about cooking, there are more options that time will allow, so do what's best for your family.
Can you eat at Aulani without staying?
Yes, guests from other hotels are allowed to book reservations at Ama Ama and Makahini, and for the Luau, otherwise, the other restaurants on site are exclusively for Disney Aulani guests.
What is There to do at Aulani Resort?
Disney knows how to keep the family entertained and happy and Aulani is the perfect Hawaiian equivalent of all things magical. At Aulani a Disney Resort and Spa there are five different types of activities:
Resort Amenities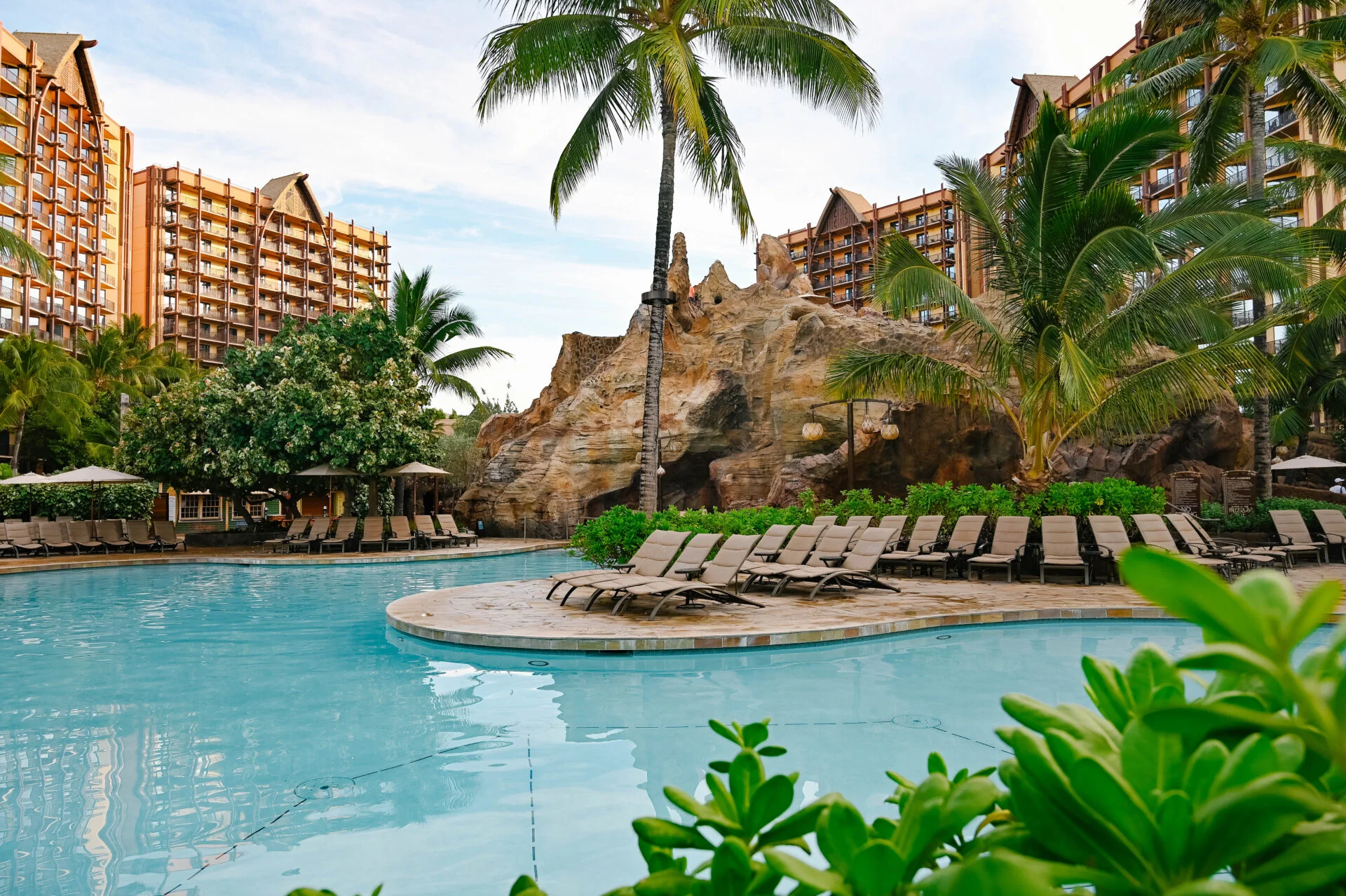 These include all of the wonderful attractions that are built into the resort for your family to enjoy. Centered around the waterpark experience, these include the Ka Maka Grotto, The Keiki Cove and Splash Zone, The Menehune Bridge, The Waikolohe Pool and Waikohe Stream (also known as the lazy river), the Wailana Pool and for adults only, the Whirlpool spas. These experiences are all included in your stay.
Insider Tip: Wristbands are needed each day while you're staying on property, however lining up in the morning can be bothersome as everyone has to be there to get their wristbands. We discovered that if you go the afternoon before you can get your band for the next day and barely have to wait in line!
Lagoon Explorations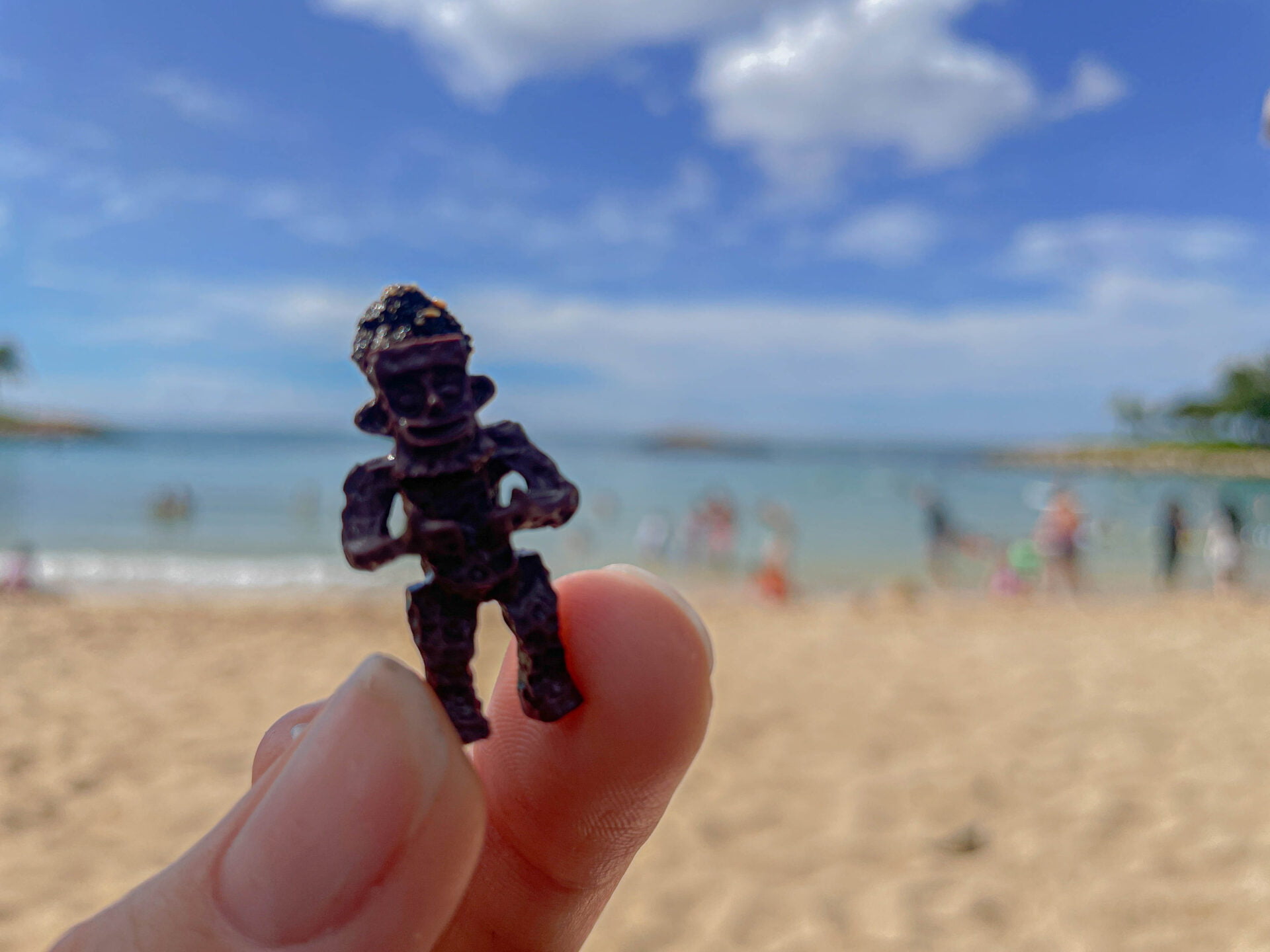 If you're more of a "sand between my toes" kinda family then head down a few steps towards the beach where you can play in the protected lagoon. From sand castles to sunbathing, playing pass to snorkelling, the white sand is waiting for you!
Insider Tip: While digging through the sand my daughter found a teenie tiny wooden Menehune hiding in the sand. This was pure mischievous magic at work (I'm sure) and while I have no proof that you'll find one on your visit I highly recommend keeping an eye out for them!
Complimentary On-Site Activities at Aulani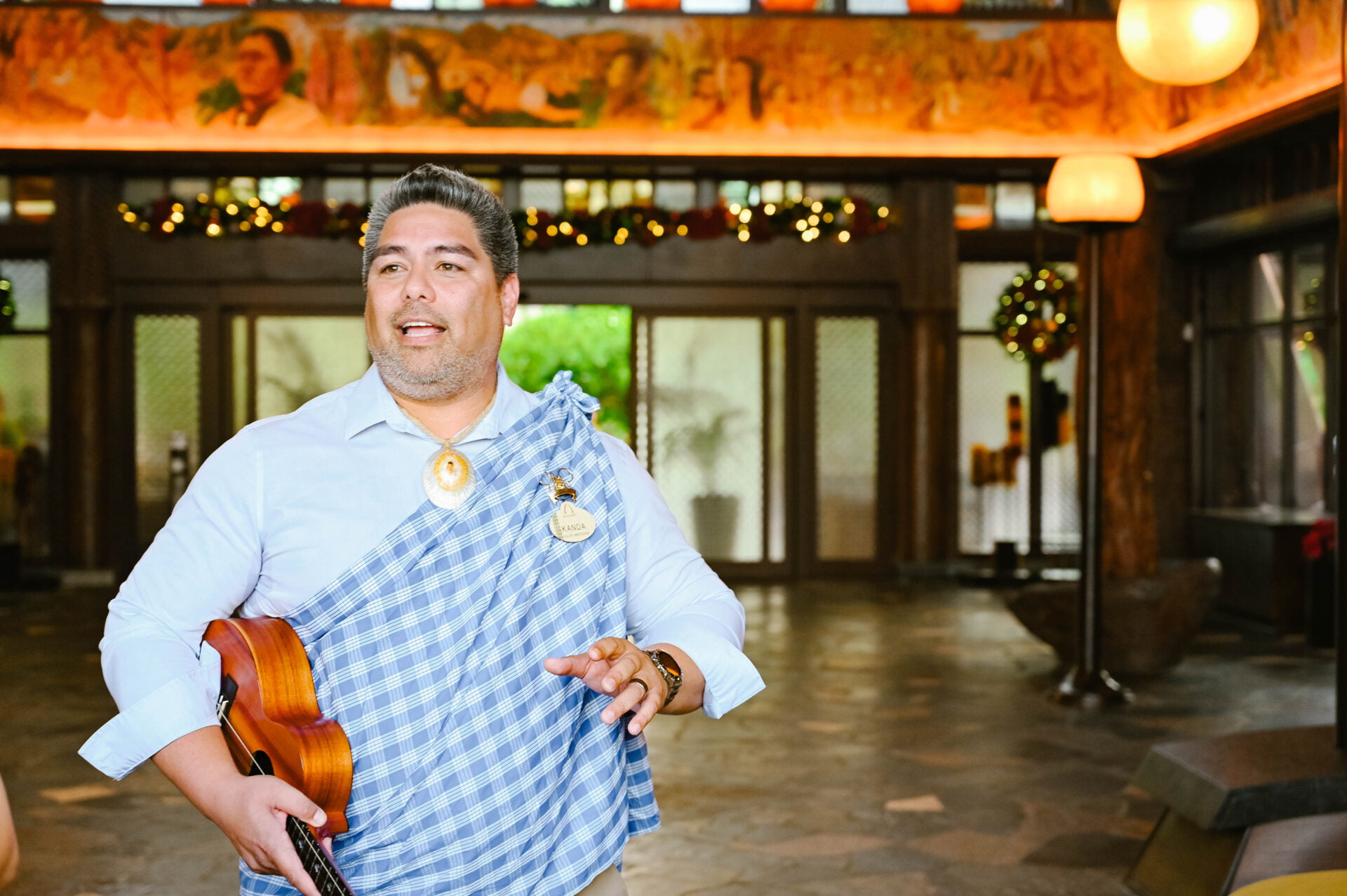 The Activity Centre at Aulani is where the team of Cast Members crafts fun complimentary on-site activities for the family to explore. These activities are all laid out in their app, which shows an hour-by-hour schedule of all of the activities that are happening at Aulani, and you can identify which ones are premium (or paid) and which ones are complimentary. Here are just some of the complimentary experiences you can sign up for:
Character Experiences (no registration required)
Pin Trading
Maka'ika'i The Culture Through Nature Tour
Maka'ika'i The Art and Culture of Aulani
Mo'olelo Fire Pit Storytelling
Surf's Up! A fishin' and Dancin' Party!
Ohana Luau
Ukulele Lessons
Disney Family Fun Animation
Aulani Lei Hiwahiwa
'Ohana Movie Nights at Halawai Lawn
Becoming Sea Creatures
Teen Shakaoke
And more!
Insider tip: The really popular complimentary experiences (ie. Ukulele lessons) fill up FAST, and we were one of those parents who lined up early in the morning to sign up for some of the classes. We were glad we did as that helped us secure a spot in the program. So if it's something that registration is required for and that you really want to do, I suggest signing up at the Activity Centre first thing in the morning.
Premium On-Site Activities at Aulani
There are a lot of paid program opportunities for every member of your family, and our kids enjoyed scrolling through the daily activity schedule on the app and choosing the ones that they wanted to do the most while on vacation. Here are some of the premium activities you can choose from when staying at Disney Aulani:
Rainbow Reef Fish Feeding
Wikiwiki Hairbraiding
'Imi Loa Nāa Hōkū Stargazing
Fitness classes on the beach
Make your own Mickey Ears (a family favourite)
'Ohana Painting Party
T-shirt Stamping
Aulani Aunty's Beach House
Children are invited to ditch their parents and head to Aunty's Beach House to play! From arts and crafts, backyard games, storytelling, and more, cast members love welcoming the littlest members of the family into Aunty's Beach House for a kids-only escape. Plus, you never know who's going to stop by and play! Yard games with Moana? Sounds pretty fun right?
Sessions are $65 USD and are booked in 1.5-hour increments.
Laniwai Spa at Disney Aulani Resort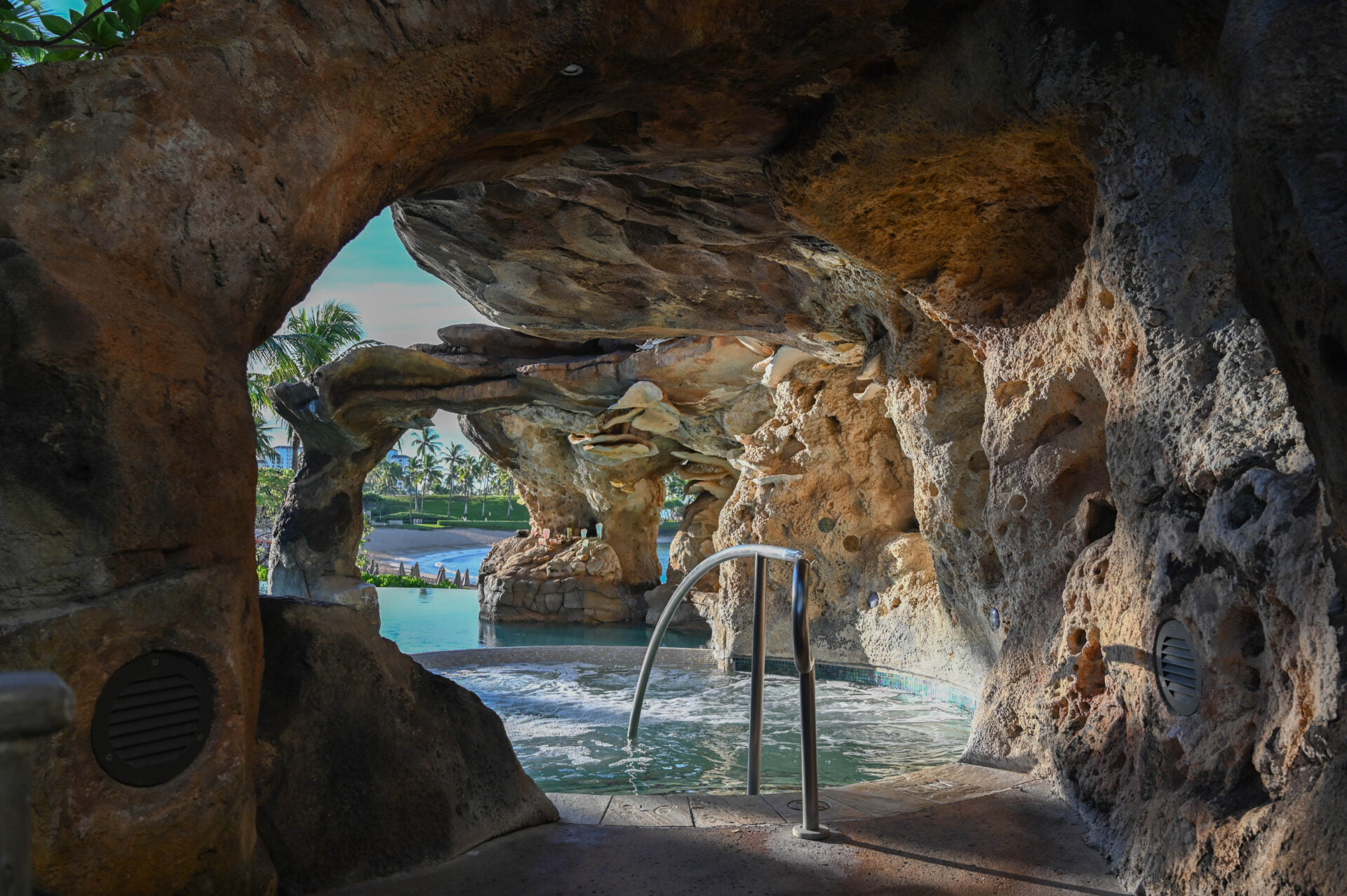 I can hands down say that the Laniwai spa at Aulani is by far the most incredible spa I've ever visited.
The experience starts off in the outdoor hydrotherapy spa where you can choose between several different hot tubs, all varying temperatures to suit your style. Cool off in between plunges in the waterfall showers (each representing different waterfalls from around Hawaii) or choose a Nordic dip into one of the cold tubs!
Once inside the elements from the environment are abundant, from the rainfall rock garden to the wood on the walls, to the sounds and serenity that make up the spa.
Once you're in your treatment room keep an eye open for a #HiddenMickey or in this case, Minnie 😉
Insider Tip: When booking, give yourself lots of time (at least an hour) to enjoy the hydrotherapy spa before you head in for your treatment.
Best Daytrips from Aulani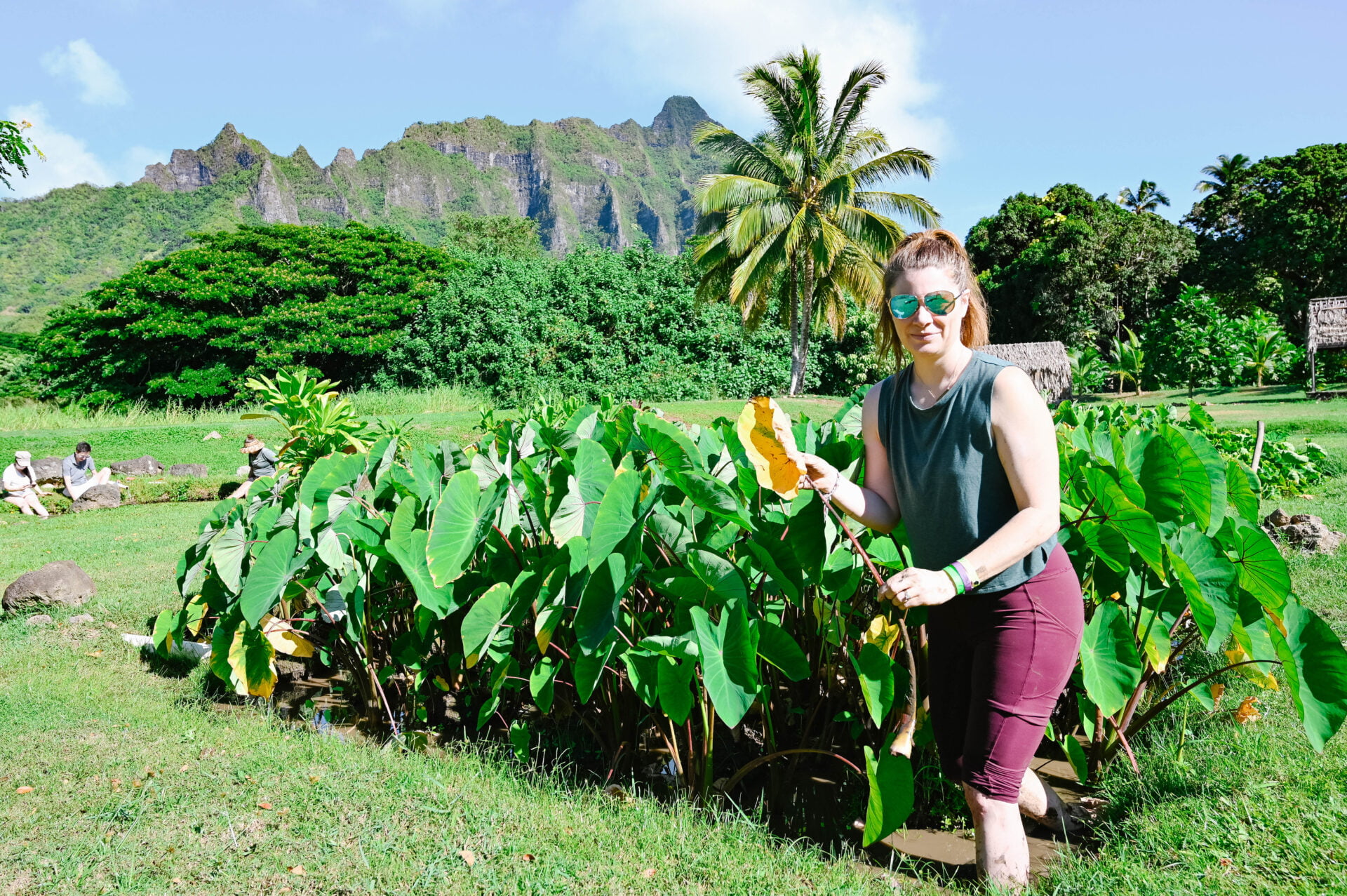 Aulani may be the perfect Hawaiian getaway, but the nearby sights and sounds of Oahu are just as unforgettable! Take a day to explore some of the island's famous attractions like Pearl Harbor, where you can pay respects at the World War II Valor in the Pacific National Monument. Get your heart racing with a hike up Diamond Head for panoramic views of Waikiki and Honolulu or experience an enriching cultural experience at Paradise Cove Luau or the Polynesian Cultural Center.
You can easily spend a whole day at Kualoa Ranch, one of Oahu's most scenic destinations, referred to by Hawaiians as 'the backroads to heaven', and take part in the Malama program. For those up for a real thrill, take on the Koko Head Crater Hike-one steep but rewarding climb! If history interests you, visit 'Iolani Palace or Manoa Falls hike. Spend your last few hours exploring the world-famous North Shore beaches – there's something to suit everyone on this iconic island.
Pearl Harbour
World War II Valor in the Pacific National Monument, commonly referred to as Pearl Harbor, is a memorial that honours those who served and sacrificed during the attack on December 7th of 1941. Located in Honolulu, Hawaii, Pearl Harbour National Memorial allows visitors to pay tribute to the bravery of American service members who endured so much during one of the darkest times in world history. Here people can expect a unique experience filled with iconic sites such as the USS Arizona Memorial along with informative museums and interactive exhibits. There are frequent special events and educational programs available for those looking to dig deeper into the history and heroism displayed at Pearl Harbor. Touring this incredible monument is not just an opportunity to pay respect but also a chance to better understand why we must never forget those who gave their all.
How far is Aulani from Pearl Harbour?
Pearl Harbour is approximately 17 miles from Aulani, and takes about 40 minutes by car, depending on traffic.
Waikiki Beach
Waikiki Beach is a world-famous beach that runs parallel to the bustling city of Honolulu. From long sandy stretches of white sand to surfing and snorkelling to watersports, to great shopping and wonderful restaurants, there is something for the whole family in Waikiki. With its endless possibilities and renowned reputation, Waikiki Beach makes the perfect day trip from Aulani.
Diamond Head Hike
If you're into beautiful hikes and incredible views, the Diamond Head hike in Honolulu is not to be missed. In fact, I actually did this hike on my 25th birthday and it is still one of my all-time favourite hikes. You'll be amazed by the spectacular views of Waikiki Beach, the Pacific Ocean and lush green mountains. Plus, it's a relatively easy trail that anybody can do as it's only about a mile in length with a steady but gentle incline toward the top of the crater. Take your time and enjoy the variety of flora and fauna as you make your way to the summit. Meander through well-maintained paths past stunning lookout points – you won't worry about getting lost as this is a popular trail among locals and visitors alike! From sunrise to sunset, the Diamond Head hike is sure to be an unforgettable experience perfect for any day trip.
Paradise Cove
Pack a picnic and take the kids on a short walk to Paradise Cove. Touted as "The Best Hidden Beach on Oahu." Paradise Cove (or Lanikuhonua Beach) is a quick walk down the boardwalk from Aulani and offers a quiet spot to snorkel, play in the sand, and explore the treasurers brought in from the ocean.
Polynesian Cultural Center
The Polynesian Cultural Center in Oahu, Hawaii is an absolute must-see if you are visiting the Hawaiian Islands. Here you will discover first-hand the unique culture of Polynesia and take part in immersive activities including hula dancing, ukulele lessons, and canoeing. Along with the fun hands-on activities, visitors can engage in traditional shows or stay for a Luau. There is also a marketplace which offers a variety of traditional Hawaiian art and souvenirs, including Maui's hook! We didn't get to visit on our last trip but will definitely be going on our next adventure to Oahu!
Kualoa Ranch
Kualoa Ranch is one of the most picturesque destinations on O'ahu and one of the Islands' biggest tourist attractions that should not be missed. Located in the beautiful Ka'a'awa Valley, the ranch features breathtaking views of the winding mountain range and majestic coastline that have been used as the backdrop for many Hollywood movies. Jurassic Park, Kong, 50 First Dates, Pearl Harbour, Jumanji, and more had scenes filmed at Kualoa Ranch.
During your visit, make sure to explore the private nature reserve, which offers an alpine backdrop and many outdoor activities such as horseback riding, ATV trails, ebike tours, hikes, beach access, and guided tours by tram or bus. Not only will you get to experience a vast array of thrilling adventures, but you'll also get to learn about Hawaiian culture while admiring some of its most prized sites including ancient Hawaiian fishponds and WWII-era bunkers.
My son and I took part in their Malama Program – which translates to giving back. We spent two hours in a Taro patch, helping with gardening and invasive species removal. We also worked in the local farm irrigation channel and helped build up retention rock walls in the stream. Learning about the cultural significance of Taro on this trip helped us create a deeper connection with the Hawaiian culture and this theme carried on through our whole trip. It was great to give back while on vacation and have "the best trip is the one that gives back."
Insider Tip: Kualoa Ranch is about 60 minutes away from Aulani so I recommend planning to spend a whole day there and take part in a variety of activities while on site.
Koko Head Crater Hike
Koko Head Crater Hike on Oahu is a demanding and challenging hike that makes for a perfect day trip. The spectacular views throughout the trail are astonishing and will take your breath away! As you climb the 1,048 steps to the top of the crater, you'll be rewarded when you reach the peak with breathtaking views of Hawaii's vast landscape. This hike is especially rewarding in the morning when cool temperatures are more pleasant than later in the day when it can become too warm. Be sure to bring water and sun protection, as well as time to relax at the summit before making your way down.
Manoa Falls Hike
With its stunning natural beauty, pristine rainforest and waterways, and majestic waterfall views, the Manoa Falls hike is a must-visit for anyone looking to experience Hawaii's natural wonders. Located near Honolulu, the trailhead is easy to find and well-marked — perfect for an afternoon of exploration. Whether you're out on a leisurely stroll or pushing yourself to reach the summit of the waterfall, the sights and sounds of Manoa Falls offer something extraordinary to everyone who visits. Roaring waterfalls and lush tropical greenery create an unforgettable ambiance that lingers in the memory long after departing this scenic oasis.
North Shore
Oahu's North Shore is home to some of the most beautiful beaches in the world, from Waimea Bay to Sunset Beach, it's where residents and tourists alike can relax and soak in the beauty that Hawaii has to offer. Visitors flock here for unparalleled surfing, beach strolls, bike rides and walks along trails across the picturesque landscape. If you're looking for big waves and to watch some of the world's best surfers, the North Shore is the place to go!
Dole Plantation
Oahu's Dole Plantation is the perfect spot for a unique experience on the Hawaiian Islands! This plantation is full of tropical majesty and activities that will keep visitors entertained day or night. Visit the Pineapple Express train to explore the grounds and take in jaw-dropping views of acres of lush pineapple fields. Enjoy tasty treats like the world-famous Dole Whip or browse through unique souvenirs in an old-fashioned general store. Additionally, there's no limit to the amount of wildlife and garden attractions available – from inspiring gardens to exotic birds and even friendly farm animals.
How far from Disney Aulani to Dole Plantation
It is 22.4 miles which will take approximately 30 minutes depending on traffic.
How to Give Back While on Vacation at Disney Aulani Resort
For those visiting the Disney Aulani Resort, the Malama Program provides a great way to give back during your vacation. In Hawaiian, the word 'Malama' means to care for, love and protect and in this program travellers can take part in conservation projects such as beach cleanups or hands-on out plantings at various points of interest around the island.
Disney Aulani FAQs
Can you get a day pass for Disney Aulani / Can you go to Disney Aulani for the day?
The resort is closed to outside guests and only those staying on the property are allowed to enjoy the resort amenities.
How to save money at Aulani
Investing in a luxury experience is a memory that will last a lifetime, but saving money is also rewarding! Here are 3 simple ways to save while staying at Aulani a Disney Resort and Spa:
Get a Kitchen – Cooking your meals in your room is a great way to cut down on costs while staying at the resort.
Score a Deal – Call the reservations line and ask about deals or work with a travel agent who can bundle flights and hotel stay to help save you money.
Put the Kids on a Budget – Your magic band or key pass can act as a free for all which can bring a big unexpected bill. My kids have to bring their own cash for souvenirs which saves me money and helps keep them on a budget!
What to bring to Aulani / What to pack for Aulani
Pack light, as you'll spend most of your time at the beach or at the pool! My suitcase was only half full when we left and other than a few small souvenirs that we made, it came back that way! Here's the essential list of what to pack for a trip to Aulani:
Swimsuits
Reef friendly sunscreen
Sun hats
Sunglasses
Sandals/flip flops (this was hard to find in Canada in the winter so think ahead or order online!)
Dress/nice clothing for meals out
Adventure wear (light clothing for hiking/biking, exploring)
Wicking t-shirt
Light jacket/sweater
Shorts/capris
Running shoes
Hat
Toiletries
Socks, underwear
Exercise clothes if you want to take part in fitness classes
Snacks for the kids! I like to have snacks on hand, so granola bars are great for the suitcase.
Camera, extra battery
Phone
Charging devices
Is the Aulani Disney Resort Worth it for Teenagers?
With a teen and a pre-teen on our trip, we can answer this question with authority. While the resort is definitely child-centred, the little kid in everyone can have a spectacular time at Aulani. With a waterpark that is suitable for all ages, age-appropriate activities for the teens to choose from, and even some that are exclusive to that age group, it's easy to find teens running around the resort with the same size smile as their three-year-old counterparts. We would definitely travel to Aulani a Disney Resort and Spa again no matter how old our children are.
How Many Days do you Need at Aulani?
We had 6 days at Aulani and it felt like a great amount. Some of our friends were there for 4 days which we think would have felt rushed. Others opted to stay in downtown Honolulu for a few nights and then finish up their stay at Aulani, creating different experiences. I wouldn't recommend staying any less than 3 nights as there's just so much to do!
Is Aulani expensive?
Disney Aulani is a luxury resort with a higher price point compared to other hotels.
Why is Aulani so expensive?
Aulani is a Disney property and the luxury Disney experience comes with a higher price. Simply put, you get what you pay for. Many families save up to have an Aulani a Disney Resort and Spa experience and with some planning and being able to take advantage of special deals, it can help make the trip a bit more affordable.
Is Aulani 5 stars?
Aulani is an award-winning resort with over 66 awards won since it opened including World's Best Hotels & Resorts for Families, Travel + Leisure and Best Family Hotels in the USA – Best Hotels Ranking, U.S. News & World Report.
How much does it cost to stay at Disney Aulani?
The price for a standard room at Aulani Resort is approximately $520 USD per night. However, the property does offer discounts such as 20% off for stays of 4 nights or more, so with some planning, you can possibly get a better price on a week-long stay at Disney Aulani.
Can you rent a car at Aulani?
Yes, Aulani has two car rental agencies on site that can accommodate your rental needs. I'd recommend pre-booking if travelling during peak season. If you only need a car for a few days while staying at the resort this might be an easy and convenient option for you.
Is Aulani all inclusive?
Aulani a Disney Resort & Spa in Ko'Olina Hawaii, is a breathtaking resort offering spectacular accommodations and amenities to its guests. But is it all-inclusive? While there are points of access where you can enjoy free activities suitable for all ages, many of the options and experiences that come with staying at Aulani require additional fees. From luaus on the beach to morning yoga classes; guided nature hikes to stand-up paddle boarding, the broad range of options available is worth splurging on if you're looking for a truly unforgettable trip.
Is Disney Aulani open to the public?
Aulani is a resort that is focused on the guest experience and therefore only registered guests are allowed to visit and enjoy the amenities. This is monitored closely with wristbands that are checked at the pool daily. If you want to meet up with friends who aren't staying at the resort you could meet at the beach, as all beaches in Hawaii are public and that could be a way to visit with friends or family all while following the resort rules.
Can you shop at Aulani without staying?
Yes, the shops at Aulani a Disney Resort and Spa are located just inside the entrance so you can head in and pick up your Disney merch without having to be a registered guest.
---
Check out these Articles for More Hawaii Travel Ideas: