"Is this your first time zip-lining?", the guide asked my 8-year-old with anticipation. I could tell from the way he posed the question that he was expecting her to say "Yes" and maybe would even have a nervous "flyer" to deal with on the tour.
"I think this is my third time", she said with confidence. And shot him a "let's get this show on the road" type of look. Alas, confidence that only a child can offer!
The reality is that we are huge fans of zip-line tours. Zip-lining is the perfect Eco-tour as guides are often great at exploring the flora and fauna of the region with you, and you get to feel connected to the jungle as you fly through the trees, stories above the ground.
Our tour with Koloa Zipline met every expectation we had and more!
Ground School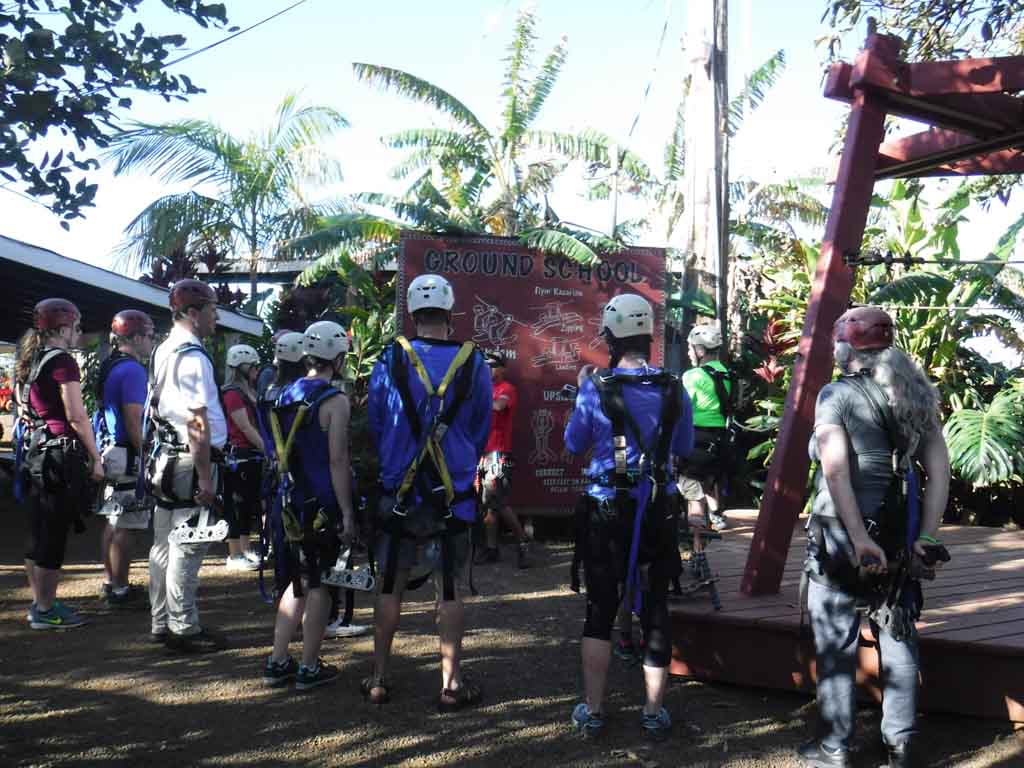 Before we could take off for the trees we headed to Kauai's only ground school, where we learned special positions like, coffee table, starfish, and my daughter's favourite, the superman! After understanding how to start, stop, and stay safe, we loaded into the truck and were off to the Kauai ziplining course.
Step on Up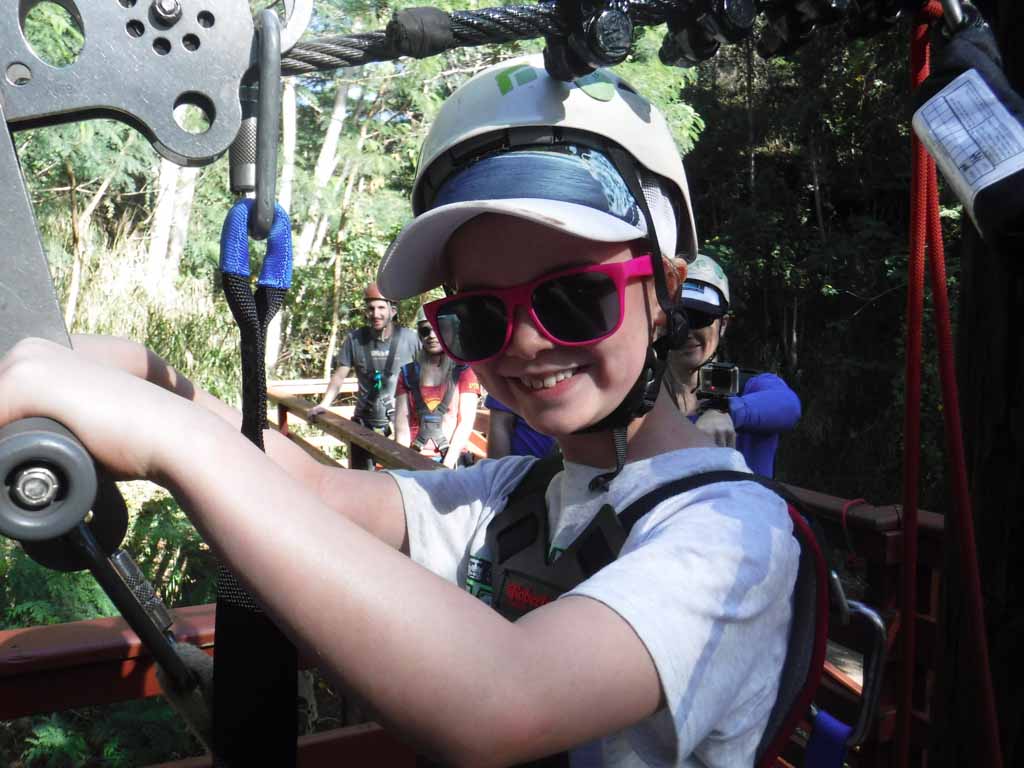 My daughter was pretty excited to be loaded into the back of the truck for our tour. "Step on up", the guides said as we went straight to the front of the of the bus and secured the best seats in the house! After a 15 minute bumpy ride through the jungle (where we met up with a wild boar) we were at our final destination… the first zip-line!
"Okay little lady, when you're ready… " And with that she was off. No matter, how many times I see her take off on an adventure I always get a little bit nervous. However, the squeal she lets out as she flies through the air is always a comforting sound and makes me love this little girl so much. I absolutely love having her by my side, exploring all of these areas and amazing adventures. I know that for now she's trying to keep up with me but I know that the tables will turn soon if her adventurous and outgoing spirit is any indication!
My Time to Fly
I absolutely love zip-lining! Feet up and soaring through the forest tree top, well, there's absolutely nothing like it. The only thing that sucks about zip-lining is that there's so much to look at and experience that sometimes it goes by too fast… however that speed also feeds my need for adrenaline, so it's really the perfect activity for me!
Screamin 'IO Harness (pronounced EEE OH)
Koloa Zipline is the only zip-line company on Kauai to offer the Screamin 'IO harness. This allowed my daughter to fly hands free, just like superman! You can't see the size of her grin but she was smiling ear to ear and loved that I was taking pictures every step of the way. "My brother is going to love this, I'M SUPERMAN!"
Check Out my Butt (yes, I just said that)
Sometimes you need to go outside your comfort zone, and when they offered me the chance to fly hands free, upside down, I had to say yes (even though every gut instinct was against this). After my adrenaline settled down it was pretty cool to fly upside down, completely hands free, looking at the ground speeding by beneath me!
What a View
The course that we took led us around this amazing reservoir, and then the view stretched out on to the ocean. While hard to see, "Base camp" is in the middle to the left, and we zipped all around this reservoir. Everywhere we turned we were either looking at the jungle, the emerald mountains, or blue sea.
Kauai's Longest Zip-line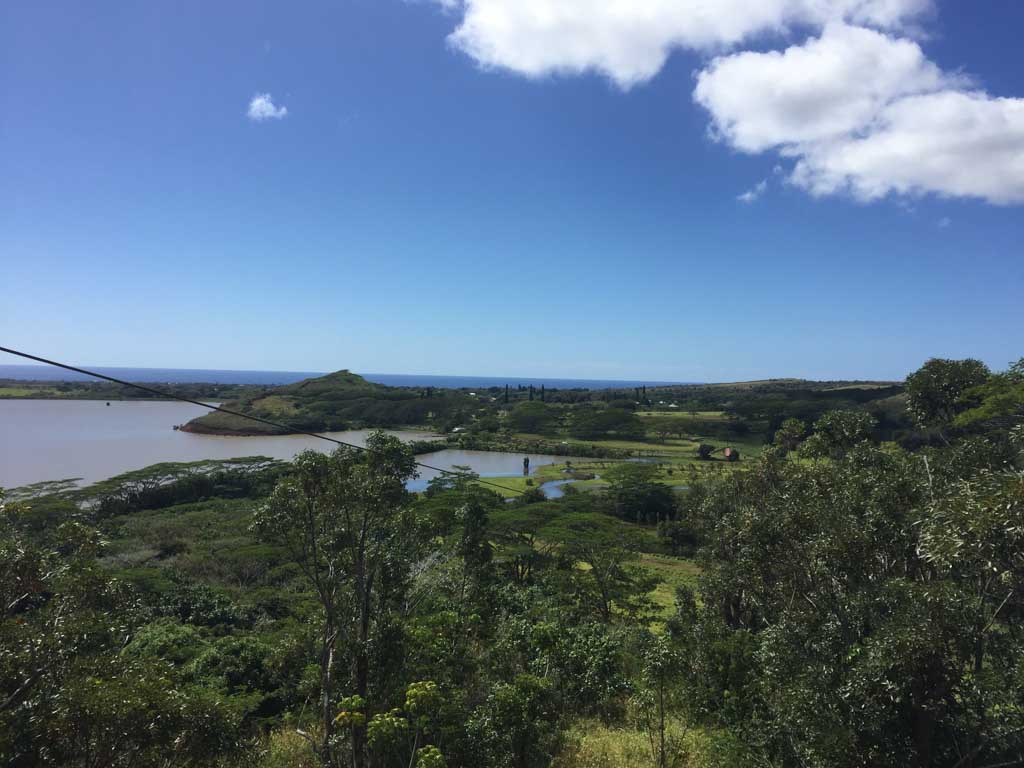 At half a mile in length, this is the base where we launched for our final Kauai ziplining course. If you look closely you'll see a red landing platform… that was where we were heading to! I can tell you one thing, it looks this small in person too as we all looked around and asked… "Where are we going?"
Amazing Bonding Experience
We know that families who play together, have stronger bonds and are closer… well, zip-lining with my girl and seeing her fly through the air was an amazing adventure and an experience neither of us will ever forget!
Want to see what Kauai ziplining is like? Check out our action-packed video!
https://www.youtube.com/watch?v=PESfQBQluOo&t=57s
If you go be sure to bring:
Small camera attached to you

Running shoes or shoes you can do some basic hiking in.

Guts! (Just joking, Little Adventurer has been doing this since she was 4… if she can, you can!)
Another note: Children need to be at least 7 years old to participate.
Is this a sponsored post?: Yes, our Kauai ziplining adventure is sponsored. However, we take the responsibility of shared posts VERY seriously and only work with partners we can wholeheartedly recommend and services we would purchase ourselves.
Looking to plan the ultimate family trip to Kauai? Check out our other stories and recommendations: