When you ask my kids about how their trip to Kauai was, the FIRST thing they will tell you about was the stay at the Koloa Landing Resort.
Koloa Landing Resort is located in Poipu Beach, in South Kauai. A 20 minute drive from the airport brings you to a 25 acre property, that has recently undergone a 100 million dollar renovation. This means all the rooms have new modern finishings, full kitchens, free WiFi, multiple TV's, washer / dryers, and private lanais.
When you're not in your room you can enjoy many of the resort amenities which include: two pools, with waterfalls and lagoons; a walkway to the ocean; an amazing fitness centre; soccer field; volleyball court; golf putting green; spa and more!
My kids LOVED this hotel so much that they can't stop talking about it, so I enlisted their support in sharing what makes this place so special…
The Pool – "There was a pool in our backyard!"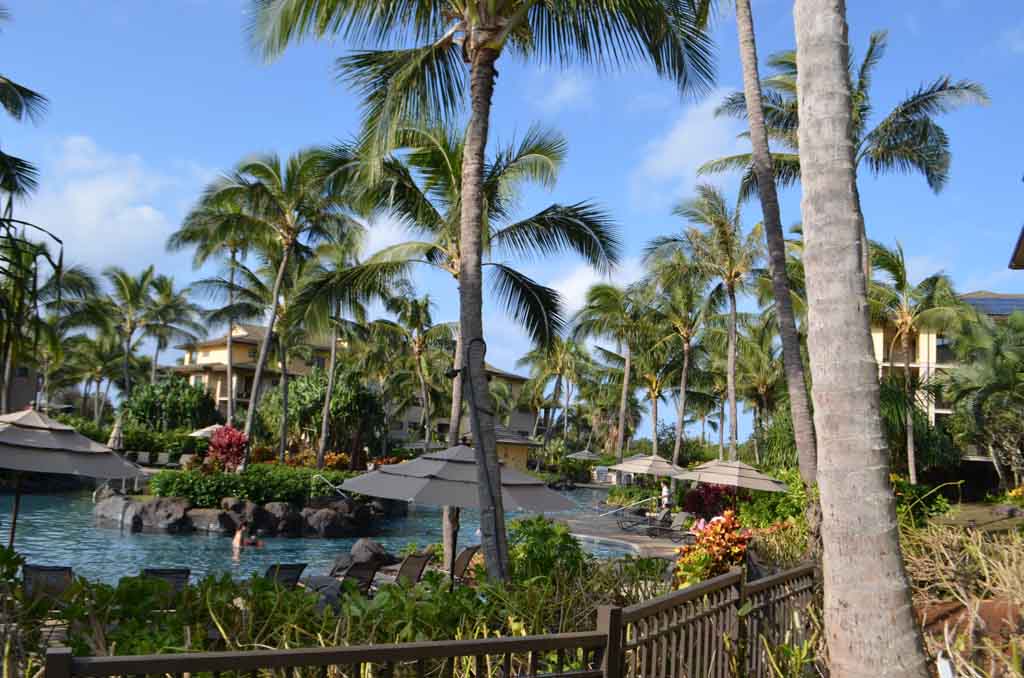 Ten steps from our lanai brought us to an amazing family pool.  The pool had multiple areas to play in (of varying depths), as well as a hot tub and side deck with a family BBQ area. It was awesome to be so close to the pool so that if we forgot something in the room or one of us wanted to head back and pick up some snacks we could!
Incredible Rooms – "My room is huge mom! There's a massive bed, a TV, a patio, and a bathroom with two sinks… come and see"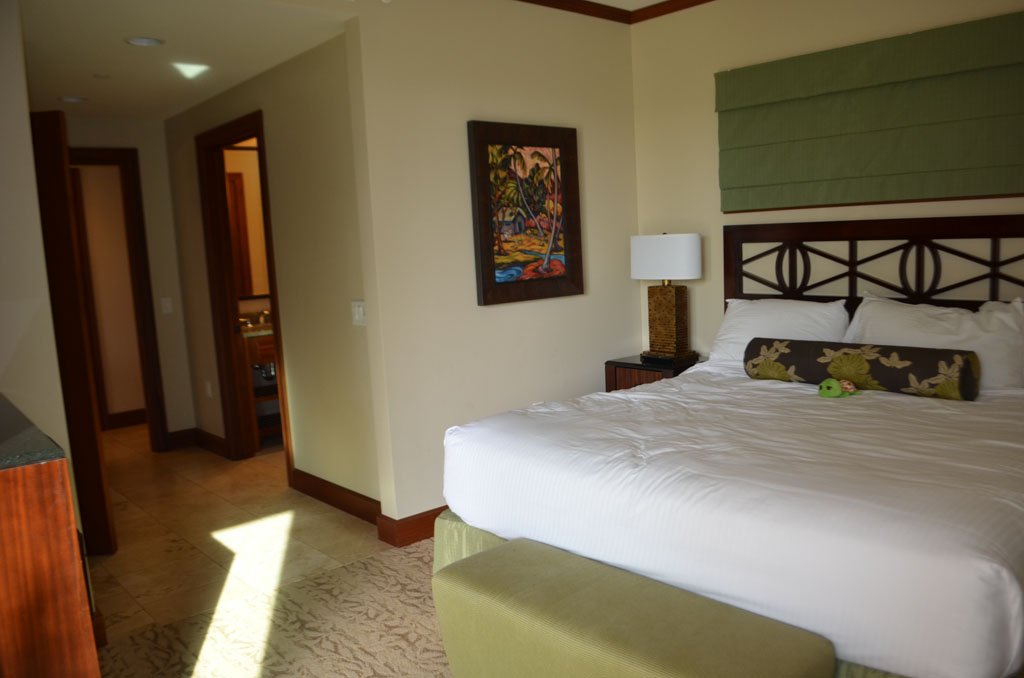 When we first checked into our room at the Koloa Landing Resort we quickly found ourselves in this room, which we thought was the master bedroom… no, this was the kids room! A full second master suite makes this hotel perfect for families traveling with big groups, or multi generations. The kids loved being "far away" (down the hall) from us, and "staying up late" to watch TV.
Dreamy Master Bathroom – "We could have a party in here!"
Our Master Bathroom was something like I have never seen before… His and her matching sinks on opposing walls, a huge walk in shower, a deep soaker tub that could fit the whole family and a private toilet room. The whole family had fun getting ready in there, I've never seen a master bathroom so big!
Full Family Kitchen – "Mom, I'm hungry"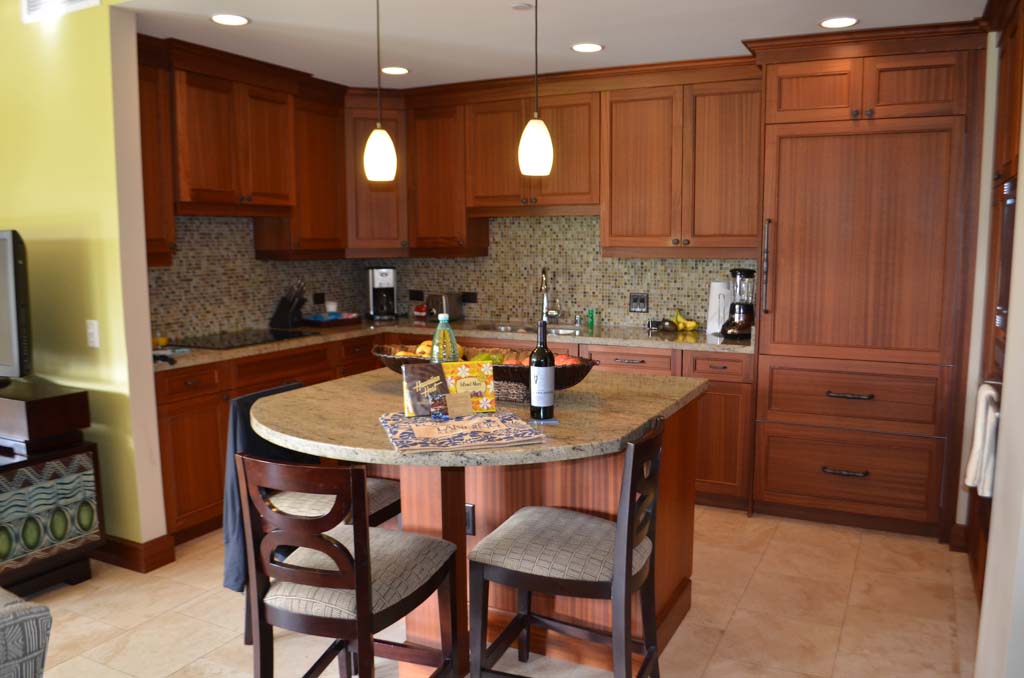 As a family with a severe nut allergy, we need to be able to cook all of our own meals when we travel. This executive, luxury kitchen was fully stocked with everything we needed and more (including a blender and a rice cooker!)
Indoor/Outdoor Living Space – "Can we go and play on the field"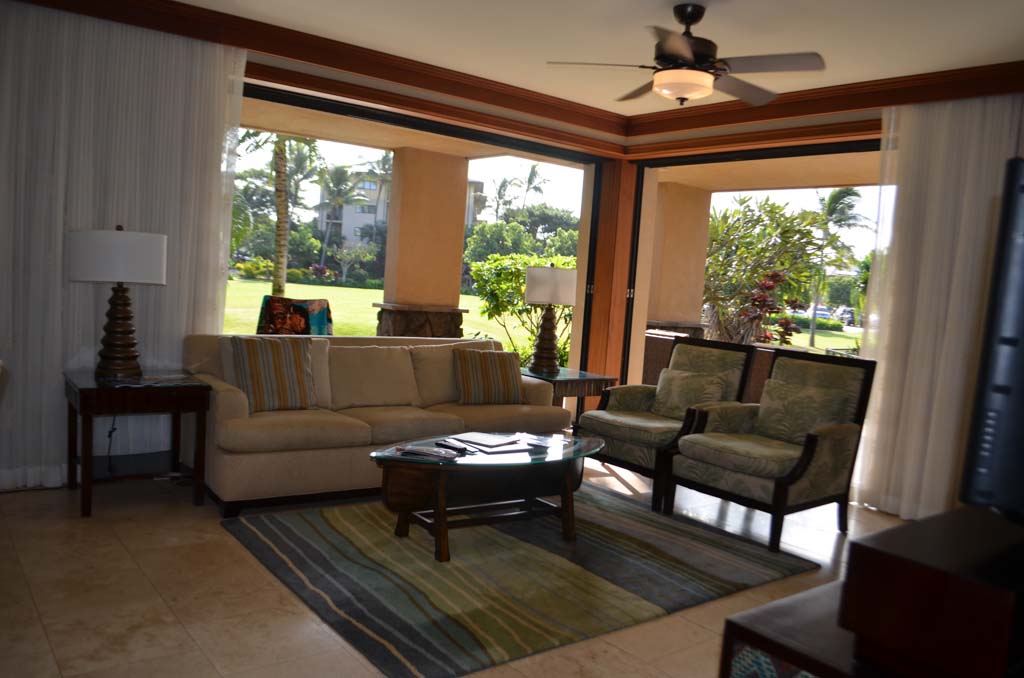 We loved that our lanai windows fully opened up and our living room could transform into an indoor/outdoor space. The kids loved that they could run from our room out onto the field and play all of the games that were set up for them (football, soccer, volleyball and mini golf).
Private Lanai – "It's bigger than our backyard Mom!"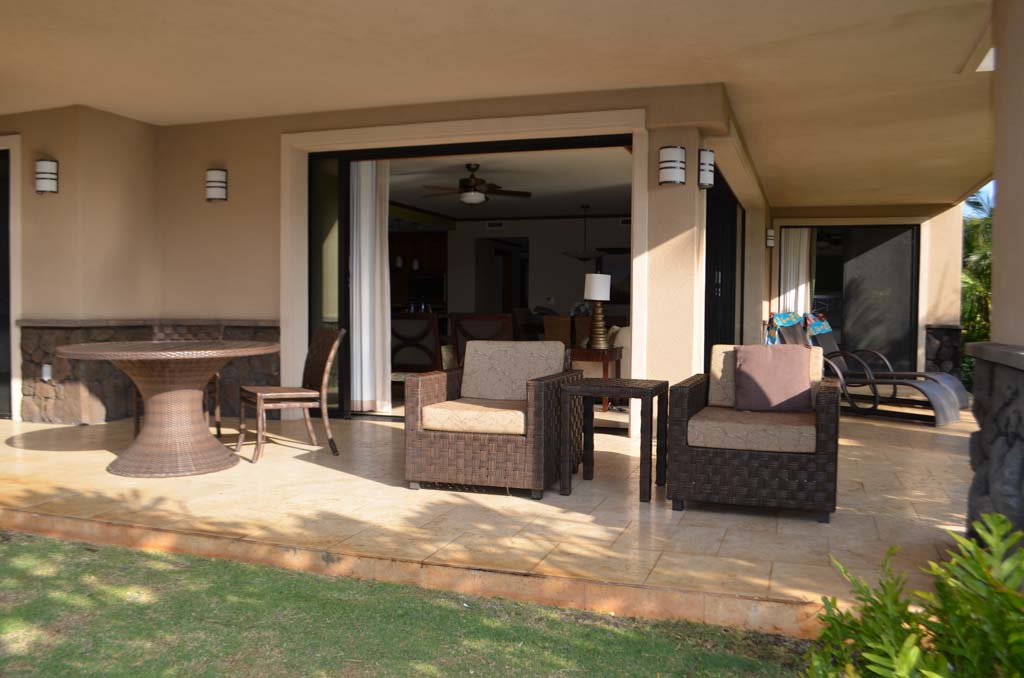 Each room and our living room had it's own private lanai. The kids loved being able to sneak out of their rooms in the morning and hang out on the deck. The whole deck was actually bigger than our backyard at home, so the kids were absolutely spoiled!
Hanging with the Locals – "Why did the chicken cross the road?"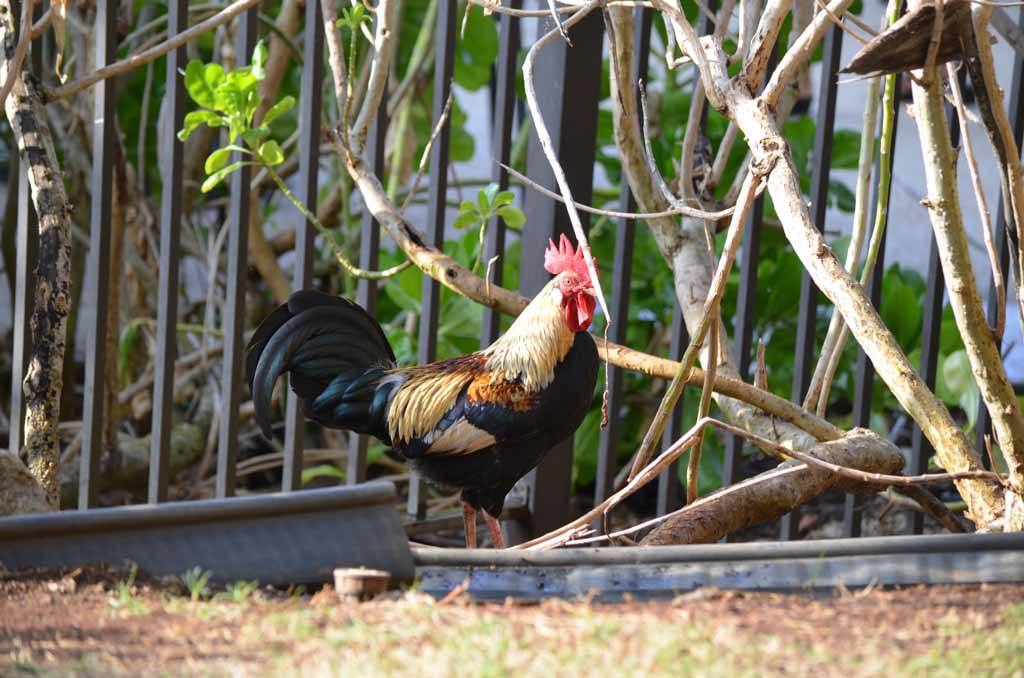 A few years ago there was a hurricane that broke open a farmer's large lot of chicken coops. Ever since then, the population of chickens and roosters have been on the rise and you'll see them roaming all over the island and through all of the properties. The kids loved seeing all of the chickens, while I'll admit, I did get tired of the "Why did the chicken cross the road?" jokes…
Next to the Beach – "Can we go look for turtles?"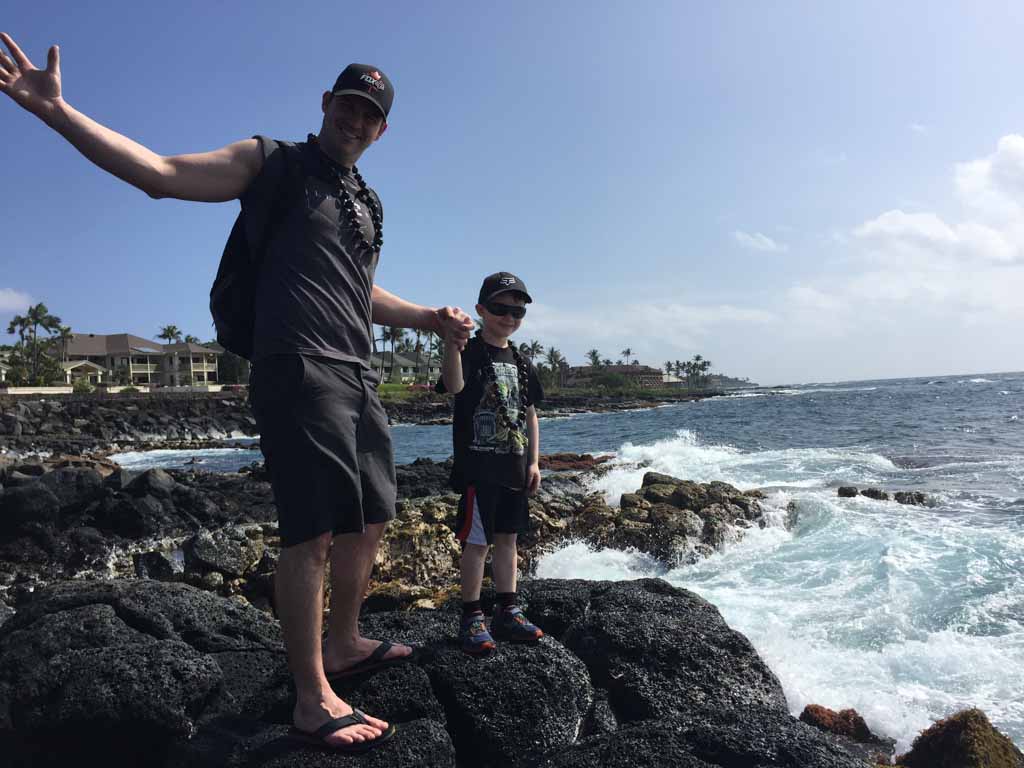 Koloa Landing Resort is located right across the street from the beach. A quick 5 minute stroll brings you face-to-face with huge waves, big swells, and if you're lucky, a turtle or two! (Watch for them feeding in the rocks!) The kids loved exploring the tidal pools, finding small fish, crabs, and anemones.
Amazing Family Experience – "I don't want to go home"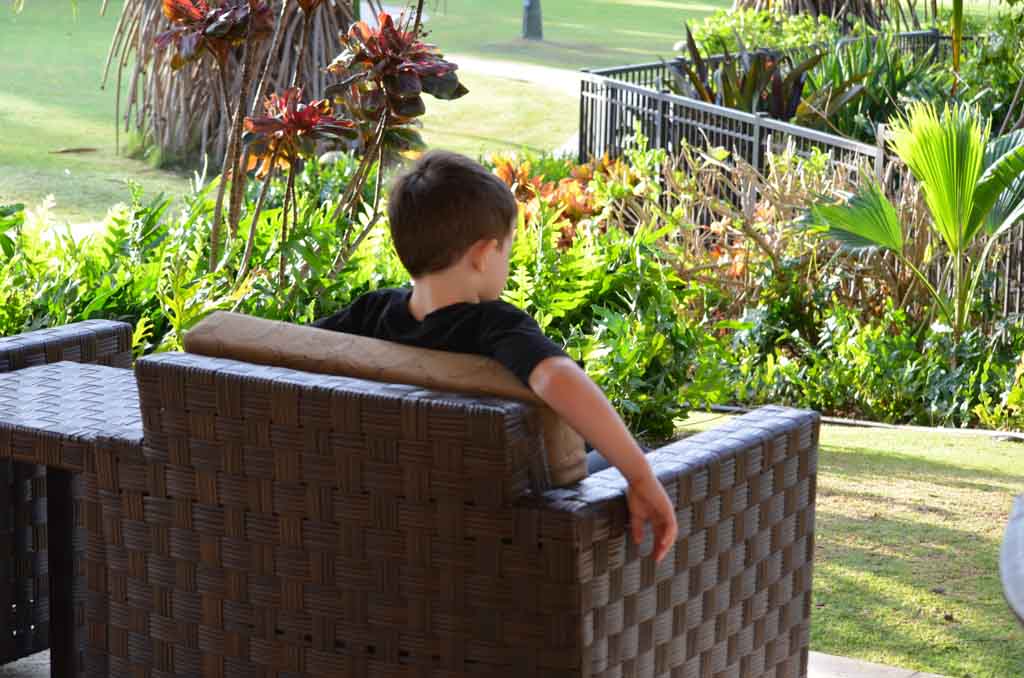 Koloa Landing Resort left us spoiled every day -with an amazing room, amazing amenities, and a family experience like nothing we've ever had before. None of us were ready to leave and when we get asked, "Would you go back?", the question isn't "if" –  it's WHEN! We'd love to bring everyone back with us too… while we do our best through videos and pictures, we really think this place needs to be experienced in person!
To see more footage of the resort and the experience check out this behind the scenes video: 
Is this a sponsored post?: While we received a complimentary stay, our words reflect our experience and we're excited to share it with you.
Looking to plan the ultimate family trip to Kauai? Check out our other stories and recommendations: