If you're looking for a place to explore in Nova Scotia, look no further than the Eastern Passage. This small town is located on the eastern shore of the Halifax harbour and offers plenty of things to do and see. From fishing villages to nature trails, there's something for everyone in Eastern Passage Nova Scotia. In this guide, we'll take a look at some of the best attractions and adventures that this charming town has to offer!
Disclaimer: This article includes affiliate links from which I may earn a small commission if you choose to purchase your tickets. Money goes to help fund Adventure Awaits and keep more informational and educational articles coming your way!
What is Eastern Passage in Nova Scotia known for?
Eastern Passage is a small community in Nova Scotia with a rich history and abundant natural beauty. The area was first settled by the Mi'kmaq people and later, the area became a haven for shipbuilders and fishermen. These days, Eastern Passage is known for its miles of scenic coastline, picturesque parks, and excellent seafood. Visitors can enjoy a lighthouse tour, hiking, kayaking, and whale watching. There are also several art galleries and unique shops where you can support local artisans and pick up the perfect souvenir to bring home.
11 Things to do in Eastern Passage Nova Scotia
1. Fisherman's Cove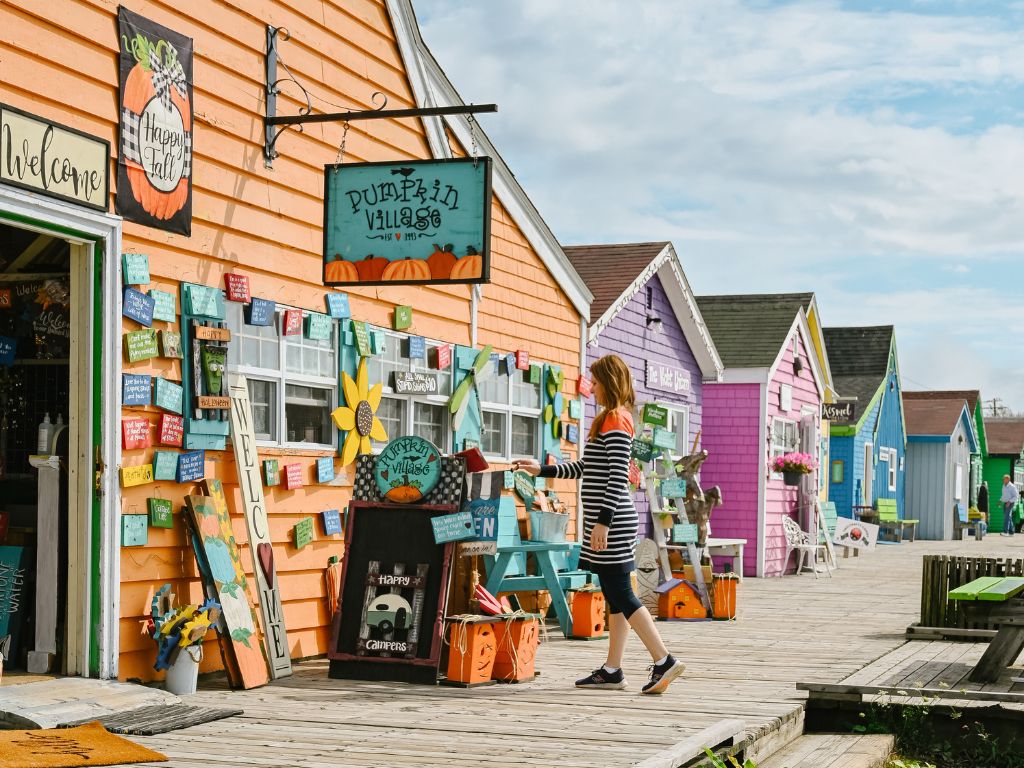 Nova Scotia's Fisherman's Cove is a restored 200-year-old fishing village that is a must-see for anyone visiting the Eastern Passage Nova Scotia region. Located only 20 minutes from downtown Halifax, this quaint village welcomes visitors to experience life on the boardwalk, where they can meander through boutiques, shops, and restaurants, or enjoy the scenic views looking out over the sea. While still a very active fishing community, keep an eye on the harbour and you may see a captain and crew coming in with their latest catch.
The restaurant scene is noteworthy, as it's a foodie's dream with everything from fresh seafood (and of course lobster) to burgers, fish and chips, and ice cream. And for those with a sweet tooth or looking to stock up before their road trip, stroll by Jo's Old Time Candy & Ice Cream Parlour on the boardwalk.
Eastern Passage Nova Scotia Art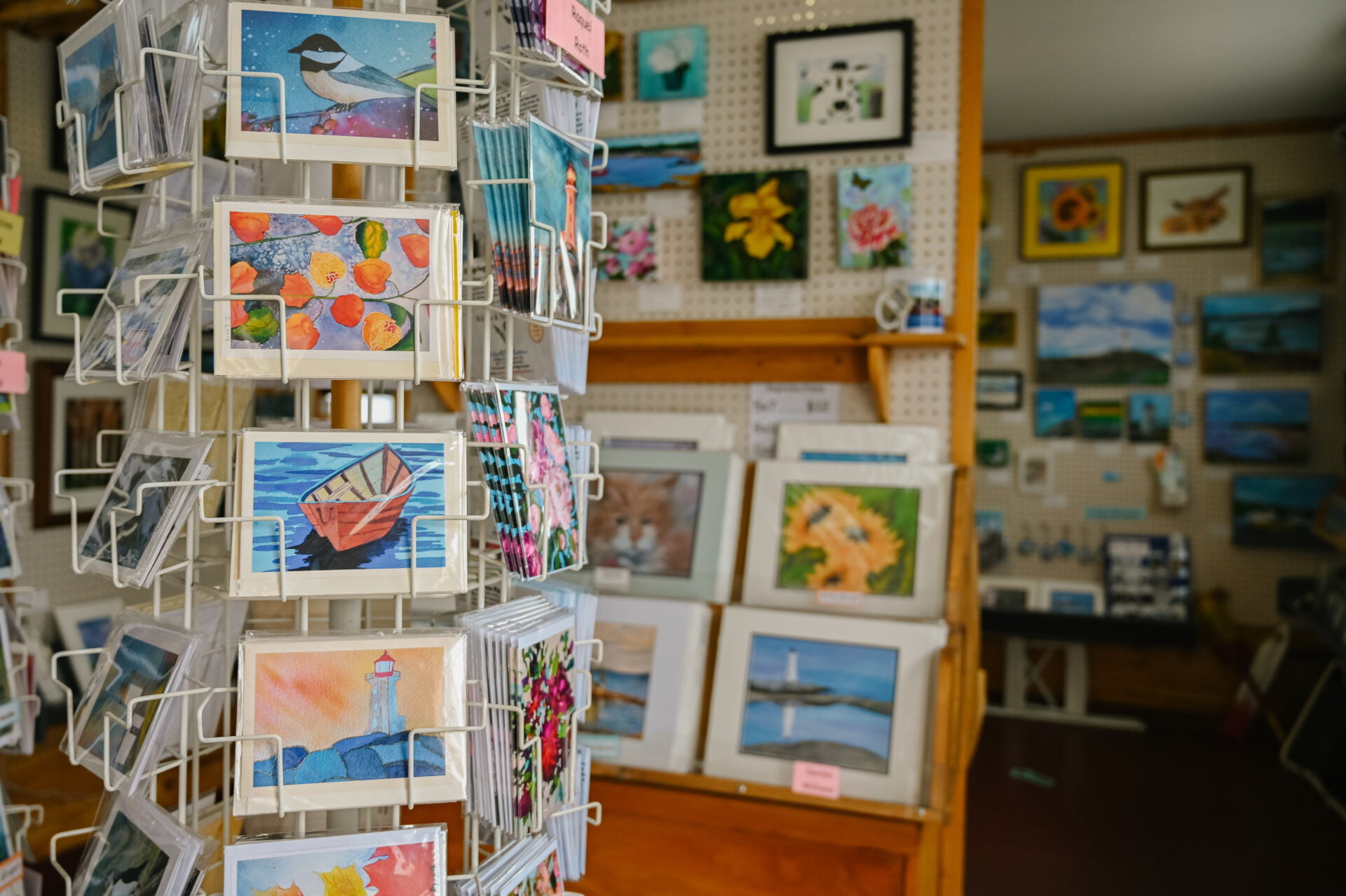 One of the things that we loved the most about Fisherman's Cove was the number of local artisans that were represented. Between all of the different shops, there were about 100 different local artisans' work showcased, giving you a chance to support locals and buy something unique.
Note: Most stores don't allow photography in order to protect the creative work of their artists. So while it's very tempting to take the camera out, be sure to ask permission before you do.
2. Fisherman's Cove Heritage Centre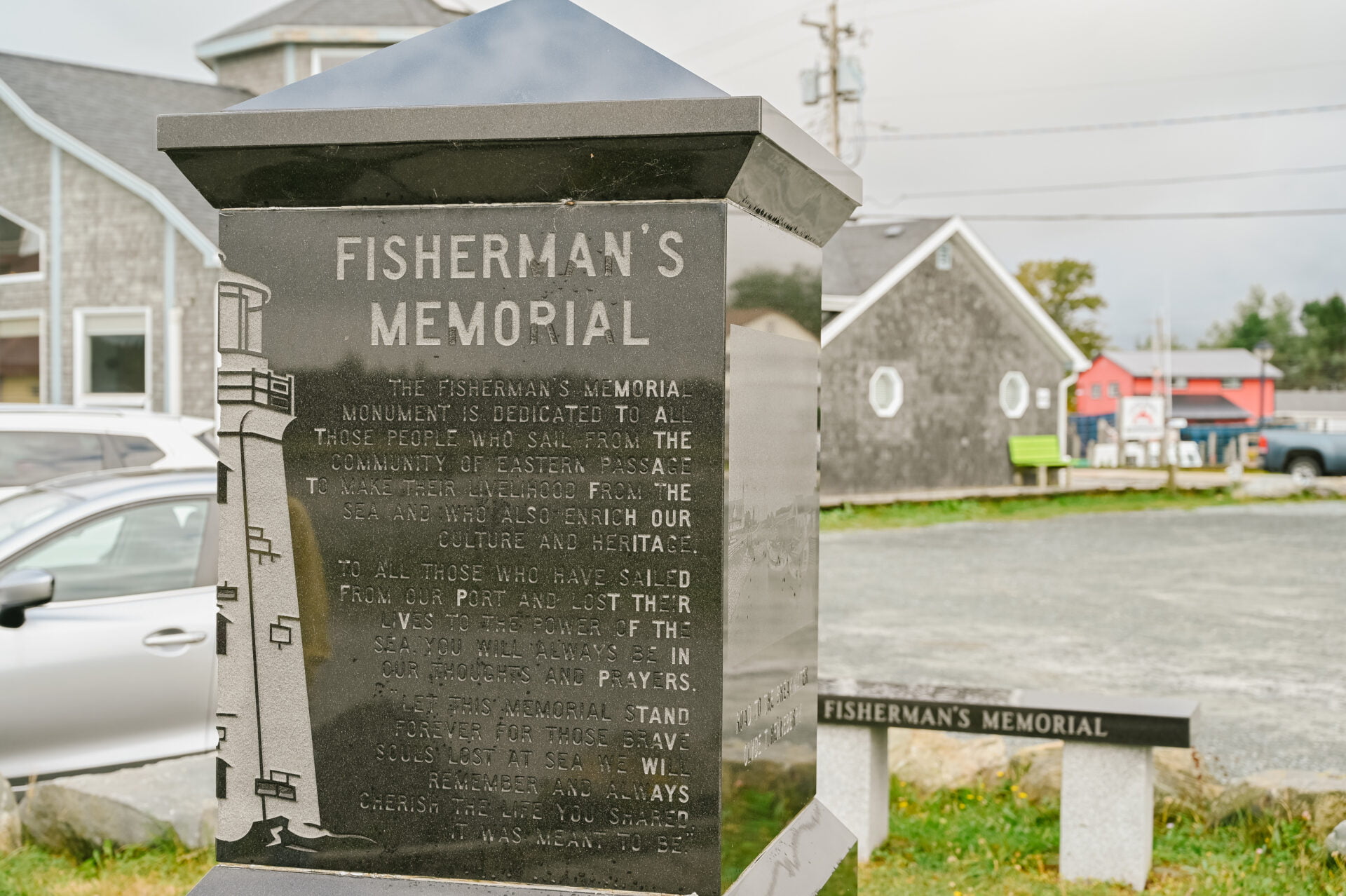 Fisherman's Cove Heritage Centre is a must-see for history lovers to connect with the story behind this beloved fishing village. The museum's informational exhibits share about the area's history and culture showcasing how local fishermen lived and worked. Add this to your list of things to see while at Fisherman's Cove, to connect with the story and evolution of this special little community.
Best Beaches in Eastern Passage
3. MacCormacks Beach Provincial Park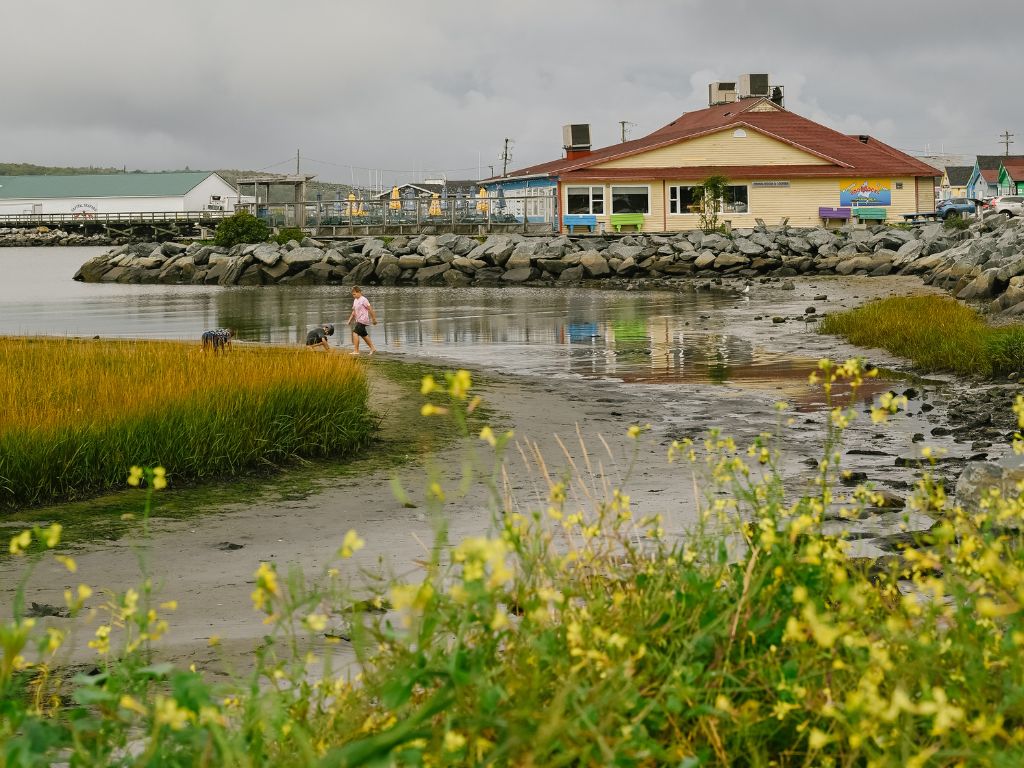 MacCormacks Beach Provincial Park is located on the East Coast of Nova Scotia and offers a variety of activities for visitors to enjoy. The park has over 5 km of coastline, making it a popular spot for swimming, sunbathing, sandcastle building and fishing. There is a 1.2 km accessible boardwalk that winds through the park, perfect for those on wheels, strollers or wheelchairs. Picnicking is another popular activity in the park, and visitors can find several sheltered areas to enjoy their meals. In addition, the park is home to a variety of wildlife, including deer, foxes, and birds. Visitors can also find several historical sites with points of interest and informational bulletins, such as the stories behind Devil's Island and the tribute to the fishermen's memorial. Whether you are looking for a day of relaxation and play or a little adventure, MacCormacks Beach Provincial Park is sure to have something for you.
4. McNabs Island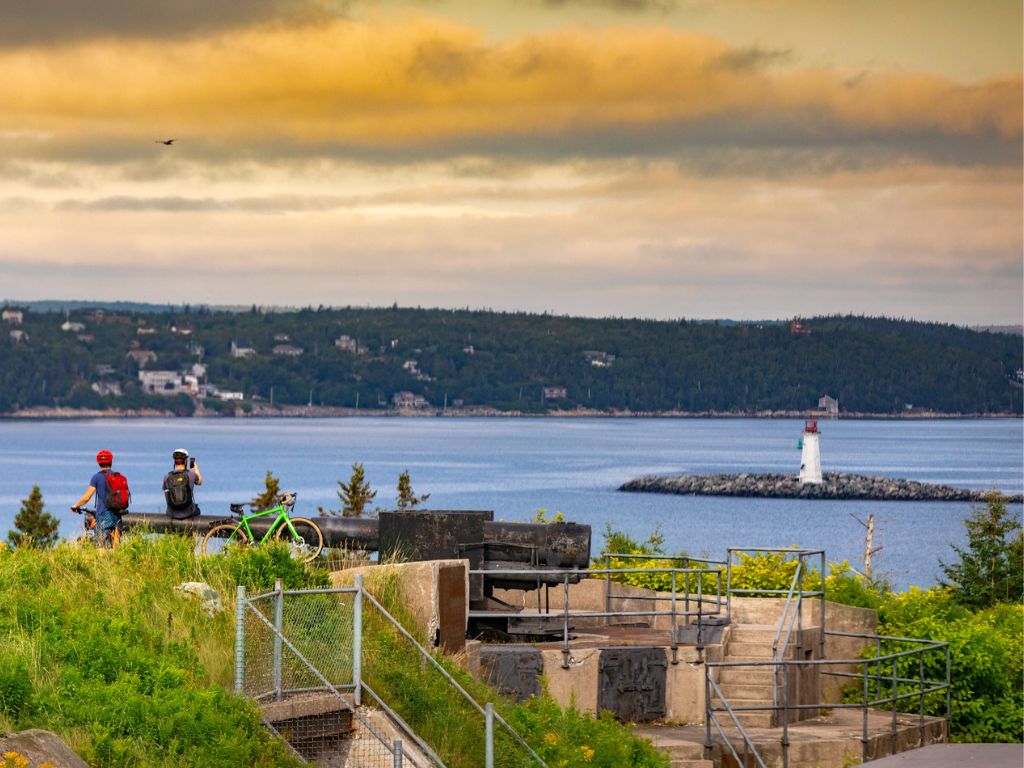 Nestled in the Halifax Harbour, McNabs Island is a nature lover's paradise. The little island is 5 km long and 1.5 km wide and home to a plethora of Halifax history, hiking trails, pristine beaches, and wildlife. Visitors can also explore the ruins of Fort McNab, which was built in the 1800s to defend Halifax Harbour.
There are a few different ferries that run from the Eastern Passage over to McNabs Island. This website has the full list and is the best place to research what service is best for your adventure. Once on the island, there are plenty of options for exploring. There are several marked hiking trails of varying lengths, perfect for an afternoon stroll or a longer hike. The island's sandy beaches are ideal for swimming, sunbathing, or just enjoying the views. And be sure to keep an eye out for wildlife east coast wildlife, both on the island as well as offshore.
What to bring: Sunscreen, insect repellent, water (there is none available on the island), snacks, sturdy shoes and a camera! Understand that visitors travel at their own risk, as there are no phones or no emergency services available on McNabs Island.
There is no admission fee for McNabs Island Provincial Park; however, there is a charge for the ferry ride. Dogs are welcome on the island but must be kept on a leash at all times.
5. Sand Key Drive Park – Dog Beach Eastern Passage Nova Scotia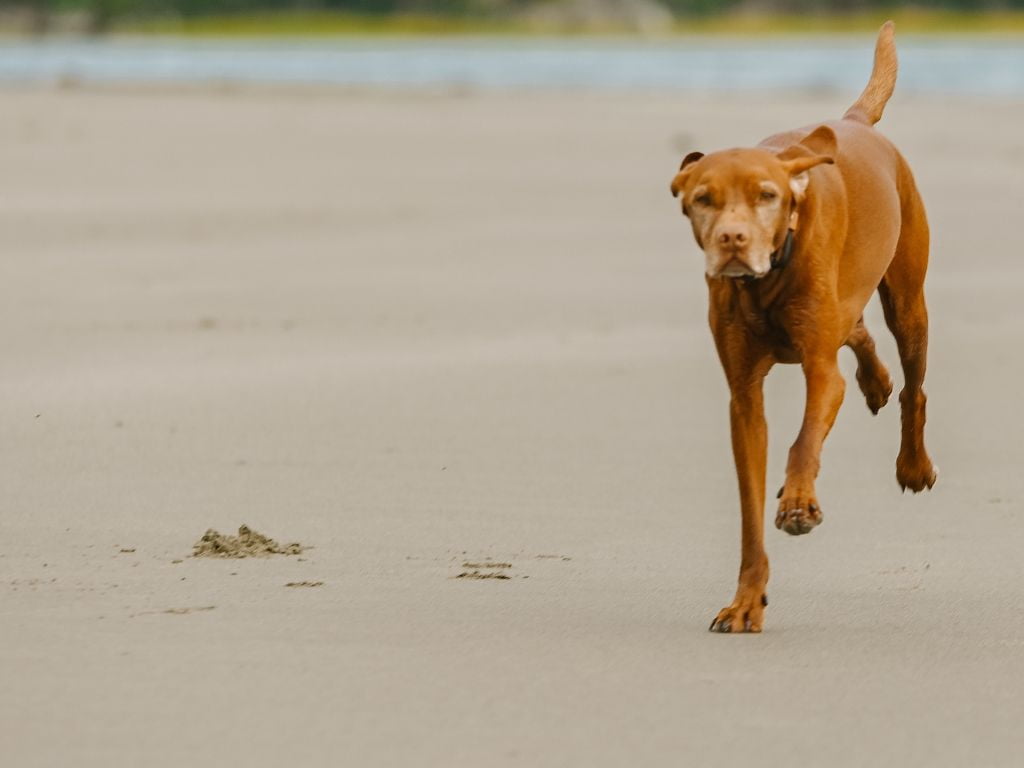 Beaches are the perfect place to take your four-legged friend for a swim or for a run along the shore, and there's no better place to do that than at Sand Key Drive Park in Eastern Passage, Nova Scotia. This community park and the neighbouring beach are about half a kilometre long, with two places to park your car to access the beach. If you're looking for beach parking the first parking is at the corner of Caldwell Road and Shore Road, and the second is at the intersection of Lighthouse Lane and Shore Road. If you want to head up to the community park and playground, it's just one block off Shore Road located at 47 Sand Key Drive, Eastern Passage, NS. So if you're looking for a paws-itively perfect spot to enjoy some quality time with your furry friend, be sure to head to Sand Key Drive Park and beach.
Will you be travelling with your dog? We highly recommend this all-in-one dog travel bag, full of convenient items such as collapsable bowls, a food storage bag and a placemat. Click here to get your dog travel bag!
6. Tanner Trail Point
If you're looking for a quieter escape and sandy beach, look no further than Tanner Trail Point. This scenic spot is located in Eastern Passage Nova Scotia and offers stunning views of the Atlantic Ocean. To get there, simply follow the Tanner Trail from the nearby parking lot. The trail is well-marked and easy to follow, making it a great option for hikers of all experience levels. Once you reach the point, you'll be rewarded with sweeping ocean views. Be sure to bring your camera to capture the stunning scenery.
7. Angel's Beach
Looking for a place to enjoy the sun, sand, and waves and have them all to yourself? Look no further than Angel's Beach in Eastern Passage. This beautiful beach is located just minutes down from Fisherman's Cove and is the perfect place to sneak away and have the whole beach to yourself. This little-known gem is often only welcoming locals so if you want to get away from the more touristy areas, this beach is for you.
8. Deep Sea Fishing in Eastern Passage
A&M Sea Charters offers an unforgettable deep-sea fishing experience in Eastern Passage, Nova Scotia. This family-run charter company provides everything you need for a successful day on the water, including all-weather gear, bait and tackle, and experienced guides. During your charter, you'll have the opportunity to fish for a variety of species, including cod, haddock and wolffish. The area around Eastern Passage is renowned for its rich fisheries, so you're sure to have a productive day on the water. And when you return to shore with your catch, the staff at A&M Sea Charters will be happy to clean and fillet your fish for you. Whether you're an experienced angler or a novice, A&M Sea Charters will ensure that you have a memorable day of fishing.
What to bring: Dress for the elements and in layers as it can be cold out on the water. Food and beverages are allowed on the water but not provided so do bring your own, especially extra water to stay hydrated. During the hot summer months don't forget a hat, sunscreen, sunglasses, and your camera to take pictures of your catch!
9. Shearwater Aviation Museum
The Shearwater Aviation Museum is a must-see for anyone interested in aviation history. Located in Eastern Passage, Nova Scotia, the museum is home to a wide variety of aircraft with a focus on Canadian maritime military aviation and naval history. One of their flagship exhibits shares the story of Lt. Hampton Gray, VC and the HMCS Bonaventure, Canada's last aircraft carrier. "The exhibit includes a reconstruction of the briefing room aboard the aircraft carrier, complete with original seats." With so much to see and do, the Shearwater Aviation Museum is sure to please visitors of all ages.
10. Hartlen Point Force Golf Club
The Hartlen Point Force Golf Club in Eastern Passage Nova Scotia is one of the best places to play golf in the area. The course is situated on a beautiful piece of land that overlooks the harbour. The club has been around for many years and has a rich history. "The course is carved out of natural growth forest and around the site of a closed artillery coastal defence fortification." There are two nines to choose from or guests can do both for completely different experiences. "The two nines are substantially different. The first nine plays a 3228-yard par 37 that was built through forest. The front is tight and demands accuracy over distance in shot making." The course is well maintained and the staff is very friendly. There are also a number of events and activities that take place at the club. If you are looking for a great place to play golf in Eastern Passage, Hartlen Point Force Golf Club is a perfect choice.
11. Devil's Island
If you're looking for a remote adventure to an island full of stories from the past then you need to visit Devil's Island. The lighthouse can be seen from the water, or you can enter the grounds and get a little closer. The lands are owned and operated by the Canadian Coast Guard so be sure to confirm that the grounds are open before visiting. This website has a wealth of information about the history of the lighthouse, a map, images, and visitor information to help you plan your journey. If you prefer to stay on the mainland you can spot the Devil's Island Lighthouse by driving along the east side of the Halifax Harbour along Route 322 until you reach its southern end.
Where to Eat – Restaurants in Eastern Passage Nova Scotia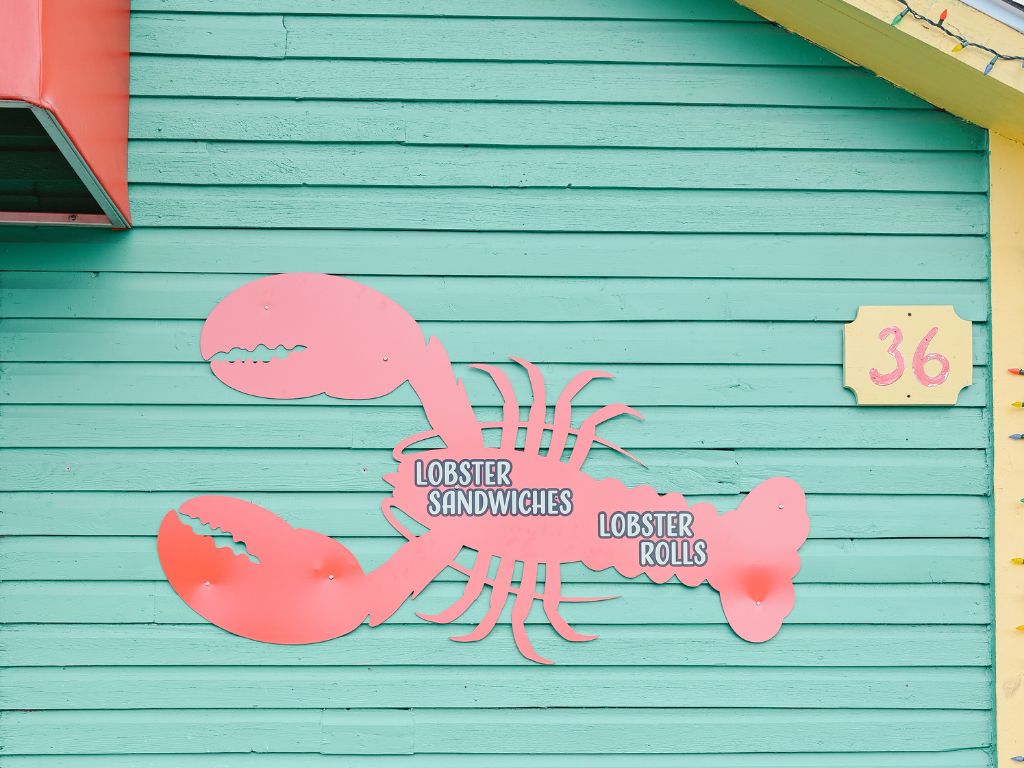 Are you looking for some world-famous Eastern Passage Nova Scotia lobster? Or perhaps you want some classic Canadian comfort food such as a burger with bacon and cheese. How about a nice Italian dinner after a big day of adventures? Eastern Passage has a ton of great restaurants to settle into and make new friends while you fill your belly. Here are just a few to check out:
What's The Scoop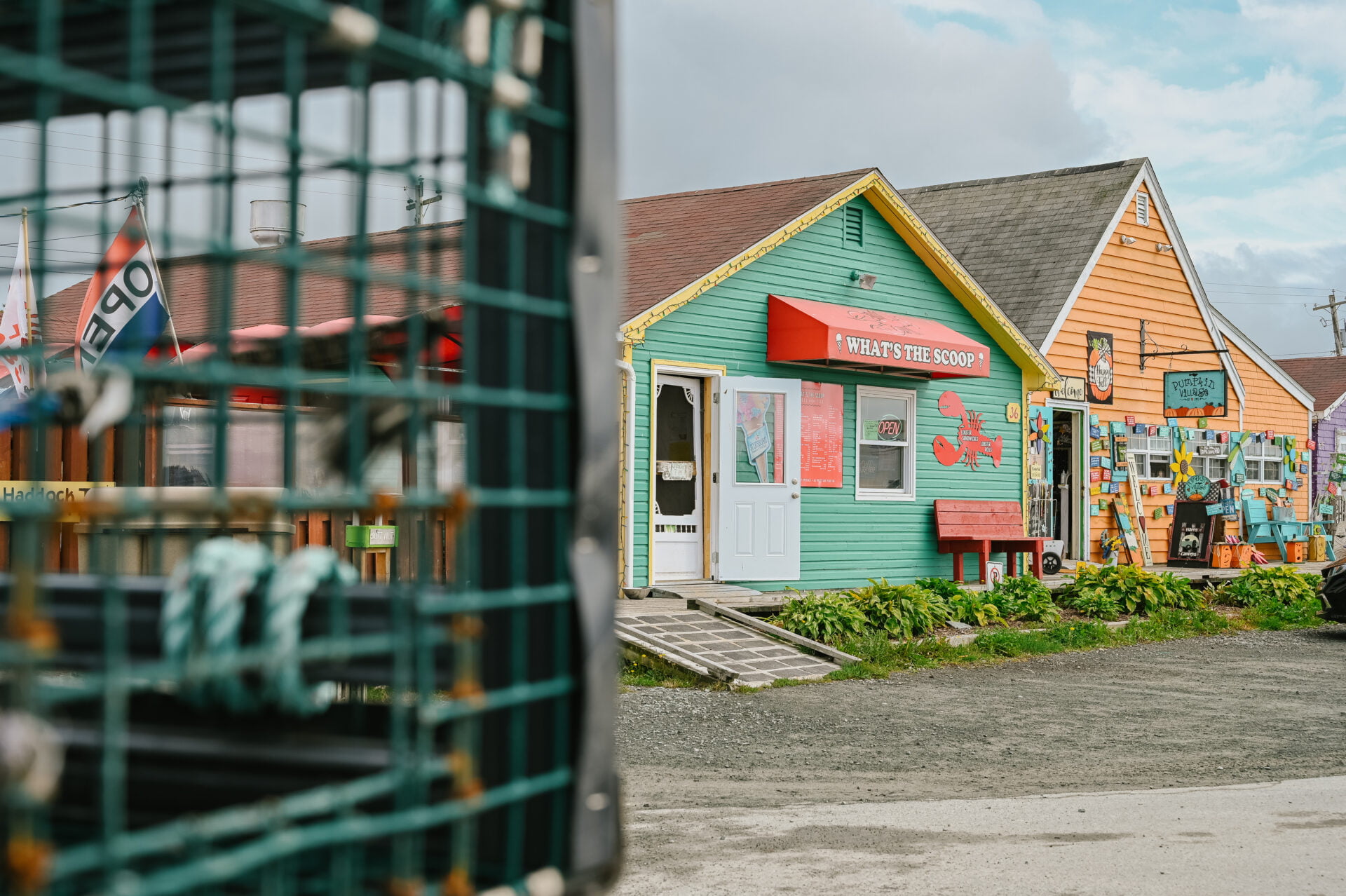 From fish and chips to hand-held burgers, to lobster rolls, What's the Scoop on fisherman's wharf is the place to be for East Coast comfort food.
Boondocks Restaurant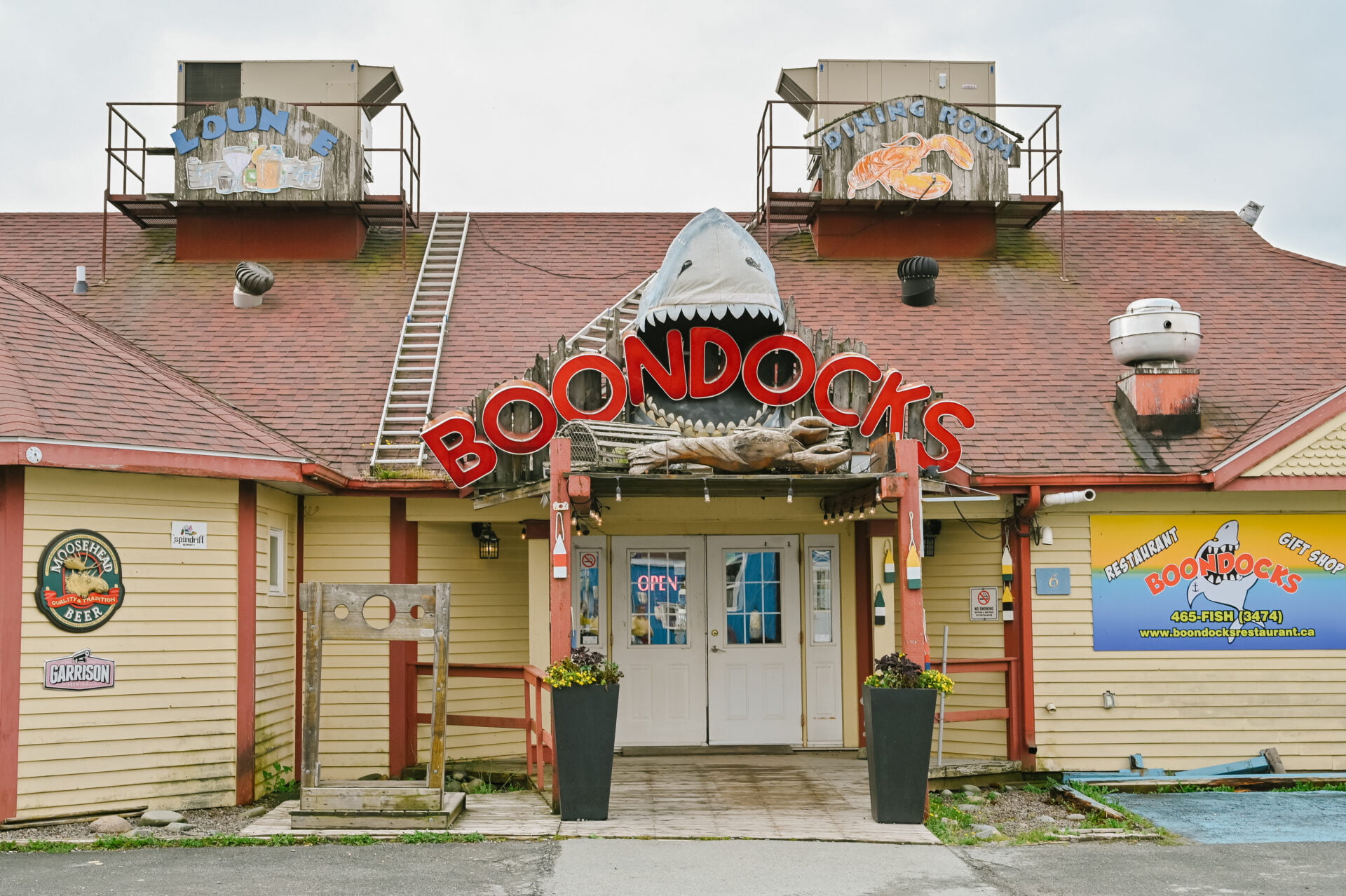 From shrimp skewers to scallops, to lobster rolls and chowder, this is the place if you are wanting to indulge in seafood while sitting in an authentic seaside restaurant. I love that they have vegan, gluten-free (although items are cooked with the same equipment) and kid-friendly menus making it a welcoming restaurant for the whole party.
Dockside Doughnuts
If you're looking for a sweet treat to indulge in while you walk around and shop, pick up a package of doughnuts for your boardwalk stroll. Dockside doughnuts are "Doin' dipped donuts down by the dock! Fresh homemade, handcrafted, mini donuts."
The Lobster Dive – Fish Market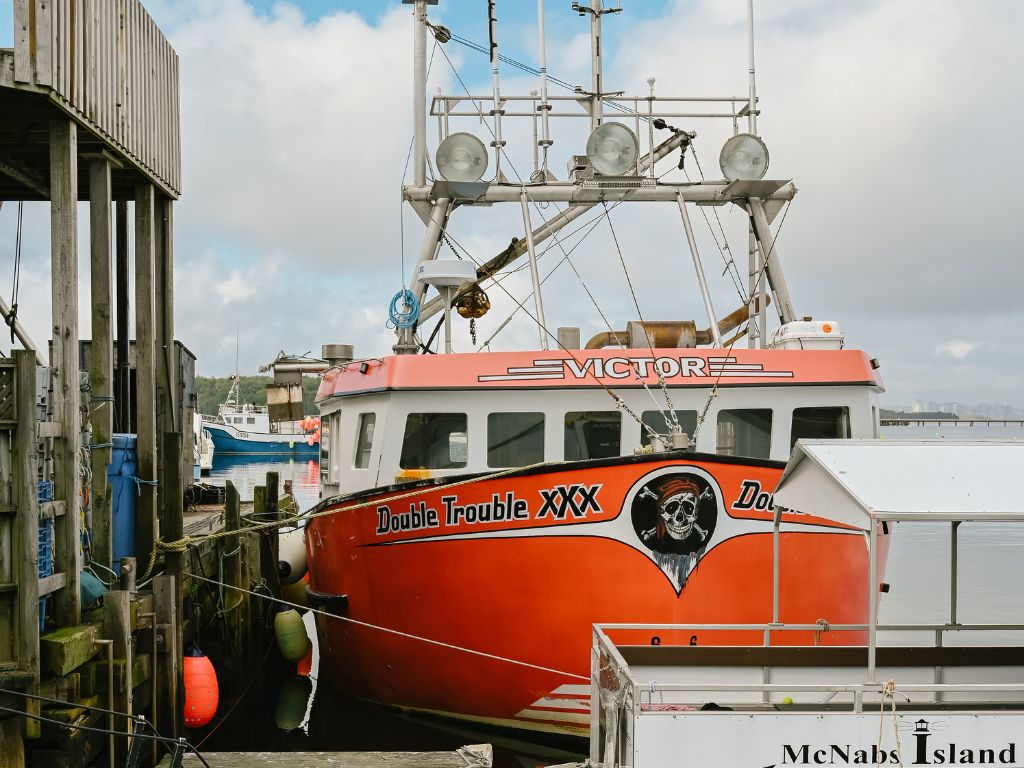 If you're looking for fresh lobster, head to the Lobster Dive in Fisherman's Cove to pick up some fresh right off the boat. You can also get clams, shrimp, cod and other seafood, subject to availability and what is pulled from the sea.
Where to Stay in Eastern Passage Nova Scotia
Are you looking for the best hotels in Eastern Passage Nova Scotia? Here are a few accommodation options for you to consider.
The Inn At Fisherman's Cove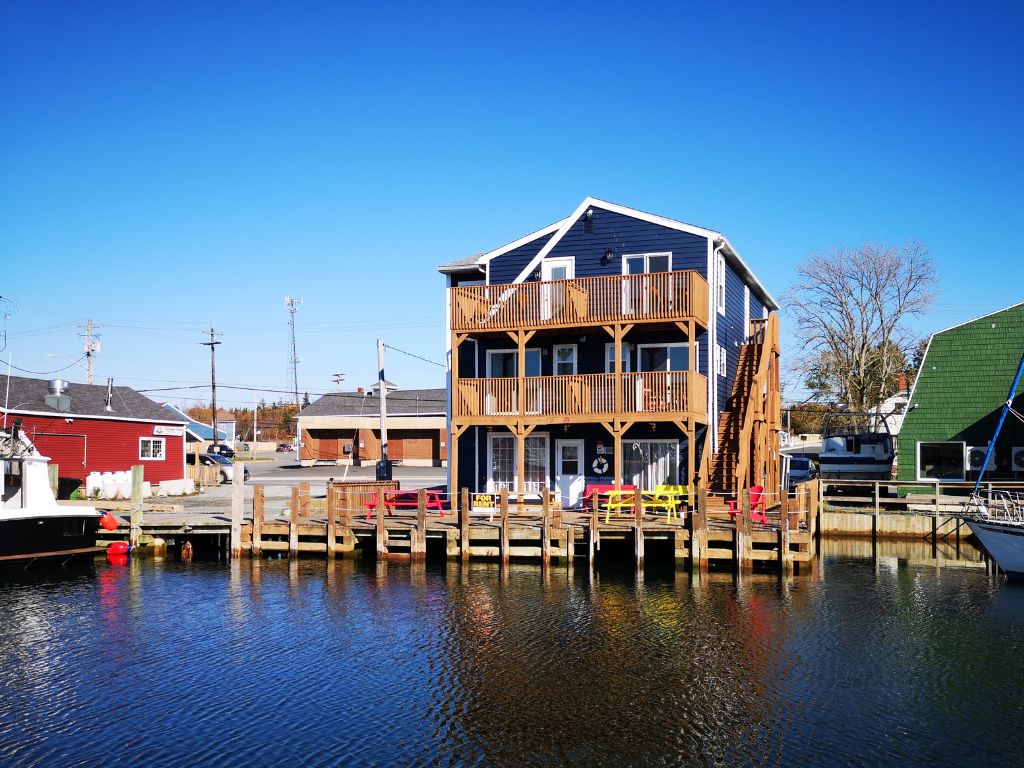 The Inn at Fisherman's Cove is a 4-star hotel nestled among the heritage buildings next to the boardwalk and shops in Fisherman's Cove. With 8 rooms to choose from you can choose between one of the four front rooms overlooking Eastern Passage or four rooms with balconies overlooking the harbour. The fourth-floor suite offers stunning views of both the town and harbour and their garden room is cozy and private. You'll enjoy a delicious breakfast each morning in their bright breakfast room, and in the evening, relax in the common room where you can chat with other guests, browse their library, play cards or chess or just kick back and watch the sunset over the village.
Eastern Passage Bed and Breakfast
"Experience the warmth of Nova Scotian hospitality at Eastern Passage Bed & Breakfast, located along the Eastern Shore region of Nova Scotia. Enjoy the view of the historic Halifax Harbour from our common and dining rooms, as local fishing boats and large ships come and go daily." To learn more about this Bed and Breakfast visit this site. While I have not stayed at this Bed and Breakfast, it comes recommended by some of the local adventure providers, and when travelling I tend to take the recommendations of locals very seriously.
CanaDream RV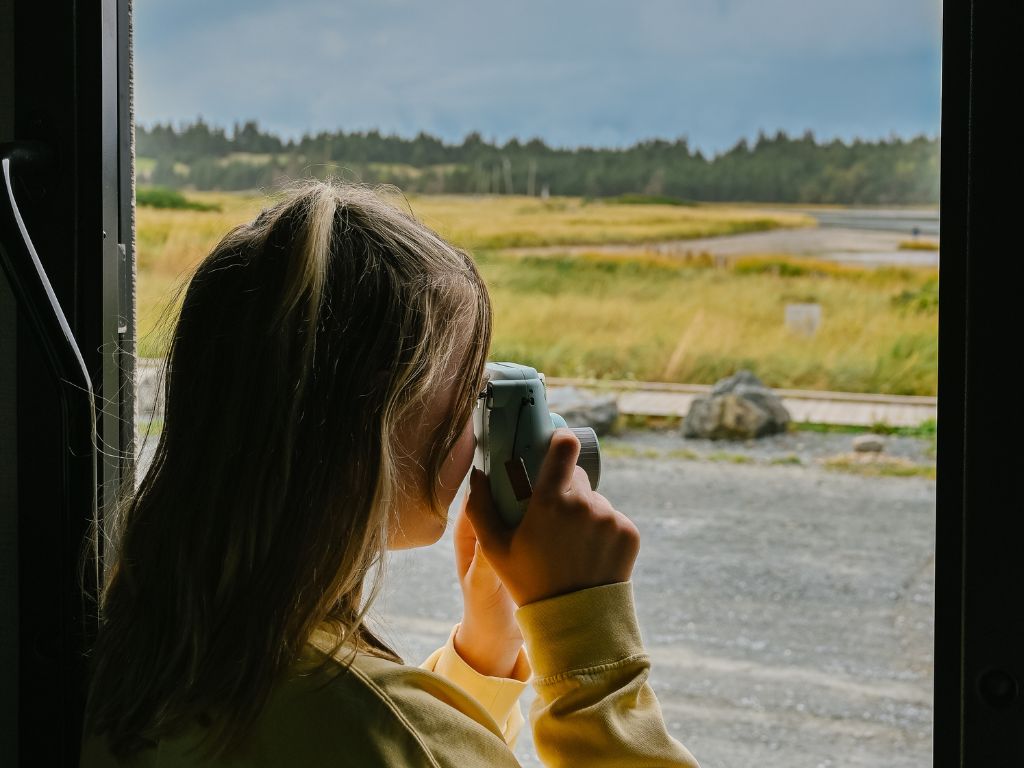 We chose to tour the Eastern Passage via RV and this picture was taken when we were parked at MacCormacks Beach Provincial Park. After spending the morning shopping and exploring at Fisherman's Cove we were able to settle into our RV and have lunch (and some local treats) fueling us up before we headed out on our adventure to Eastern Shore. To learn more about the exact RV, configuration, amenities and our experience click this link.
Commonly Asked Questions About Eastern Passage:
Do I need a car to get around Eastern Passage?
Eastern Passage is accessible by car, and bus, however having a car will make it easier to get around. We had our CanaDream RV and found a lot of places to park making navigating around the area quite easy.
What is the prettiest place in Nova Scotia?
We had two favourite stops in Nova Scotia that left us with "framable" photos for our family living room wall. Our first was the jelly bean coloured Fisherman's Cove in Eastern Passage and our second was the iconic lighthouse and community at Peggy's Cove.
What is the population of Eastern Passage NS?
According to the 2015 census there are 7,417 living in this picturesque seaside community.
What county is Eastern Passage in?
Eastern Passage is proudly Canadian and can be found in the Halifax Regional Municipality, in the province of Nova Scotia on Canada's East Coast.
---
Check out these Articles for More Inspirational Travel Ideas: