Polaroid camera in hand, my daughter's biggest challenge was what to snap a photo of first. The boardwalk was lined with colourful houses as if Crayola had sponsored the restoration of this fishing village. From artists to bakeries, to sweet shops, we found ourselves skipping from store to store, soaking in the East Coast charm under the warm September sky in Fisherman's Cove Nova Scotia.
Fisherman's Cove
Fisherman's Cove is a hidden gem located in Nova Scotia, just across the water from Halifax. This charming 200-year-old restored fishing village is home to colourful houses, fresh seafood and friendly locals. Visitors can stroll along the boardwalk, shop the stores, tour the Heritage Centre or sit down for some world-class seafood at one of the restaurants.
Where is Fisherman's Cove Nova Scotia
Located in the Eastern Passage, Fisherman's Cove's official address for your GPS is, 4 Government Wharf Rd, Eastern Passage, NS B3G 1M7.
How to Get to Fisherman's Cove
Fisherman's Cove can be accessed by car, bus, bike or boat as it hosts its own public access dock and is situated on a direct bus route. We opted to drive our RV and park in the neighbouring MacNab Provincial Park gravel parking lot which gave us lots of room to maneuver. If we were staying in Halifax I would have taken the super cute passenger ferry over and then the bus down to Fisherman's Cove (or Uber).
Fisherman's Cove Artisans
The shops at Fisherman's Cove represent over 100 local artisans and their work in a variety of mediums. Visitors can find a wide variety of handcrafted goods, from traditional knitwear and quilts to wood carvings and pottery. There are also many painters and photographers who sell their work at the village's galleries and shops. The artisans of Fisherman's Cove are proud to showcase the local culture and history through their craftsmanship, and visitors can expect to find truly unique souvenirs to take home with them.
Crayola Approved Shops
Do you remember singing the "rainbow song" when you were a child? "Red and yellow, pink and green, I can sing a rainbow…" Walking the boardwalk at Fisherman's Cove is like walking through a rainbow.
The Shops At Fisherman's Cove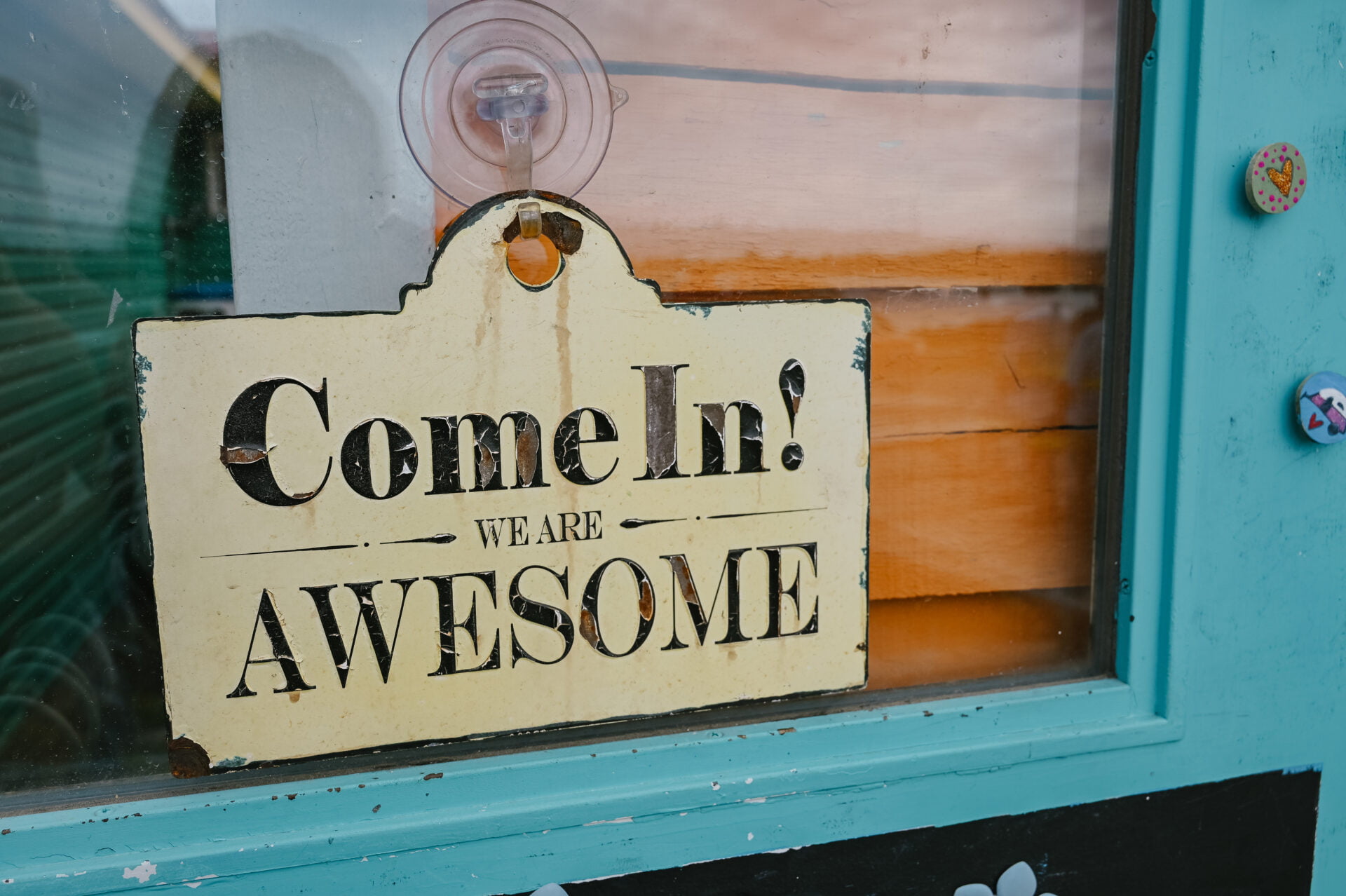 Here's an on-the-ground peek at some of the shops you can expect to see at Fisherman's Cove. To put it simply… it's awesome!
Jo's Old Time Candy and Ice Cream Parlour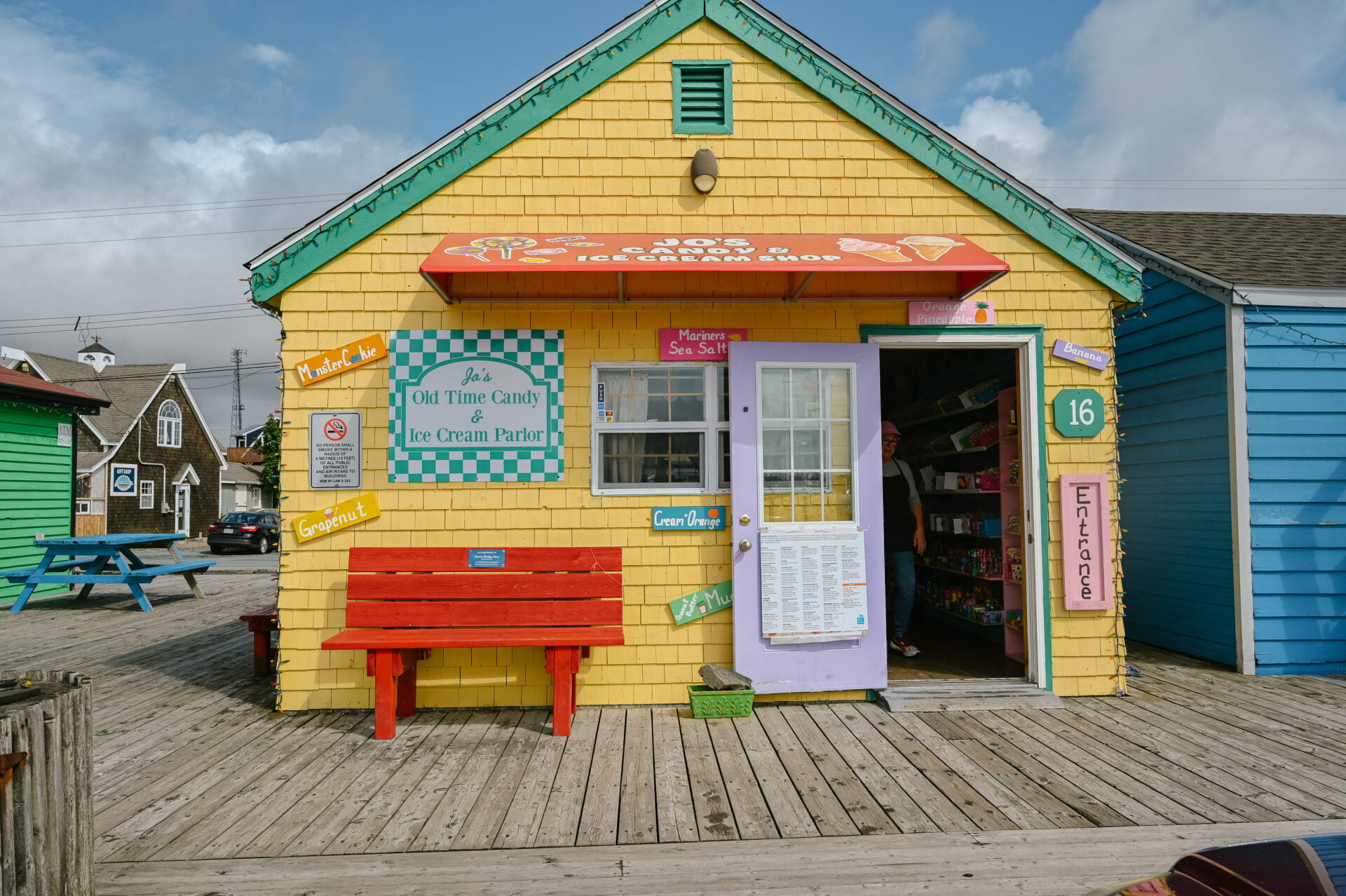 My daughter's eyes lit up as we spotted the bright yellow door filled with every candy you could imagine. This tiny shop is well stocked with sweet treats and an ice cream parlour at the back awaits your arrival.
Pumpkin Village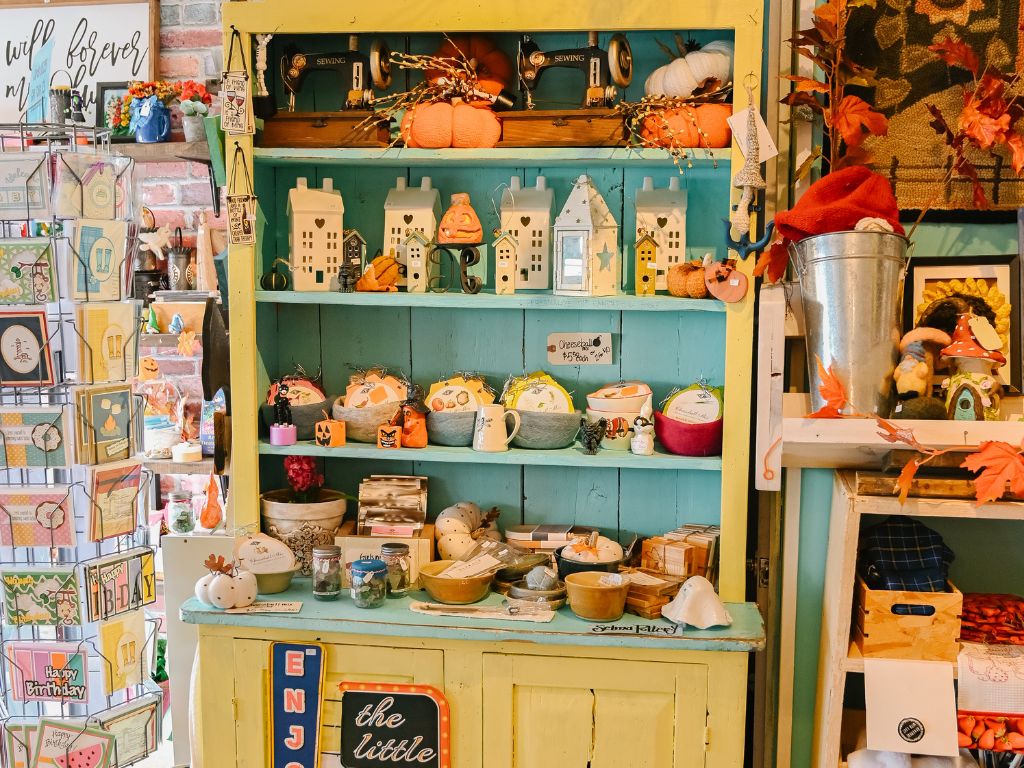 For almost 30 years, Pumpkin Village has been welcoming guests from around the world to peruse their fabulous hand-crafted items. Independently owned, all items in the shop are made right in the Halifax Regional Municipality or in the beautiful Annapolis Valley, Nova Scotia.
Jewelry Designs By Heather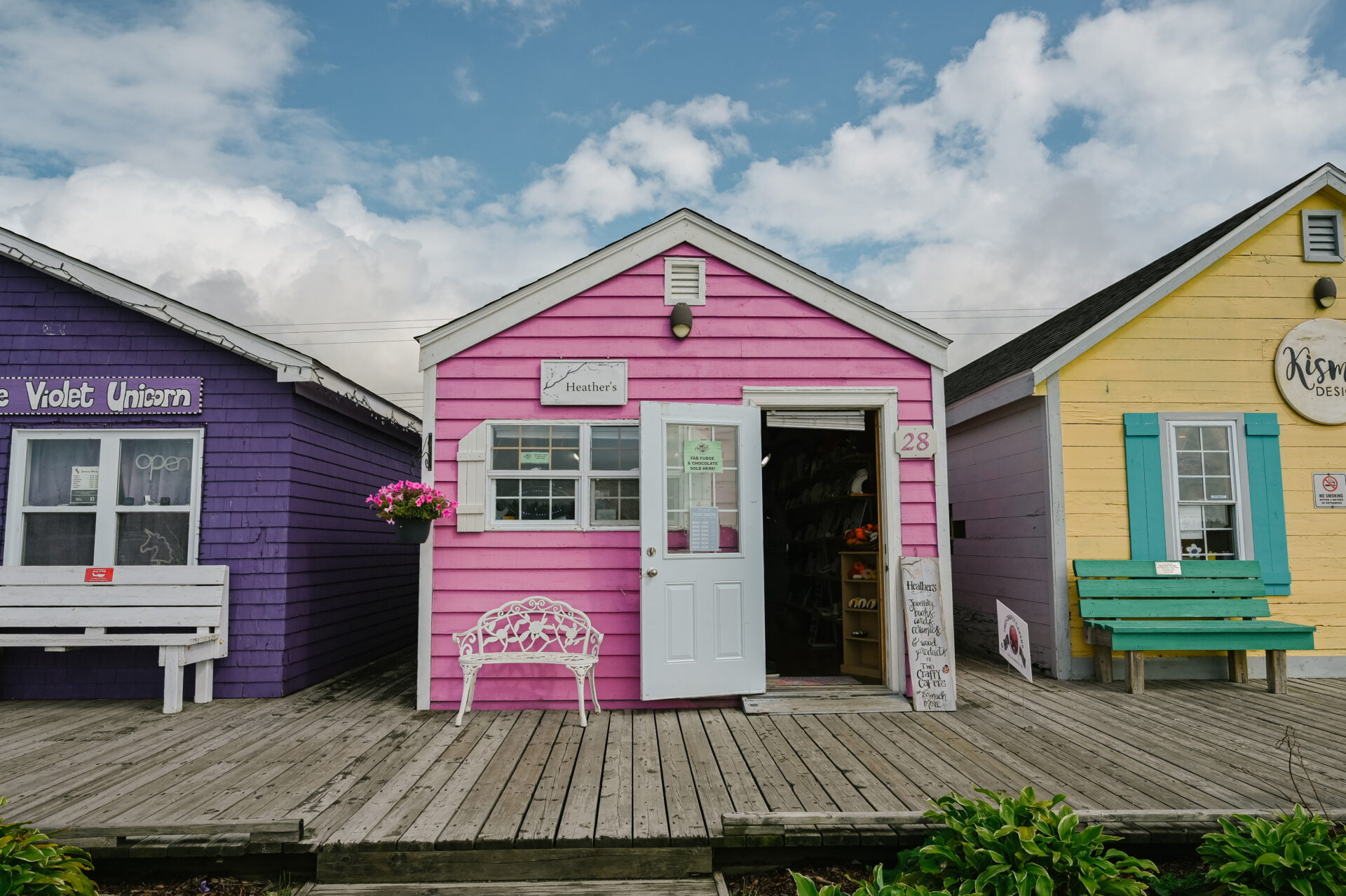 This cute little shop is owned by Heather Donald-Raegh, who designs a wide range of handcrafted jewellery right here in Nova Scotia. With a variety of items to suit every budget and taste, this is a great stop for those looking to take something special from Nova Scotia home with them. While you're there you can also talk to her about custom orders including bracelets, earrings, necklaces, and rings.
The Violet Unicorn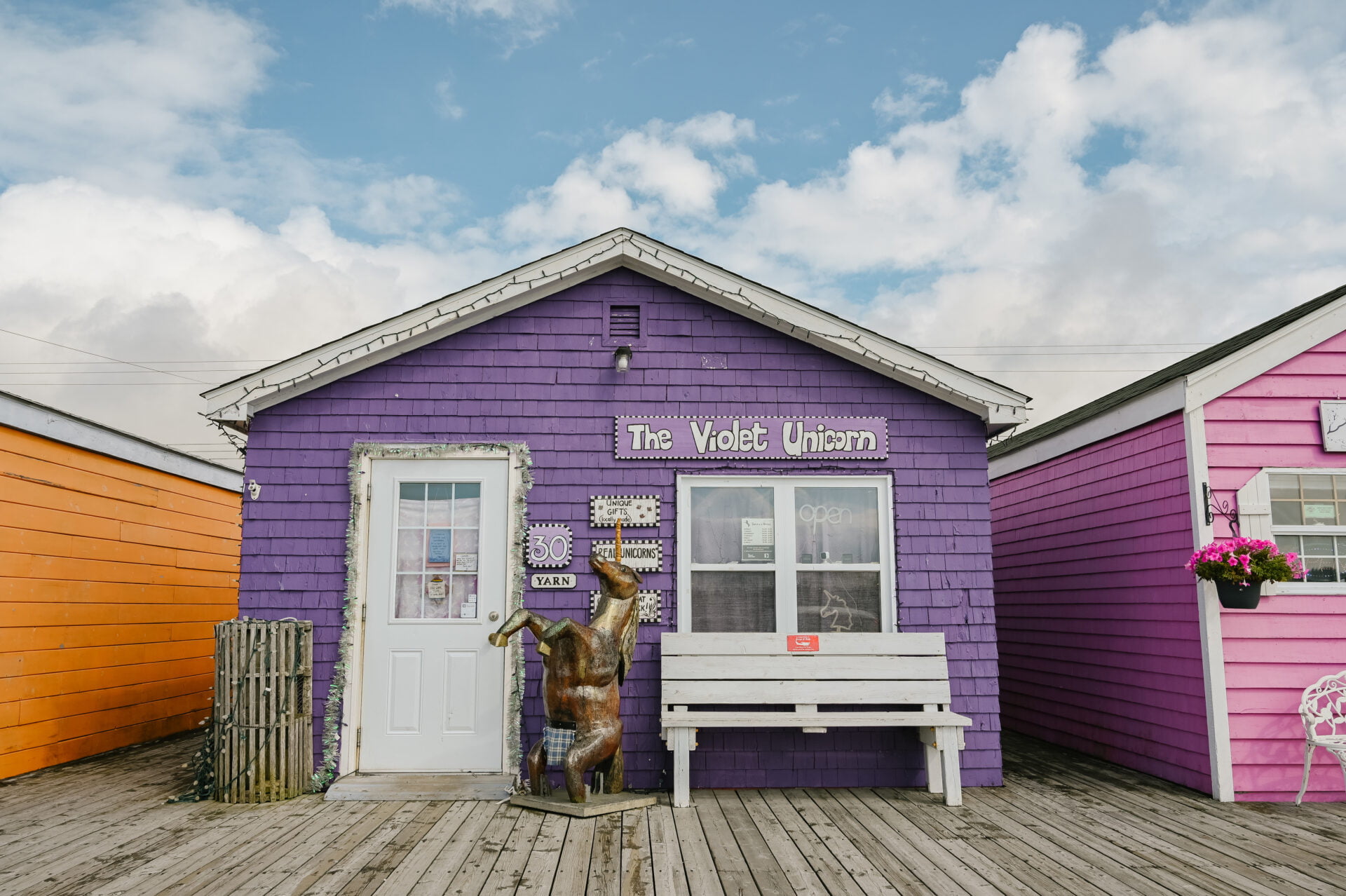 If you're looking for something different and unique the Violet Unicorn is the best place to stop. With a focus on Canadian-made artists and crafts, you'll be surrounded by fun, silly, unique, and interesting gifts. Not to worry, there's some serious stuff in the shop as well to make sure you can grab something for everyone on your list.

Travel Tip: The Violet Unicorn also offers many different arts and crafts classes, click on the website to see if any align with your travel dates so you can make something in Nova Scotia to bring home!
Kismet Design
It's amazing how much time you can spend in a small shop when there are so many wonderful things to look at! Kismet Design had my daughter and me hooked while we shopped our way through the store, checking out a variety of Nova Scotian gifts, stickers, fashion accessories, handmade clothing, mugs, jewelry, signs, and more! My favourite item that I brought home is a mug that says, "Girls just want to have FUNdamental rights".
By The Ocean Artisan Shop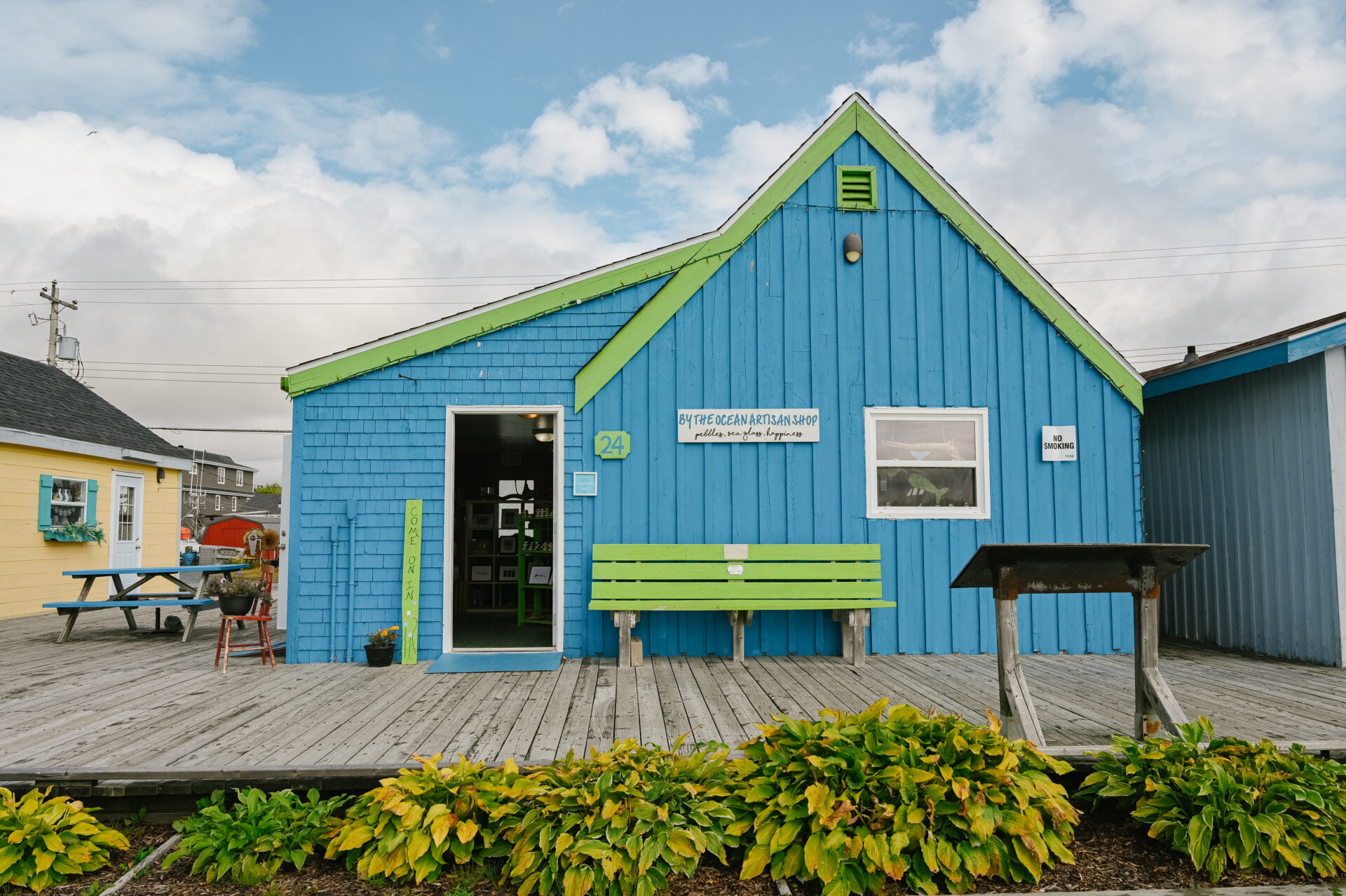 Utilizing only Nova Scotian stones, wood, and beach glass, the artist puts together sentimental and creative pieces of art. Browse their collection that is out on display or request a custom piece to remember your time at Fisherman's Cove.

Classes Alert: Why not join a class and make your own masterpiece? Small classes allow for an intimate experience ensuring one-on-one instruction. The cost is $40 which includes all supplies and framing. The schedule is available on their Facebook Page.
Coffee, Tea & Sea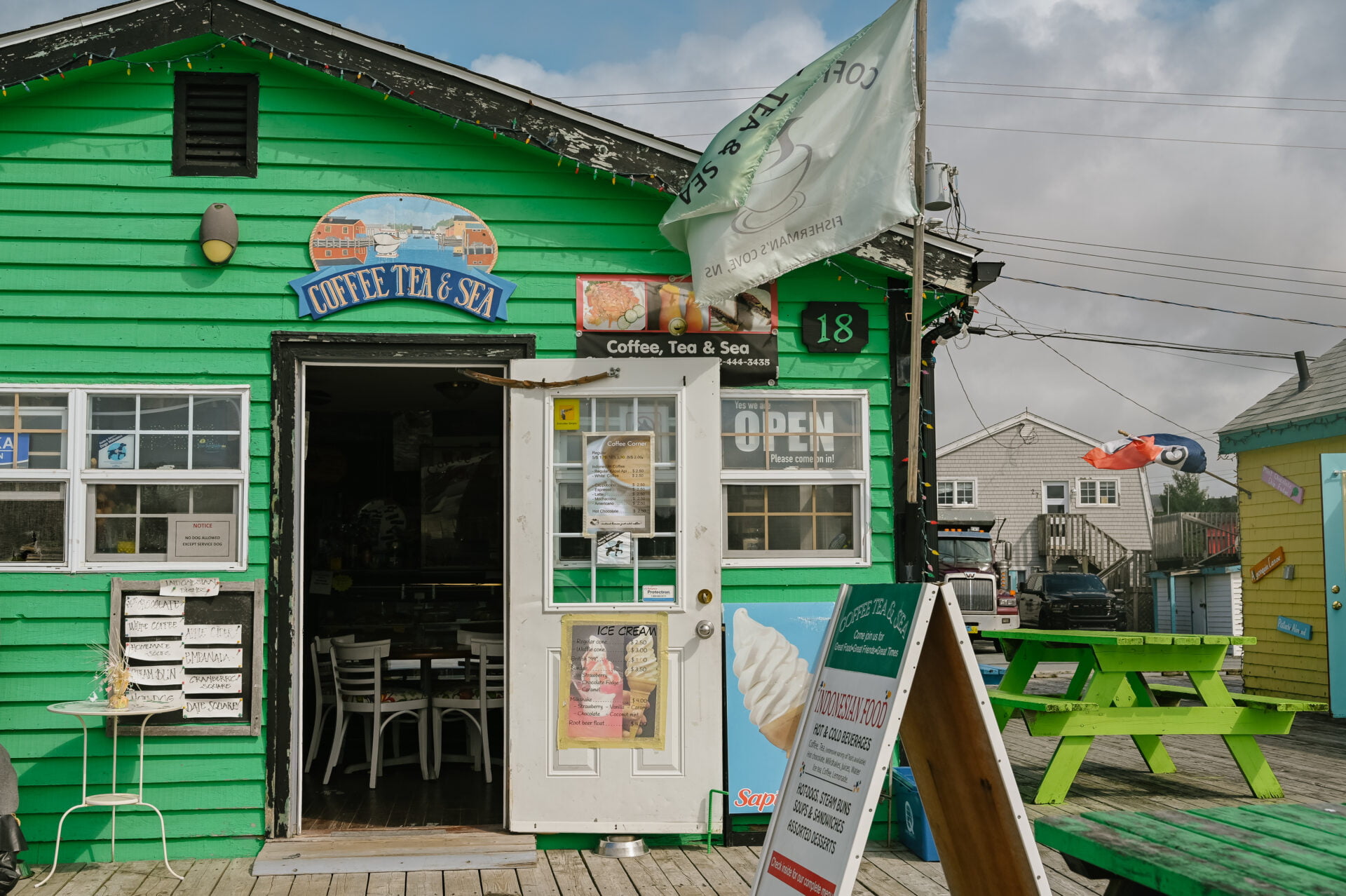 Sit and sip on the waterfront patio overlooking beautiful Fisherman's Cove in Eastern Passage. At Coffee, Tea & Sea your hardest decision will be what to eat. From assorted soups and sandwiches to breakfasts, and Indonesian foods, you'll have no shortage of selection. Looking for specialty teas and coffees? Pair them up with some sweets for the perfect treat.
Hen & Goose Pet Supply Co.
Pets deserve to look styling too and Hen and Goose bring you unique apparel for the four-legged fashionista in your life. Created by Amanda Mullins and Jenna McNeil, they named the store after their favourite pooches. With their passion aligned with purpose, they promise to bring shoppers the best prints from favourite characters, sports teams, snack foods, and styles. Take a stroll on the boardwalk and pop into this unique pup-approved shop!
The She Shed
The cute She Shed is here with all sorts of fun gifts and home decor items to spruce up the girly space in your home. Hand-curated with Nova Scotia art, this seaside lover was on stimulation overload, in all the right ways. Located right on the oceanside boardwalk this one is definitely not to be missed!
Shore Things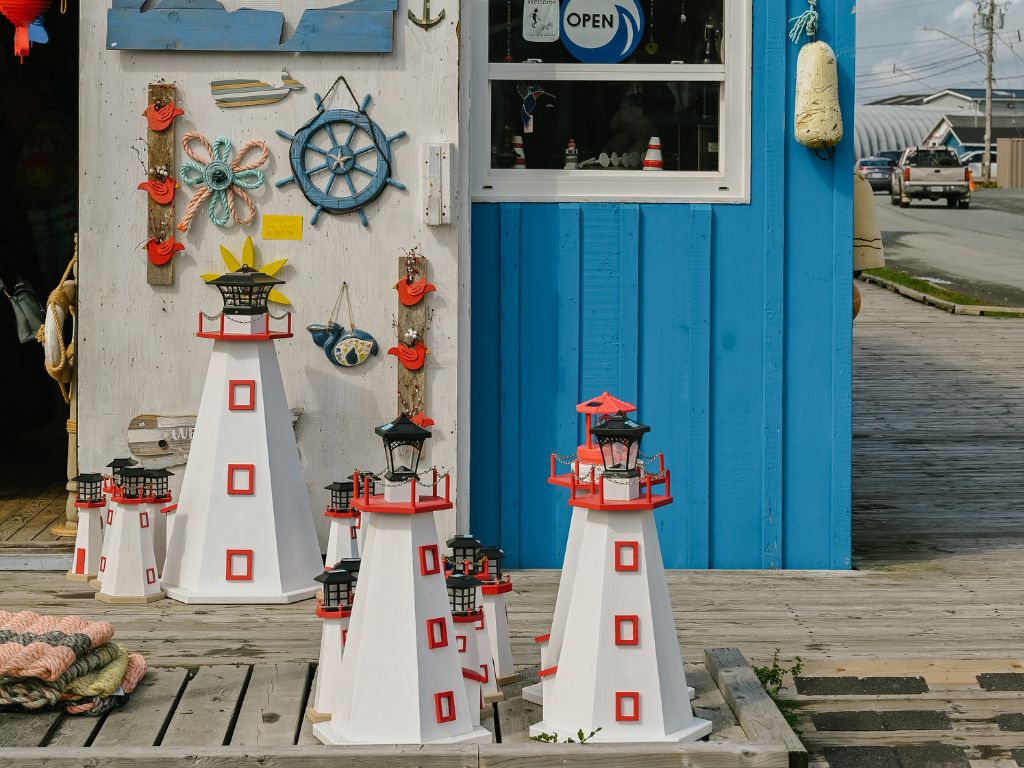 At the main entrance to Fisherman's Cove, Shore Things will be one of the first places that you'll stop and explore on your visit. This small family-run business showcases some of the finest Maritime artisans. "All products are handmade and whenever possible, use reclaimed materials from our local shores, from sand dollars to old driftwood, abandoned lobster traps and beautiful shells. Once you see Shore Things you'll have to be sure to stop by and check it out."
Fisherman's Cove Heritage Centre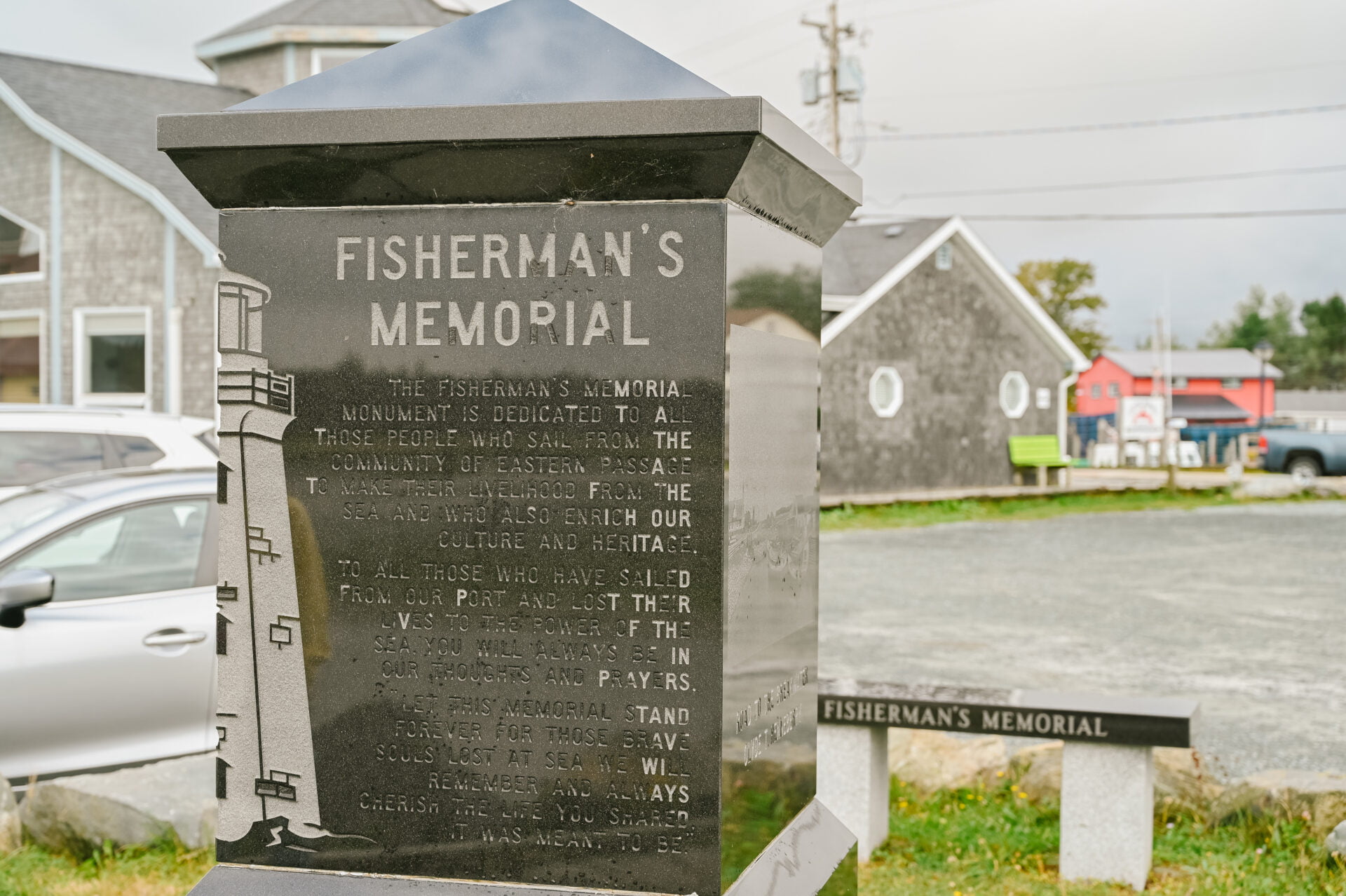 Located in the heart of the village is the Fisherman's Cove Heritage Center. This is the home of Clyde T. Henneberry (1924 – 2017), who was a lifelong resident of Eastern Passage and one of the Maritime's most interesting marine painters. Visit the centre to explore a variety of nautical displays, artifacts and photos showcasing the history of Eastern Passage. There you can also see views of McNab's Island, Lawlors Island, Devil's Island, and more.
Little Library at Fisherman's Cove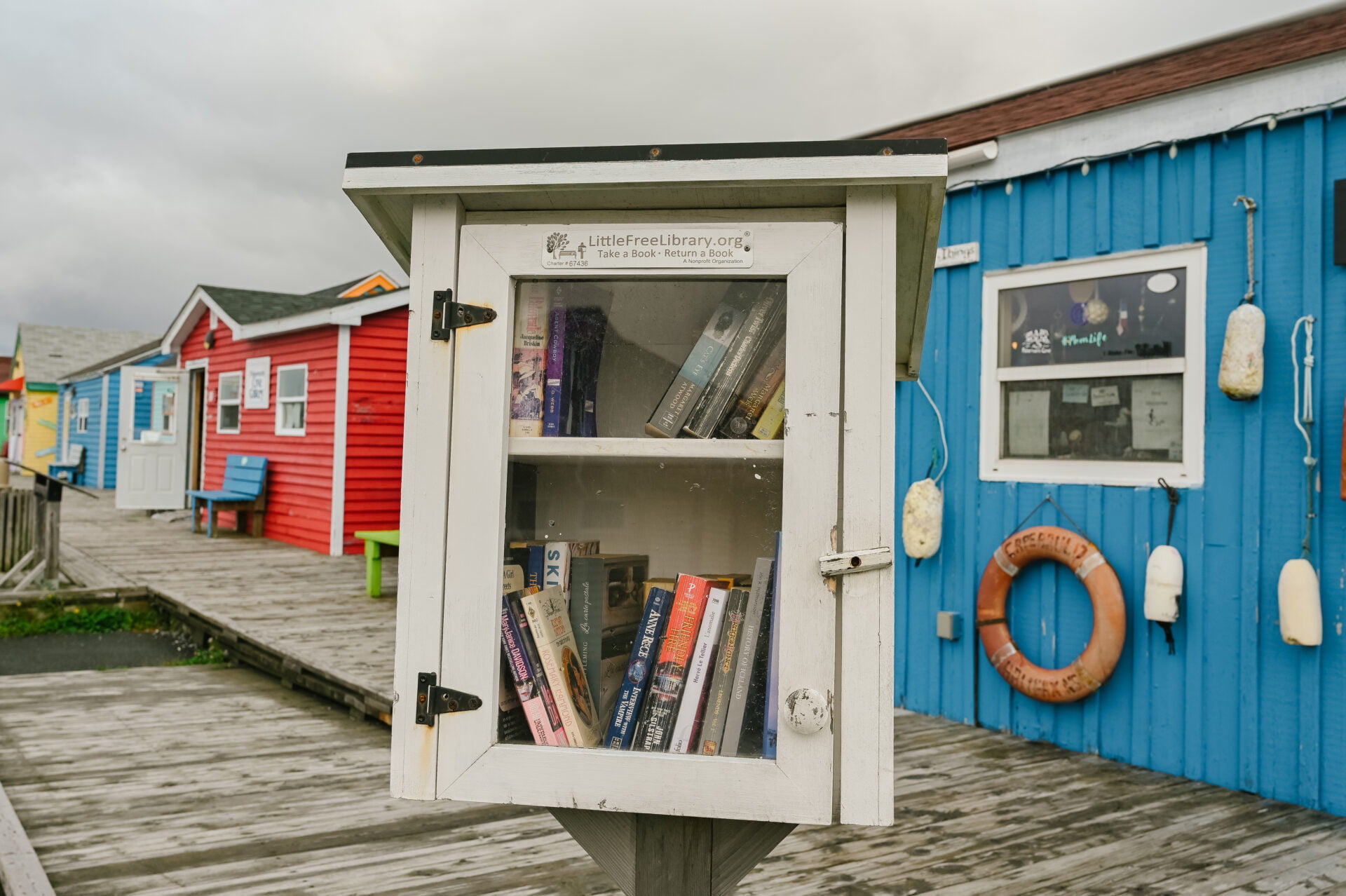 Many visitors to Fisherman's Cove don't know that it is also home to a little free reading library. This hidden gem is the perfect place for road trippers to grab a book, leave a book, or exchange a book while on their East Coast adventure. Whether you're looking for a beach read, a history book, or a mystery novel, there's no telling what book awaits your arrival!
Where To Eat At Fisherman's Cove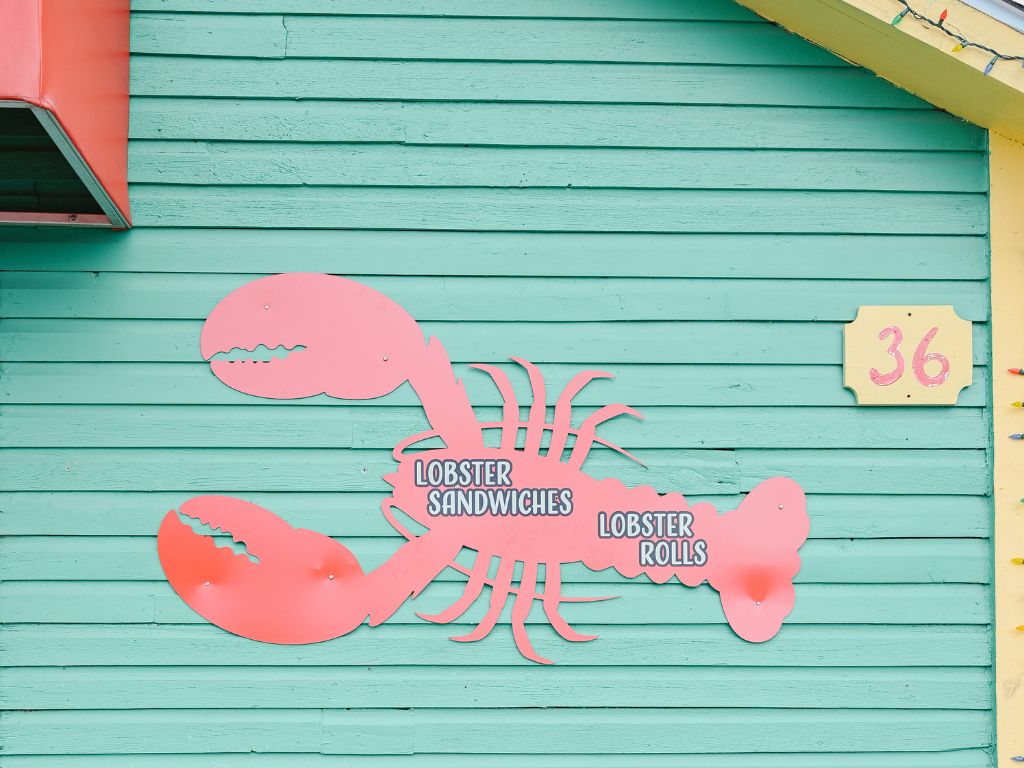 If you're planning a trip to Nova Scotia you'll undoubtedly get asked, "How much lobster are you going to eat?" With some of the best seafood in the world, Nova Scotia has a reputation for an incredible food scene and Fisherman's Cove delivers the same experience to guests visiting the village.
Whether you're looking for a casual burger or some handheld lobster rolls, to some sweet treats, you'll find it all at Fisherman's Cove in Nova Scotia. Here are some of the top places along the boardwalk to check out.
What's the Scoop Fisherman's Cove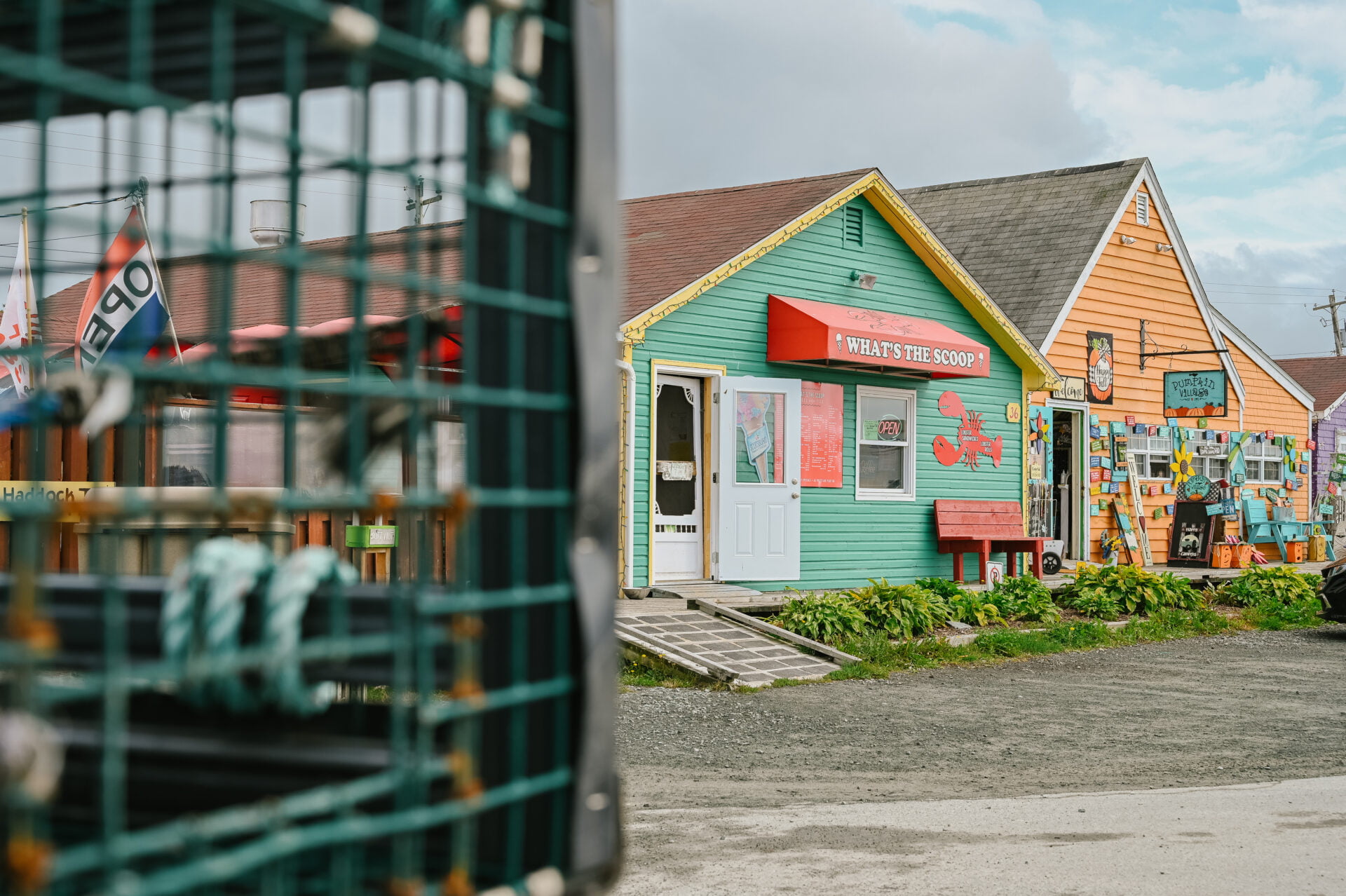 A great name for a great restaurant! What's the Scoop in Fisherman's Cove sits at the end of the boardwalk so it is naturally a great place to finish shopping and pull up a seat on their patio. With a huge menu offering everything from fish & chips, to big juicy burgers, to lobster rolls, What's the Scoop is the best place to enjoy some East Coast seafood.
Boondocks Restaurant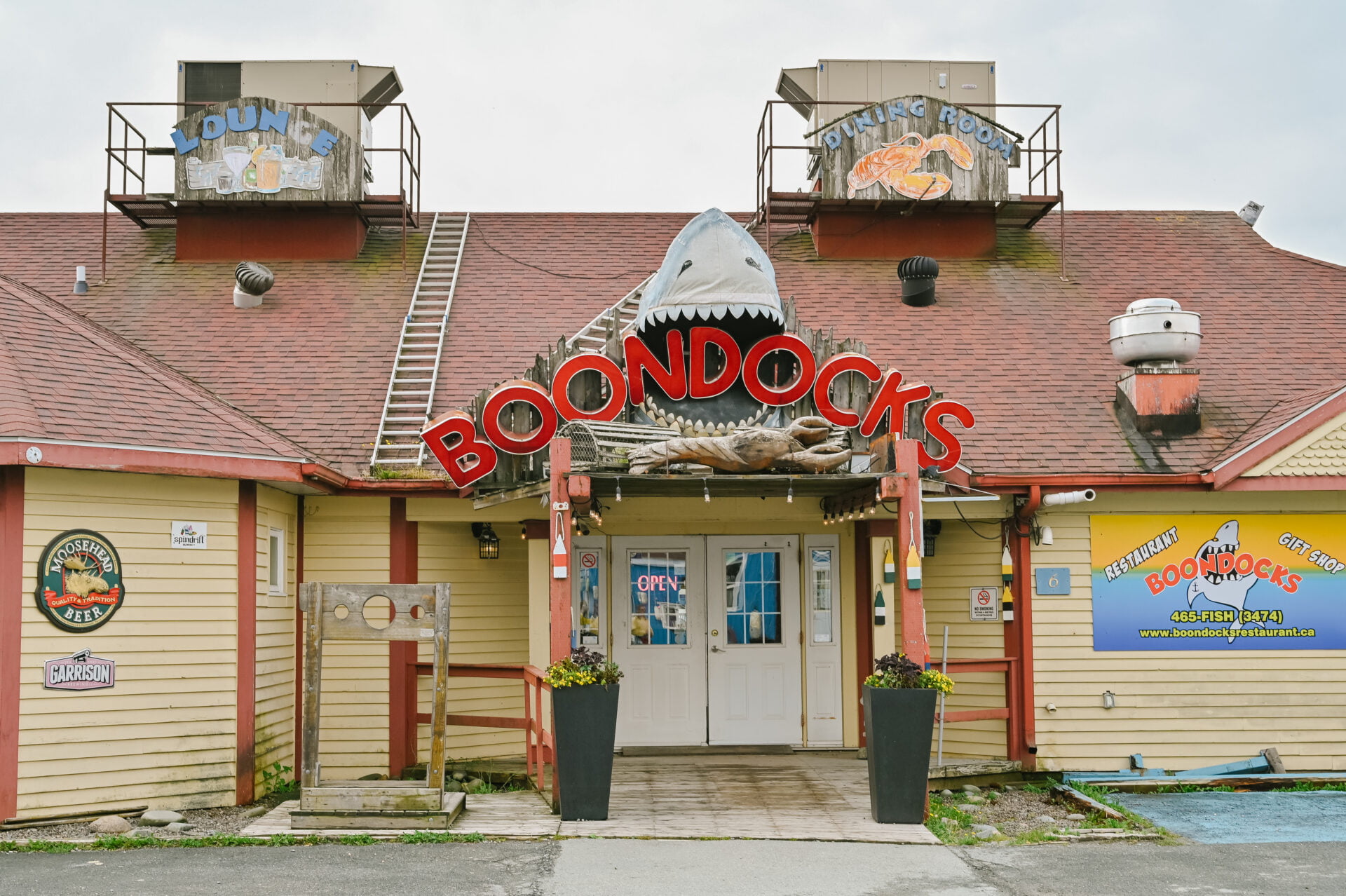 The entrance says, "You've arrived!" and with everything from shrimp skewers and scallops, to lobster rolls and lobster chowder, Boondocks awaits your arrival. This seaside restaurant also offers guests vegan, gluten-free (although items are cooked with the same equipment) and kid-friendly menus! As an allergy family, we couldn't be more grateful.
Dockside Doughnuts
Nothing goes better together than doughnuts and a stroll on the boardwalk. Dockside Doughnuts' claim to fame is "Doin' dipped donuts down by the dock! Fresh homemade, handcrafted, mini donuts" (Yes I'm writing this article and now craving doughnuts!).
The Lobster Dive – Fish Market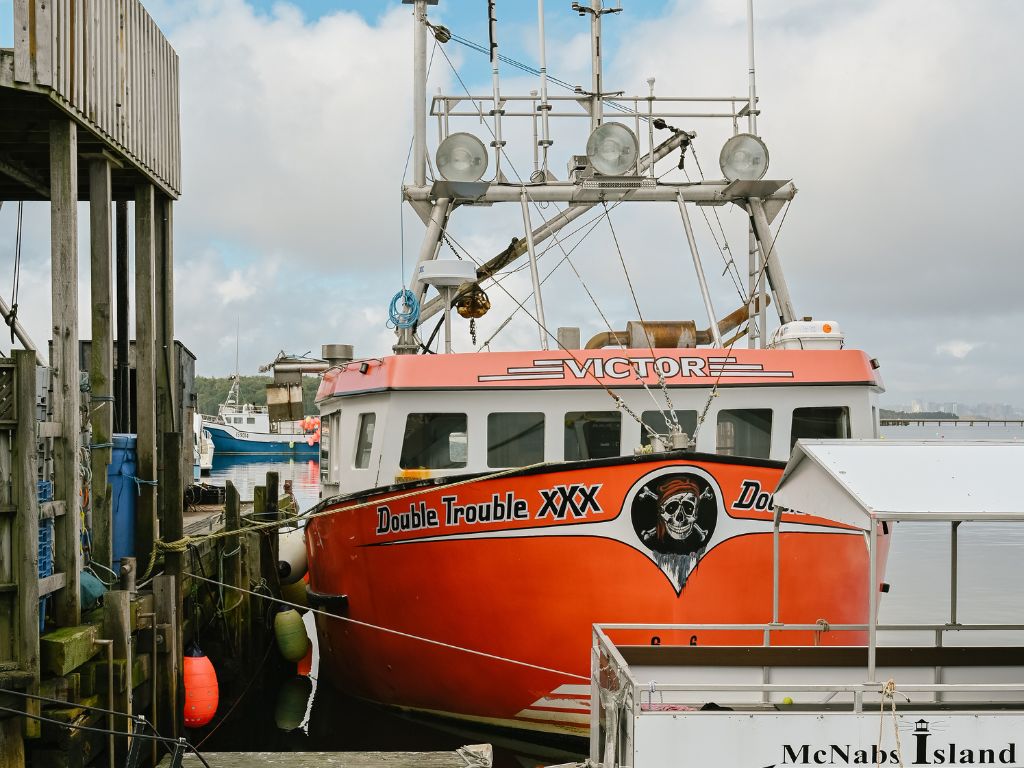 If you're interested in cooking up your own lobster, then be sure to plan a stop at the Lobster Dive in Fishermans Cove to pick up something fresh right off the boat! You can also get clams, shrimp, cod and other seafood, subject to what the Captain and crew pull in that day!
What Time Is Fisherman's Cove Open? & What Time Is Fisherman's Cove Closed?
The Shops at Fisherman's Cove's hours change seasonally so it's best to check out their website or contact a specific store to confirm hours before planning out your visit.
Where to Stay at Fisherman's Cove Nova Scotia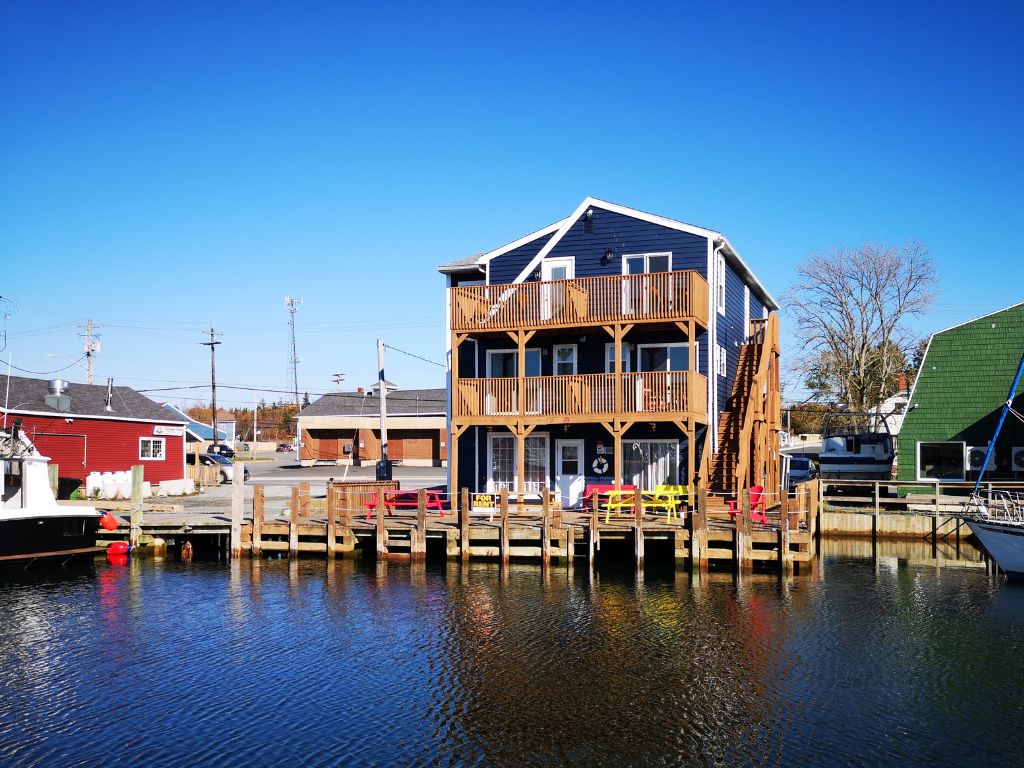 The Inn at Fisherman's Cove is a quaint little hotel with only 8 rooms, making its setting as intimate as the village it looks out over. Whether you choose to look out over the village or out onto the sea you could have the quintessential Nova Scotia Fishing Village stay by planning a stop and stay at The Inn at Fisherman's Cove.
---
Check out these Articles for More Inspirational
Halifax Travel Ideas: