Are you looking to plan an East Coast Canada road trip?
Since 2017 our family has been exploring Newfoundland, Nova Scotia, and PEI, discovering all the hidden gems and best adventures on Canada's East Coast! As a Travel Writer, I'm excited to share the best places to see and can't-miss stops to help you plan your epic road trip across Canada's East Coast! (I'll even include all the mom hacks for planning a cross-country adventure, where to splurge, where to save, and more!)
Fun Fact: In celebration of Canada's 150th, we decided to go to Eastern Canada for a 2 week East Coast Canada road trip in the Maritimes. The trip was in partnership with Parks Canada, as we wanted to stay in as many national parks as possible and visit as many National Historic Sites in honour of this special celebration.
Here's a day-by-day itinerary outlining our East Coast Canada road trip as well as some of our favourite tips to make the most out of your adventure!
East Coast Canada Road Trip Itinerary Summary
Day 1: St. John's, Newfoundland
Day 2-3:Terra Nova National Park
Day 4-6: Gros Morne National Park
Day 7: Cornerbrook
Day 8-9: Fortress of Louisbourg
Day 10-12: Cape Breton Highlands National Park
Day 13-14: Prince Edward Island
Day 1: East Coast Canada Road Trip Itinerary: St. John's, Cape Spear Lighthouse, and Signal Hill
St. John's, Newfoundland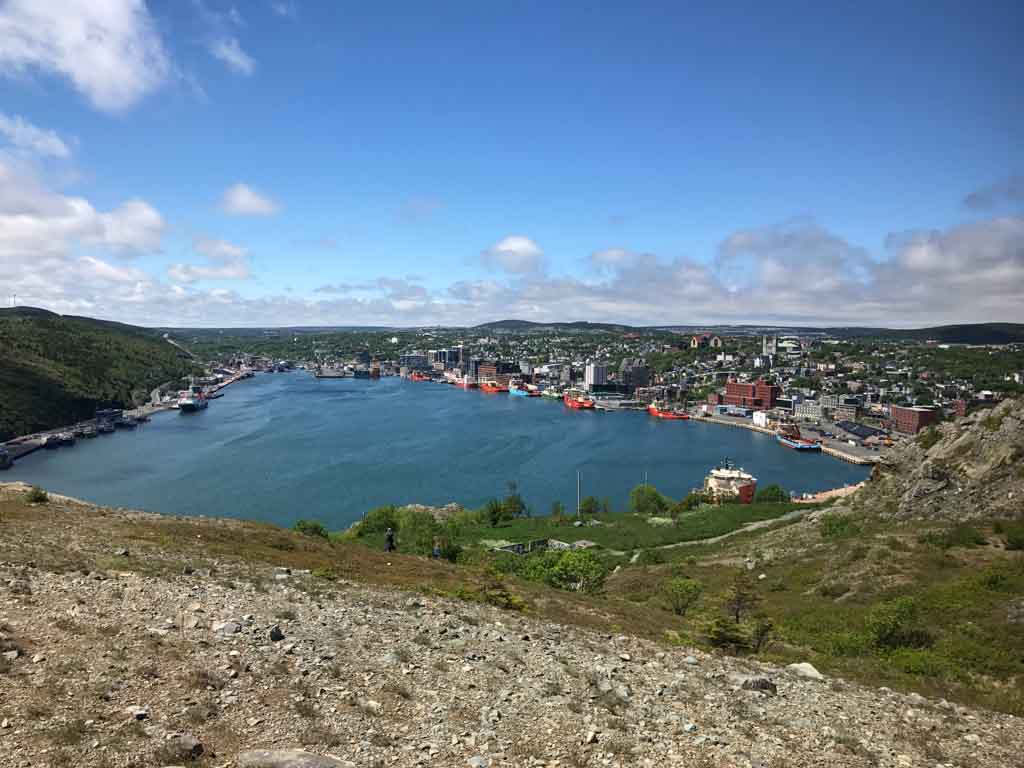 Start your adventure off on Canada's East Coast city of St. John's, Newfoundland. Immerse yourself in the vibrant and colourful culture of Newfoundland's capital city, from the bustling streets to the stunning views that surround the city.
This coastal town is known for many things including its colourful buildings, which are perfect for photographers, its fresh-off-the-boat catches, perfect for the foodie, and lots of historic sites and national parks that are easily accessible, perfect for the historian.
Walking around town gives you a unique sense of the Canadian culture and what life as a Newfoundlander is like. From the huge icebreakers that hover over the downtown streets, to the joy-filled shop owners welcoming you in to come and stay for a while, Newfoundland is a magical bustling little city that needs to be explored.
Give yourself at least 2 days in St. John's. There were a lot more things we wanted to check out that we didn't get to such as The Battery, George Street, Victoria Park, and local hikes around town.
Fun Fact: Did you know that the oldest street in Canada is located in St. John's? Be sure to take a stroll along Water Street and pose for a photo. If that road could talk, the stories it would tell!
Click here to check out our full article on what to do in St. John's.
Signal Hill, St. John's Newfoundland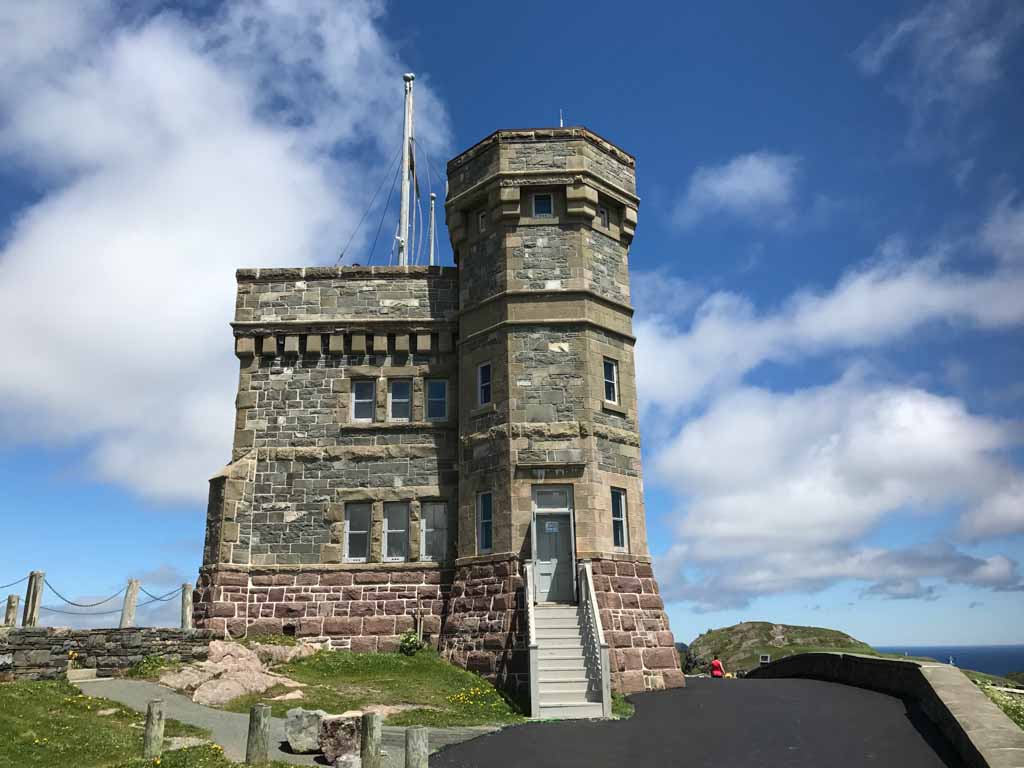 Signal Hill in St. John's Newfoundland is a must-visit destination for anyone who loves breathtaking views and historical landmarks. Located only a 12-minute drive from downtown St. John's, this iconic location is home to Cabot Tower, which sits atop the hill, offering an unparalleled view of the city and the Atlantic Ocean beyond.
But the Tower isn't the only thing to see and do on Signal Hill. Visitors can take in military reenactments and explore the Battery, a collection of historic buildings that once served as garrisons during wartime. For those seeking out the best views, hiking trails wind through the hill's rugged terrain, providing the perfect opportunity for a trek with your camera. If you're planning on visiting Signal Hill check out this feature article showcasing more photos and tips to plan your experience.
Cape Spear Lighthouse, St. John's Newfoundland
Do you want to visit the most Eastern point in all of North America? Cape Spear Lighthouse is a quaint and picturesque lighthouse, offering spectacular panoramic views of the Atlantic Ocean. Visitors can explore the lighthouse, which has stood watch over the coastline for over 180 years, and learn about its rich history and importance in protecting ships from the treacherous waters of the Newfoundland coast.
My children loved taking part in the Xplorers Program which helped them connect with the lighthouse and take their learning to a new level (plus made the experience more fun for the whole family).
Once you've visited the lighthouse head out on one of the rugged coastal trails where you can see breathtaking vistas, and even spot whales or icebergs in the distance (we saw both!). Take a moment to reflect and immerse yourself in the history and natural beauty of the area. A visit to Cape Spear Lighthouse is a must for anyone seeking adventure and a glimpse into the past.
If you're planning on visiting Cape Spear Lighthouse check out this feature article.
Day 2: Canada East Coast Road Trip Itinerary: Terra Nova National Park
Terra Nova National Park, Newfoundland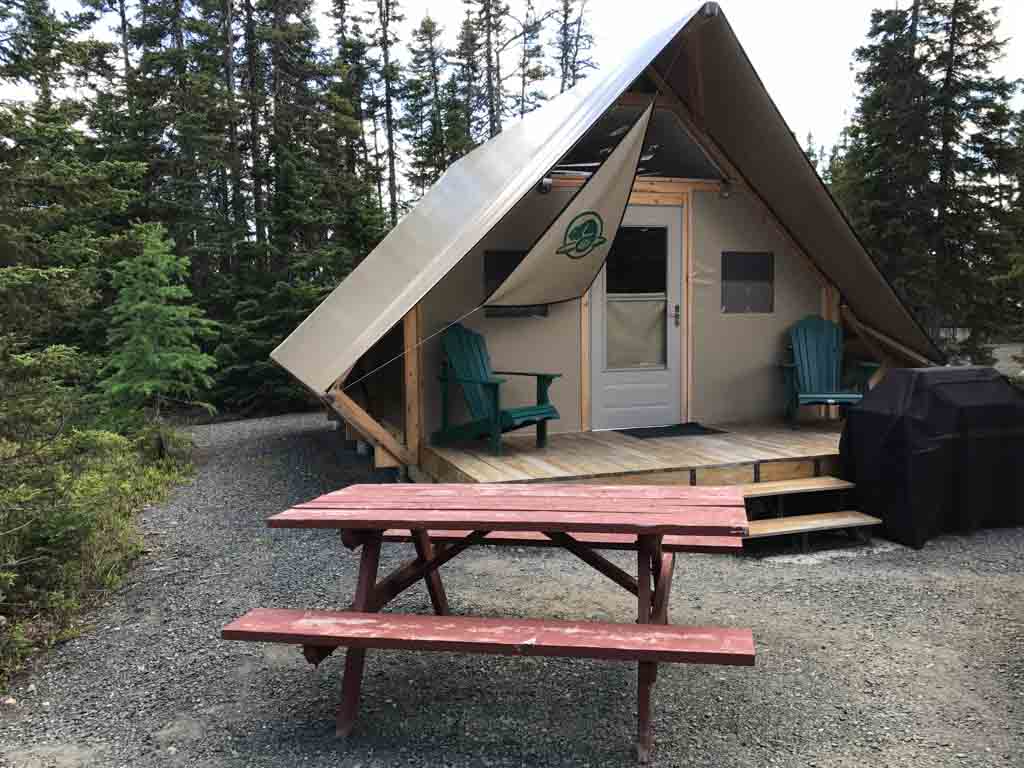 Day 2 and it's time to hit the road and drive 3 hours north to Terra Nova National Park. This stunning park boasts almost 400 square kilometres of pristine wilderness, including forested trails and white sandy beaches waiting to be explored.
This beautiful park boasts amazing coastlines that wrap through the fingers of Bonne Vista Bay. We stayed in an oTENTik which gave us more time for exploring the region, and a deeper connection with the environment in which we were spending our time.
Mom Tip: Booking for the National Parks opens in January / February so if you're wanting to stay in one of Parks Canada's accommodations be sure to plan ahead and book early!
When visiting Terra Nova National Park be sure to stop at the Discovery Center, where the whole family can explore the hands-on touch tanks! Also, pack a lunch and spend uninterrupted time on the shores of Sandy Pond Beach.
Learn all about it and everything else to see in Terra Nova here.
Terra Nova Tip: Give yourself at least 3 days in Terra Nova and try to get out on the water at least once. Whether you're going hunting for icebergs (locals will be able to tell you if they are around, and there are a lot of great websites that track them) or you're wanting to go whale watching, to truly experience Terra Nova you need to see it from the water.
Day 3: East Coast Canada Road Trip Itinerary – Iceberg Hunting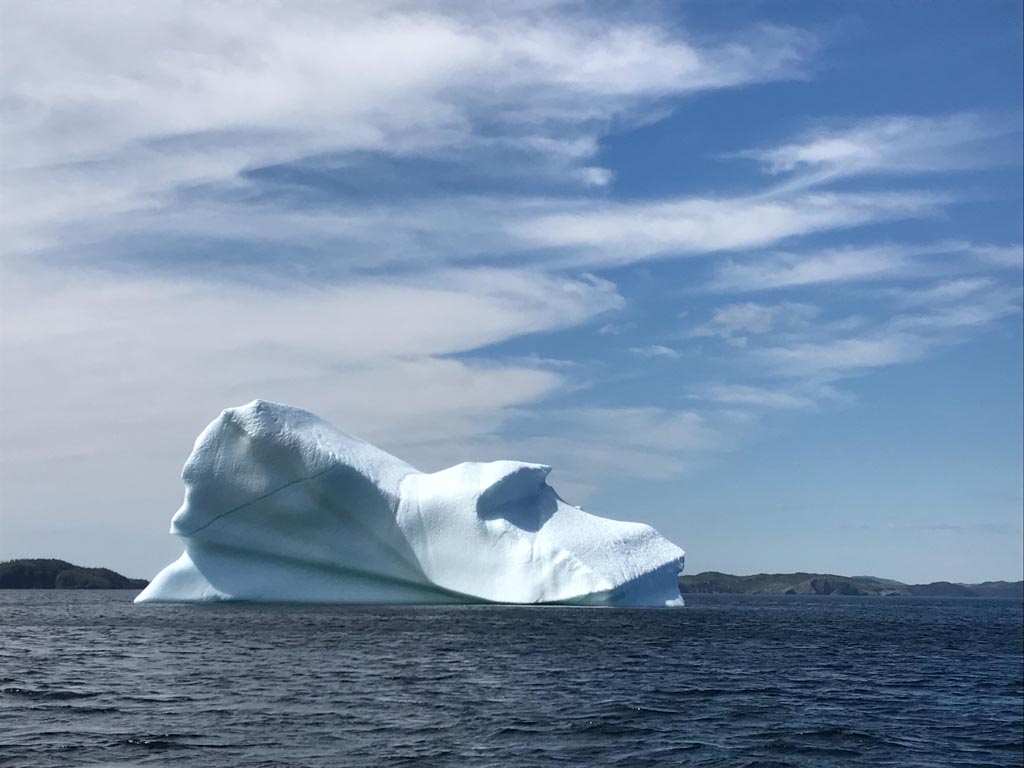 If you're looking for a unique and awe-inspiring experience, taking an iceberg tour in Terra Nova National Park in Newfoundland should be at the top of your list. By far one of the most memorable days on our East Coast Canada road trip was when we set out on the ocean to find an iceberg!
With our captain leading the way we were led out to discover an amazing 80-foot-tall iceberg. Heading out on a tour will not only will you witness the natural beauty of icebergs in their majestic glory, but you'll also have the opportunity to learn about their formation and history from knowledgeable guides. As you glide through the pristine waters, keep an eye out for wildlife such as whales, seals, and seabirds that call the area home. On our tour, we could hear the ice melting and it sounded like it was raining!
Don't Forget: Be sure to bring your camera to capture the stunning scenery and keep an eye out for the dazzling blue colours that light up the interior of the icebergs.
For more pictures of the Newfoundland icebergs and how to plan your own adventure click here.
Day 4-6: Canada East Coast Road Trip Itinerary – Gros Morne National Park, Tablelands, Water-Based Eco Tour, Insectarium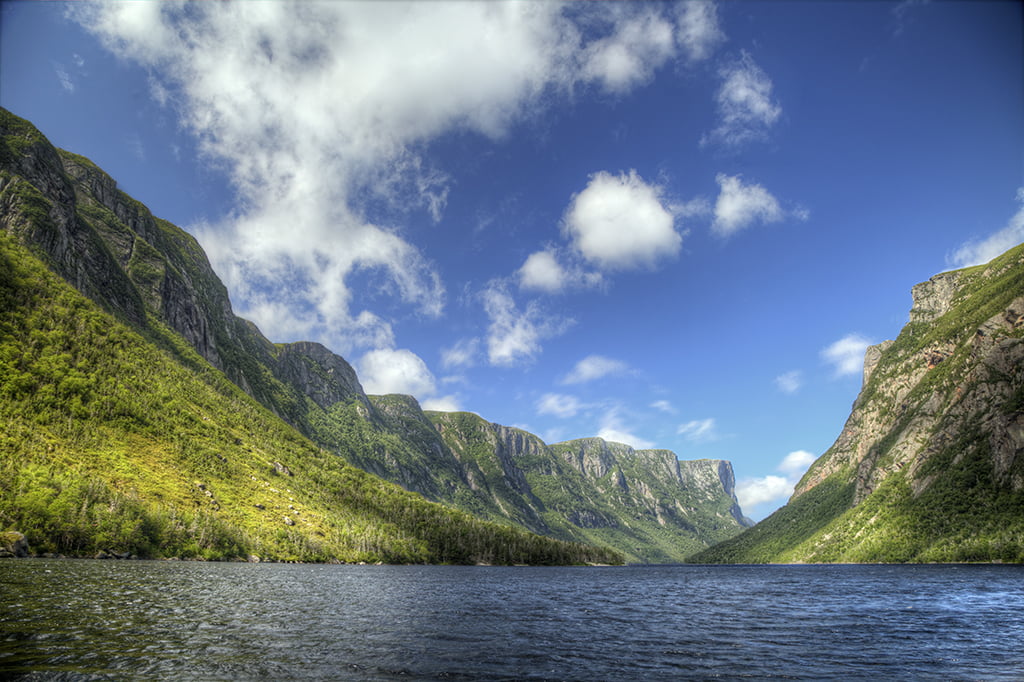 After seeing a single image of Gros Morne National Park I spent four years dreaming up this East Coast Road Trip Canada, and when the day finally came to explore the park with my own eyes it exceeded every expectation!
Gros Morne is a UNESCO world heritage site as it is one of our planet's most significant natural areas. With diverse landscapes ranging from towering coastal cliffs to dense forests and winding fjords, this park offers visitors a unique opportunity to explore the rugged beauty of eastern Canada.
Tablelands, Gros Morne National Park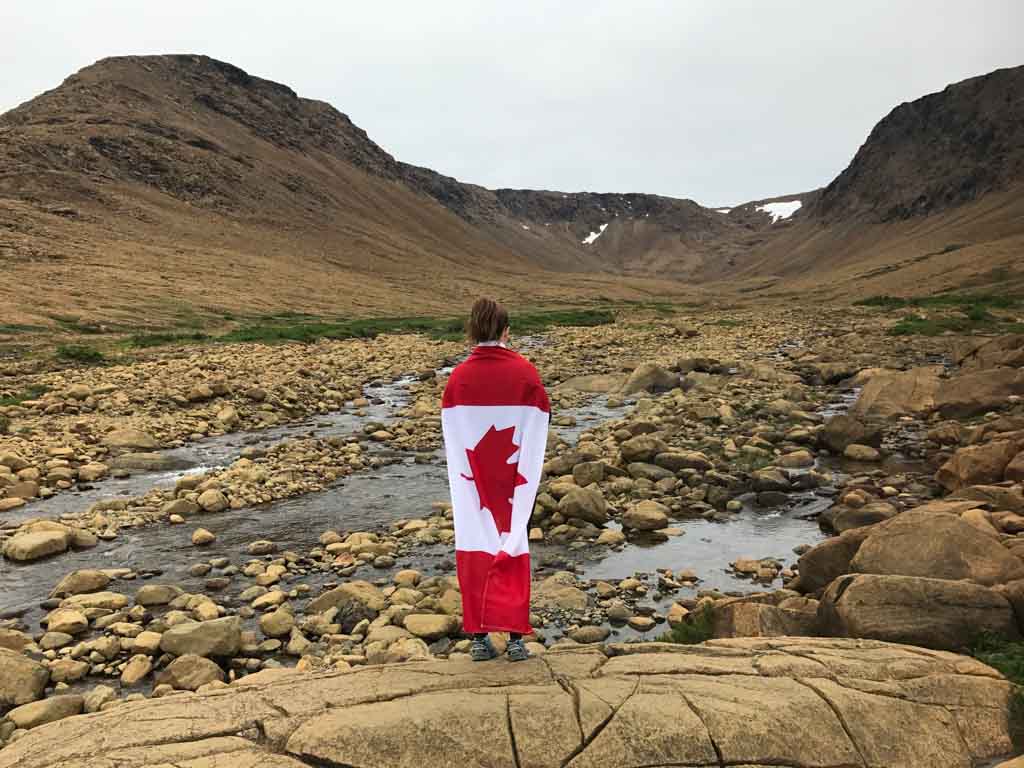 In this photo, I felt like I was standing on the planet Mars, but I was actually in the Tablelands, in Gros Morne National Park. This incredible location is known for its unique landscape of barren, rocky terrain, unlike anything else found in eastern Canada, let alone on planet Earth.
Fun Fact: When I turned around in this photo I was looking out on a typical East Coast Forest, making the complete opposite difference in a matter of 180 degrees, unlike anything I had ever experienced.
Water-Based Eco Tour, Gros Morne National Park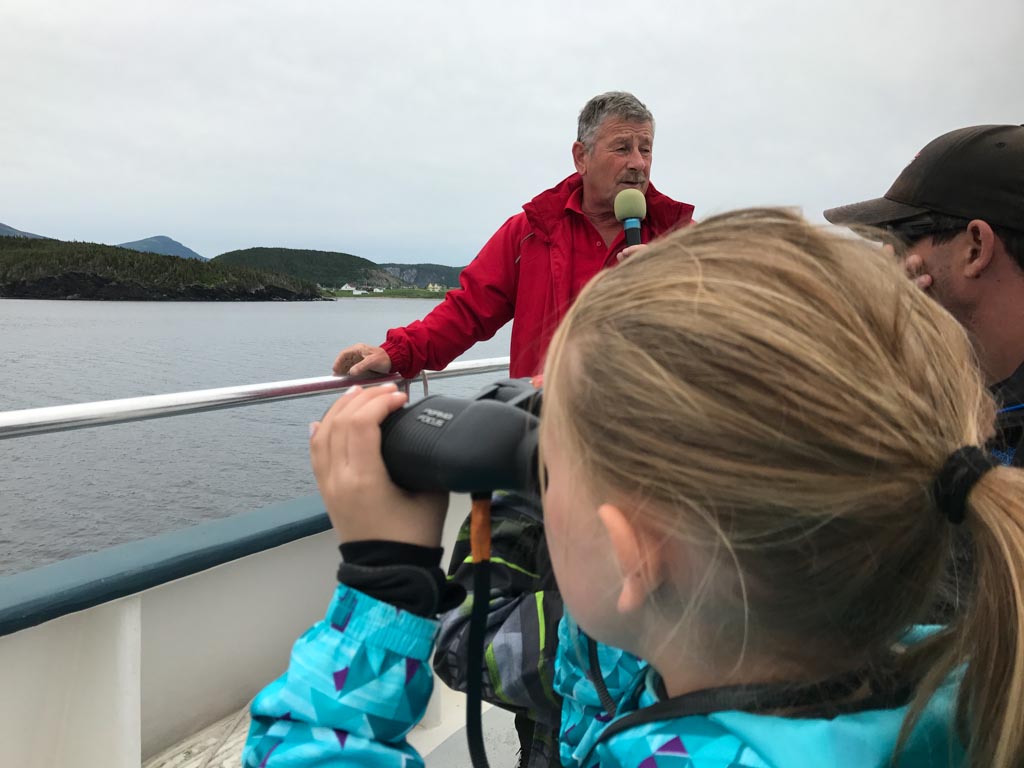 If you're visiting Gros Morne I highly suggest you get out on the water and explore the region from a different perspective. Whether it's a boat tour or a self-guided kayaking trip, there's more to see and learn out on the water. We loved the guided Eco tour with Bon Bay Tours as we got to see different animals and learn more about the region, and also be entertained with local music on the way home!
Check out all of our recommendations for planning your Gros Morne adventure here.
Gros Morne Tips: I knew Gros Morne was a large park but I didn't realize how HUGE it was. Unfortunately, with travel and commuting times we only ended up with two full days there, and we easily could have doubled that time and explored more, like heading North up the Viking trail.
Gros Morne Musts: In terms of "musts" be sure to see the tablelands and get out on the water in some shape or form!
Newfoundland Insectarium, Reidville, NL
Visiting the Newfoundland Insectarium is an experience that will exceed your expectations, guaranteed. From the moment you step foot inside this unique living museum, you are transported to a world that is buzzing with excitement (pun intended).
You can expect to see more butterflies than you can count, with my young daughter at the time overwhelmed at moments by all of the fluttering about. If you're looking for more of a hands-off experience you can head to the museum side of the Insectarium where you can see butterflies from all over the world where the collection of thousands of species is on display.
The knowledgeable staff is always on hand to answer any questions you may have and provide insightful commentary on the different species. Overall, a visit to the Newfoundland Insectarium is a unique and unforgettable experience that will undoubtedly spark an interest in the world of insects for any visitor. Check out more pictures of the butterflies and the exhibits in our full article here.
Day 7: Corner Brook, Newfoundland to Port Aux Basques
After your week in Newfoundland, it's time to start to traverse from Gros Morne National through Corner Brook to Port Aux Basques, where you will catch your ferry to Sydney, Nova Scotia. Be warned: Google Maps will report that the drive from the National Park to Port Aux Basques is just over three hours, but we were fortunate to have local insight who warned us about road delays.
Moose.
Yup, that's right. Moose delays! If you leave the park early in the morning you may come across a herd that is on the highway, with no rush to move anywhere fast… meaning you can experience significant delays when leaving the park. While we never came into contact with this, we did book a night in Cornerbrook, allowing us to do laundry, stock up on groceries and enjoy our early morning drive to Port Aux Basques to get our ferry.
Day 8: Port Aux Basques to North Sydney Ferry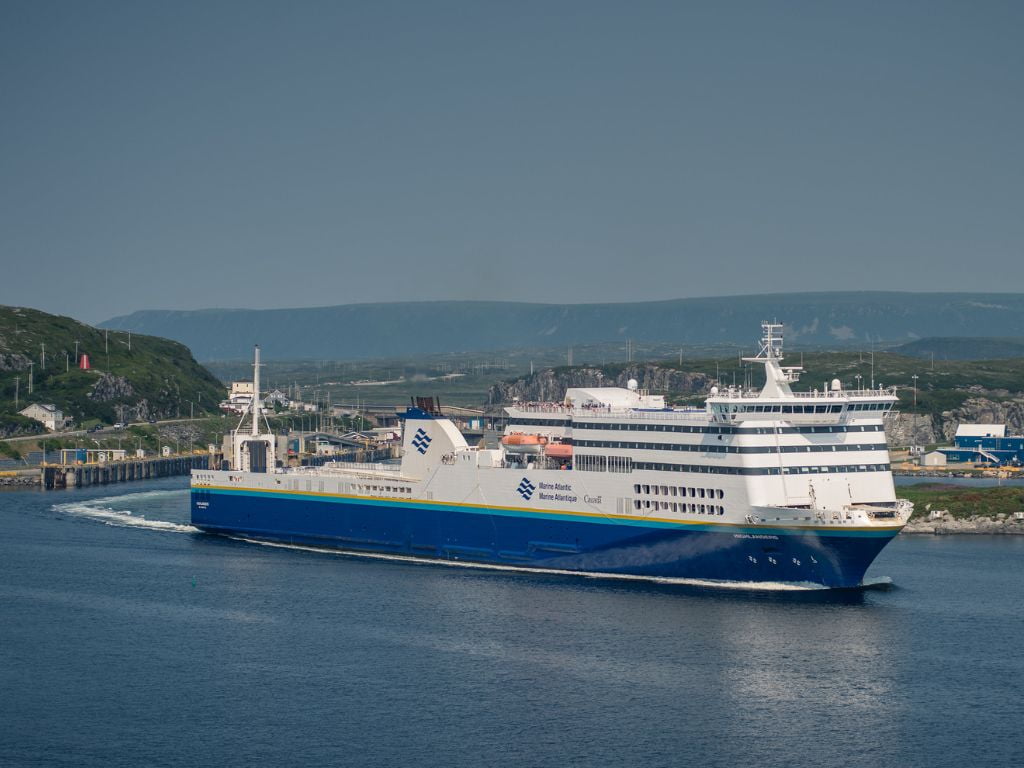 Embarking on the Port Aux Basques to North Sydney Ferry promises not only a breathtaking journey across the Cabot Strait but also the opportunity to explore the alluring province of Nova Scotia. Visitors can expect panoramic views of the rugged coastline and pristine waters as they sail toward Cape Breton Island.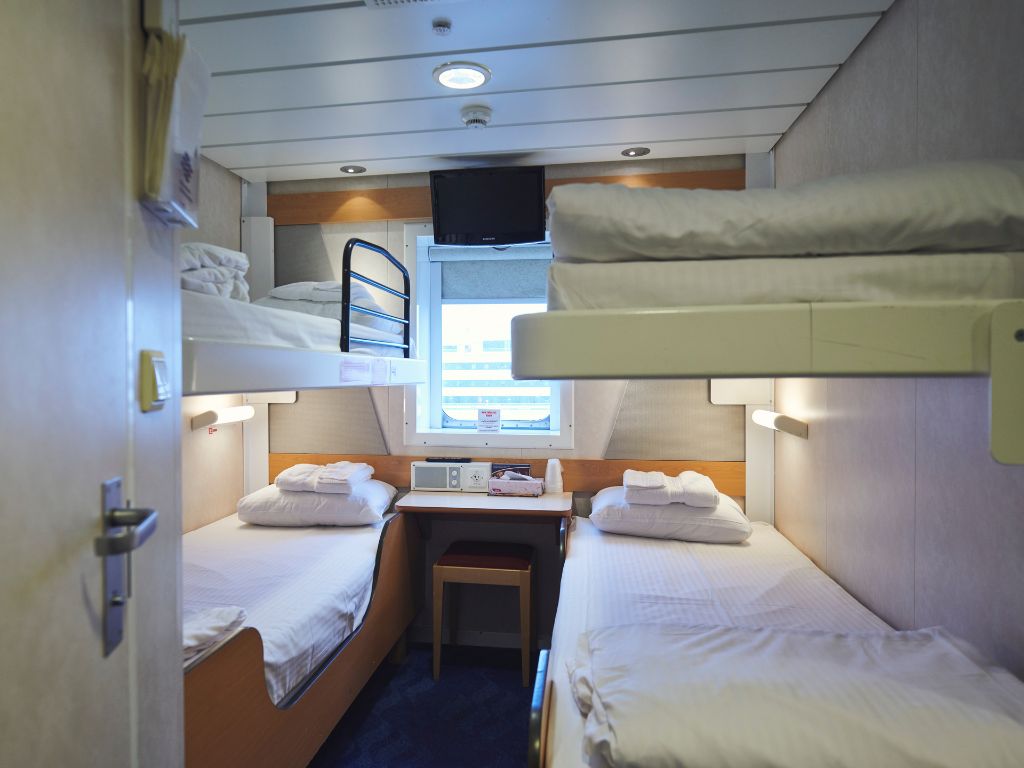 Traveller Tip: When you are booking your reservation you can upgrade to a private room for your journey. I chose to upgrade for an approximate cost of $125, which allowed us to have a private suite with four beds and our own bathroom (of which we all showered!) With the cross-Atlantic commute being 6 hours it was amazing to have our own suite to lay down, get comfortable, and enjoy the journey in!
Day 8 – 9: East Coast Canada Road Trip Itinerary- Nova Scotia – Fortress of Louisbourg, Beggars Dinner
Fortress of Louisbourg, Sydney, Nova Scotia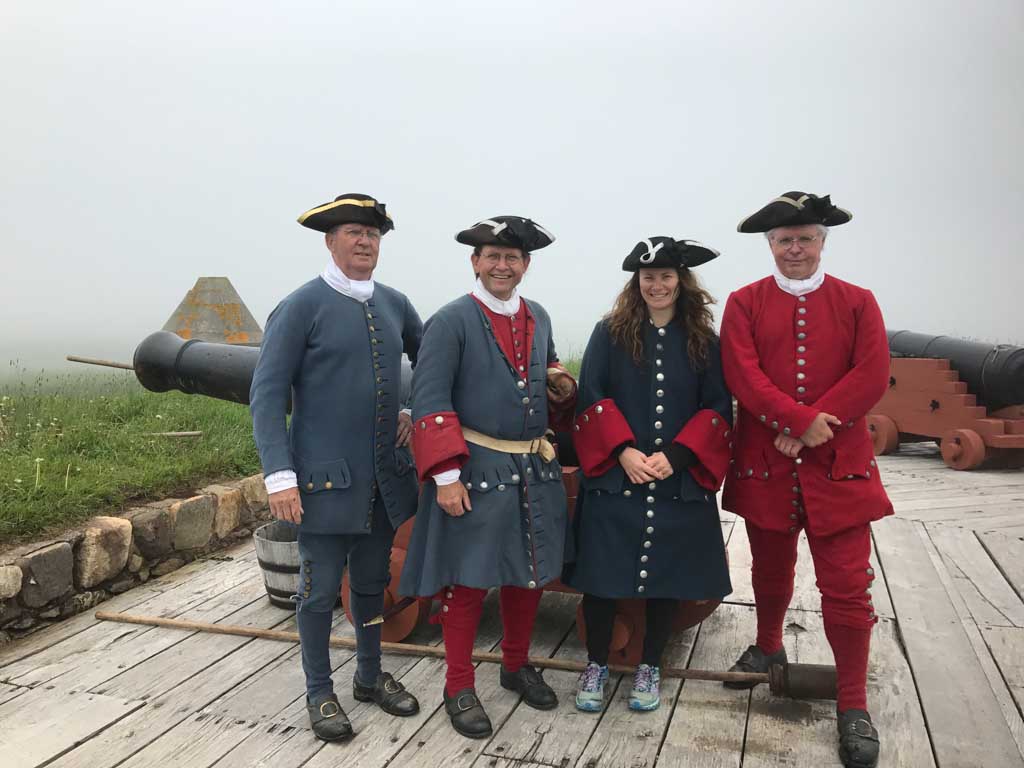 The Fortress of Louisbourg in Sydney, Nova Scotia is an incredibly unique and historically rich place to visit. As you step back in time to the 18th century, you'll be transported to a French colony that once thrived in North America. The Fortress is one of Canada's original settlements dating back to 1719. It is filled with a rich history including a fishing port, a major commercial port, and a strongly defended fortress. In the 1960s, the site was reconstructed and stands as the largest historic site reconstruction project in North America.
Upon arriving, visitors can explore the vast grounds, marvel at the impressive fortifications, and learn about the daily life of soldiers and civilians during this time period. Click here for more adventures in the fortress, including videos and pictures of my husband firing off a musket and my kids "working" for the day.
Visitors can watch artisans and interpreters bringing the past to life through demonstrations of traditional crafts and cooking techniques. Additionally, for those looking to get hands-on with history, you can sign up to fire off the cannon, shoot muskets, dress in period costumes, or take part in arts and crafts projects. Get the daily schedule when you arrive and register for programs that suit your interests (additional fees may apply). We spent two full days at the Fortress and didn't even see it all! For more pictures and stories from the Fortress click here.
Staying Overnight at the Fortress of Louisbourg, Sydney, Nova Scotia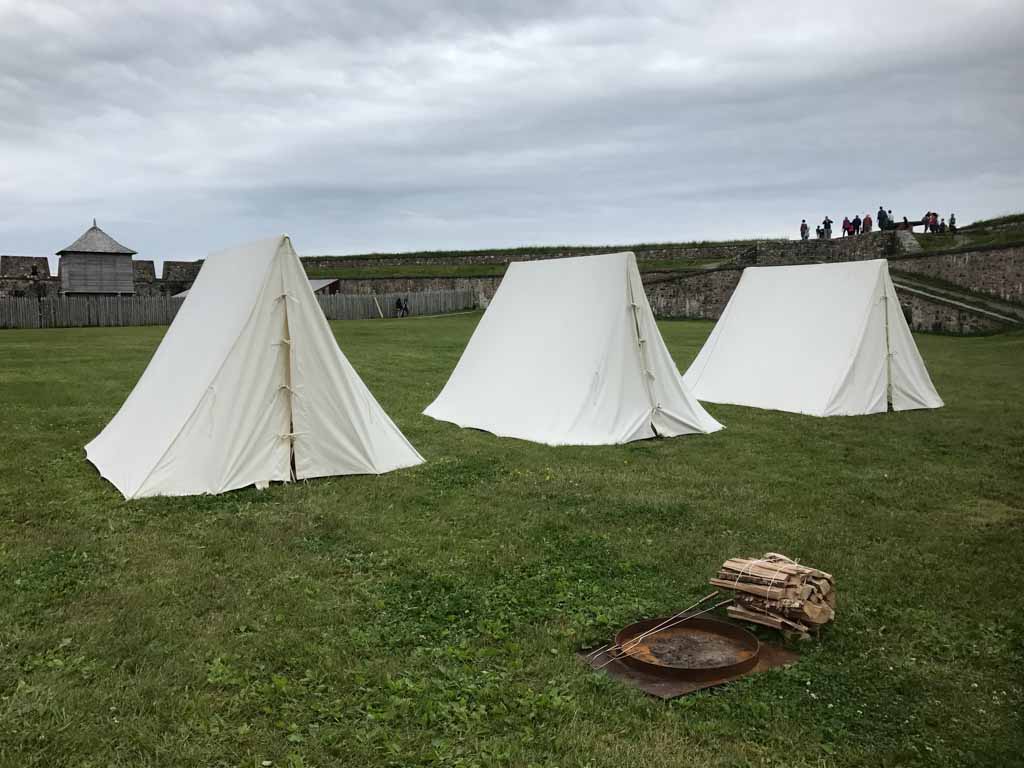 Did you know that you can actually stay at the Fortress of Louisbourg, overnight? Guests are invited to book a unique "behind the scenes" experience, where you can sleep in an 18th-century tent, or bed down in one of the many houses on site. These experiences are a unique way to extend your visit at the Fortress of Louisbourg and to connect deeper with the history and significance of the historic site.
Fortress of Louisbourg Tips: Take part in some of the enhanced experiences… whether it's firing off a cannon or booking a stay, they offer a variety of opportunities for every member of the family to explore the park as if it were the 18th-century. Advance booking is required for overnight stays.
Day 10 – 12: East Coast Canada Road Trip Itinerary- Cabot Trail, Ingonish Beach, Cheticamp, Cape Breton Highlands National Park, Nova Scotia
Cape Breton Highlands National Park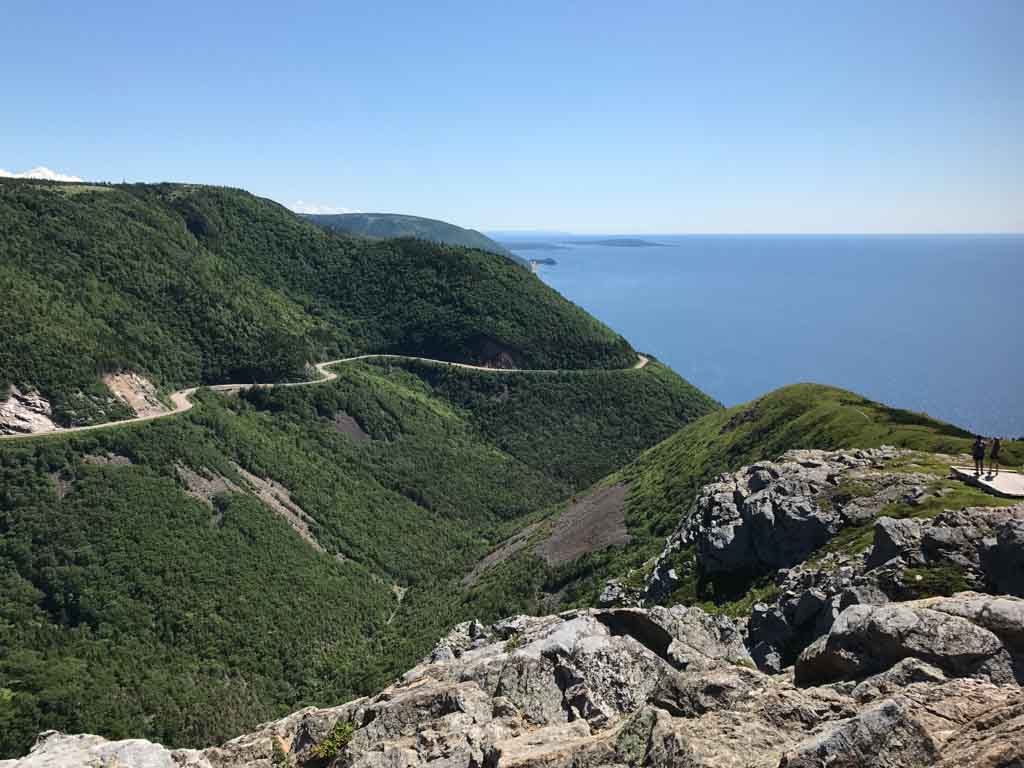 Nestled in the east of Nova Scotia, lies the world-renowned Cabot Trail, one of the most beautiful and scenic-filled drives in the world. You'll be invited to a road trip through 300 kilometres of picture-perfect scenery, bringing you and the family alongside the ocean overlooking the wild Atlantic Ocean.
Be sure to plan plenty of stops along the way as locals will be excited to welcome you into the many small towns. From stopping for fresh-off-the-boat seafood to hiking one of the 20 hiking trails, to packing a picnic and spending an afternoon beachcombing, the 300 km drive is meant to be savoured at every turn.
A visit to the Cabot Trail promises to be an unforgettable experience that will leave you in awe of Nova Scotia's beauty. Here's a more in-depth article showcasing what to expect in Cape Breton Highlands National Park.
Ingonish Beach National Park, Cape Breton Highlands
Our first overnight stop on the Cabot Trail was in Ingonish Beach National Park. Our oTENTik was tucked into the tree line while looking out over the long sandy beach and a kids' playground. After a traditional camp cookout, we walked along the beach to see the sunset and settled into our oTENTik for the night. However, I peeked out just before bedtime to discover that the whole field in front of the oTENtik was lit up with light bugs! This was new for us West Coasters and a really neat thing to see for the first time! Families could stay for a week at Ingonish Beach, with lots of programming, hiking, and beach activities to be explored! One day wasn't long enough! For more pictures and park recommendations click here.
Cheticamp National Park, Cape Breton Highlands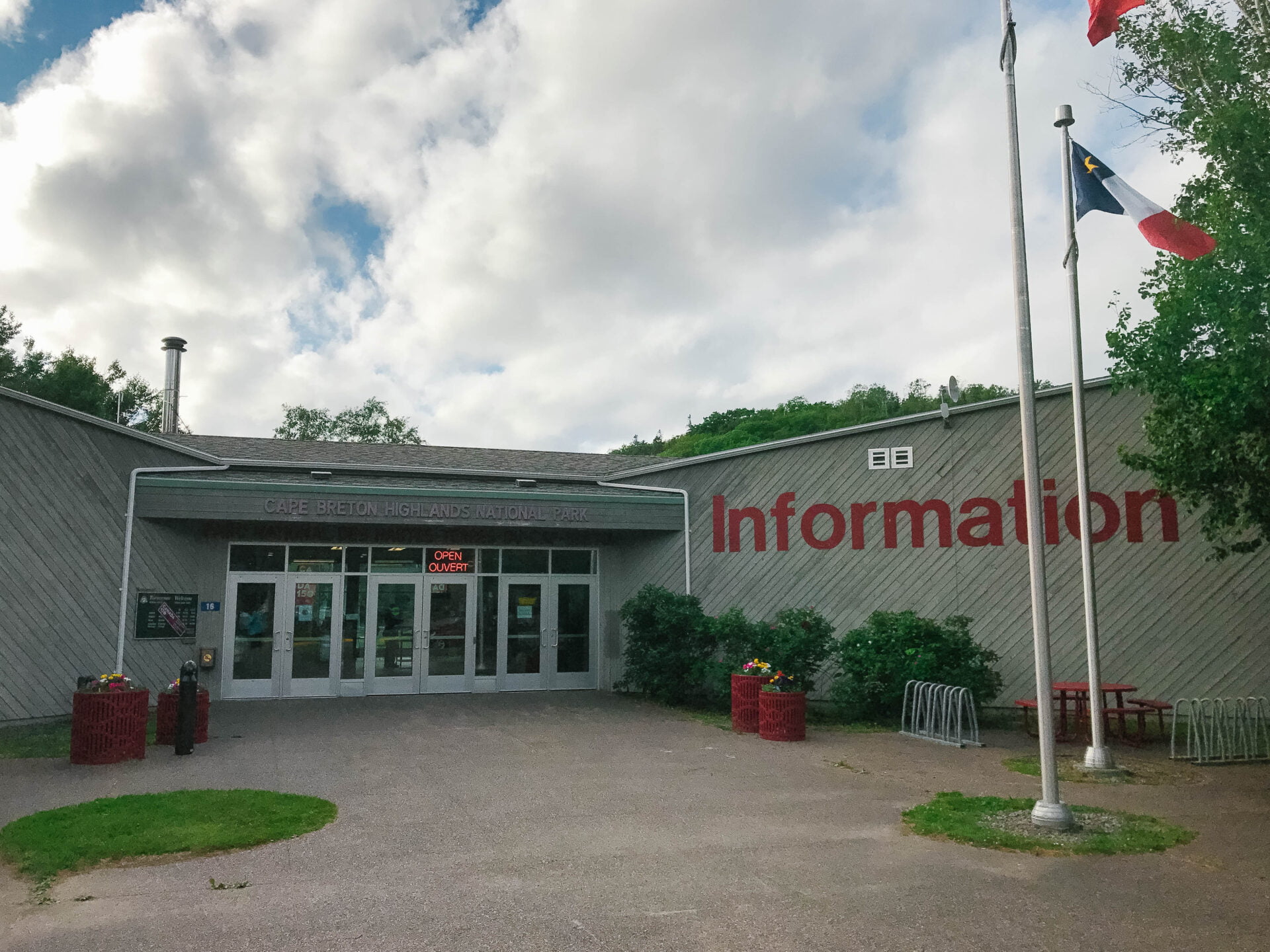 Cheticamp National Park in Cape Breton Highlands is a great place to finish up your tour of the Cabot Trail. Located on the opposite side of the trail, it's another National Park that offers oTENTik accommodations, as well as traditional campsites for road-tripping explorers. If you're lucky, you might even catch a glimpse of some of the park's fascinating wildlife, including moose, bald eagles, and black bears.
Make sure to take the time to learn about the park's history and the local Mi'kmaq culture at the park's visitor center, where you'll gain a deeper appreciation for the people who have called Cheticamp home, and for the ways in which they continue to protect and preserve it today.
Day 12-14: Canada East Coast Road Trip Itinerary- PEI National Park, Top Knotch Fishing Tour, Shaw Hotel, Prince Edward Island
Prince Edward Island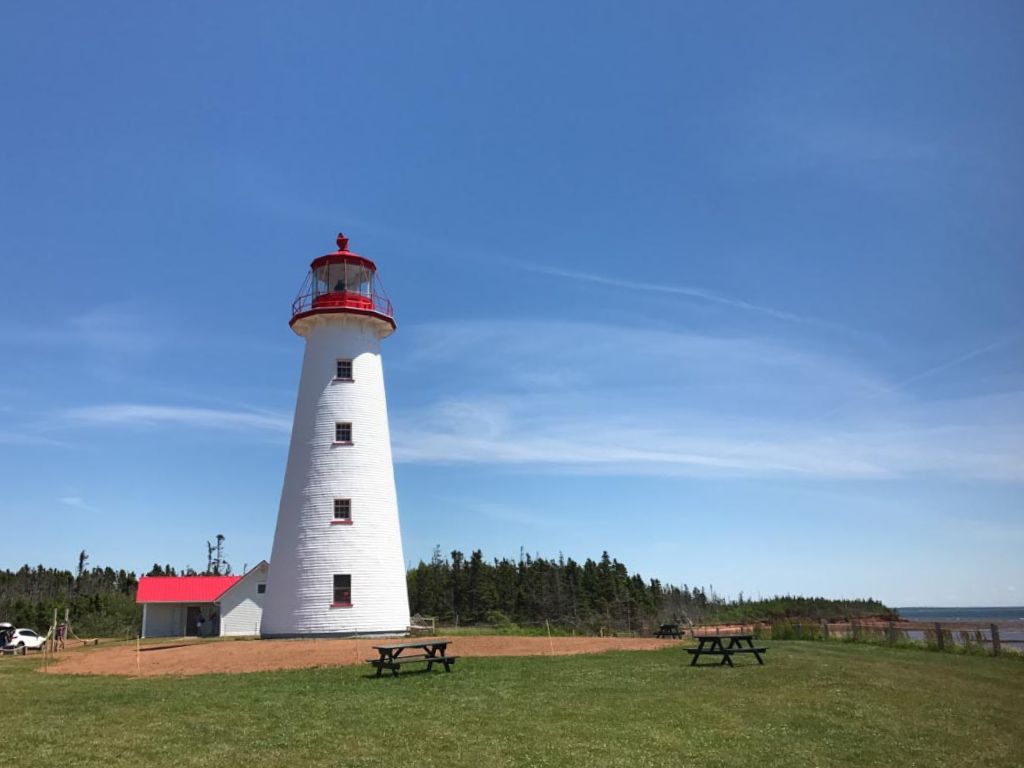 Drive 3 hours from Cheticamp, Cape Breton Islands to Caribou, Nova Scotia where you will catch the ferry to Woods Islands, PEI. This 75-minute crossing is a great way to transition from Nova Scotia over to PEI, on the Atlantic Sea (although if you're looking to extend your Nova Scotia Road trip here's a full 2-week itinerary showcasing a full circle drive around Nova Scotia).
Once you're in PEI be warned that you may experience the same feeling I had, where PEI stole my heart within four hours of our arrival. From watching my kids run down its red sandy beaches, to seeing my husband soak in all the history at the historic sites, I knew this was the perfect place for us to end our East Coast Canada road trip.
PEI National Park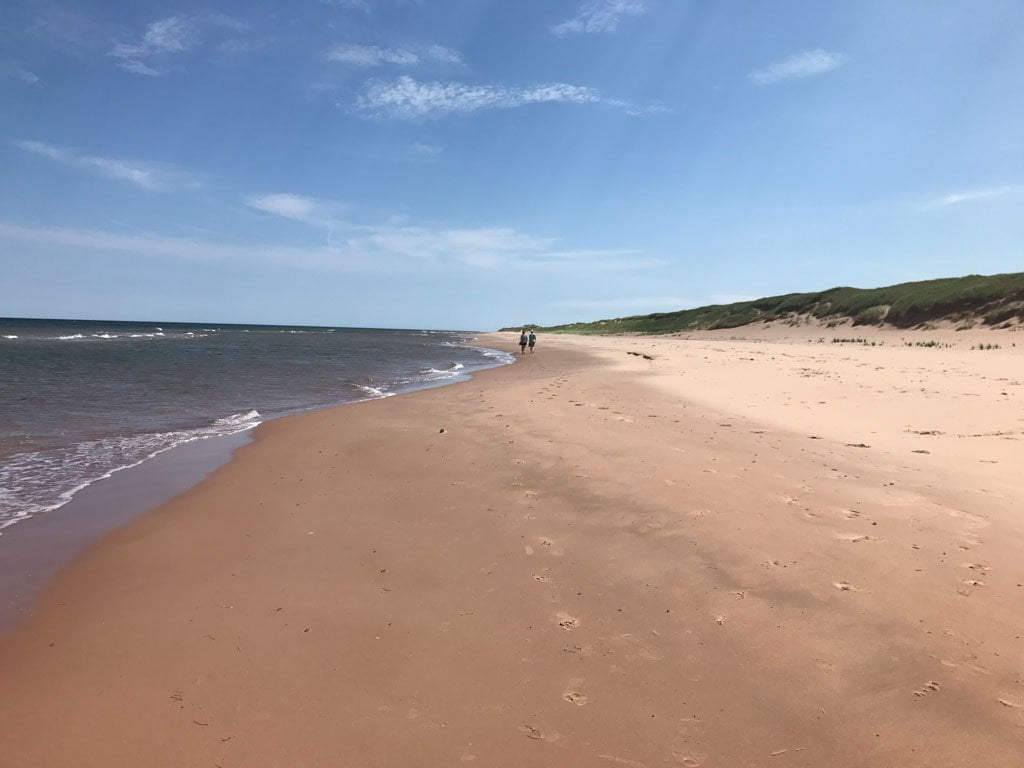 PEI National Park invites you to stay and stroll the endless kilometres of stunning beaches, walking trails, and scenic views. The red sand beaches offer the softest sand between your toes all while walking on bright red sand. The beaches are surrounded by sand dunes, a whole ecosystem in themselves that has been formed due to the strong Atlantic winds as they hit the shores.
We spent a lot of time at PEI National Park and from this picture, I'm sure you can tell why…we felt like we had the whole place to ourselves! With the giant sand dunes watching over us, our children were free to play in the ocean, running back and forth between the waves.
Top Knotch Fishing Tour
After visiting Charlottetown, PEI be sure to climb aboard with Captain Mark where you can head out on a fishing boat for a tour of the town from the water. Captain Mark taught us that maybe sharks aren't the king of the sea and introduced us to the lobster industry, including some huge monsters like this fella Larry!
It was an excellent way to connect with the locals and learn about the fishing industry hands-on. My kids still talk about their Top Notch experience, years after we've returned from our adventure on the sea!
Where to Stay in PEI – Shaw's Hotel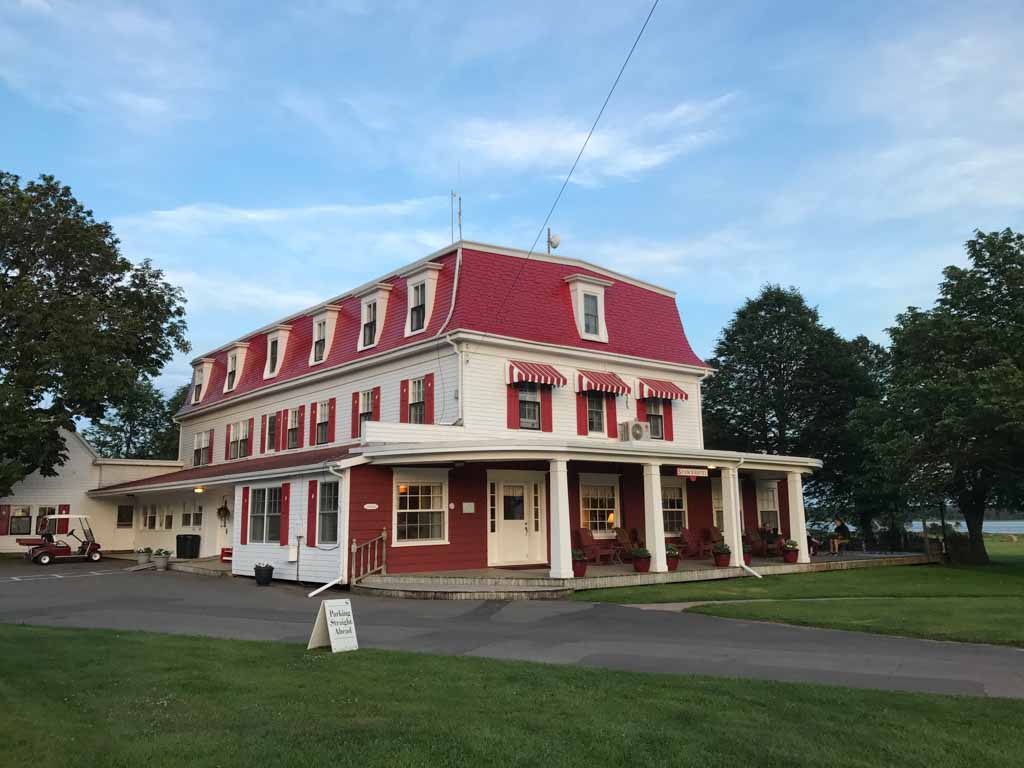 PEI is the mecca for family adventures and the perfect place for a family vacation. Give yourself at least a week and you'll be able to explore the parks, attractions, and historic sites, as well as meet locals in the small towns along the way.
The perfect place to stay in PEI is Shaw's Hotel, a unique multi-facility resort offering guests a variety of accommodations and activities as well as direct access to PEI National Park. Imagine driving down a road that once only welcomed guests by horse and buggy. As family vacations became popular in the 1860's the Shaw family opened the doors to their inn and started hosting guests from near and far. The iconic sandy beaches combined with the open fields for kids to frolic in kept guests coming back year after year. While a few things have changed over the last 162 years, one thing that hasn't… Shaw's Hotel PEI is welcoming and the perfect place for family vacations.
Best Time to Visit Canada's East Coast
Summer is the typical answer when people think of visiting the East Coast. From June to August the region is in peak season, with warmer weather, attractions and accommodations near peak capacity, as well as lots of festivals and events happening.

If possible though I encourage you to research off-season for a road trip to the East Coast. The fall offers incredible world-class views as the fall foliage comes into season. Spring and Fall tend to provide guests with lower rates and less crowded trails, although some experiences may be closed. Winter, from December to March, offers opportunities for winter sports, snow-filled scenic drives and possibly viewing the aurora borealis, but temperatures can dip below freezing so you need to be prepared. This RV company has winter packages that will allow you to stay warm and get to experience the Atlantic in the winter!
Where to Stay on Canada's East Coast
We opted to do a glamping road trip, where we rented a car and then drove from one glamping spot to another, with a focus on staying in Parks Canada's accommodations as much as possible. We love the low-cost and unique accommodations, situated right in the middle of some of the East Coast's most special places.
Tip: Parks Canada accommodations can book up fast so be sure to reserve your accommodations when reservations open at the beginning of the year (typically January / February).

When staying in PEI I recommend hands down, Shaw's Hotel. With over a century of experience welcoming guests, this unique property is a great way to have an authentic PEI stay all while being able to head out to explore the region easily.
Getting Around Canada's East Coast
There are two primary ways to traverse Canada's maritime provinces:
Car Rental: On this trip, we used Avis and were very happy with our rental car. It was clean, in great shape and got us everywhere we wanted to go.
Click here to book your rental car for your East Coast Canada Road Trip!
RV: You can rent an RV which comes at a higher cost than a car, but typically allows you to save a bit on accommodations as your travelling with all your things. It also allows for a slower style of travel as you're not constantly checking in and out of properties and having to play the pack-and-unpack game.
East Coast Canada Road Trip

FAQs
How do I plan a road trip to the East Coast of Canada?
Planning a road trip to the East Coast of Canada can be both exciting and overwhelming. With so much to see and do, it's important to create a detailed itinerary before hitting the road. Start by deciding on your route and the specific destinations you want to visit along the way. Research accommodations, restaurants, and attractions in each location to ensure you make the most of your trip.
Be sure to also consider the time of year you'll be travelling, as weather can play a big role in your trip. Make a packing list and don't forget essentials like proper clothing for the climate and any necessary documents for border crossings. Above all, allow yourself some flexibility in your plans; some of the best experiences on a road trip come from unexpected detours and discoveries.
How many days do I need to spend on Canada's East Coast?
While this itinerary was built around our 14-day road trip, it really depends on your own schedule, budget, and interests. I could easily see spending 5 weeks in the Maritimes, spending 2 weeks in Newfoundland, 2 in Nova Scotia and 1 week in PEI. We've gone back several times, allowing us to explore the area at a slower pace and see more on our trips.
How much money do I need for 14 days in Canada's Maritimes?
Flights: varies based on departure location
Accommodations: $100 – $200 per night for a total cost of $1800
Car Rental and Gas: LEARN FROM ME… if you choose to drop off your car in a different spot than you start you will pay a significant "drop fee" which can cost you as much as double your rental. If you have the time, I'd recommend starting and finishing your trip in the same spot to save money. If you were to do Newfoundland pick up and PEI drop off it would cost about $3600, whereas if you drop back off in Newfoundland, it would cost about $1700.
If you have the time I'd recommend starting and finishing somewhere more central, like Halifax.
Meals: We typically budget $150 per day for a family of four, with the assumption that breakfast and lunch will be on our own and then we will eat out somewhere for a nice dinner. This includes the necessary car snacks as well as treats along the way.
Adventures: This can vary wildly based on your interests, your time, and your adventure style. We opt to take part in as many free (or low-cost) adventures as possible, like exploring the National Historic Sites, hiking, and beach combing. Then we save up for the bigger experiences like guided kayak tours and eco-tours. Typically we budget $1000 – $1500 per trip for adventures.
So in summary –
Accommodations: $1800
Car Rental and gas: $2500
Meals: $2100
Adventures: $1500
Approximate total for a two-week trip: $7,900 (plus the cost of flights to and from where you live, which can vary).
What to pack for an East Coast Road Trip?
We are a West Coast family and packed up and flew across the country for this trip, so we know how to pack! Here's a detailed list of how we packed all of our camping equipment up and bring it across the country with us. This meant we had to bring less stuff, which was a great challenge for us and yet somehow, in the end, we still had way more than we needed!
What is the Parks Xplorers Program?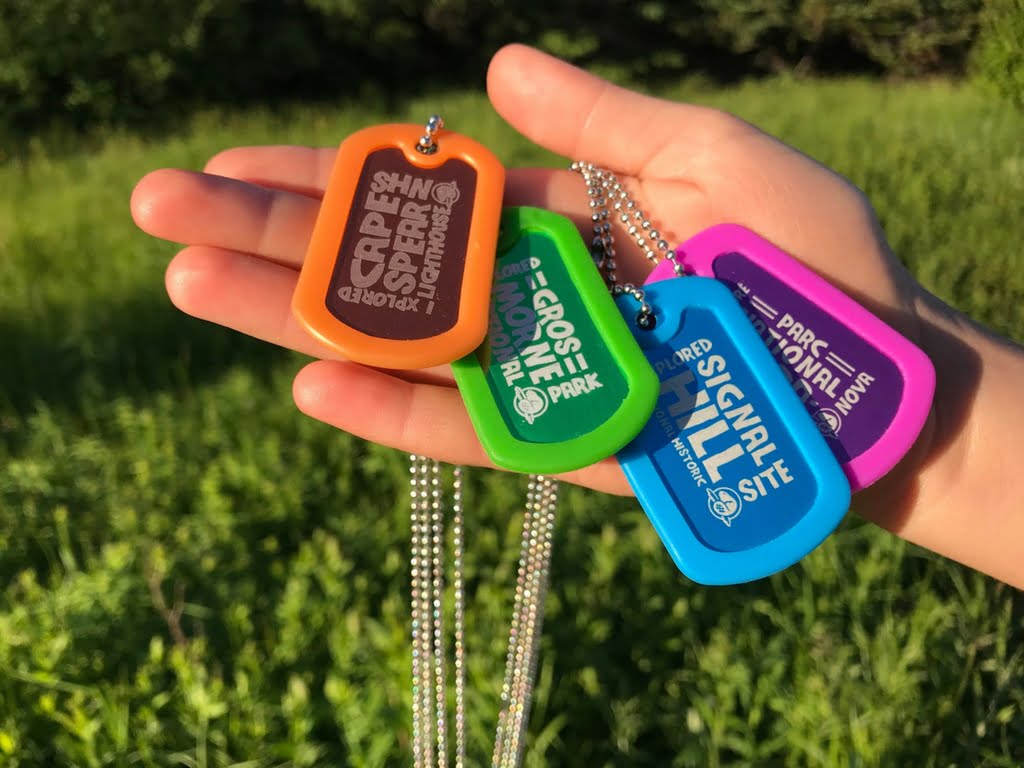 The Parks Canada Xplorers Program is a hands-on interactive program that teaches children about the National Parks and Historic Sites that they are visiting. Each site has its own customized Xplorers book where kids can pick from a variety of activities including on-site research tasks, arts and crafts, drawing, search and finds, and more. When they complete the task they can earn their very own site-specific dog tag… which can become collector items in families like mine! Learn more about the free Parks Xplorers Program here.
Do I need a Discovery Pass to visit the National Historic Sites and National Parks?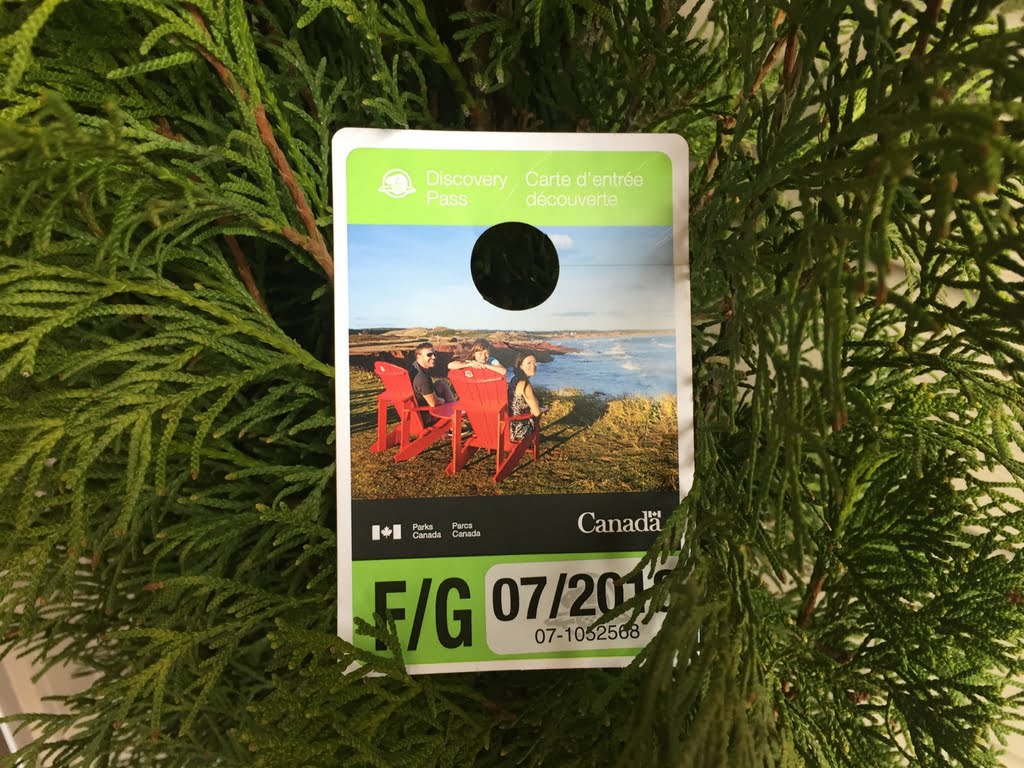 You don't have to have one but you should, as if you're visiting a lot of places in one year it'll save you money! Otherwise, you'll have to pay each time you enter one of the Parks Canada sites, so research how many places you're going to and if a family Discovery Pass is the right fit for you.
How many times should you stop on a road trip?
While my husband likes to "drive hard" and "make good time," over the years our travel style has changed and we now move a little slower and take time to stop and see the scenery, knowing how special these places like the East Coast are.
If you're travelling with children I'd recommend centring your stops around their needs. When will they need to get out and exercise? When is a good time for car naps and pushing through to get some kilometres under the car? And if in doubt… ask them!
Final Thoughts: 14 Days on Canada's East Coast
A road trip to Canada's East Coast is a trip that will welcome you to this unique area of Canada and have you planning your return visit long before you've left! From hunting icebergs in Newfoundland to firing off cannons in the Fortress of Louisbourg, to running along the red sandy beaches in PEI, there is no shortage of things to see and do.

A road trip allows your family to bond over new experiences and the beauty of Canada's great outdoors and ensures some fun and unexpected highlights along the way. So whether you're driving to the East Coast or flying cross country, start planning and get packing and embark on an unforgettable adventure that will bring your family closer together. The east coast is waiting for you!
Is this a sponsored post?: Our trip was made possible with support from Parks Canada as well as the local tourism boards who were excited to help us showcase their region. However, my experiences and thoughts are my own!
Are you working on your next road trip plans? Here are some ideas to add to your list!