Did you know that rafting isn't just for the 25-year- old adventure seeker? This Jasper River Raft Tour offers a family-friendly version for people ages 2 – 97. When we were invited to check this out, we knew it was an opportunity we couldn't pass up!
Our adventure started at the large totem pole in the middle of the Jasper village. There we met up with our tour guides and hopped on a big green school bus. The bus driver was hilarious and kept us entertained the whole time. "Do you know what they do when school buses aren't safe for transporting kids to school anymore?" (No) "Sell them to river rafting guides!" It was a ton of fun to kick off our adventure with a fun and enthusiast guide.
Twenty minutes later we were at river rafting central where we would gear up and head down to the river for our tour. After a quick safety orientation, we were on our way. The two-hour trip was an incredible experience; here's some of the things we loved the most:
Scenery was Nat Geo worthy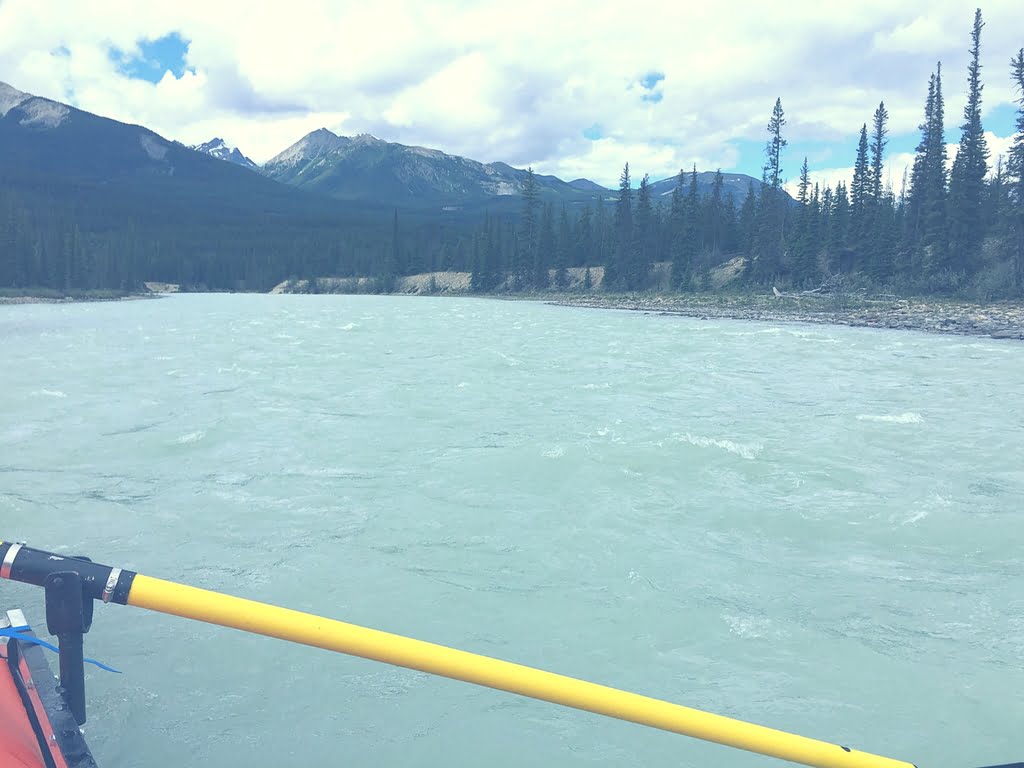 Everyone in the boat was equipped with a camera (or two) which was a good thing as they were needed at all times. The scenery in Jasper is like a page out of National Geographic and being able to see it as you float down the river gives you a whole different perspective than you'd get from anywhere else.
Education was Engaging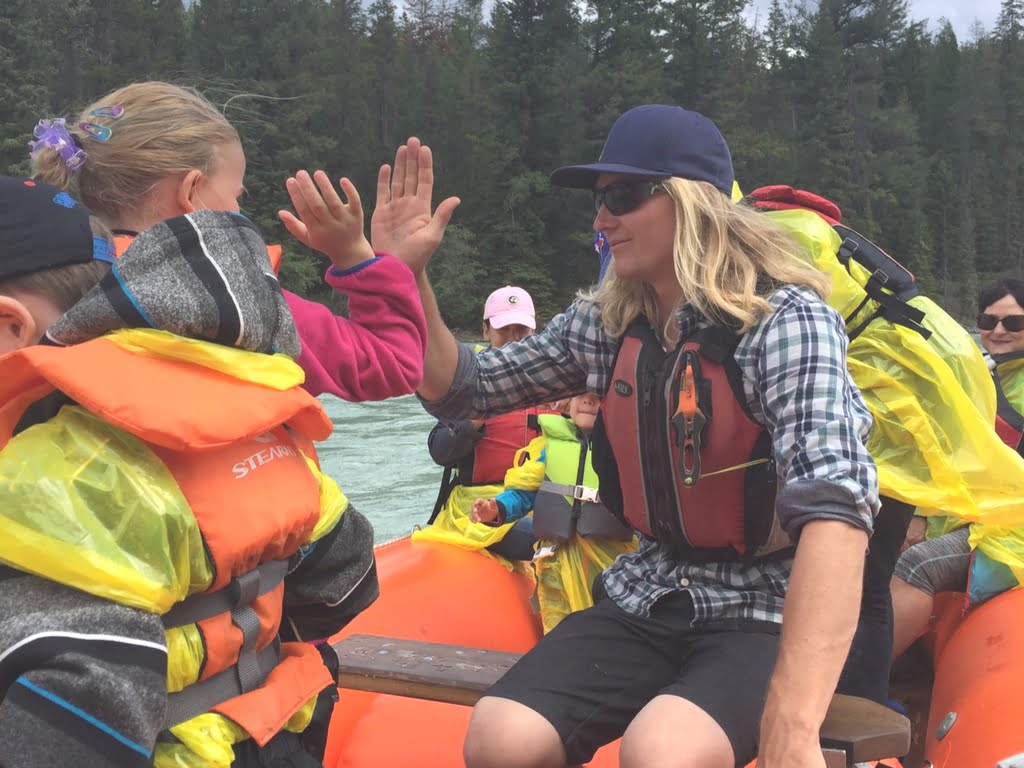 As a parent and a traveler, I loved the educational (yet entertaining) component of the tour. We were informed about the river and how we were travelling on water that had been a glacier a mere 18 hours ago! We were educated on the local flora and fauna, mountain ranges and stories from the top were shared, given geo locations to watch as we navigated down the river, and had local features pointed out like a "shark" (cool rock) in the water, and a tree that had been struck by lightning.
Adventure Seekers got their Thrill (And wet!)
The more adventurous members of our group were strategically placed in the boat to ensure a more adventurous experience. This meant that my children were front and center to get soaking wet when the right wave hit. I'll never forget their squeals of shock and excitement!
Guide was Entertaining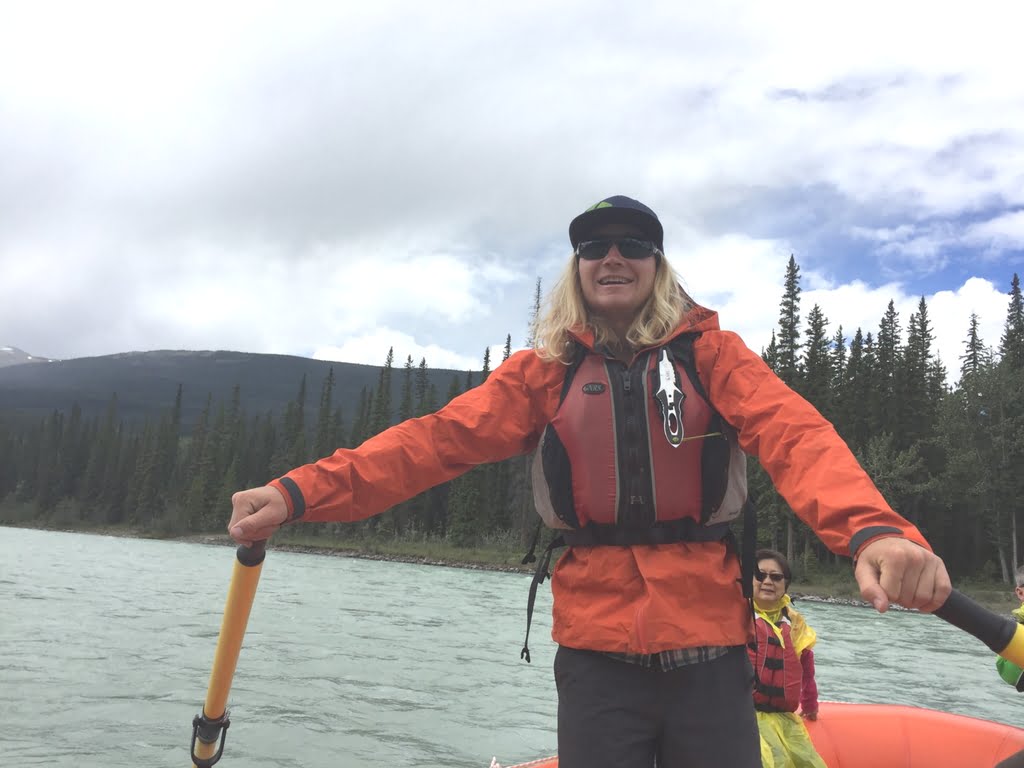 The guide was a young man named Addison who grew up in Jasper. His knowledge of the area was incredible and he was excited to talk about anything, from the tour to recommended trails to mountain biking. The best part about Addison was his jokes and stories; my son's favourite part of the tour was one of the funny stories that Addison shared! He still talks about it every day!
We got to be the Captain!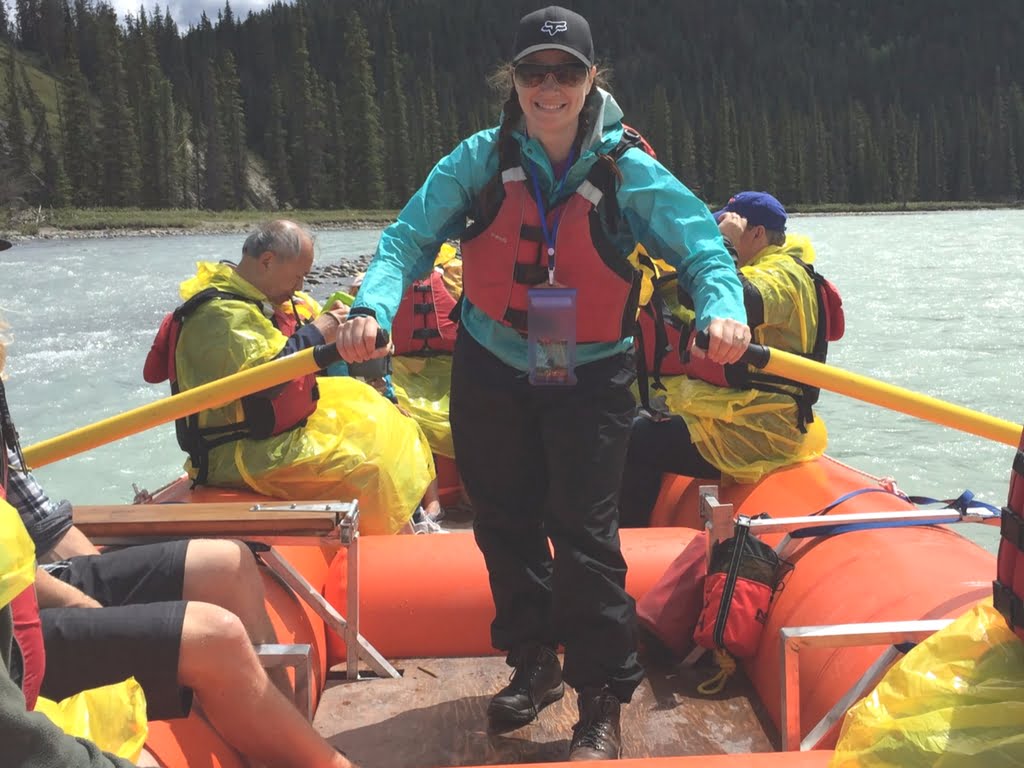 During the floating part of our ride Addison let the children "drive" the boat. They were so thrilled to be the captain of the boat and give paddling a try. I too was excited to get a chance to post with the oars…let's face it, that's a fun photo memory to have!
If you're ever in Jasper I highly recommend this adventure with Jasper River Raft Tour. It was the perfect introduction to river rafting yet safe and laid back. Here is a video of our trip:
For more ideas of what to see and do in Jasper, check out our blog about staying in oTENTiks and our Top 20 things to do in Jasper blog!