A quick walk through downtown Jasper and you'll quickly learn something that many from all around the world know… Jasper is one incredible place! You can hear people speaking every different language imaginable. From German to Mandarin, from Hindi to Spanish, they all share one thing in common – they've saved up their money and planned their holidays around coming to see one of Canada's greatest jewels: Jasper National Park.
Jasper is truly a mecca for those that love the great outdoors, scenery that goes on for miles, and animal encounters that can happen as soon as you draw back your curtains in the morning. My only problem with Jasper is that I wish more Canadians took the time to experience it… as I'm seeing that many people have it on their list of places to visit, but never take the time to do so!
In order to entice families to venture out to Jasper and explore the area, here's my top 20 things to do in Jasper list!
1. Camp in an oTENTik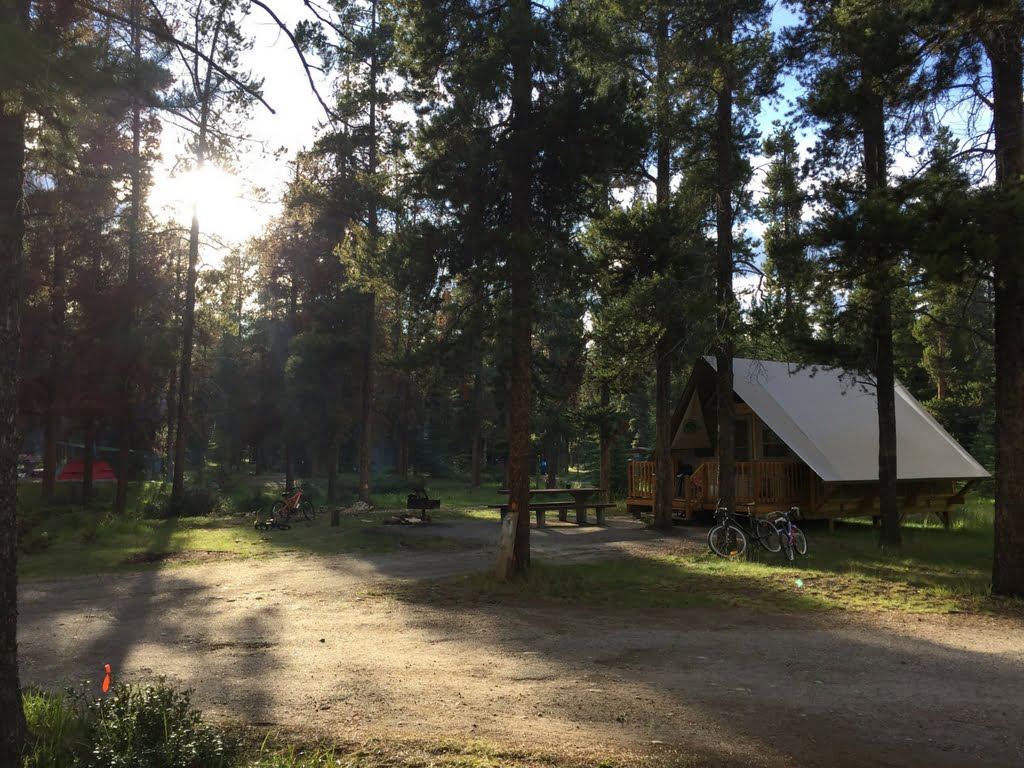 An oTENTik is a cross between an A-frame cabin and a tent. It is an easy way for families to camp as it offers no setup, insulated and heated accommodations, but still all of the amazing experiences that go along with camping, such as campfires and s'mores! Check out our oTENTik experience here!
2. Go Paparazzi on the Locals


The local elk, deer, bears, and birds all are used to being photographed, and when you're in Jasper, your odds of seeing all of the above are high! My only request is that you pack a zoom lens and give yourself and the animals lots of space to explore! Remember, we're in their homes and if they feel threatened they will treat you like an intruder.
3. Maligne Lake
Maligne Lake is a scenic hour drive out of Jasper where you will pass turquoise lakes, trees burned by forest fires, and perhaps a bear or two along the way. Once you arrive you'll find a hub of activity and be able to choose between hiking paths, boat tours, or self guided kayaking tours. Many of Jasper's iconic images come from this lake!
4. Miette Hot Springs
At least an hour drive out of Jasper will bring you to a windy road, with you potentially wondering if you're on the right track. After approximately 20 kilometres you'll find yourself at the parking lot to the Miette Hot Springs. While this attraction is family-friendly, it's more of a family sitting pool rather then a swimming pool. It has a cooler shallower pool, a deeper hotter pool, and a couple of small (hot-tub size) pools to cool down in.
5. Jasper Sky Tram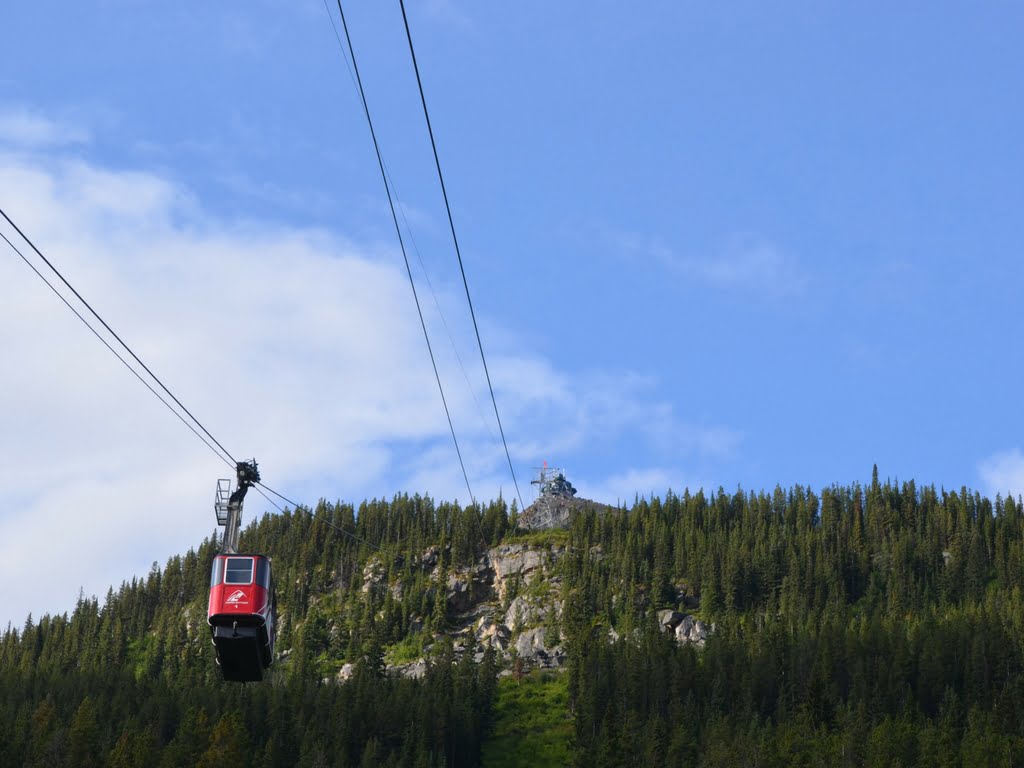 If you're looking for world renowned 360 degree views, picture perfect scenery of turquoise lakes, visiting with the local mountain goats, and a hike that's both easy and challenging at the same time, Jasper Sky Tram is the perfect family-friendly stop!
6. Jasper Raft Tours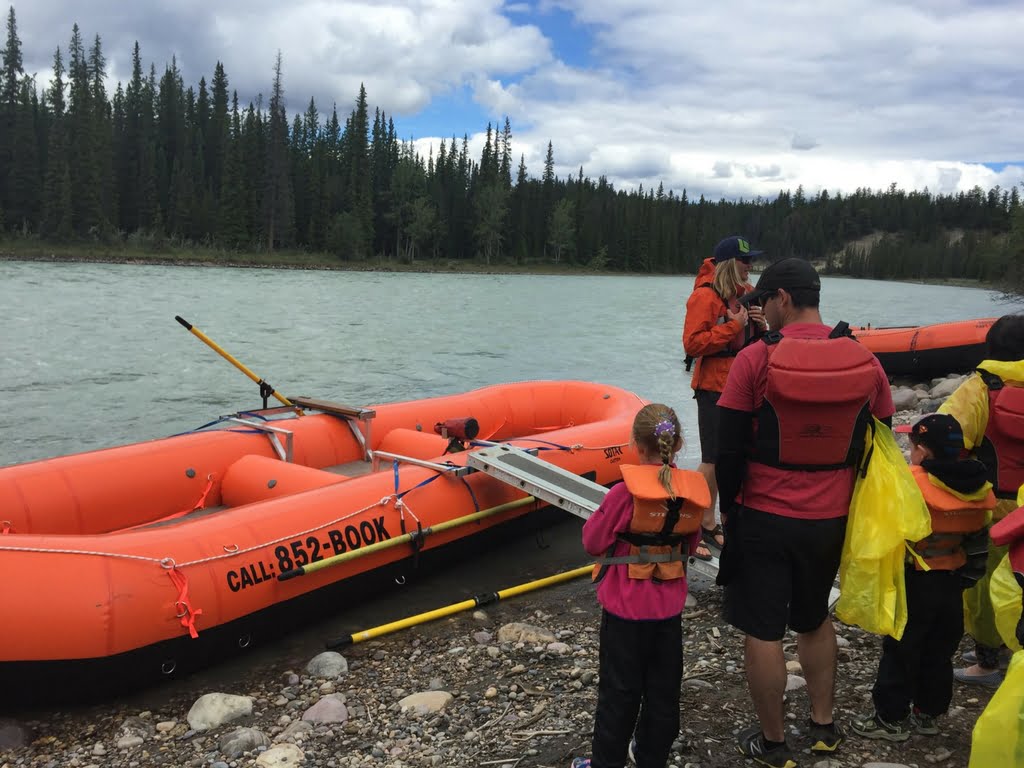 Jasper Raft Tours offers guests a calm river float down the Athabasca River. This Eco tour is perfectly combined with adventure and great for children 2 years old to seniors aged 95! Our children were placed in the splash zone and had so much fun. As parents we loved the educational aspects that were included on the tour. Learn more about our trip here!
7. Jasper Rafting
By far my most favorite experience of our road trip was river rafting down the Athabasca Tour. We took the beginner tour which brought us class-one and class-two rapids. Enough to give the kids a good thrill but safe enough that as parents we knew they were in good hands the whole time. Learn more about our experience here!
8. Hang Out in the Village
The town of Jasper offers a great village vibe complete with souvenir shops, a wide variety of restaurants, great little boutiques and shops to explore. My favorite thing to do in town is listen to see how many different languages we can hear!
9. Xplorers Program
Hands down one of the best programs my children have ever been a part of! This free program awards children for completing their Xplorer book, but in order to complete it you have to explore a variety of areas throughout the park. It's the perfect combination of arts, culture, history, and geography all wrapped up into one program. Learn more about the program and our experience here.
10. Pyramid Lake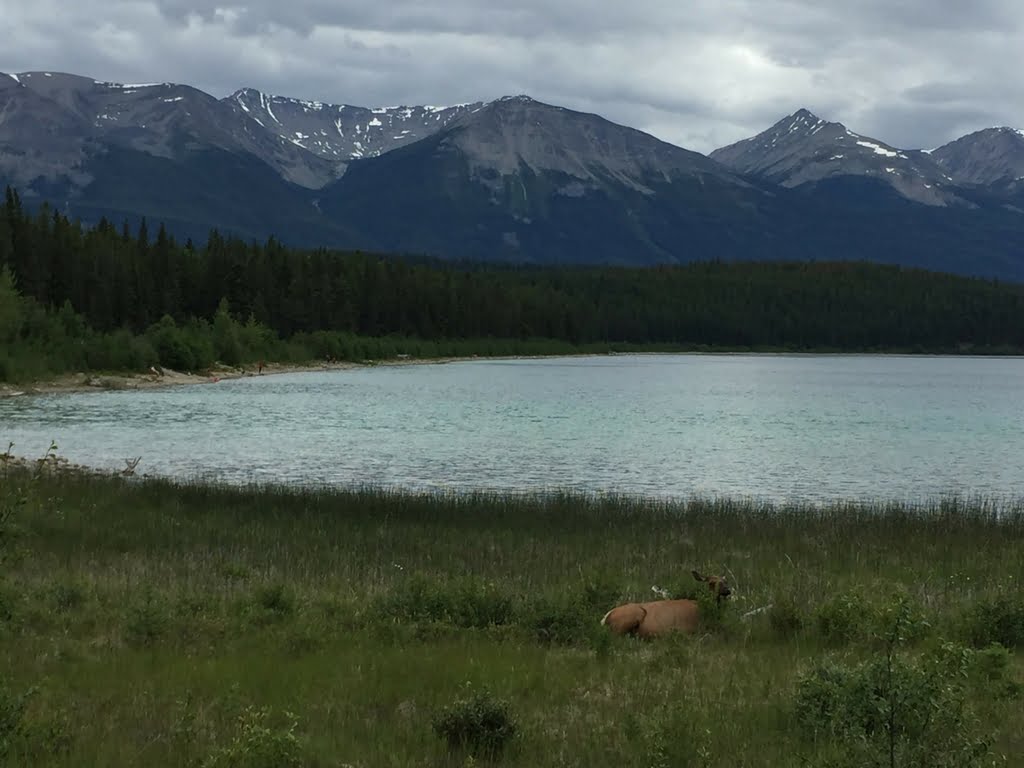 A stunningly beautiful lake with a variety of water sports, Pyramid Lake is one that everyone should visit. The best part about this lake is it's location, only a five-minute drive from town!
11. Athabasca Falls
A popular stop along the Icefields Parkway (Highway 93), The Athabasca Falls are worthy of your time. Not only do you get to get up close to the falls, but there are a variety of walking and climbing paths that take you through the canyon and down to the beach should you choose. Spend fifteen minutes or the whole day!
12. Take a Hike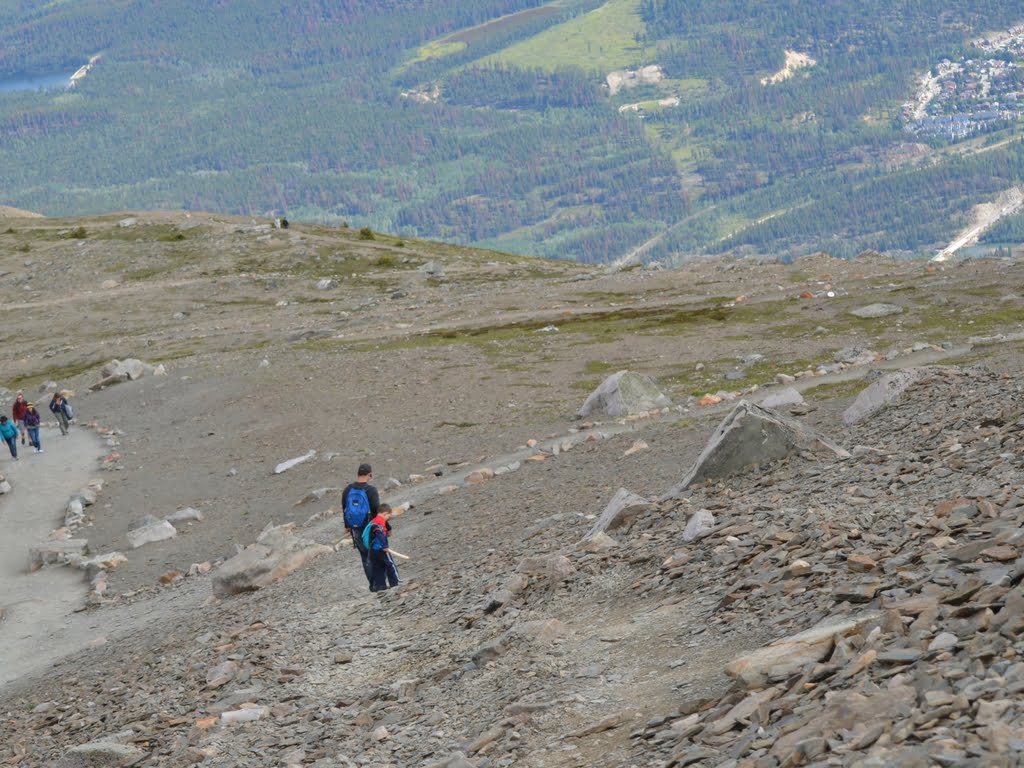 You could probably spend a year in Jasper and not cover all of their hiking trails! Depending on whether you're looking for a kid-friendly half- day hike or a multi-day expedition, there's something for every hiker in Jasper. There's two guaranteed elements though that you will encounter… one being amazing scenery and the other being animals! Be prepared!
13. Drive one of the World's most Scenic Highways
The Icefields Parkway has been noted as one of the most scenic highways in the world, and there's no questioning why. From up close animal encounters, to breathtaking views of Glaciers, to mountain vistas and rivers that go on as far as the eye can see, it's hard to concentrate on the road when you're surrounded by so much beauty.
14. Hang Out on a Glacier for the Day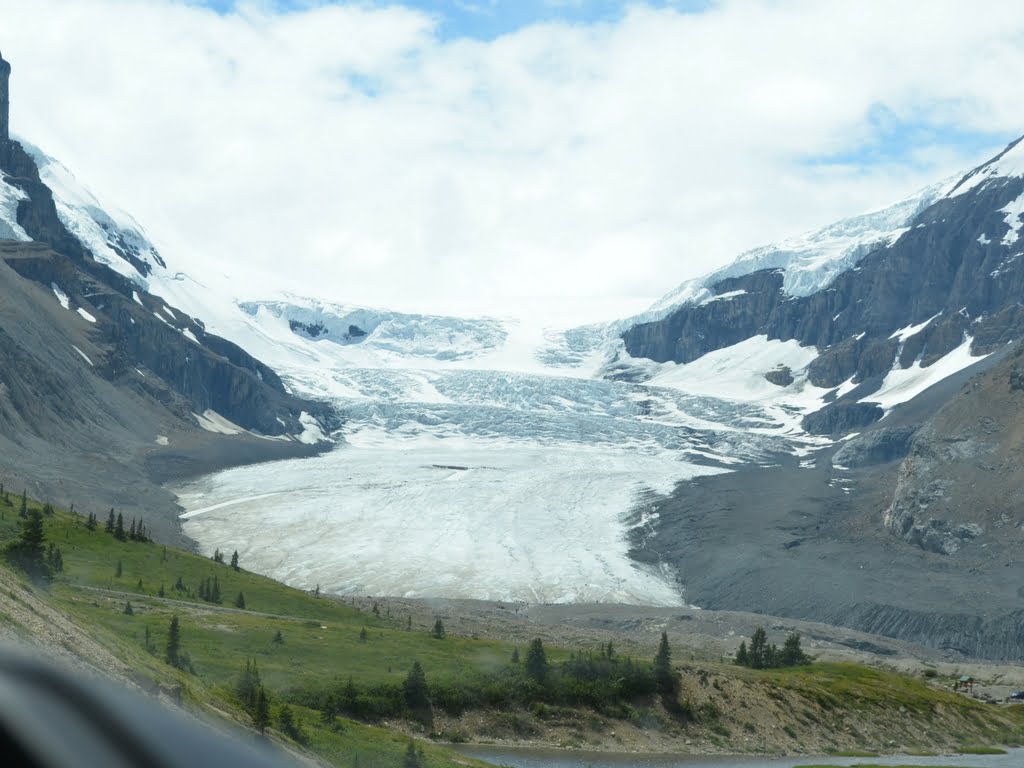 Jasper National Park is home to both the Columbia Icefield Area and the Athabasca Glacier. The Columbia Icefield is the largest icefield in the Canadian Rockies. And even though the Athabasca Glacier creeps forward several centimeters a day, it has been melting for over 125 years! Just remember to stay behind the marked barriers, as the glaciers can be dangerous.
15. Make New Friends Around a Campfire 
The campgrounds are an excellent way to meet people from all around the world. Why not have an open campfire and invite your neighbours over for a marshmallow or two? On our last trip we met people from New York, Germany, Calgary, Edmonton, and Trail. (And that was just one day!)
16. Check out the Visitor Centre 
The Visitor Centre in Jasper is a hub of activity with everything from parks to tourist information available. When you're there take a look around and check out the history of the building. When you start your investigations you'll see a unique mix of an old and new building that has been re-purposed over the years. (I won't ruin it all for you, go and check it out yourself)
17. Look Up at the Stars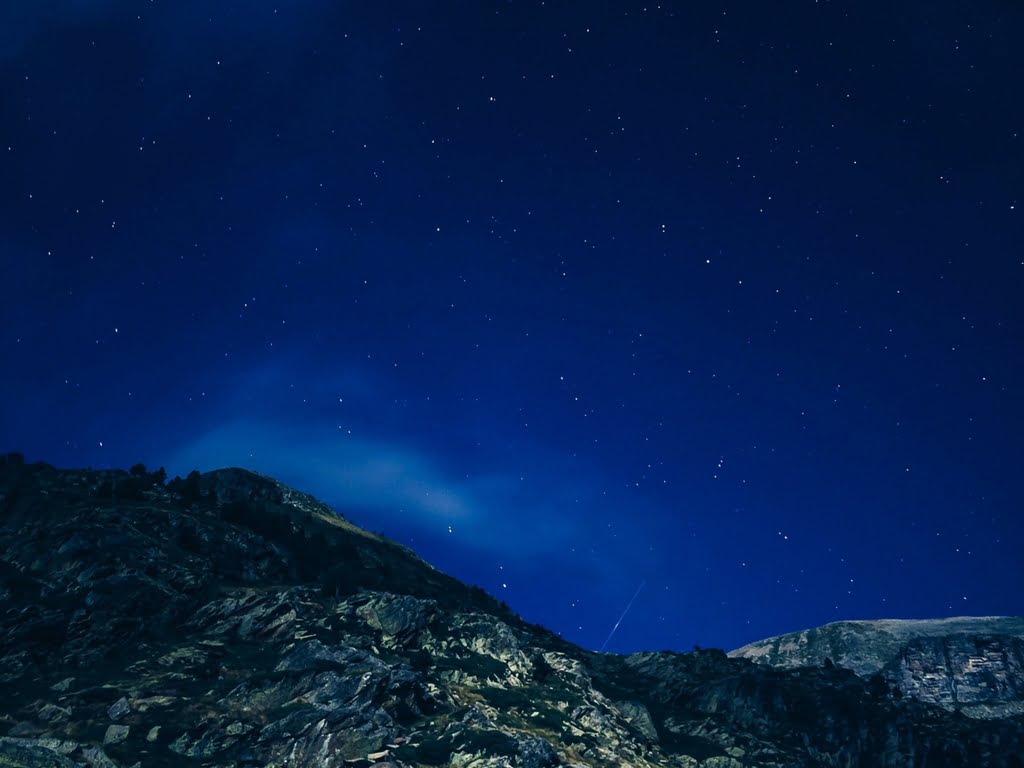 Jasper is a Natural Dark Sky Preserve, it's actually the second largest natural sky preserve in the world! What does that mean? That means that the park and the town have made advanced efforts to reduce the amount of light pollution in all forms. What that means for you? Some of the BEST star gazing in the world!
18. Maligne Canyon
Imagine standing on top of a bridge, looking 4 stories down at a waterfall crashing into the river. The canyon is layered in beautiful shades of grey, and the cold turquoise water rushes through making the most unique formations in the rocks as it flows. Maligne Lake is really something that needs to be experienced!
19. Picnic Lunch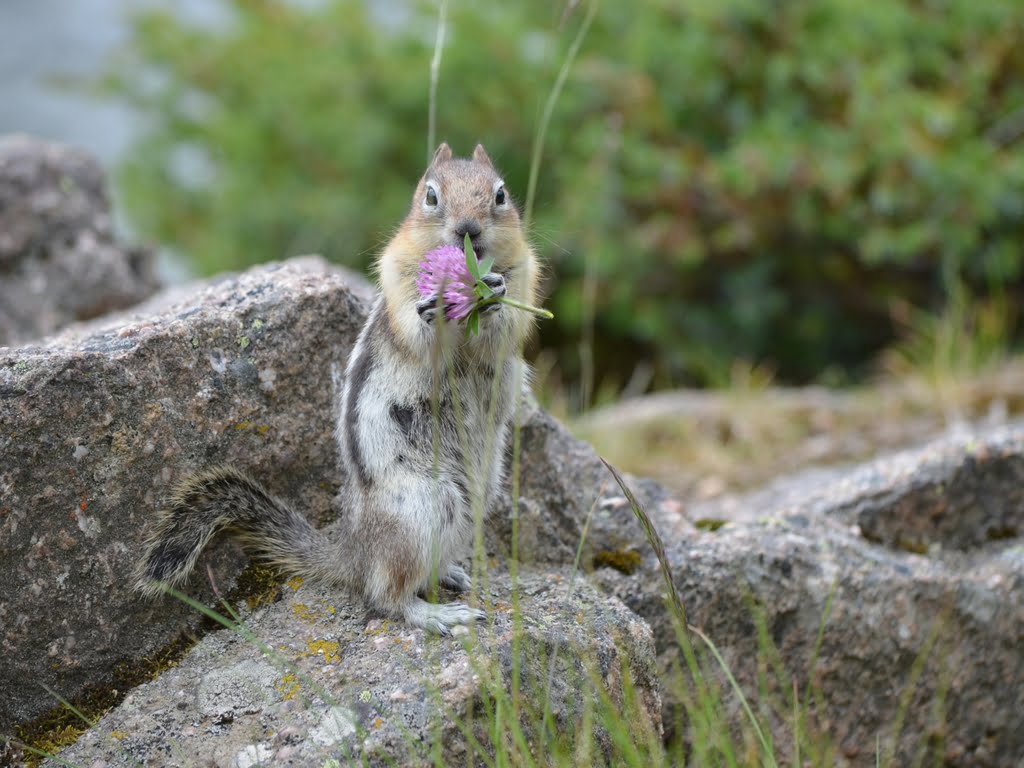 But don't feed the squirrels – We stopped along the highway in one of the picnic spots for a quick lunch and quickly found ourselves surrounded by chipmunks. My four year old son quickly reminded me, "We don't feed the animals" knowing that, as the Parks Department says, "A Fed Animal is a Dead Animal." Whether it's human food, or something natural, animals who learn to eat from humans are immediately endangered as they stop learning how to forage for themselves. So if you must engage with the chipmunks, keep your distance (and your food) away from them and snap as many pictures as you can! A zoom lens is always the best accessory when visiting Jasper!
20. Make Memories
A Trip to Jasper allows your family to make memories in ways you could never imagine… I'll NEVER forget River Rafting with my children, or going for a hike through the hills. Our National Parks bring us opportunities to explore places we've never been before and have experiences within ourselves we never knew possible. I'm pretty sure that whoever came up with this quote, was talking about Jasper… "The mountains are calling and I must go"
Jasper and the iconic Rocky Mountains are somewhere that should not be missed. There is so much to experience and explore! Will you be adding it to your family's bucket list?
Is this a sponsored post?: Yes, however our words reflect our experience and we're excited to share Jasper with all of our followers.
Looking for more exciting Rocky Mountain adventures? A visit to Waterton Lakes National Park is a must see! Don't forget to check out the Red Rock Canyon! And for a fabulous view of the Waterton Lakes area, add the Bears Hump Hike to your list!