"WE get to go rafting?" the kids squealed with excitement. They couldn't believe that they would soon be riding down the river going over "the biggest waves ever!"
I'm not going to lie, as parents, we were feeling a bit uneasy about the whole idea! While we tend to live an adventurous life, we also don't believe in taking risks, especially with our children, so river rafting was a bit outside our comfort zone!
However, we talked to the owner of Jasper Rafting who shared with us how this trip was designed. It was a beginner ride that was perfect for kids and seniors alike. We could expect class one and class two rapids which would give the kids all the bumps and splashes that they would love, all while keeping them perfectly safe and onboard the whole time.
As soon as we boarded the bus the kids were vibrating with excitement. The back of the bus was stocked with wet suits, even tiny ones for my little guy. They eyed up all the gear and waited the "long" ten-minute drive to get to the boat launch.
I can't tell you how proud my daughter was to come out of the bus, fully geared up, ready to roll. It's a sight I'll never forget!
After our safety talk and a few photo ops we were on the river! My husband asked, "what do we do if my son drops an oar?" "Don't worry, we're sure he'll hold onto it, but if he does we can go back and get it."
It wasn't three minutes later that we were scooping up the paddle from the water! Too much excitement!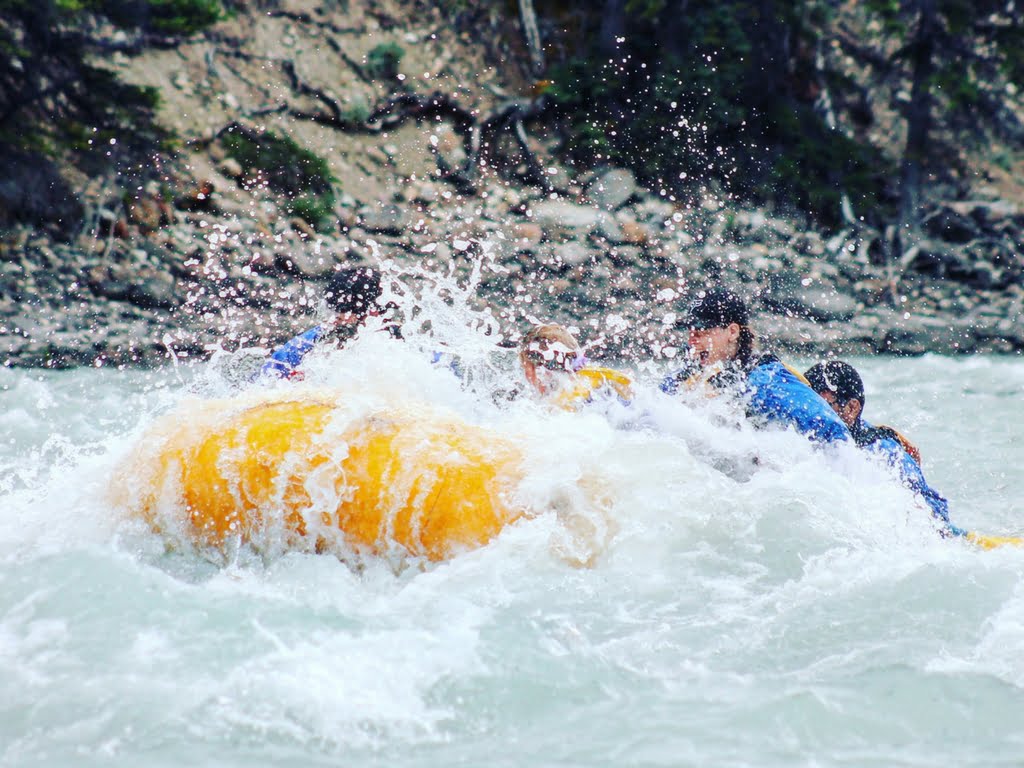 My daughter's favourite part of river rafting in Jasper was that we went right THROUGH a wave! The look on my kid's faces after that happened is something I'll also never forget.
We are fortunate to do a lot of travelling and take part in a lot of amazing adventures, however, I can definitely say that river rafting in Jasper will top the list as one of the best adventures of 2016! We've framed our river rafting photo and proudly have it displayed on our wall of adventures!
Ready to plan your own Jasper adventure? Check out our list of the Top 20 Things to do in Jasper as well as our blog on our oTENTik experience!
Looking to explore a different national park? Here's our guide on where to go Glamping in Canada!