Are you looking to learn more about what it's like to visit the Hôtel de Glace in Quebec?
As Canada's only ice hotel, the Hôtel de Glace is a place of imagination, whimsy, and creativity.
A world of ingenuity, playfulness, and creativity awaits as you visit the "Elsa Approved" ice castle in Quebec. Where artistry meets architecture and challenges generally accepted ideas of indoor and outdoor living. A place that blurs together fantasy and reality to prove that life doesn't have to be so serious. "Mom, I just realized I'm living in Elsa's castle," said my daughter on our visit… and she was right, if Elsa herself could build a hotel, this would be it.
As a travel writer, I get to explore a lot of magical places around the globe but as I write this guide for you I sit next to an 11" X 14" framed photo of me standing in front of Hôtel de Glace, as it truly was one of my most favourite adventures ever. I'm here to give you all the behind-the-scenes details on Canada's ice hotel and help you plan your very own experience.
Escape to something new at Hôtel de Glace, the ice hotel of North America, and see for yourself the magic of this unique experience. But don't forget your jacket—it's magical but really cold!
Disclaimer: While I share my own thoughts and stories about these experiences, should you click on the affiliate links, I may receive a small commission on that sale which helps fund Adventure Awaits.
Hôtel de Glace History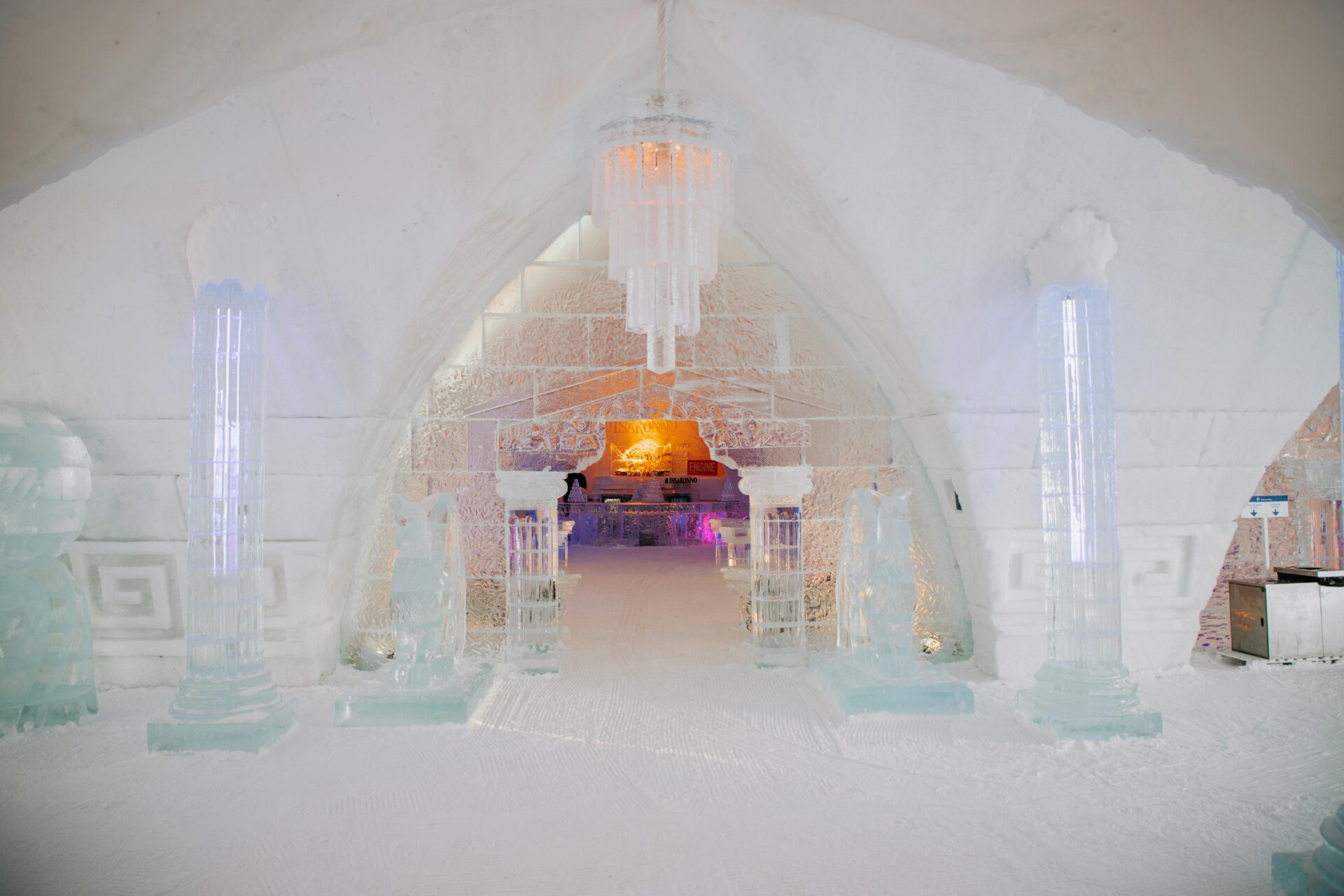 Why was Hôtel de Glace built?
Hôtel de Glace was inspired by an ice hotel in Sweden. Entrepreneur Jacques Desbois took that inspiration and in 2001 founded Hôtel de Glace in Quebec, which was perfect as Quebec is the snow capital of the world! To say he was onto something would be an understatement. In 2024 they have announced a new Artistic Director named Guy-Olivier Deveau. I'm excited to hear what theme they unveil and what the 2024 design looks like!
What makes Hôtel de Glace so special?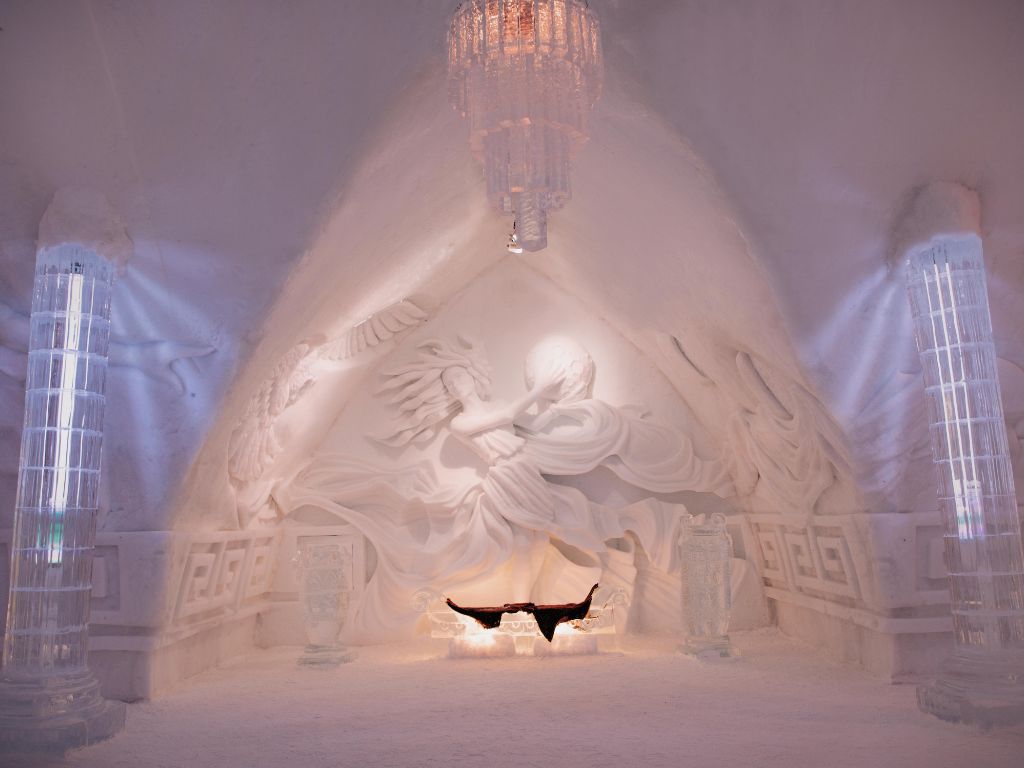 Since the hotel's debut in 2001, it has garnered worldwide attention and fame. As the only hotel of its kind in North America—made 100% from snow and ice— this unique attraction has drawn nearly 2 million visitors to revel in its icy architecture, including almost 70,000 guests who have braved the frigid temperatures for an overnight experience like no other.
Where is Hôtel de Glace?
Since its inception in 2001, Hôtel de Glace has had four locations, but since 2016 has called the Village Vacances Valcartier its home. Located just 20 minutes north of Quebec City, it's easily accessible and there is a lot to do once you're in Valcartier beyond the ice castle.
Hôtel de Glace Construction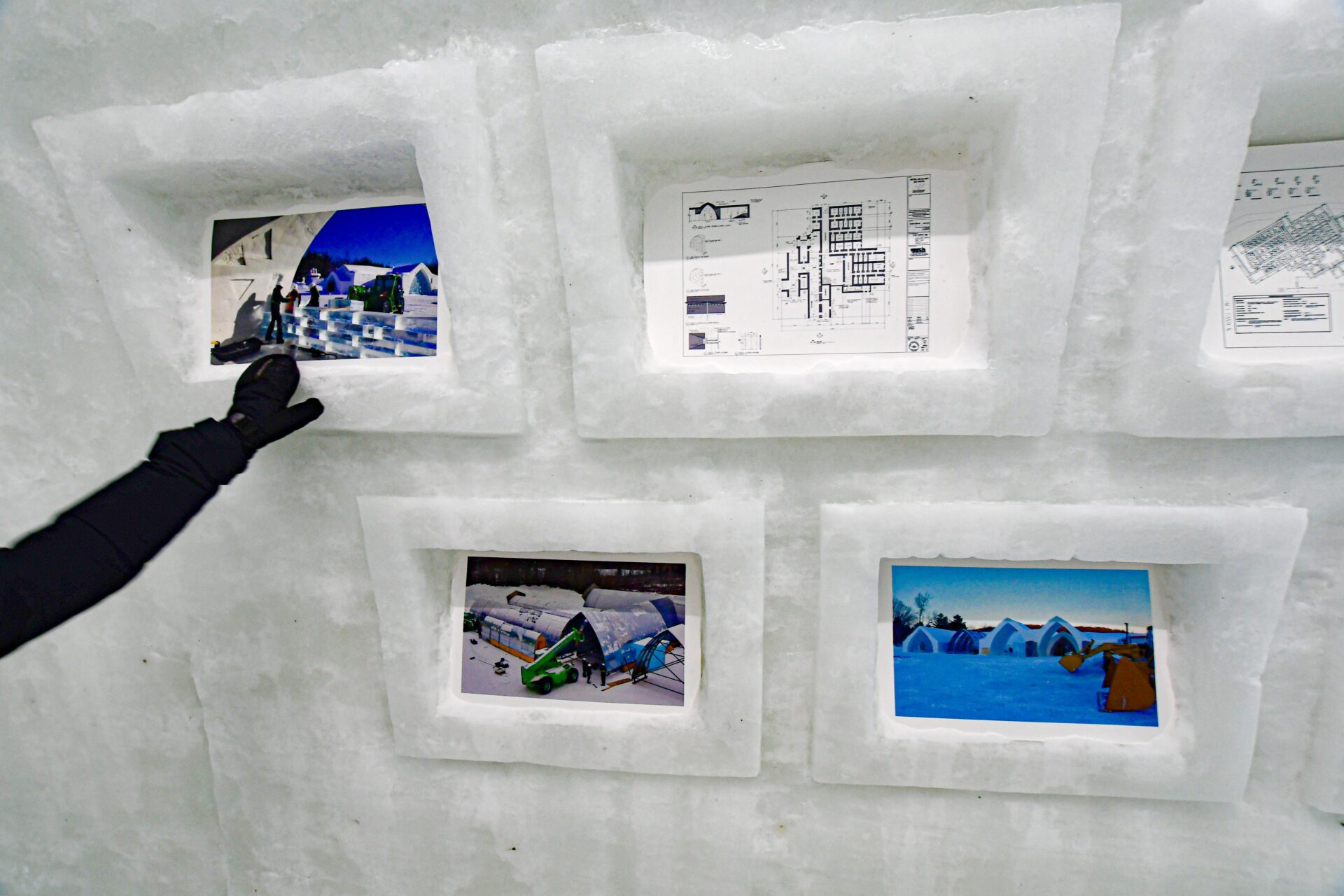 Do you Want to build an ice hotel? A seasonal hotel not only has limited opening weeks but also has a limited existence. Each year, Hôtel de Glace is rebuilt from the ground up. As soon as the temperature remains consistently below freezing, construction begins. Approximately 50 workers and artists come together over six weeks to build and decorate this astonishing icy attraction.
What is the Hôtel de Glace Made Of?
More than 500 tons of ice and 40,000 tons of snow are required to create the hotel. The snow is made on-site by snow cannons. When finished, the ice hotel covers almost one acre.
What is the theme of the Hôtel de Glace 2024?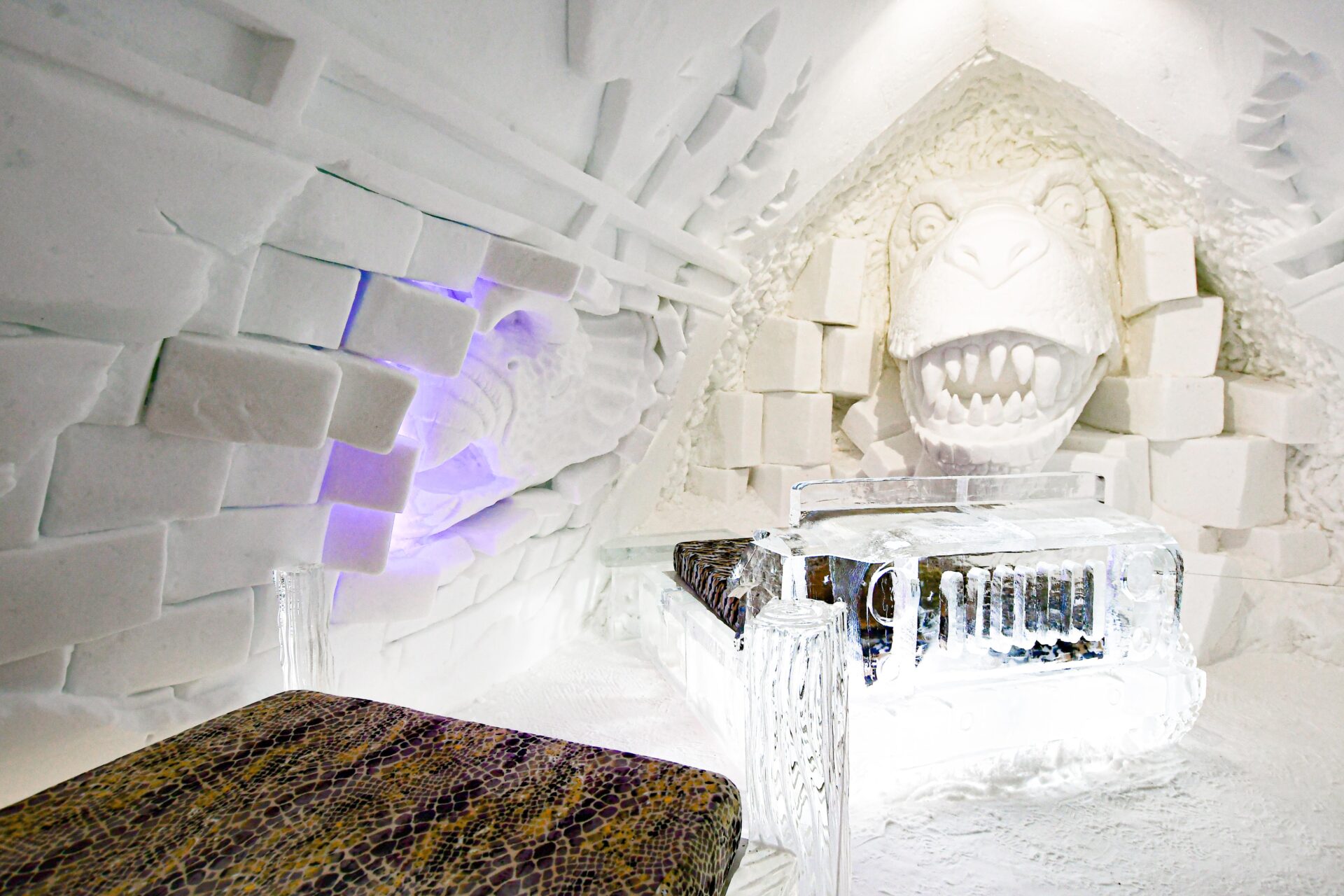 Each year that the Canadian ice hotel is built, the artists get creative and pick a theme, incorporating new design elements into the architecture and design. As soon as they close their doors for the season—usually in March—planning begins for next year's theme. While the 2024 theme has not been unveiled yet, as soon as it's released we will be sharing it here!
Fun Facts about Previous Years: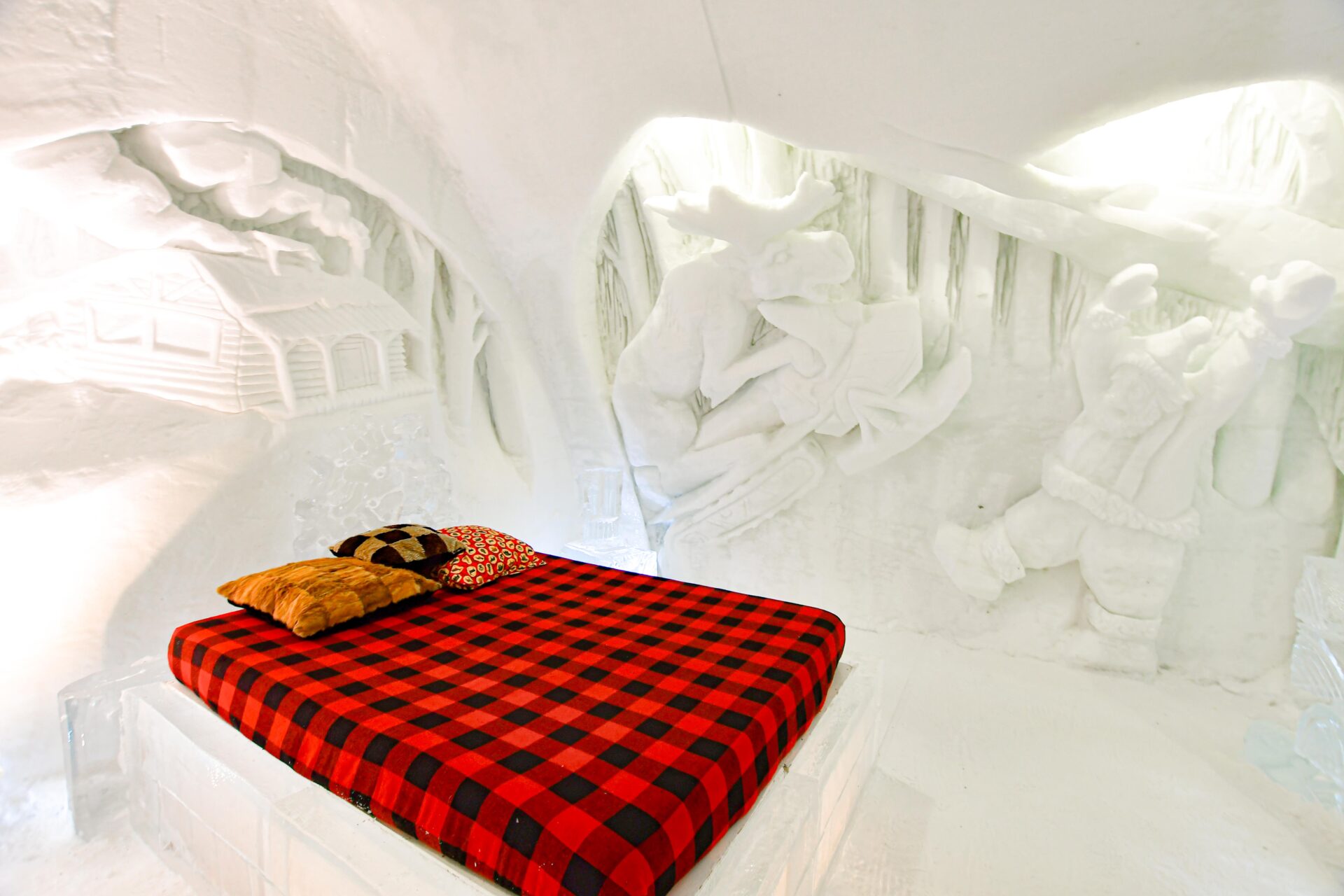 2020 – In 2020, the theme was "20 years of fairy tales" and brought together the most magical elements from their 19 previous seasons. The sculptures and other details that brought the theme together have been created with nostalgia from their favourite themes over the years (our kid's favourite was the Jurassic Park room).
2017 – For the 2017 season, the theme was Cirque, with a variety of artistic elements showcasing an "Ice Circus"
2016 – This year brought a North Pole theme, with the beauties of the northern universe, from the North Star to the Arctic fauna displayed.

2014 – For the 2014 season Hôtel de Glace created a suite themed after Disney's Frozen. Guests could stay in a room modeled after Anna and Elsa's bedroom.
Hôtel de Glace 2024 Opening date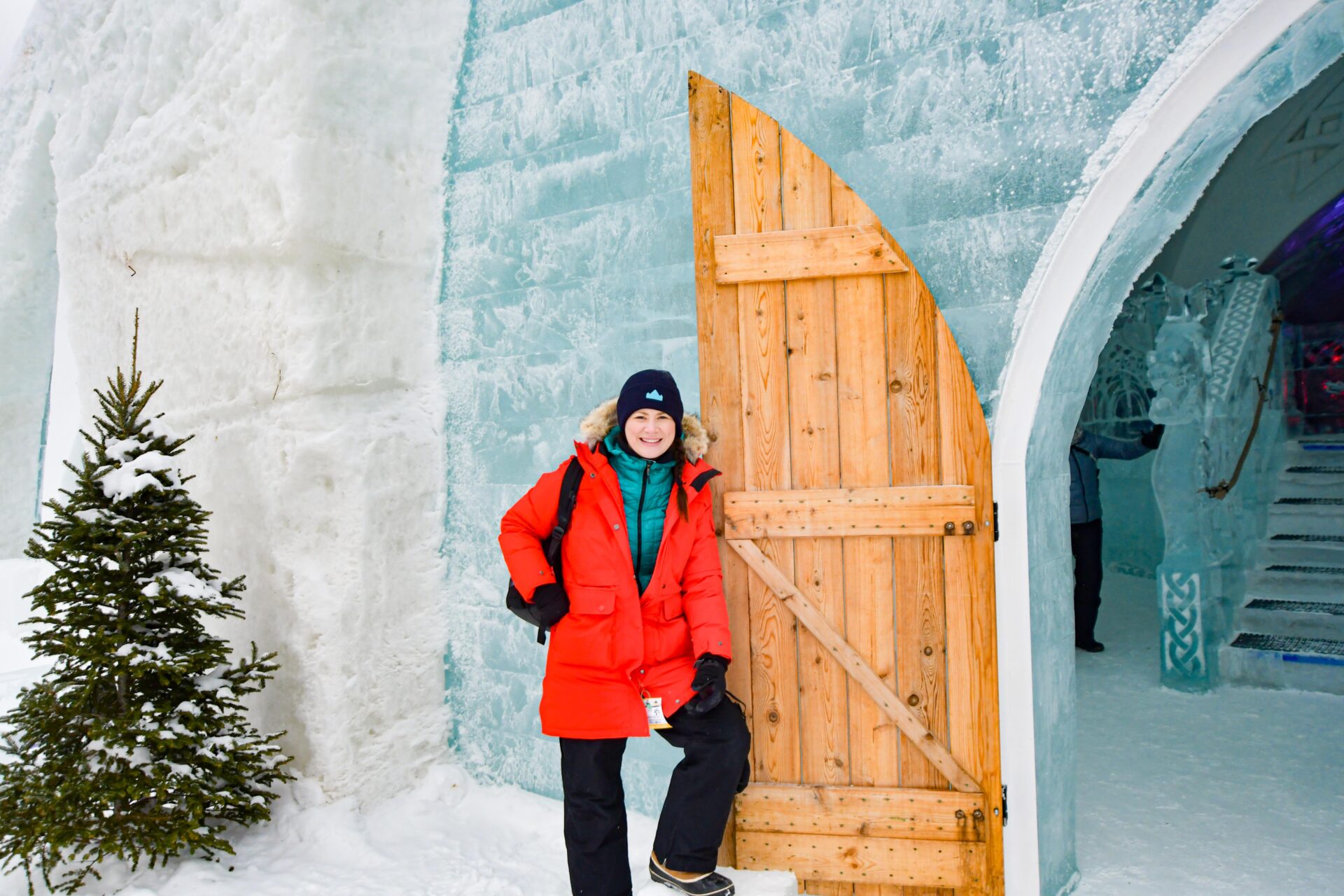 If you're wondering when Hôtel de Glace opens, they are now accepting reservations for opening night which will be on January 4, 2024. Reservations are available until March 16, 2024.
Book your stay at Hôtel de Glace here!
Hôtel de Glace Map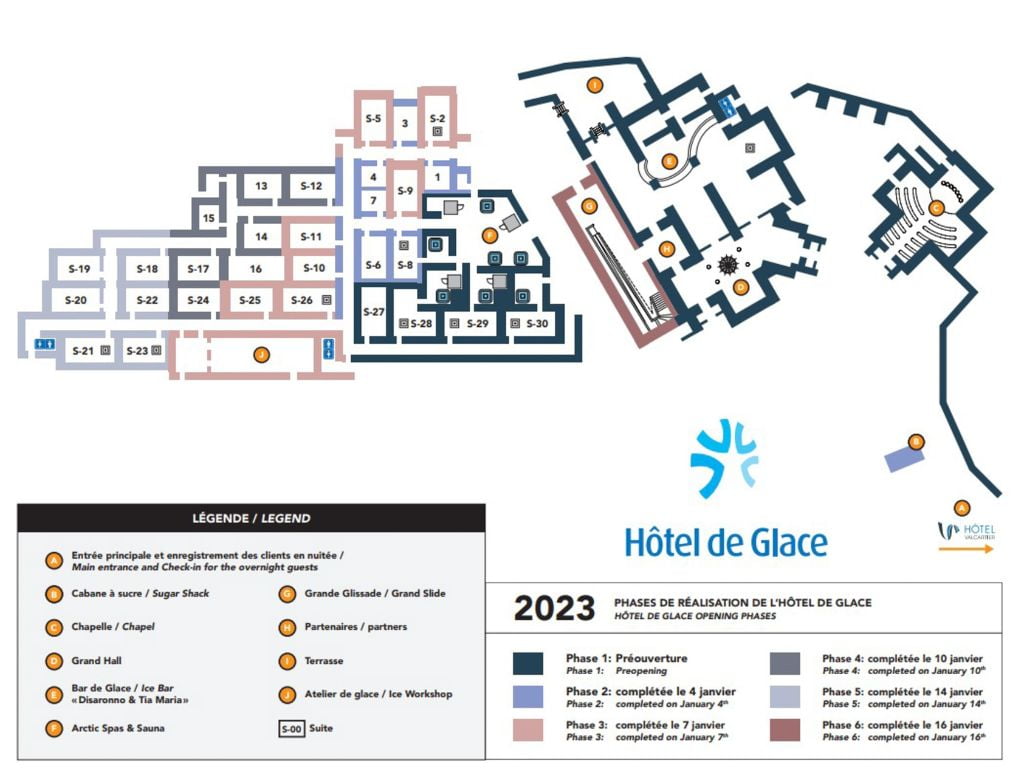 Stretching over an acre in size here's the 2023 Hôtel de Glace map to give you an idea of how big the ice hotel is! You'll see that the guest rooms are able to be sectioned off, offering guests their own private access from 9 p.m. – 9 a.m.
With 30 rooms, there is a lot to see when you tour the ice hotel in Quebec. My kids wanted to stop in every room and take photos and even videos to send back to their friends. Some of the rooms even have coloured ice, taking the artistry to a whole new level!
Hôtel de Glace Tour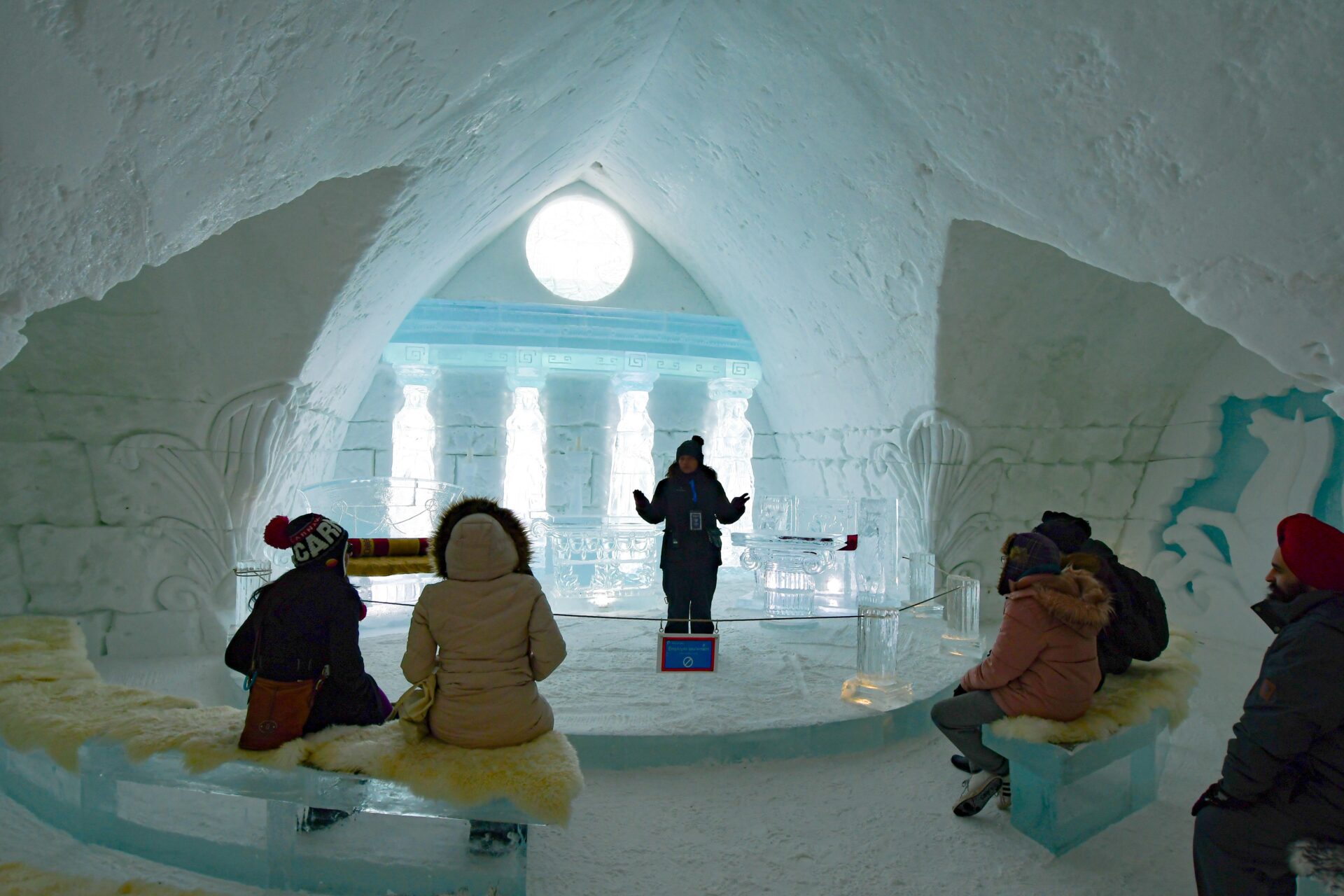 Come along with me and get a behind-the-scenes look at our Hôtel de Glace Tour when we went for our visit in 2020. I've also reached out to the team at Valcartier to provide me with shots from the 2023 season so you can see some more recent photos and see how different the hotel is every year.
Hôtel de Glace Main Entrance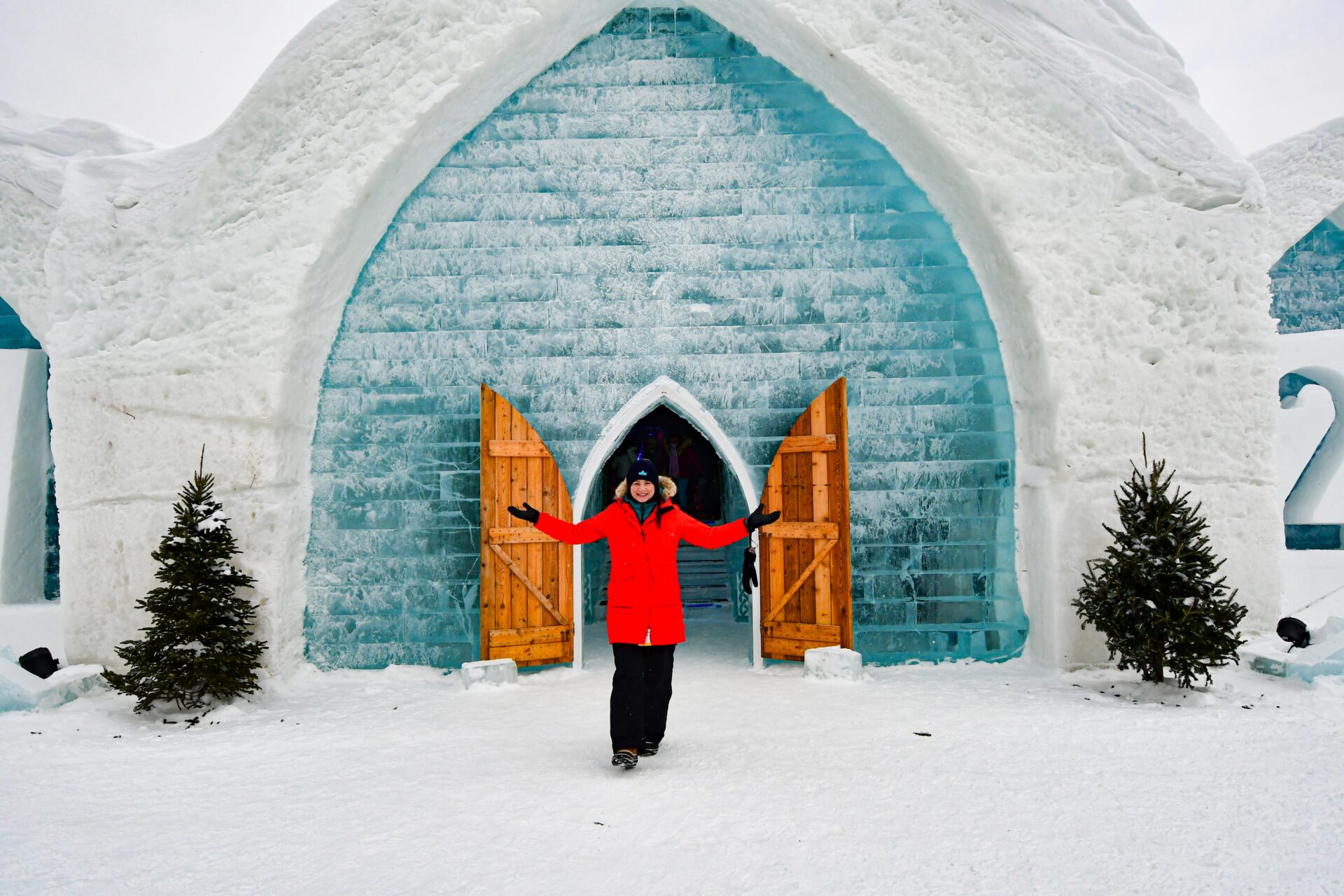 This photo of the outside of Hôtel de Glace is one of my all-time favourite adventure photos, as standing there seeing this Canadian ice hotel in person truly was a memory I'll never forget.
Hôtel de Glace Outside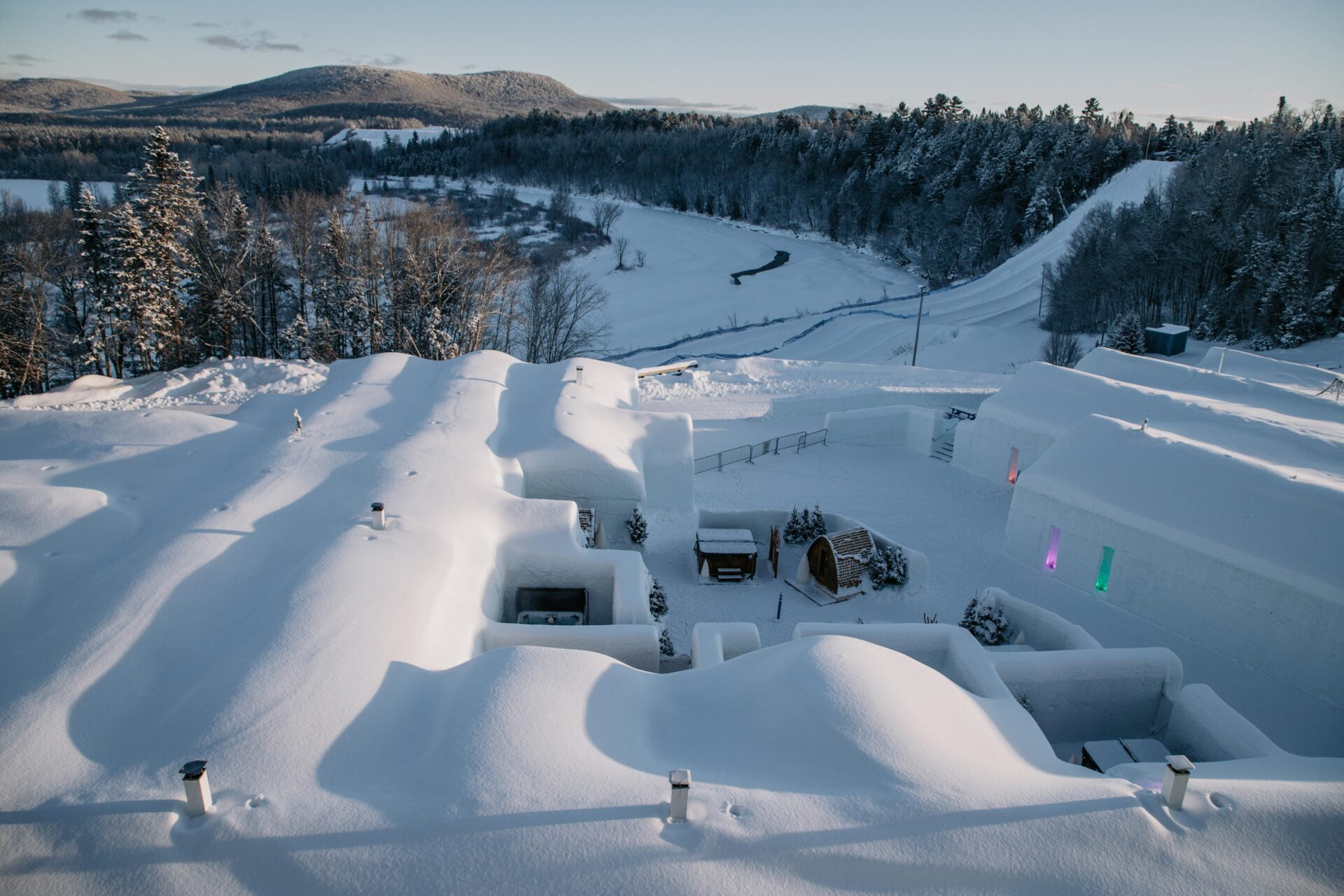 While the main entrance is grand, if you were to look at the Hôtel de Glace from above you'd see a snowy pillow of white that makes up the exterior of the ice hotel.
Recognition and Thanks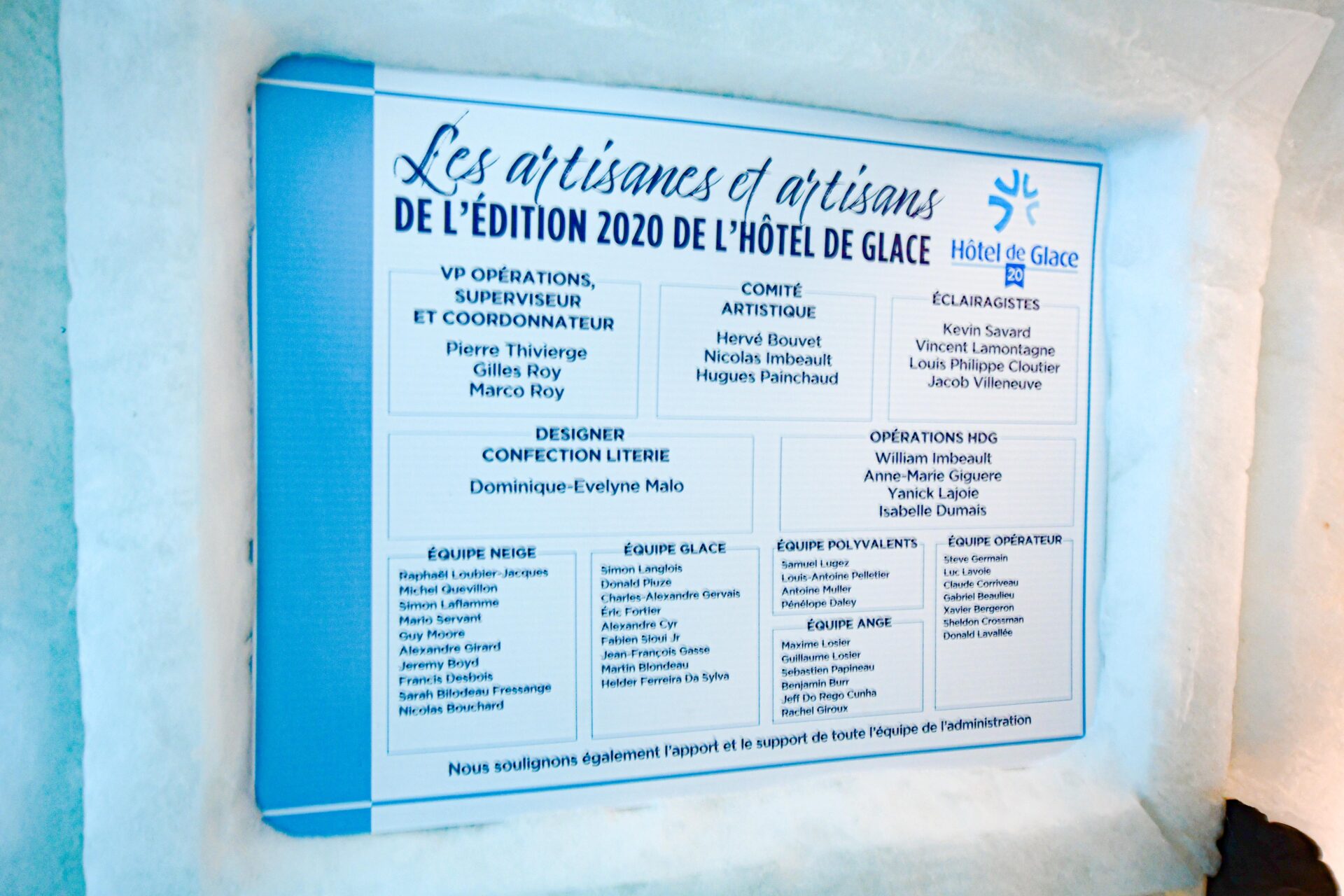 There's a wall of recognition and thanks that showcases the work that goes into building the ice hotel, stories of past creations, as well as partners who make each year possible. My husband really enjoyed this section as he appreciated how much work went into building such a large structure and all of the different skill sets that it took to make it possible.
Sculptures and Art
The walls of the Hôtel de Glace are covered in ice art and sculptures are around every corner. There are a lot of interactive sculptures that you're invited to interact with and pose for photos, as well as ones that line the hallways that are best for looking at and photographing.
Hôtel de Glace Chapel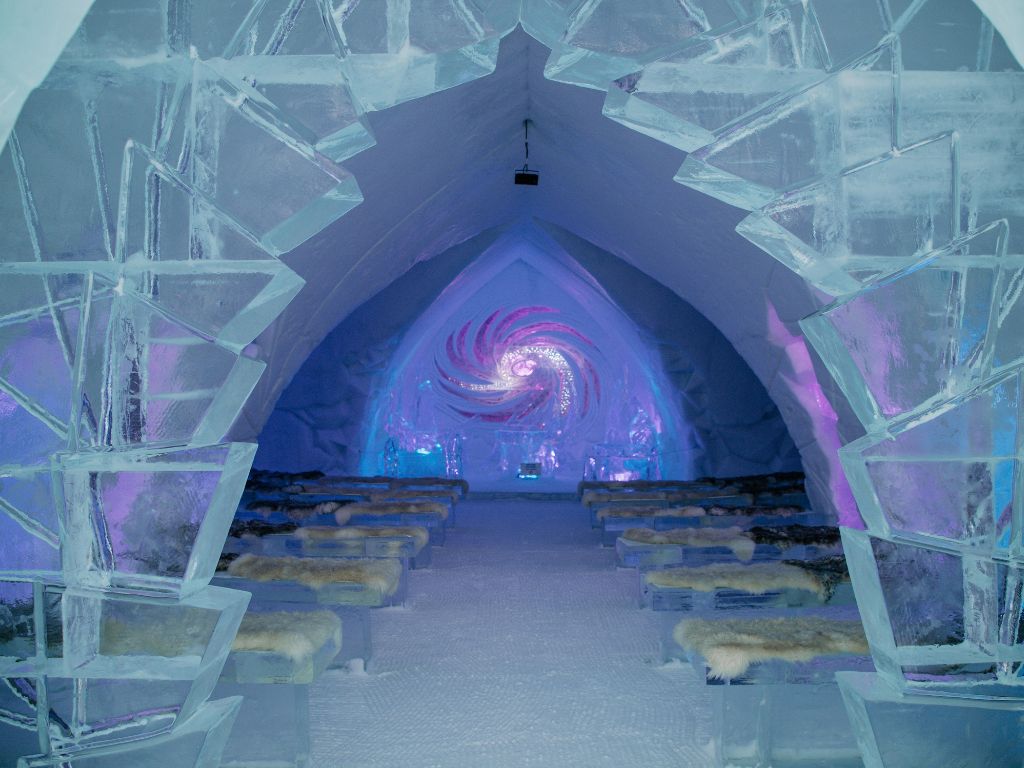 Did you know that you can get married in the Hôtel de Glace Chapel? We were fortunate enough to be able to visit this special place and imagine what a magnificent setting it would be for a wedding!
Hôtel de Glace Slide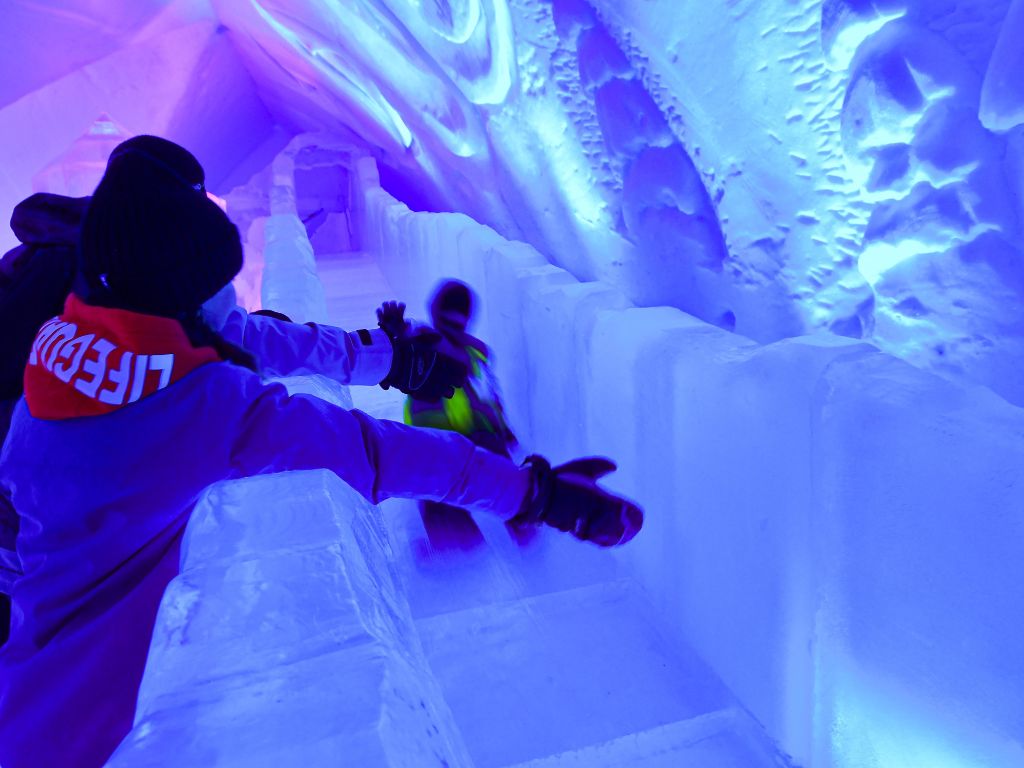 You're never too old for a slide and inside the Hôtel de Glace, there is a slide built for kids of all ages! Pull your legs up and get ready to "wheee!" all the way down (and parents, be warned that you may spend extra time in this room as your kids go down the slide on repeat. Not going to lie I went a few times myself!).
Don't Forget To Look Up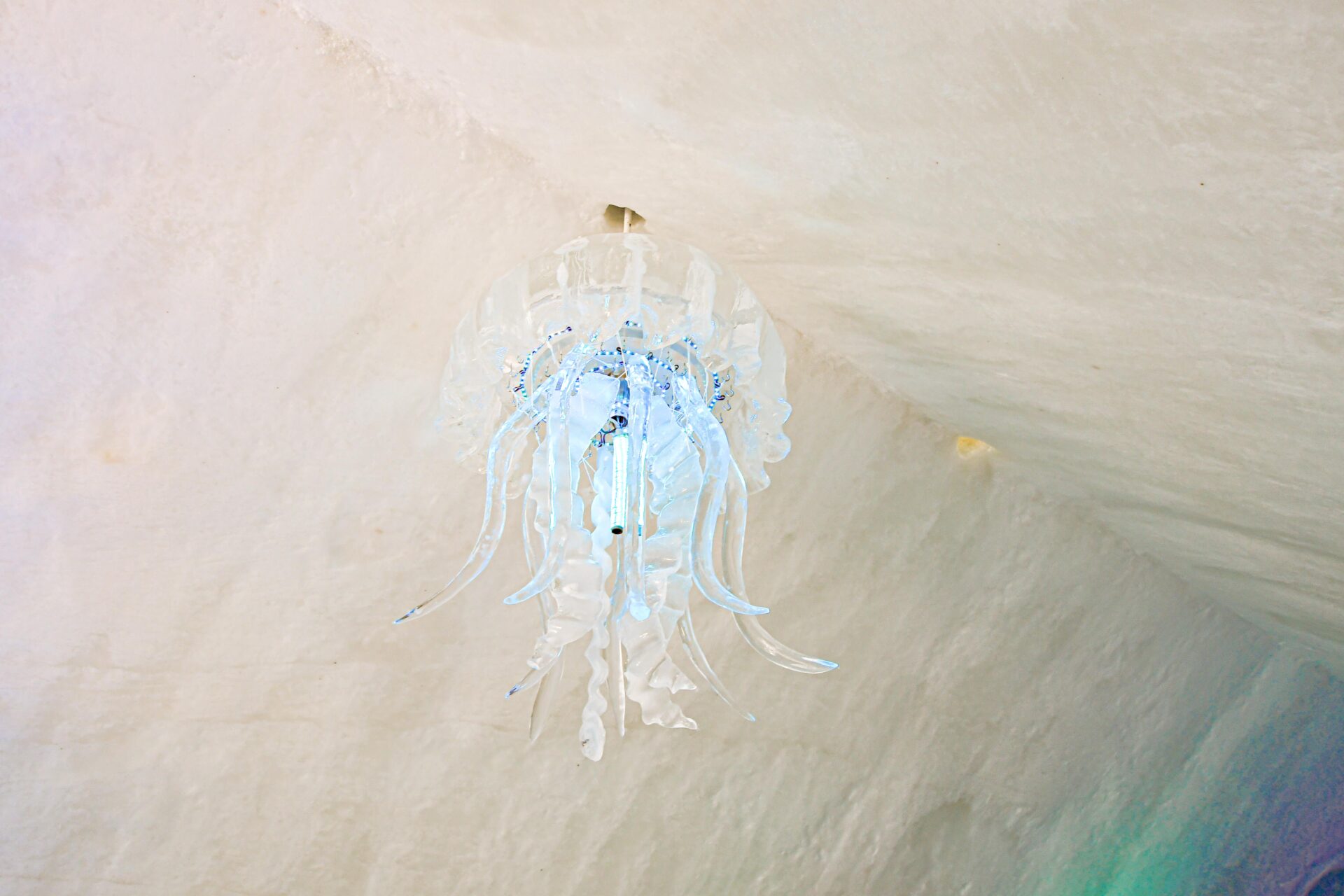 There's a lot to soak in on your tour but don't forget to look up, where artwork can even be seen in the lighting! We almost walked by this jellyfish chandelier so be sure not to rush your tour!
Hôtel de Glace Ice Bar
The bar stands in the middle of the room, garnering attention as if it was standing on salute. The perfect center for the room, outgoing mixologists are ready to welcome you to your Ice Bar experience, inviting you to try a mocktail or cocktail, in a special ice cup! The vibe is one of #yolo and is a great place to mingle with other guests, learning where they are from and sharing stories of their visit.
Places To Hang Out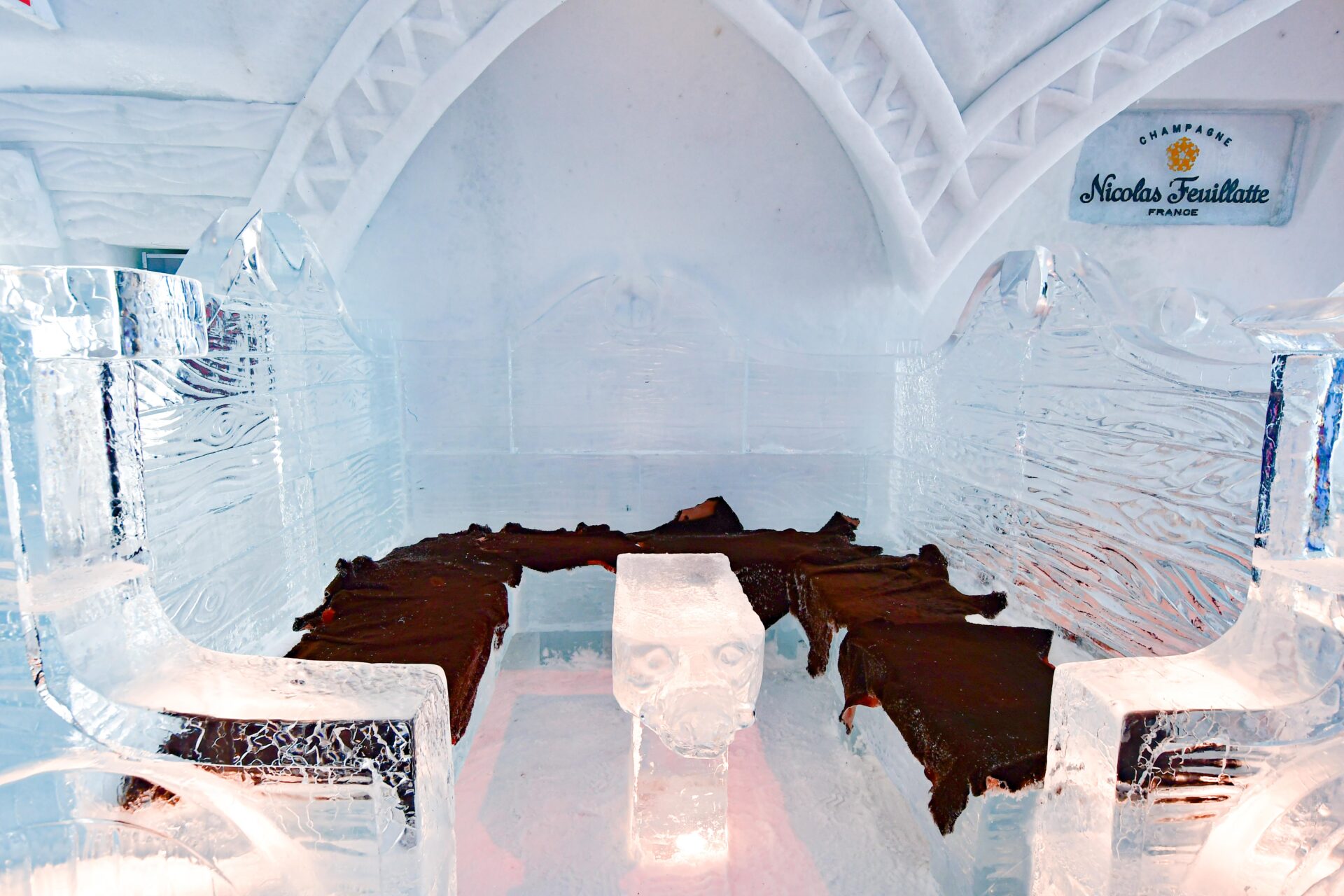 There are a few places to hang out inside the ice hotel including group tables and chairs, side benches, and alcoves, all of course made of ice! So if you're visiting with the kids or with friends pull up a chilly chair and stay a while!
Staying Overnight at Hôtel de Glace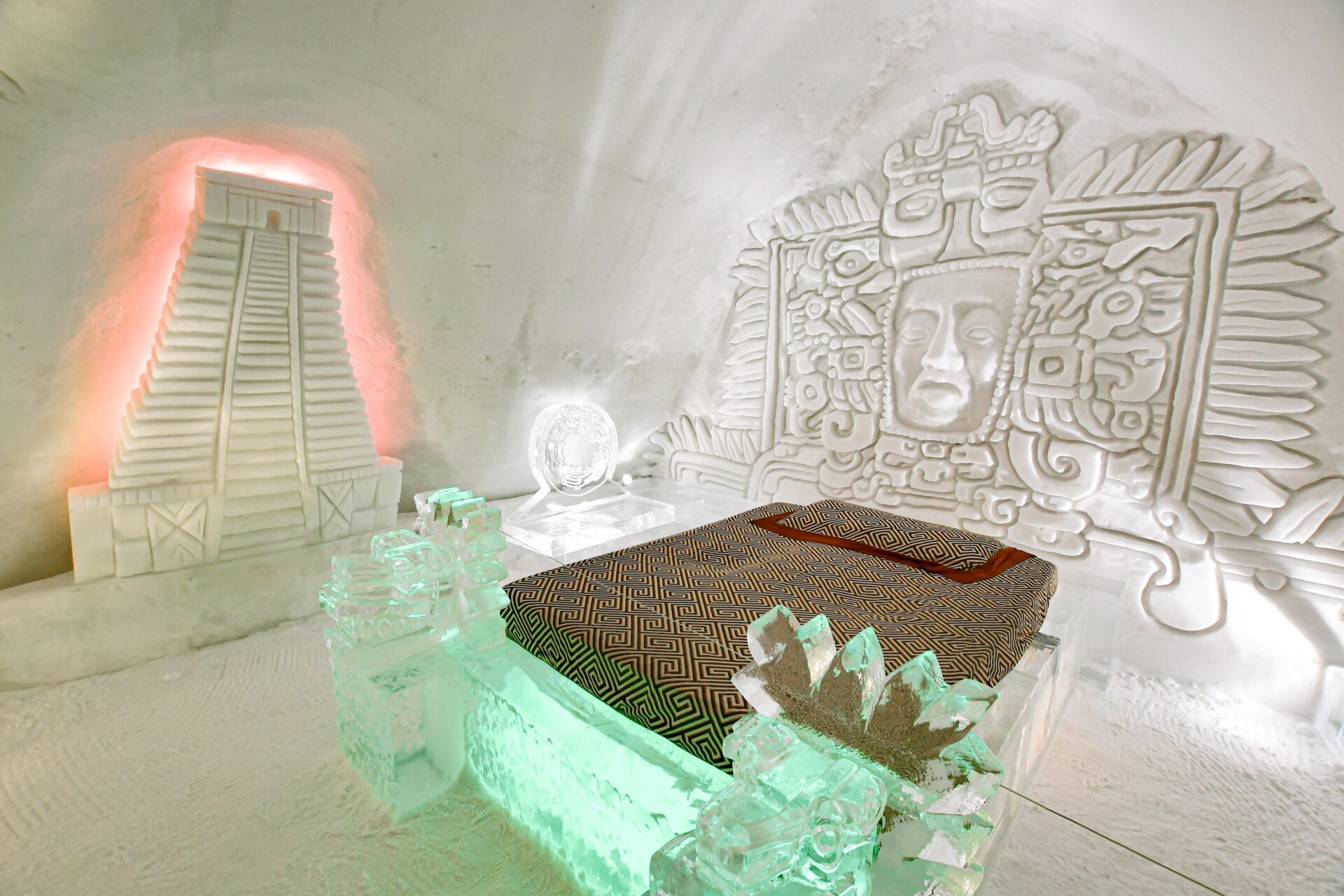 If you're up for a chilling and thrilling adventure, you're invited to book one of the 30 guest rooms at the Hôtel de Glace. Depending on your group you can choose from rooms that have a king bed, to family-style rooms with up to three beds (your bed frames are made of ice but don't worry you'll be sleeping on a mattress and a thermal sleeping bag, an insulated bed sheet and a pillow are provided in all rooms and suites). Some of the rooms have in-room fireplaces, and there are also suites available that have a private hot tub and sauna! (perfect for warming up before you tuck into bed).
Your room at the ice hotel also comes with a standard hotel room—for the same night—at the 4-star Hôtel Valcartier which is about a one-minute walk away. Not only does this give you a Plan B, but it also gives you somewhere to store your luggage and take a shower (Tip, don't bring personal items into the ice hotel, especially devices as they won't hold a battery charge, unplug and enjoy!).
You'll have private access to your room from 9 p.m. to 9 a.m., which also includes access to the Nordic area of the hotel. Situated under the stars, you can warm up inside the hot tubs and saunas before bundling up and heading to bed. 
Staff are also on hand to answer any questions you have and offer support through the night. Here are the full room and suite options:
Hôtel de Glace Rooms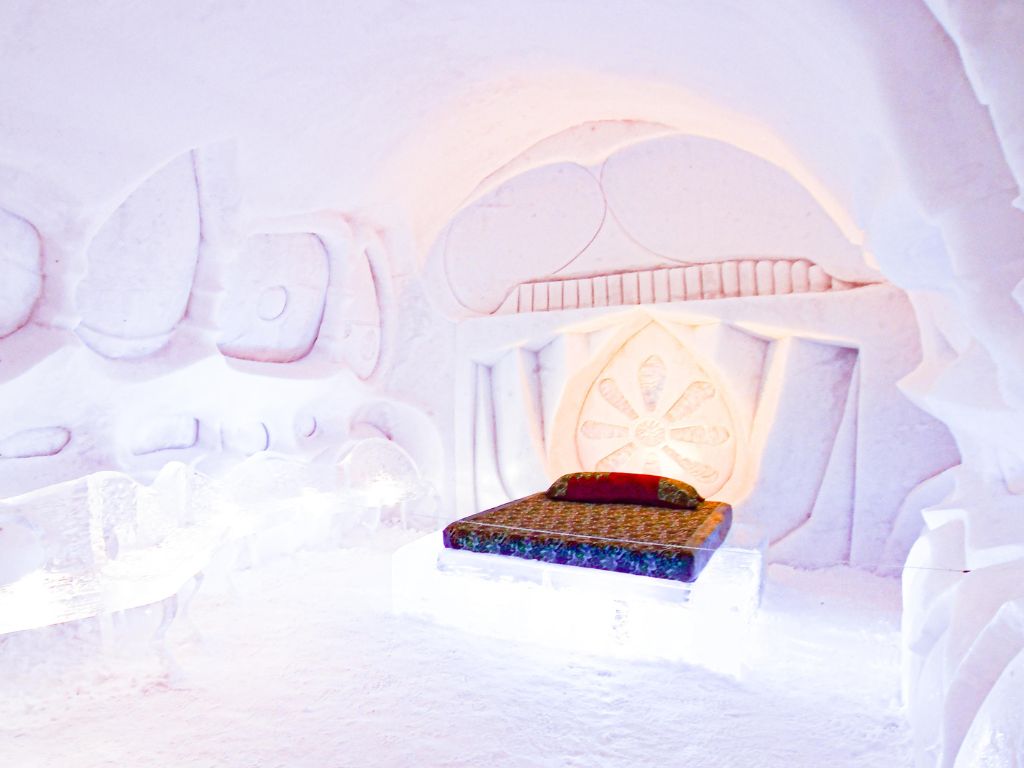 With 1-bed, 2-bed, and 3-bed options, these rooms are designed to give guests an unforgettable overnight stay with the feeling of sleeping in an igloo.
Hôtel de Glace Theme Suites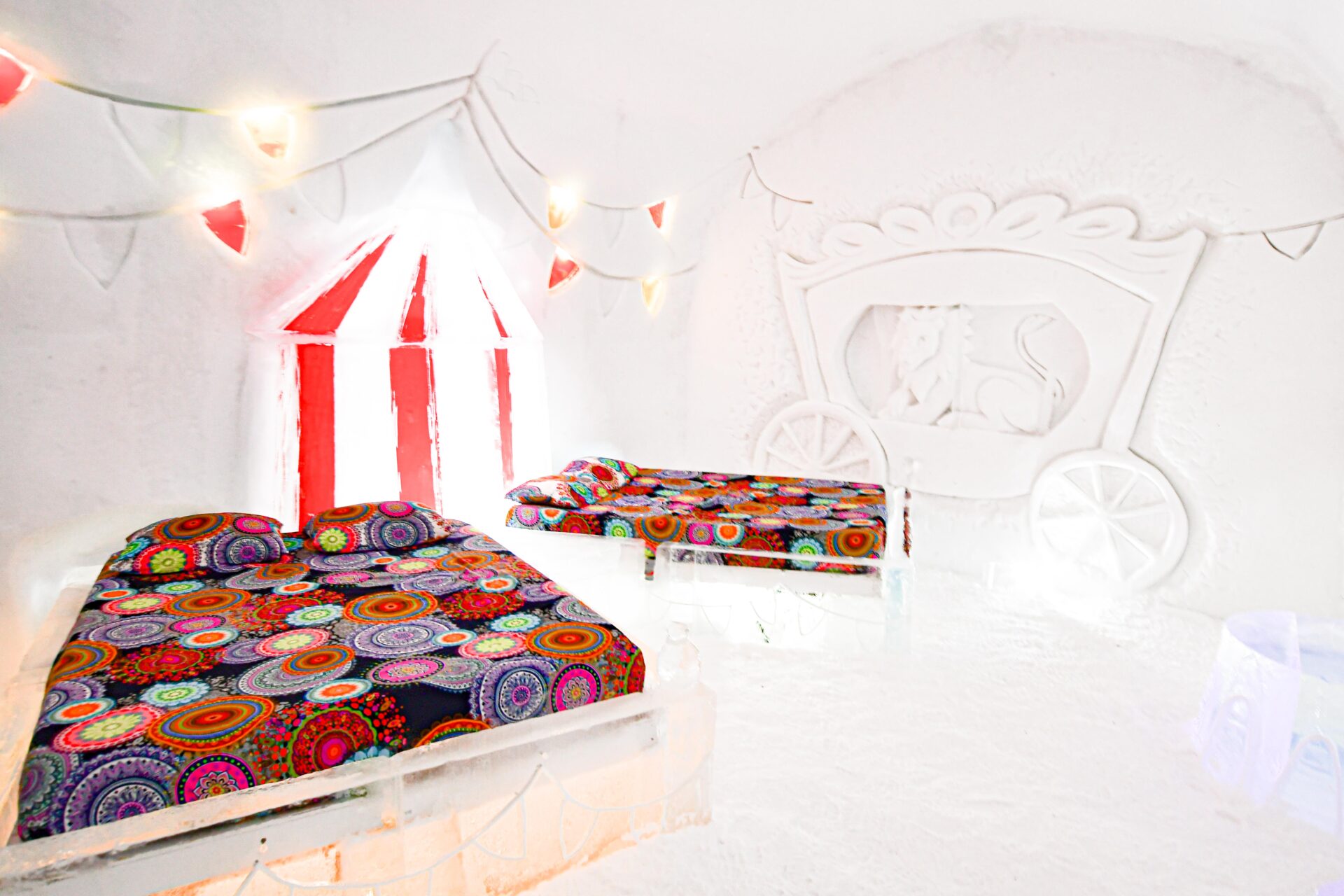 The themed suites are available with either a 1-bed, 2-bed, or 1-bed with fireplace option. Each themed suite is truly a work of art and each offers a unique design and decor. Past years featured rooms with a hockey theme (my son's fav!), Nordic creatures, and various winter scenes.
Hôtel de Glace Premium Suite with Fireplace and Private Hot Tub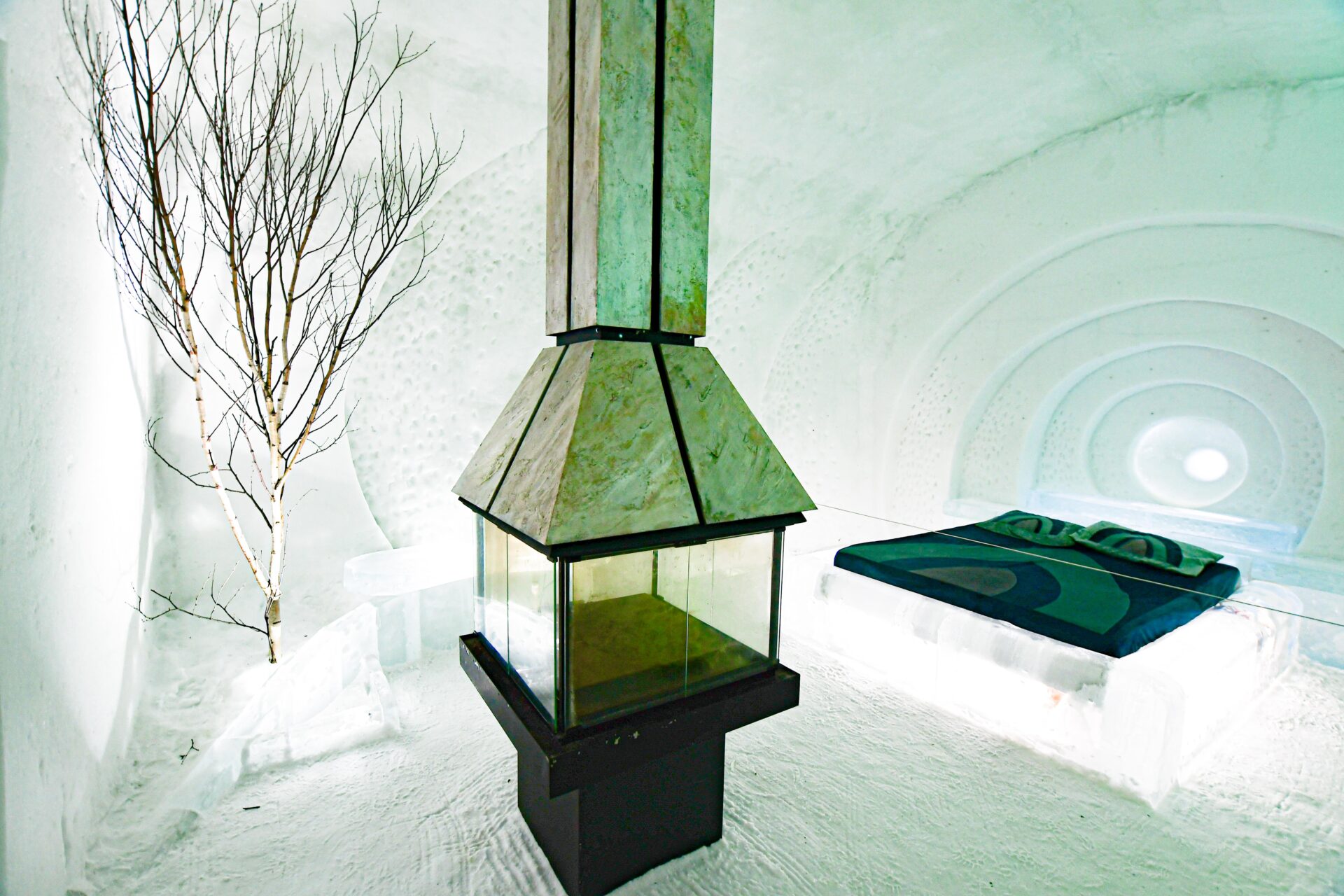 Treat yourself to the Nordic experience in a large suite featuring a fireplace and a private hot tub. This suite is perfect for celebrating a special occasion or if you want to indulge in a luxury experience at the Hôtel de Glace. Enjoy your welcome cocktail served in an ice glass, then soak in your private hot tub to get nice and toasty before enjoying your cool sleeping adventure.
Hôtel de Glace Premium Suite with Fireplace, Private Hot Tub & Sauna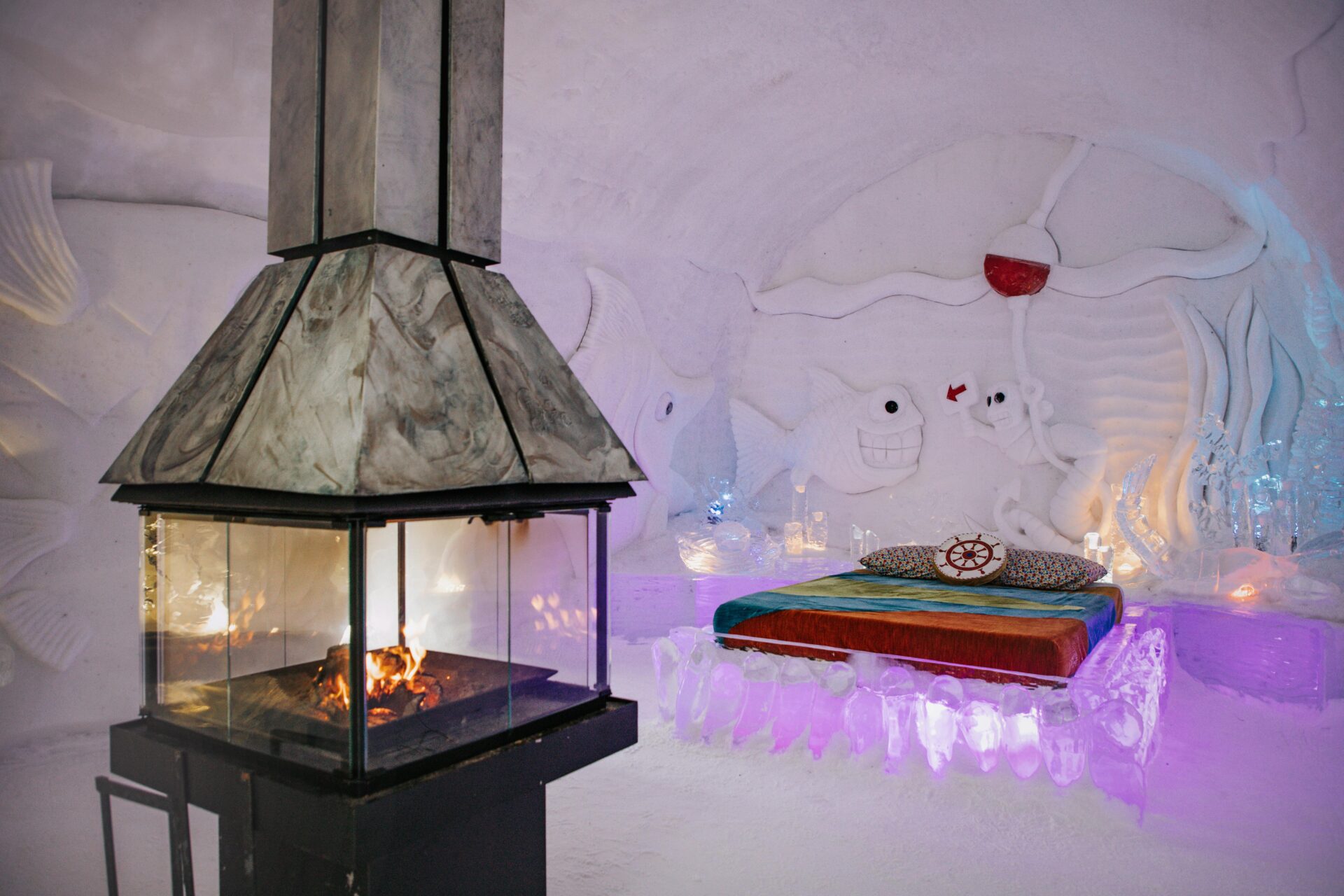 With a romantic undertone, a big king bed, a fireplace (don't worry, it won't melt the hotel) as well as a private hot tub and sauna, this Hôtel de Glace premium suite is another level of luxury and truly a bucket list style experience.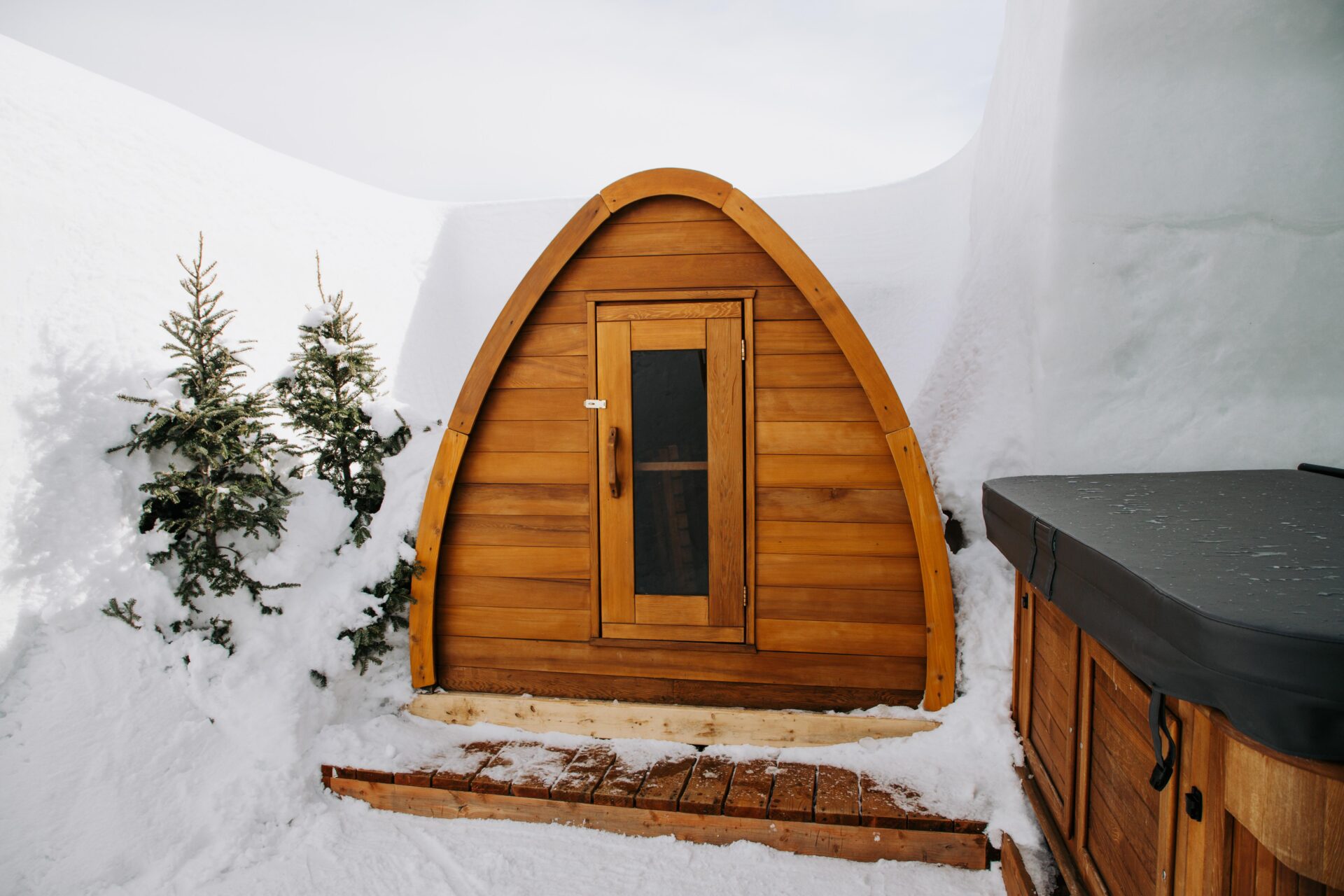 If you want to really experience Hôtel de Glace to its fullest, book a stay in this suite, the largest and most luxurious at the hotel.
What's included in your Hôtel de Glace Stay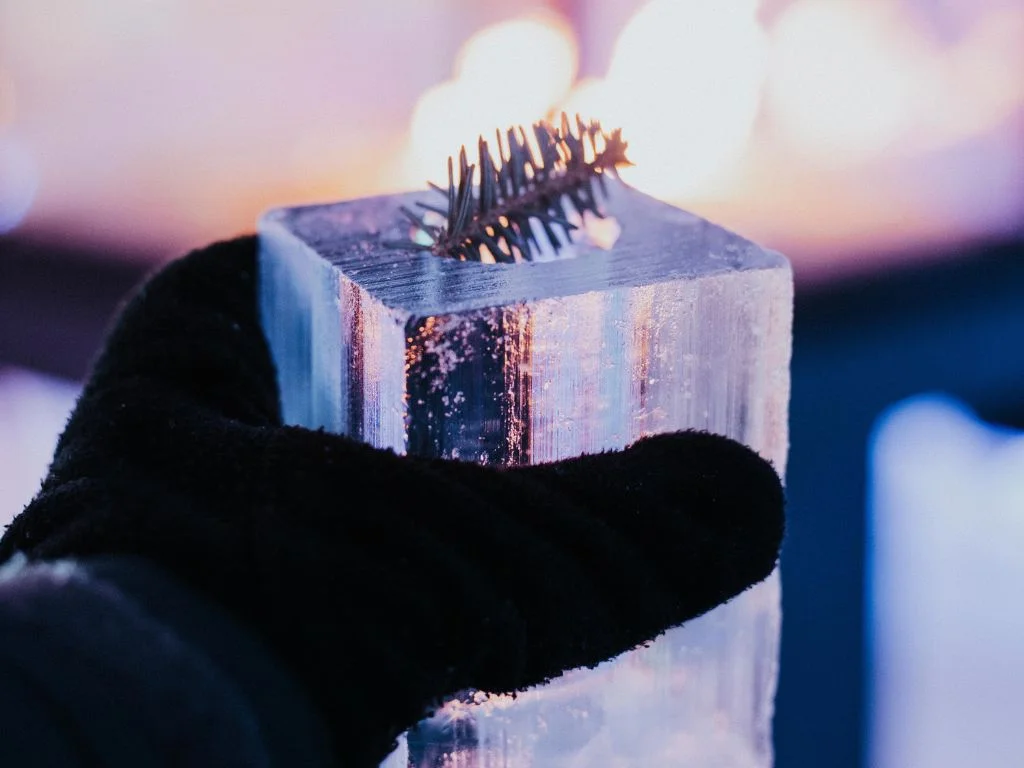 When you book your Hôtel de Glace reservation, no matter what room you choose you'll enjoy the following inclusions in your stay:
A welcome cocktail served in an ice glass
A room at the Hotel Valcartier on the same night as your stay in the Hôtel de Glace (Note, a $25 resort fee is applicable)
Access to the Nordic area with hot tubs and saunas under the stars
10% discount on services at the Aroma Spa
20% discount on your Hotel Valcartier reservation for nights before or after your stay at the Hôtel de Glace in Quebec (I HIGHLY recommend that you stay for more than one night as there is so much to do at Valcartier).
Hôtel de Glace Room Rates and Reservations
If you're looking to make your Hôtel de Glace reservations, it is always recommended to book well in advance, as this is a very popular experience.
Book your stay at Hôtel de Glace here!
How Much Does It Cost To Stay at Hôtel de Glace?
If you're wondering how much the Hôtel de Glace costs, please know that room rates vary based on which room type you select, as well as the dates of your stay. Prices for a standard room start at $399 and go up to the luxurious private suites for $1049. We recommend staying midweek, as the rates are usually lower (And sometimes by a significant amount… plus who doesn't like a mid-week adventure?).
What is the temperature at Hôtel de Glace?
The temperature inside the hotel, no matter the weather outside, is between 0oC and -8o C (32oF and 17.6oF).
Does Hôtel de Glace Have Bathrooms?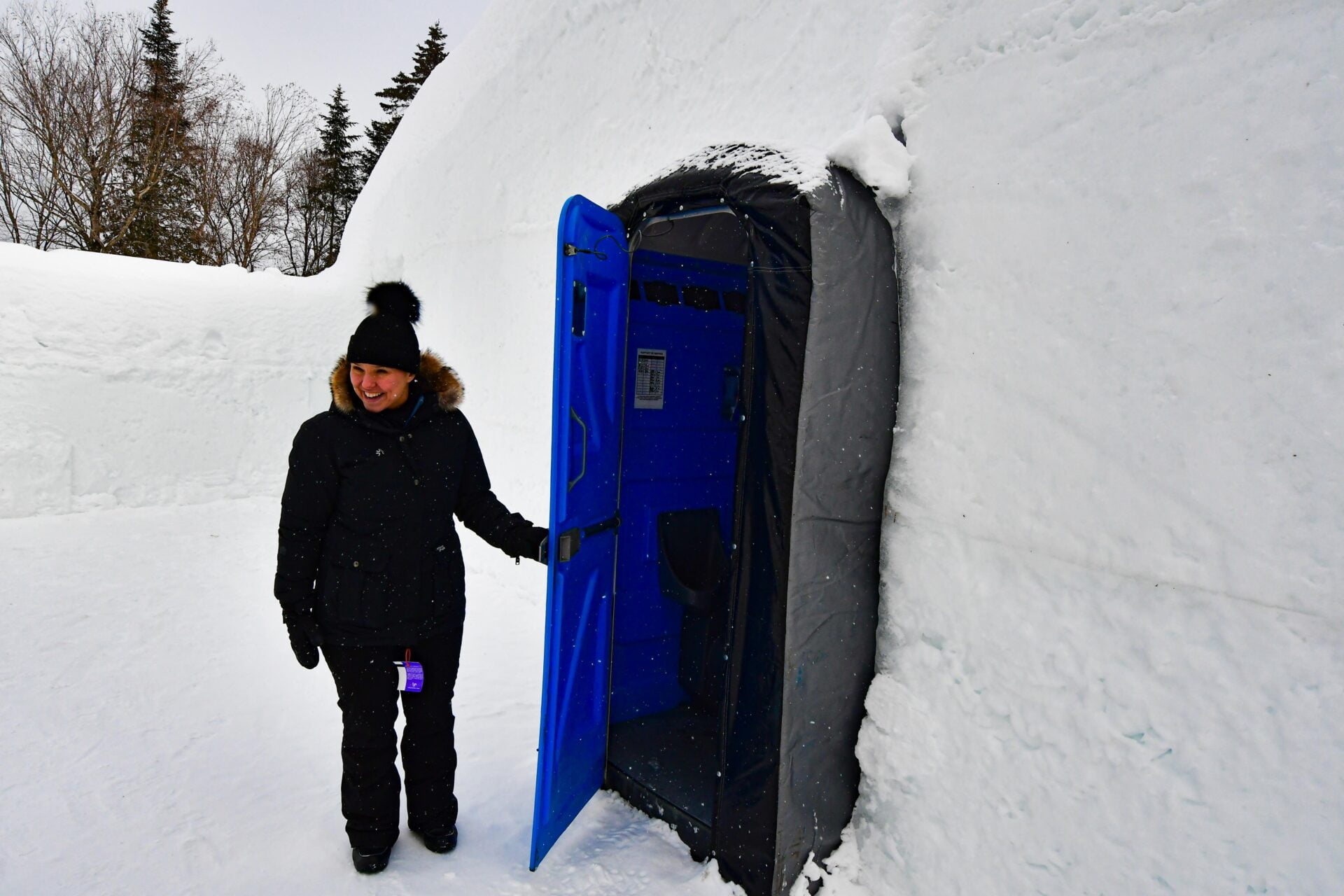 Should you need to use the bathroom during your visit, there are several washrooms located just outside the hallways of the Hôtel de Glace (You'll easily find one close to your room should you need one in the middle of the night). If you'd prefer an indoor loo, there is one just inside the hotel. Plus, don't forget that you'll have your own private hotel room should you really want to sneak away for some privacy.
How To Prepare For Sleeping In An Ice Hotel
Before you stay in Quebec's ice hotel you'll be invited to attend a mandatory training info session where you learn about how to best prepare for your night on ice. This comprehensive information orientation from their experienced staff will teach you about what to wear as well as about the other gear you will want with you. Don't forget to ask questions, the staff are happy to help. 
These training sessions are offered in both French and English at 7 pm and 8 pm each night.
For clothing, they recommend that you dress using a three-layer technique, as the outdoor winter temperatures in Québec vary from -25°C to 5°C (-13°F to 41°F), which is why it is important to dress properly. Here is what is suggested:
Layer 1: The interior layer (the undergarment closest to the skin) needs to allow humidity to escape your body and therefore synthetic clothing or a mix of wool and synthetic fabric are best. Cotton is not recommended as it holds humidity (moisture) and can make you cold.
Layer 2: The middle layer (on top of layer 1) needs to isolate air and control humidity. A wool, flannel or polar fleece sweater and pants are recommended.
Layer 3: The exterior layer (on top of layer 2) is the layer that will protect you from wind and humidity, but fitting in a way not to restrict your movement or comfort.
In addition to the three-layer technique, essential accessories such as a hat covering your ears, scarf, gloves or mittens, and boots (big enough so that you can wear thick socks) are also on the list (these items will be used when you are transferring to the washroom or back to your room at the Valcartier Hotel).
Traveller Tip: For the night, use dry, light and synthetic clothing which has not been worn during the day. Very few layers of garments are necessary to avoid being too hot. A high level of heat will create sweat which will then transform into humidity and will make you feel cold.
Be sure to also pack the following items in your suitcase:
Alternate hat
Alternate scarf
An extra pair of socks
Alternate long underwear
A pair of mittens or gloves
A swimsuit
Sandals (to walk to and from the Nordic area where the hot tubs and sauna under the stars are located)
Indoor shoes for indoor buildings
Thermal sleeping bags built to resist even colder temperatures along with an insulated bed sheet and pillow are provided to you. Also, a preparation guide is sent to all guests prior to their stay. So with the proper clothing and sleeping bag you'll be sure to stay warm and cozy for the night.
Nordic Area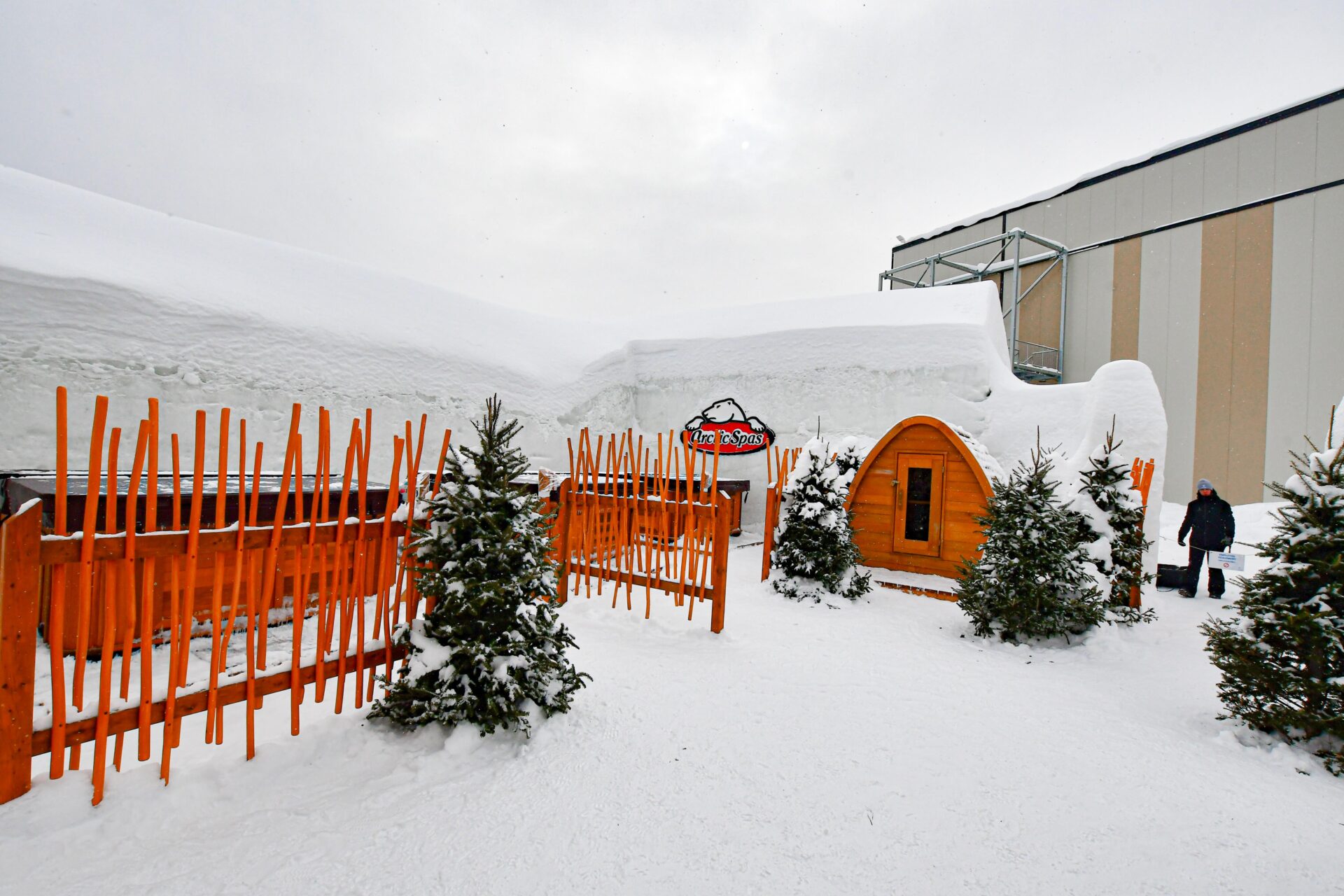 Guests staying at Canada's ice hotel get to indulge in a Nordic experience, including hot tubs and saunas under the stars. Available exclusively for guests, the inner court is open 9 pm – 9 am for you to explore the stars from the comfort of a hot tub. Imagine waking up in the middle of the night to sneak into a hot tub and soak in the views from above! 
It is recommended that guests use the Nordic Area to warm up their bodies before tucking into your igloo-like experience for the night. Be sure to dry yourself off completely and correctly before going to bed. Towels and robes are available upon request.
Day Visits To Hôtel de Glace
If you're looking to visit the Hôtel de Glace in Valcartier but not ready for an overnight commitment a day trip to the ice castle is the perfect fit. Seeing Hôtel de Glace on a day pass is a great way to experience the beauty of this world-famous attraction—without needing to sleep in a toque and mittens. Spend the day taking in the extraordinary sculptures, sipping a special cocktail at the ice bar, and taking time to explore the intricate details etched into the snow and ice. You can expect to spend about an hour exploring Canada's ice hotel but don't head back to the city right away, be sure to explore all of the other attractions at Valcartier.
Hôtel de Glace Day Ticket Prices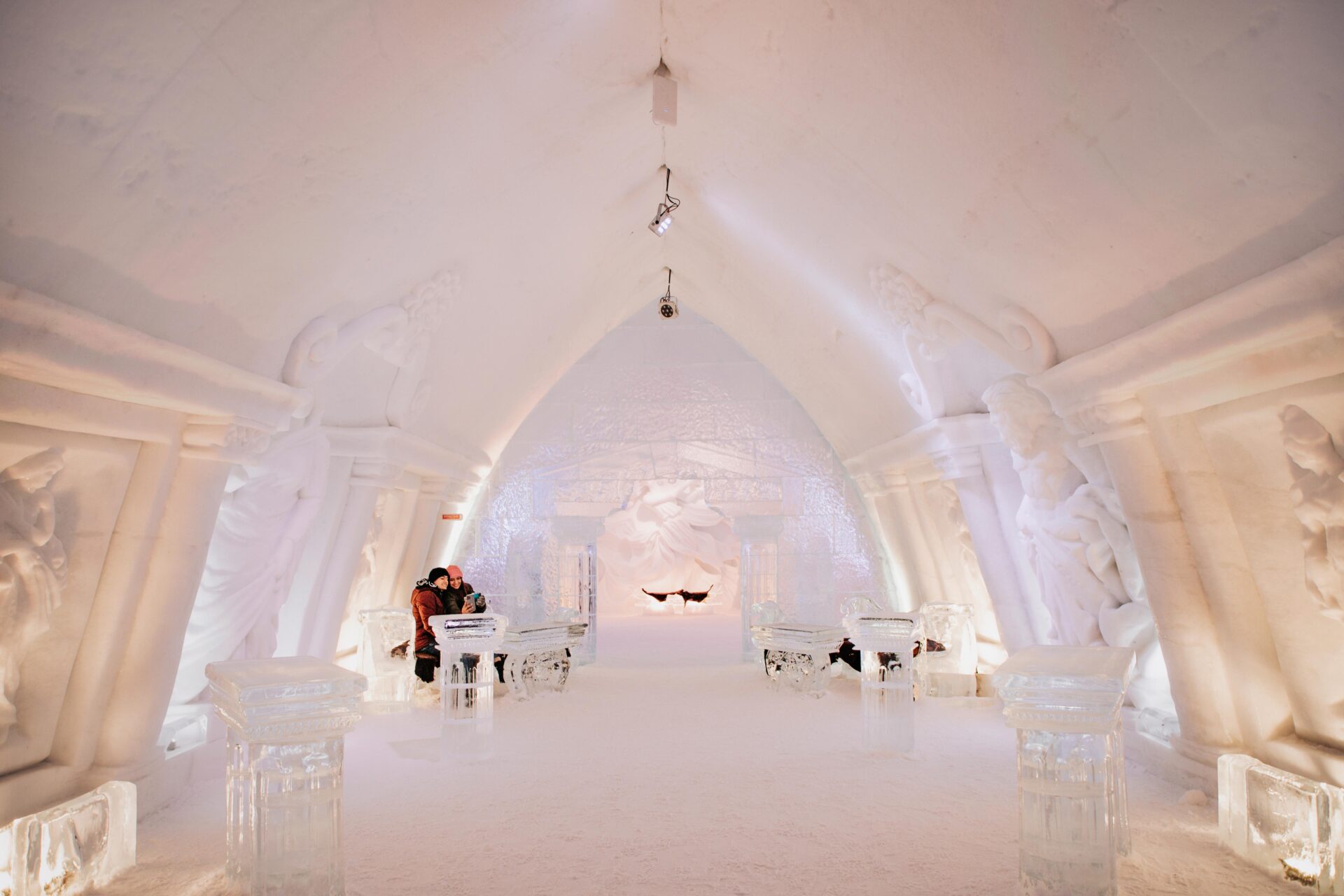 Day pass tickets are available from 10 a.m. to closing. As of 9 p.m., the suites and rooms are reserved for overnight guests only and will not be available for viewing. 
Similar to the other attractions offered at Valcartier, the entrance to the ice hotel is by height.
Day Pass Tickets
These tickets are valid from from 10 a.m. to closing (please note, the rooms and suites section will be closed as of 8 p.m. as it is reserved for overnight guests of the Hôtel de Glace)
Tall Guests (1.32 m or 52 inches) and over – $29.99 online, $34.99 on-site.
Small Guests (1m or 39 ⅜ inches and under 1.32 m or 52 inches) – $24.99 online and $29.99 on-site.
Baby (1m or 39 ⅜ inch and under) – FREE
TIP: Book online to save money!
Evening Pass Tickets
These tickets are valid from from 8 p.m. to closing (please note, the rooms and suites section will be closed as of 9 p.m. as it is reserved for overnight guests of the Hôtel de Glace, so only the main section of the hotel is open and included in these prices).
Tall Guests (1.32 m or 52 inches) and over – $24.99 online, $29.99 on-site.
Small Guests (1m or 39 ⅜ inches and under 1.32 m or 52 inches) – 19.99 online and $24.99 on-site.
Baby (1m or 39 ⅜ inch and under) – FREE
Other Adventures to Explore While Staying at the Hôtel de Glace
My biggest regret of our trip to Valcartier was that we were only there for one day and I wished that we had booked a night or two so that we could explore all of the other amenities that the resort had to offer!
Aroma Spa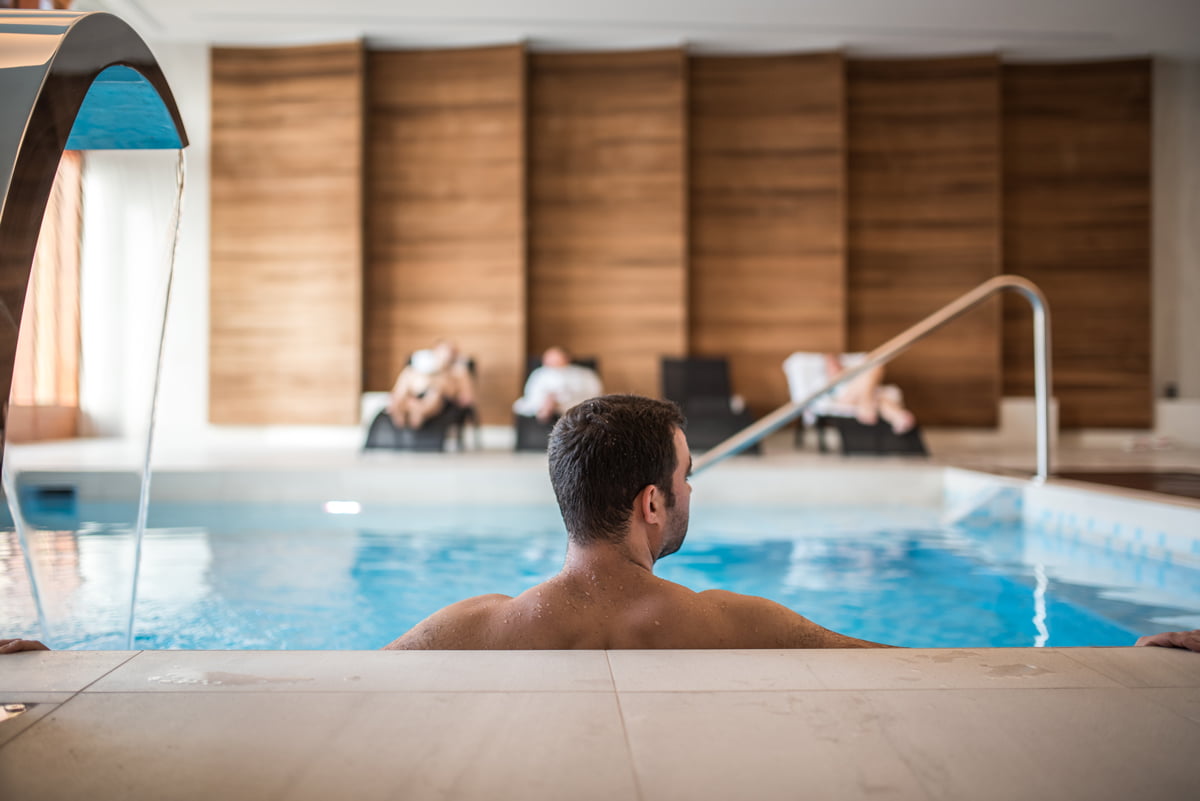 I've never met a spa I didn't like and being able to add a Nordic spa experience to our hotel stay would have been the ultimate cherry on top. However, we didn't get to do that on our last trip so I guess it's time to start planning our next one!
The Aroma spa is located inside (no worries, no ice spa experience here). You can cozy in for traditional spa experiences like a massage, body treatment, or personalized skincare treatments. You are invited to take your time and explore their hot tubs, cold plunges, and saunas.
Tip: You don't have to be a guest of Hôtel Valcartier to take advantage of Aroma Spa's services.
Winter Playground – The Largest Winter Playground in North America
Dress warm and be ready to explore the largest winter playground in North America! At the Valcartier Winter Playground, you can go snow sliding day or night. You can bring your own skates or rent skates and go for a glide down their beautiful skateway (which is also illuminated at night). Try snow rafting, sliding down the steep Jimalaya at top speeds, or experience the Tornado, a one-of-a-kind slide that is unique to Village Vacances Valcartier.
Skating at Valcartier
Take the family on a daytime or evening skate along a 1-kilometer path. Music will keep you energized and lights will keep the trail lit at night, creating a special atmosphere.
Central Area Tubing
Centrally located in the heart of Valcartier, the central area is great for starting your family tubing experience. With varying difficulty, you can start with the easy slopes and get more daring as your day goes along. Depending on the sliding conditions you can have up to 8 people go on a run!
Avalanche, Tornado, and Snow Rafting
The Avalanche area awaits, with slides ranging from easy peasy, to very difficult! You can race your friends in groups of two to eight people down the mountain.
The Himalayan
The ultimate thrill seekers ride, this "will take your breath away". Traveling at speeds up to 80 kilometers an hour, the Himilayan is meant for thrill seekers and those looking for a legendary snow experience. The ride includes four ultra-long, fast and steep slides, and can have 2 – 8 people per ride. Hold on tight!
Bora Park – Quebec's Indoor Waterpark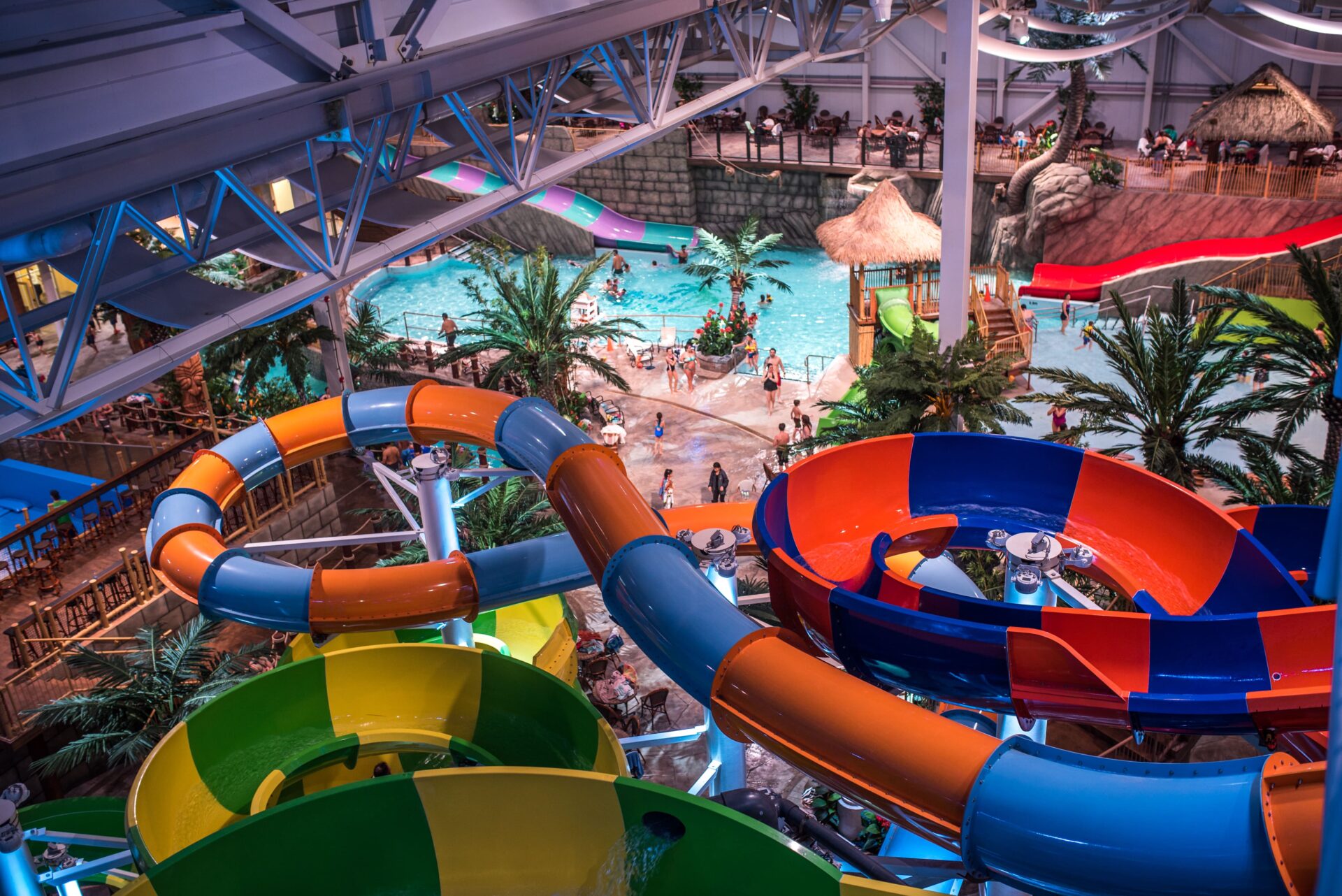 Go from sub-zero temperatures outside to a warm 30oC inside at this 102,000-square-foot indoor waterpark. Inside, a Polynesian-style tropical paradise awaits, as you are invited to explore the large wave pool, 14 waterslides, a family pool with water games, an adventure river, and a double wave surf adventure.
When you're hungry you can head over to the on-site restaurant and refuel before heading out to the park! Here are some of the main pools and attractions in more detail:
Oceania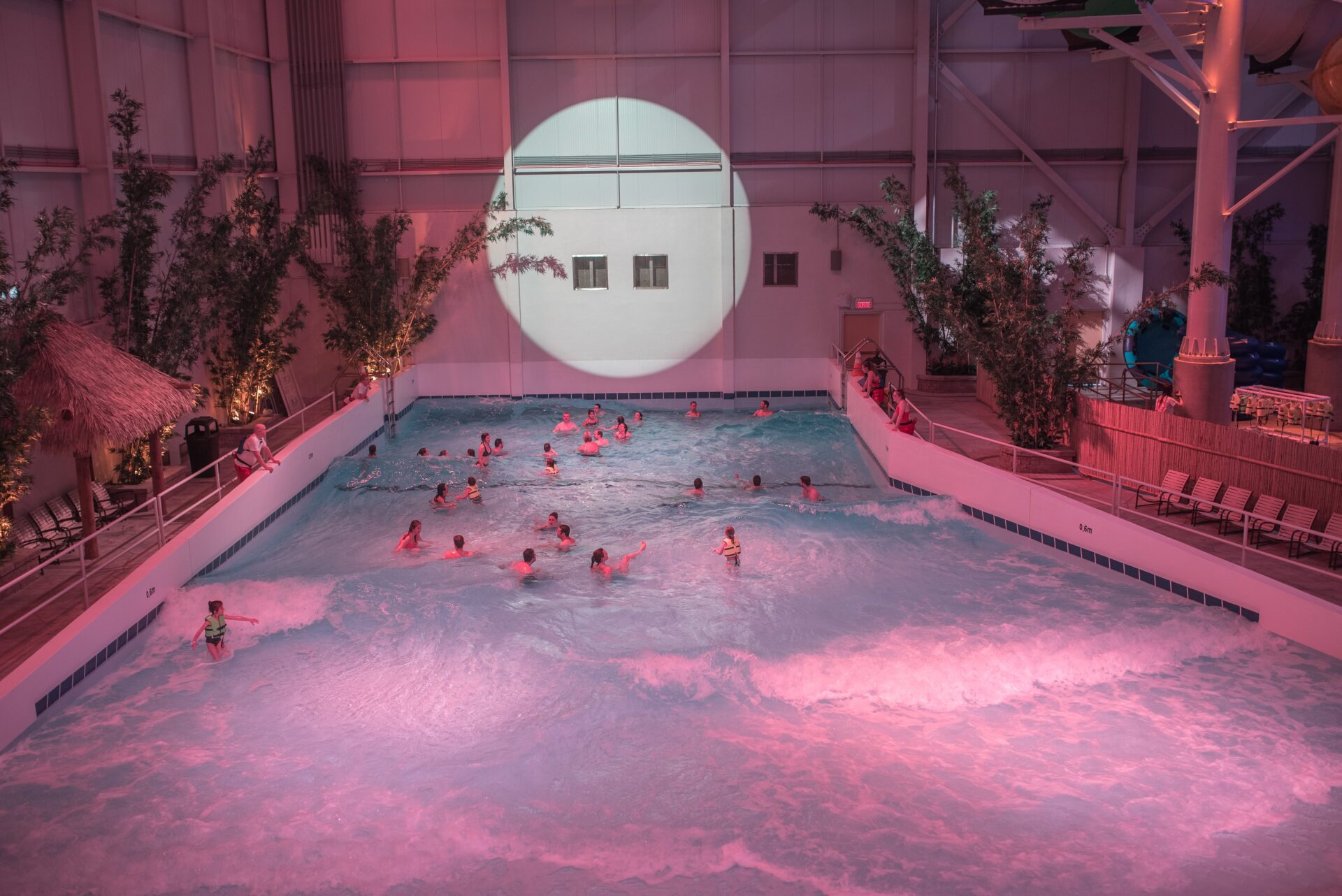 Modeled after the Pacific Ocean, this 4000-square-foot wave pool is a place where you can jump into the waves with the family. There are fun water games for kids including a fountain, water jets, spray pads as well as two slides suited for young children.
The Reef
Stunning blue waters, fun watersides, a waterfall, and water games await you at the reef. Be sure to check out the Reef's sunken ship and explore for pirates and treasurer! If you're looking for deeper waters you can head out into the blue middle reef and play around!
The Enchanted Forest
This waterpark element really took me by surprise as I've never seen anything like this at any other waterpark. This indoor waterpark has a magical forest theme complete with forest fairies, dazzling lights, and mini slides. Perfect for the littles who want water play without being fully immersed!
The Riveria
A floating lazy river, you'll get to hop on an inner tube and float around the park, cascading through pristine lagoons surrounded by beautiful palm trees. Your ride will take you floating behind a waterfall, through a huge cave, and even some unexpected twists and turns as well as speeds in the river! Can you say lazy river adventure? Sign me up!
Tribu
This family-friendly inner tube fits 3-6 riders and will have you hanging on as you go on an exhilarating rafting ride. Tight twists and turns around each corner await before you accelerate and head into a deep plunge!
Thrill Seeking Rides at Bora Park
Cyclone & Flash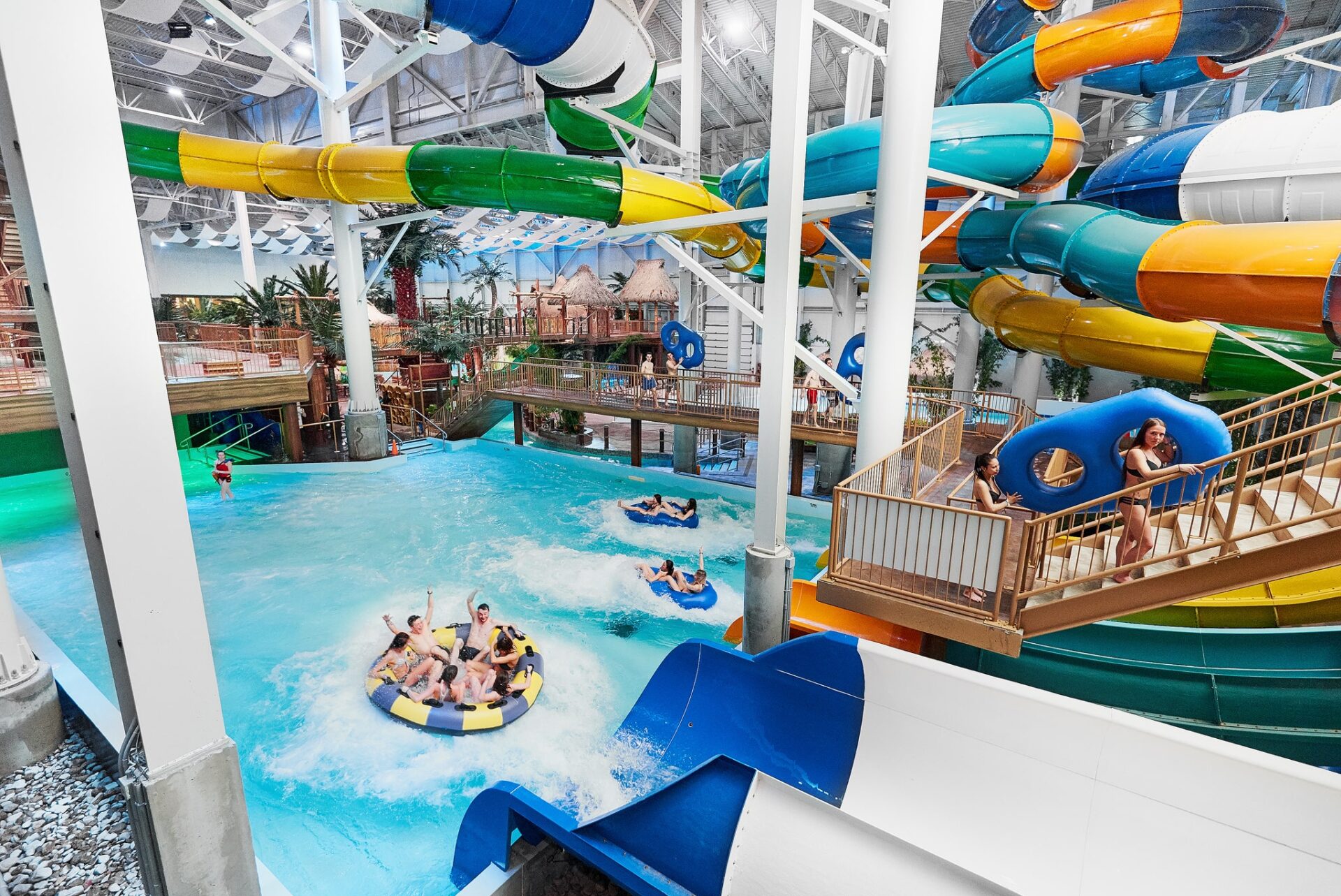 Two people get to sit in an inner tube and prepare themselves for a "tropical storm." As you head down the tunnel the wind gets stronger and stronger, the storm is coming! Watch for lightning flashes as you swirl your way down the slide. Wait for the storm surge to grab you and carry you outside the tunnel before you splash into the lagoon! (This was the perfect ride for us to pair up with a kid and ride down, tons of family-style fun!)
Classic Twisty Turny Waterslides at Bora Bora Park
Appropriately named after snakes, the Serpentine set of waterslides will make your decision of choosing where to play difficult. There's the Anaconda, Boa, Python, Viper, and Cobra to choose from!
Capsul and Shoot Libre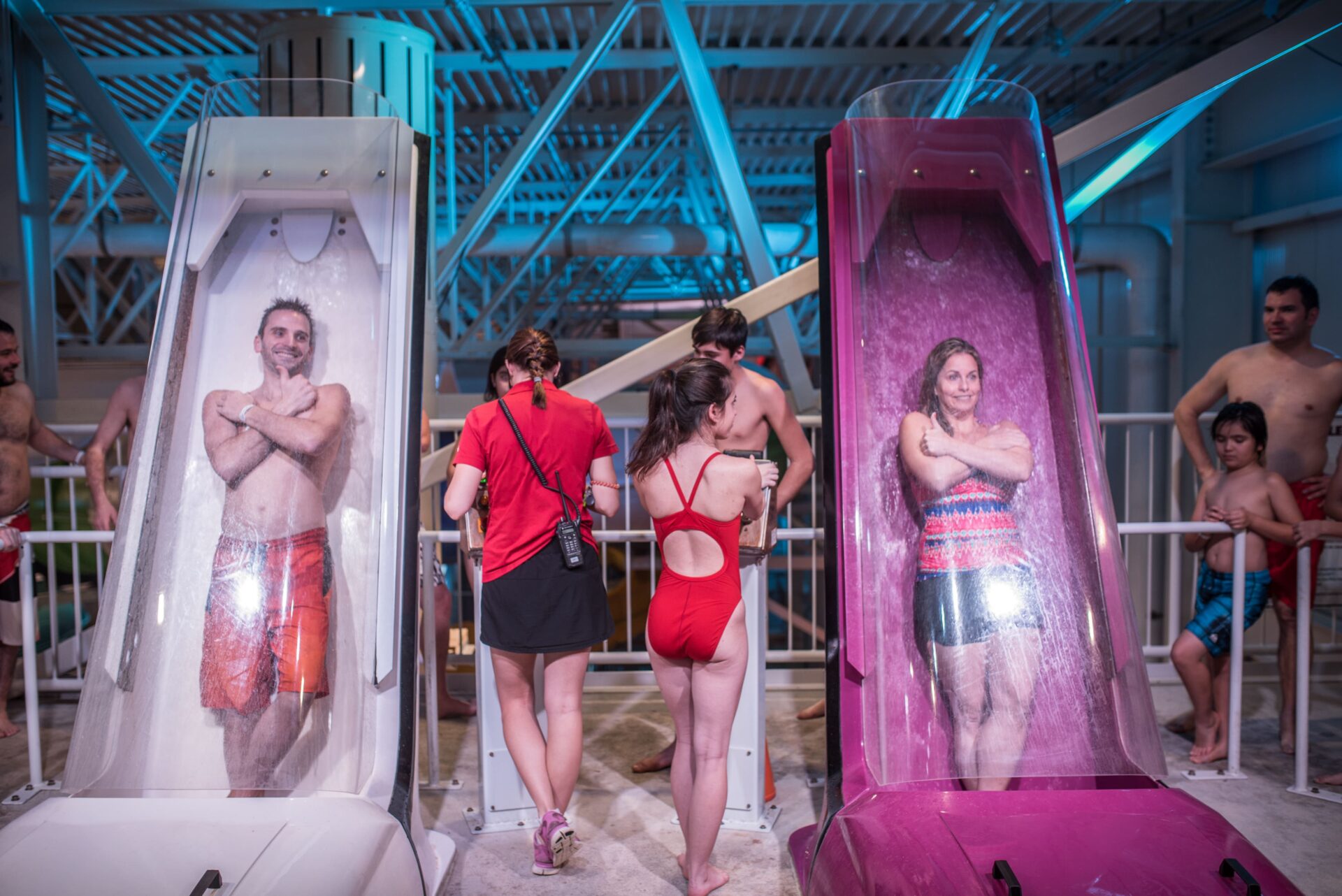 I could feel my husband's nervous energy as he said "See ya later kids!" and headed up to the Capsul and Shoot Libre. When translated, Libre stands for "free" and that's exactly what this ride is…a 15-meter-high simulated free fall. "The trap door shuts. There's no going back. 3, 2, 1…the floor beneath you suddenly opens and you shoot down the slide at a speed you never experienced before. Faster and faster until…splash! You're at the bottom, left wanting for more!"
Let's just say he was glad that he did the ride but didn't rush up to do it again!
Indoor Surfing at Bora Park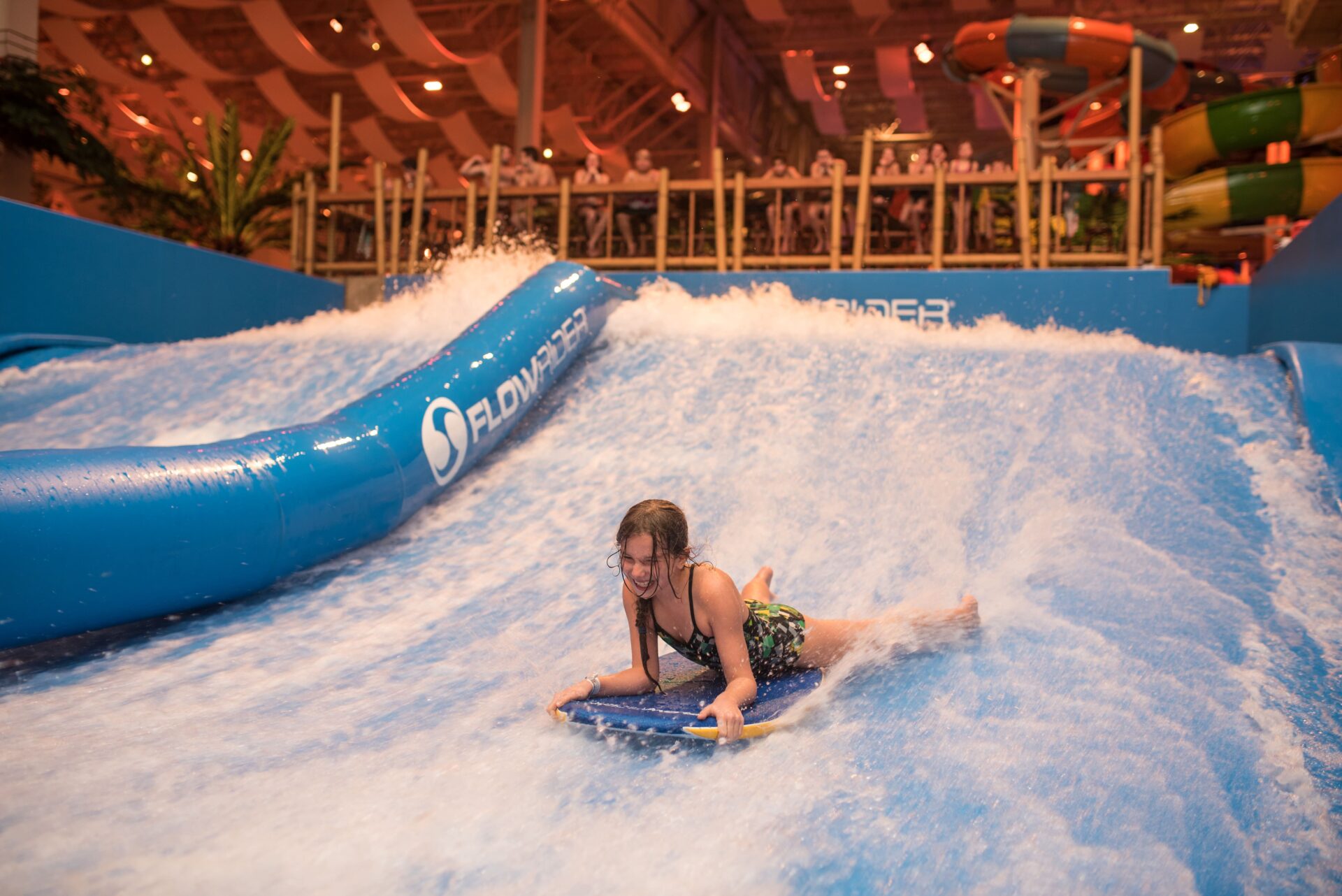 Indoor surfing isn't for the faint of heart as it takes a bit of adrenaline and courage to give it a go. But if you're ready to ride the waves and give your shot at surfing, the indoor surf experience at Bora Park is the perfect place. I recommend following directions for tips and tricks and not expecting too much out of your surfing performance while you try to get the hang of how the waves work!
Escape Jeux
For the digital lovers in your family, Escape Jeux is a 10,000-square-foot digital games room located in Hotel Valcartier. Guests are invited to try their go at pinball, air hockey, basketball, hockey table, dance floor, and more! From action and sports-based games to strategy and old-school classics this family-friendly games room is the perfect place to play. Grab your reloadable game card on the way in.
Hôtel de Glace FAQs
Hôtel de Glace Facts
500 tons of ice and 40,000 tons of snow are required to create the hotel.
It takes 6 weeks and 50 construction workers and artists to create the hotel.
When the season is over the hotel melts away.
There are 30 rooms available from standard rooms to theme rooms.
Rooms have between 1 – 3 beds in them.
Is Hôtel de Glace in Quebec City?
No, the Hôtel de Glace is about a 20-minute drive from Quebec City.
How to get to Hôtel de Glace from Quebec City
If you're looking to take a day trip up from Quebec City you can catch a shuttle with Unitours.
When is Hôtel de Glace open?
Hôtel de Glace will open for the 2024 season on January 4, 2024.
Book your stay at Hôtel de Glace here!
Does the Hôtel de Glace Melt?
We get questions about what happens with Hôtel de Glace in the Summer and the reality is that it melts! The whole structure returns to the soil and a whole new one starts being imagined for the following year.
Do they Rebuild the Hôtel de Glace Every Year?
Yes! Every year the hotel melts and the artists and designers start planning for the following year.
Is Hôtel de Glace Open year round?
The hotel is open from January to March every year but the Valcartier Resort is open year-round and has a lot of other things to explore. I could see going once in the summer and once in the winter to really experience it all.
How cold is it inside Hôtel de Glace?
No matter how cold it is outside the temperature inside the Hôtel de Glace is always between -3°C and 5°C. So if you're visiting during the day be sure to bundle up, and guests staying overnight will get a special orientation on what to wear and how to stay warm.
Are there Restaurants at Hôtel de Glace?
There are no restaurants IN Hôtel de Glace however there are numerous restaurants, bars, and snack shops located within the Valcartier resort.
In conclusion, I truly can't say enough about how beautiful the Hôtel de Glace Canada was. My whole family enjoyed the experience, with my husband appreciating the history and the architecture as my kids loved the creativity and playfulness of the experience. One of our favourite stories from our Hôtel de Glace in Quebec experience was how we went from visiting the ice hotel in -30 degree weather to going inside to Bora Parc which was +30 degrees inside! If I had one tip for you, it is to make sure you give yourself lots of extra time to explore all of the adventures outside of the ice hotel as there are so many things to do in Valcartier and it's worth spending a day or two exploring!
---
Enjoyed Hôtel de Glace? Check out the blogs below for more Quebec adventures!
Is this a sponsored post?: Yes while our time at Hôtel de Glace is sponsored all views and opinions are our own.