"Mom, look!" I followed my daughter's outstretched hand to see she was pointing at the icy peaks of Bonhomme's frozen castle. Our pace quickened as we knew we were close to this piece of Quebec's history, only known to us through the lessons my daughter was taught at school. Our Ultimate Canadian Winter Road Trip may have been coming to an end but our excitement was still cranked high as we entered Carnaval de Quebec, ready to explore everything that awaited us.
Quebec Winter Carnival | Carnaval de Quebec — The Beginnings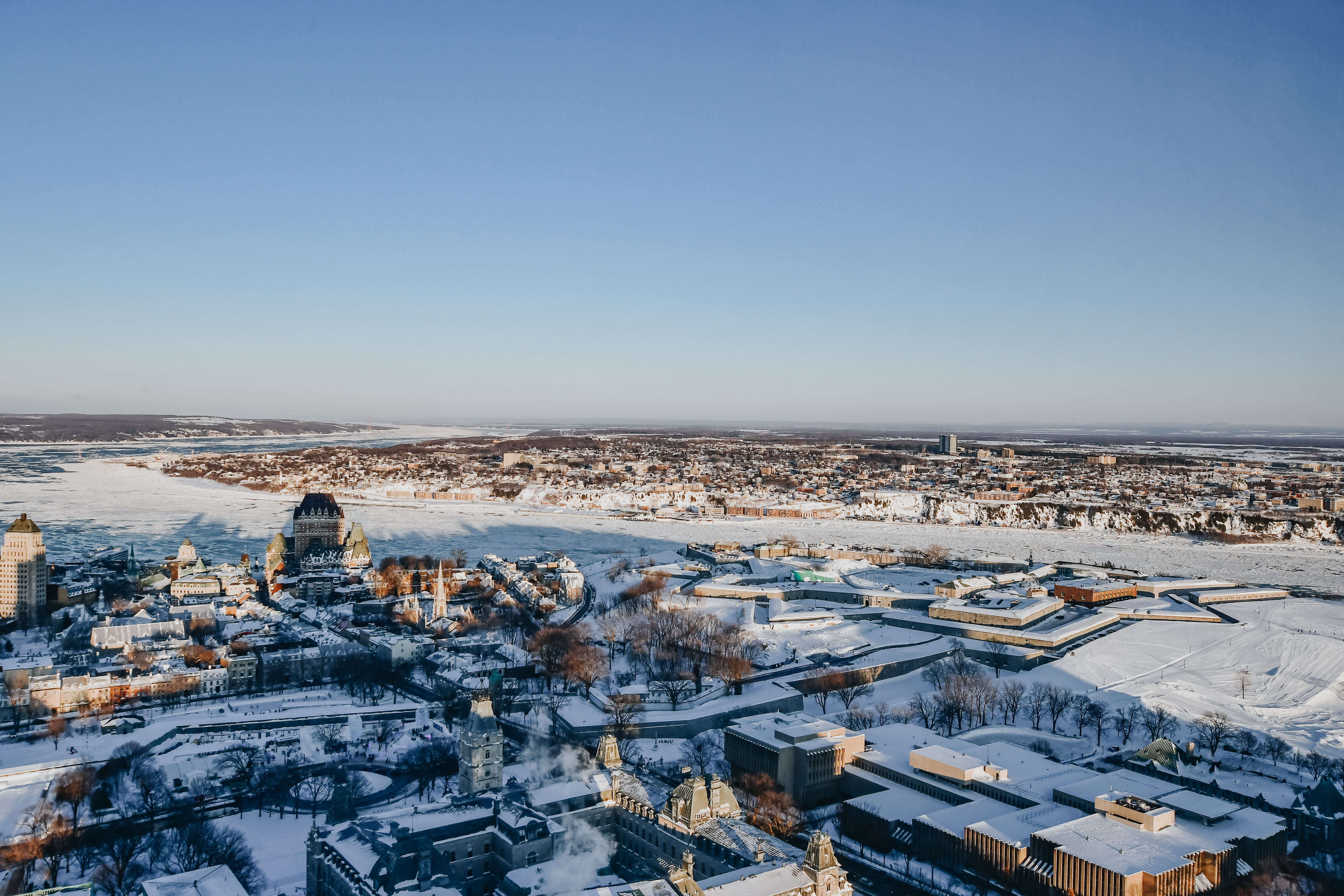 When you picture winter—a real, cold-weather-wind-blowing-snowy type winter—you are most likely picturing a scene similar to that in Quebec. Its capital, Quebec City, often sees its first snowfall in October or November—and it lasts as late as April—with an average yearly snow accumulation of 315cm or 124in! Average daily temperatures in the winter hover around -18o C (-0.4o F) which makes for a very chilly season! So it is no wonder why over 120 years ago, the people of Quebec decided to throw themselves a party!
In 1894, the first major carnival debuted in Quebec City. Up against harsh winters, Quebecers were looking for a reason to celebrate the season. It wasn't until 1955 that it became an official, annual event but for the last 60 years Carnaval de Québec has been the pride of Winter throughout the province.
Bonhomme Carnaval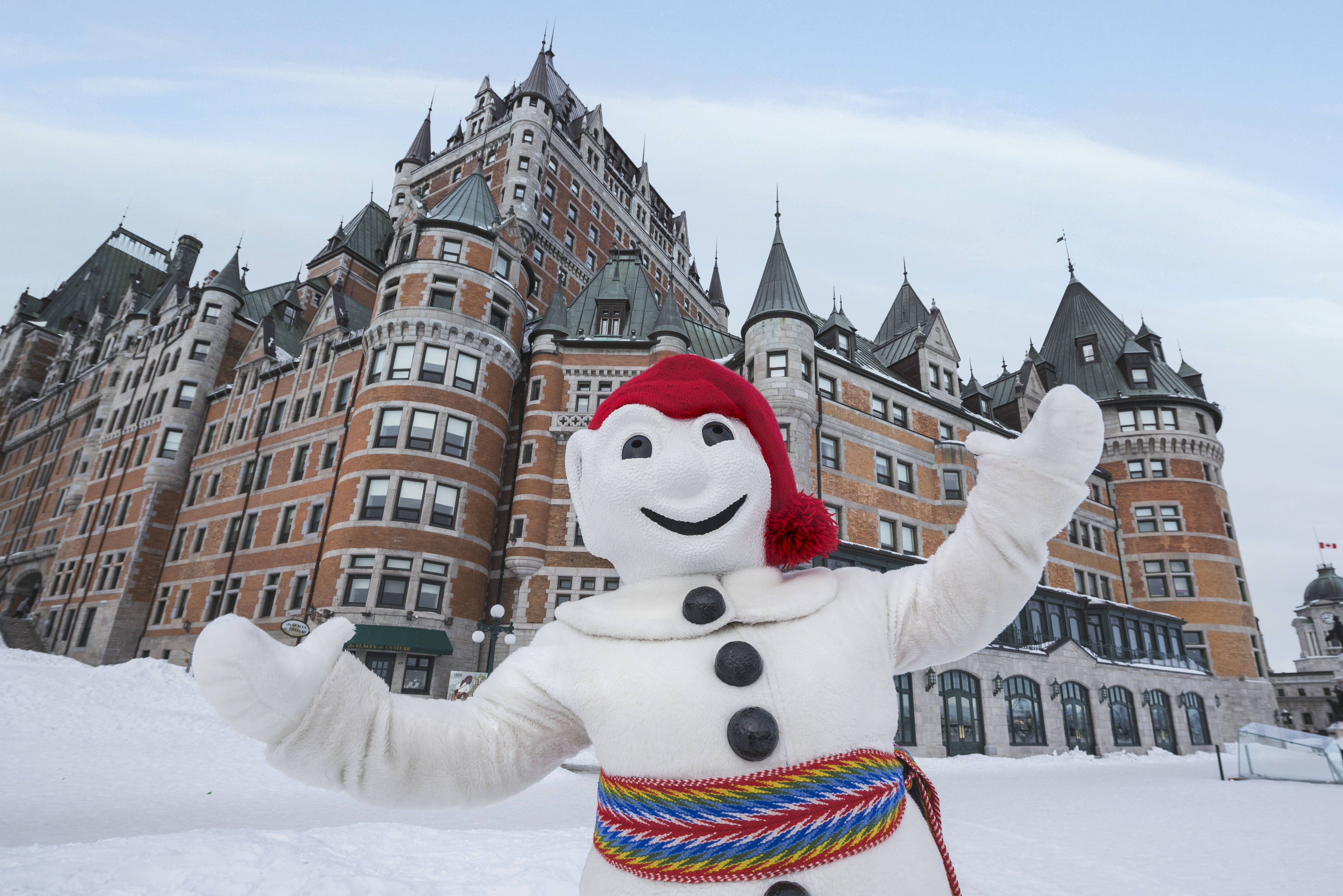 Meet Bonhomme. Born in Quebec City in 1954, he is 400 lbs. of pure packed snow, spreading his joie de vivre—or zest for life—throughout the Quebec Winter Carnival since its official debut in 1955. He is the master of celebrations and the king of festivities. A truly magical and iconic being who epitomizes the spirit of Carnaval.
Don't miss your chance for a photo with Bonhomme in his castle located in the Loto-Quebec Zone of the carnival.
Getting There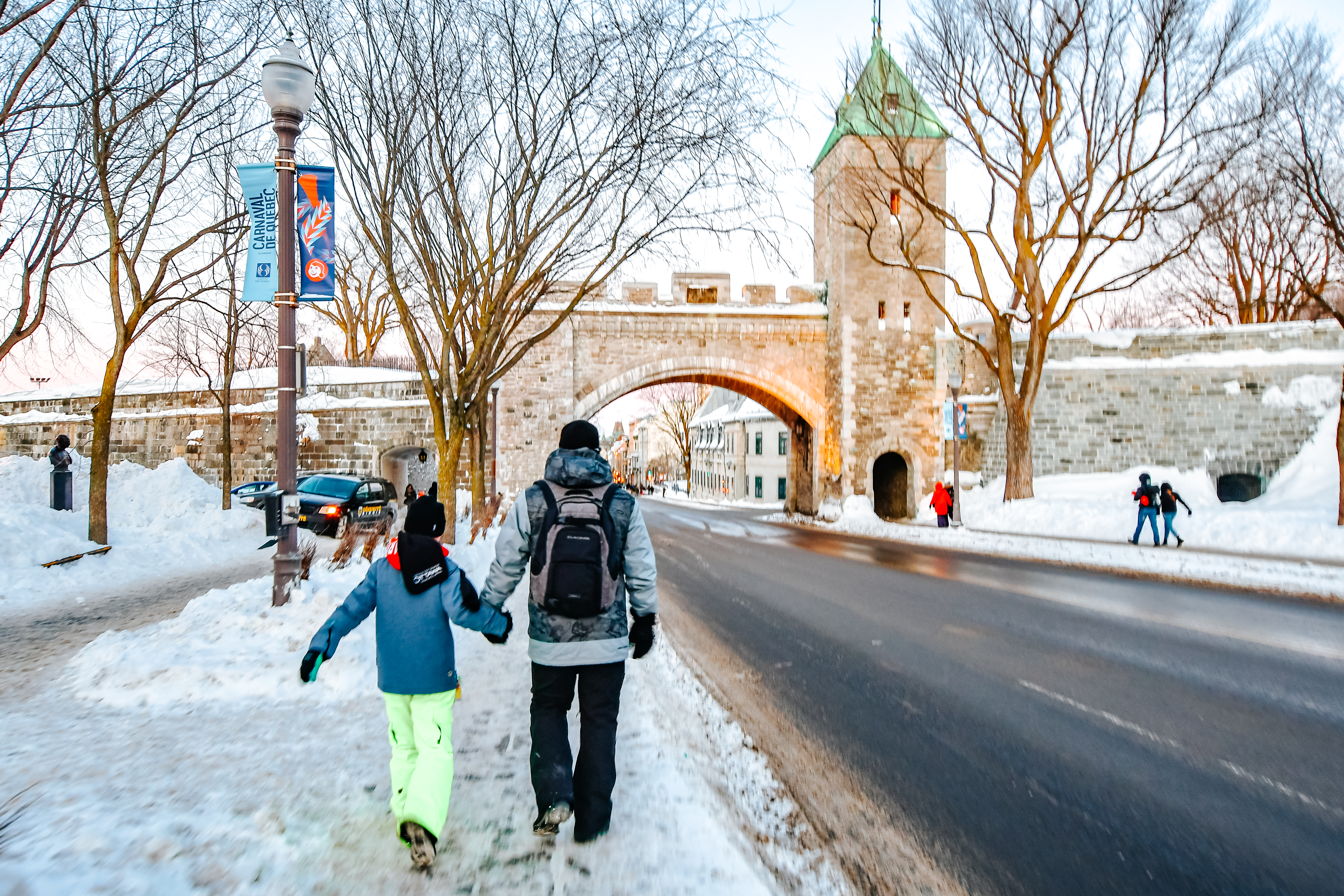 Most of the winter magic of the Quebec Winter Carnival can be found in one central location. Meaning once you find the party, you don't have to go anywhere else. And to get there, I recommend using Quebec City's public transit system, RTC.
Not only is there a bus stop right at the entrance to the carnival, numerous stops line the road only one block off of the parade route. And the Canoe Race—the only major event not located near the rest of the party—is also easily accessible by bus.
Check fares and scheduling at their website here.
Mom Tip: Family Privilege on weekends means savings for you! From 5:30 PM on Friday through to midnight Sunday and some holidays, each adult with a valid fare can take up to three children onto the bus for free. Children 5 and under always ride free.
Admission at Carnaval de Quebec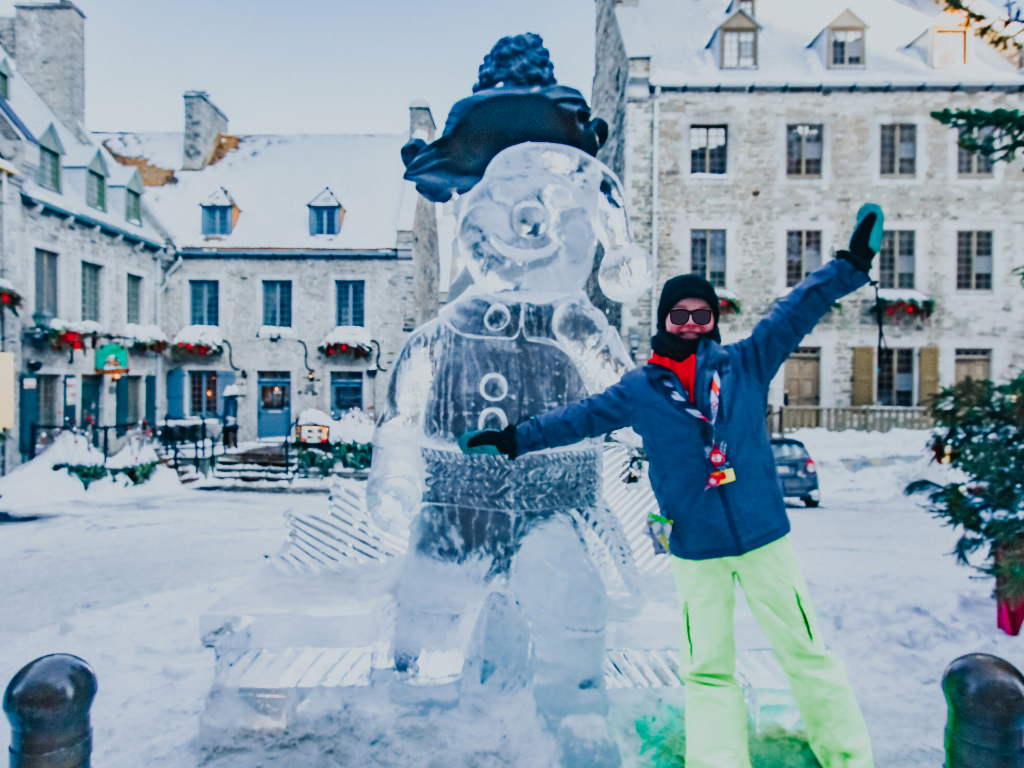 To access Carnaval de Québec, there is one important thing you need: The Effigy. I'm not going to lie to you, I had to look up the definition of their all-important access pass.
Effigy (noun): A sculpture or model of a person
The effigy for the Quebec Winter Festival is not as much modelled after a person as it is a snowman—their lovable snowman, Bonhomme. Wear it around your neck as your ticket and all-access pass to the activities within Jos' Camp, Christie North Slope and Loto-Quebec Zone. Only required for those older than 12 years, it will also grant you access to many partner events in the city.
Purchase your Effigy online or at the entrances to the carnival for $20.
Mom-tip: Buy your Effigy during their pre-sale for 50% off the regular price. The pre-sale dates for the 2020 carnival were November 18, 2019 to January 19, 2020.
What To See, What To Do At Carnaval de Quebec
For 10 days in February, Carnaval de Quebec throws a winter party like no other. With an extensive schedule of activities, shows and events, it's hard to catch it all. Here is a look at what you will find in carnival-filled streets of Quebec City.
Jos' Camp| Le Camp à Jos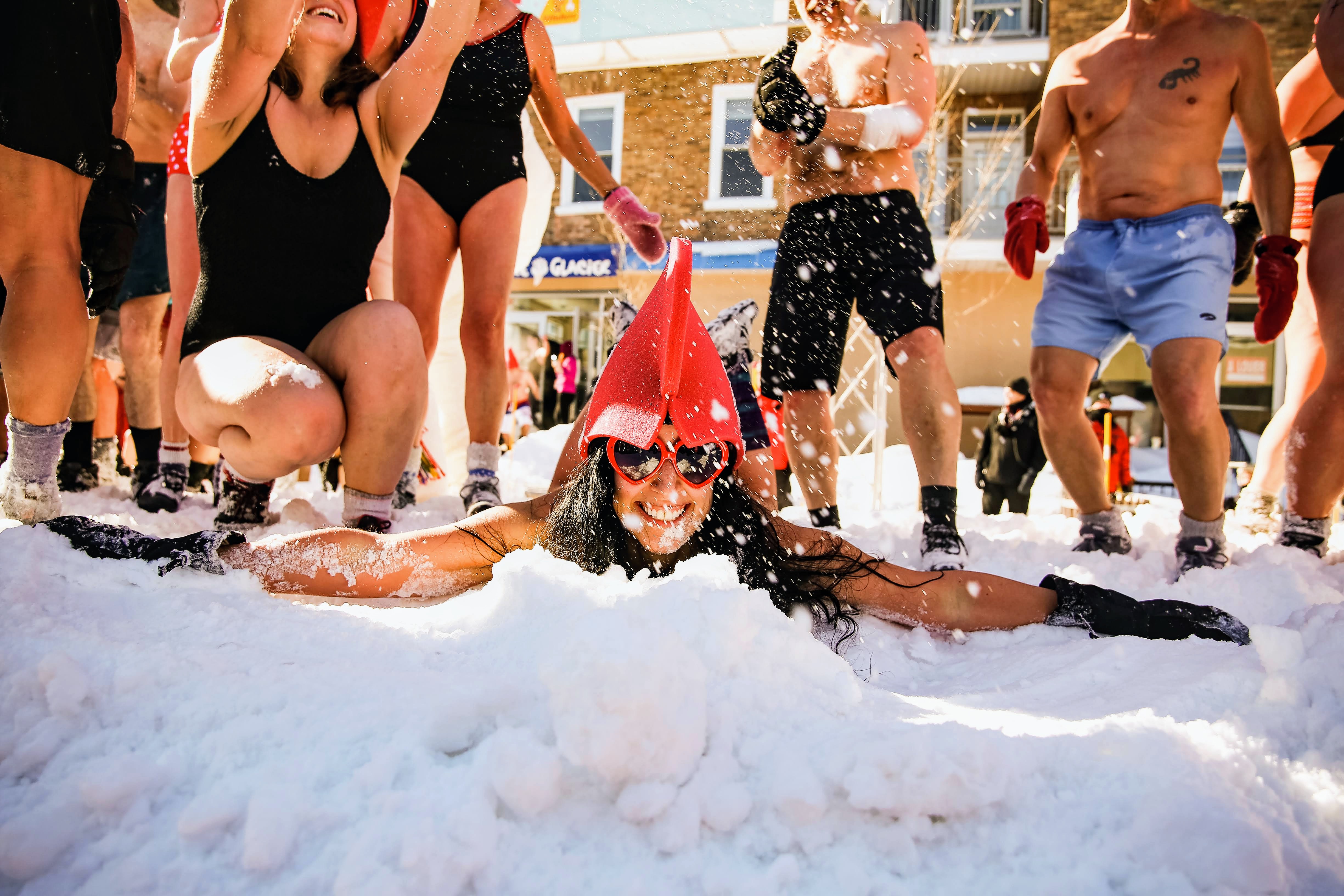 Don't forget your swimsuit! You'll want to make sure you have it when you visit Jos' Camp because it is here you can participate in the legendary St-Hubert Snow Bath. If you're up for the challenge, you will take three dips in the snow wearing nothing but your swimsuit (warm breaks are provided in-between). Of course if you prefer to brave the cold temperature without removing your warm jacket and mittens, you can simply be a spectator to this quirky competition before discovering the rest of Jos' Camp.
-Axe throwing
-Interactive lumberjack activity
-Wacky street hockey game
-Garant Snow Removal—can you solve the winter puzzle?
-Mixology happy hours, live music and more!
Canoe Race | Course en Canot
If you thought rowing was hard, how about rowing through the icy waters of the St. Lawrence River? Watch dozens of teams cut through the water with the aim to take first place in their class. If you're like me you'll just be crossing your fingers that nobody falls in!
To escape the frigid temperature outside, check out the VIP experience and watch the race on board the Quebec City ferry. With a DJ, free bar service and—most importantly—a heated area inside, it is the best way to watch this feat of athleticism.
Christie North Slope | Le Versant Nord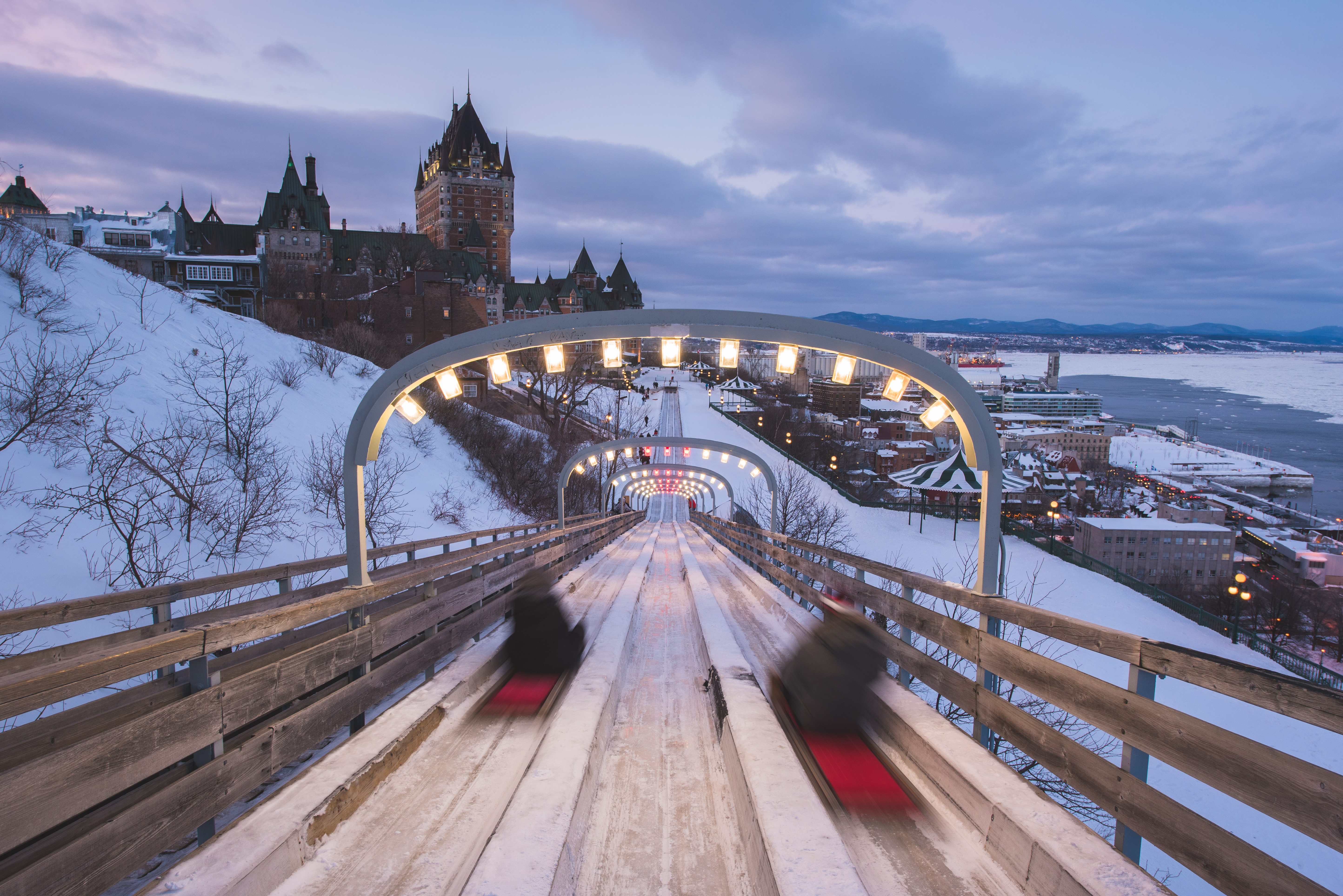 Thrill seekers will rejoice when they see the snow sliding site at The Christie North Slope. Climb up to the platform built high above Grande Allée and then enjoy the ride as you slide down the 300-foot incline.
For those who don't require the same rush of adrenaline, Christie North Slope also contains a smaller and gentler inner tubing hill for everyone to enjoy.
Loto-Quebec Zone | Zone Loto Québec
Inside Loto-Quebec Zone you will find an ice castle fit for a king—well, the king of festivities that is. Bonhomme's Ice Palace, standing 30-feet high, is an amazing sight for all ages. And the word on the street (and in the schedule) says Bonhomme comes home a few times a day for photo ops.
Throughout the carnival numerous ice sculptures are carved here, in Loto-Quebec Zone. Visitors are welcome to watch the process as well as come tour the finished pieces.
Hydro-Quebec Parade | Le Défilé Hydro Québec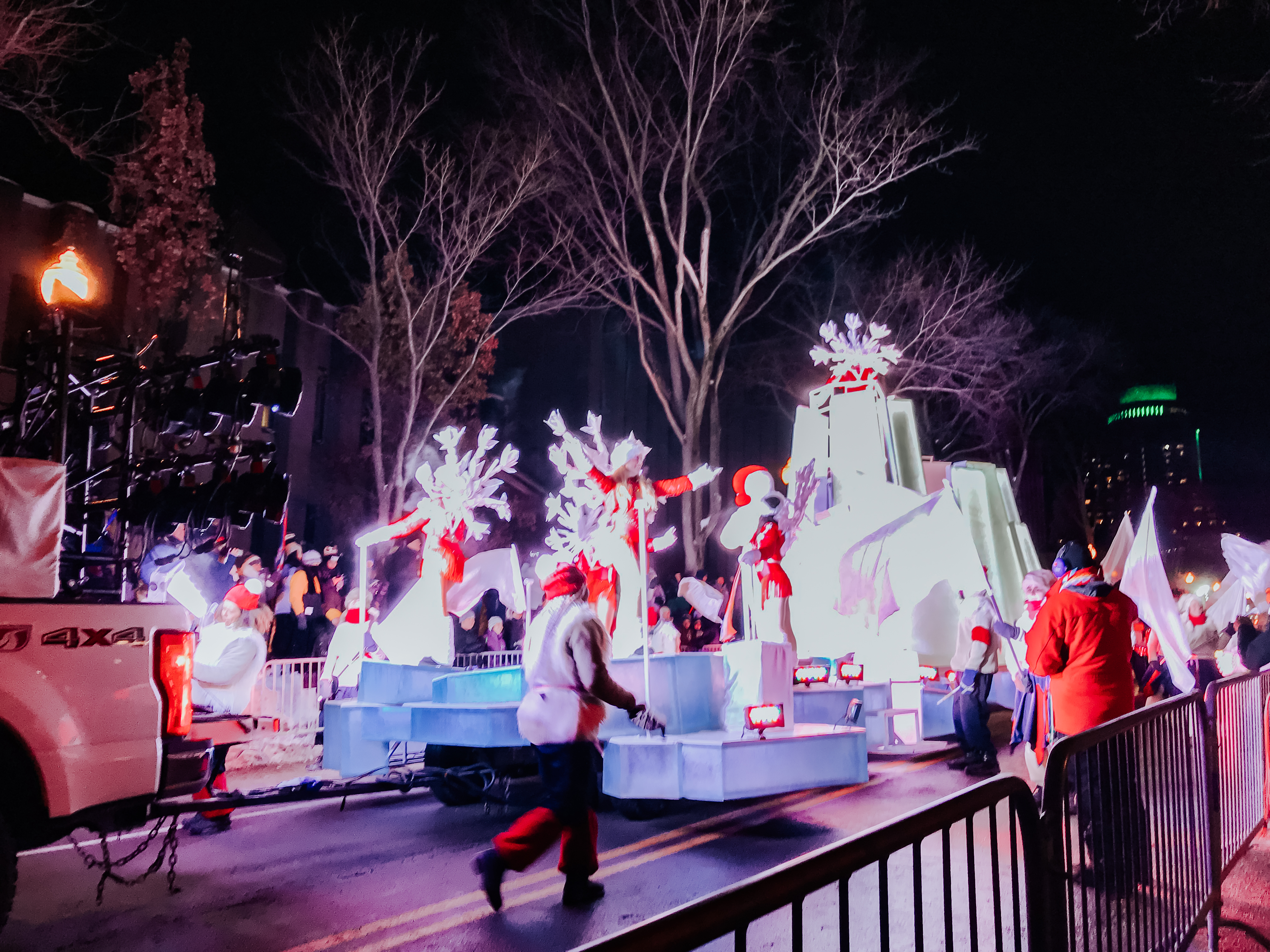 The parade that lights up the night in Quebec City. Twice over the course of the carnival the Hydro-Quebec Parade brings music, fire, acrobatics and more to the streets around Carnaval de Québec. The performers drew us in with their energy and held our attention with their talent. They even warmed us up with their fire as they came by.
For the best seats in the house, book your VIP experience for the parade. You'll get seats in the VIP stands, a Carnaval fleece blanket to help keep you warm and free bar service. It's an extra special way to enjoy!
Mom-tip: Bundle yourself and your kids up warmer than you think you need to. That way you can focus on the parade and not your frozen fingers.
What started as a way for communities to come together against a harsh and unforgiving season, has become a beautiful display of tradition. Quebec has embraced its winter and continues to bring fun and celebration to the streets of Quebec City every February. I hope everyone, at least once in their life, can experience the joie-de-vivre that was abundant in the air at Carnaval de Québec.
---
Planning your own winter road trip in Eastern Canada? Here's some great articles for inspiration!
Is this a sponsored post?: Yes, while we were graciously sponsored to attend the Carnaval de Quebec, all of our thoughts and views are our own.