Are you researching a trip about the Lac des Loups skating experience?
Nestled into the forests of Lac des Loups, one of nine villages that make up the municipality of La Pêche, Quebec, you will find the enchanting winter experience, the Quebec skating trail through the forest or "Patinage en Forêt" in French. This family-owned and operated business has been inviting guests from around the world since 2016 to experience skating through a forest on their 3km skating trail in Quebec. In their first season, they welcomed 20,000 visitors to Lac des Loups skating—that's a lot of people for a region with a population of 7,800.
In early 2020, we did a winter festival road trip taking us from the Ottawa Winter Festival through Quebec to meet Bonhomme himself at Carnival. But one of our favourite stops was in La Pêche where we got to go forest skating in Quebec. I had seen photos on Instagram and anxiously awaited our day of skating in the forest as a family. Once we were checked in and our skates were on, my son took off on his hockey skates, weaving in and out of the trees and enjoying the magic of each corner. My daughter and I aren't so gifted on blades so we took our time, slowly skating through the forest and stopping to visit all of the farm animals along the way.
We want to share our experience with you as well as give you all the information you need to have the best Lac des Loups skating experience in La Pêche possible. I'll bet that if you're able to, you'll be visiting more than once! I know that we plan to go back someday!
What to Expect when Visiting Lac des Loups Skating in La Pêche, Quebec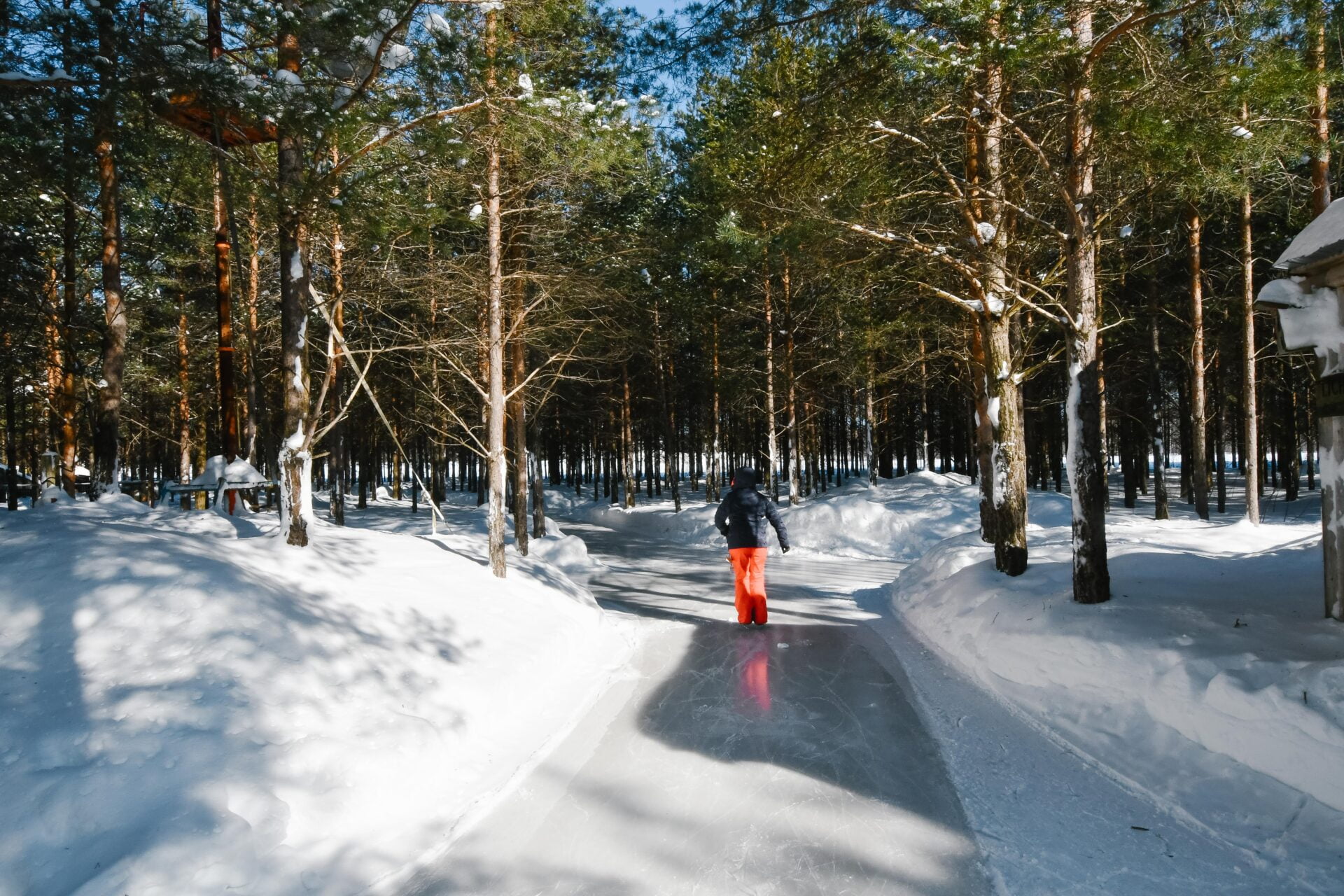 We've all seen the photos. The ones on social media of amazing "bucket list" destinations that have you wishing on birthday candles and putting money into your savings account to make the trip happen. I'm here to tell you that this is one adventure that lives up to all the social media hype!
As we started our forest skating adventure in Quebec we were met with a "warm" bright sun and clear blue skies. I use the word "warm" with caution, as the clear blue skies brought chilly temperatures, especially for this west coast family. A "warm" day was -25 so we had to be sure to bundle up in layers before we headed out on the trail.
How To Prepare To Go Skating Through a Forest In Quebec
Before you head out on the trail you need to gear up, and they have the perfect building for getting your gloves, gear, and skates all sorted. It's fully covered and protected from the elements so you can rent the gear you need (or bring your own). They also have a heated bathroom so be sure to get everyone in your party to make a pit stop before you officially put on all the layers.
What To Wear Skating at Lac des Loups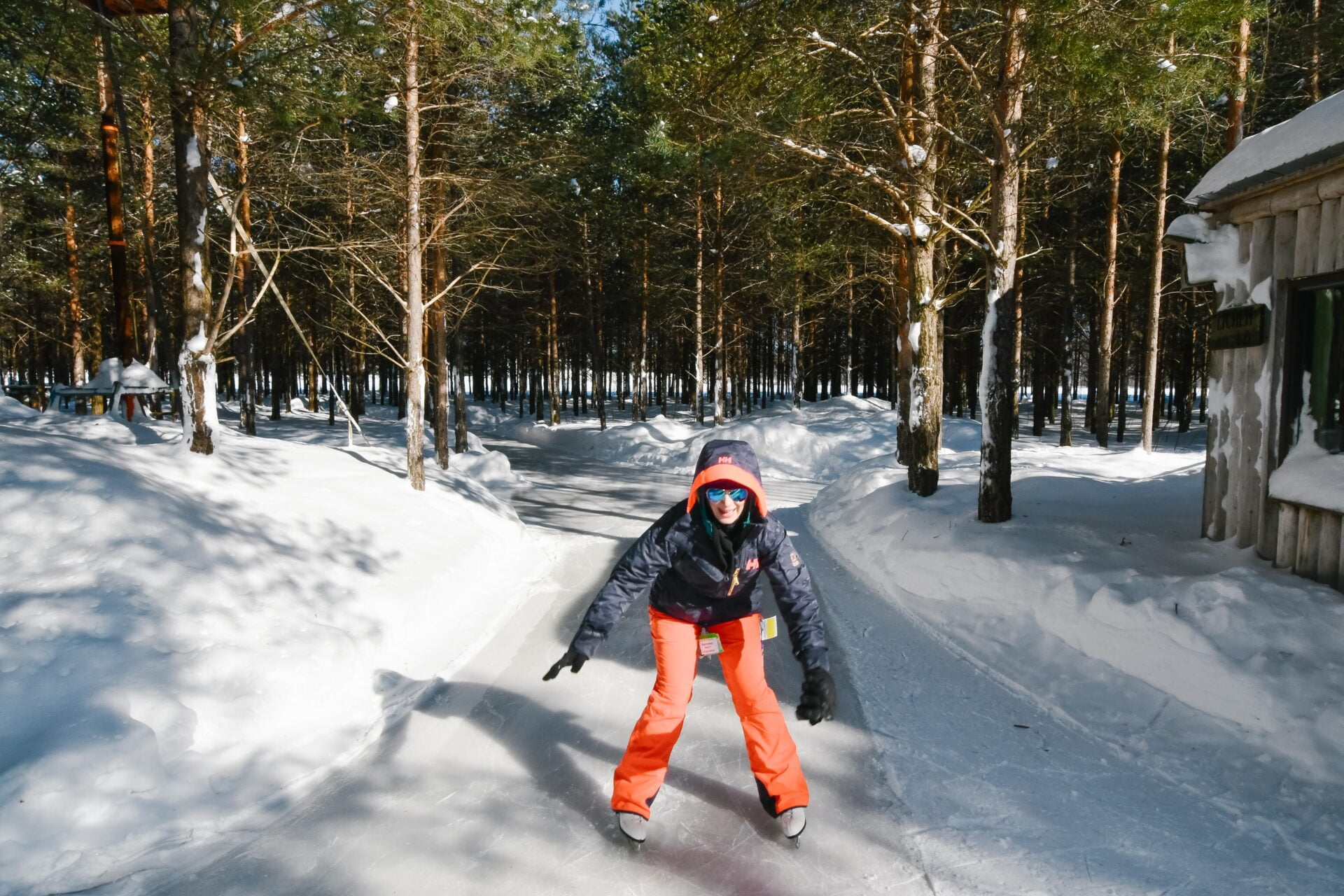 In order to stay warm and comfortable and enjoy your Lac des Loups skating experience, I recommend wearing:
Base layer
Fleece layer
Outerwear (jacket and pants)
Warm socks
Gloves / mittens
Scarves
Toque
Lac des Loups Skating Rentals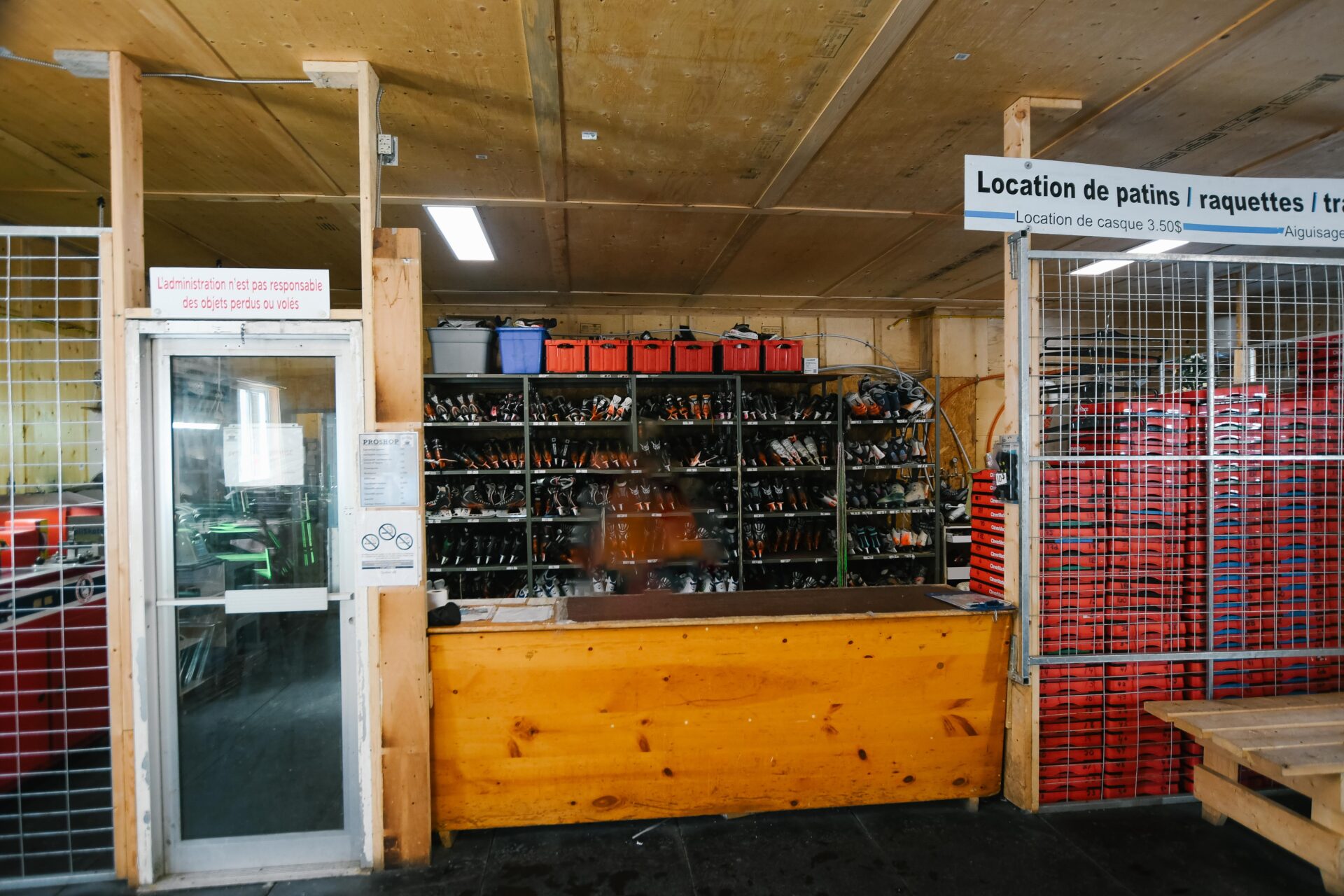 If you are in need of skates and helmets they have rentals available on a first come, first served basis with some limited quantities available. Here is a complete list of what you can rent:
Skates: $10
Protective helmet: $4
Skate Sharpening: $7
Snowshoes:$10
Sled: $30/hour
(Taxes are included in the prices above)
Lac des Loups Skating – Classic Canadian Experience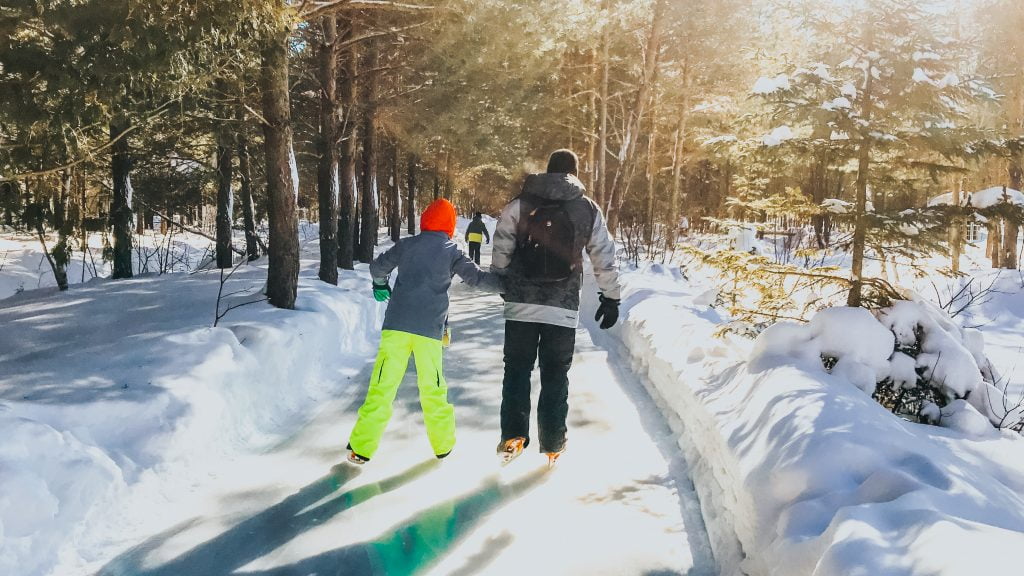 As soon as you step out of the door you'll glide (how graciously is up to you) onto ice. My son, comfortable on blades, took off, zooming up and down the ice like he was on a breakaway, about to score the winning goal. Our daughter took the more scenic route—holding on tight to her dad's arm as they set out at a much more leisurely pace. Watching all three of them, I took my first glide onto the ice. The blades slid through it like butter and I knew, without a doubt, that this adventure was going to be special.
Around every bend and behind every tree held a surprise for us to discover. Sometimes that surprise was a peek at the resident wildlife. If the kids got a little tired—lost some of their zest to make it around the 3km loop—there was the incentive of seeing another alpaca or an emu to keep them going strong. We were given a bag of feed and had a chance to share some with many animals including Canadian geese, sheep and even deer.
Instagram-Approved Photos Of Skating Through a Forest In Canada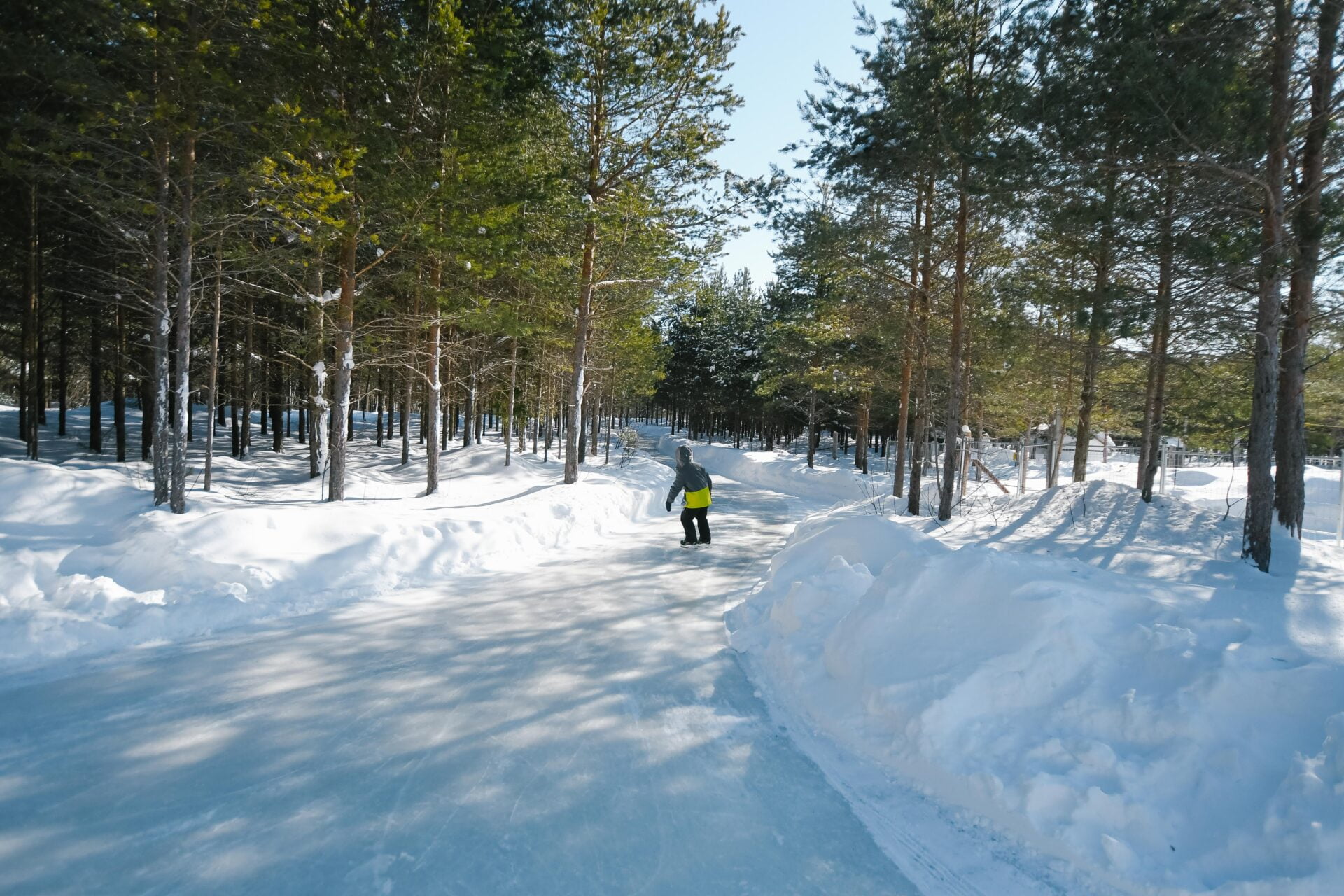 There is no doubt you will find your Instagram-worthy moment while winding your way through the icy trails. The forest provides the perfect backdrops for your group photos and you'll want to be prepared for any animal encounters. Loupie, their resident—and very friendly—wolf mascot, often straps on his skates and he is always camera-ready.
Mom Tip: Keep those devices warm! The last thing you want to see when you pull out your phone or camera is a black screen. We all know the cold temperatures kill our batteries, so make sure you keep your devices and batteries tucked inside and close to your body. A hand warmer next to my phone helped save my battery.
Where To Stop On Your Skate
One of our favourite surprises of this experience was that although we felt like we were skating through a forest we were actually on an active farm and some of the trails led us to different barns, where animals like alpacas and goats were eagerly awaiting our arrival. They were excited for the treats we'd share with them and they even posed for a few photos! It was a very fun unexpected element for the kids.
Best Place To Eat While On Your Skating Trail In Quebec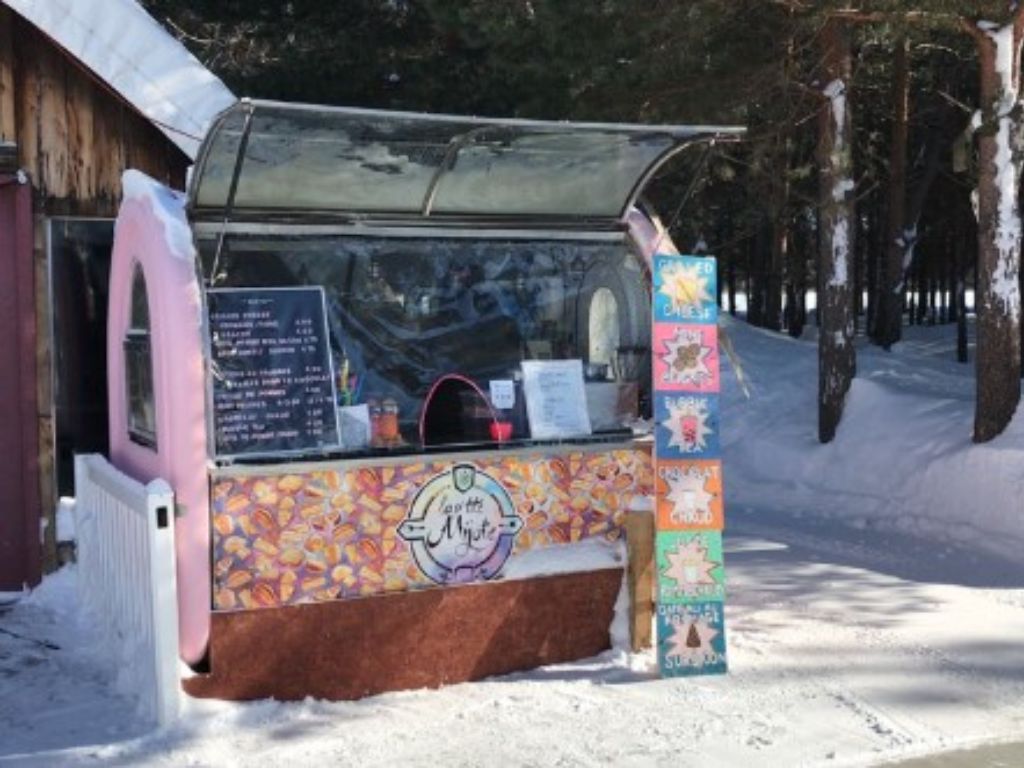 A little canteen with some sweet treats, warm drinks, and other winter essentials can be found on the skating trail in Quebec. There's nothing more Canadian than pairing a great winter skate with a warm hot chocolate!
Family Fun On The Best Skating Trail In Quebec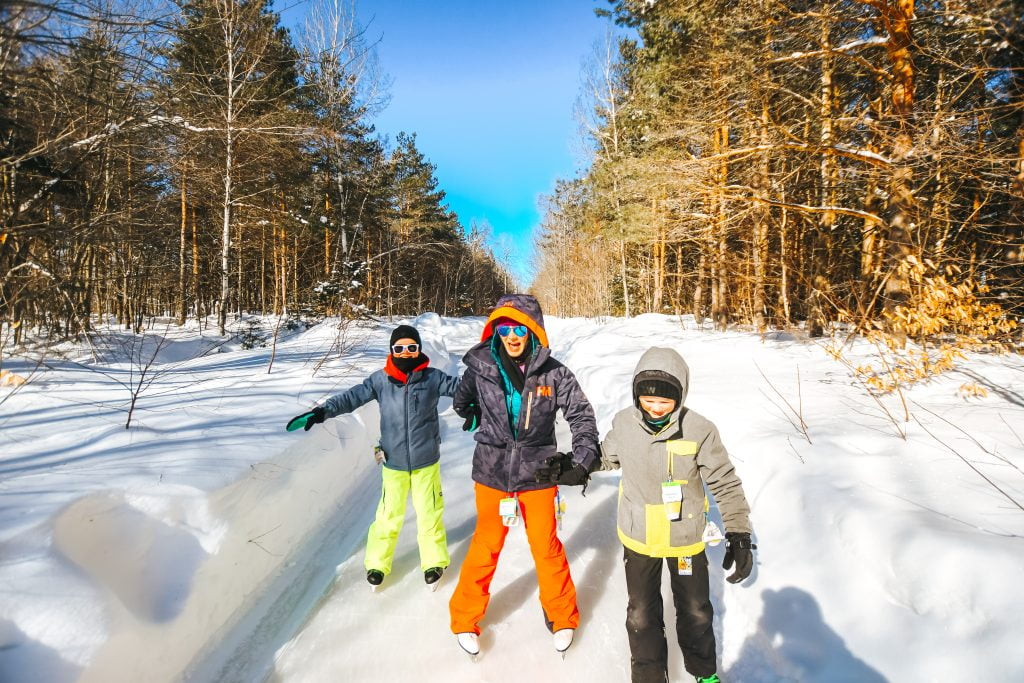 Mom tip #2: Have fun with your family while you're out on the trail and don't be over-consumed with getting the Instagram-perfect photo. Let's be honest, this pic of me and the kids is far from perfect, but the memory we have from skating on the trail trumps taking the time to pose perfectly! So my Mom tip #2 is to film the scene, snap the memory and then put the device away. I gave myself 15 minutes to digitally capture our adventure and spent the rest of the time experiencing it with my family.
Forest Skating Quebec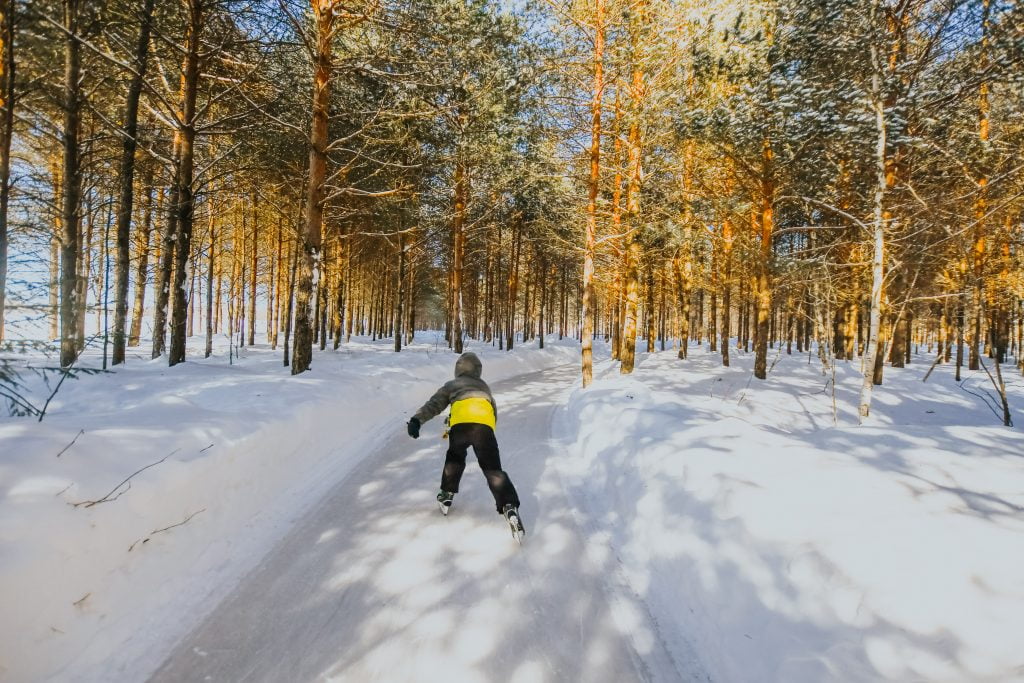 Nearly half of Quebec's landscape is covered by forest—more than any other province in Canada. There would be something amiss if we visited the province without going forest skating in Quebec and exploring at least a section of this vast natural wonder.
Yes, exploring it was necessary. But while the forest is beautiful in itself, immersing ourselves in it through the twists and turns by skating through a forest of ice made it feel like we were skating through a fairytale. Like most destinations you dream of going to, skating through the forest is better in person than on social media. Idyllic and peaceful, it is an absolutely enchanting way to get up close and personal with Quebec's Hardwood forest.
Forest Skating Quebec – At night!
If you're looking to go forest skating at night, Lac des Loups skating offers an Evening by Torchlight experience. Wind your way through the lit up paths, and skate through the forest under the dark skies. Pre-registration is required and it's recommended that you book in advance as there are only 300 spaces available.
Mom Tip: Bring your payment confirmation to get your entry ticket upon arriving at Lac des Loups Skating.
Lac Des Loups Skating FAQs
Lac Des Loups Skating Tickets
If you're a guest looking to purchase Lac des Loups skating tickets, you can choose to buy tickets for the day or if you plan on going multiple times, invest in a season pass. Tickets are available in advance online by visiting their website.
Adults: $18 daily / $98 for the season
Children 6 – 17 yrs: $14 daily / $76 for the season
Snowshoeing / Walking: $10 daily / $40 for the season
Accompanist: $10 daily
(Taxes are included in the above prices)
Lac Des Loups Skating Hours
Lac des Loups skating hours start at 9am and are open until sunset. On select evenings the trail is illuminated by torches and open to the public. Reservations are required for night-time skating and tickets are limited to 300 guests. Check the website for available dates and details.
Lac Des Loups Parking
Free on-site parking is available. And since not many things are free these days I love that this is included in your forest skating experience.
Are there washrooms at Lac Des Loups?
There are heated washrooms at the main entrance by the rental shop. There are also outhouses located in two spots along the skateway — one at the beginning and another half-way through.
What temperature does Lac des Loups close?
If the outside temperature is above zero degrees celsius, Skating Through the Forest may be closed. Check the website to confirm before you go.
Who Owns Lac Des Loups Skating?
Dave Mayer, his wife Monique Robert and her sister Micheline who had an idea to share their piece of the forest with the public. By creating a labyrinth of skateways, 3 km long, through the natural world, they have provided a special experience for all ages to discover the serenity and beauty of the forest. 2024 will be their 8th season since opening!
Where to Stay
There are a variety of accommodations close to the Lac des Loups skating experience, here are our recommendations:
Moulin Wakefield Mill Hotel and Spa
The Wakefield Mill Hotel & Spa, a 4 star hotel in a converted 19th-century flour mill on the banks of the Gatineau River, is surrounded by 24 acres of forest. This unique hotel has a variety of rooms, offers getaway packages, spa and wellness services and is a 25 minute drive from Lac des Loups skating.
Book your stay at Moulin Wakefield Mill Hotel and Spa here!
La Grange Country Inn
This bed and breakfast is centrally located to many of the attractions and amenities, includes a free full breakfast, sauna, well appointed rooms, a playground and library. La Grange Country Inn is a great basecamp for adventures and is a 30 minute drive from Lac des Loups skating.
Book your stay at La Grange Country Inn here!
Nearby Adventures
Gatineau Park Nocturnal Snowshoeing Adventure & Dinner
Take full advantage of winter with this unique experience in the second most visited park in Canada! Enjoy this "starlight guided snowshoeing adventure in the Gatineau Park on trail #70 up to the Healey Shelter where a nice warm dinner will be prepared by your guide on the wood stove and served in the warmth and the tranquility of this beautiful and historical shelter."
Book your Gatineau Park Snowshoeing Adventure Tour here!
---
Want to see more? Check out the blogs below for more activities in Quebec!
Is this a sponsored post?: Yes while our skating through the forest Quebec adventure is sponsored, all views and opinions are our own.