Lorcan was a tall middle-aged man with shoulder length curly hair, black sunglasses, and the most welcoming big smile you've ever seen. With a longboard in one hand, he shook our hands with the other, and you could feel Lorcan's excitement as he was ready to take us out longboarding. He'd quickly turn our nerves into excitement too, we couldn't wait to start our longboarding in Ireland adventure.
The café in St. Columb's Park, Far and Wild Eco Adventure Company, and the iconic Walled City Brewery have partnered together to offer visitors to St Columb's a "Boom Boarding" tour. We started off at the café and would spend the next two hours perfecting our basic longboarding skills, and then travelling the streets of Derry down to the Brewery and then over Peace Bridge into town for lunch. This was a new adventure for me and I was excited to get my safety gear on and head out.
Learning to Longboard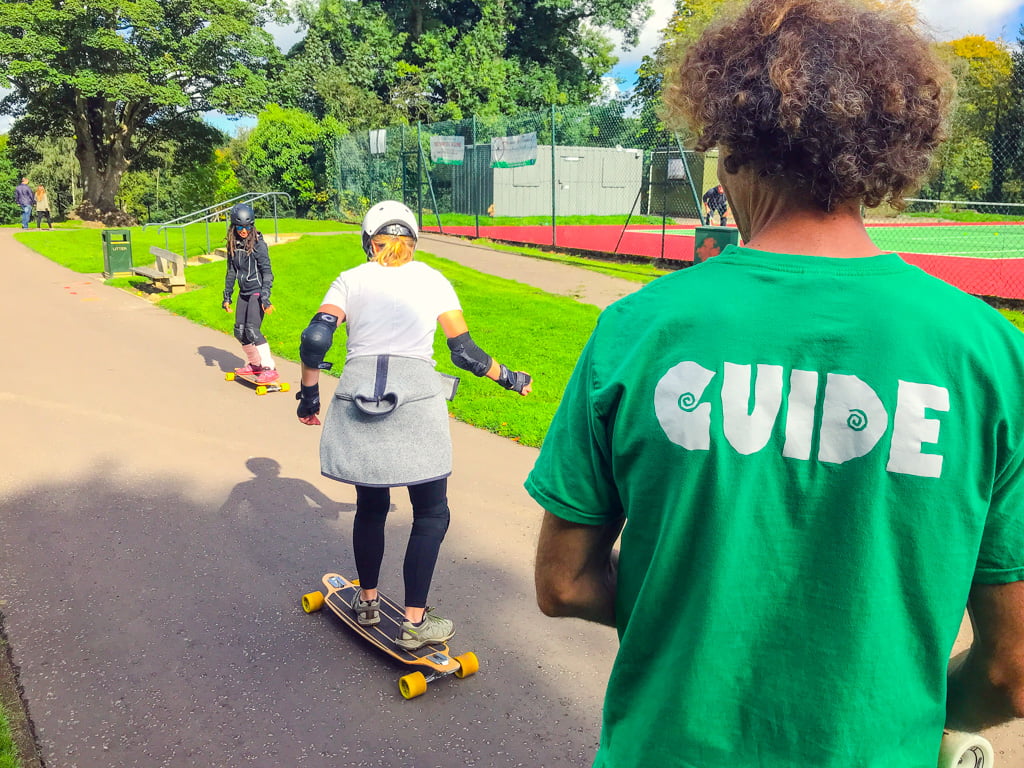 We started off our adventure on the flattest road you've ever seen. This was perfect of course because we first needed to learn how to stand on our boards, skate with them, and eventually stand and ride them. A very shallow slope uphill allowed us to gain confidence and skills and slowly move up the hill to practice our newly acquired skills like carving, pushing and stopping. Once our whole group was comfortable enough we were off!
Sweeping The Streets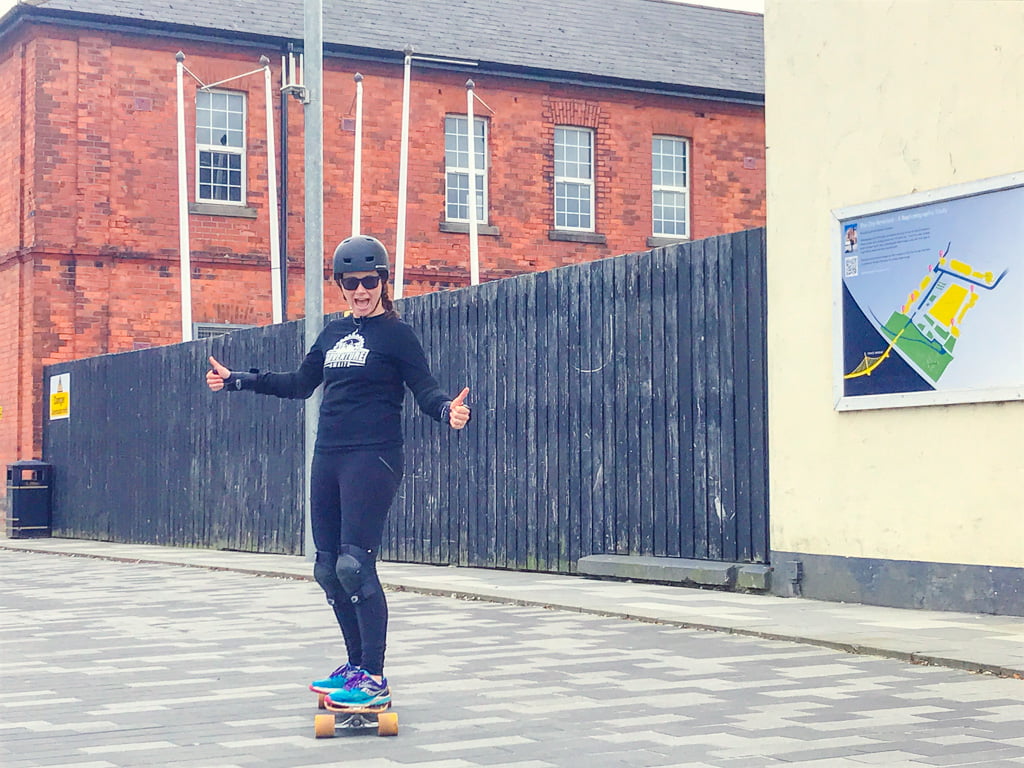 The city of Derry is filled with history dating back anywhere from 40 to 400 years. By being on the longboard we were fully immersed in the city, able to feel the cobblestone below our boards and seeing the buildings up close and personal. This also allowed us to partake in many quick stops to read the historical signs and check out points of interest. I highly recommend this method of transportation!
Crossing Peace Bridge
The iconic Peace Bridge was built in 2011 to physically connect the North and the South communities. Derry has suffered a 400-year history of a physical and political divide and this pedestrian bridge has exceeded all expectations. It has allowed members of both communities to pass freely between each other, encouraging shopping, entertainment, tourism, bringing down barriers, and creating a new peaceful community for the future.
Downtown Derry
We worked our way through the city streets all the way to the centre of Derry where we posed for photos in front of the beautiful Guildhall. We quickly became our own tourist attraction as people started taking photos of us! I guess a group of 5 women longboarding is quite the sight to see.
The Boom in Boom Boarding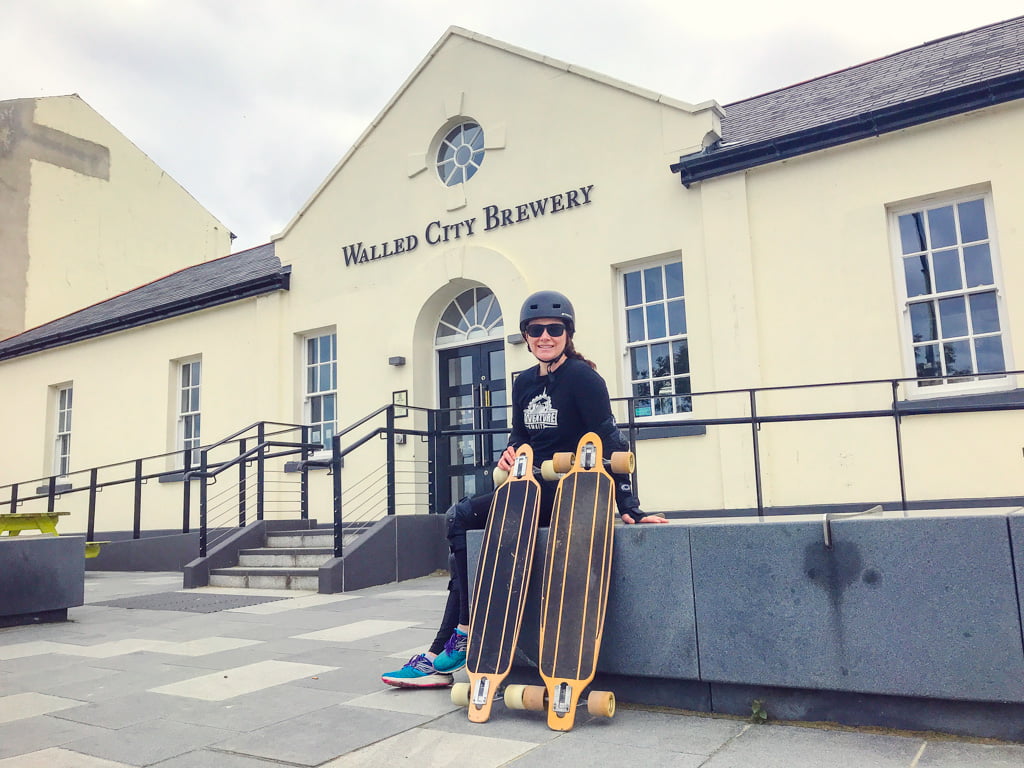 Longboarding came from Hawaii so you may be wondering why this is called a boom boarding tour! This is through a partnership with Walled City Brewery where the tour is on longboards but ends at the brewery for a Boom Derry Pale Ale, the signature beer of Walled City Brewery.
Swiss Model of Business
What I enjoyed most about Far and Wild Eco Adventure Company is their business model. Their goal is all about the development of people and the exploration and preservation of the environment. Longboarding is a great way to explore the city without having a negative impact on the environment, all while developing new skills and confidence within oneself.
Women on Wheels Program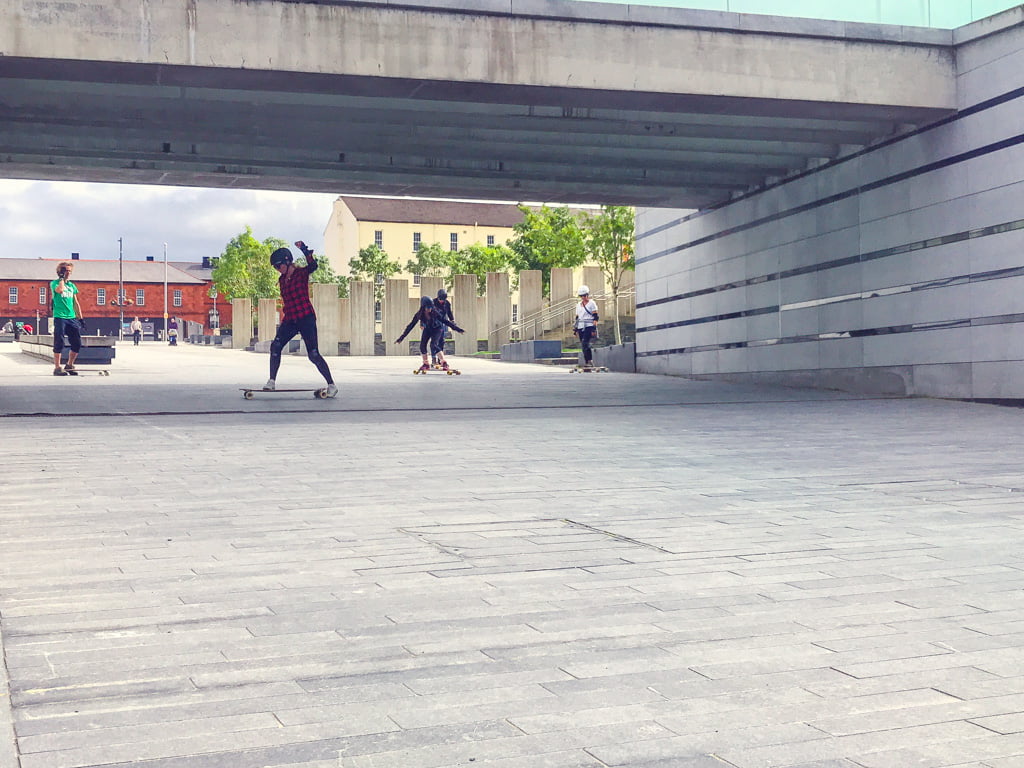 Sticking with their commitment to the development of people through sport, Far and Wild runs a program teaching women under 25 how to longboard. From teenage girls to young moms, women can sign up for the program and learn how to longboard, one day a week for six months. Lorcan was radiant as he shared the story of success and transition he saw within the women as they learned a new sport and developed confidence not only as riders, but also as women. The world needs more businesses like Far and Wild, and the world definitely needs more leaders like Lorcan!
If you're in Derry and want to book your own adventure with Far and Wild check out their website here.
Excited to learn more about Northern Ireland? Check out these articles for information and inspiration!
Is this a sponsored post?: Yes, but while we were graciously welcomed to partake in this experience by Tourism Ireland, all of our thoughts and opinions are our own.