I'd been anticipating this day for what feels like an eternity… staying in a bubble hotel has long since been a dream of mine, and it was finally happening. After a breathtakingly scenic drive approximately 35 minutes from Belfast, we arrived at the imposing iron gates of Finn Lough. After ringing to be let in, it was all I could do not to be overcome by excitement by this unique glamping opportunity. Here's my Finn Lough bubble dome review!
Finn Lough offers guests the choice between waterside cottages, lakeside lodges, catered suites, or their iconic bubble domes. This family-owned property is setting the new standard for accommodations in Northern Ireland offering guests a variety of accommodations with 5-star service and experience to go with it.
The Bubbles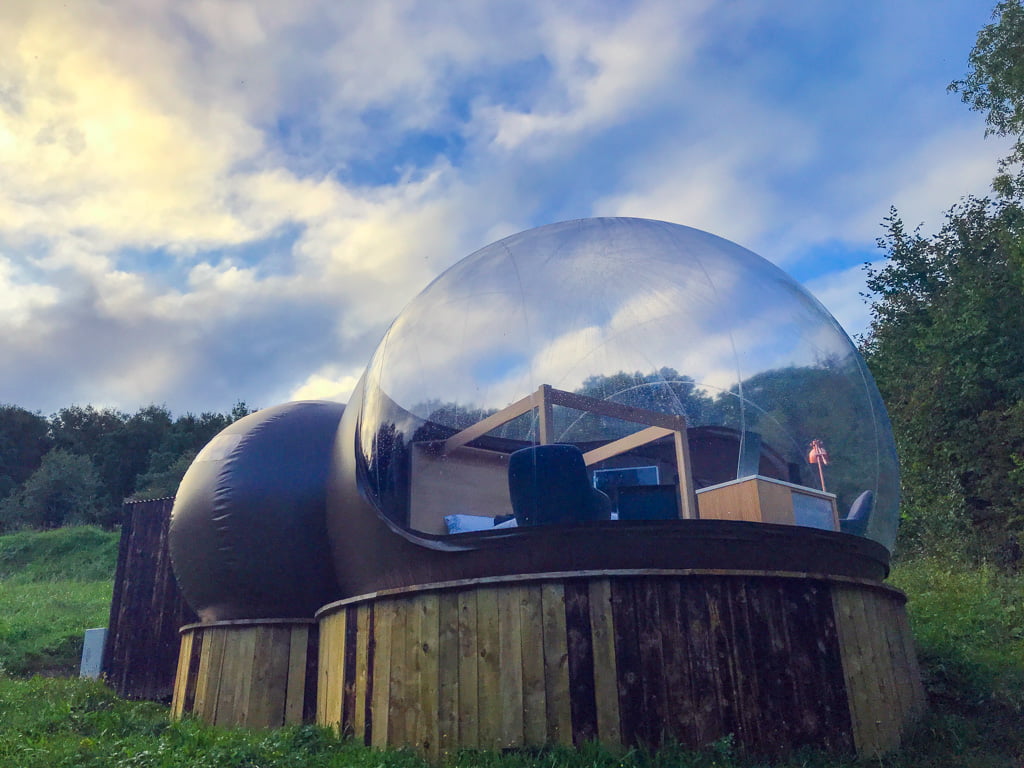 Located in a private forested area of the resort, you walk through the gated entrance down to your bubble. But don't run in and open up every door though, you need to learn a few lessons first! The bubble dome is kept inflated by air pressure and the entrance is an airlock chamber. Open both doors at the same time and you'll start deflating the structure!
Bubble Room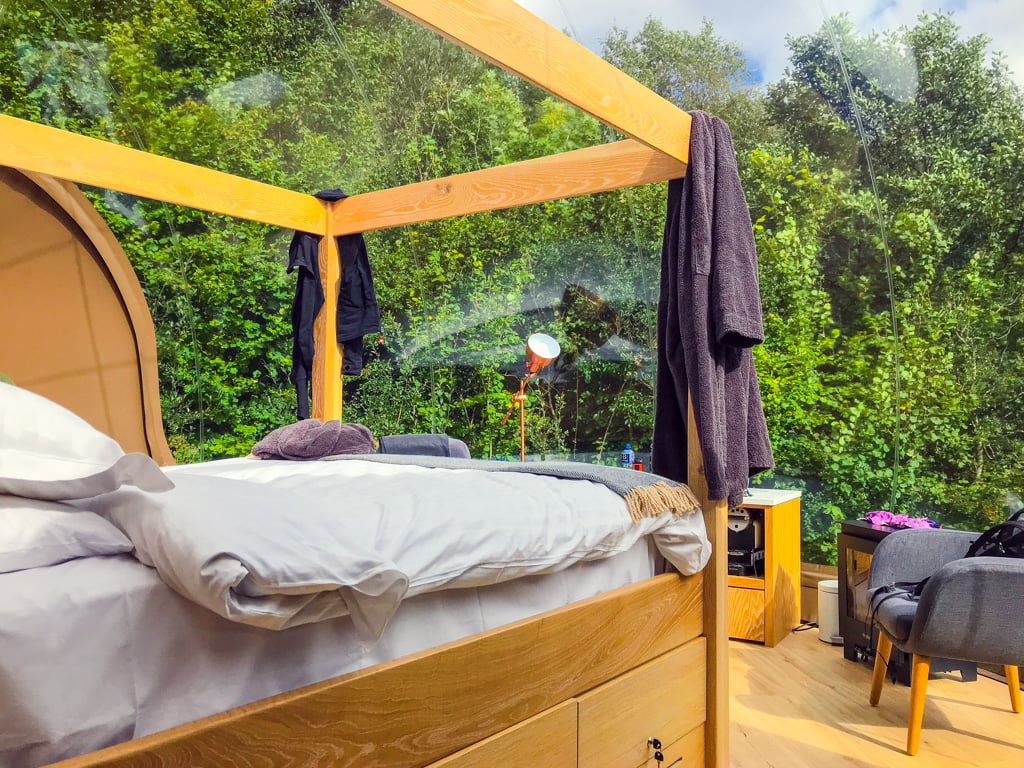 A comforting 400(ish) square feet await you with a queen size bed, two chairs, fireplace, coffee, and fridge. But you'll spend most of your time admiring the 180 degree transparent view that wraps completely up and around and over you!
Washroom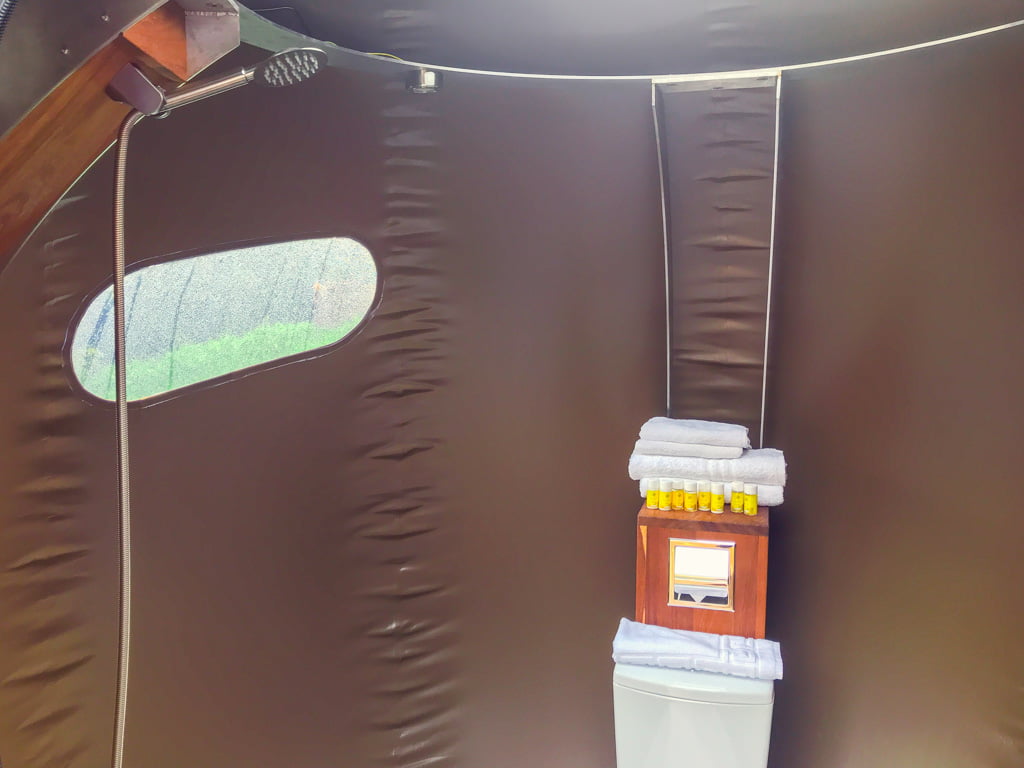 Guests will love the full shower, toilet, sink, and mirror in the bubble bathroom.
Warm & Cozy – Finn Lough Bubble Dome Review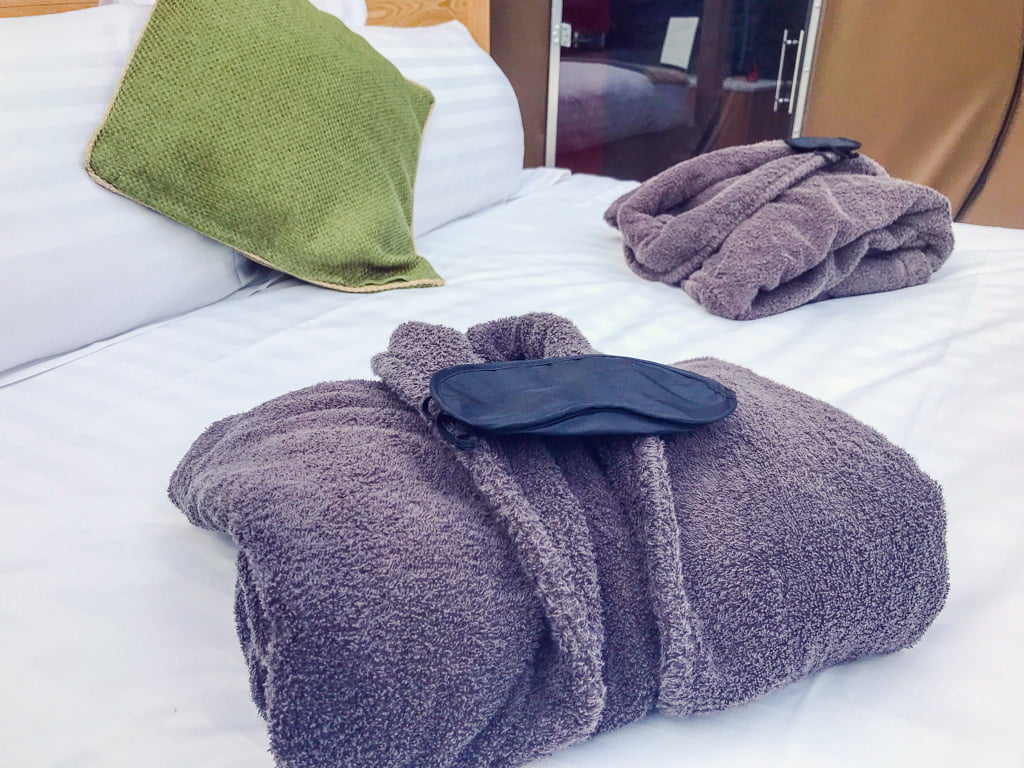 I loved coming out of my hot shower to find a fluffy soft robe waiting for me, and a warm fire keeping the bubble's temperature perfect. The best part? I had turned my heated blanket on before I hopped into the shower, so my bed was warm and toasty! This was the ultimate luxury glamping experience!
View From My Bed
I'm pretty sure this must be what heaven is like.
Finn Lough Bubble Dome Review – Resort Details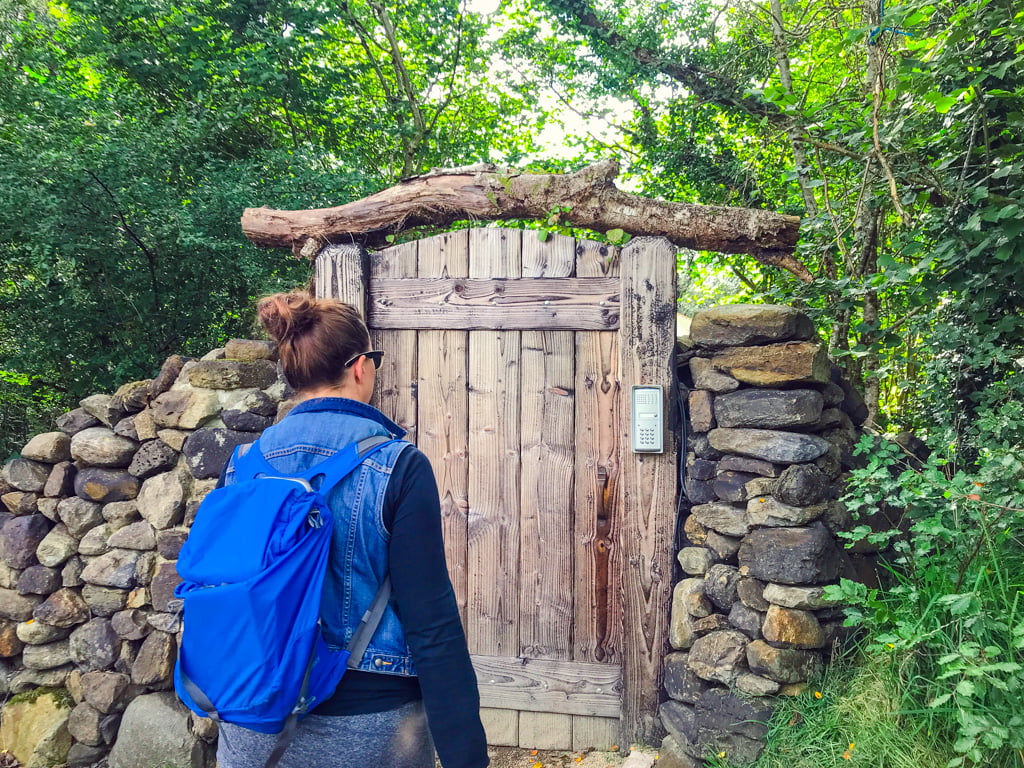 While I could have spent my whole stay hanging out and taking photos of my bubble, the resort had so much more to offer that I had to go exploring!
Biking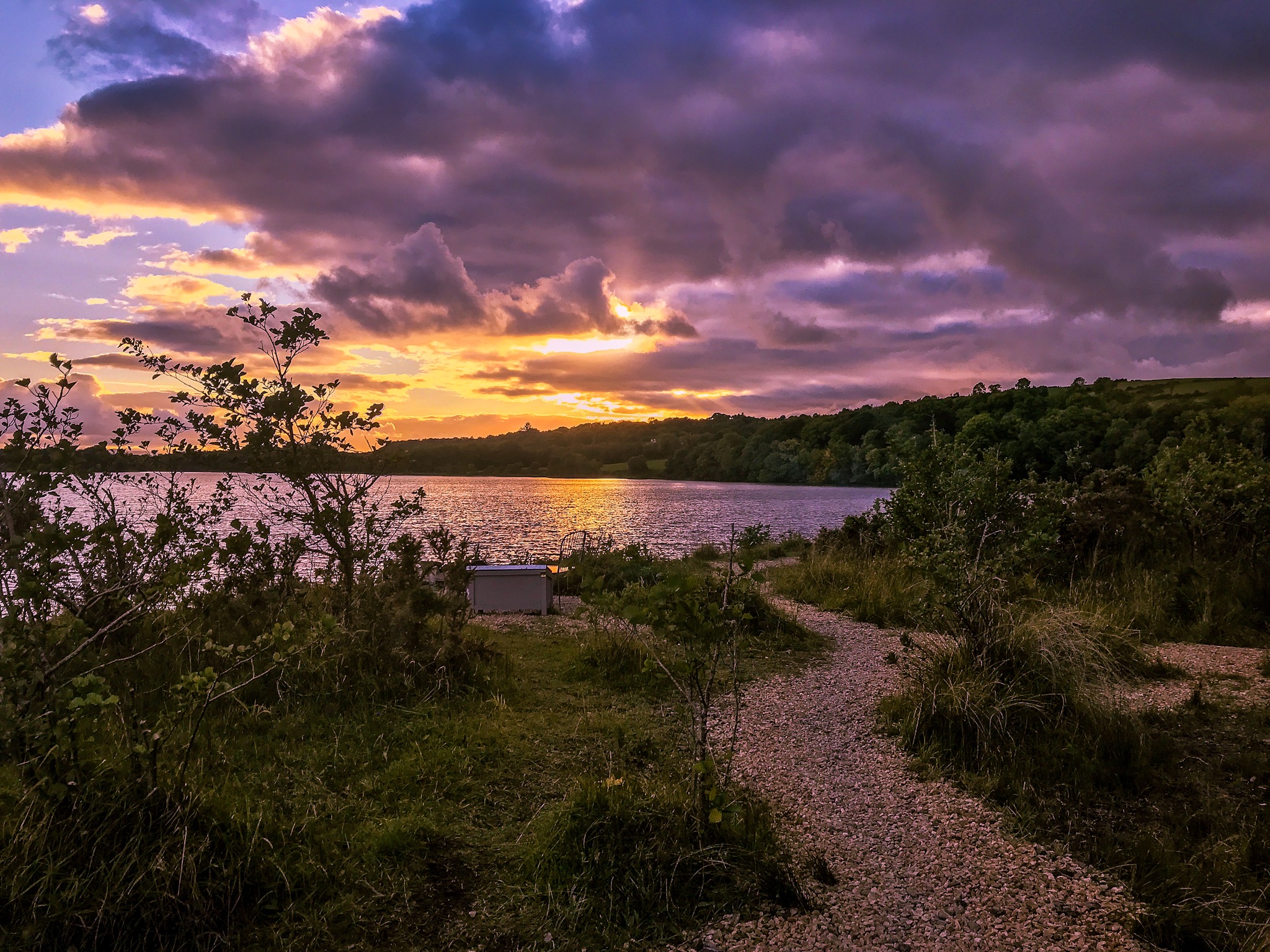 Whether you're into singletrack rides or want an easier loop around the lake, the resort has lots of bikes on hand that are free of charge for you to roam around the property on.
Walk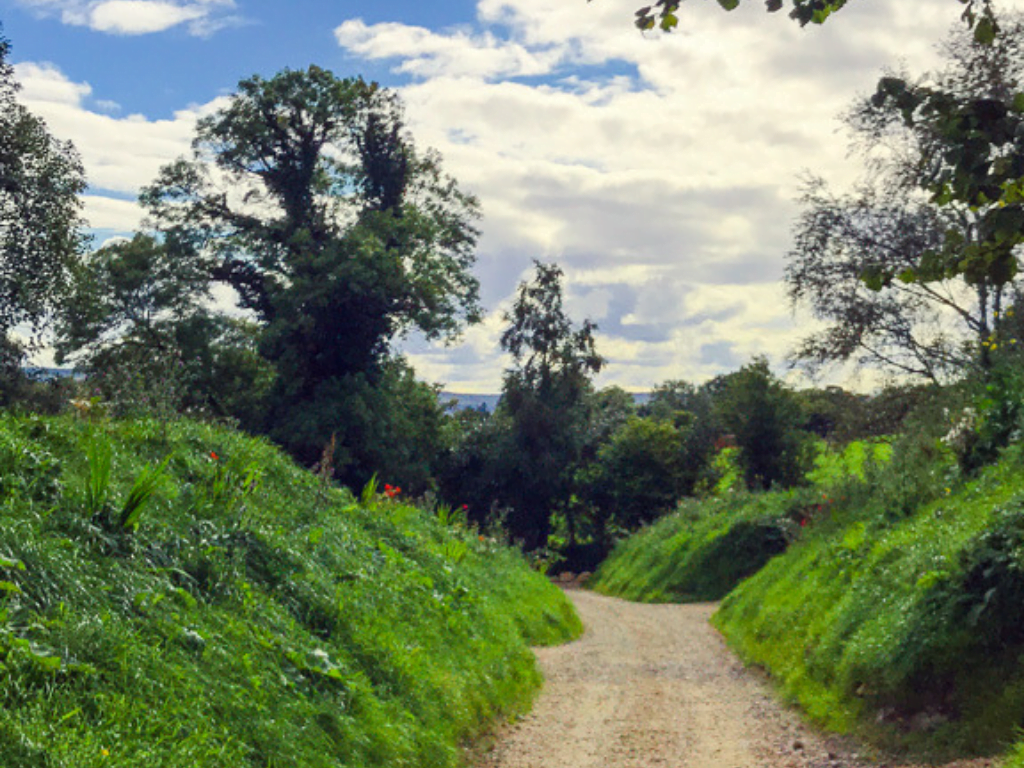 Take a stroll down the forested paths and wander through the iconic Irish green forest.
Lounge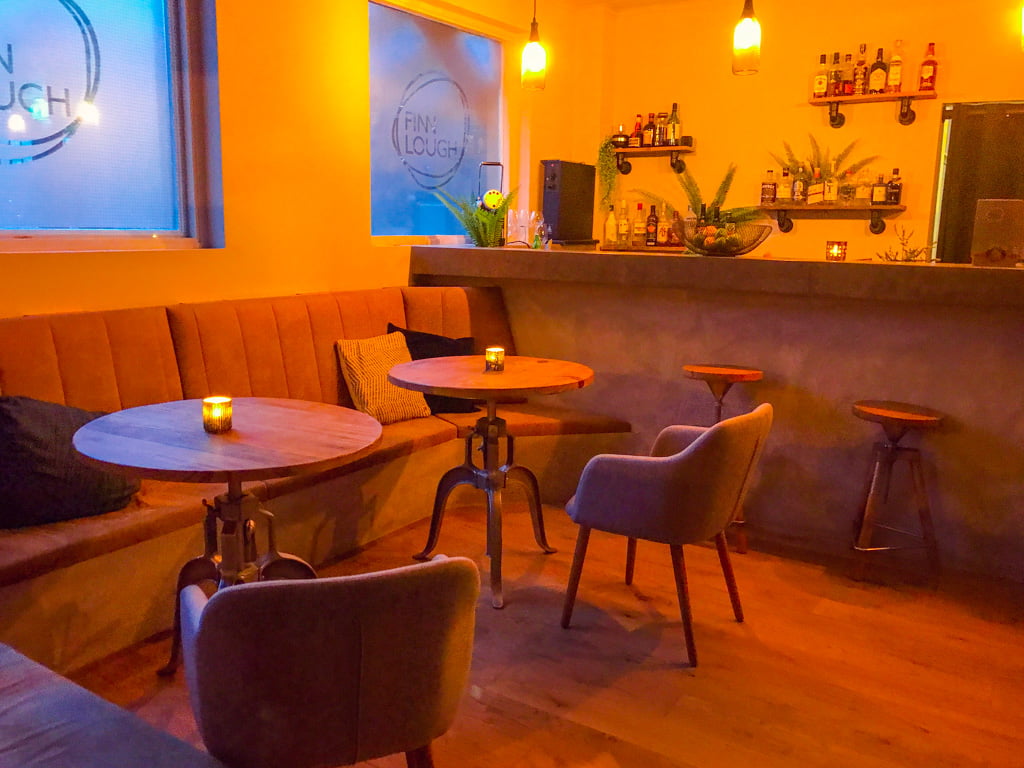 The reception area welcomes guests with a variety of Insta-perfect lounging areas. Whether you want to catch up and use the internet, grab a drink or meet new friends, the comfortable reception ensures you feel welcome. If you are travelling with others, the lounge is a great spot to spend time together, as seating for lots of people is limited in the bubbles. 
Gin Tasting
Splurge on a tasting and sample some of the best local gin that Ireland has to offer. A tutorial from the bartender will teach you all you need to know about each gin and exactly what you need to order to create your dream drink. Then all that is left to do is sit back and enjoy your cocktail… you didn't think Ireland was only proficient in Whiskey, did you!?
Fine Dining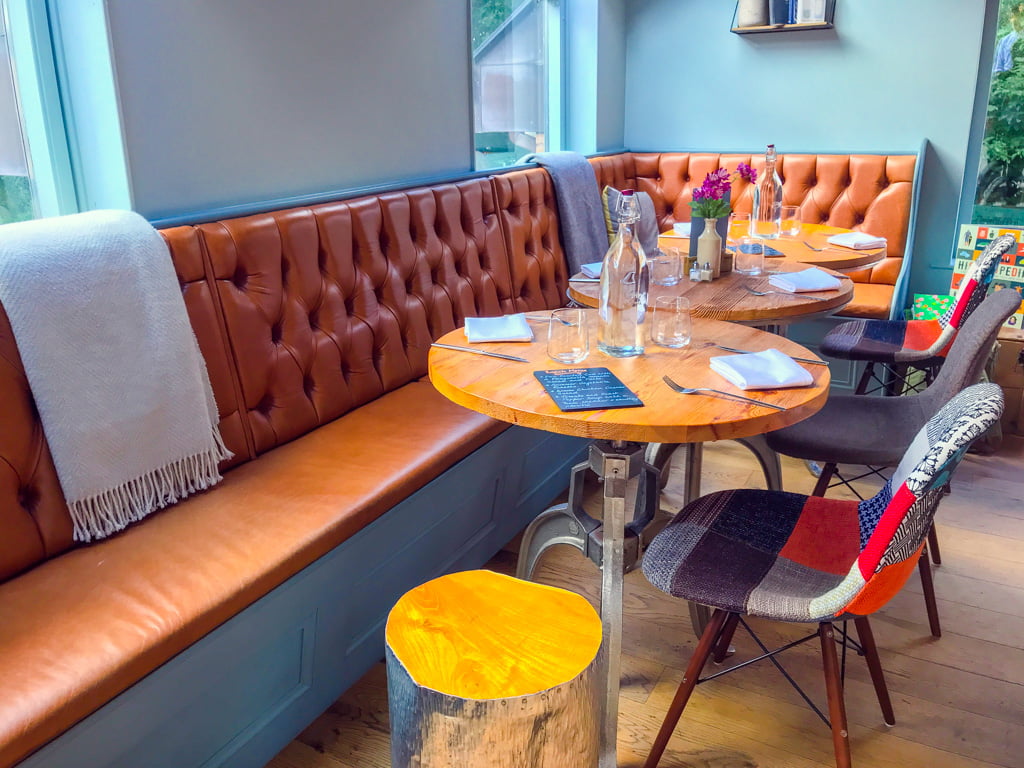 Upstairs in the main building of the resort, there is an incredible restaurant. It features scrumptious meals made with local fresh ingredients, and I felt spoiled with all the veggie, dairy-free, and gluten-free options that were available! 
Movie Theatre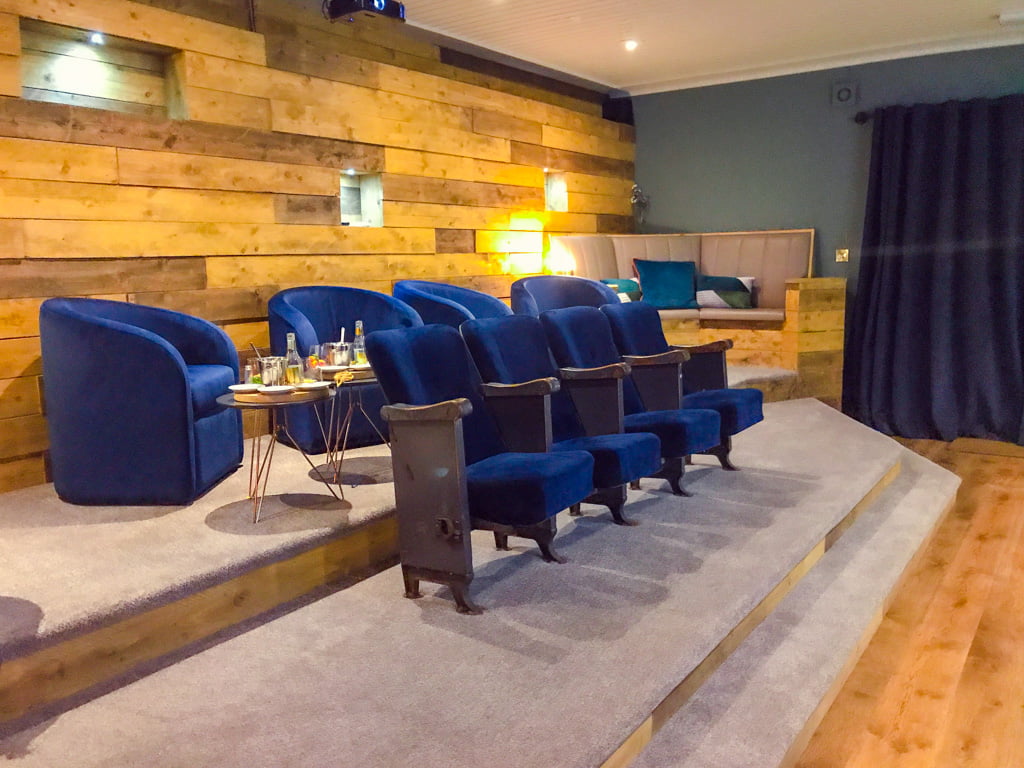 Want to hit Netflix and get some well-needed downtime? The beautiful theatre is made for guests to sit back and relax and enjoy a film.
Spa
Finn Lough offers guests a unique experience at their Elements Trail Spa. Guests will enjoy a 2-hour experience of walking through the forest stopping for different therapeutic services, enjoying each service for 20 minutes at a time.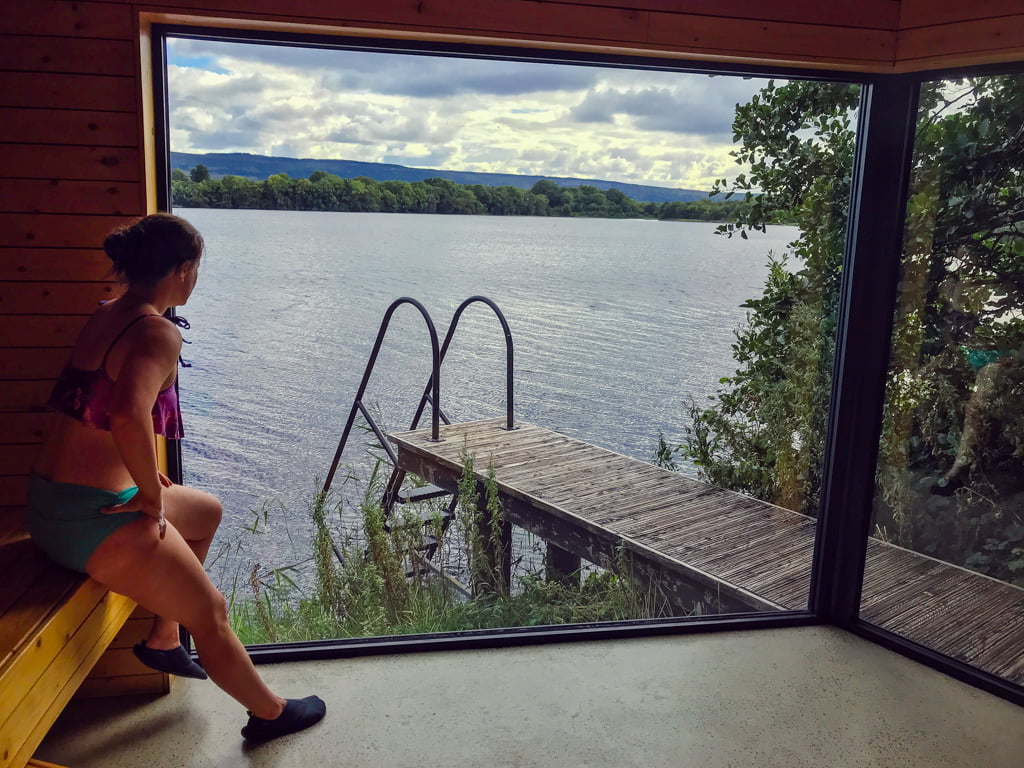 Enjoy the float bath, traditional Finnish style sauna (complete with the opportunity to cool off in the lake), an aromatherapy herbal sauna, a salt scrub station, a hydrotherapy hot tub, and relaxation and restorative station.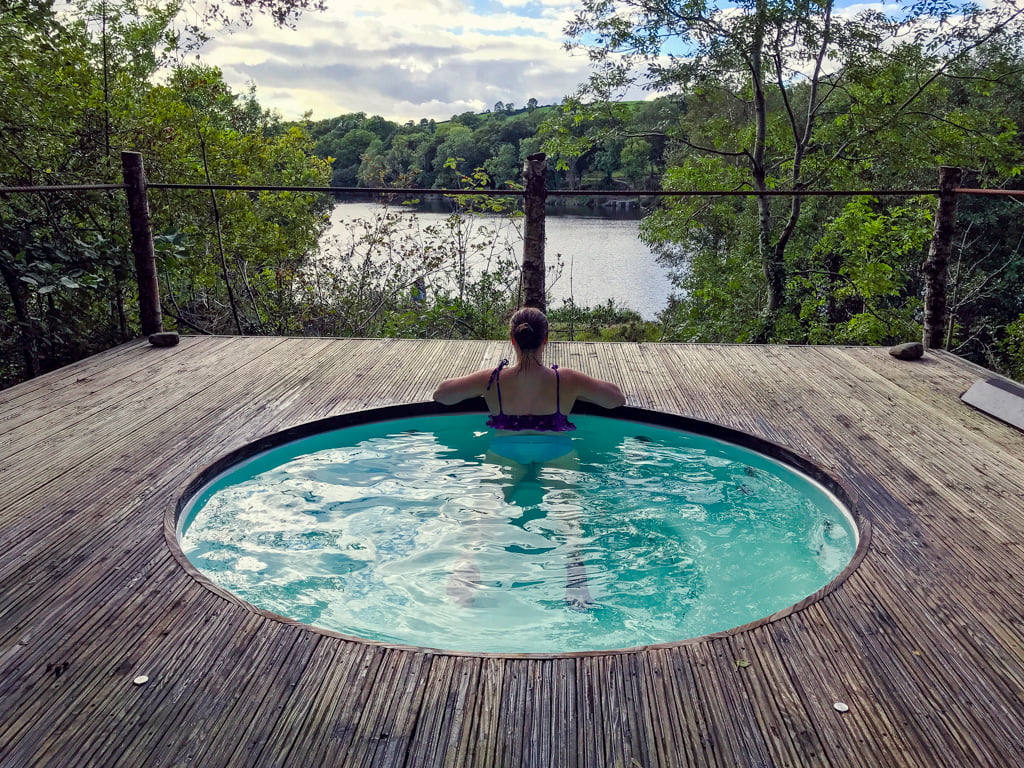 This spa was like nothing I have ever tried before. The combination of an intimate forest setting, with relaxing spa services that change in intervals, made for the ultimate in relaxation experiences.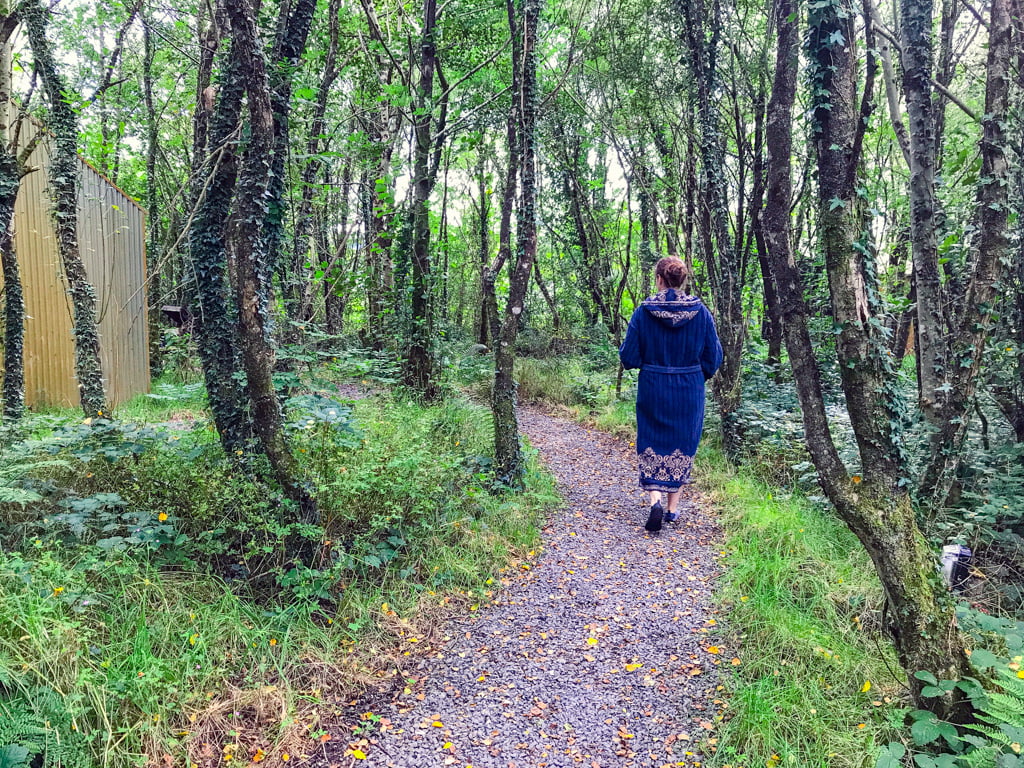 Walking away from the spa left me feeling rejuvenated, invigorated, recharged, relaxed, and reconnected with nature and my surroundings.
How do I summarize my stay at Finn Lough Resort? Even this writer is stuck for words that can capture the true essence of the experience at Finn Lough. A quintessential bucket list experience, a luxurious outdoor spa, world-class food, it was as if I was living an Instagram moment every step of my day. I left inspired by the owners' passion for their product and guest experience, in awe of the creative accommodations, and wowed by the sky full of stars I got to fall asleep under each night. I hope you enjoyed my Finn Lough bubble dome review, this was an experience I will never forget and that I will always look back on fondly.
Excited to learn more about Northern Ireland? Check out these articles for information and inspiration!
Is this a sponsored post?: Yes, but while we were graciously welcomed to partake in this experience by Tourism Ireland, all of our thoughts and opinions are our own.