"This is where we belong," she said, as she grabbed her backpack, and ran up to the hotel doors. As we drove into the village, my daughter could see mountain bikers, hikers, chairlifts, and kids running around. "Looks like there are lots of adventures for us to explore here Mom!" she said… yes, dear, you couldn't be more correct! There are lots of things to do in Sun Peaks Summer!
An outdoor mecca in the Winter and Summer, Sun Peaks is the perfect place for families looking to get outside and PLAY in the summer. The European village welcomes visitors and helps connect them with all of the amenities on the mountain. From a lift-accessed downhill mountain bike course, cross country mountain biking, 18 alpine hiking trails, with lakes and amazing views, to kid-centered zones, Sun Peaks is truly where a family like ours can go to work hard, play hard, and sit back and relax, after an adventure filled day.


Kids Zone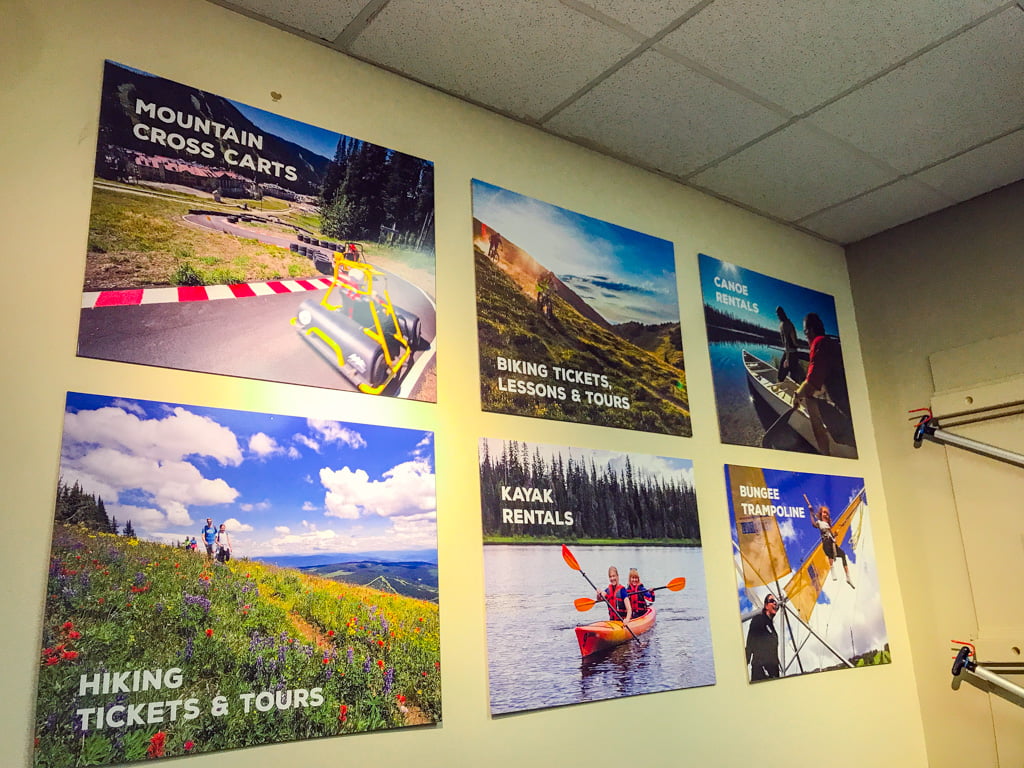 After we had checked into our hotel, we headed down to the Kids Zone, which was the perfect place for the kids to shake out their cramped car legs and get a taste of life on the mountain!

Gold Panning at the Tod Mountain Mining Co.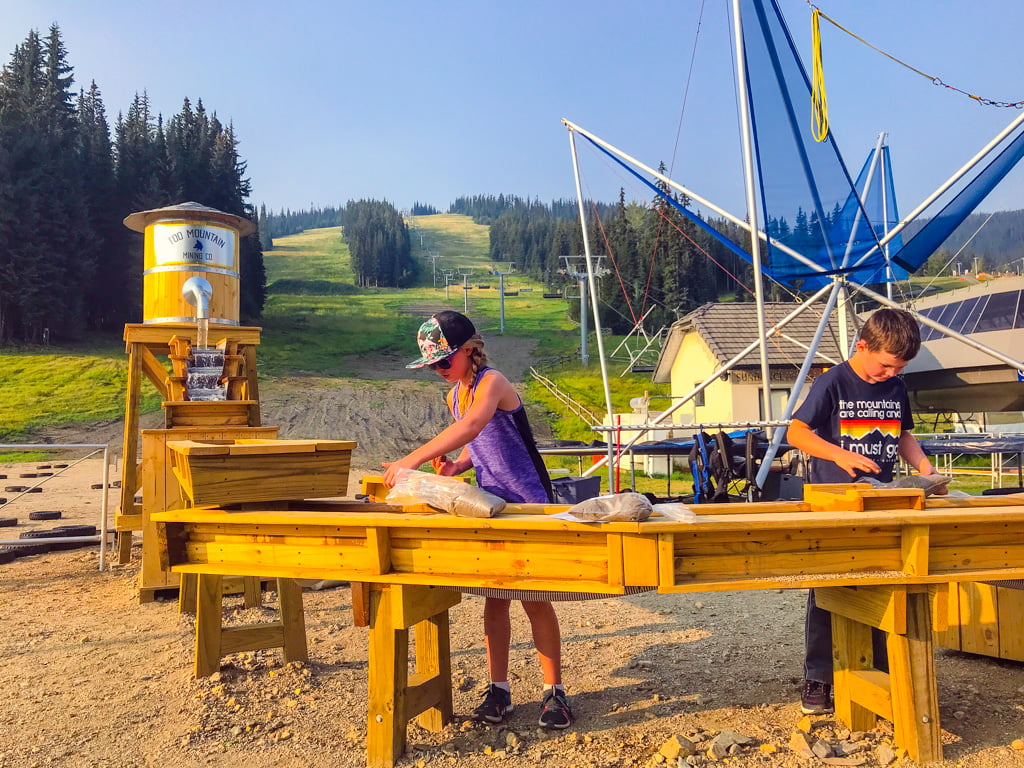 The first stop was gold panning, which ended up being one of the kid's favourite things to do in Sun Peaks summer! They were given a bag of sand and got to pan for jewels in it. Their treasurers included amethyst, aventurine, jade, and 18 other types of rocks. The kids loved collecting them and then coming back to the hotel, sorting them, and figuring out which each one was, by matching them up to the rock guide.

Trampoline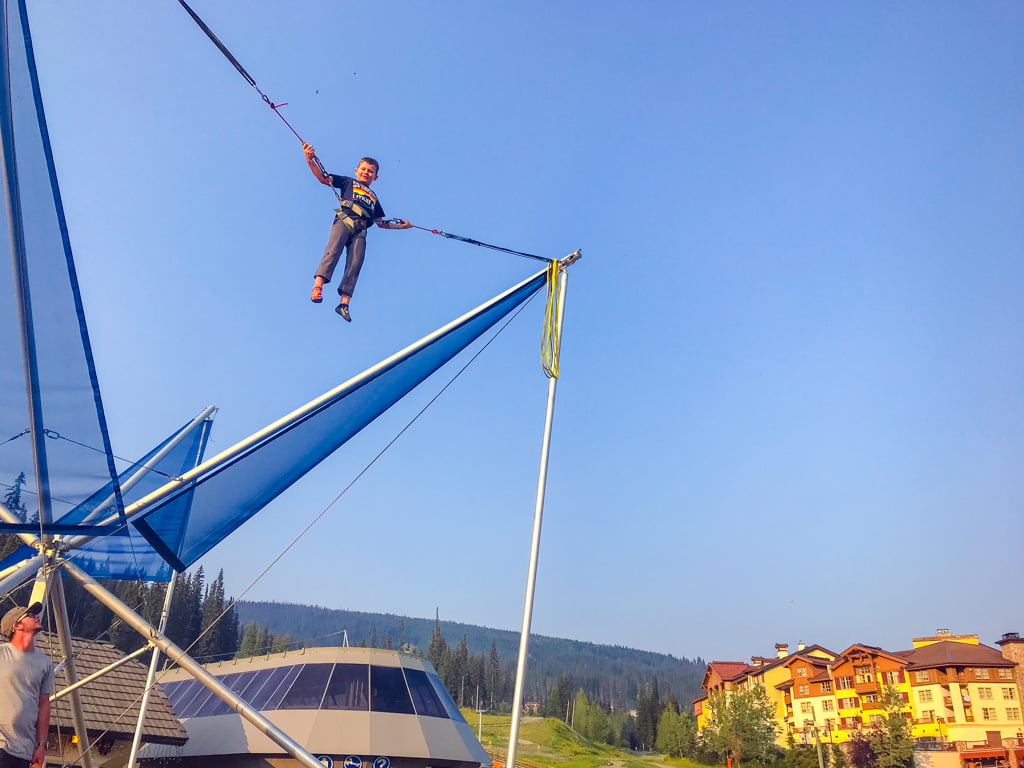 Next stop, was the trampoline, where my kids got catapulted (safely) into the sky. They loved soaring 20+ feet into the air and let out whoops and hollers that could be heard across the village!

Pedal Bikes on the Mini Cart Course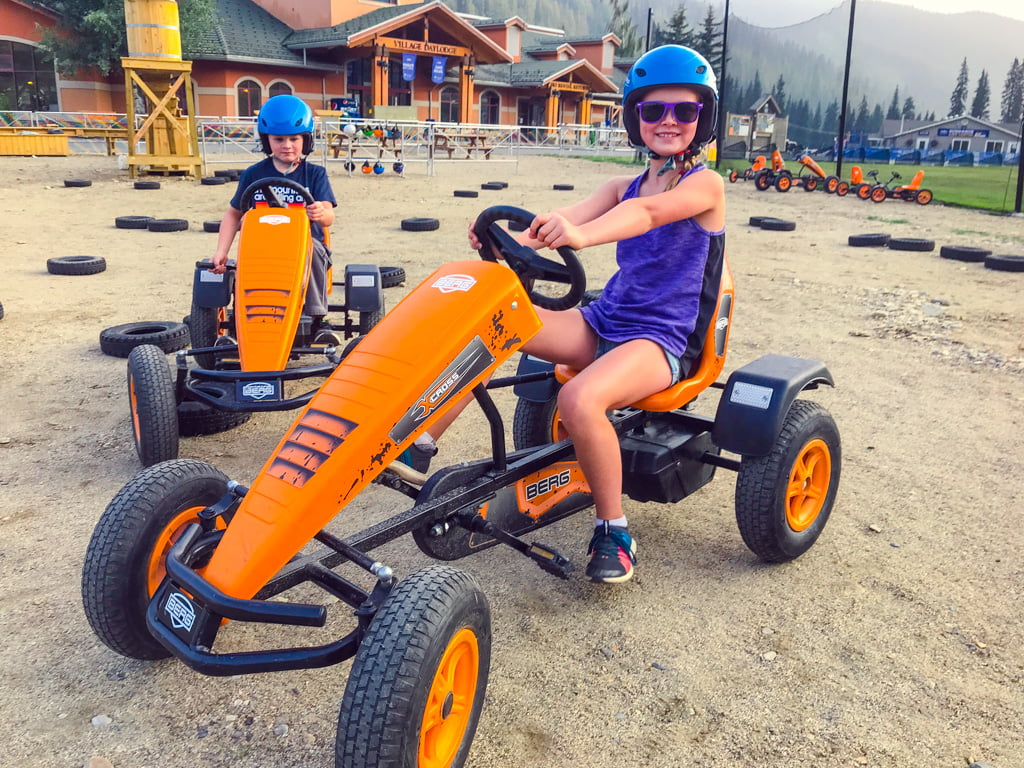 To end off our time in the adventure zone, we took over the pedal bike course. We had free reign and unlimited time to play (as it was later on in the evening, and no one else was there!), so we moved the course around and started timing laps. My kids played until their legs were sore! Mom win, as this meant that our next stop was the hotel hot tub and then bed!

Morning Mountain Bike Lessons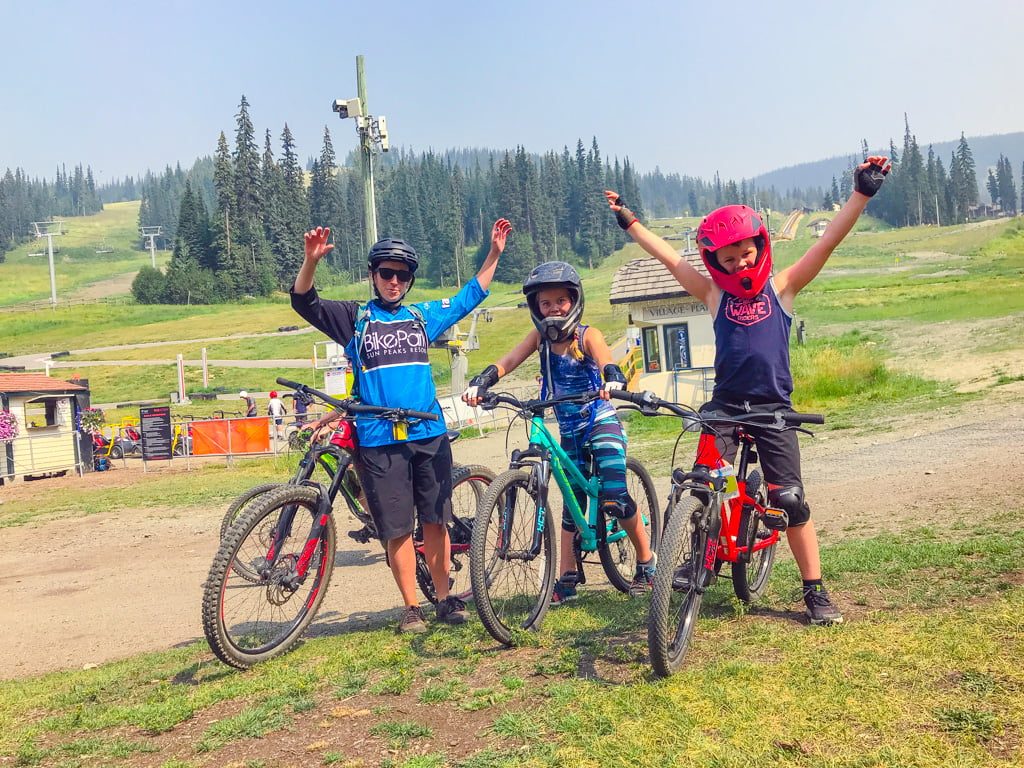 The next morning, we checked in at Elevation and met our Mountain Bike Instructor, Melissa. Melissa and my kids hit it off, and over the next two hours, Melissa helped my kids gain confidence and skills. My daughter went from being too timid to stand on her bike, to doing a one-foot drop! Check out our full story and video here.
Mountain Hike 
After some downtime and refuelling, we put our hiking shoes on and headed for a guided tour in the mountains. We took the sunburst chairlift up to Mid Mountain, 6000 meters above sea level. There were 18 hiking trails to choose from and we decided to take trail 2, which looped through the flora-filled mountainside. Fortunately, we had arrived to catch the end of the alpine blossom season, so we could still see lots of flowers in bloom, including Balsamroot, Indian paintbrush, and Arctic Lupine. The hike was family-friendly, with enough uphill that you're actually hiking, but gradual enough that the kids had time to recover too. Be sure to look out for wildlife, we saw lots of ground squirrels and birds!

Village Stroll
After the hike, the kids were ready to do a little shopping and I knew where their first stop would be… Sneaky Scallywags! This children's store has a great selection of pyjamas and novelty kids' clothing, as well as a very enticing jelly bean wall, stocked full of candy… the perfect sweet treat for after a hike!

I really enjoyed the overall vibe of the village, the winding walkway with the colourful four-story chalets on either side. At the top of the village, there is an outdoor game centre, where you can play ping pong, giant chess and bean bag toss!

Voyageur Canoe Tour
That evening we were scheduled to head out to McGillivray Lake, with North West Voyageur Canoe, for a guided tour in an authentic voyageur canoe. This experience allows guests to see first hand how our nation was first explored and discovered! We were also looking forward to wildlife viewing, including osprey, eagles, loons, beavers, and maybe some moose, bear, or even cougars. Unfortunately, we didn't get to take part in this tour, as the tour bus that we were joining had a flat tire and the host was working with them to assist in getting them back on the road. However, we had had a busy day and were okay with a night off… plus it gives us another reason to come back!

Where to Stay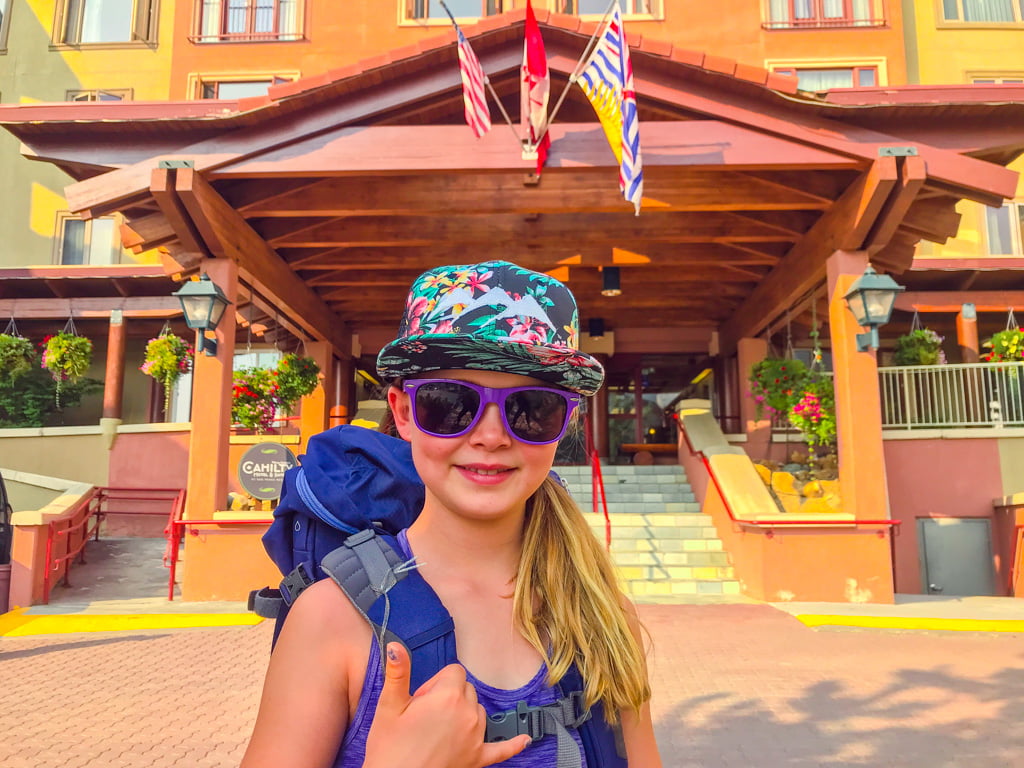 We stayed at Nancy Green's Cahilty Hotel & Suites, in a Family Suite. This family-oriented resort is centrally located in the village, allowing us to go back and forth to our room between adventures. Our suite essentially had two sides: one was the bedroom, which had two queen beds, and the other side was a full kitchen, living room, bathroom, and beautiful balcony, where the kids could play outside! I loved having a full kitchen, which allowed me to be able to cook full, healthy meals for the family. We loved winding down our days in the outdoor hot tub, just a few doors down from our balcony. The hotel is ideal for those looking to bike in and out in the summer (or ski in and out in the winter). It felt so much like home that the kids didn't want to leave!
Click here to book your stay at Nancy Green's Cahilty Hotel & Suites!
Speaking of not wanting to leave…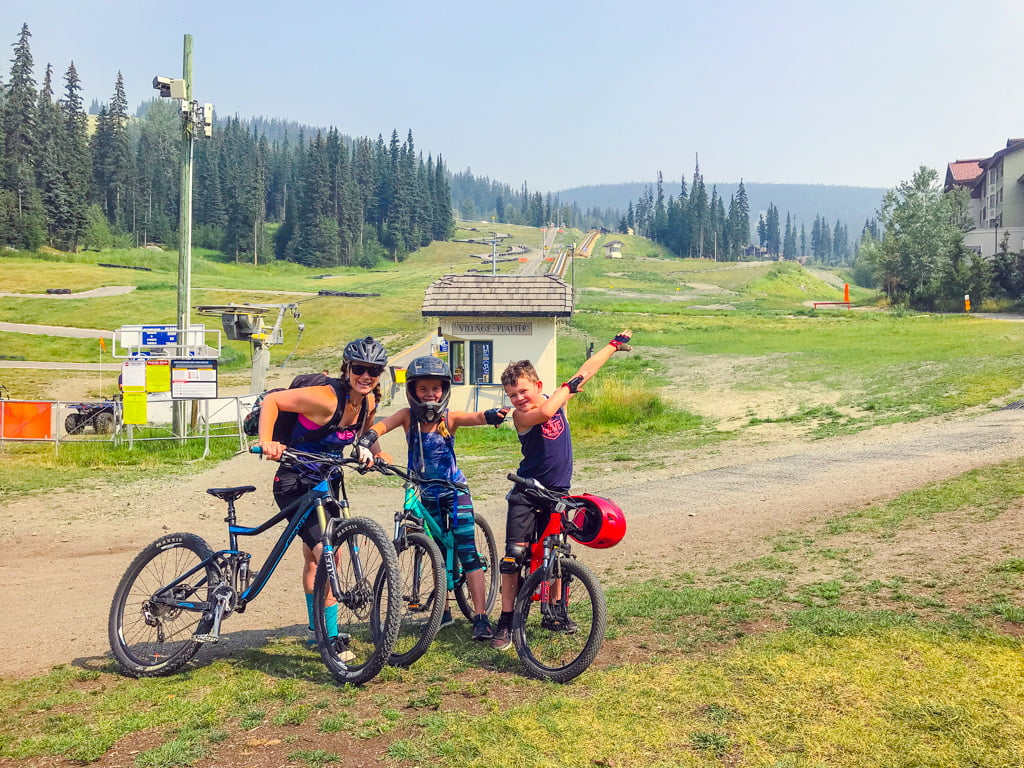 Our time at Sun Peaks was truly treasured. From the laughs in the kid's zone, to the new skills in the bike park, to the family time around the dinner table and relaxing in the hot tub before bed. While we came to explore a new mountain, we're leaving with so much more, and most importantly amazing memories.
If you're looking to plan your own trip to Sun Peaks visit their website.
Are you interested in more family adventures? Check out these articles.
Tunnels & Turtles SUP Tour in Vernon
Immerse Yourself in the Gold Rush Experience of Barkerville
Getting Real Close With The Raptors
Wild River Adventure Tours to Kinuseo Falls
Is this a sponsored post?: While we were invited to experience things to do in Sun Peaks Summer, all of our photos and opinions are our own.