It is no secret that Tumbler Ridge is known for its wilderness adventures, sprawling forests and many waterfalls. Being able to explore waterfalls, especially those off the beaten path, are one of the main highlights for visitors to the region.
Kinuseo Falls, a 30 metre spectacular waterfall on the Murray River, is one of the most popular waterfalls for visitors. Taller than Niagara Falls and part of the Monkman Provincial Park, these falls are an incredible natural wonder. Located 65 km south of Tumbler Ridge, these falls are vehicle accessible, but the majority of the drive is rough logging road. Plus, the viewing platform doesn't fully allow for a view of the falls, as you are up above looking at the water going over the edge.
So when we were invited to go on a jet boat tour to Kinuseo Falls with Wild River Adventure Tours, we knew we were in for an incredible adventure! Randy Gulick, owner and operator, started doing tours full time 4 years ago, but his first trip on the Murray River was back in 1996.
He fell in love with the river and the falls (he even had his wedding on the riverbank at the base of the waterfall!) and takes pride in sharing his love for the river with all his tour passengers. This family owned and operated tour is perfect for all ages and will ignite the excitement of everyone in your family!
Here is why this jet boat trip to Kinuseo Falls is not to be missed!  
The Boat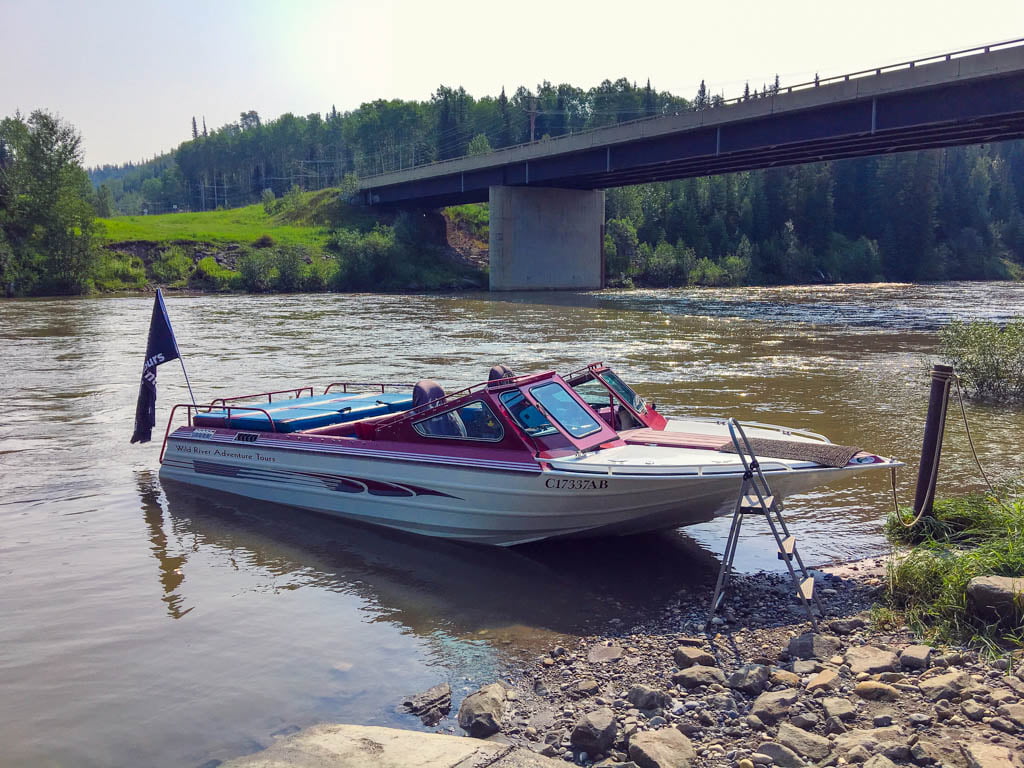 Equipped with twin V8 engines, this jet boat transports you smoothly and quickly up the current of the Murray River. Cruising past the many river islands, geological features, marsh areas and forested river banks, this boat ride is exhilarating! Hang onto your hat, because chances are, you will lose it!
Education
Randy takes the time to slow the boat down and educate everyone on board about the many different points of interest along the way. We learned about the rock formations found along many sections of the riverbank, saw  many mountain ranges and coal mining spots in the region.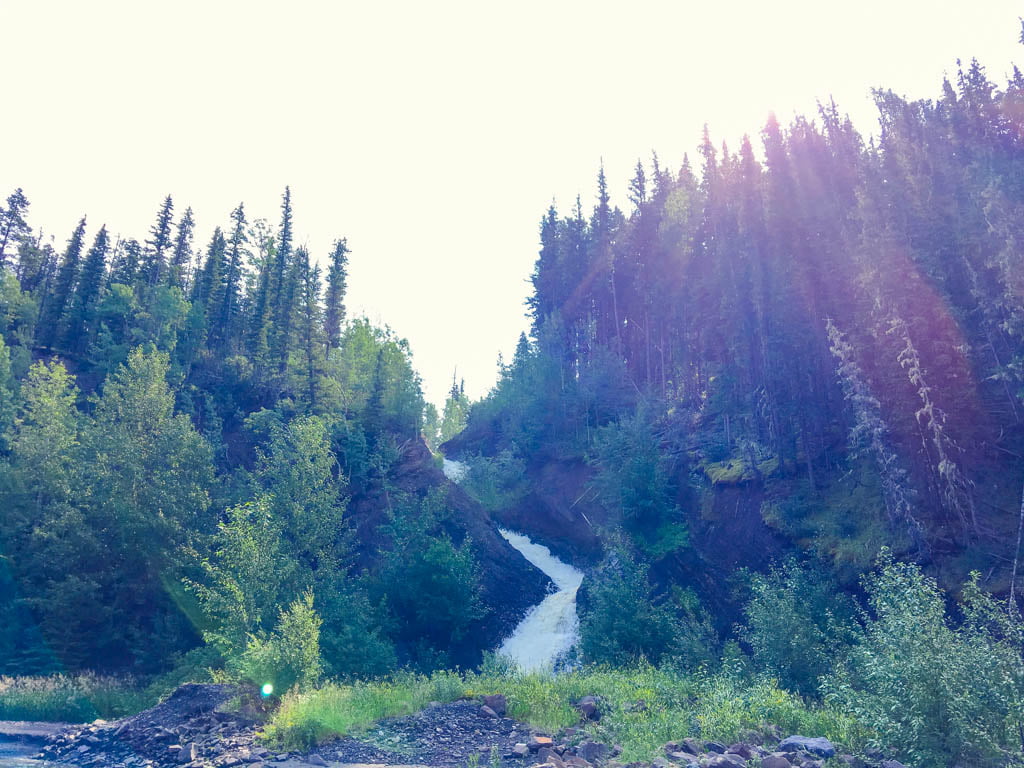 We even stopped at zig zag falls, a smaller, but just as beautiful waterfall that feeds into the Murray river.
Wildlife
The section of the Murray River that the tour takes place on, is remote and is mainly only accessible by boat. This ecosystem is home to Elk, Moose, Bear and a variety of birds and other animals. We were lucky to have witnessed a female Bullmoose on one of the many river islands. Randy explained to us that these soon to be mama bullmoose swim to the islands to have their babies. Predators are less likely to swim to the islands to try and attack. Therefore, these islands are safe zones for the moms to have their babies and raise them until they are big and strong.
The Falls
Coming around the corner and having the falls come into view left us completely awe-struck. The amount of water coming over the edge, the spray in our faces, the instant drop in temperature and the incredibly loud sound of the water crashing below took our breath away. Being able to be on the river and have these up close and personal views of the Kinuseo Falls is something out of a movie. There is no way you'd get to have this kind of experience from the top, being on the river made for the absolute best waterfall experience.
Lunch
On the way back from the falls, Randy docked the boat on the river's edge and we walked into our lunchtime picnic stop. This riverside beach area was equipped with a picnic table, kitchen workspace area and outhouse. Randy and his daughter quickly went to work preparing a riverside lunch feast!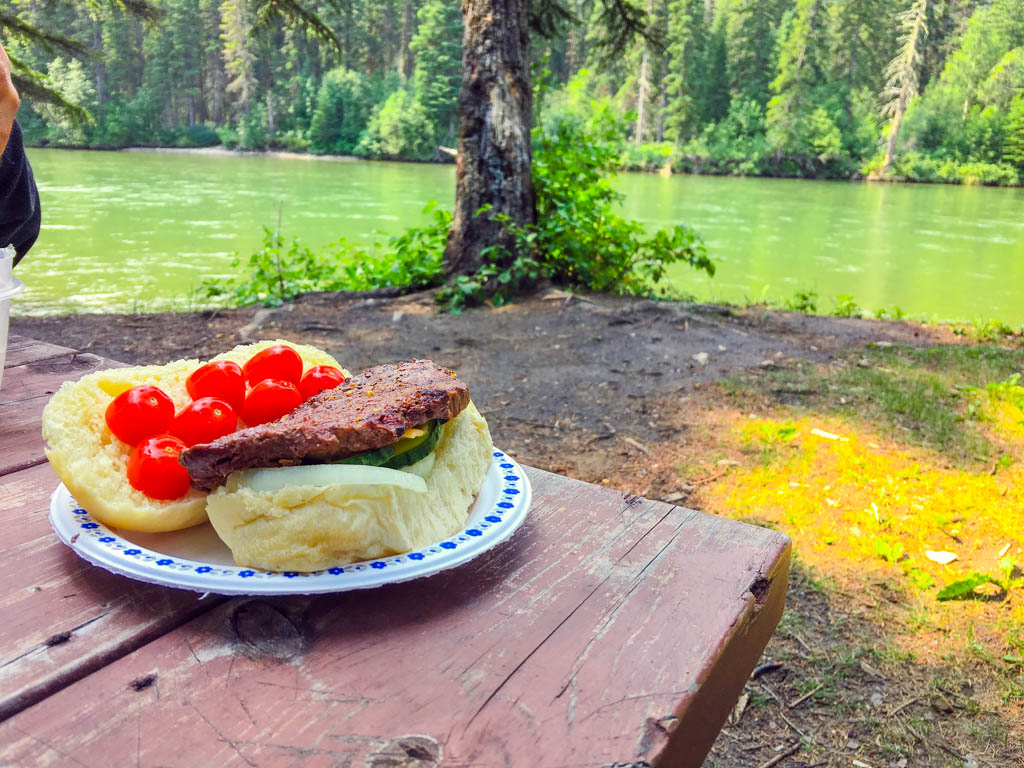 Randy grilled up the most delicious BBQ beef tenderloin on a bun and his daughter prepped wonderful veggie and fruit trays. Not only was the food absolutely to die for, but it gave us a chance to all sit down and chat about what we had just witnessed at the falls and learn more about Tumbler Ridge and his company and family.
Exceptional Service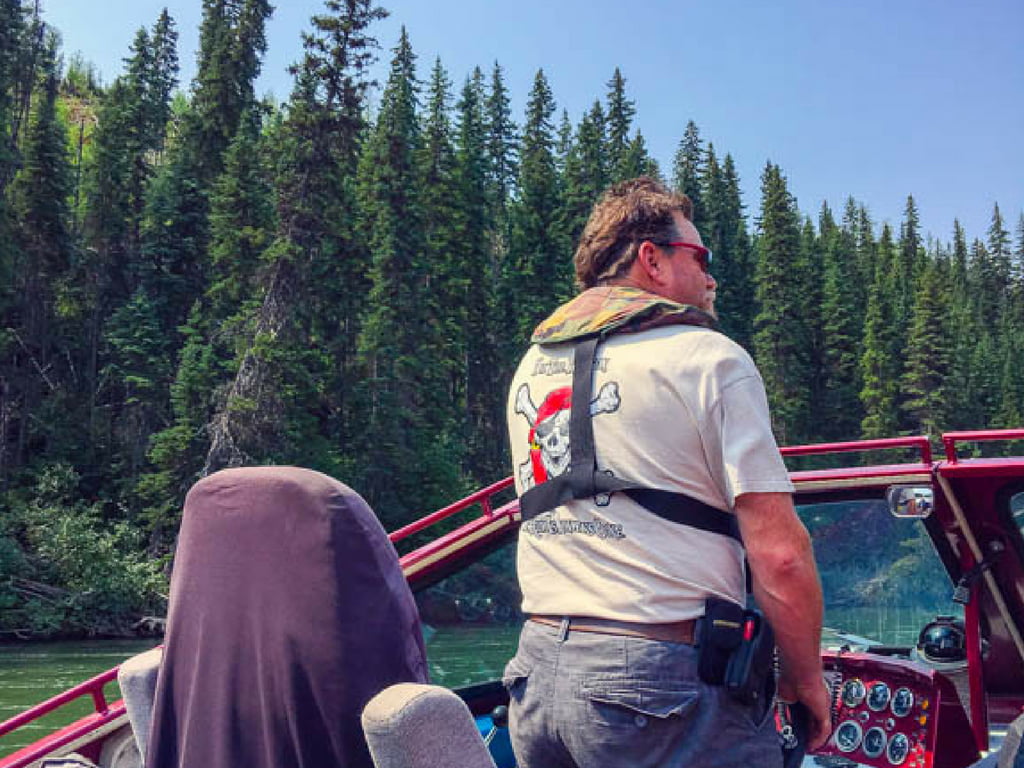 Having Randy as our captain and guide is what made this tour so spectacular. The pride he has for providing quality tours, all while supporting his family and the community of Tumbler Ridge radiates from him. Randy had a big smile on his face the whole time, you can tell he enjoys what he does and that gets passed onto his passengers as well. Wild River Adventure Tours ensures all passengers have a safe and enjoyable tour to Kinuseo Falls, an experience we won't soon forget.
A jet boat trip to Kinuseo Falls is one Tumbler Ridge experience you will want to add to your bucket list!
Mom Tips:
If you are going to wear a hat, make sure they have straps, it gets very windy on the boat.

Wear sunscreen! Traveling quickly on the boat makes it feel cooler then it actually is, often making you forget you are burning.

Wear closed toe shoes, it will make getting in and out of the boat safer and easier.

If you are looking to experience a tour of the back country areas of Tumbler Ridge, Wild River Adventure Tours offers guided Jeep adventures too!
Are you interested in more amazing adventures? Check out these articles to learn more.
Immerse Yourself in the Gold Rush Experience of Barkerville
Hot Springs, Hiking, and Humpbacks in Tofino
Is this a sponsored post? While we were graciously hosted by Wild River Adventure Tours, all of our experiences, photos, and opinions are our own.