Canada is world-renowned for it's breathtaking scenery and stunning landscapes. With 9.9 million square kilometres of forests, mountain, rivers, streams and rolling hills to explore, Canada has somewhere for everyone. Experience glamping in Canada now!
If you love the outdoors but aren't a fan of "roughing it" in the bush, we've put together a list of glamping in Canada options for you to try instead.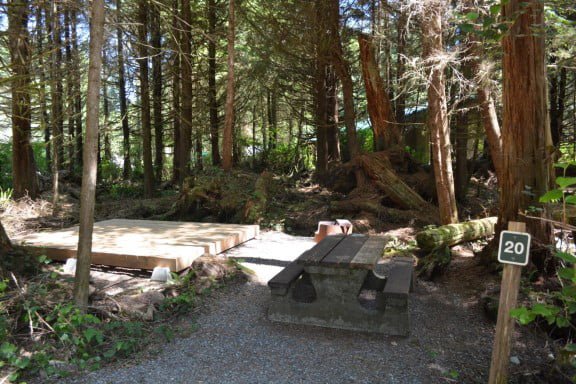 This park has 20 reservable "walk-in" sites that provide all camping amenities for those who want to camp without the packing or investment. Walk-in sites contain a tent, sleeping pads, a stove and lantern. The site also sports flush toilets and cold water taps.
The Fort Langley National Historic Site on Canada offers the oTENTik experience with all amenities included – with a twist. Not only do they provide a strong canvas overhead, beds and bedding, comfy seating, an electric fireplace, a mini fridge, and more, but the Fort Langley oTENTiks come in 5 different historical perspectives: First Nations, Hawaiian, French-Canadian Voyageurs, North American Gold Prospectors, and a Scottish Boat Builder's Tent. Your glamping experience can be different every time you visit. For those who have mobility issues, the Hawaiian tent is also wheelchair accessible. Enjoy the beauty of a beloved national park with the conveniences of modern living. There is also easy access to a grocery store, restaurants, cafe, and casual biking/walking trails. Activities in the area range from learning to build a barrel, berry picking, wine tours, bike rentals, and the Greater Vancouver Zoo.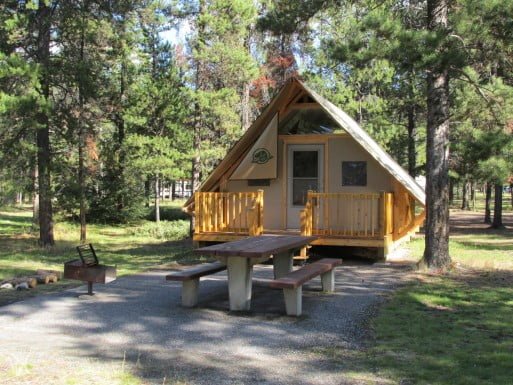 Book a spot in one of Whistler's "oTENTik" tent sites to enjoy the coziness of a tent mixed with the comfort of a cabin. A mashup of a tent and a chalet, oTENTik lodging is for those who love the outdoors but also love a bed with a mattress. The canvas cover and wooden floor and frames make these lodgings ideal for glamping in Canada. Each oTENTik has 3 beds and can house up to 6 people.
Banff and Lake Louise are packed full of hotels, hostels, and B&Bs. If you're looking for a glamping in Canada experience, try any of the backcountry lodges that bring you off the beaten path and to a cozy log cabin, fully furnished for your comfort.
Book early to claim a spot at Astotin Lake, where fully equipped campsites are available to visitors. These hassle-free sites offer the following amenities for your convenience: tent, sleeping pads, dining shelter, camping chairs, propane stove, lantern, and cooking gear.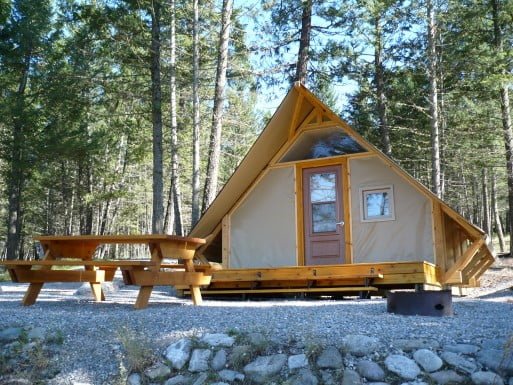 Not only can you visit the luxurious Radium Hot Springs, Kootenay National Park also offers oTENTiks in it's Red Streak Campground. They only have 10 spots available for this high-end camping option, so be sure to claim a spot before they disappear.
For a truly unique experience, you can book a spot in one of the 5 tipis available in the Crandell Mountain Campsite. If you want to do this though you can't do it through the Canada Parks Reservation system, you have to call the Waterton Lakes Tourism Office and book directly with them. See more pictures and activities from our trip to Waterton Lake:
Waterton Lakes National Park – A treasure every Canadian should get to explore
Red Rock Canyon – An amazing MUST SEE day trip in the park
Bears Hump Hike – A world-class view awaits you after this short but challenging hike.
Another option is to visit the Cameron Lake Cabin as hosted by The Alpine Club of Canada. A beautiful, rustic interior is fitted with all modern conveniences and amenities for your comfort and use in the heart of a gorgeous, serene forested environment.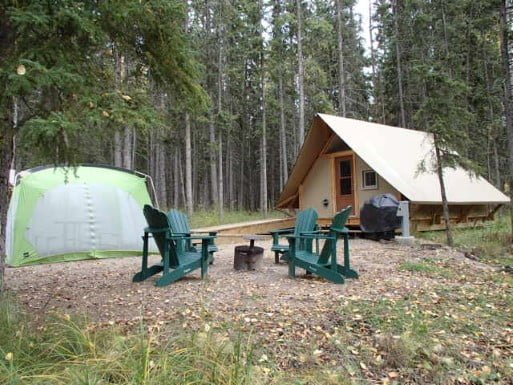 Like many of the parks listed above, Prince Albert offers oTENTik camping experiences. Check out their oTENTik cabins at Beaver Glen Campground. These oTENTiks sport 3 sleeping platforms, 2 queen-sized and 1 double. It also offers propane heating.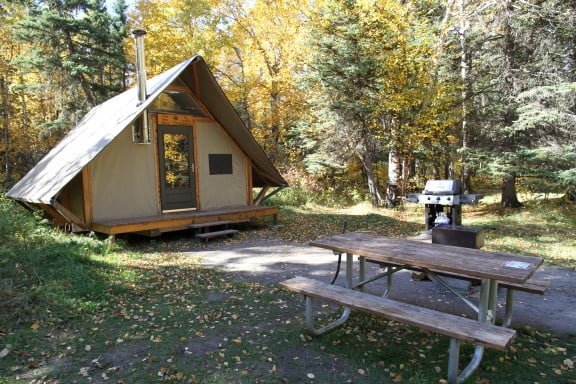 Enjoy the circular tents, called "Yurts" and traditionally used by nomads, at Asessippi Provincial Park or Rossburn. Or, for a different POV, why not try a "vacation farm" like the 9 Finger Ranch in Rossburn, Campbell's Angus Ranch B&B in Onanole, or Wild Berry Lane B&B in Roblin.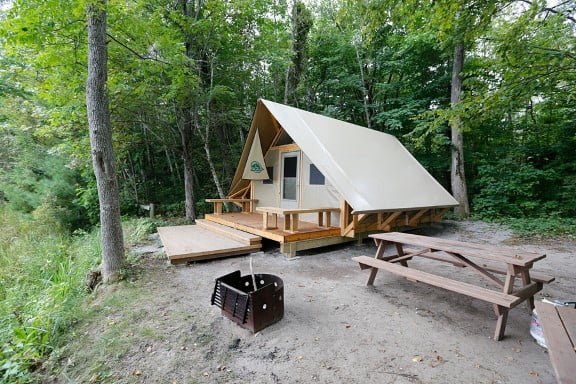 Visit beautiful Beausoleil Island to stay in the oTENTiks in Cedar Spring campground. The 19 X 24 ft wide tents are spacious enough for families or small groups to stay together in one quiet, cozy location. The fee you pay includes boat transportation to the island, too.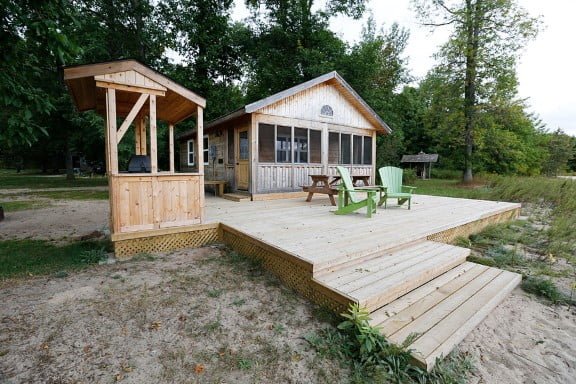 Looking for something more deluxe? The Cedar Spring and Christian Beach location offers rustic cabins right on the water! These three bedroom fully equipped cabins allow you to "rough it" in style.
There are plenty of prime spots in this park for the convenience-oriented camper. Try the oTENTiks in Mistagance Campground or Rivière à la Pêche Campground Campground. Both campgrounds have access to flushable toilets, as well.
The Des-Rosier Campground has 8 "basic package" oTENTiks available, which come with a table, chairs, bed and lighting—the basics. Or, "ready-to-camp" oTENTik packages at Petit-Gaspé Campground, which include the basics listed above plus added furniture, heating, electricity, dishes and utensils, a small fridge and side-burner.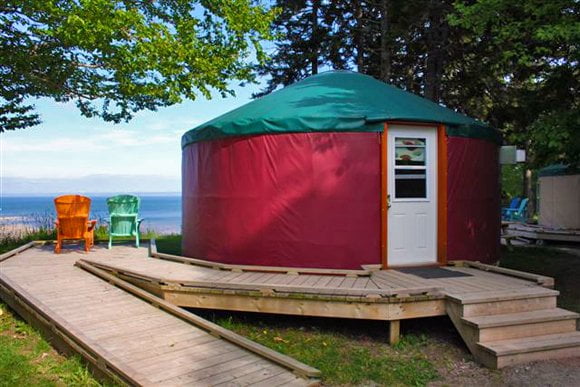 Fundy National Park is one of the few parks that offer Yurts as a form of accommodation for guests. Based out of the headquarters campground, Yurts are a circular abode with insulated walls. They are comfortable for guests providing a propane stove for warmth but windows to cool you down in the summer. Campsites come with the yurt (one single-over-double bunk bed and one double sofa bed with mattresses) propane heating stove, three solar-powered lights, deck, picnic table, and deck chairs.
Want to try the oTENTiks instead? Check out the oTENTiks campgrounds at Headquarters, Chignecto and Point Wolfe if you want a fully loaded site with beds, chairs, a propane heater, solar-powered lights and more. Fundy's site recommends that you bring your own sleeping bags, food (goes without saying, I'm sure), cooking gear, dishes, slippers and matches/lighter.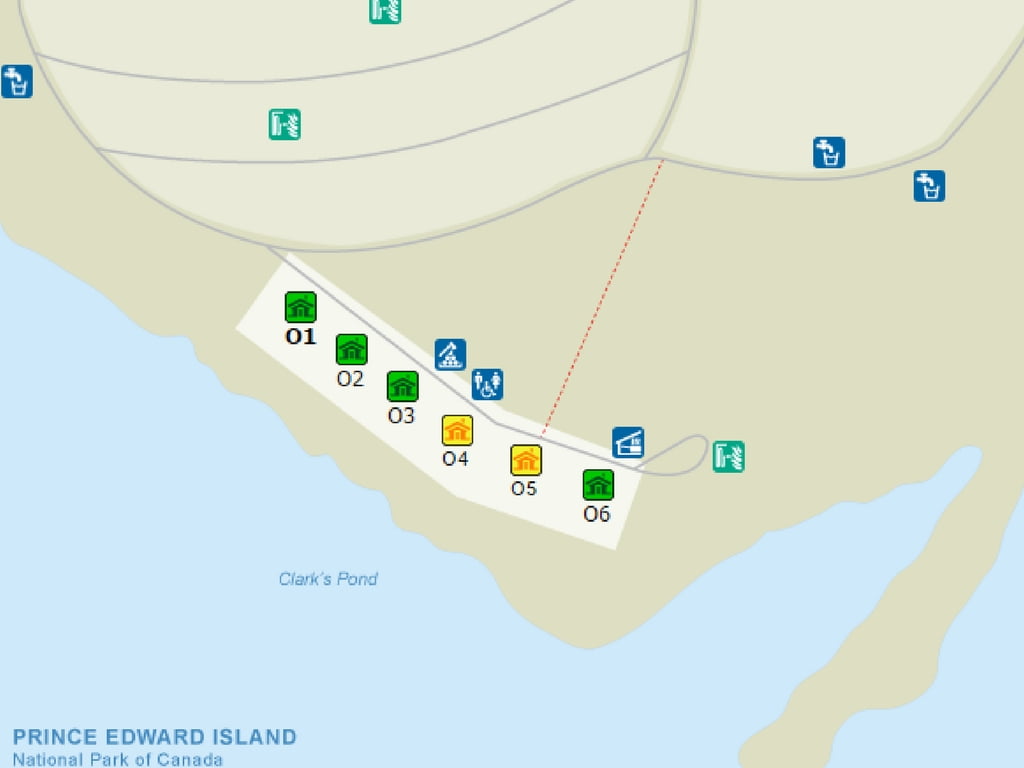 Not only is the beautiful Cavendish Campground right by the waterfront, but it has 6 oTENTik tents for your camping pleasure. While photos of the waterfront OTENTiks are not available by looking at this map it appears that these sites may have the ultimate location!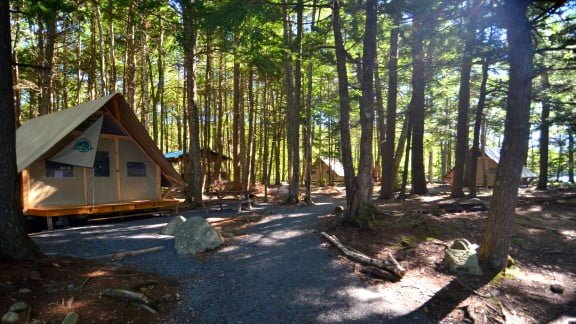 Kejimkujik Lake has plenty of "roofed shelter" options for the glamping-lover. Each oTENTik comes with living basics, for your convenience, and are located near to running water and bathroom facilities.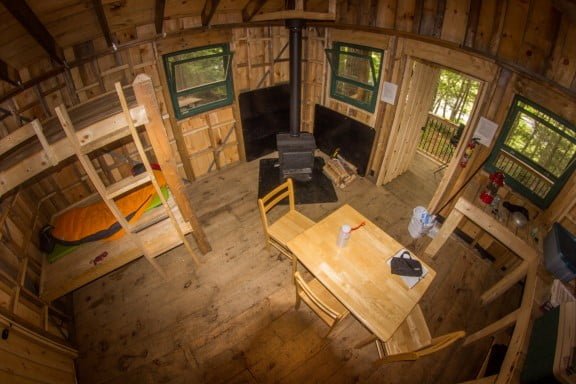 You can also book a spot in the yurts on Mersey River, which come fitted with a bunk bed (no mattress) and a futon (with a mattress) as well as a wood-burning stove, tables and chairs, and more.
Lastly, a series of rustic cabins are available for camping along Keji Lake to the bank of the Mersey River.
Trout River, Berry Hill, Green Point, or Shallow Bay Campgrounds all come fitted with oTENTik options for minimal hassle wilderness vacations. They also include one bundle of firewood with the booking fee.
To book your next Glamping in Canada adventure visit the Parks Canada website!
Is this a sponsored post?: No, our words reflect our Glamping in Canada experiences and we're excited to share it with our followers!