"Wow, that's the biggest pool ever" the kids swooned, before dropping off their towels and jumping in! My husbands smile was as big as theirs as he showed off his "ID approved" wristband, allowing him poolside service while the kids swam. I was hungry and was thrilled to find a healthy, gluten free, dairy free salad delivered right to my lounge chair. For our last days on Vancouver Island, we had found ourselves a little slice of family heaven at The Westin Bear Mountain Golf Resort and Spa in Victoria, B.C.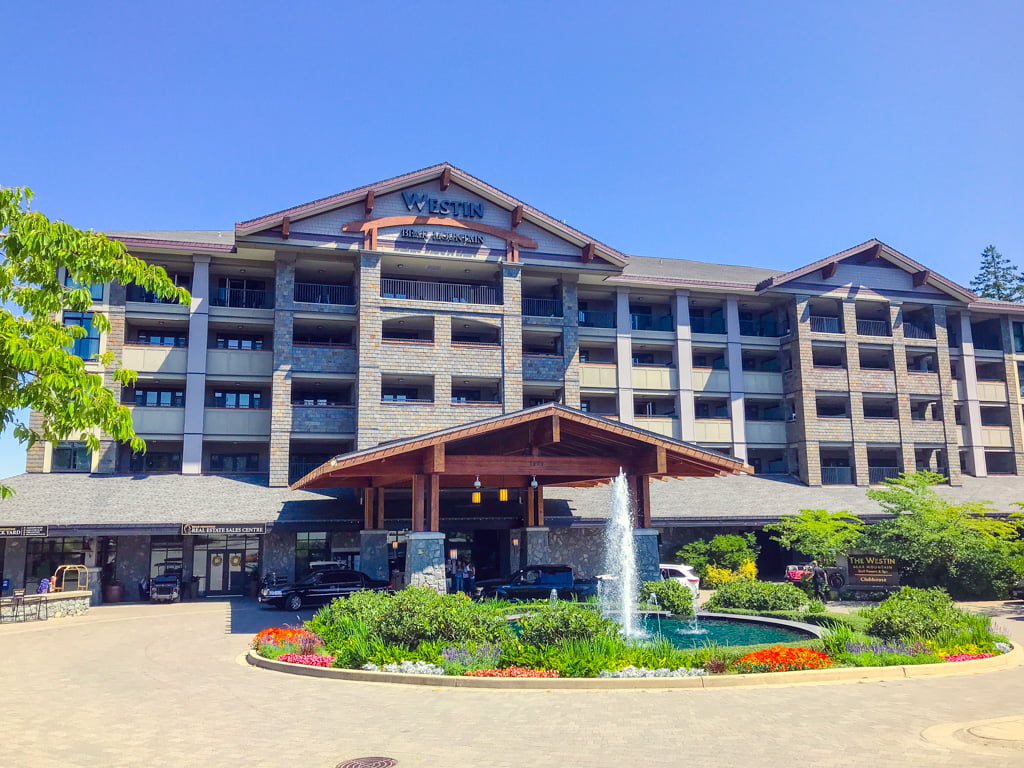 Eleven Reasons The Westin Bear Mountain Golf Resort and Spa is "Mom Approved"
Family Friendly Rooms
While we had a standard room, there was nothing standard about the space! With a mini kitchen, we were able to keep the littles fueled and family essentials like milk, cheese, and snacks chilled in the mini fridge. A stocked kitchen with dishes, a toaster, and coffee machines meant that we'd have everything we needed when hunger struck!
Mom's Heaven – Room Service!
As a Mom, there's nothing better than someone else making you dinner. On our first night at the resort, I was more than excited to order room service up to the fourth floor. I loved that there were so many healthy options to choose from and they were easily able to accommodate my gluten free, dairy free requests. Mom win!
Pool You Can Play In All Day Long!
The loud summertime jams were cranking out from the rooftop pool as soon as you entered the resort, practically placing a magnetic pull on your kids as soon as they got out of the car. The pool is by far the best one we've seen on the island, it was the perfect temperature, large enough to accommodate a big crowd, had stadium style lounge chairs for optimal viewing, and a poolside restaurant and bar. It was everything we didn't know we needed in a resort pool!
Multiple Gyms To Choose From 
The Westin Bear Mountain Golf Resort and Spa share the property with the Langford Recreation center. This provides users with access to not one, but two gyms, a Ladies only gym and a Coed gym. They also have a yoga studio/class space and a CrossFit gym. With amenities like this, you'll have no excuses for working out, if you want to!
Workout Classes To Get Your Morning Started!
While working out solo is great, there's nothing like a class to really get the heart pumping. So when I found a morning boot camp, I set my alarm and headed to the rec center! It was so great to start off my day with a workout like that!
A Smoothie Bar!

After your workout, head over to the smoothie bar for a post workout shake! 
Nearby Family Adventures!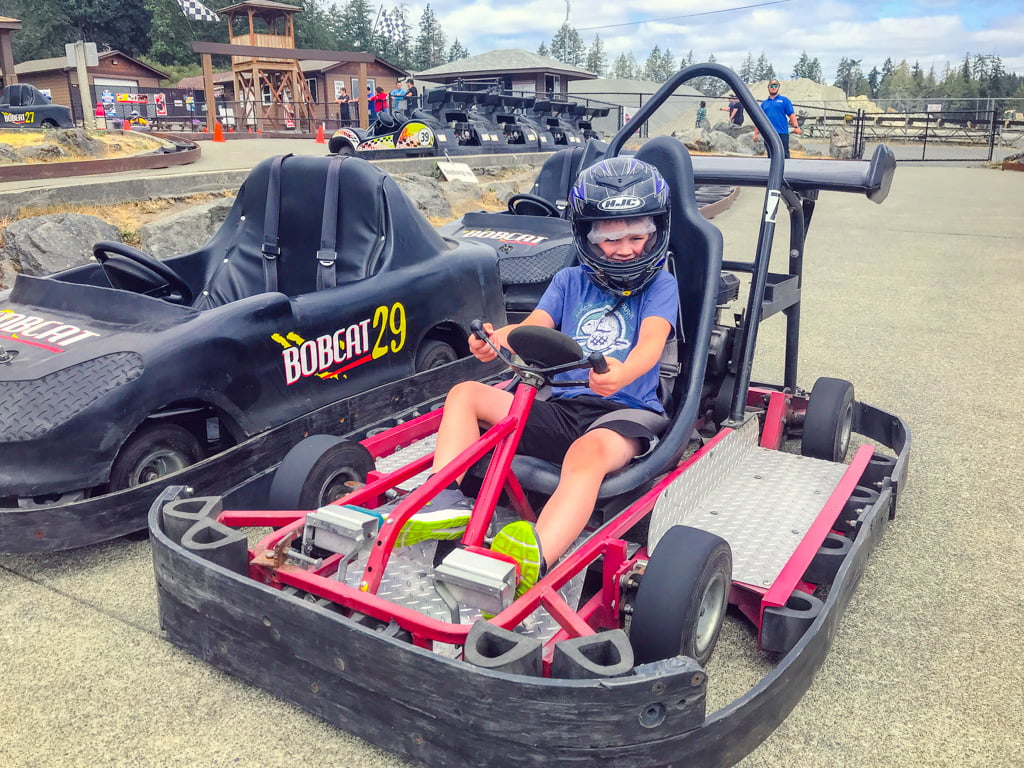 Head down to the All Fun Recreation Park and take the family for a round of mini golf or go carting! Kids only need to be 48 inches to drive which is quite a bit shorter than many other tracks! The bumps you'll make will result in laughter and fun for the whole family.
Badminton Family Fun
One of the back putting greens is transformed into a badminton court, and my kids have a new found love for the sport. While I don't think we will be entering any tournaments anytime soon, it was really fun to teach them the sport and try to get some rallies going over the net.
A Spa You Can Sneak Away To!
My husband decided to spoil me and my daughter and book us into the spa for a pedicure. However, we were too late and they were all booked up, so instead we headed down to the spas retail area and bought new nail polishes and did in room pedicures. While it wasn't the same as a spa experience, it was still a fun way to spend time with my daughter.
Endless Views To Soak In
The view from the top of the mountain, over the golf course, rolling hills, the ocean, and even Mount Baker on a clear day is worth basking in. We loved sitting out on the deck and playing card games with the kids or just catching up and talking while the sunset.
Amazing View Accompanied By Amazing Food!
For our last night on Vancouver Island, we decided to indulge in dinner at the hotel's restaurant, Bella. While the food was beyond incredible (probably the best meal we will eat this year) the uninterrupted time we had around the table is where the true value of the experience was. We reminisced about our favourite experiences over the past two weeks and shared laughs over the funny things that happened (like when a bear walked through our campsite, but that's a whole other story!) The Westin Bear Mountain Golf Resort and Spa was the perfect luxury escape for our family to end our holidays. It offered the perfect combination of adventure, luxury, and indulgence that every holiday should have!
To learn more about the Westin Bear Mountain Golf Resort and Spa please visit their website.  
Check out this video of our stay
 Are you interested in more information on family adventures in Victoria? Check out these articles for inspiration.
Whale Watching-Through a 6 year old's eyes
Work and Wildplay in Victoria, BC
Is this a sponsored post? While we were invited to stay at the Westin Bear Mountain Golf Resort and Spa, our words and images are our own and a true reflection of our experience.