The parking lot was empty on the warm fall morning. With most locals at work and the tourist season over, our September adventures meant that we'd have Rainbow Haven Beach pretty much all to ourselves. The long wooden boardwalk through the sand dunes reminded us of our time in Australia… where the warm air meets at the intersection of the sandy shores, inviting you to stay and explore. With the smell of the salt, the wind in our hair, and a beach all to ourselves, it left us wondering "does a mother-daughter eastern shore road trip adventure get any better than this?"
Where is the Eastern Shore, Nova Scotia?
The Halifax Regional Municipality's Eastern Shore is located in Nova Scotia, Canada. It stretches for approximately 154 kilometres along the mainland coast, from the picturesque town of Cow Bay in the west to the fishing village of Pace Settlement in the east. Along the way, visitors can enjoy sandy beaches, hiking trails, and charming seaside towns. This eastern shore road trip itinerary will take you from Cow Bay to The Marmalade Hotel, covering 129 kilometres of the 154 oceanside route over multiple days.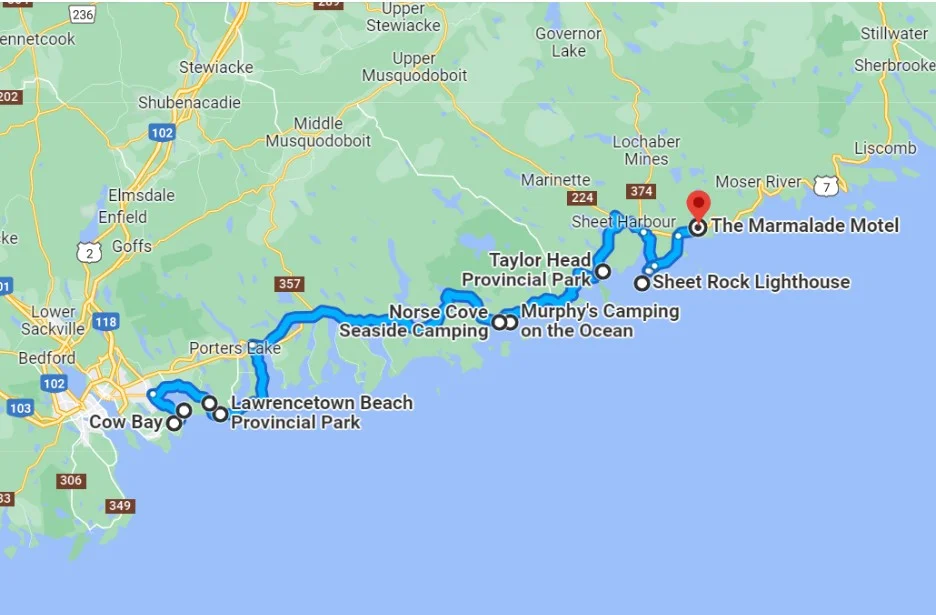 How To Embrace Slow Travel Along Nova Scotia's Eastern Shore
Slow travel is a growing movement that encourages travellers to slow down and savour their experiences. Instead of rushing from one destination to the next, slow travellers take the time to immerse themselves in the local culture, meet new people, and try new things. While the fast-paced vacation style may seem like the more efficient option, it often leads to burnout and a feeling of disconnection from the world around us. Slow travel, on the other hand, fosters a sense of connection and appreciation.
Slow travel also helps make a greater impact in the towns where you spend your tourism dollars. By travelling slower, your stay is able to support smaller communities that are often passed by, and more of the money spent stays in the community you are visiting.
This eastern shore road trip itinerary focuses on slower travel through the beautiful Eastern Shore region with a focus on eco-tourism and outdoor adventure-based experiences.
Things to Do On The Eastern Shore, Nova Scotia
If you're looking for an unforgettable outdoor adventure road trip, Nova Scotia's Eastern Shore is the place for you! This beautiful region offers something for everyone, from stunning beaches and world-class surfing to kayaking and camping by the ocean. Our itinerary will take you on a journey through some of the most picturesque spots on the Eastern Shore, including Cow Bay, Rainbow Haven Beach, Lawrencetown Surf Co., Norse Cove Kayaking, Murphy's Camping on the Ocean, Taylor's Head Provincial Park, Sober Island Boat Tours near Sheet Rock Lighthouse, and The Marmalade Motel. Come explore this amazing part of Canada!
Here are 11 Must See's to Add to Your Eastern Shore Road Trip Itinerary:
Catch Some Rays at Cow Bay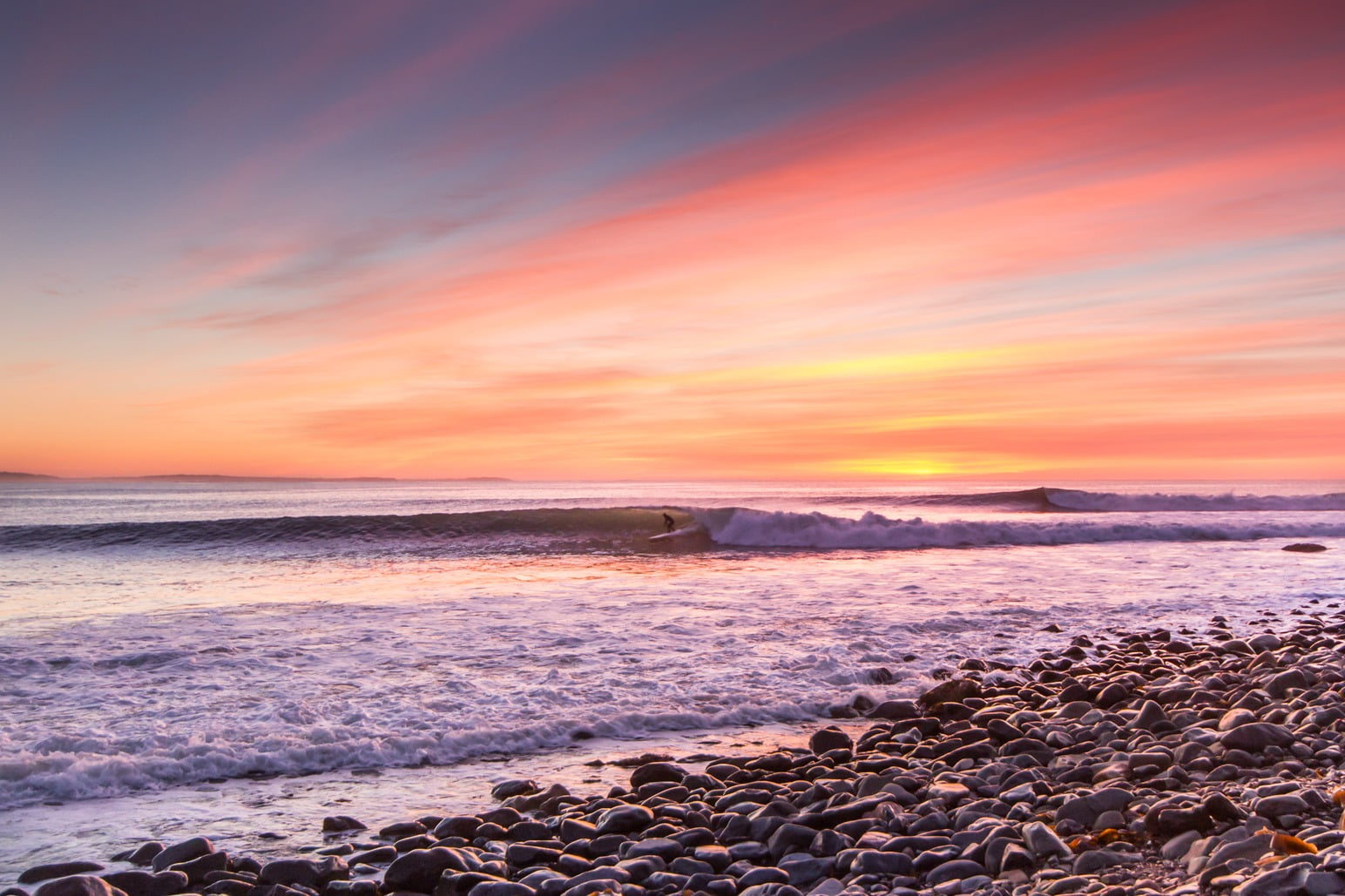 Cow Bay is an unincorporated rural community within Halifax Regional Municipality Nova Scotia on the Eastern Shore on Route 322 along the Marine Drive scenic route. Start your day with the sunrise at Cow Bay, take a photo with the iconic Moose, and then hit the road to start off your Eastern Shore adventures!
2. Rainbow Haven Beach
This was our favourite (okay it's hard to pick favourites on this route, but Rainbow Haven Beach is a must-see). Located on the Eastern Shore just past Cow Bay, this beautiful and secluded beach offers stunning views of the Atlantic Ocean. It is a popular spot for swimming, sunbathing, picnicking, and exploring the tide pools. Visitors can expect to see a variety of birds, including ospreys and eagles. The sand dunes are home to wildlife such as deer, raccoons, and rabbits. Grab some sunscreen, sand toys, and a picnic and spend the day! Rainbow Haven Beach is the perfect place to relax and enjoy the natural beauty of Nova Scotia.
3. Lawrencetown Beach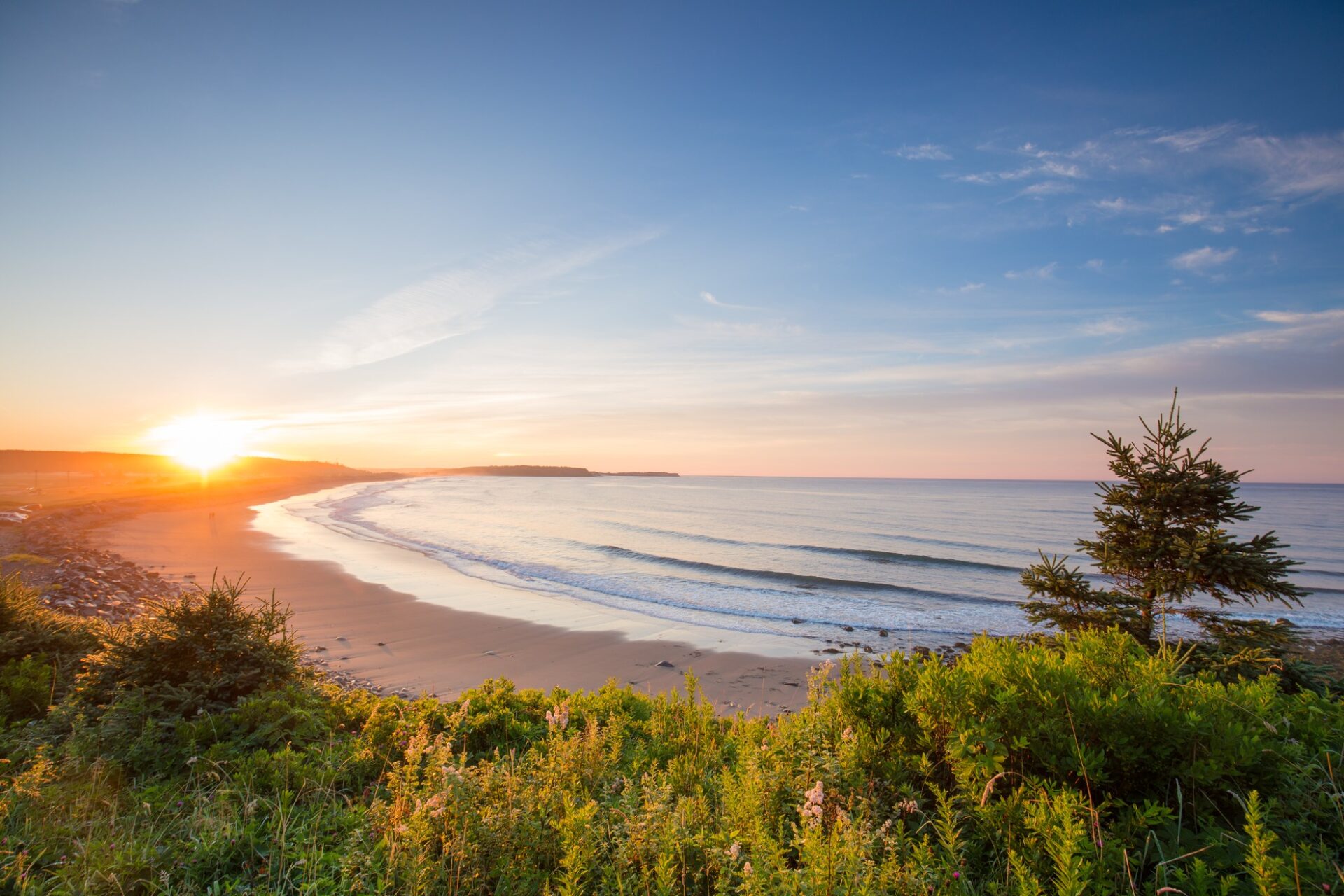 Lawrencetown Beach is one of the most popular beaches on Nova Scotia's Eastern Shore. The wide, sandy beach is great for swimming, sunbathing, and of course, surfing. There are also several hiking trails in the nearby woods. Visitors can expect to see a beautiful ocean view from many of the scenic points, and while we didn't get to experience it, I think sunrise and especially sunset would be magnificent from Lawrencetown Beach. The best time to visit is during the summer months when the weather is warmest, but for those seeking adventure you can head out in the off-season and gear up with warm wetsuits from Lawrencetown Surf Co and hit the waves. Be sure to bring reef-friendly sunscreen, a hat, and plenty of water. And a camera… always an essential piece of travel gear.
Click here to purchase Reef-Friendly Sunscreen!
4. Lawrencetown Surf Co.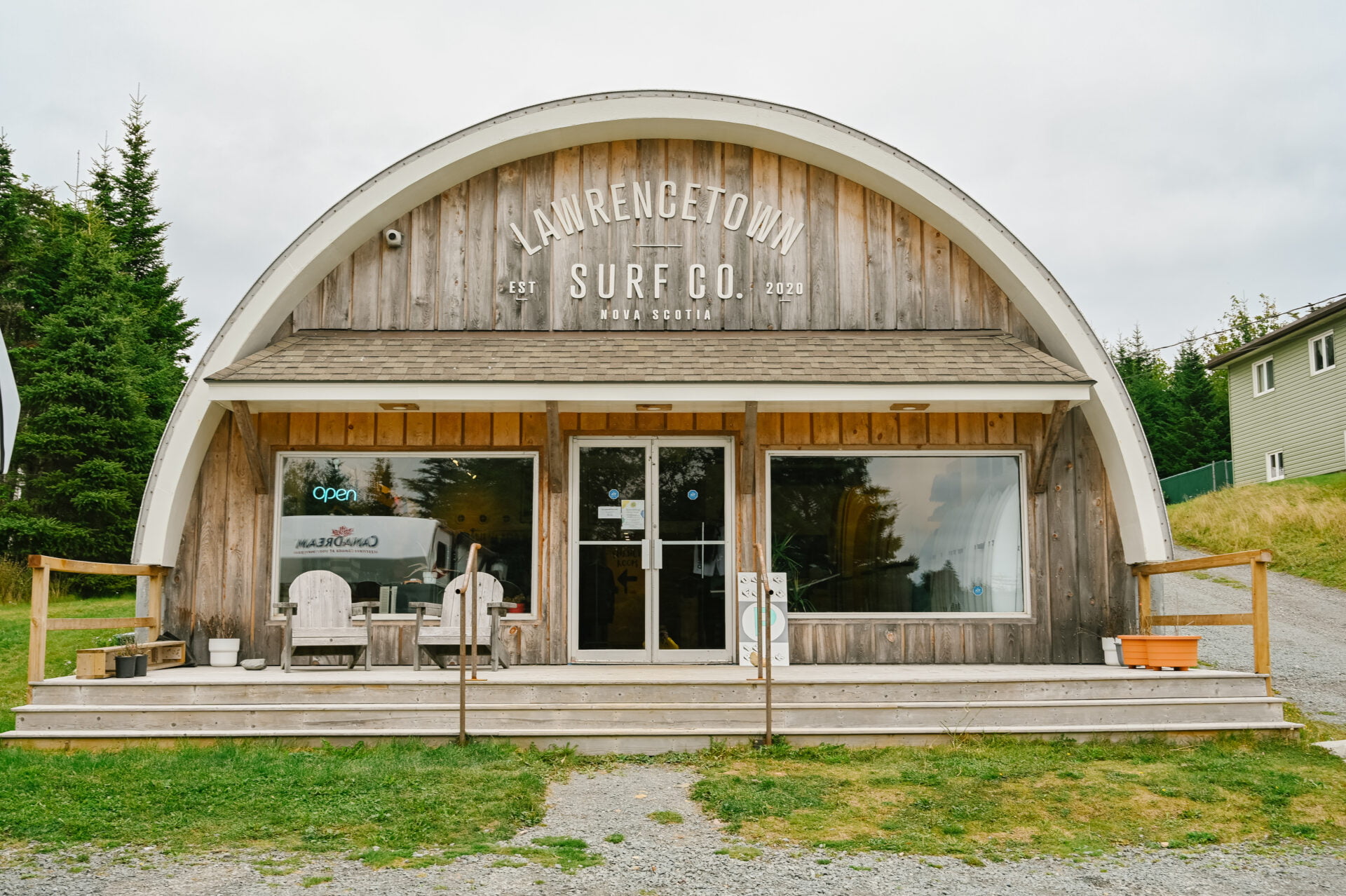 What I've officially named the "Coolest Surf Shop in Canada," Lawrencetown Surf Co. is a must-stop shop for anyone into surfing or just interested in cool grassroots stores. With a variety of local merchandise, surfing gear, surf rentals and lessons, this is your base camp for adventure if you're wanting to head out and hit the waves.
5. Surfing at Lawrencetown Beach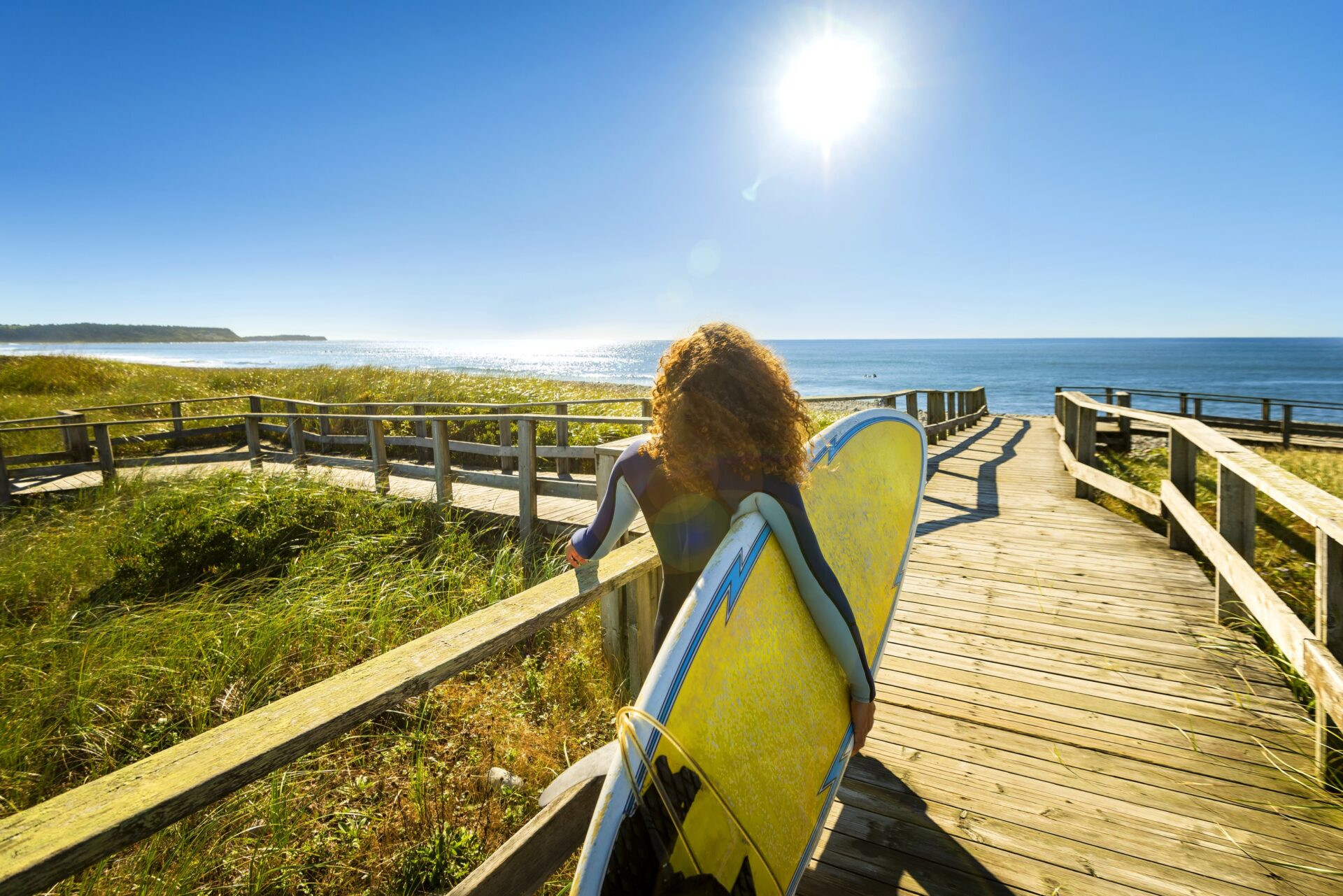 Located just 30 minutes from downtown Halifax, but feeling like it's a hundred miles from anyone, Lawrencetown Beach is a popular spot for surfers of all levels. Visitors can expect to find both beginner and advanced waves, as well as a variety of other beach amenities. The beach is also great for swimming, sunbathing, picnicking, and exploring the nearby hiking trails. When visiting Lawrencetown Beach, be sure to bring sunscreen, a hat, plenty of water, and a healthy snack. And don't forget your surfboard!
6. Norse Cove Kayaking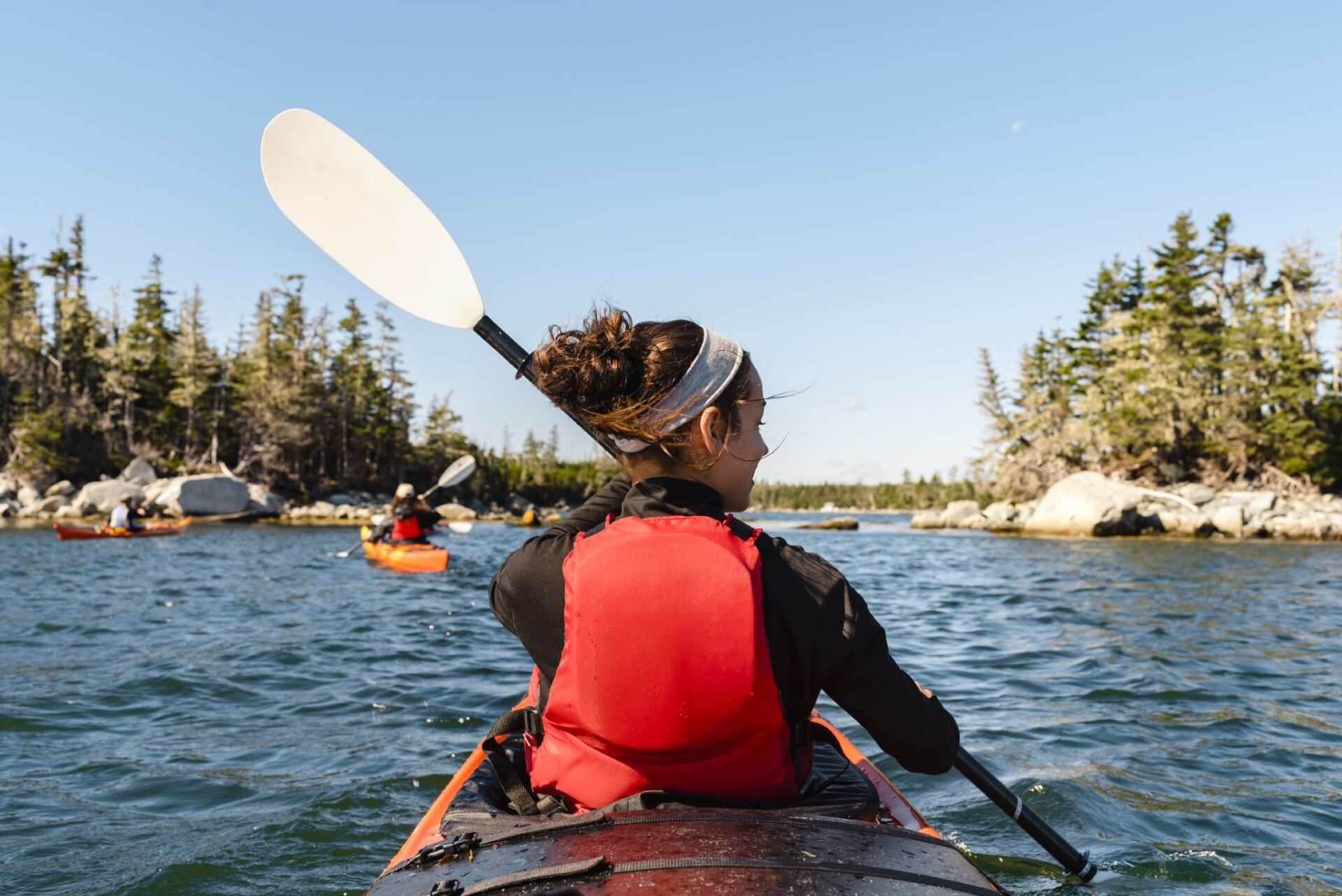 Norse Cove is a beautiful kayaking destination located on the Eastern Shore of Nova Scotia. Visitors can expect to see stunning scenery, including rocky cliffs, crystal-clear water, and dense forests. To make the most of your experience, be sure to bring a camera to capture the incredible views. Norse Cove Kayak offers rentals and tours for those looking for a guided experience. This is a great place to invest in an eco-adventure, to relax and connect with nature, and to hear stories from locals who call this incredible coastline home.
7. Micro Cabins at Norse Cove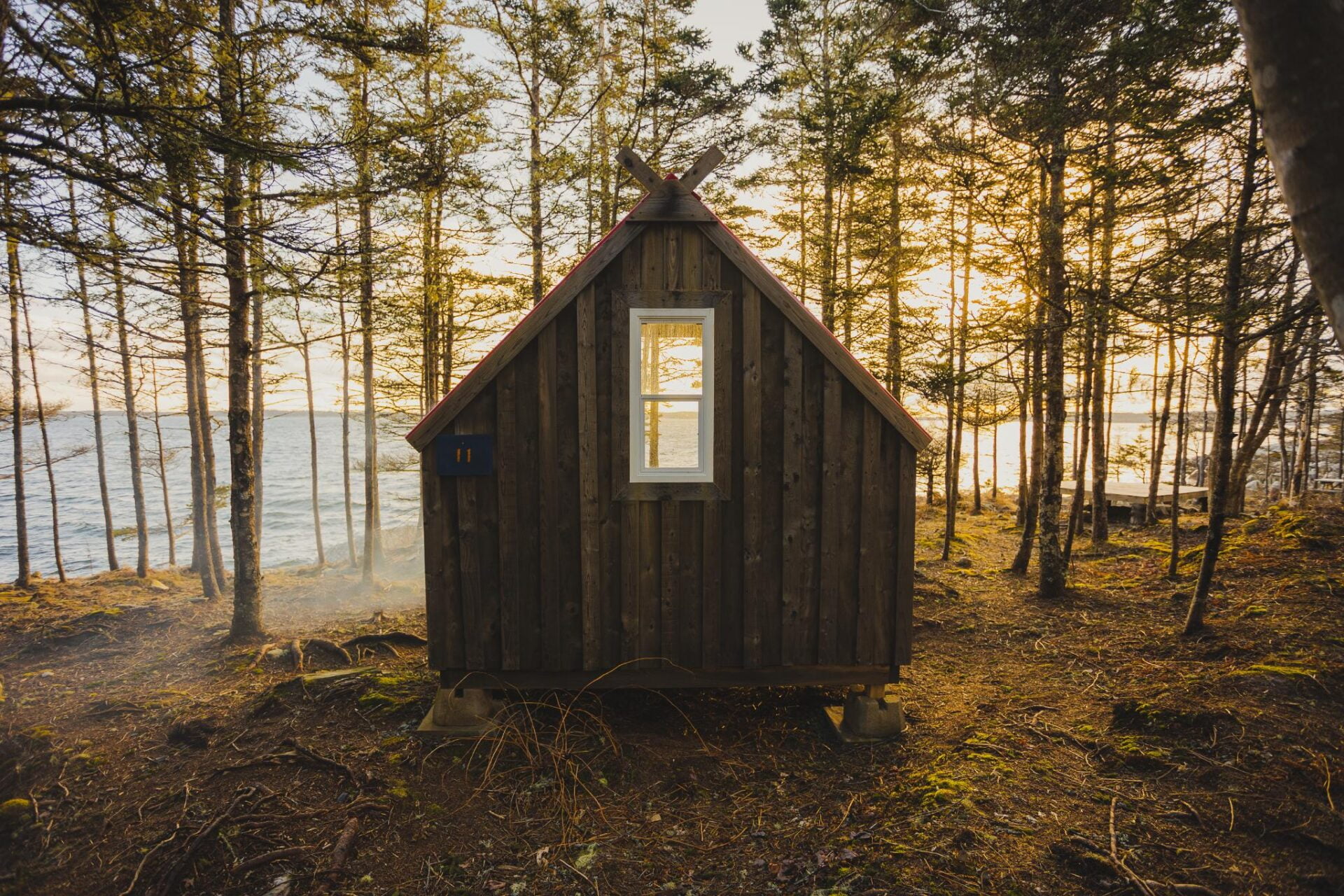 Norse Cove is a hidden gem on Nova Scotia's Eastern Shore. What better way to experience it than cuddling in a Micro Cabin? Micro Cabins at Norse Cove offer visitors a unique way to experience this special place. These small, intimate cabins are nestled in the woods, providing a cozy and private retreat. Each cabin is appointed with everything you need for a comfortable stay, including a firepit and picnic table.
There is no shortage of things to do during your stay at Norse Cove. In addition to hiking and swimming, visitors can go kayaking, canoeing, or fishing. There are also plenty of opportunities for birdwatching, as the area is home to many different species of birds. Regardless of how you spend your time at Norse Cove, you're sure to have an unforgettable experience.
8. Murphy's Camping On The Ocean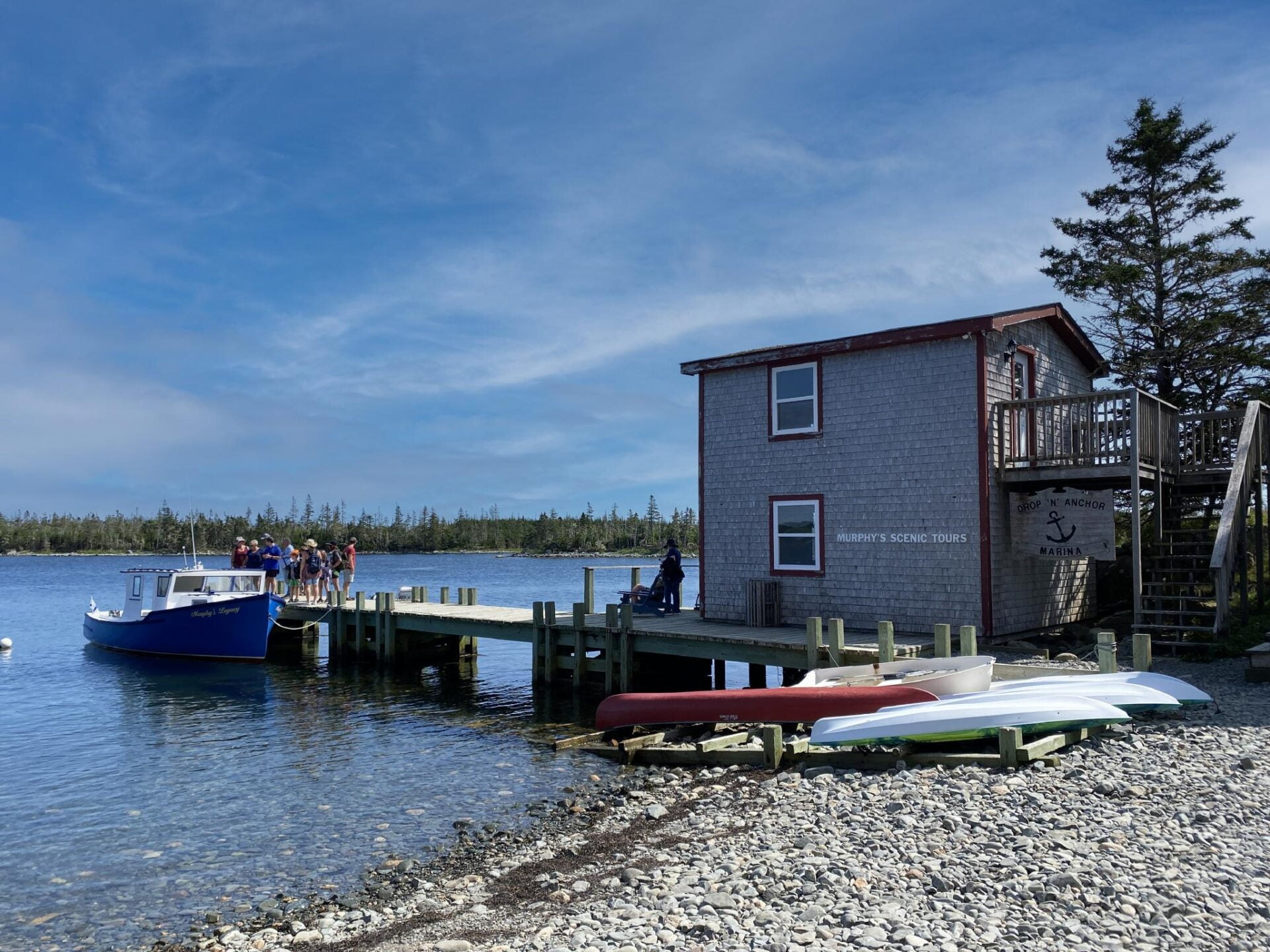 Murphy's Camping on the Ocean is a popular destination for visitors to the Eastern Shore of Nova Scotia. The campground is located right on the ocean, and visitors can enjoy stunning views of the water from their campsites. There are also a number of activities available at the campground. How about grabbing a morning coffee at the Sailors's Rest Recreation Hall, and while you're there challenging Captian Brain to a game of crib? Looking to get adventurous? Head on out on a scenic boat tour, explore the nearby 100 islands by canoe or kayak, or take a walk out on the beach. If you're looking to fill your tummy with local seafood you can try their world-renowned Nova Scotia lobster, try your hand at fishing and crabbing off the dock, or head out to one of the great restaurants. The Uprooted Market & Cafe, The Henley House Pub and Restaurant, The Fairwinds Motel & Restaurant, and the Slippery Oyster Restaurant all look forward to welcoming you with their East Coast charm. Finish your day by joining in around their nightly campfire sharing your stories with locals and guests alike. Murphy's Camping on the Ocean is a great place to enjoy the outdoors and experience the authentic Eastern Shore.
9. Taylor's Head Provincial Park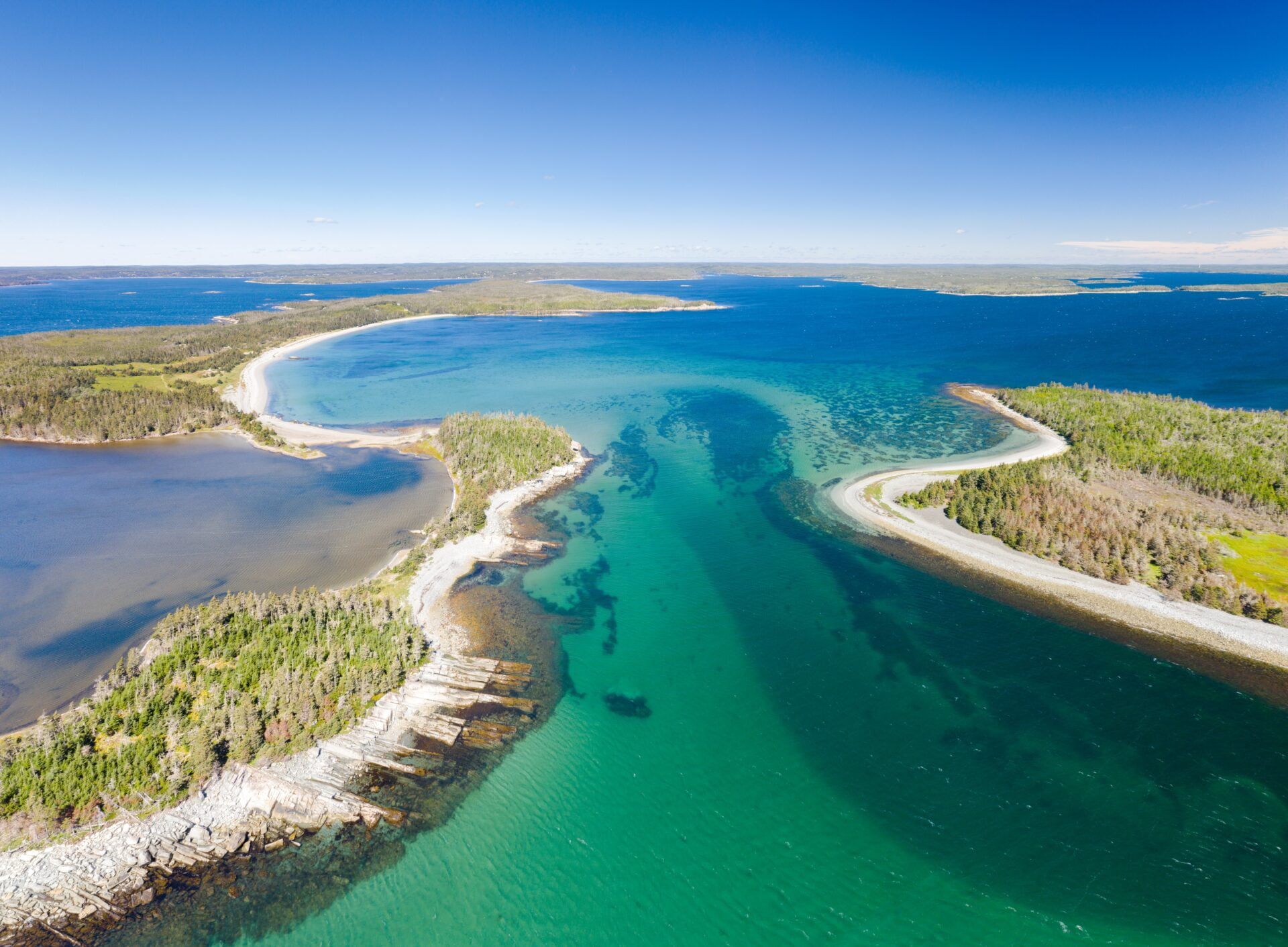 Taylor's Head Provincial Park is located on the Eastern Shore of Nova Scotia and is home to 16 kilometres of unspoiled sandy beaches. Taylor's Head Provincial Park is also known for its hiking trails, with 14.2 kilometres for guests to explore. While at the park be on the lookout for wildlife including seals, bald eagles, and ospreys. Visitors are advised to bring sunscreen, insect repellent, and plenty of water and plan to have no plan, this is an incredible park worth taking your time to explore.
10. Sober Island Boat Tours near Sheet Rock Lighthouse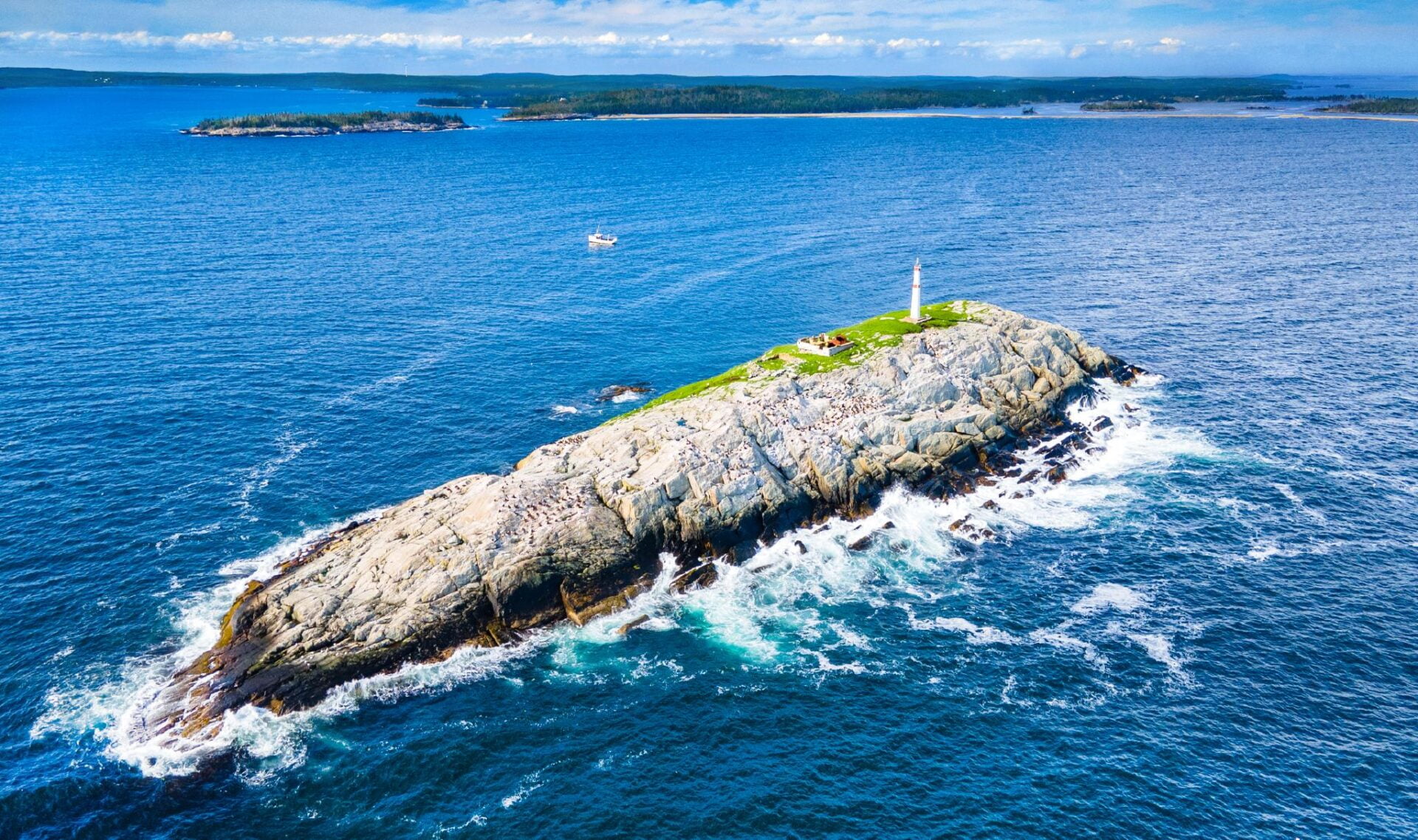 Sober Island Boat Tours offers visitors a chance to see the Eastern Shore of Nova Scotia from the water. Locally owned and operated, guests get to choose between three tours, matching their own adventure style and vacation dreams. Whether you head out to see Sheet Rock Lighthouse up close, choose a sunset cruise followed by a bonfire and a beer, or want to chase your dreams of being a lobster boat captain, Sober Island Boat Tours has an adventure for you.
11. The Marmalade Motel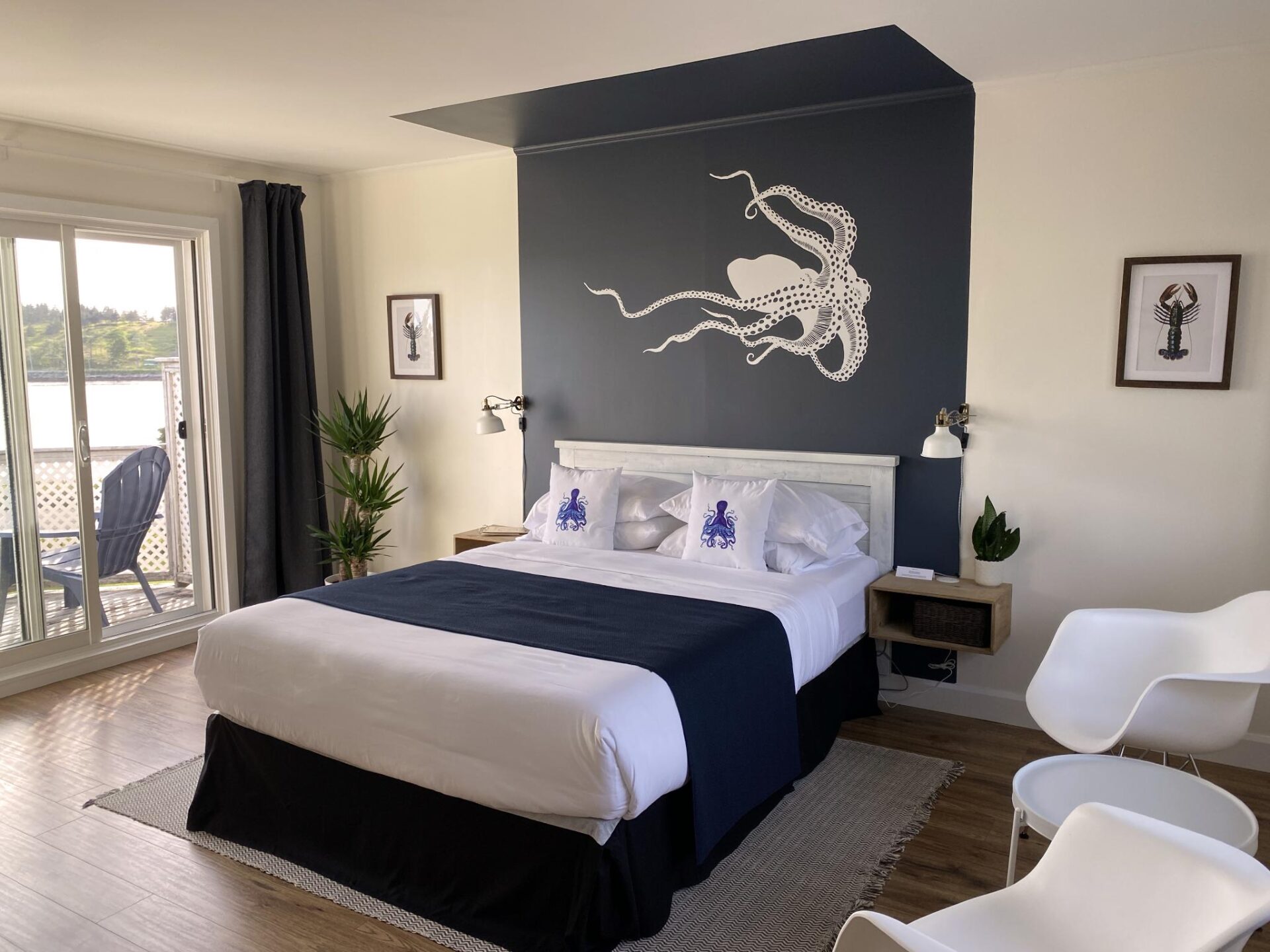 The Marmalade Motel on the Eastern Shore of Nova Scotia is the perfect place to experience something new and fresh. Recently renovated in 2020, this modern motel boasts a mix of innovative accommodations all while looking out over a stunning view of the sea. With extra fun packages, like "Fun(ny) Date Night," "Cask In Sticks," and other seasonal themes, it's clear that these local owners Cheryl and Neil like making visitors feel right at home all while ensuring they have a fabulous time.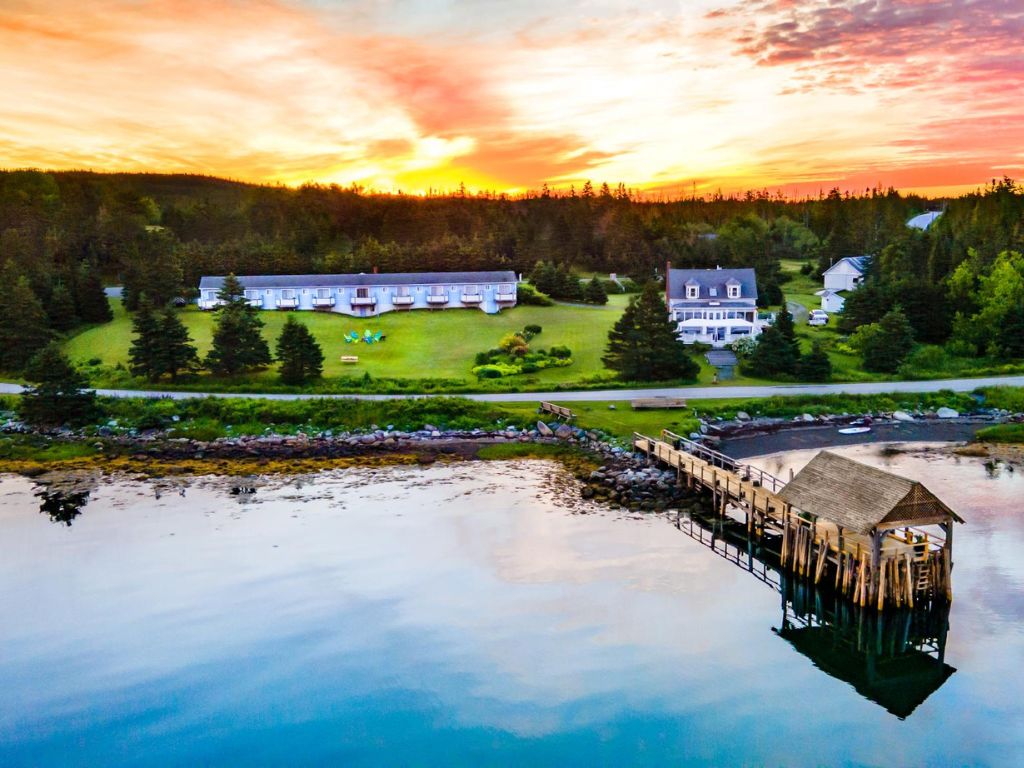 There are several beaches and local hiking trails to explore and other outdoor recreational areas. When packing for your trip, visitors should be sure to bring comfortable walking shoes and clothes as there as many great places to walk and explore nearby.
Where to learn about Eastern Shore History?
If you're interested in a unique way to learn about the history of the Eastern shore, you're invited to check out the Memory Lane Heritage Village. This living history museum is open from June to October and welcomes guests to step back into the 1940s and experience what life was like through their hands-on and interactive displays.
Additional Eastern Shore Provincial Parks Worth Checking Out?
Clam Harbour Beach is famous for its annual Clam Harbour Sandcastle Competition that's been welcoming hundreds of contestants and thousands of spectators for over 35 years! Clam Harbour Beach is a long and wide natural sandy beach where you can enjoy a picnic in a field, on top of a bluff (add that to the list!) and you can head out to explore the boardwalks and hiking trails after you've fed your crew. Looking for a chill day at the beach? Grab a floaty and float down the warm and shallow tidal stream that runs through one side of the beach. If you have time in your itinerary be sure to add in this experience!
Martinique Beach
Martinique Beach boasts the title of the longest sandy beach in Nova Scotia. Visitors can expect to see a 5-km crescent white-sand beach, perfect for exploring, beachcombing and walking along the boardwalks. Birdwatchers beware, Martinique Beach is a protected area for the piping plover as well as a wildlife refuge for migratory waterfowl (so be sure to pack your binoculars!).
We hope you enjoyed reading our blog post about the ultimate outdoor adventure road trip itinerary for Nova Scotia's Eastern Shore. If you have any questions or comments, please feel free to contact us. We would love to hear from you!
---
Check out these Articles for More Inspirational
Nova Scotia Travel Ideas: