Are you looking to explore Nova Scotia on a beautiful Eastern Shore road trip?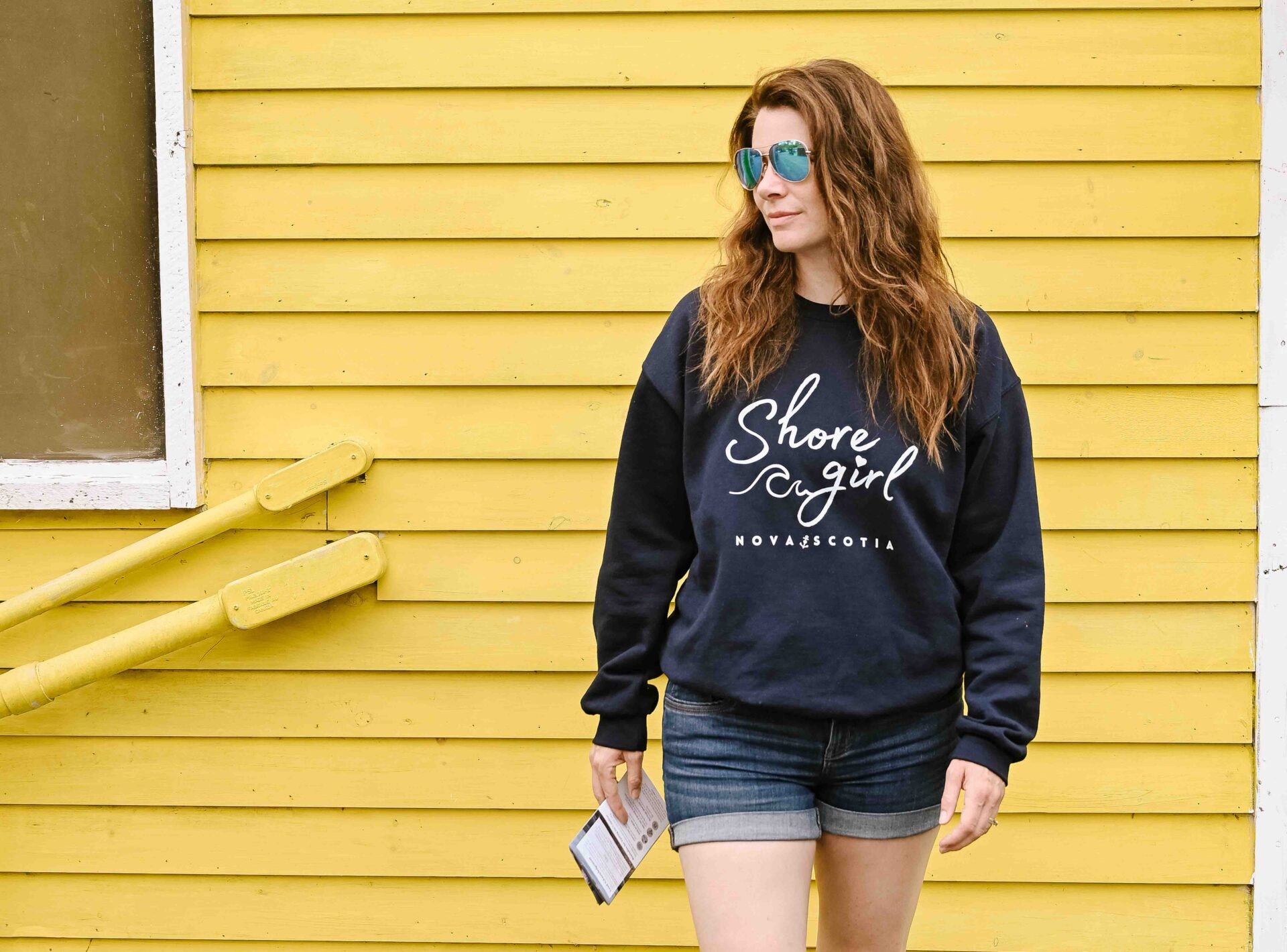 Our first trip to the region was in 2023 when my daughter and I headed out on a girl's RV road trip around Halifax. We were able to explore a bit of the Eastern Shore and one thing was for sure, we needed to start planning our next trip back! The kilometres of sandy beaches, the long soft waves, welcoming you to come and surf, the quiet trails waiting to be explored. As a Travel Writer, I get to explore lots of wonderful places around the world, but The Eastern Shore has a special recipe of salt, sand, and soul magic that leaves you wanting to visit again and again.

So in August 2023 we loaded up the whole family into a CanaDream RV and spent 5 days exploring the Eastern Shore of Nova Scotia. Our trip focused on eco-adventures like surfing, camping, hiking and water activities as well as supporting local small businesses (Yes, this meant having to try out many different ice creams and sorbet shops!). We are excited to share with you a host of activities and adventures waiting to be explored in the region!
Disclaimer: While I share my own thoughts and stories about these experiences, should you click on the affiliate links, I may receive a small commission on that sale which helps fund Adventure Awaits.
What is the Eastern Shore known for?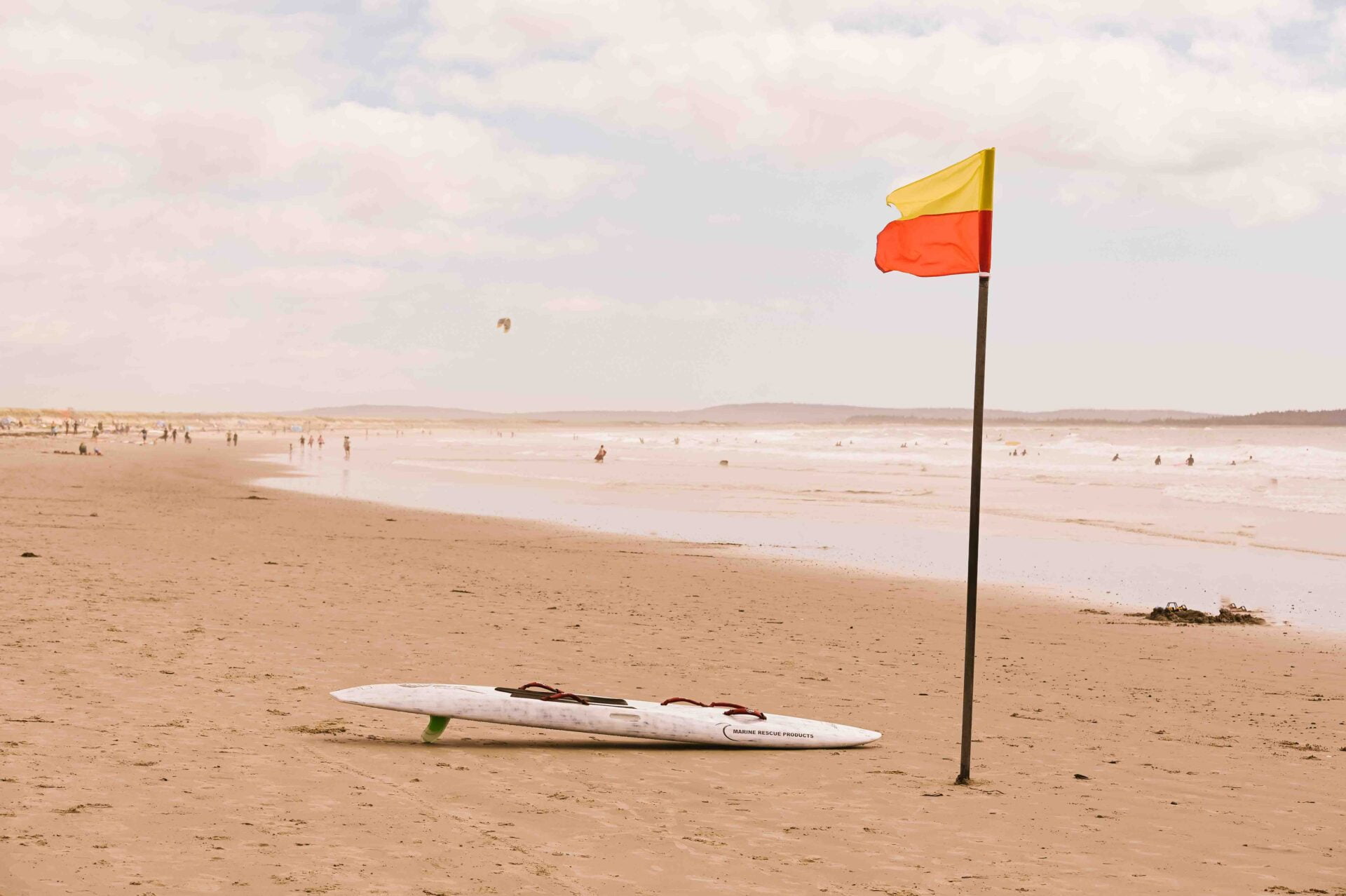 If you're looking for an unforgettable outdoor adventure road trip, Nova Scotia's Eastern Shore is the place for you! This beautiful region offers something for everyone, from stunning beaches and world-class surfing to kayaking and camping by the ocean. Our itinerary will take you on a journey through some of the most picturesque spots on the Eastern Shore, starting out in Halifax and then taking you through Fisherman's Cove, Cow Bay, Rainbow Haven Beach, Lawrencetown, Porters Lake Provincial Park, Musquodoboit Harbour, Clam Harbour, Martinique Beach, Taylor Head Provincial Park and Sheet Harbour. We will give you everything you need to plan an action-packed Eastern Shore road trip itinerary that will have you exploring the region for days! (I recommend you plan to spend at least 4 days in the area, more if you're going to do longer adventures like full-day kayaking in the 100 Wild Islands).
Where is the Eastern Shore of Nova Scotia?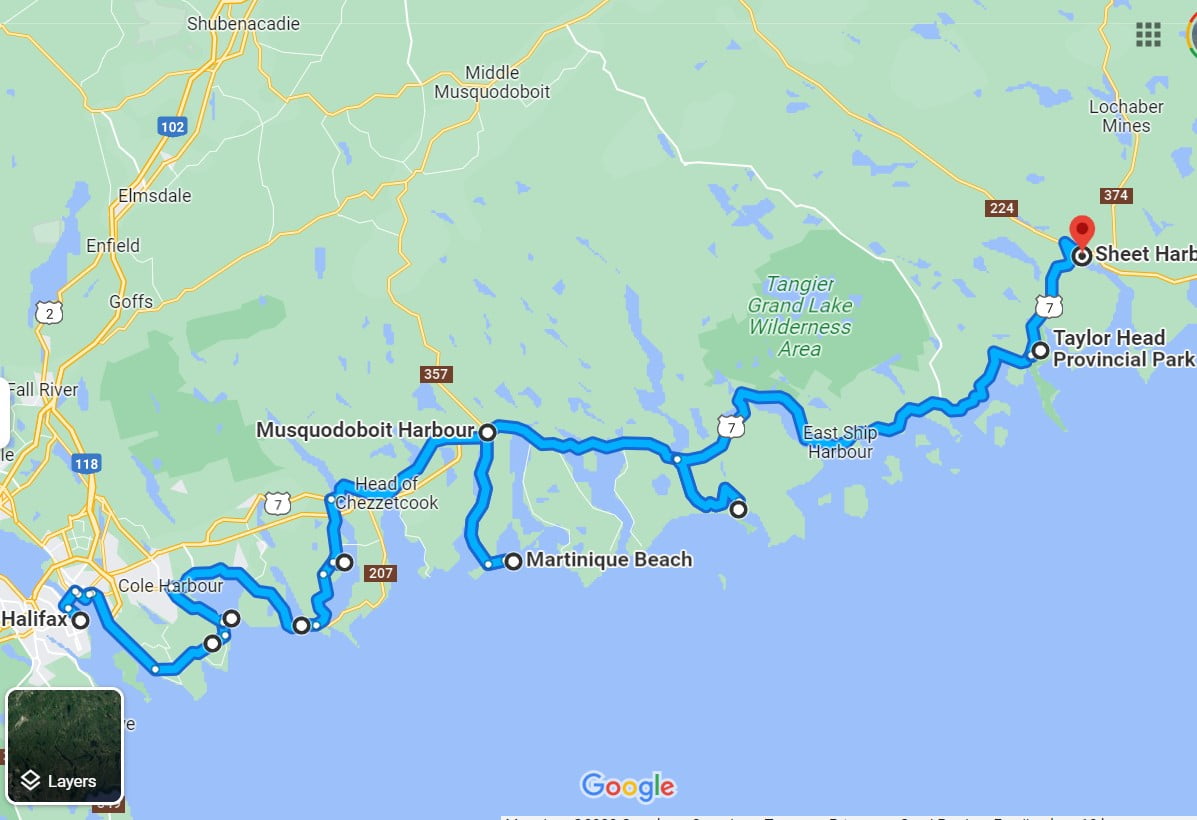 Nova Scotia's Eastern Shore is located to the East of Halifax, Nova Scotia, Canada. It stretches for approximately 154 kilometres along the mainland coast, from the picturesque town of Cow Bay in the west to the fishing village of Pace Settlement in the east.
The region is relatively rural and untouched, inviting visitors to enjoy sandy beaches, hiking trails, and charming seaside towns. This article showcases the best to be seen all the way to Sheet Harbour, covering more than 150 kilometres of the oceanside route over multiple days before heading to Taylor Head Provincial Park (this also means that I have to come back and do more exploring between Sheet Harbour and Pace Settlement).
What Areas are in Eastern Nova Scotia?
There are five main areas in the Eastern Shore, which include:
Cow Bay / Lawrencetown / Porters Lake Provincial Park
Musquodoboit Harbour
Clam Harbour
Martinique Beach
Sheet Harbour / Taylor Head Provincial Park
What Towns are on the Eastern Shore of Nova Scotia?
One thing I love the most about the Eastern Shore is the spirit of the small towns that exist along this Eastern Shore road trip. The main towns where you can stock up on essentials can be found in Musquodoboit Harbour and Sheet Harbour, whereas along the way you'll find pop-up shops that include diners, coffee shops, artisans workshops, and off-the-beaten-path gas stations.
The small-town charm is mixed with the local friendly welcome, where if someone spots that you're from out of town they are sure to say hello and see if you need any hints, tips, or tricks, and then be sure to send you on your way in only the way a Nova Scotian can… with a sense of warm Canadian welcome unlike no other.
23 THINGS TO DO ON THE EASTERN SHORE, NOVA SCOTIA
If you're planning your Eastern Shore road trip and looking for the best things to do, here is the ultimate list. Planned heading West to East, this is a beach infused eco-adventure itinerary showcasing what adventures to explore, where to say, and where to eat while visiting the Eastern Shore region.
Here are your must-see spots to stop!
What is the Best Way to Explore the Eastern Shore?
1. Pick Up Your CanaDream RV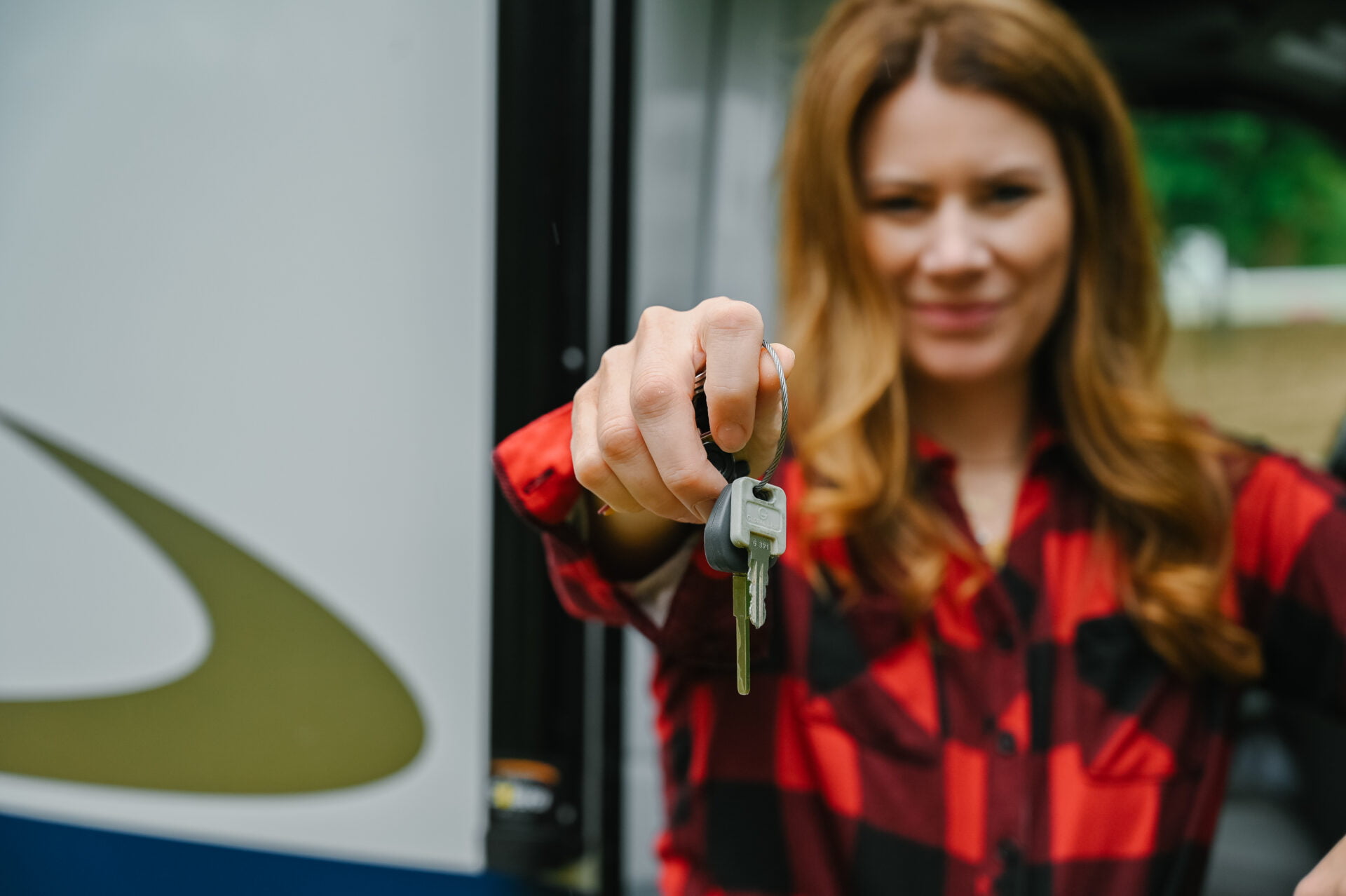 The first stop we made before hitting the open road was to CanaDream RV, where we picked up a large MHX family unit which would be our home for the week. We loved exploring the Eastern Shore by RV as it allowed us to travel with everything with us and camp in the region night after night.
2. Explore Halifax / Dartmouth Pre or Post
If this is your first time visiting Nova Scotia, one place that is great to visit before spending time on your Eastern Shore road trip, is in the province's capital city, Halifax. With over 400 years of Canadian History, this active port city invites you to stroll along the boardwalk and explore. My top recommendations include:
Exploring Canadian History at the Museum of Immigration at Pier 21
Visiting the Parks Canada Halifax Citadel National Historic Site
Walking the boardwalk and picking up souvenirs from places like Peace by Chocolate as well as local artisans
Eating at one of the local restaurants that are on the waterfront (my personal favourite is The Bicycle Thief, more below!)
Visit the Maritime Museum
Book Your Halifax Hop on Hop Off Bus Tour Here!
Where To Eat in Halifax – The Bicycle Thief on the Boardwalk
Before our plane had even landed at Halifax Stanfield International Airport our phones had lit up with recommendations on where to eat in Halifax from family and friends. The funny thing was that while we received recommendations from many different people they all said the same thing, "Eat at the Bicycle Thief in Halifax."
Located right on the Halifax boardwalk overlooking the harbour this "Come as you are" restaurant boasts a diverse Italian menu showcasing a plentiful selection of Nova Scotia's best seafood as well as classic comfort foods with a modern twist.
As a family with a fistful of allergies and intolerances, we weren't even sure we'd be able to eat there, so we thought we'd stop for mocktails and then see how confident they were with allergies. Our waiter Mark was incredible, welcoming us with Nova Scotia kindness, and a combination of care that left us knowing we were in good hands. Not only did he surprise me with a gluten-free focaccia bread (which I have never had) he assured me multiple times that our severe allergies would be taken care of in the safest way, and with that, we were able to sit back on the boardwalk and enjoy an absolutely amazing meal.
It was so good in fact that we rerouted the last day of our trip so that we could end our day back at The Bicycle Thief and have fond memories of finishing our meal there. Sure I'm ranting, but trust me, this is a restaurant you don't want to miss!
Where to Stay with an RV in Halifax:
I like staying at Shubie Campground, which is the closest campground to downtown Halifax. From CanaDream it's about a 25-minute drive and we chose to set up for the night and then take an Uber down into the city and back ($13 each way). This also allowed us to take the "cutest ferry on the planet" (that's what I have officially dubbed it) the Dartmouth Ferry, which picks you up in Dartmouth and then takes you across to Halifax on a short 10 minute ferry (cost is $2.75 per person, exact change only). Shubie Campground is a great starting off point on your Eastern Shore road trip.
3. Fisherman's Cove
As you head out of the Halifax and Dartmouth region the first absolute MUST STOP spot on your Eastern Shore road trip is Fisherman's Cove. This 200-year-old fishing village is only a short 20-minute drive from Shubie Campground and the perfect place to stop. The cove is lined with adorable little shops, each offering its own unique take on Nova Scotia, showcasing local artisans and encouraging you to shop local and help make the most out of your tourism dollars.
When you're done shopping you can stop at one of the many restaurants or pick up something to enjoy later on in your day, perhaps the makings for a picnic!
Traveller Tip: Be sure to walk around to the back of the shops to look out over the active fishing village and see if you can spot what the fishermen have brought in for the day. This is also a great place to stop and take photos.
4. Cow Bay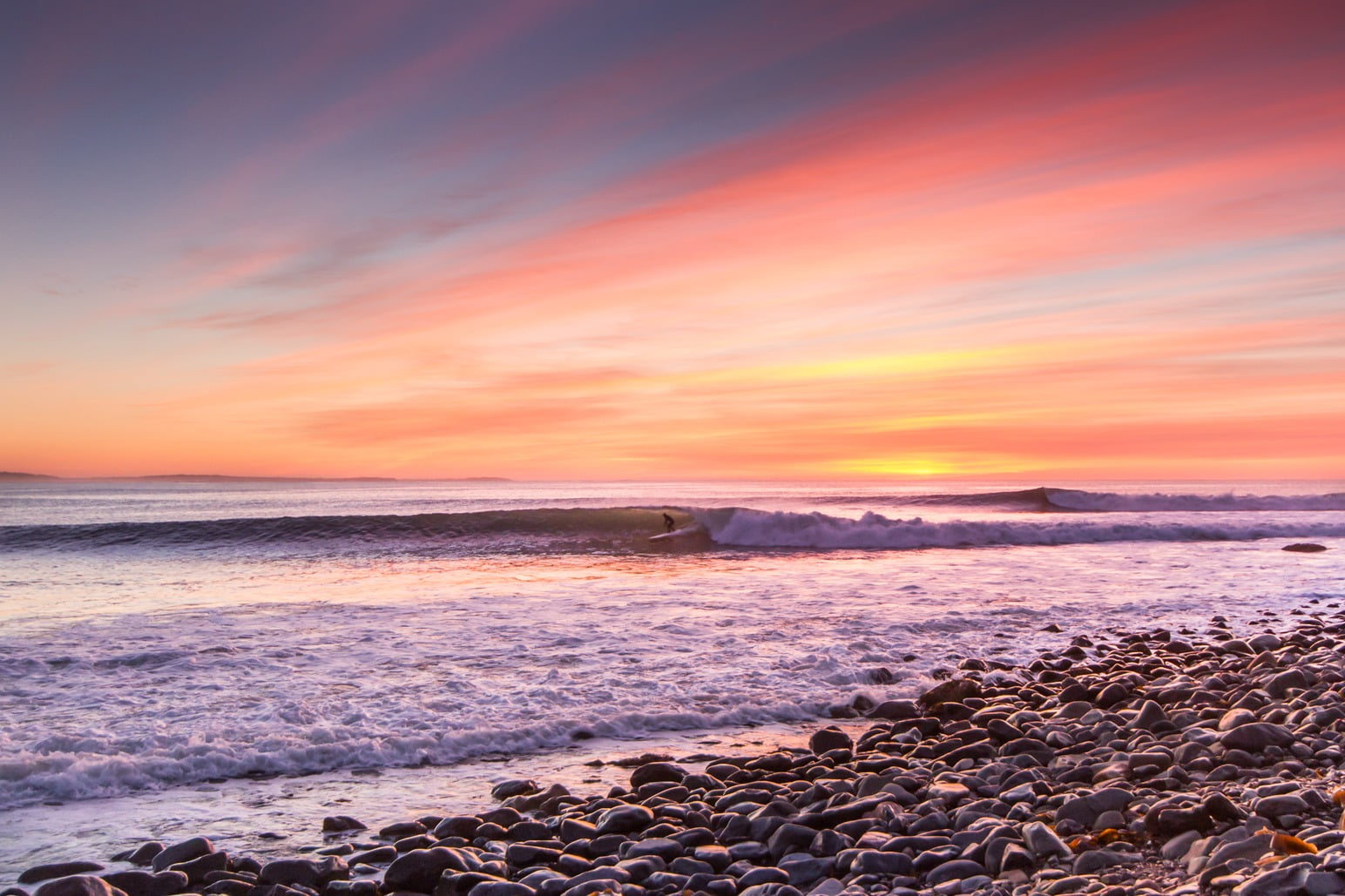 Cow Bay is an unincorporated rural community within Halifax Regional Municipality, Nova Scotia on the Eastern Shore on Route 322 along the Marine Drive scenic route. You'll traverse through this cute little town in mere minutes, and if you're not paying attention Google will take you the shortest way through, but I recommend taking the scenic route along the ocean.
Be sure to stop at Silver Sands Beach Park in Cow Bay at 1287 Cow Bay Rd, where a 12-foot moose will be there, ready to pose for photos. Crafted by a local artisan, and now 57 years old, this moose is as Canadiana as it gets and a fun spot to stop. The park is quite small with a small parking lot, picnic tables, a grassy area, and access down to the rocky beach. It's a quick stop and a fun photo op!
5. Rainbow Haven Beach
This was our favourite (okay it's hard to pick favourites on this route), but Rainbow Haven Beach is a must-see. Located on the Eastern Shore just past Cow Bay, this beautiful and secluded beach offers stunning views of the Atlantic Ocean. We were there on a rainy day and it was still really fun to explore. Score some sun and you're in for a great beach adventure.
Rainbow Haven Beach is a popular spot for swimming, sunbathing, picnicking, and exploring the tide pools. There are also kilometres of walking trails around the park's grasslands that I would have loved to explore if I had had more time. When you go you can expect to see a variety of birds, including ospreys and eagles. The sand dunes are home to wildlife such as deer, raccoons, and rabbits. Grab some sunscreen, sand toys, and a picnic and spend the day! Rainbow Haven Beach is the perfect place to relax and start to get into the beach life that is Nova Scotia's Eastern Shore.
RV Advice: The parking lot is huge with ample parking, so no worries about driving the loop or getting stuck!
6. Lawrencetown Beach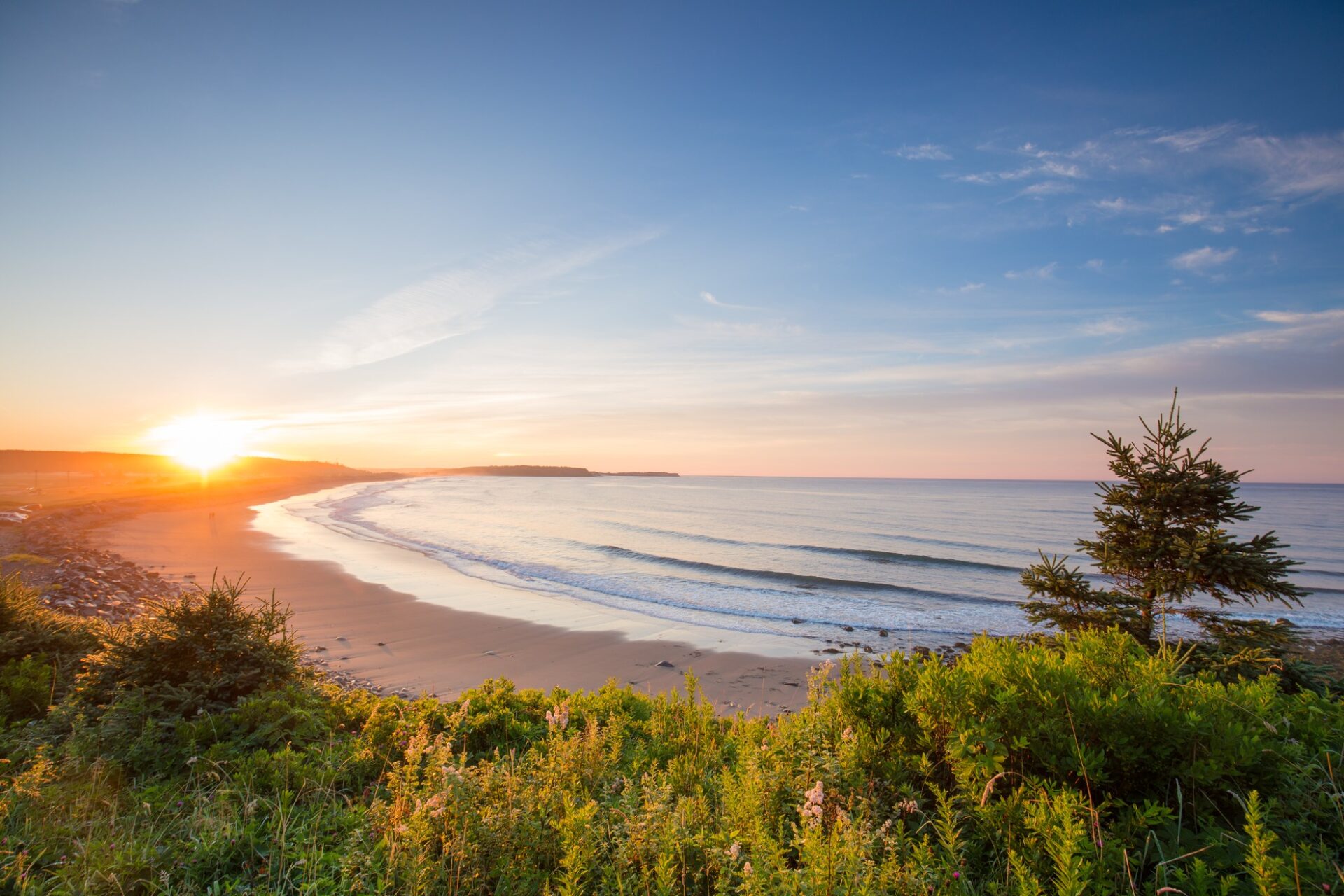 In continuing on your Eastern Shore road trip beach vacation, the next stop is also an absolute must, which is Lawrencetown Beach. As one of the most popular beaches on Nova Scotia's Eastern Shore, this beach offers long sandy shores which are great for swimming, sunbathing, and of course, surfing. We rented surfboards and wet suits from Lawrencetown Surf Co. and the kids spent the afternoon catching waves.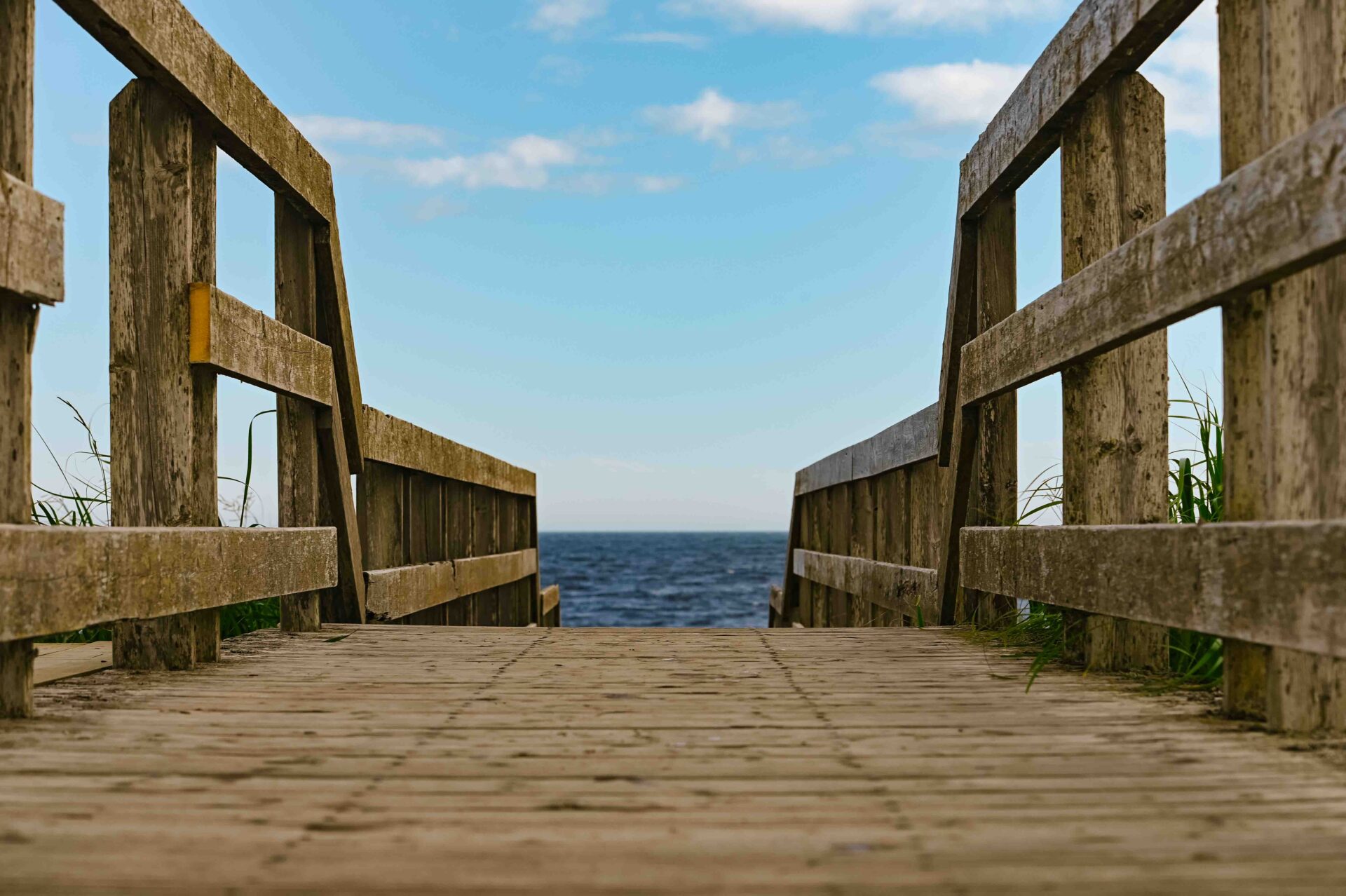 There are also several hiking trails in the nearby woods. Visitors can expect to see a beautiful ocean view from many of the scenic points, and while we didn't get to experience it, I think sunrise and especially sunset would be magnificent from Lawrencetown Beach. The best time to visit is during the summer months when the weather is warmest, but for those seeking adventure, you can head out in the off-season and gear up with warm wetsuits from Lawrencetown Surf Co. and hit the waves. Be sure to bring reef-friendly sunscreen, a hat, and plenty of water. And a camera… always an essential piece of travel gear.
Click here to purchase Reef-Friendly Sunscreen!
7. Lawrencetown Surf Co.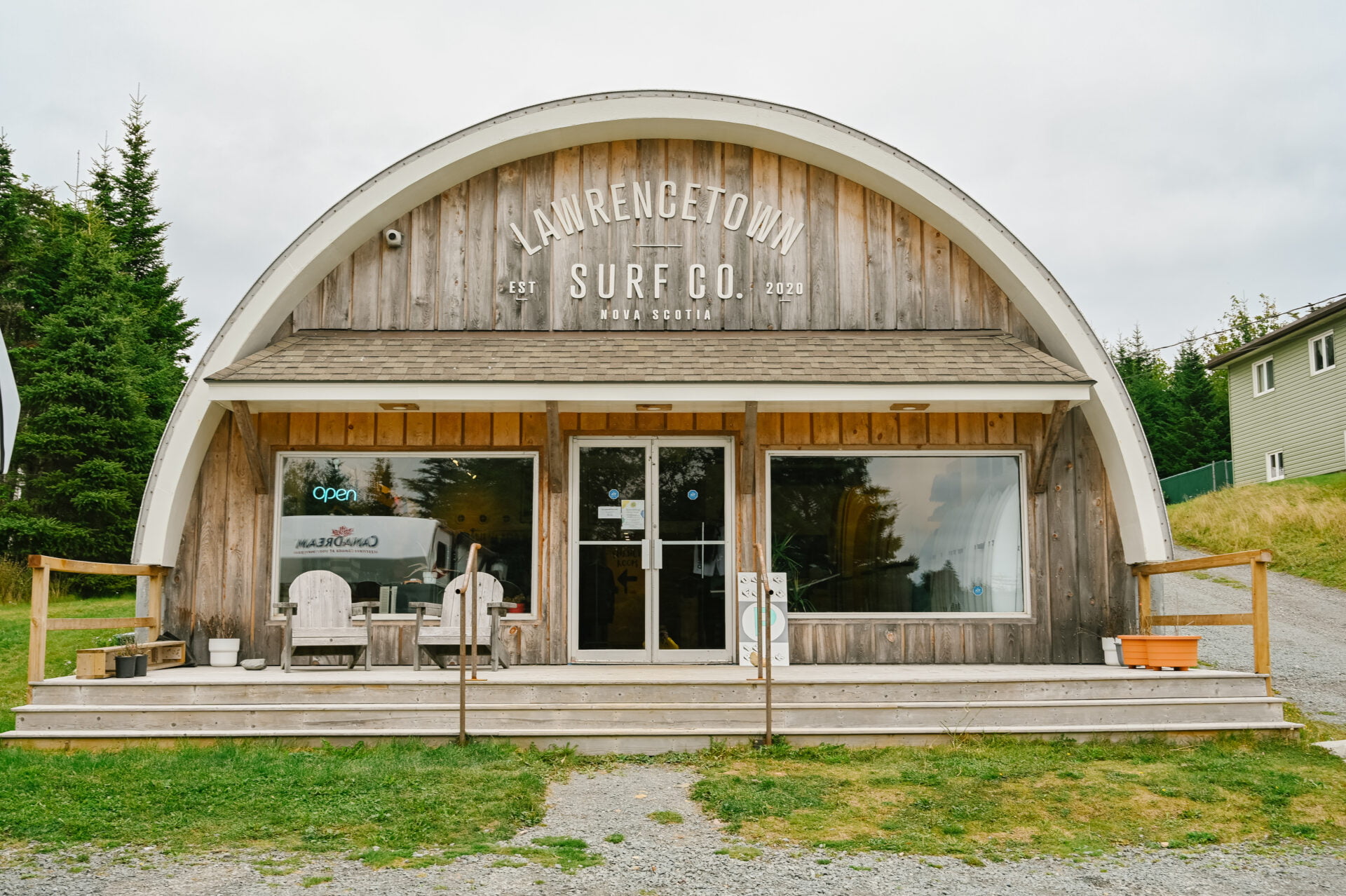 What I've officially named the "Coolest Surf Shop in Canada," Lawrencetown Surf Co. is a must-stop shop for anyone into surfing or just interested in cool grassroots stores. With a variety of local merchandise, surfing gear, surf rentals and lessons, this is your base camp for adventure if you want to head out and hit the waves.
On our recent trip back we made a second visit and they have a new line of clothing called, "Pines over Palms" showcasing the spirit of Canadian surf and encouraging local surf versus travelling to other countries to catch waves. My son is still kicking himself for not buying one of their shirts because of the messaging behind it. Oh well, guess we will have to plan another trip back!
8. Porters Lake Provincial Park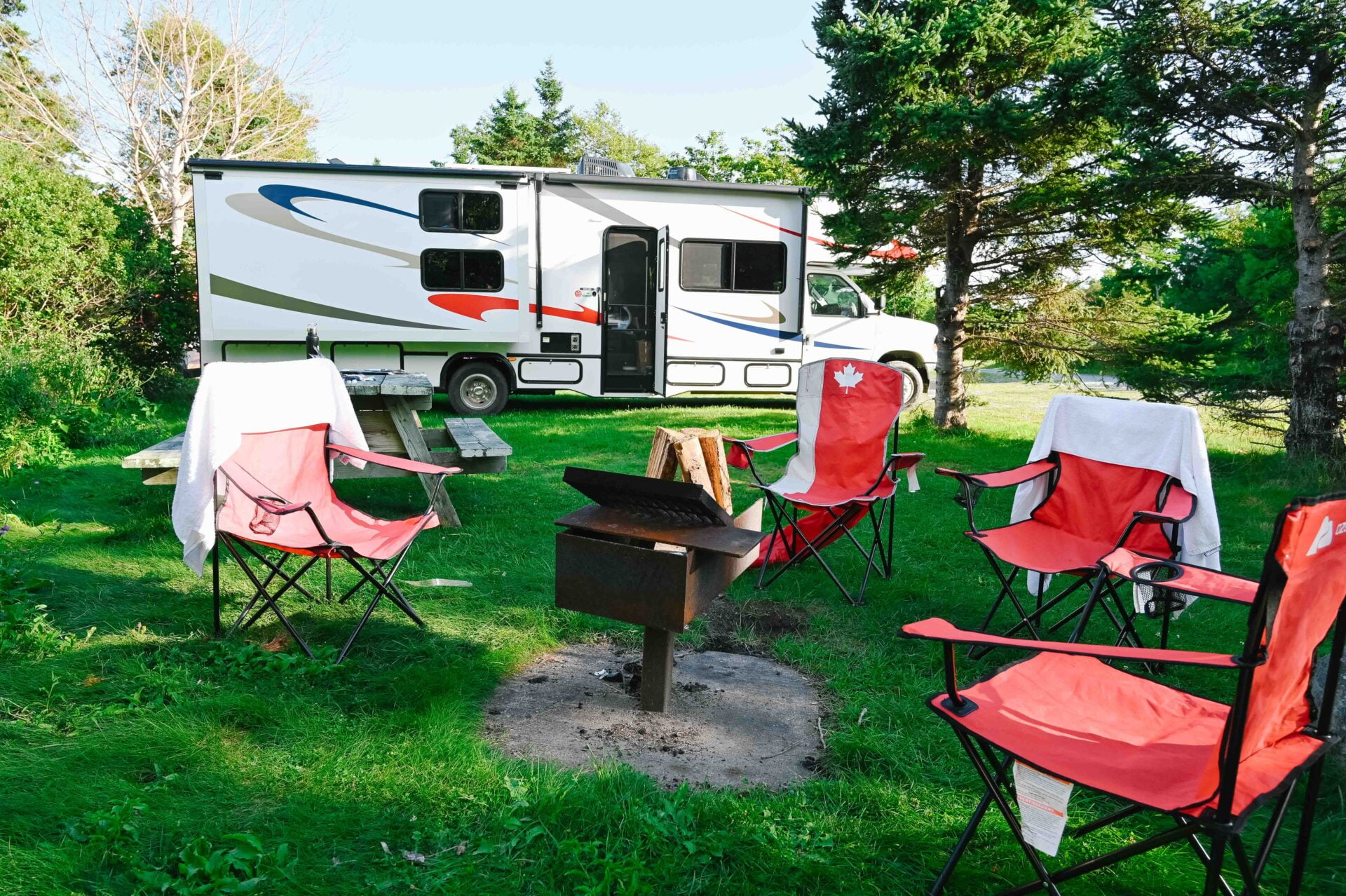 Porters Lake Provincial Park is owned and operated by Nova Scotia Parks, which was a new experience for our family this summer. Located on the shores of Porters Lake, our unserviced campsite was only steps away from the washrooms and a short walk to the lake. We enjoyed the large campsites that offered lots of privacy, giving us the nice balance of our own space combined with the magical networking and storytelling that can only happen in a campground.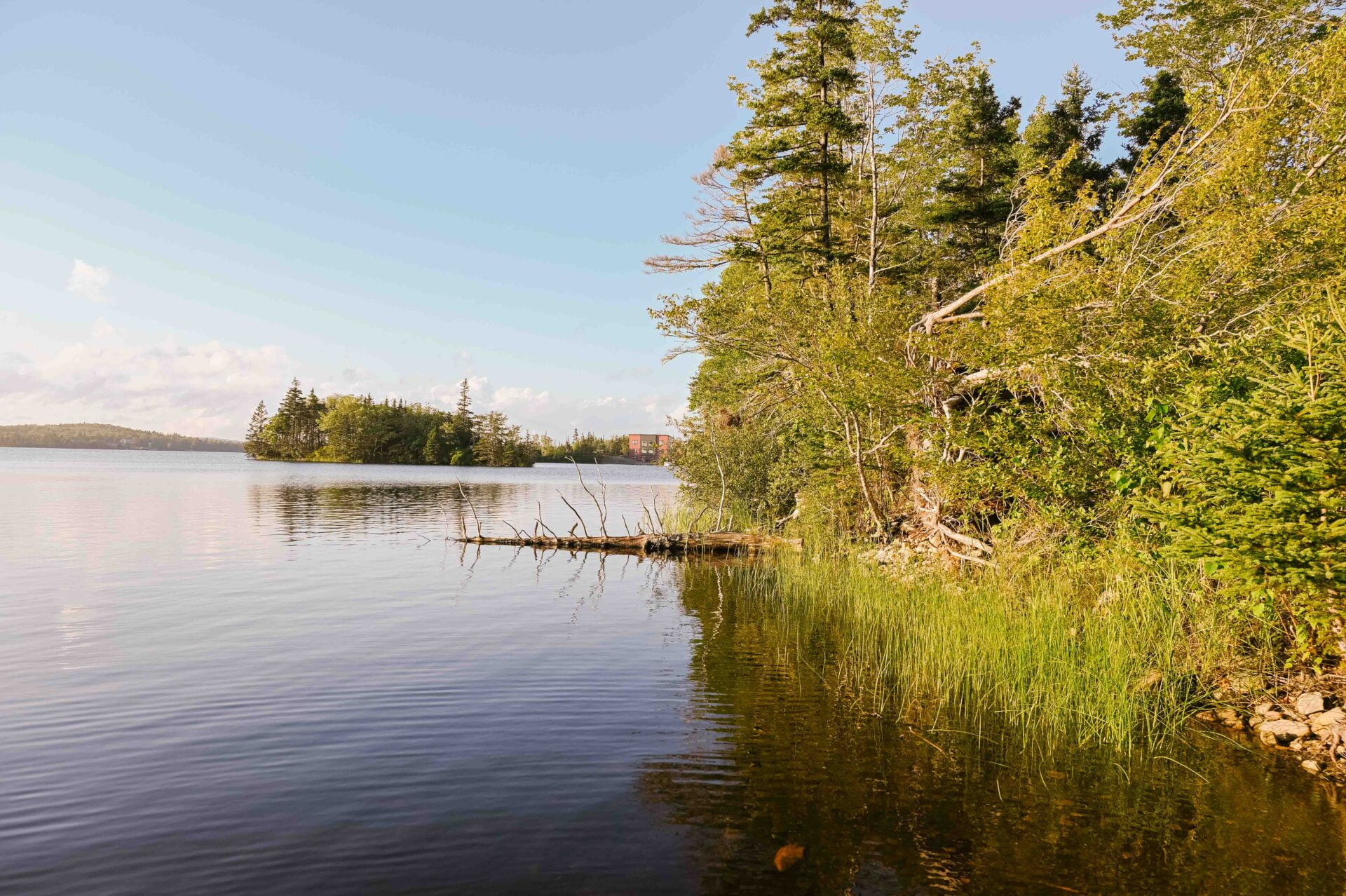 We were fortunate enough to secure campsites only a few weeks out, which doesn't happen in more populated provinces. So if you're planning a last-minute Eastern Shore road trip to Nova Scotia I'd definitely check out their Provincial Parks as a camping option (please note, serviced sites are harder to get so if that's important to you I'd book further in advance).
9. Eastern Shores Gallery, Head of Chezzetcook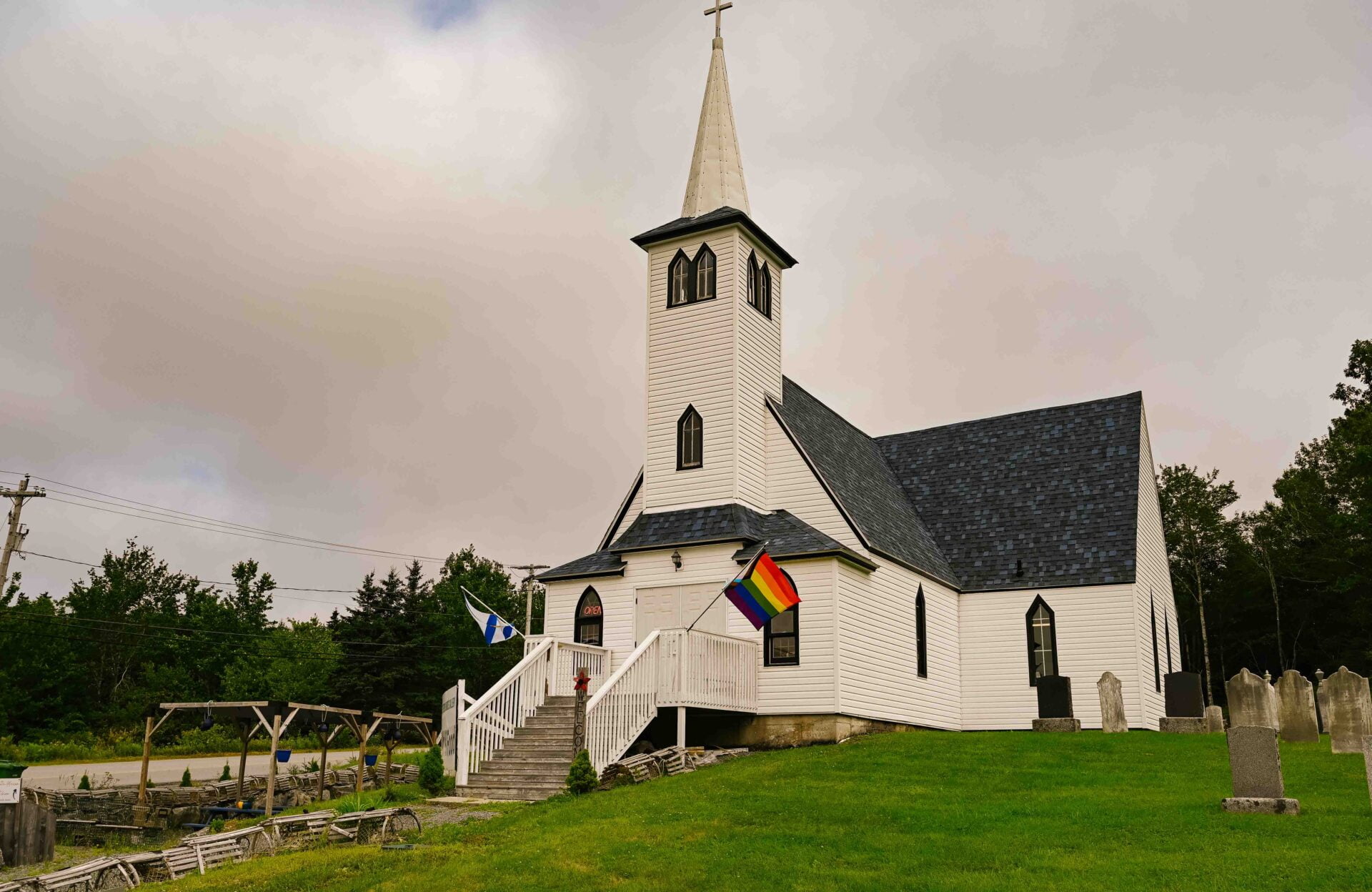 The Eastern Shores Gallery is a 200-year-old church that has been transformed into an art gallery. Located at 40 E Chezzetcook Rd, Head of Chezzetcook, NS B0J 2L0 everyone is welcome to come and explore a variety of hand-selected items that have been crafted by local artisans. Owner and curator Anthea is passionate about supporting local artists and in her gallery, you can find the works of Angela Negus, Gerri Frager, Glenda Hiltz, Jes Art, Lee Leonard, Lois J. Smith, Rhonda Barrett, and William Langley.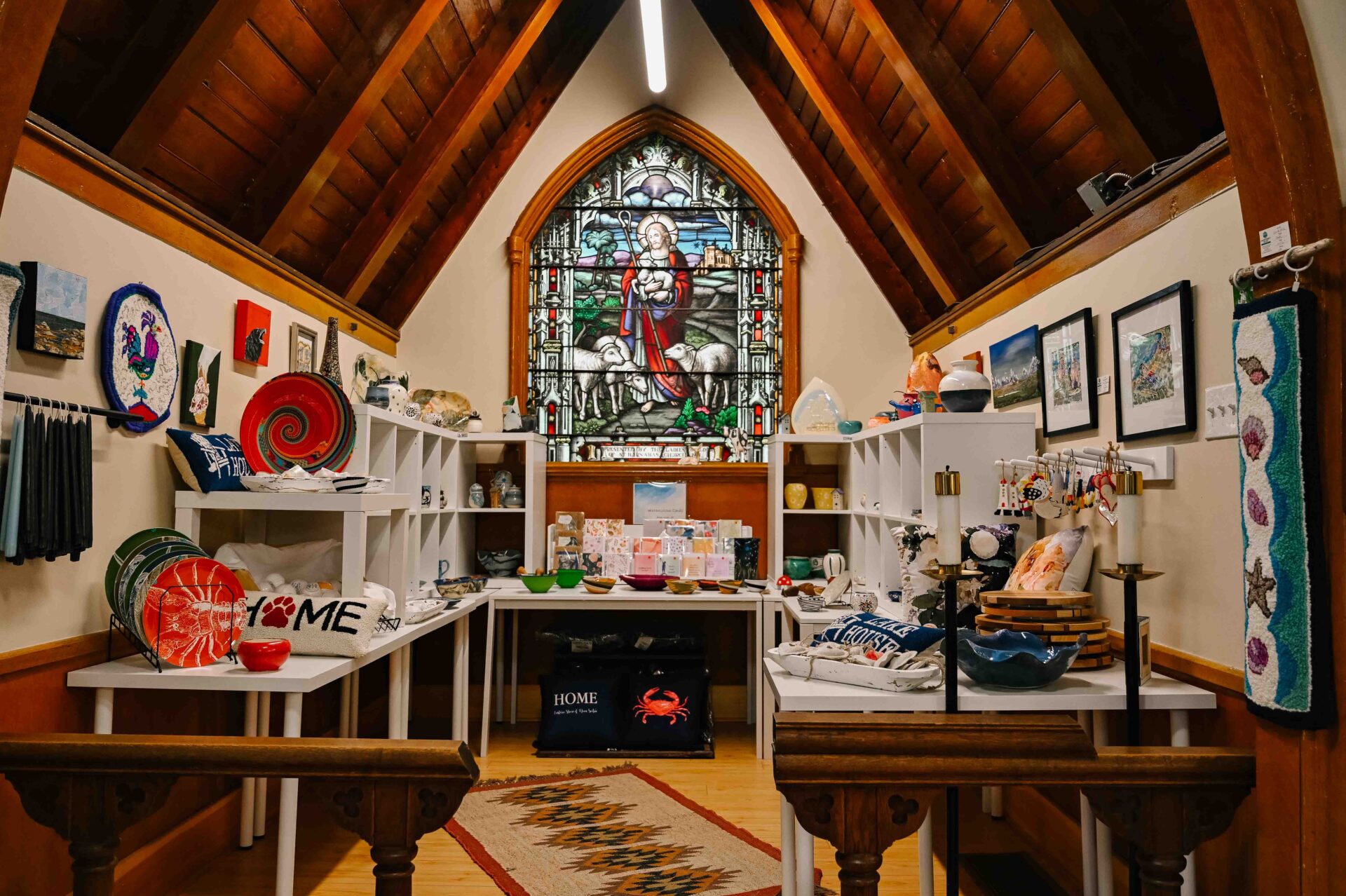 When purchasing from a local gallery like this you are directly supporting the local economy and local artists and helping ensure that your trip leaves a positive economic impact on the communities and the people that you are visiting.
From paintings to ceramics, hooked rugs, to seaside decor, to throw blankets and serving wear, this church holds so many stories in each piece of art. The studio is currently in the process of taking their work online, allowing you to shop some of Nova Scotia's best online, and have the artwork shipped directly to your home. The best part about this? I can actually pick up that piece that I was humming and hawing about while I was there (or better yet, send it to my husband and do his Christmas shopping for him!).
To learn more about this grassroots movement and support local Nova Scotia art visit their website and plan your visit.
10. Musquodoboit Harbour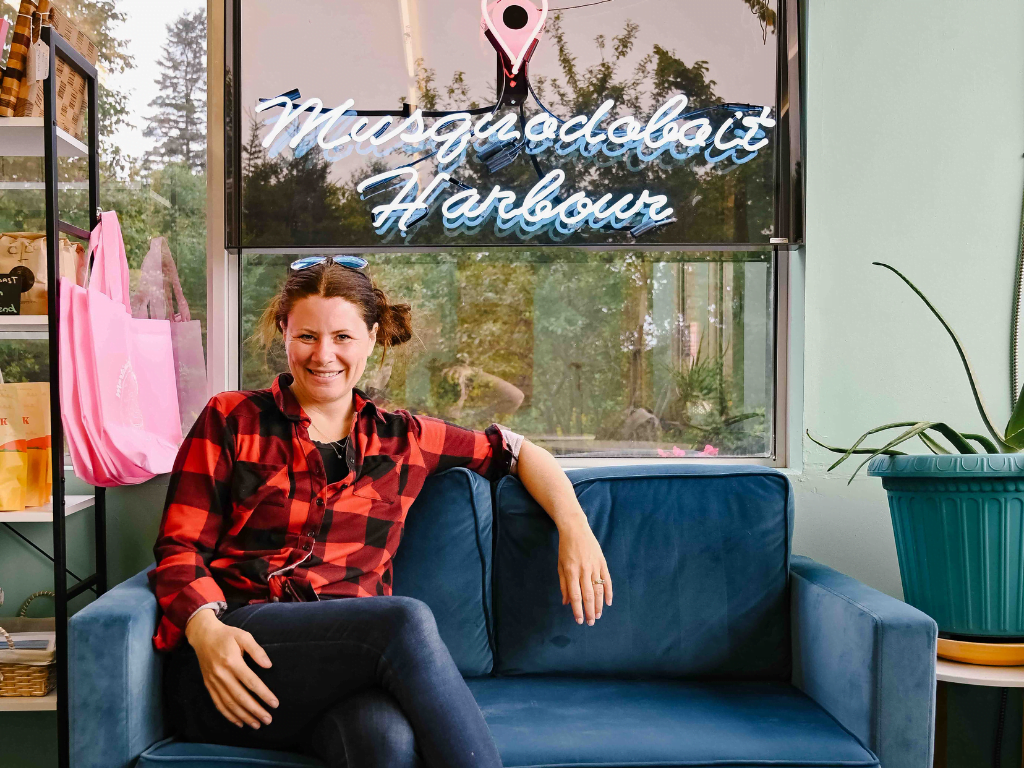 Musquodoboit Harbour is a charming little town and area of communities that really embrace the Eastern Shore, Nova Scotia beach and surf lifestyle. It's no surprise to see a group of girls in the Martinique Desserterie grabbing a cup of coffee and a croissant before they load up the car and head down to the longest sandy beach in Nova Scotia to catch some waves. Across the street you could spot a family out on a Sunday morning, visiting with friends at the Railway Museum's Farmer's Market.
With small-town charm, local shops and restaurants, the town of Musquodoboit Harbour is a great place to stop and visit before you head off to one of the provincial park beaches, seek out a local hiking trail, boating or kayaking, or a local attraction.
11. Musquodoboit Harbour Railway Museum
Driving through the town of Musquodoboit Harbour you'll undoubtedly see the large red train station that is the center of the Railway Museum. Operated by the Musquodoboit Harbour Heritage Society, this Canadian Historic site has been restored to share the history dating back to when the train station was in full operation in the 1918's.
A visitor information centre and museum gift shop welcome you into the front room but be sure to take the full tour so you can see the rare ex-CN GE 44 tonner, snow plow car, CN caboose and the unique mail crane (and so much more!).
The museum is the "center of town" and hosts a lot of community events, so be sure to check their calendar to see if one aligns with your dates. From concerts to classic car shows, and Sunday morning farmers markets, there's a lot going on at the train station!
Traveler Tip: The Musquodoboit Harbour Railway Museum is open from July 1st to September 1st, Wednesdays to Sundays from 10am – 4pm. It is closed Mondays and Tuesdays.
Where to Eat in Musquodoboit Harbour
Martinique Desserterie, Musquodoboit Harbour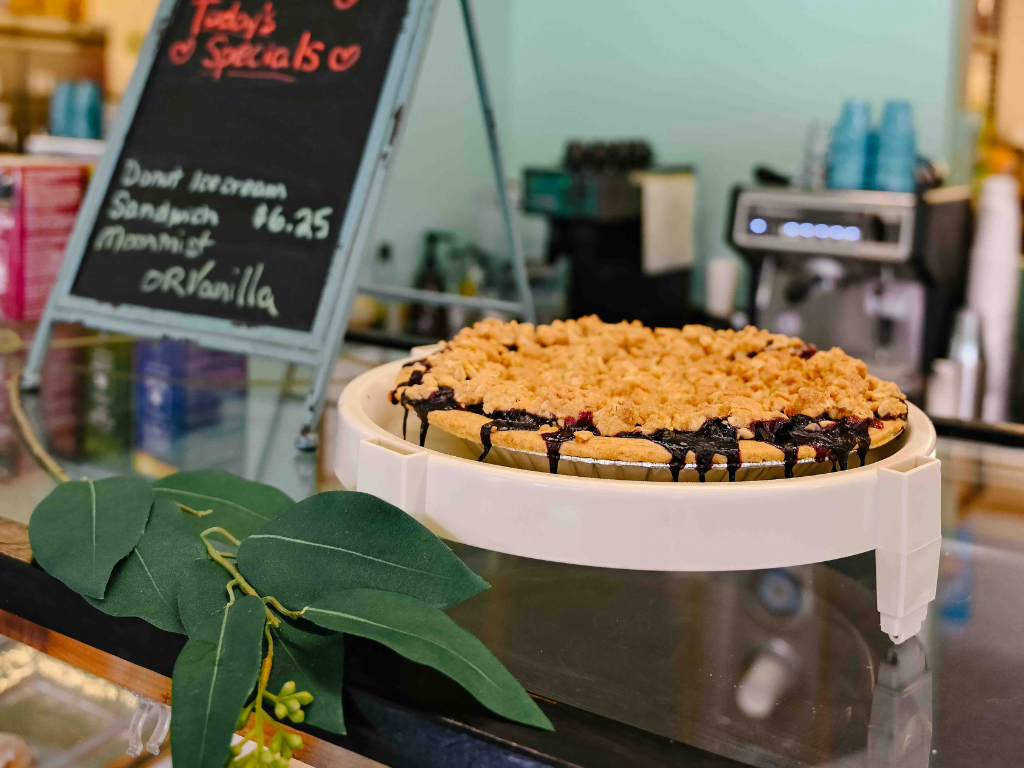 Every small town needs a bakery and in 2022 the town literally rallied together to support the dream of two newcomers to the area, Ola Jackson and Renee Lavigueur, who wanted to open up a bakery in a newly vacant property. With the support of their community a GoFundMe was launched and $7000 was raised to help Ola and Renee open Martinique Desserterie.
The town continued to support them and on opening day the following April, they were lined up out the door and sold out with 3 hours still left to go. And that feeling of welcoming and community is present whether you're a local stopping in, or a visitor like me exploring the area for the first time.
Whether you're looking to get a breakfast snack, stock up on bread, or grab sweet treats for after dinner, this little bakery has so much to offer. Sourdough bread, cupcakes, pies, croissants, doughnuts, apple fritters, muffins and more… (and even a gluten-free section). If you're in the area this is a must-stop on your Eastern Shore road trip.
Read more about their incredible journey from full-time moms to talk of the town bakery and plan your visit.
Polar Bear Ice Cream, Musquodoboit Harbour
Located next to the Musquodoboit Harbour Railway is a little red ice cream shack that invites you to indulge your sweet tooth with a Polar Bear Ice Cream. With so many flavours to choose from, you may end up like my family, having to step away to decide which one to choose! With some members of our family being lactose-free, we appreciate that they offered lactose-free as well as dairy-free options, helping ensure we could all enjoy the cool treat on the hot summer day.
Uprooted Cafe, Musquodoboit Harbour
The Uprooted Cafe was on my list before we even left Vancouver as I had seen pictures on their Instagram of fresh local products and I knew at this point in my trip I'd be looking for fresh berries, lettuce, and some local eats to restock my fridge.
Walking into the cafe you can see a unique mix of fresh fruits and vegetables, a grocery store, and art gallery, all set up on the backdrop of a cafe. It's clear that this is where locals stop and stock up on essentials as well as pursue the frozen section for protein and their next meal. Local artisans are also supported through the display of local work on hand. Cafe goers can stop and grab a cup of custom joe and either take it to go or hang out in the cafe area and enjoy their meal around a table.
This cute store was so adorable and picture-perfect that I could have spent hours in there taking photos, however, the locals were curious about what I was doing and I wanted to respect their privacy so I took the shots when I could and waited until the place was empty to capture more!
Musquodoboit Harbour Farmers Market, At Railway Museum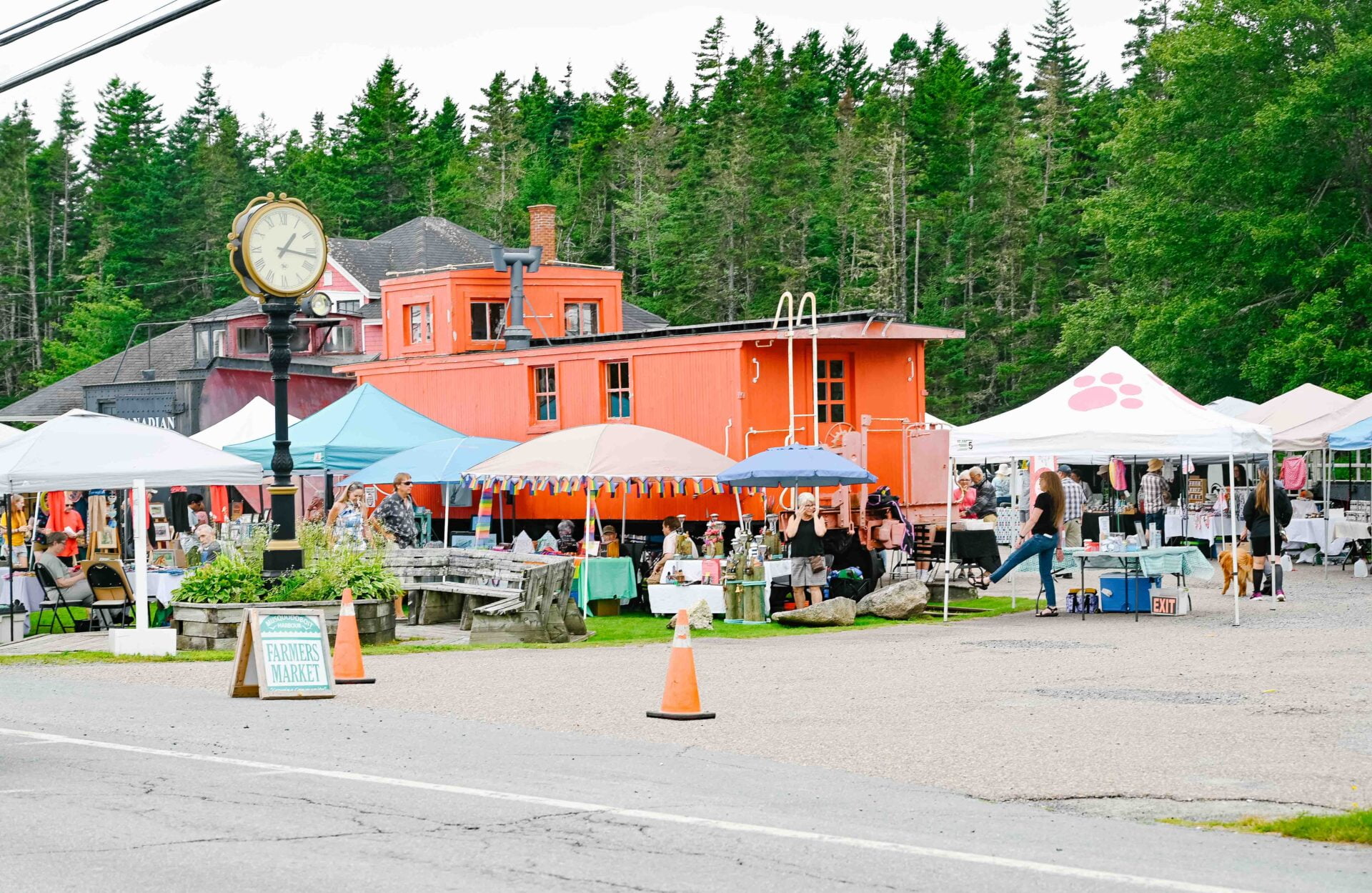 The streets of Musquodoboit Harbour become busy with cars as tents pop up around the train station on Sundays. The Musquodoboit Harbour Farmers Market connects locals with other local shoppers as well as those visiting the area. Open every Sunday from 10am – 2pm during the summer when they are outside, and when they are inside they are open 10am – 1pm (inside location is at 67 Park Road).
Every week the vendors change and the best way to stay in the loop of who you can expect to see there is to visit their active Facebook Page. Here's a list of vendors that were recently at a market so you can learn what to expect and plan your shopping accordingly.
The Shore Clothing Co.
Still Fired Distilleries
Splash Bath & Body
Snails Pace Gardens
Craft 'N Creations By Alysha
Luna Vista Farm
The Mystical Crystal
Lady Bug Purses
Get Stuffed Cookies
North Home Co.
Fibre Enriched
Aly Mae's Bread Basket
Vegetorium Farm Market
Crystal's Crystals
R & J's Freeze Dried Tasty Treats
Made with Love by Lisa Doucet
Chezzetteas Tea Company
Steve Webber Woodworking
JASO Design
Cole Harbour Candle Co.
Crafts by Kathy
Menal's Sweets & Popcorn
Soulful Tides
The Harbour Brewing Company
The Museum is still open as well as The Whistle Stop, The Bandwagon, Sober Island Brewing Company beer garden, and Polar Bear Express Ice Cream
12. Martinique Beach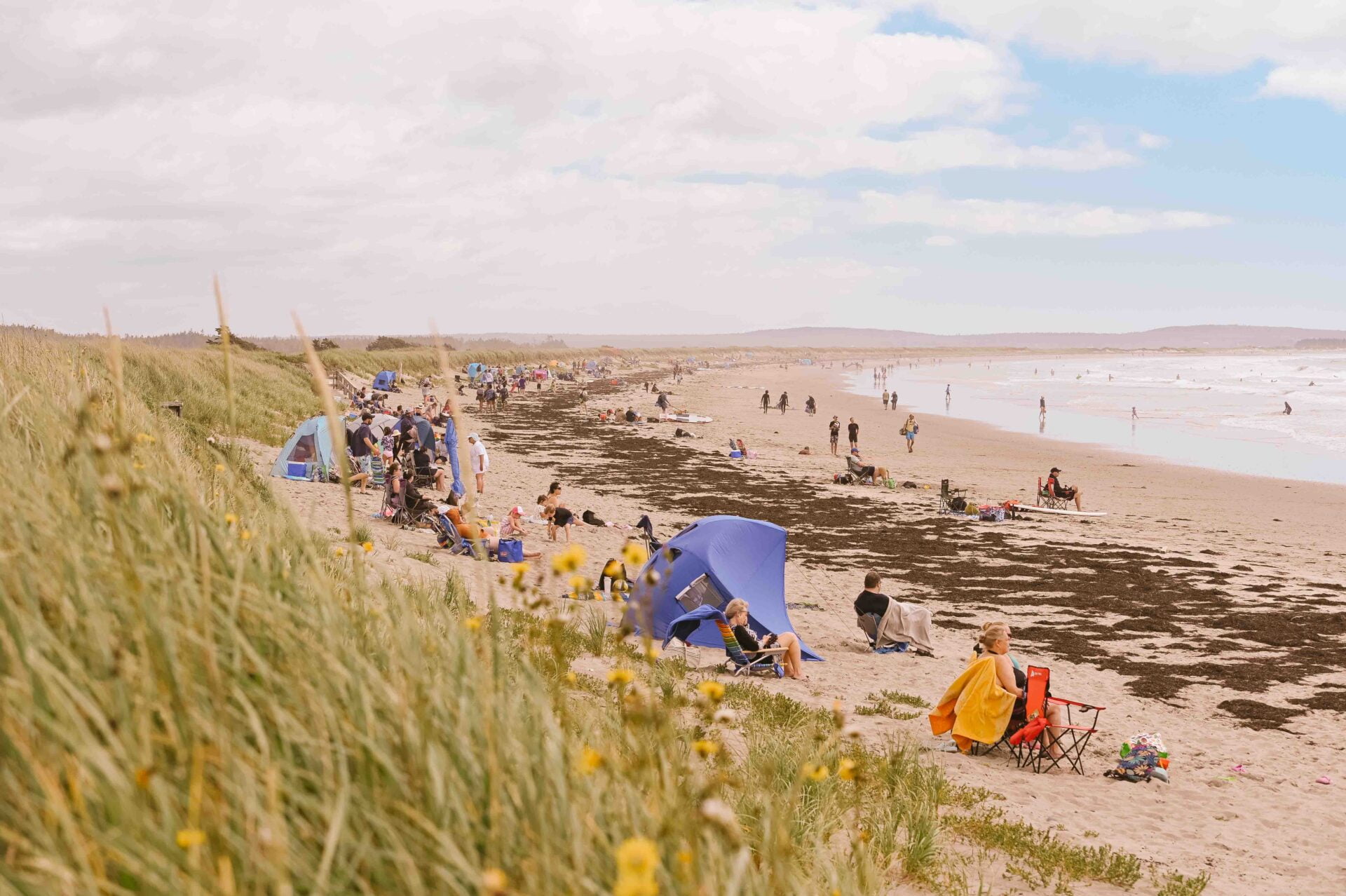 When we were at Fishermans Cove some of the locals overheard us planning our Eastern Shore road trip and they jumped in to say "You HAVE to go to Martinique Beach!" The three of them each went on in their own words sharing how beautiful the beach was, describing its turquoise blue waters, and sharing stories of the sandy shores, and telling us it was an essential stop on our Eastern Shore road trip.
Well, they were right, and we found ourselves feeling like we should be in the Caribbean, not the Atlantic Sea when we crested over the dunes at Martinique Beach.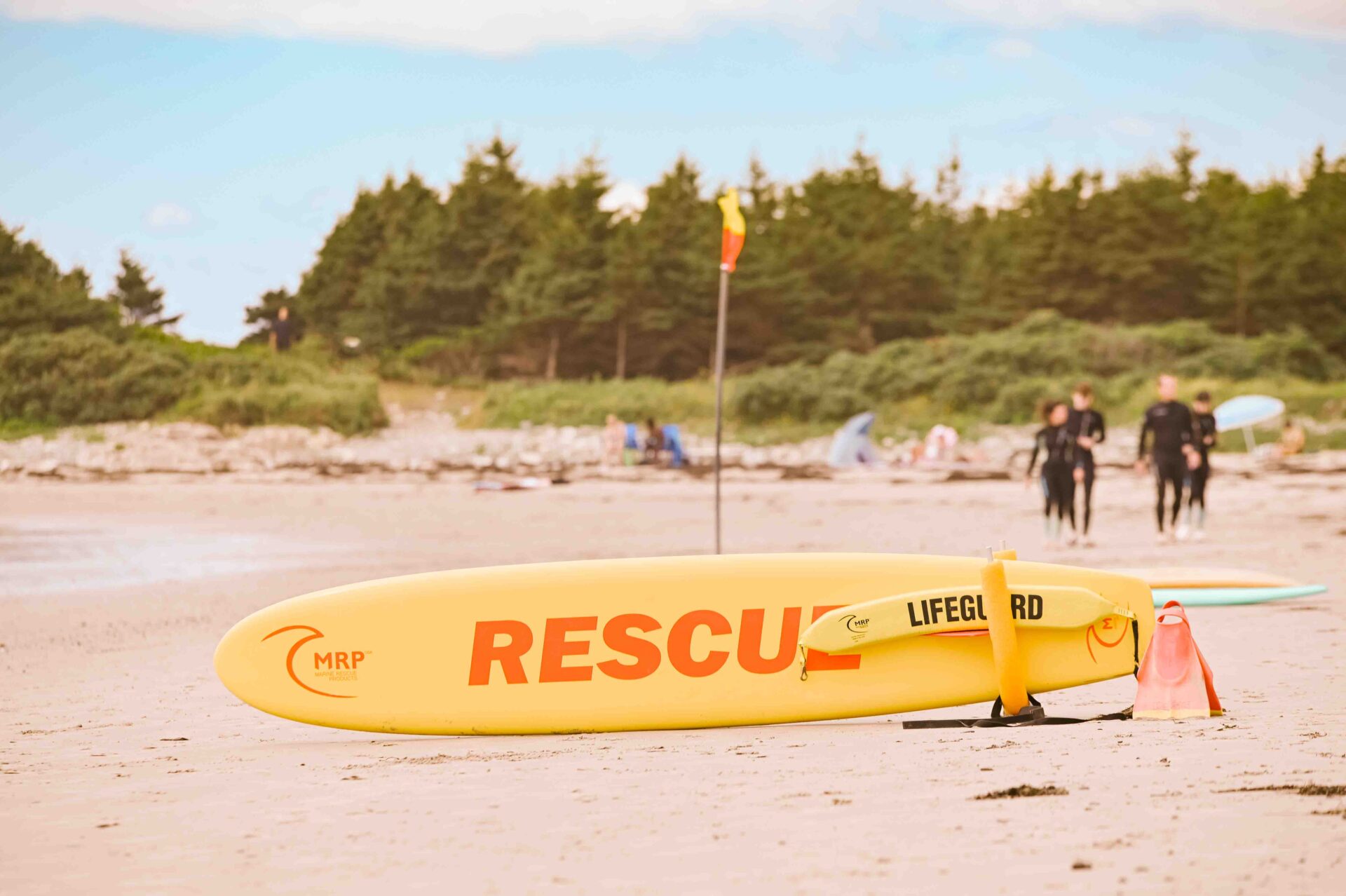 The beach boasts the title of the longest sandy beach in Nova Scotia. You can expect to see a 5-km crescent white-sand beach, ideal for surfing, perfect for exploring, beachcombing and walking along the boardwalks. Birdwatchers beware, Martinique Beach is a protected area for the piping plover as well as a wildlife refuge for migratory waterfowl (so be sure to pack your binoculars!).
Tip: If you go during peak season (think Saturday on a sunny day) parking can get fully booked. So either go early to secure good parking spots or be prepared to park along the road and walk onto the beach. If you're driving a bigger RV it could be logistically challenging, so give yourself space and time to navigate.
13. Go Surfing at Martinique Beach with Halifax Surf School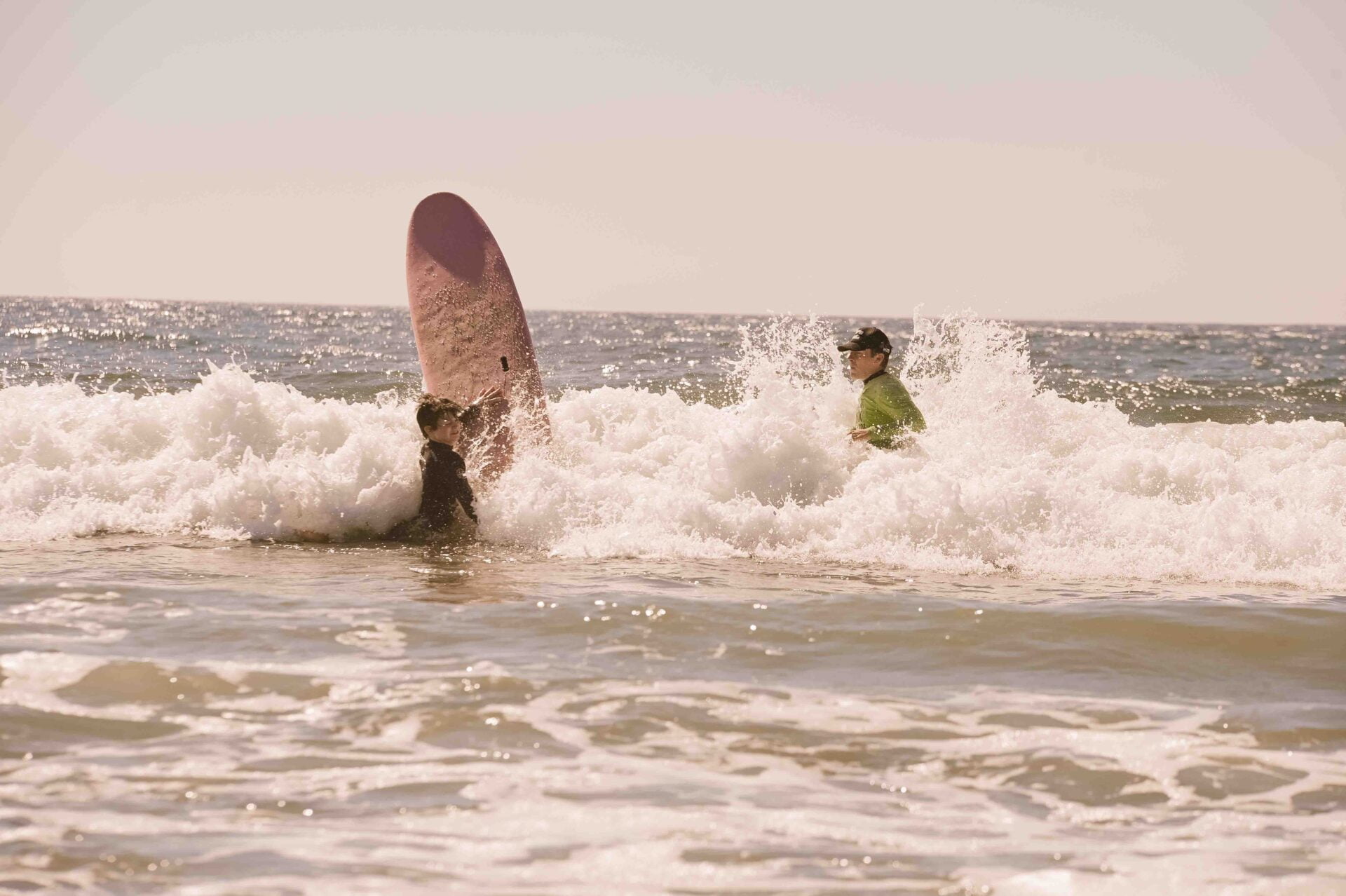 The size of her smile is one I'll never forget, as my daughter popped up standing on her surfboard for the first time. The soft waves and gently sloping sand made for the perfect conditions, and combined with an excellent instructor who instilled confidence with every wave my daughter was up, officially a surfer girl now.
My son chased her down, a more experienced rider and loved having a new surf buddy to add to his crew. I stood on the shore screaming and cheering them both on, somehow capturing over 1,000 photos of their one-hour lesson out in the waves (Yes, I was snapping fast and furious but now I have a lot of editing to do. I have two large photos that I'm going to be framing though!).
Halifax Surf School was an excellent experience for our family, and we highly recommend it. You start off at the van located right after the entrance to Martinique Beach where the crew will get you geared up in the wetsuit, waivers signed, and connect you with your instructor. Then it's down to pick up your surfboard and out to catch some waves!
Halifax Surf School offers lessons, rentals, and a well-stocked surf shop for your surfing needs. (Cough, sunscreen for those of us that forgot it!)
Surf Lessons at Martinique Beach
We had 3 people in our surfing lessons and it was $75 per person for the hour, which is some of the best pricing for surf lessons that I've ever seen. The lessons came with the wet suit and board rental for the day… again, unheard of in my experience. I love that there are no more than 4 people per group, which is especially beneficial when working with kids so they get lots of one-on-one time. If you're looking for private lessons they do offer 1:1 lessons for $105.
Surf Rentals with Halifax Surf Schools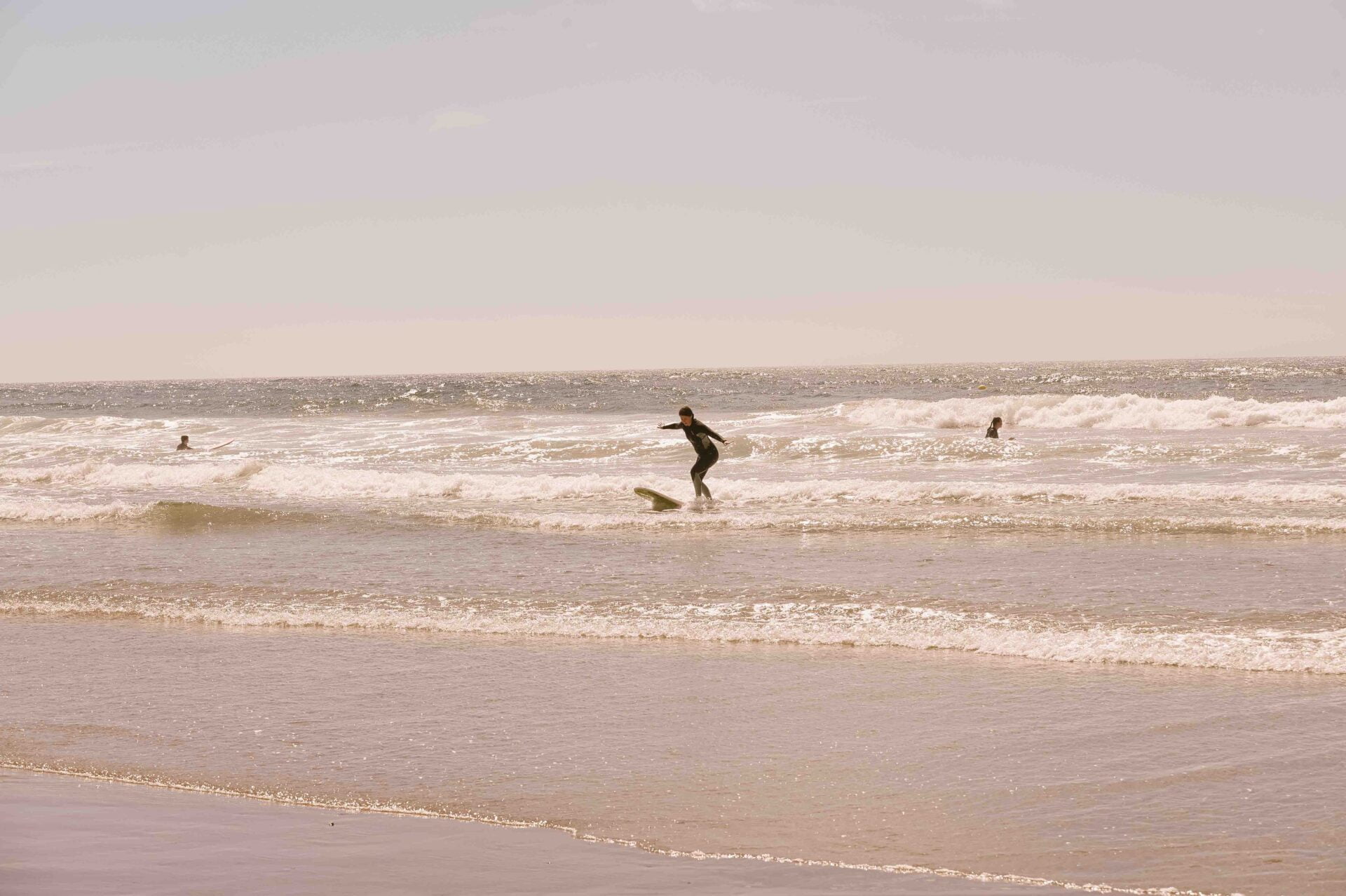 If you've got some surfing experience and are comfortable heading out on your own you can rent boards for $25 per day, or get discounts for renting for additional days (Like $105 for the week, or $15/ day). So if you're going to be in the region for a while, a multi-day rental may be the best fit.
To learn more about Halifax Surf and their services visit their website.
14. Harbour Breezes Daylilies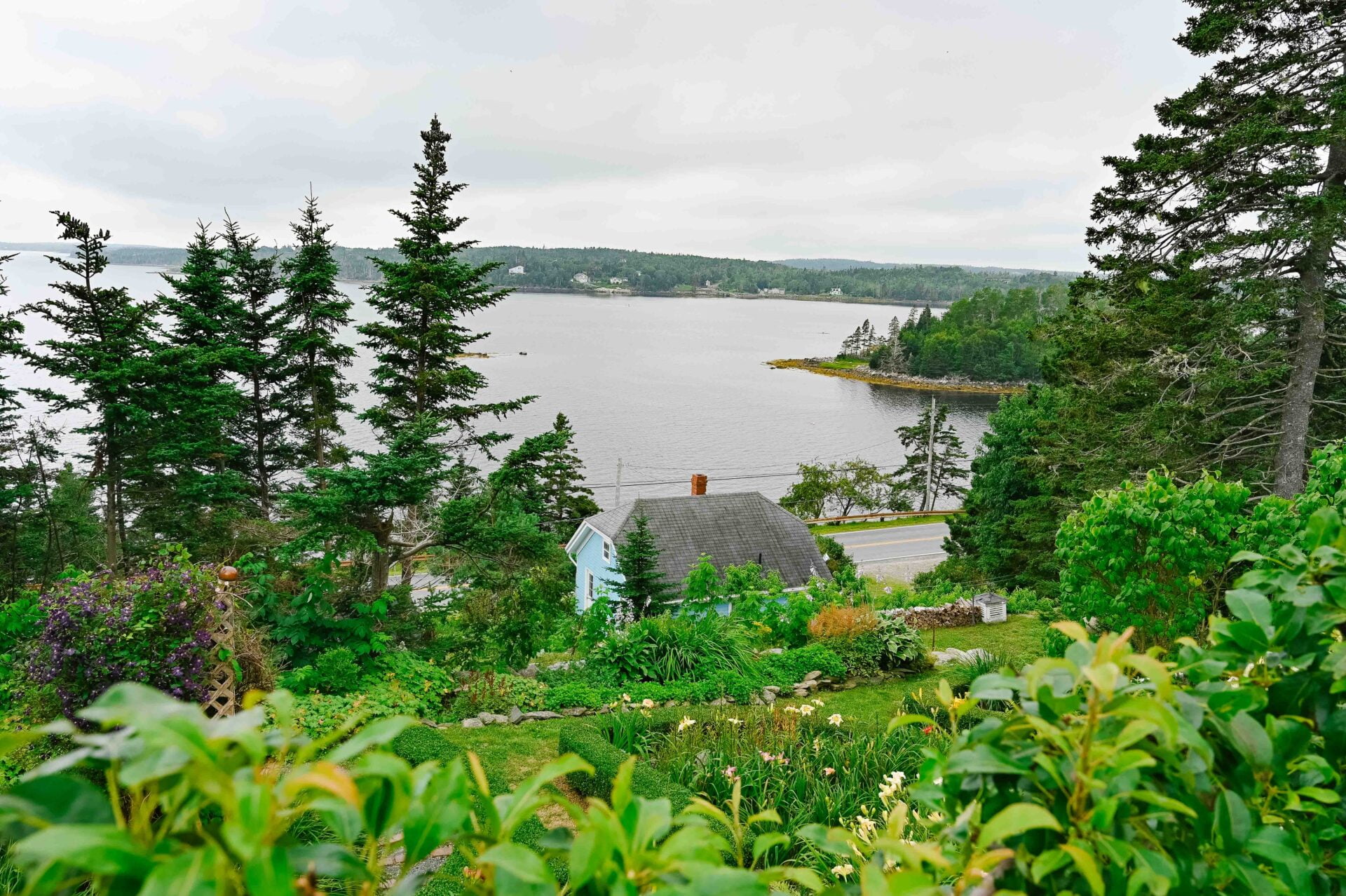 One of my favourite things about being a Travel Writer is discovering lesser-known gems in smaller towns, and sharing their story with the world! Harbour Breezes Daylillies are exactly this, a private property that has been transformed into an oasis of daylillies and irises overlooking the ocean.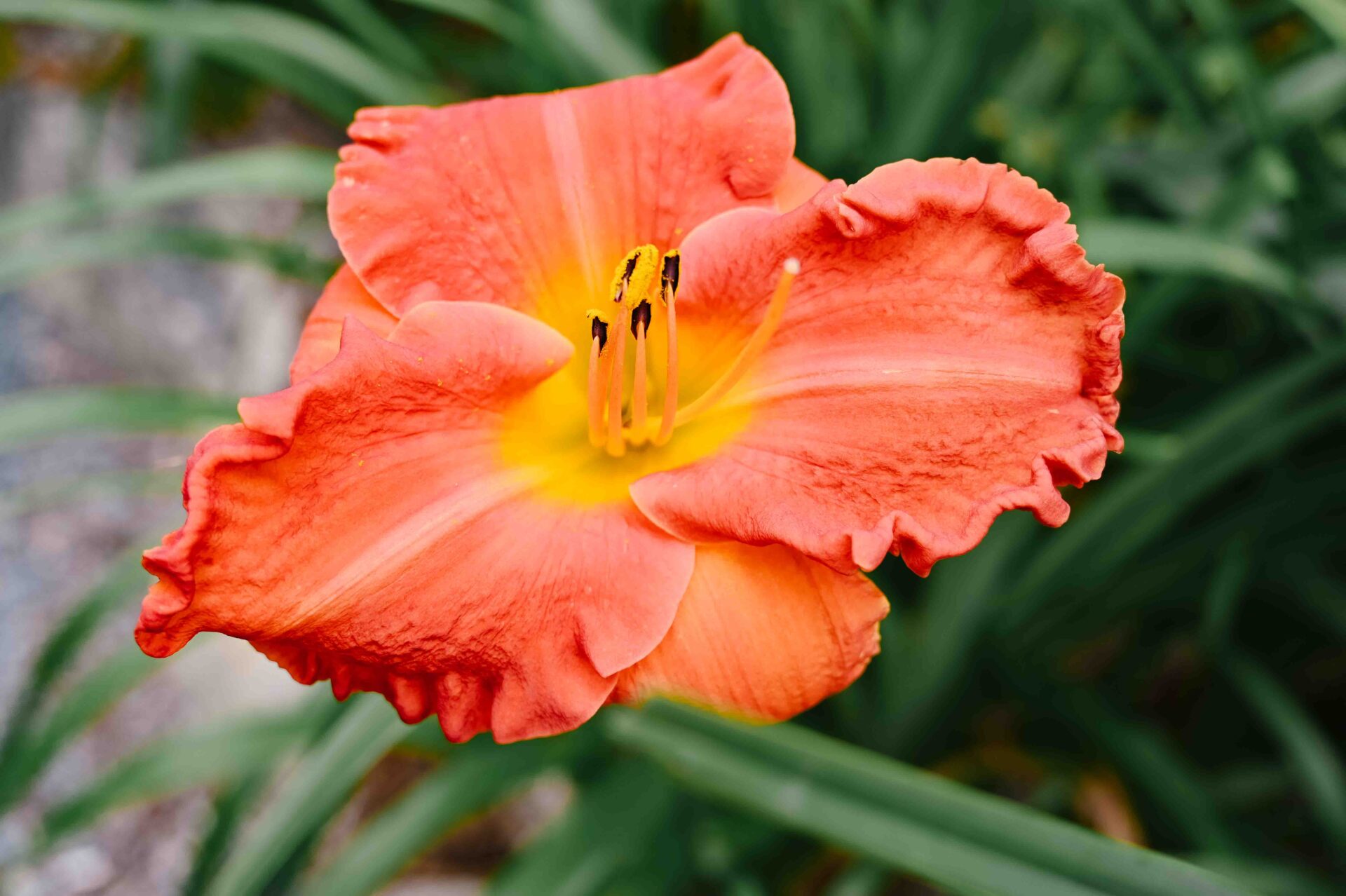 Located on Nova Scotia's Eastern Shore, about ten kilometers east of Musquodoboit Harbour, the gardens cascade over the hillside overlooking the Jeddore Harbour.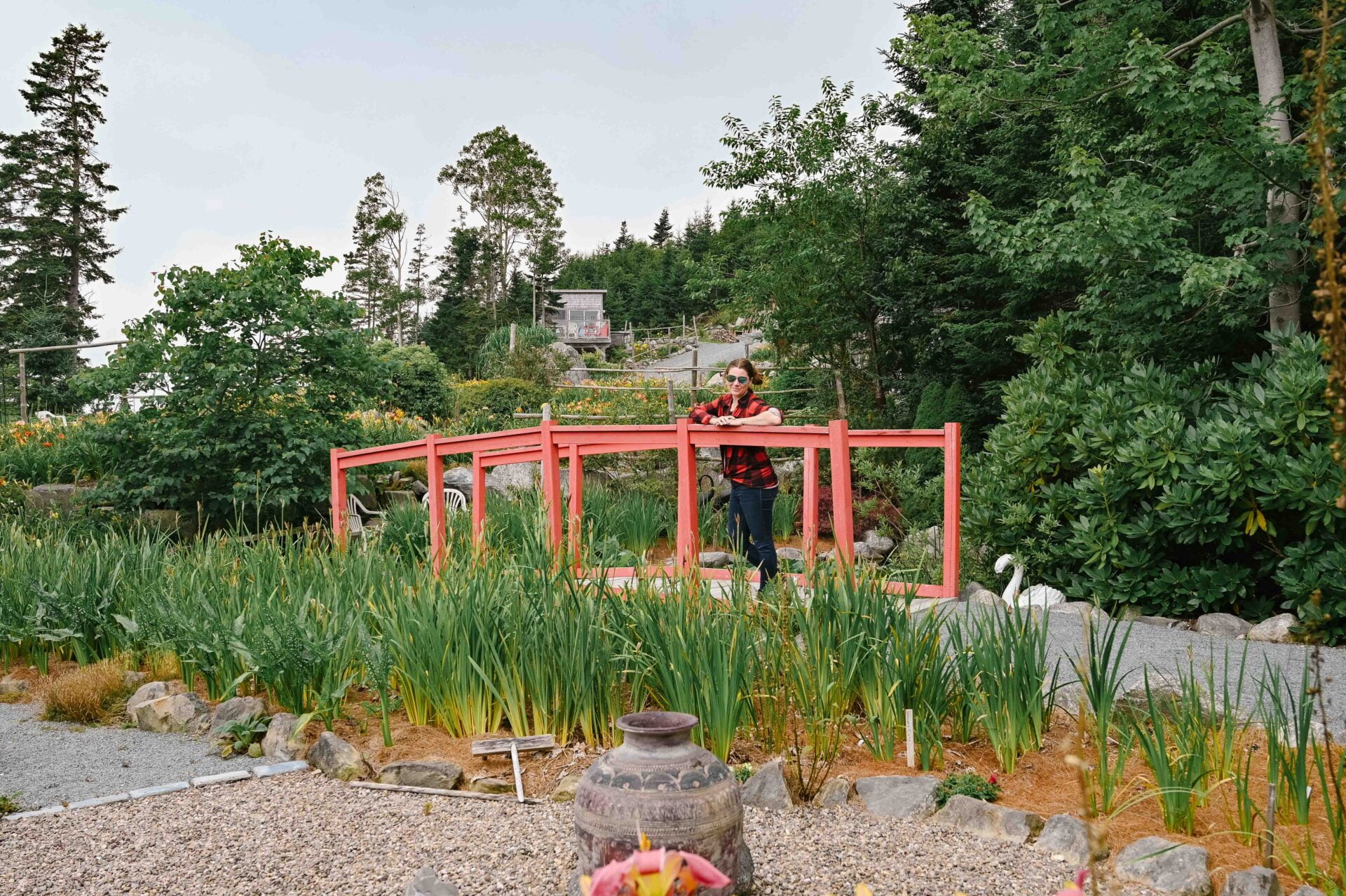 Visitors are welcome to stop in on their drive-by (parking on the road) at no fee and tour the four acres of flowers, bridges, rock work and beautiful scenery. When you first enter the property the garden looks relatively small but as you wander up the path you'll see the flowers keep going and going and you'll explore the windy pathways through trees, over bridges, and up into Japanese-style and eclectic gardens.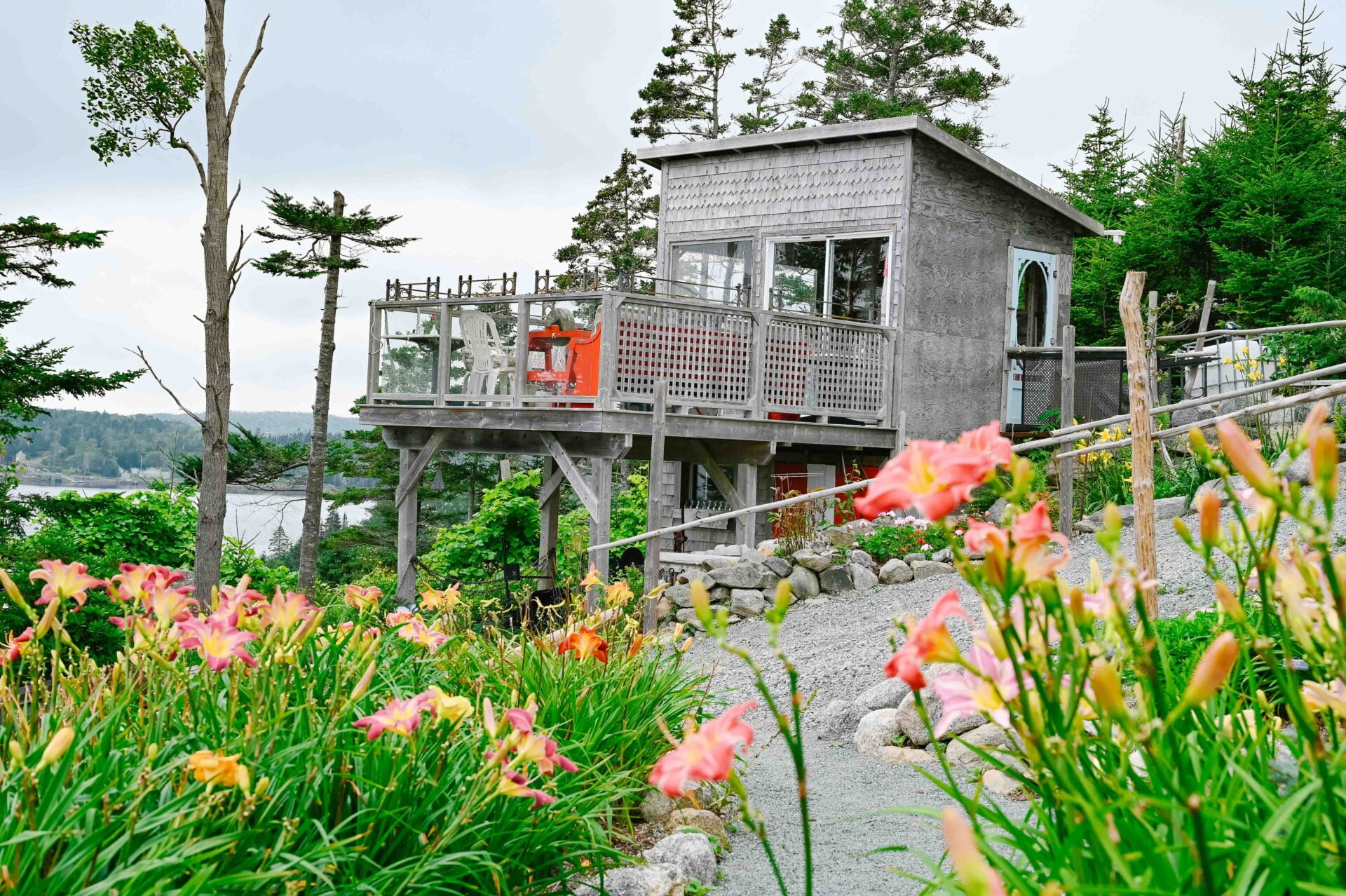 If you're not in a rush (which you shouldn't be on the Eastern Shore) stop at their visitor hut, which offers an eclectic grouping of furniture in an outbuilding perched perfectly to have you look out over the gardens and the ocean. From there you can take in all four acres, 850 varieties of daylilies, as well as the other plants in the garden.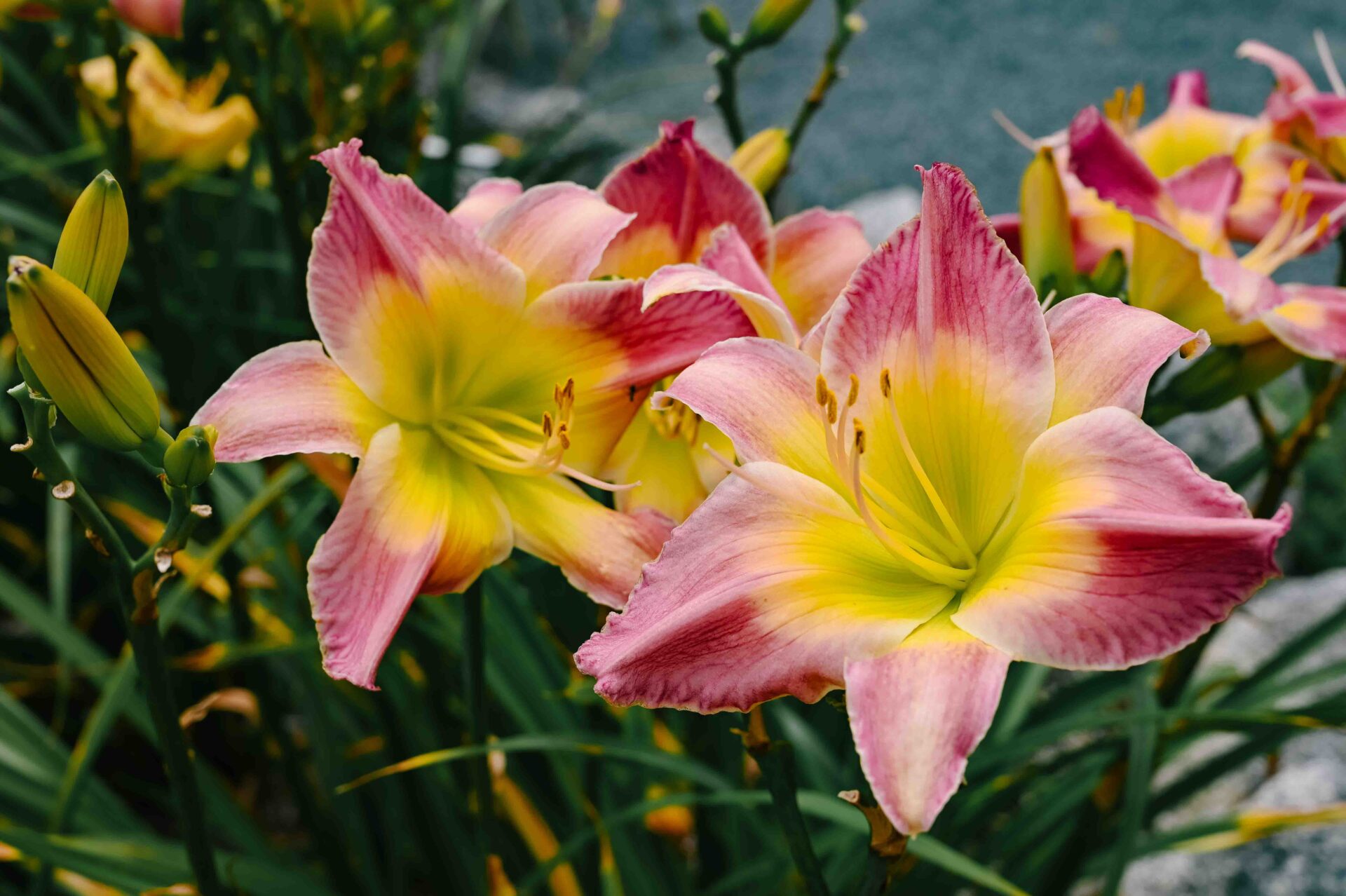 Before you head out be sure to stop at their little store where you can buy flowers, local jams and jellies, as well as artwork.
The gardens open the second week of May until the first week of September. Be sure to wear appropriate footwear (hiking boots recommended due to the steep terrain). For more information visit their website.
15. Memory Lane Village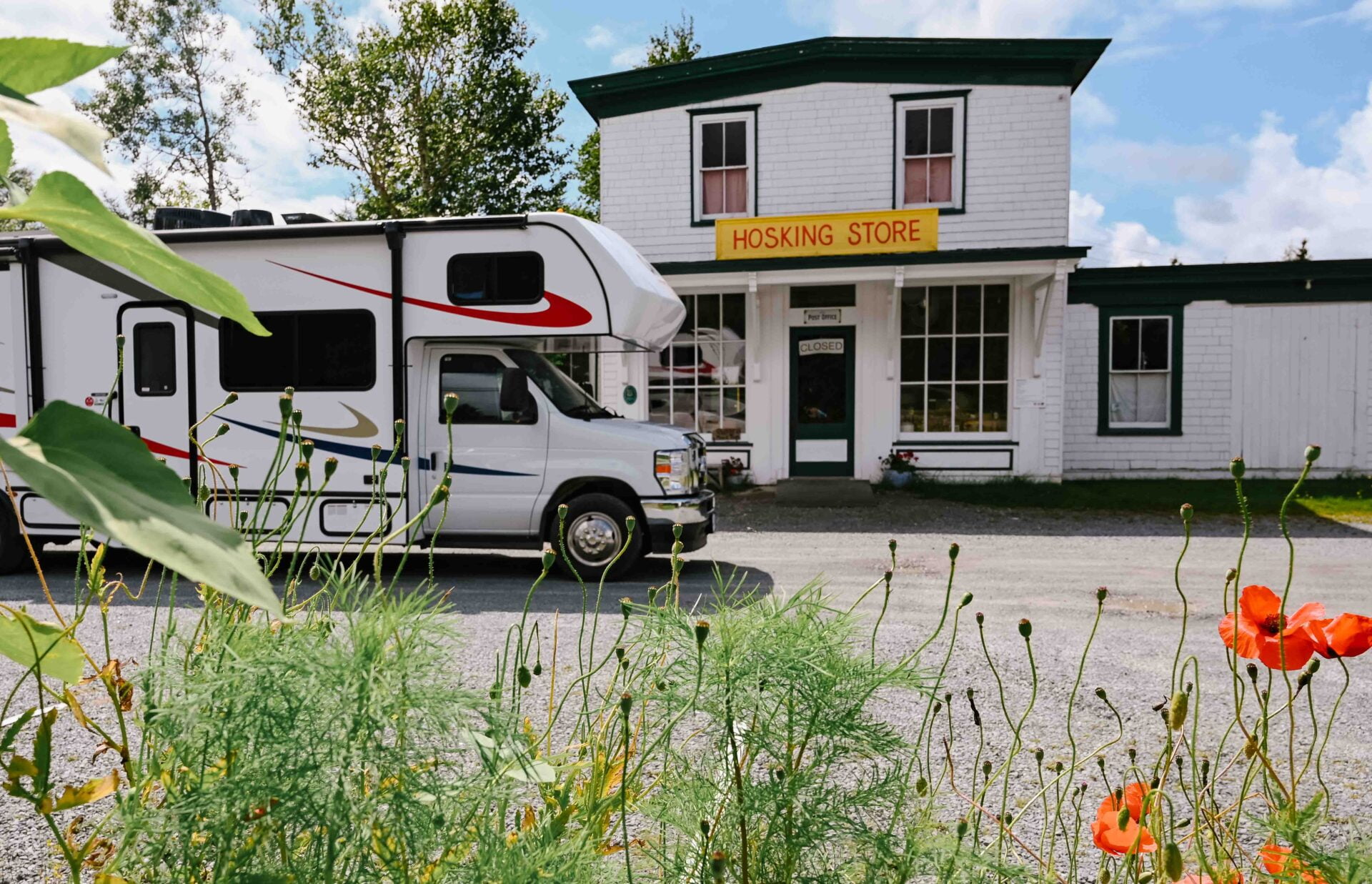 As you drive through the Musquodoboit Harbour region you'll undoubtedly see signs for the Memory Lane Village, inviting you to come and visit. Here you can take a step back in time and explore what life was like in the region in the 1940's. This living history museum is open from June to October and welcomes guests to step back into the 1940s and experience what life was like through their hands-on and interactive displays.
16. Clam Harbour Provincial Park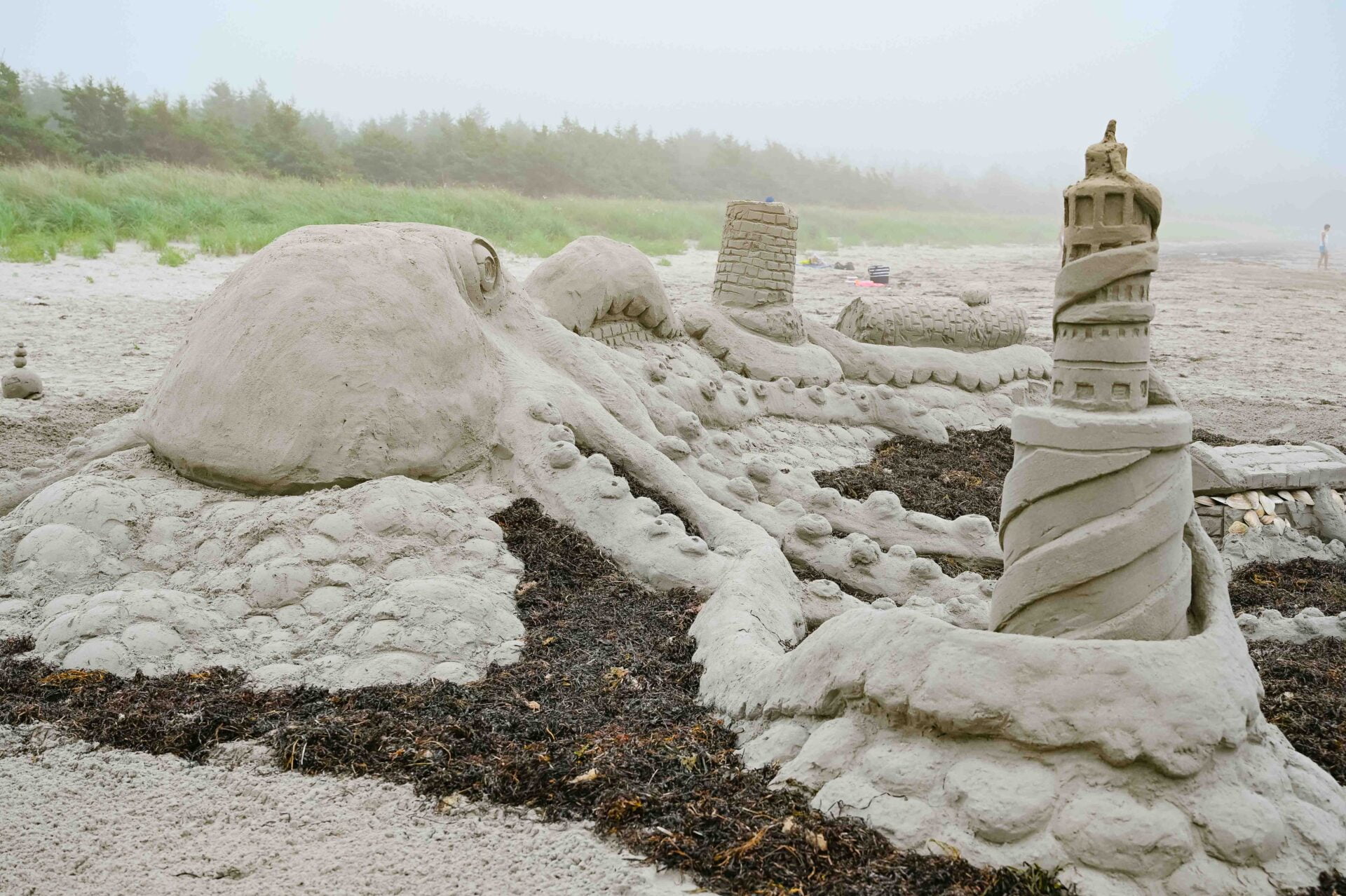 Clam Harbour Beach is famous for its annual Clam Harbour Sandcastle Competition that's been welcoming hundreds of contestants and thousands of spectators for over 35 years! Clam Harbour Beach is a long and wide natural sandy beach where you can enjoy a picnic in a field, on top of a bluff (add that to the list!) and you can head out to explore the boardwalks and hiking trails after you've fed your crew.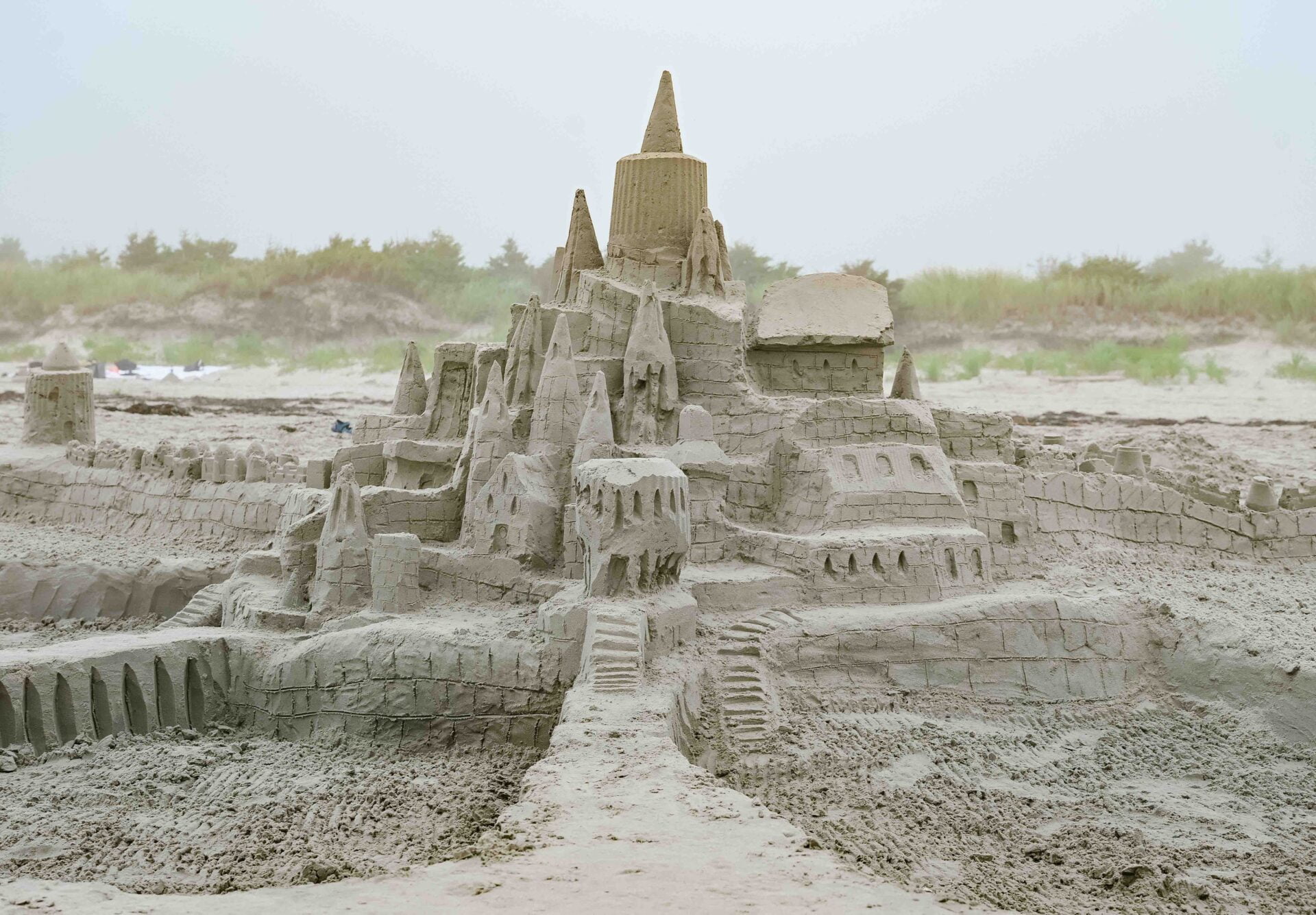 We were fortunate enough to be able to visit during the annual sandcastle competition and the creations really were impressive. With over 60 entries it was hard to choose a favourite but here are a few that really showed a combination of artistry, imagination and technical skills.
Looking for a chill day at the beach? Grab a floaty and float down the warm and shallow tidal stream that runs through one side of the beach.
Where To Camp In Musquodoboit Harbour Region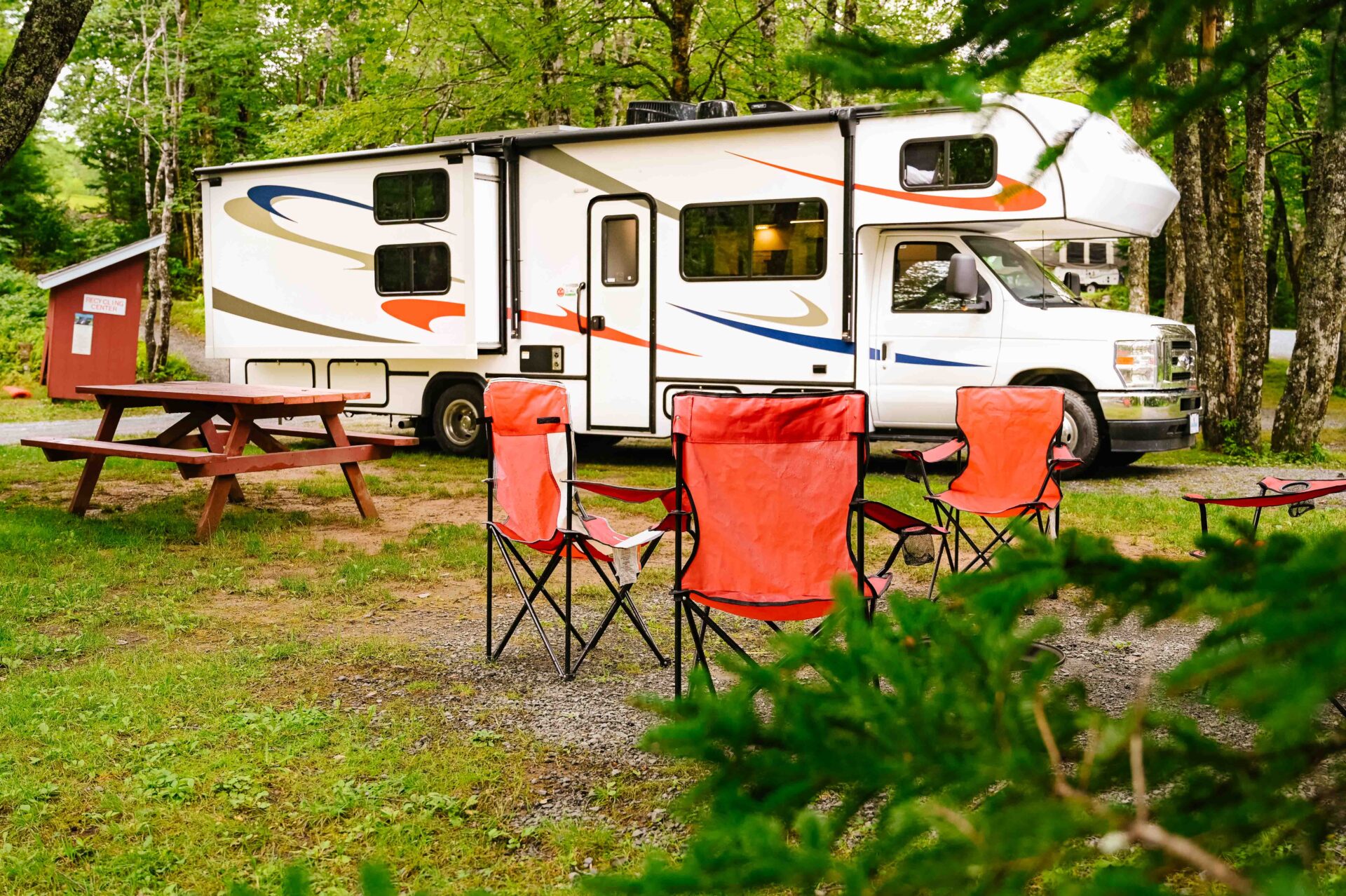 Webber's Lake Campground is a family-run campground that first opened in 1970 and prides itself on being the backdrop of your next family summer memories. They offer full service as well as tenting campsites that are large, treed, and provide you with lots of space at your site. Once you're settled in the adventure begins and the biggest decision will be choosing what to do first. From paddle boarding, canoeing, kayaking, and swimming (with lifeguards available in July and August) to the playground, shopping at their well-stocked store, or taking part in some of their planned activities for kids. Also, if you're planning on being there for a week you can register for the swimming lessons or the day camps!
Located at 738 Upper Lakeville Road, Lake Charlotte, NS, you can learn more on their website.

Traveler Tip: CanaDream members can use the CanaDream App to book this site and get 10% off their stay.
17. Norse Cove Kayaking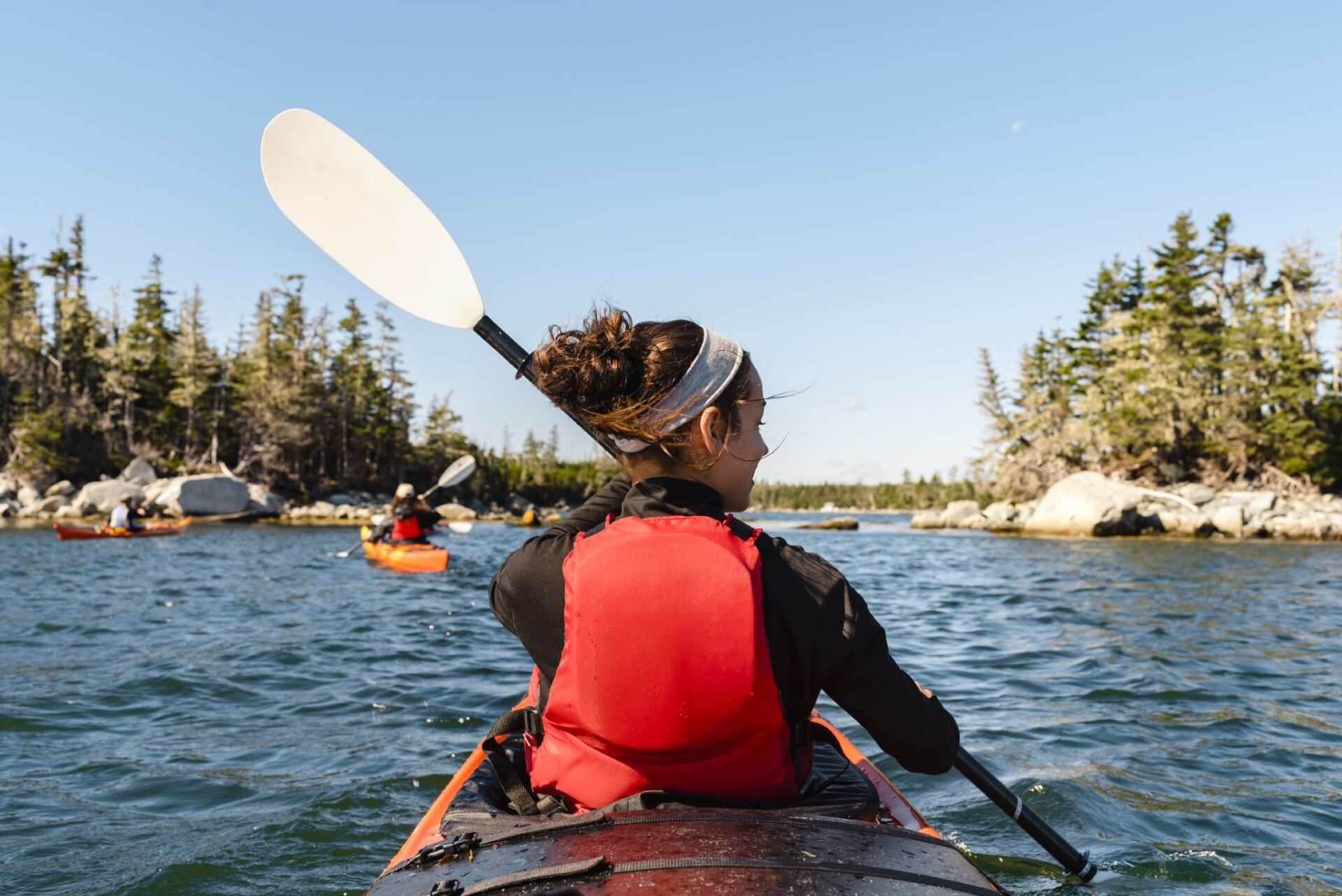 Norse Cove is a beautiful kayaking destination located on the Eastern Shore of Nova Scotia. Visitors can expect to see stunning scenery, including rocky cliffs, crystal-clear water, and dense forests. To make the most of your experience, be sure to bring a camera to capture the incredible views. Norse Cove Kayak offers rentals and tours for those looking for a guided experience. This is a great place to invest in an eco-adventure, to relax and connect with nature, and to hear stories from locals who call this incredible coastline home.
18. The Deanery Project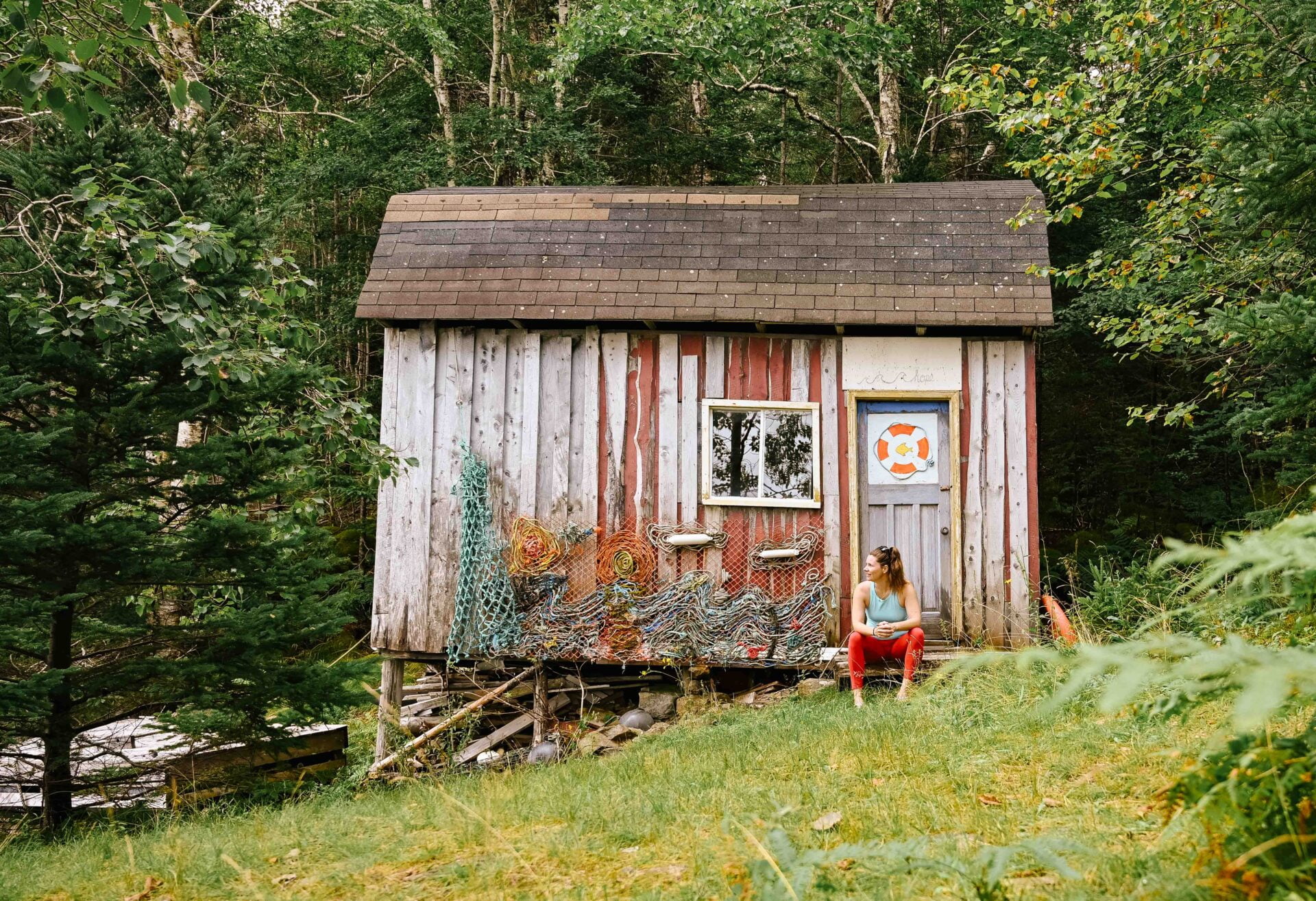 There's nothing more inspiring than a group of citizens who want to make a positive change, and that's exactly what the Deanery Project is. Founded in 2011 when a plot of 25 acres of land was set to sell to a developer and be transformed into a condominium project, a group of residents rallied together, bought the land and created the Deanery Project.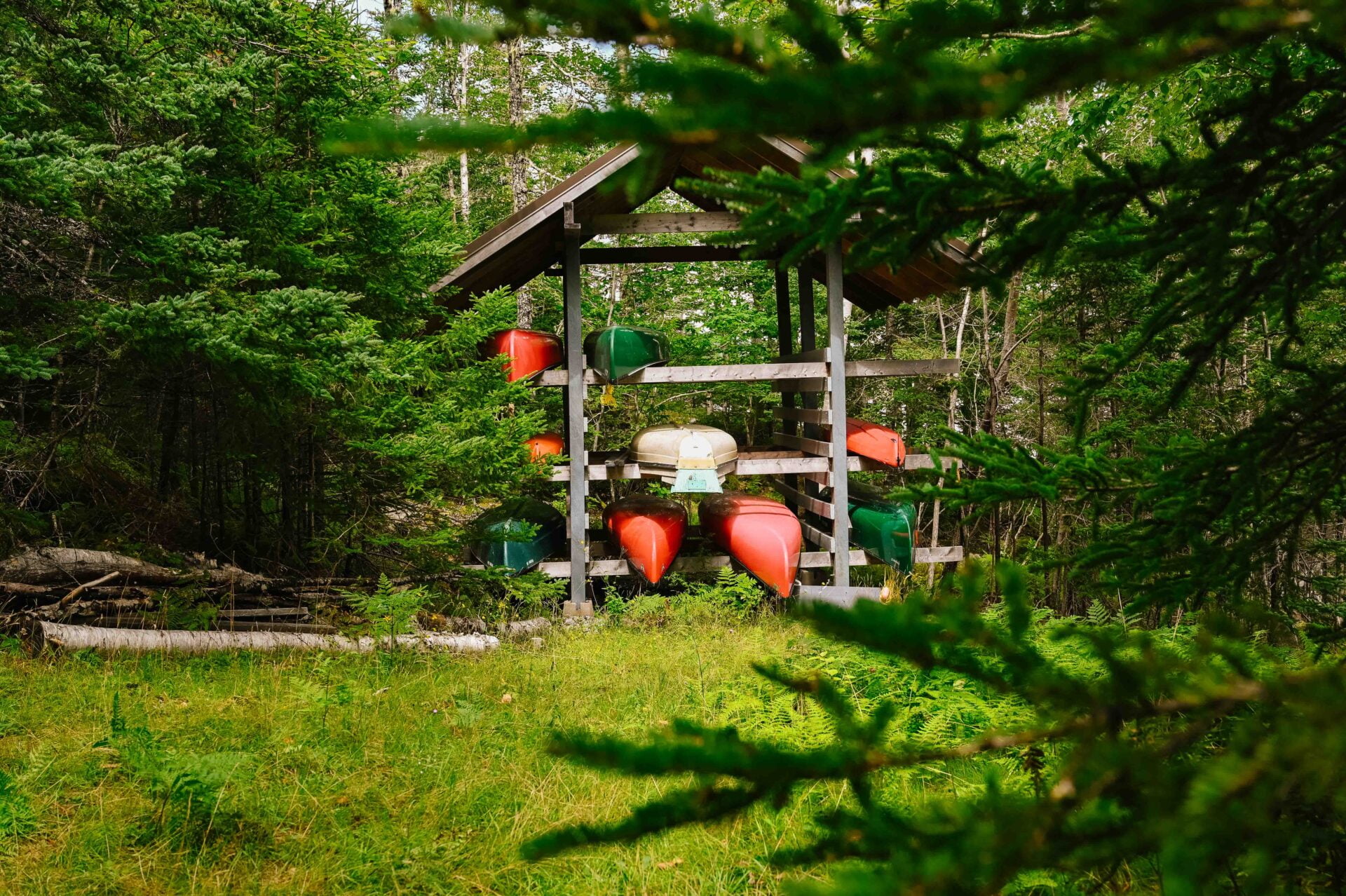 Set on the principles of permaculture design, natural building, and the arts, the Deanery Project is an art and environmental learning centre set on 25 acres of land that sits between the forest and the ocean. The centre is and is now protected and used as a space for learning, growing, and community.
They invite you to come and explore programs and projects that are related to energy, climate, forests, health, active transportation, rural living, community building and traditional skills. Take a tour and see the solar wood-fired kiln, the music studio, the wood shop, the stained glass studio, the community kitchen, and the cabins. You can rent a kayak and access the Wild Islands, or rent bikes and head out and explore the area on wheels. This magical property is a dynamic educational centre mixed with a comforting oasis, where everyone is welcome to come and explore, learn, and discover.
To learn more and plan your visit check out their website.
19. The 100 Wild Islands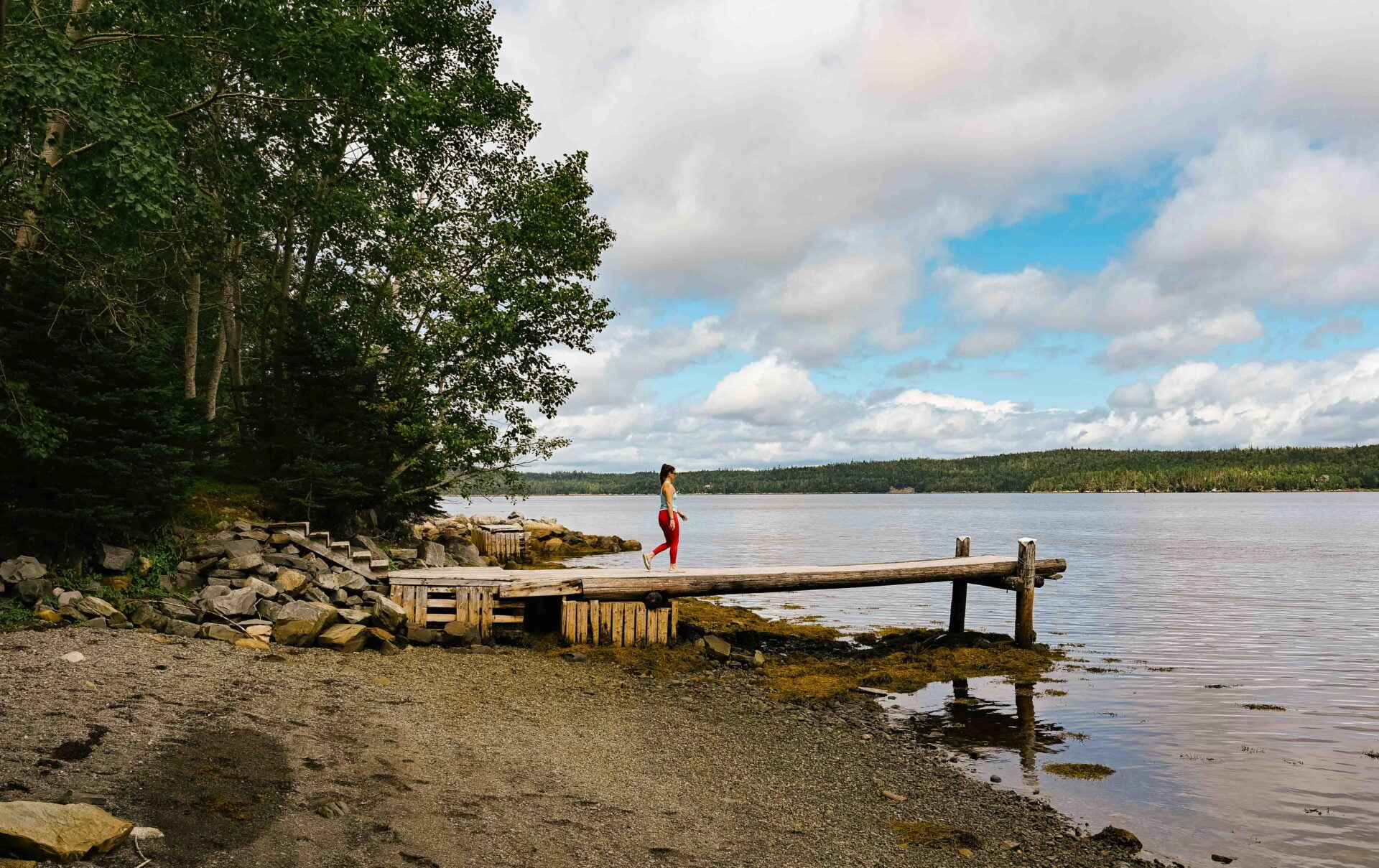 The 100 Wild Islands slogan sets the stage, "The most valuable islands you've never heard of". The Islands have been deemed a "national treasure" and are "a vast and beautiful archipelago of over 100 Wild Islands. This is one of the last remaining intact and ecologically rich island groups of its size in North America." In 2014 the Nova Scotia Nature Trust launched a campaign to protect the islands and so far have protected 85% of them with a goal of protecting them all.
Visitors to the region can expect to see untouched white sand beaches, coves and windswept headlands, unique coastal rainforests, bogs, and over 250 kilometres of shoreline, which has been largely undisturbed by humans for over 10,000 years.
This is also a great place to see wildlife where a keen eye can have you spotting the the 100 species of seabirds, songbirds, and shorebirds as well as eagles and osprey.
To learn more and plan your visit, take a look at their website.
Traveller Tip: The islands are accessible from the Deanery Project, so you could rent a canoe or kayak to support the Deanery and access these beautiful islands if you are an advanced kayaker. You can also experience the islands from multiple organisations such as Murphy's Camping On The Ocean's Ocean Experiences.
Where To Camp on Eastern Shore
Murphy's Camping On The Ocean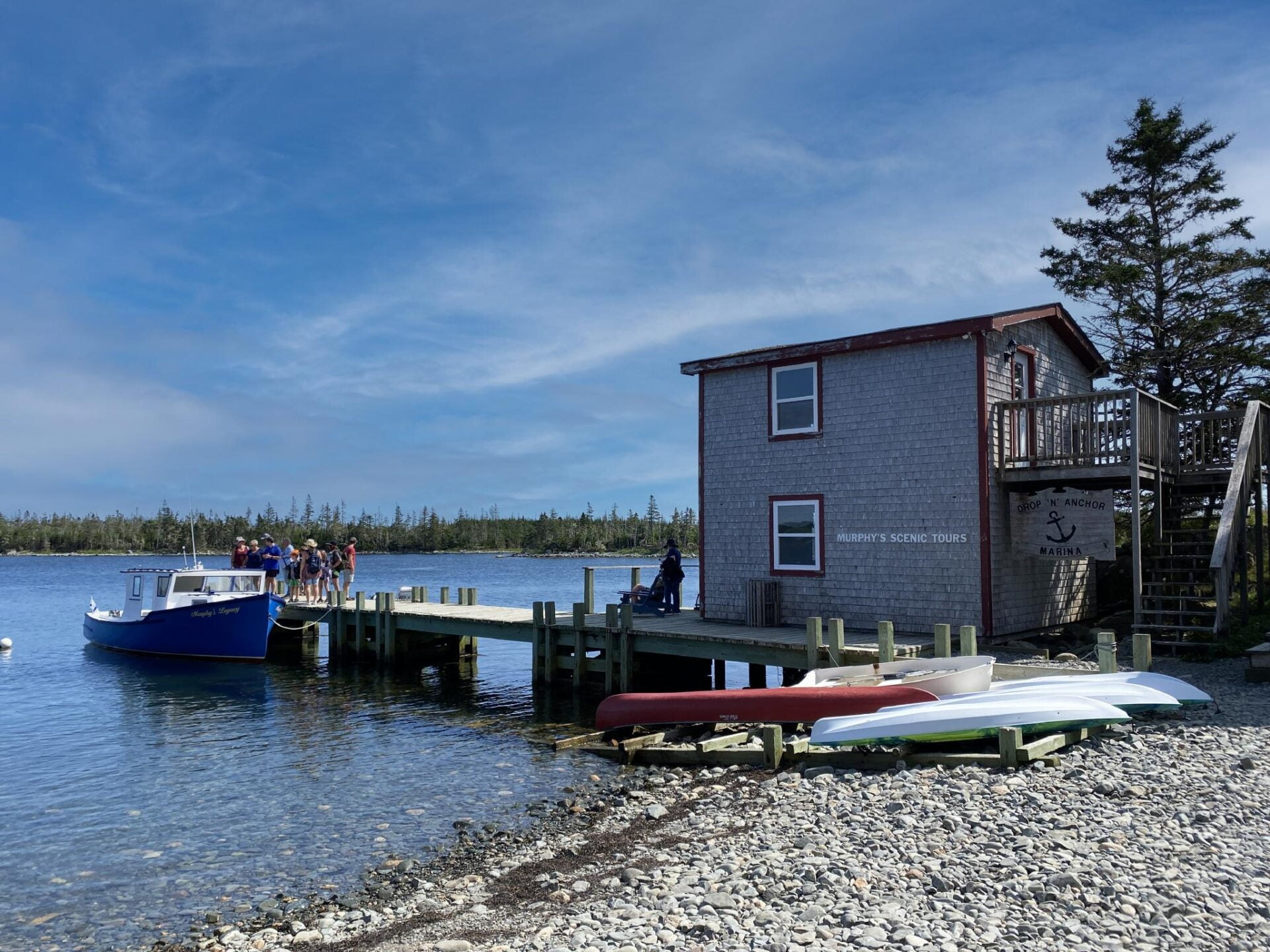 Murphy's Camping on the Ocean is a popular destination for visitors to the Eastern Shore of Nova Scotia. The campground is located right on the ocean, and visitors can enjoy stunning views of the water from their campsites.
There are also a number of activities available at the campground. How about grabbing a morning coffee at the Sailors Rest Recreation Hall, and while you're there challenging Captain Brian to a game of crib?
Looking to get adventurous? Head on out on a scenic boat tour, explore the nearby 100 islands by canoe or kayak, or take a walk out on the beach.
If you're looking to fill your tummy with local seafood you can try their world-renowned Nova Scotia lobster, try your hand at fishing and crabbing off the dock, or head out to one of the great restaurants. The Uprooted Market & Cafe, The Henley House Pub and Restaurant, The Fairwinds Motel & Restaurant, and the Slippery Oyster Restaurant all look forward to welcoming you with their East Coast charm.
Finish your day by joining in around their nightly campfire sharing your stories with locals and guests alike. Murphy's Camping on the Ocean is a great place to enjoy the outdoors and experience the authentic Eastern Shore.
20. Taylor Head Provincial Park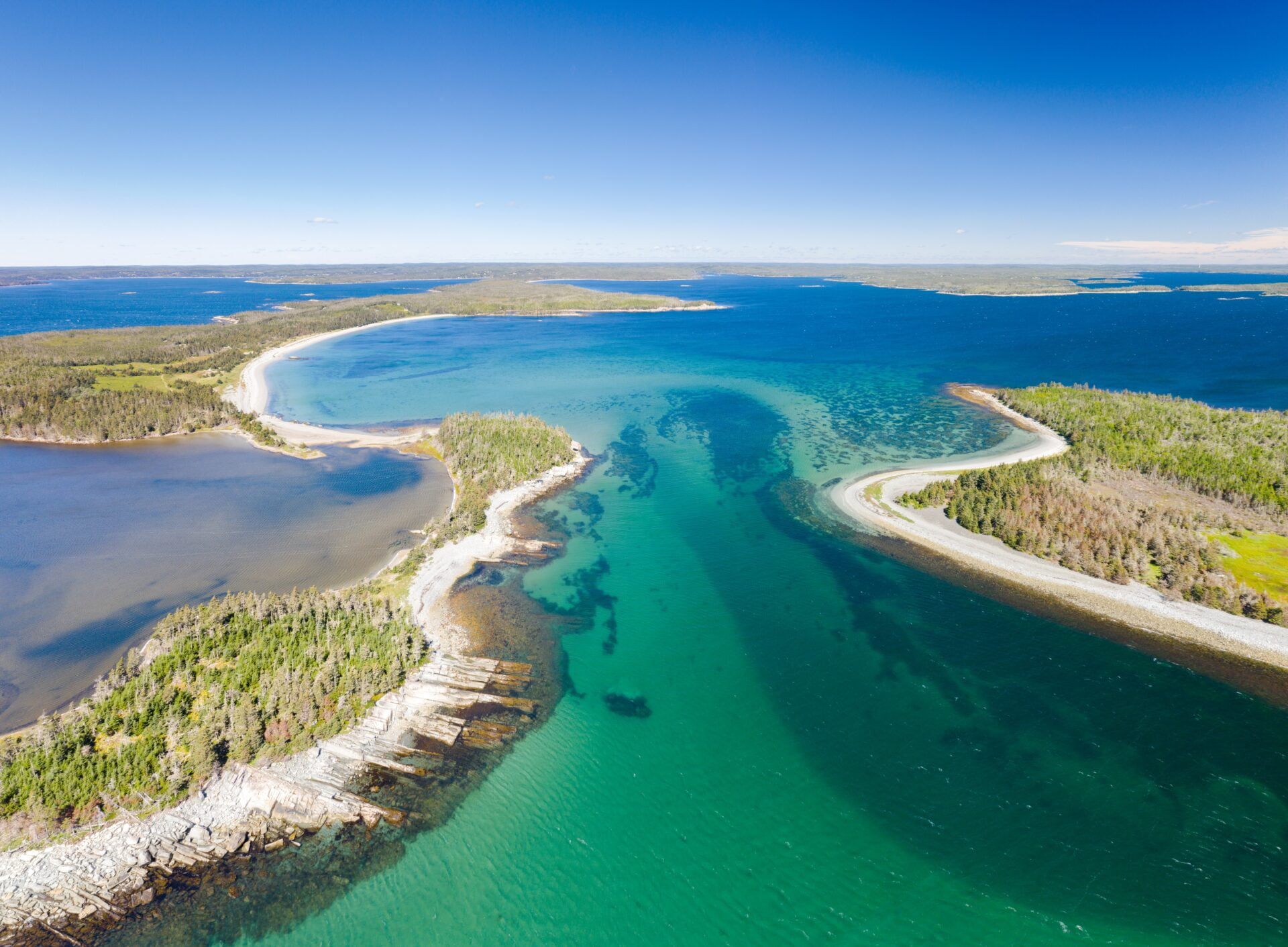 Taylor Head Provincial Park is located on the Eastern Shore of Nova Scotia and is home to 16 kilometres of unspoiled sandy beaches. Taylor Head Provincial Park is also known for its hiking trails, with 14.2 kilometres for guests to explore. While at the park be on the lookout for wildlife including seals, bald eagles, and ospreys. Visitors are advised to bring sunscreen, insect repellent, and plenty of water and plan to have no plan, this is an incredible park worth taking your time to explore.
21. Sheet Harbour
A quaint little Eastern Shore town, Sheet Harbour welcomes you to come and get to know the locals and explore the eastern charm. Located on an inlet this picturesque town is relatively untouched, and invites you to explore by land and by sea, showcasing some hidden gems that make it truly special.
22. West River Falls Boardwalk
One of the most popular walks in the area is the West River Falls Boardwalk. The boardwalk takes you on a .8 kilometre loop around the waterfalls in Sheet Harbour, which make it the perfect place to stop and stretch your legs while you're on your Nova Scotia Eastern Shore road trip. Photographers will love this spot and the ability to capture the waterfalls in action (tip, don't forget your tripod!). 
Where to Eat in Sheet Harbour
The Marmalade Café and Coffee Bar
This newly renovated cafe and coffee bar has high standards for food and community, all wrapped up into one cafe. "You won't find a deep fryer in our cafe." The Marmalade Cafe and Coffee Bar prides itself on making fresh simple meals that "nourish the body and the heart."
With fresh, locally sourced ingredients with a focus on healthy foods made to order for each customer, they offer a promise of inspired meals and delicious treats. Guests will love their locally sourced, Roastery 46 coffee, made just down the road in Darthmouth. With a new take on an old-world Italian flare you can find unique coffees and traditional expresso blends perfect for stopping in and savouritng, or if you're just looking to grab and go they welcome pick up as well.
Plan your visit: 22808 Nova Scotia Trunk 7, Sheet Harbour, Nova Scotia
Henley House
The Henley House is a charming British Pub where you can enjoy fresh seafood and delightful bites while meeting locals in a family-run restaurant, the perfect stop on your Eastern Shore road trip. The Henley House celebrated 2023 with their 14th season in operation! (Although the building has over 100 years of local history and stories to be told).
They also offer a traditional Welsh afternoon tea, daily from 2 – 4pm. Reservations are recommended as seating is limited.
Traveler Tip: Be sure to ask about their daily special and if you can be there on Thursdays for trivia nights, it's a fun (but not easy) night!
23. Sober Island Boat Tours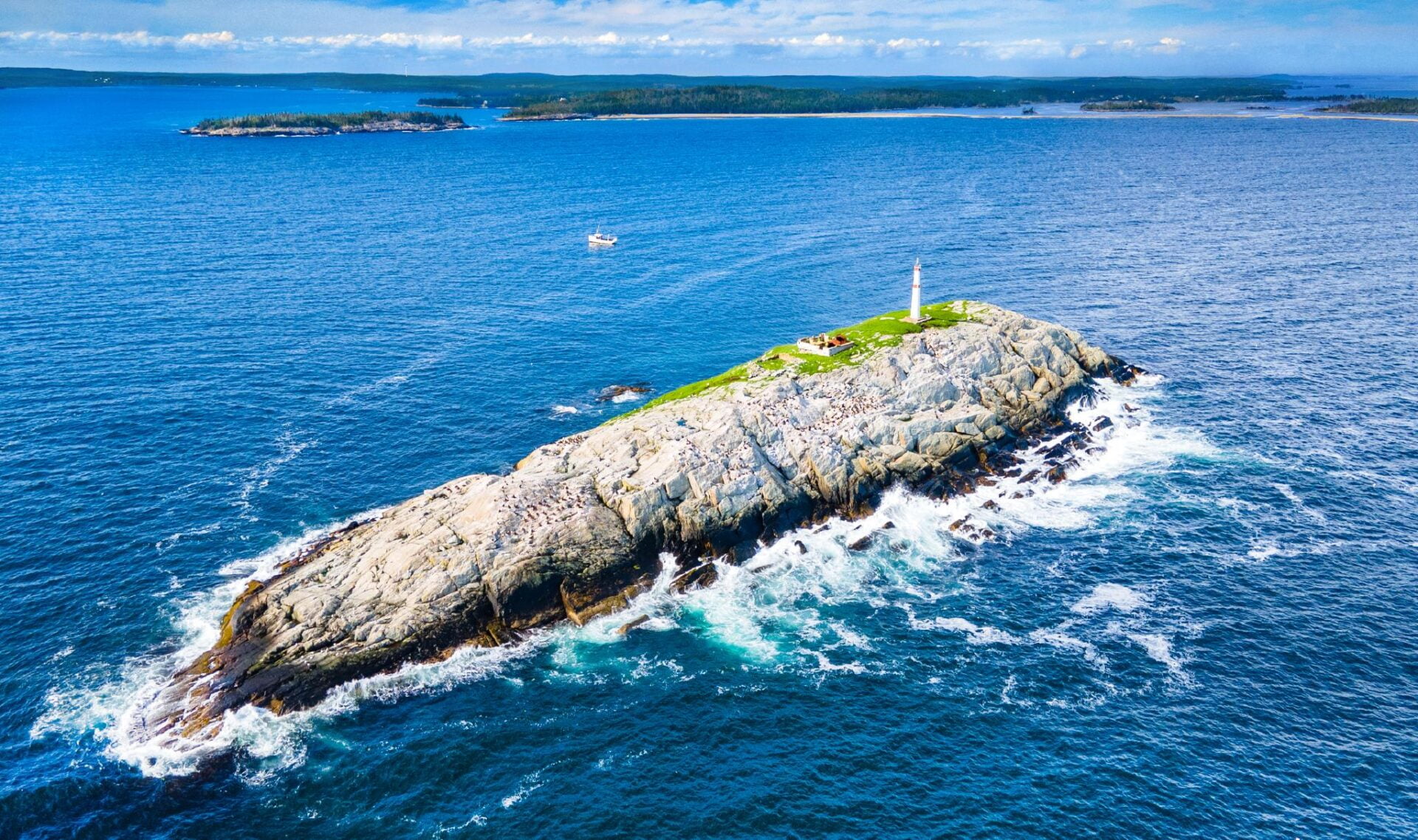 Sober Island Boat Tours offers visitors a chance to see the Eastern Shore of Nova Scotia from the water. Locally owned and operated, guests get to choose between three tours, matching their own adventure style and vacation dreams. Whether you head out to see Sheet Rock Lighthouse up close, choose a sunset cruise followed by a bonfire and a beer, or want to chase your dreams of being a lobster boat captain, Sober Island Boat Tours has an adventure for you.
HOW TO EMBRACE SLOW TRAVEL ALONG NOVA SCOTIA'S EASTERN SHORE
Slow travel is a growing movement that encourages travellers to slow down and savour their experiences. Instead of rushing from one destination to the next, slow travellers take the time to immerse themselves in the local culture, meet new people, and try new things. While the fast-paced vacation style may seem like the more efficient option, it often leads to burnout and a feeling of disconnection from the world around us. Slow travel, on the other hand, fosters a sense of connection and appreciation.
Slow travel also helps make a greater impact in the towns where you spend your tourism dollars. By travelling slower, your stay is able to support smaller communities that are often passed by, and more of the money spent stays in the community you are visiting.
This Eastern Shore road trip itinerary focuses on slower travel through the beautiful Eastern Shore region of Nova Scotia with a focus on eco-tourism and outdoor adventure-based experiences.
We hope you enjoyed reading our blog post about the ultimate outdoor adventure road trip itinerary for Nova Scotia's Eastern Shore. If you have any questions or comments, want advice from someone who has visited the region multiple times, or want to share a place that you think should be added to the itinerary please feel free to reach out. We would love to hear from you!
---
Check out these Articles for More Inspirational
Nova Scotia Travel Ideas: