Imagine a world where Elsa and Santa's elves worked together to create the perfect real-life snow globe. One filled with the enchanting combination of Disney magic and the fascination of the North Pole. A snow globe that transported families to a winter wonderland, and brought amazement to even the littlest princes and princesses.
Well, imagine no more, because this world exists!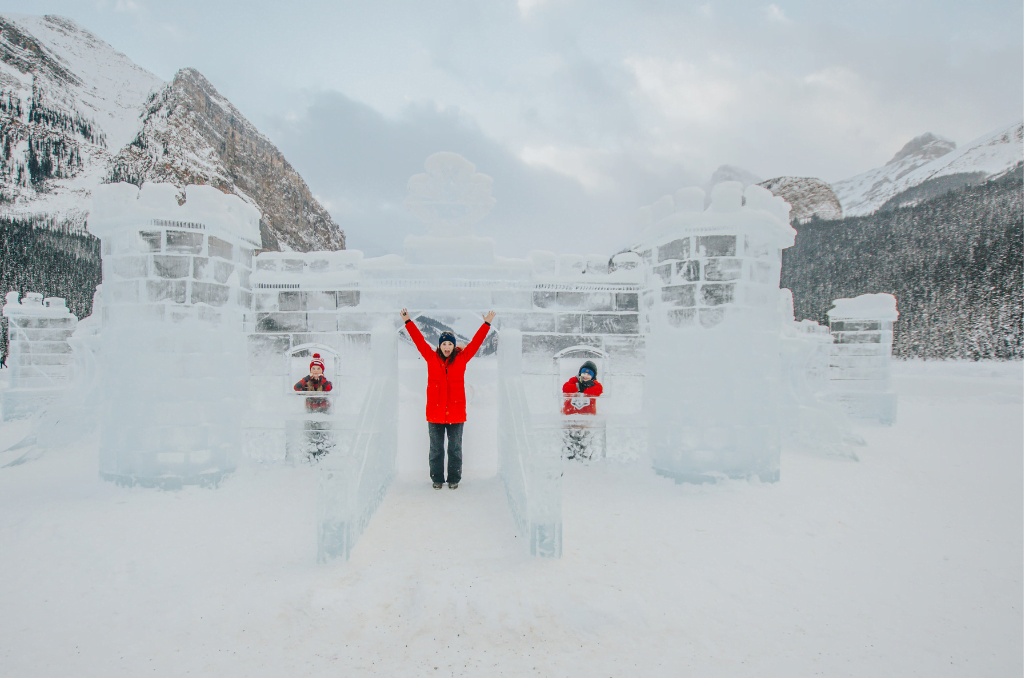 Walking through the doors of the Fairmont Chateau and out to the Lake Louise Ice Magic Festival feels like walking directly into this very snow globe. From glacier-capped mountains and the world-famous Ice Castle to skating, hockey and fresh falling snow, it's all truly magnificent…not just in the surroundings, but in the adventures you get to take part in while inside this extraordinary world.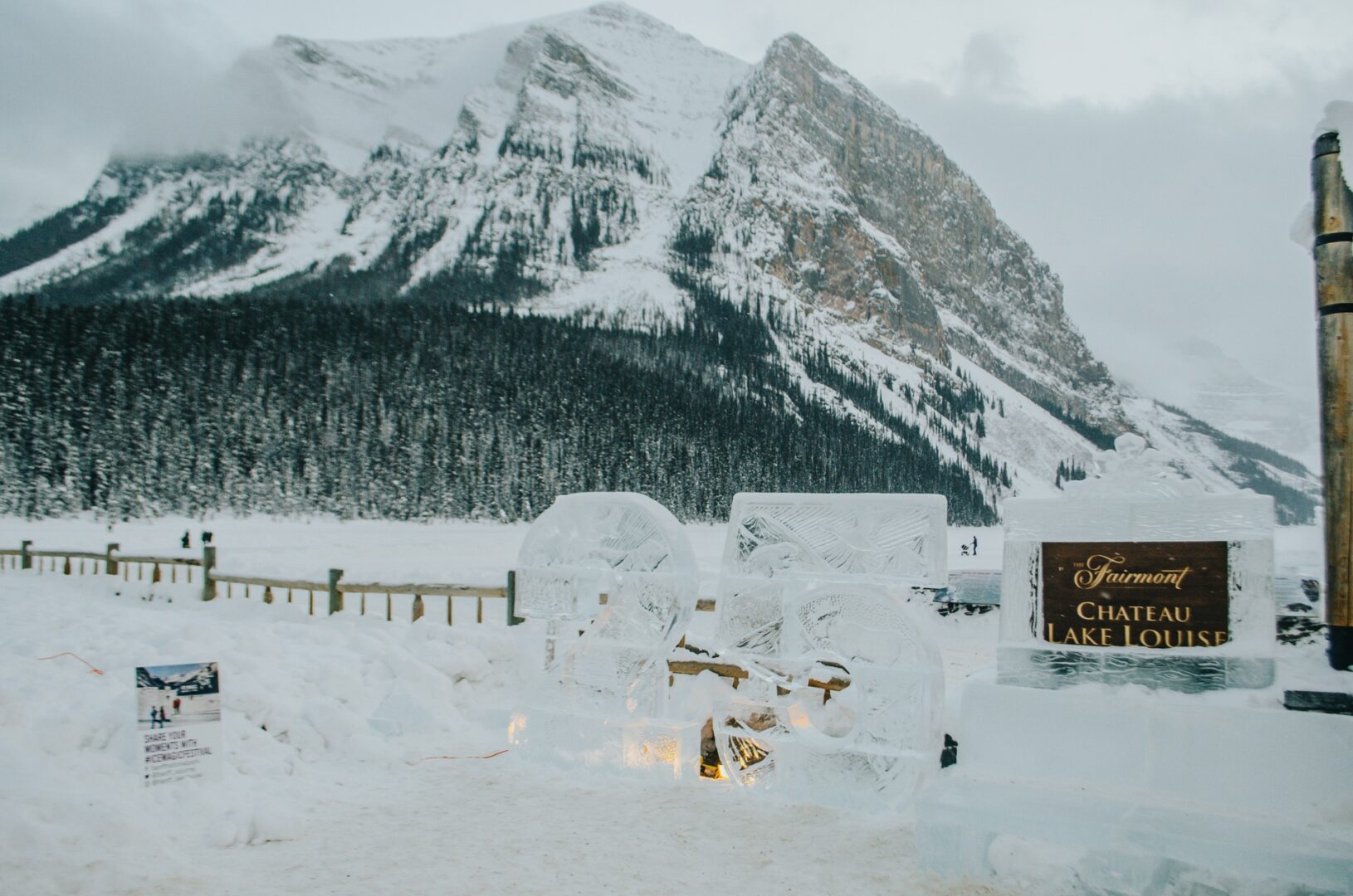 Now in its 25th year, the Lake Louise Ice Magic Festival is truly a transformational experience. As you walk among these giant, frozen pieces of art, you can't help but feel that – at the very least –  a little bit of magic was involved in their creation. The look in your children's' eyes as they connect with each piece of art is a mix of awe and wonder, as they try and wrap their young minds around how someone could create such majestic sculptures! Before long, there's enough ice magic in the air that even Elsa would approve!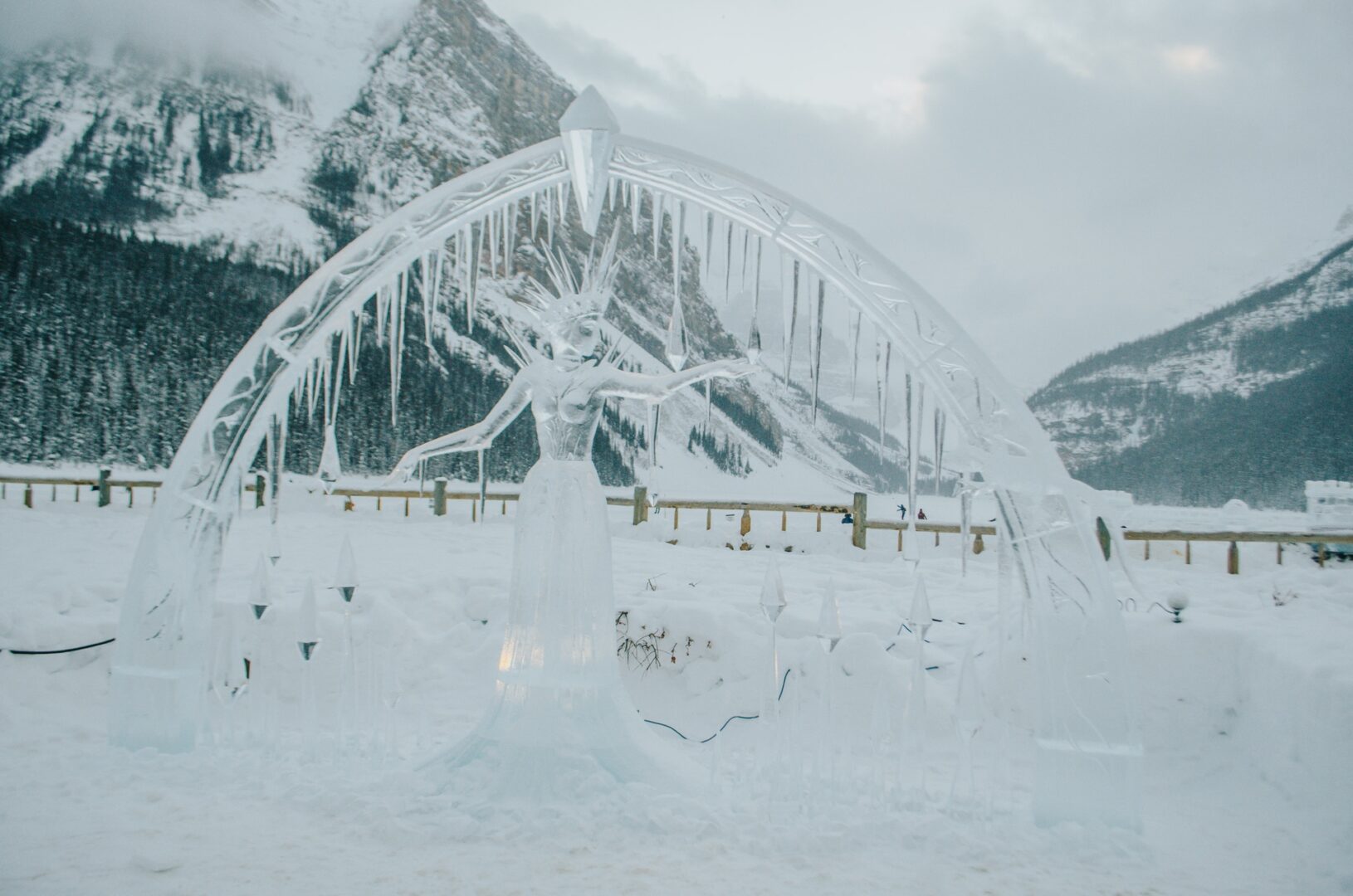 As you hear the buzz of guests visiting from around the world, you realize that no matter what their native language may be, they're all saying the same thing: "Wow!" Because an experience like this transcends borders and cultures, leaving everyone with the same sense of wonder, disbelief, amazement, respect and awe. The Ice Magic Festival is the world's most beautiful art gallery, showcasing incredible creations on top of the world's most photographed lake.
Founded in 1984, The Lake Louise Ice Magic Festival has grown from a small ice carving competition to a massive, 12-day festival drawing competitors from around the world. Competing in teams, these talented ice artists are given 34 hours to take 15 blocks of ice and transform them into a winter masterpiece.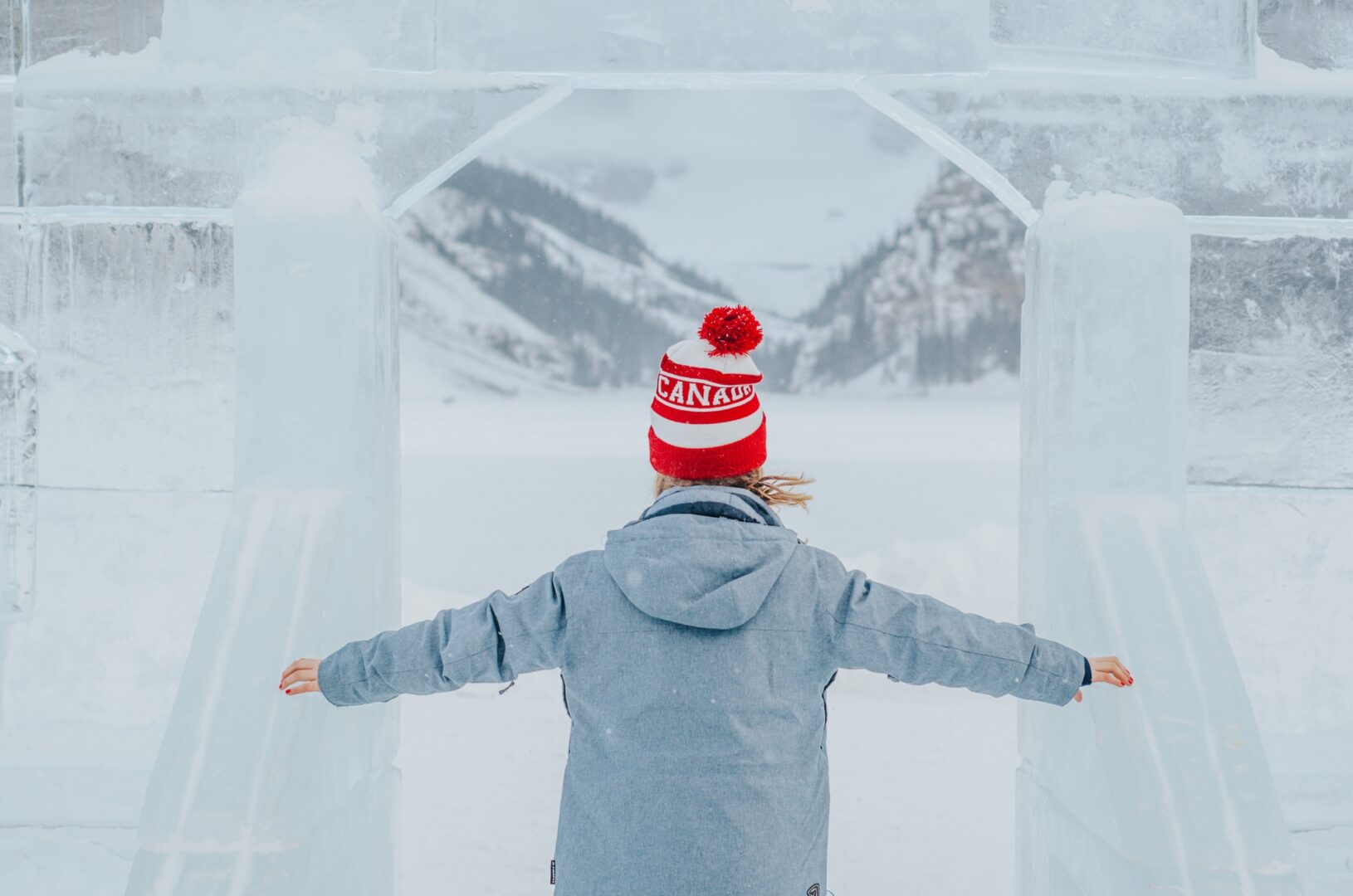 Interesting fact: though there is plenty of ice this time of year in Lake Louise, the blocks used for the festival carvings actually come from Mississauga, Ontario. Called Clinebell Ice, these blocks have been filtered and specially formed for extra clarity in ice carvings.
In order to compete in this prestigious event, competitors apply and are hand selected by a panel of judges. The group that makes the cut then travels to Lake Louise, where they get to work on their creations using nothing more than chainsaws, chisels, irons, and Dremels!
Selecting The Winners and Prize Money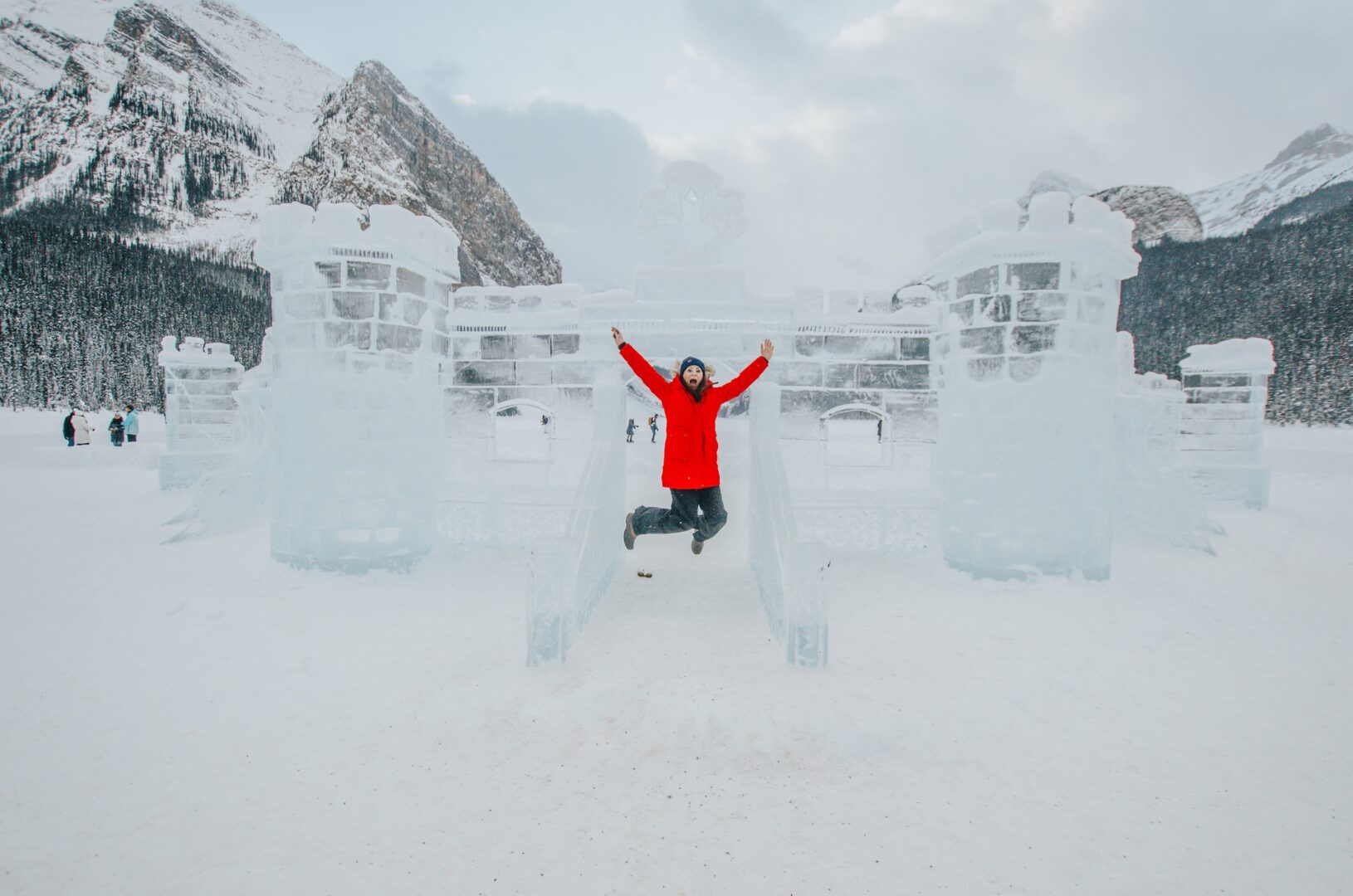 Once the sculptures are complete, the judges have the difficult task of selecting the winners. This year's elite field of judges includes:
Dan Rebholz (Chicago, USA, Owner World Class Ice Sculpture)

Kurt Herbolsheimer (Las Vegas, USA, Manager at Minus5 Ice Experience)

Nick Smith (London, England, Hamilton Ice Sculptors)
After tallying up their scores, winners are announced and prizes are awards. This year's prizes included:
1st Place: $2500

2nd Place: $1500

3rd Place: $1000
Favourite Photos from the Ice Magic Festival
Our family loved having the opportunity to explore all these amazing ice sculptures, and I want to take a minute to showcase all the incredible artists that took part in this year's festival:

TEAM RUSTY & STEVE – "Plumbers Nightmare" – 3rd Place Main Competition (Steve Buzak – Canada and Rusty Cox – Canada)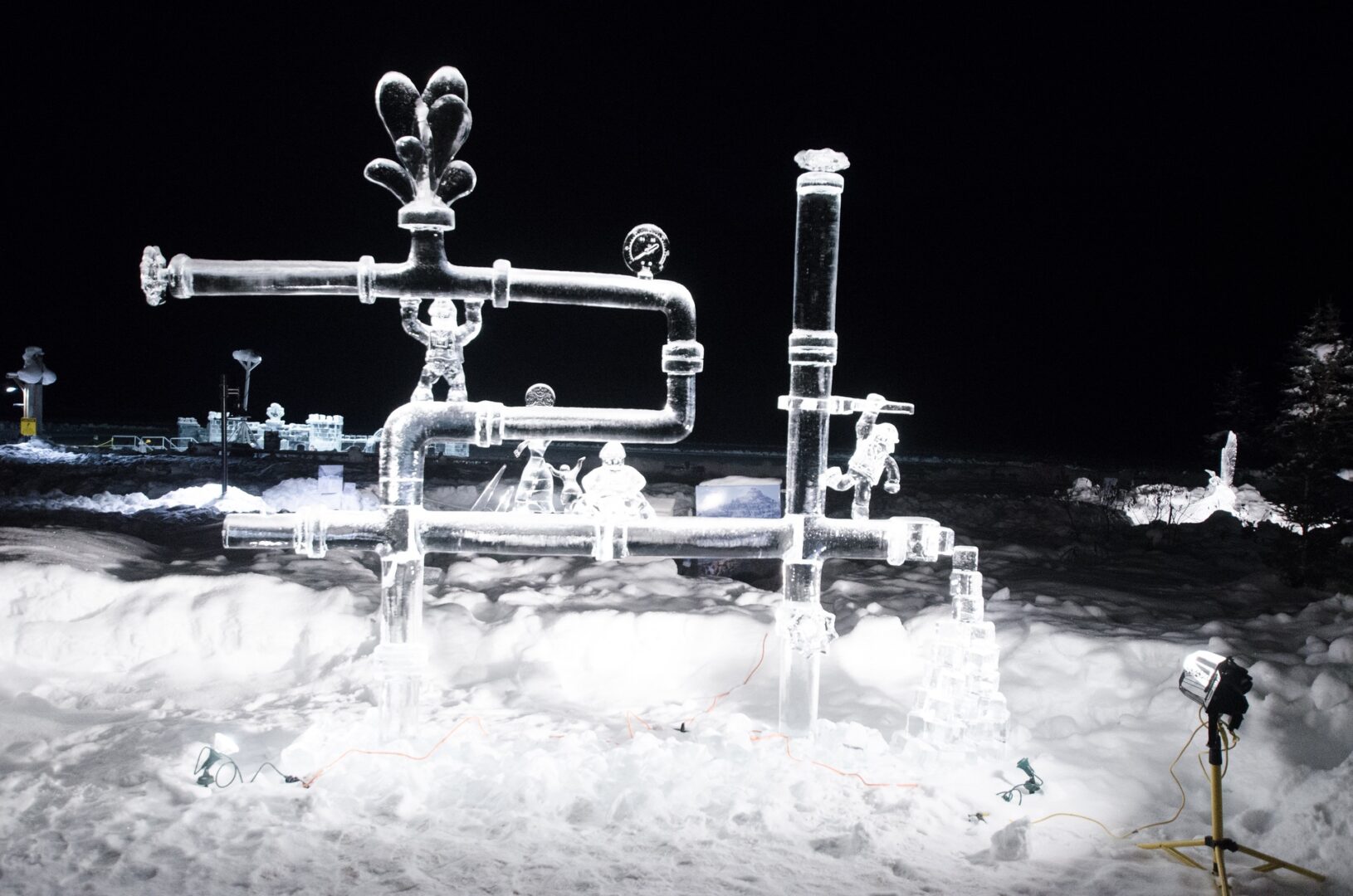 TEAM LEDUS – "Ice Queen Treasures" – 1st Place, Carvers Choice, People's Choice for Main Competition (Karlis Ile – Latvia – 2nd Place One Block Speed Comp and Maija Puncule – Latvia)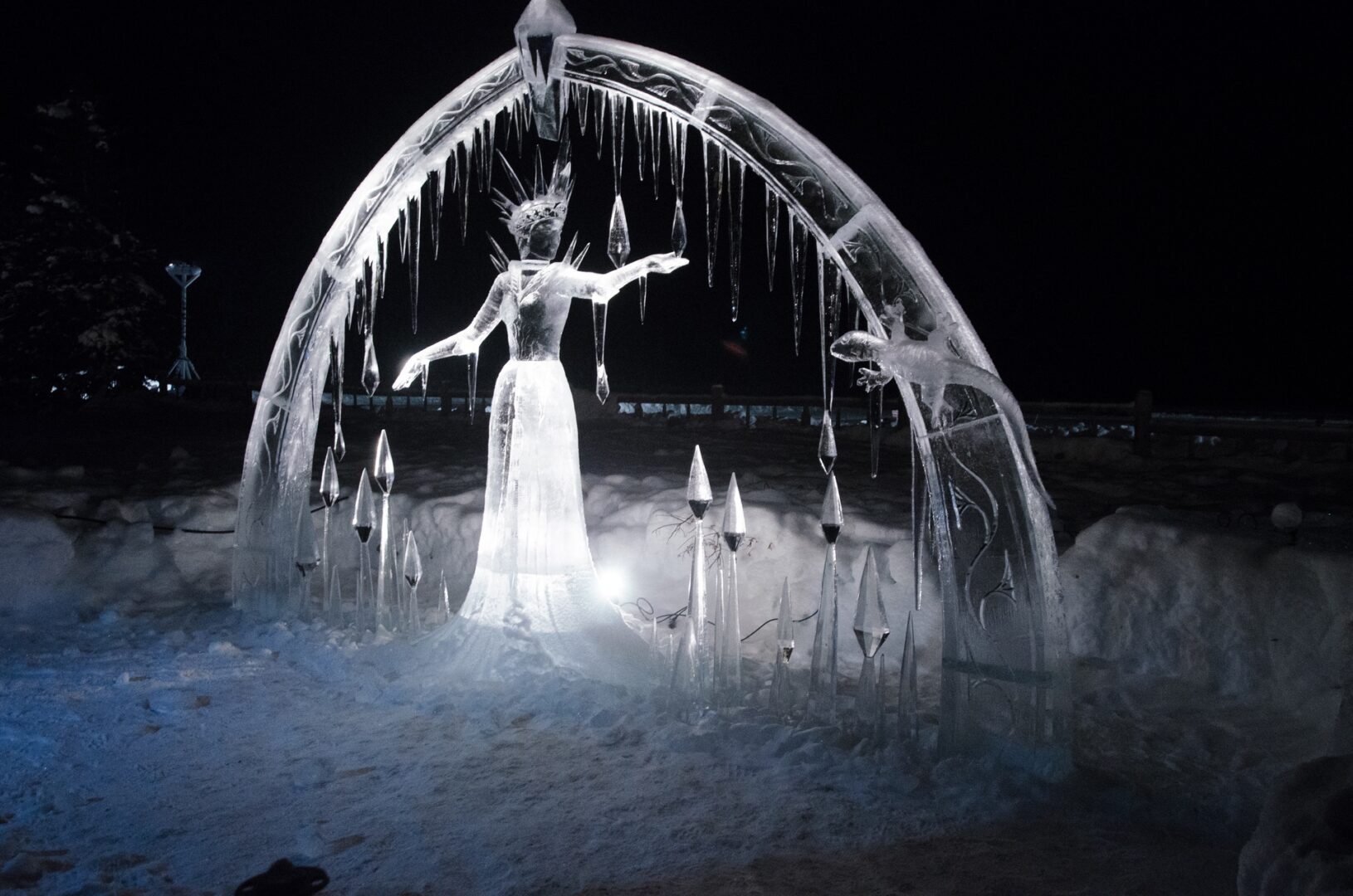 TEAM RUSSIAN BEARS – "Spirit of the Lake" (Eduard Ponomarenko – Russia and Valery Batalov – Russia – 3rd Place One Block Speed Comp)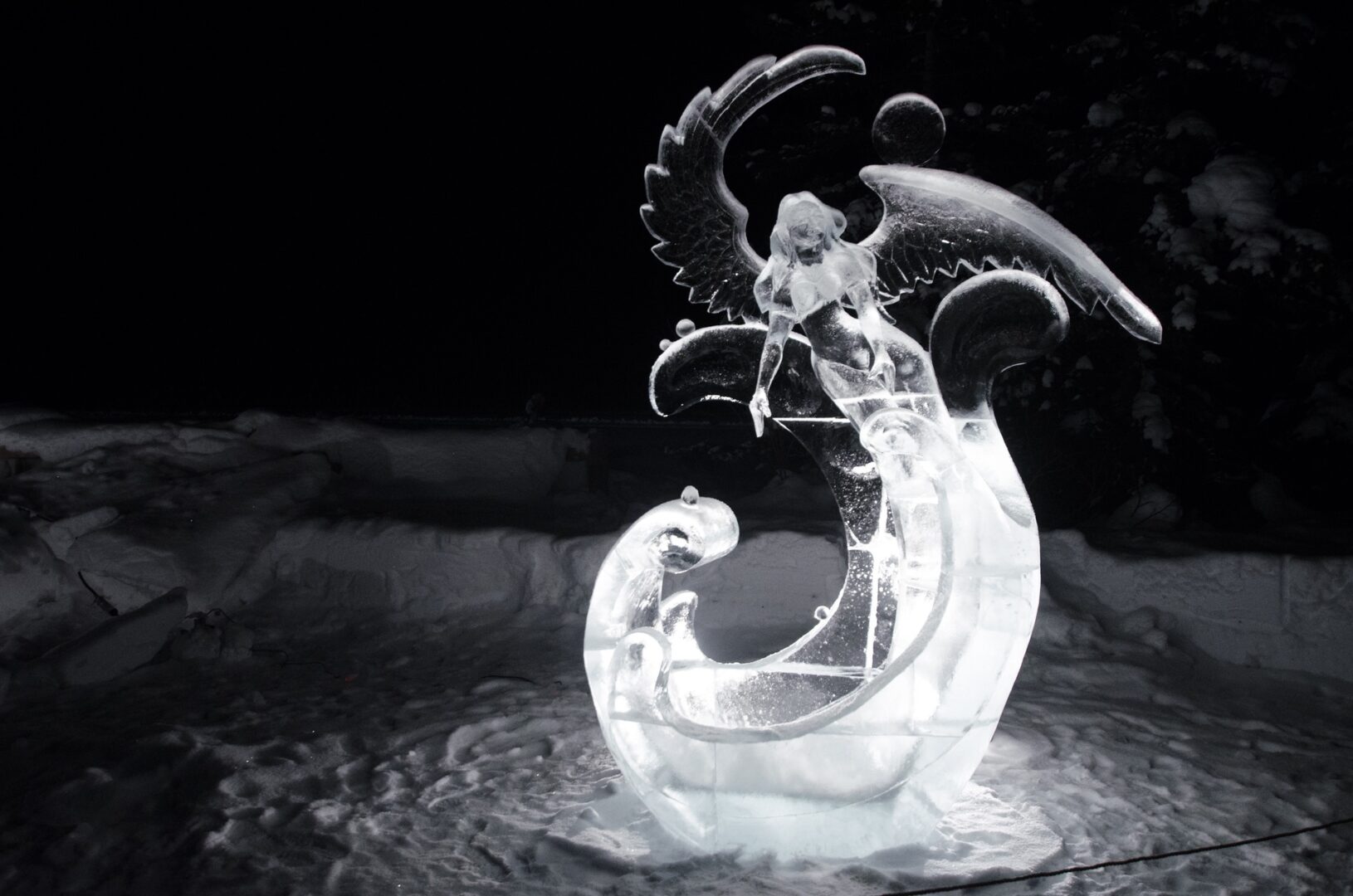 TEAM SAKHA – "Sun Dance" – 2nd Place for Main Competition (Egor Stepanov – Republic Sakha, Russia and Alexey Andreev – Republic of Sakha, Russia – 1st Place and People's Choice for One Block Speed Comp)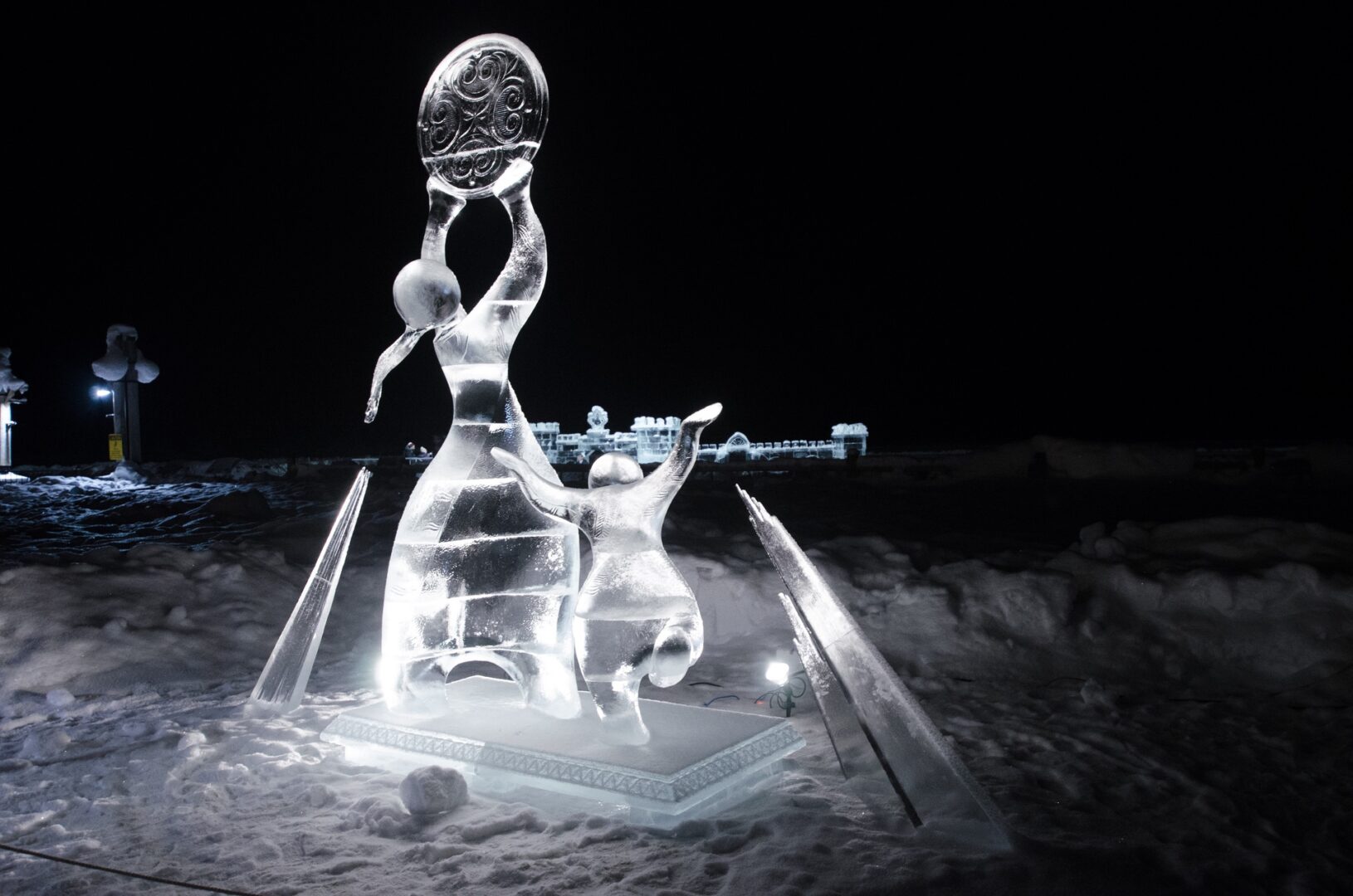 TEAM FROZENART – "Gone Fishing" (Dean Murray – USA and Kla Kitburi – USA/THAILAND)
TEAM ELEGANT DREAM – "Beautiful Catch" (Don Lowing – USA and Mowafak Nema – IRAQ)

Honourable Mentions: TEAM MEX ONE – "Magic Universe" (Kee Gawah – Malaysia and Julio Martinez – Mexico), TEAM CRA/KEN – "Time Waits for No One" (Ken Harper – Canada and Craig McConnell – USA), TEAM IGLOO – "Mountie in a Bottle" (Yann Blanchard – Canada/France and Julian Lee – Canada/Hong Kong)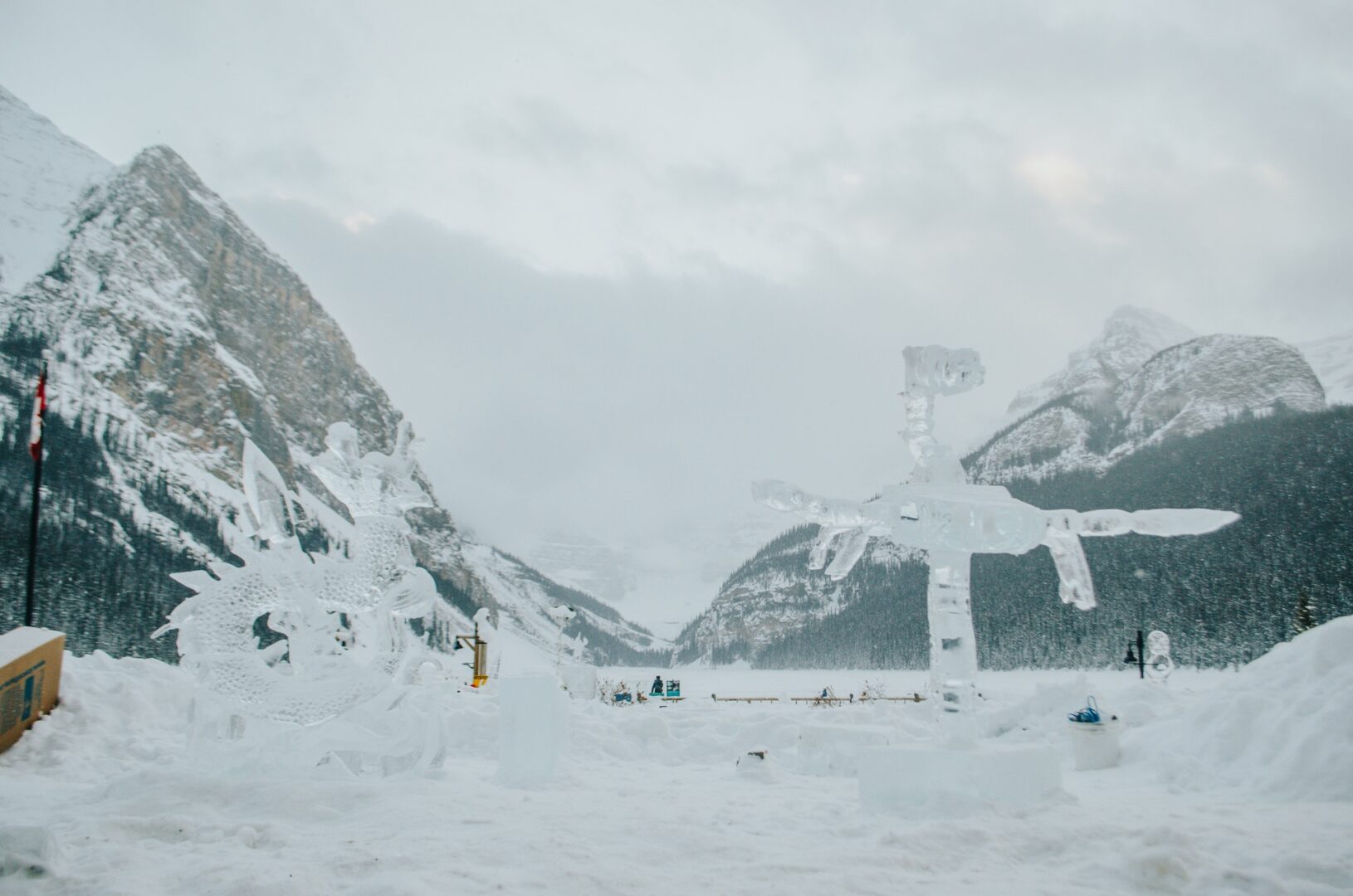 Whether it's the crisp Alberta air or the stunning frozen creations (or maybe a little bit of both), The Lake Louise Ice Magic Festival has the power to take your breath away. It's a truly magical experience, filled with wonder and awe, sensational scenery, and the world's most beautiful lake. And as you and your family walk with amazement through the magnificent ice castle, gasp at the giant ice creatures, befriend the snowmen, and meet ice harvesters from around the world (who may or may not be named Kristoff), you'll find yourself stopping every so often to remind yourself that this frozen paradise is not some magical snow globe…it's just the magic of Lake Louise.
For tips on other great winter adventures to explore while in Banff, be sure to check out these articles!
Breathtaking Snow Sculptures at the Banff SnowDays Festival
Moments, Memories & a Giant Moose: Inside Banff's Newest Luxury Lodge
Snowboarding + Sunshine = Magic on the Mountains
My Life-Changing Moment at Fairmont Lake Louise
Is this a sponsored post?: Yes, however all our thoughts, opinions and views of our experience are our own.