We rounded the bend of the River Blackwater to see the stately Argory House looking down on us over its manicured property. Visitors arriving to the property by water was something this house has been welcoming for over the past 200 years.
Built between 1820 and 1824, the Argory House sits on a 320-acre sprawling estate boasting huge gardens, large open yards, trees and is a stunning wooded riverside property.
The MacGeough Bond family built this house to the highest standard of luxury that existed in the 1820's and all the generations that followed also kept up the standard of excellence throughout the time they called it home. Handed over to the National Trust in the 1970's, this home is now a tourist attraction and an Irish treasure that staff are continually restoring and maintaining for future generations to enjoy. The house is staged such a way that at any moment you could envision past members of the family walking through the front door and returning to life in their home.
Modern Art
As soon as you enter the home you'll find a one story high neon light chandelier that pays tribute to the most recent owner and his passion for modern art. This piece was commissioned and created by Northern Irish artist, Kevin Killen and represents the glow of acetylene gas flame that lit The Argory since 1906, delivering an entirely modern take on this celebrated form of lighting.
Main Living Room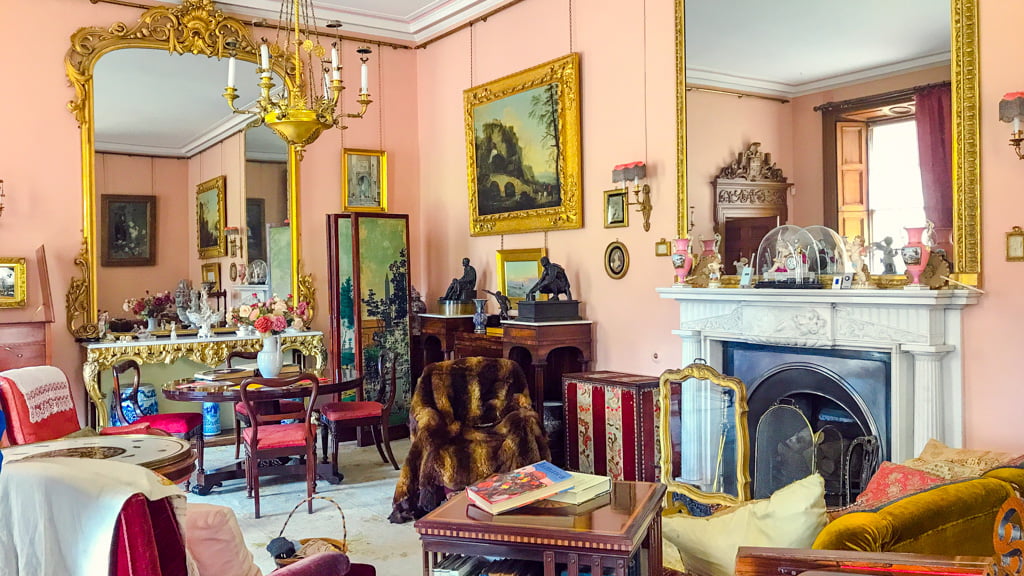 The main living room still has the 1820's original carpet intact, along with the homes furniture, decor, and personal items that the family had collected over the past two centuries. From a Steinway Grand piano to custom furniture pieces, to books and artwork, it's easy to envision how the family used this space in their day to day life.
Dining Room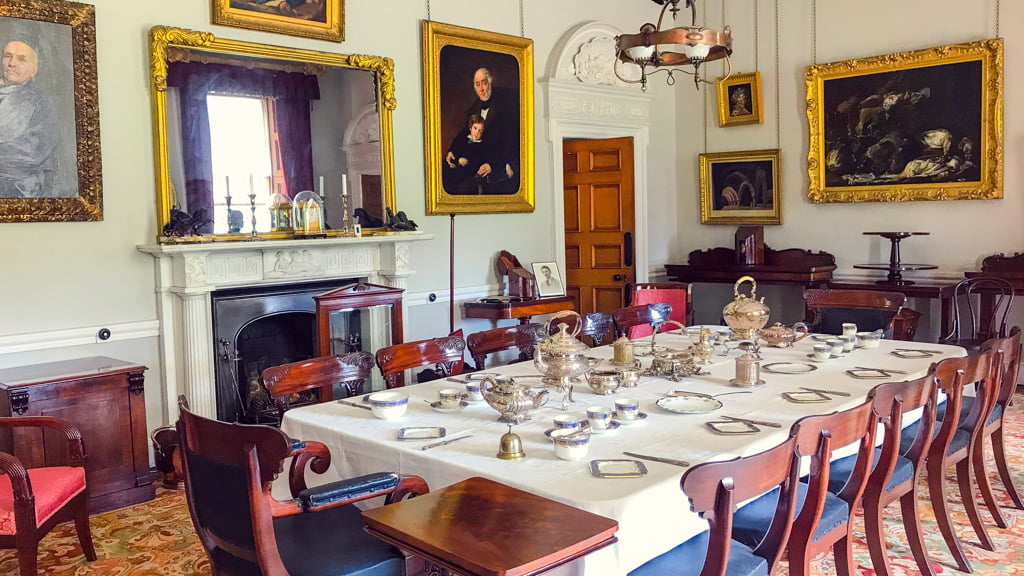 Set for afternoon tea, this huge dining room showcases 2 things that the family was very proud of: welcoming guests into their home and showing off their wealth and good fortune. From custom dinnerware to lavish artwork, if these walls could talk I am sure they'd be able to share stories of wonderful parties and events that have been held within the room.
Barrel Organ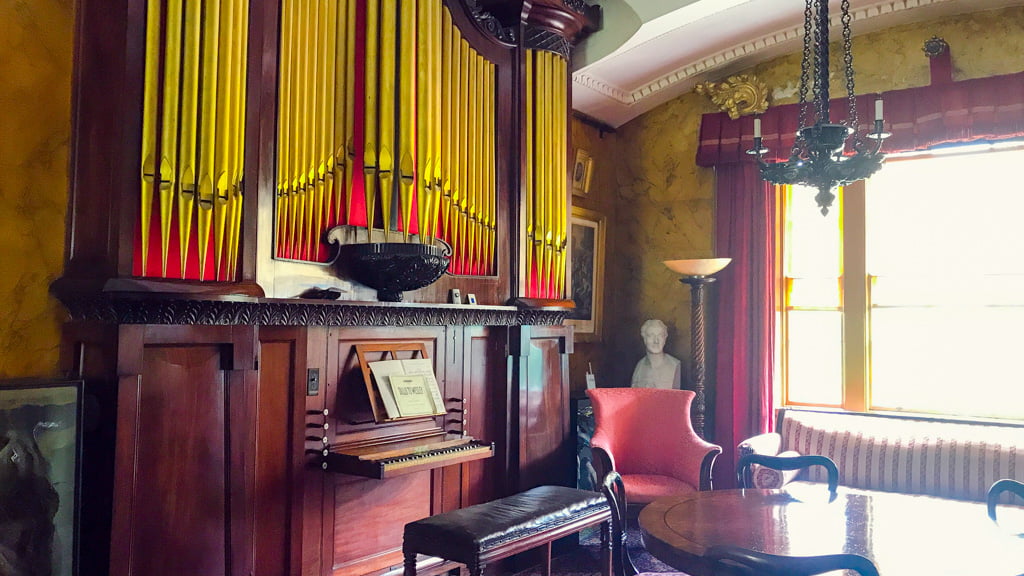 At the top of the stairs, a massive cabinet barrel and finger organ greets visitors in a sitting room. When played, this organ would have filled the whole house (if not the property) with music, a true statement piece of furniture and display of the families passion for entertaining.
Master Bedroom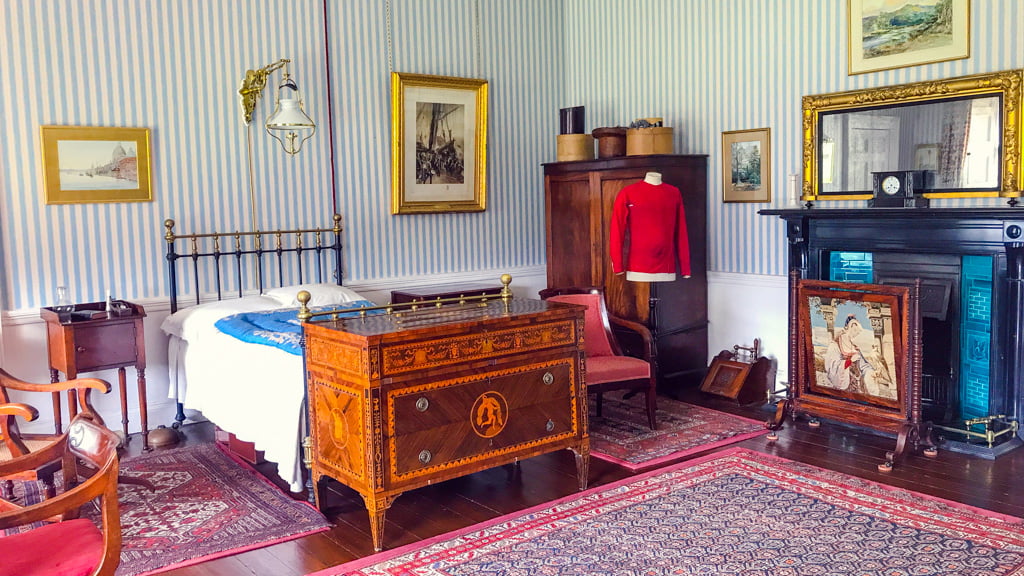 The most fascinating story of the house came from the master bedroom where a red shirt was prominently on display. Written by hand on this shirt was the first-hand experience of when he was a soldier on the Birkenhead Steamship, when it sunk while transporting troops to Algoa Bay at Danger Point near Gansbaai, 87 miles (140 kilometres) from Cape Town, South Africa in 1852. Captain Shelton (then known as Cornet Bond and the 2nd owner of the Argory) was aboard that ship and when the Captain of the Birkenhead called "Every man for himself" he asked his men to stand down and send women and children first. All women and children survived because of him and his theory has forever been known as the Birkenhead theory. Cornet Bond himself too survived wearing that exact shirt, and it was truly amazing to see it on display in his home, 166 years later.
Lady Bond's Room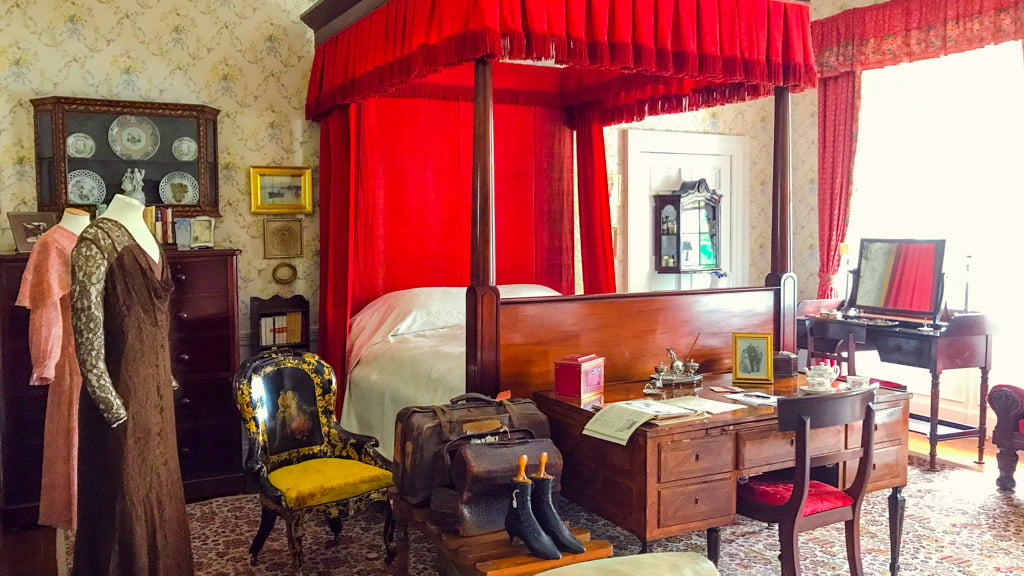 A love for travel was prominently displayed in Lady Bond's Room, wife of the 3rd owner of the house. The petite women's clothing almost looked like it was made for a doll, with her shoes being a size three and her dresses being a size 2. At 107 pounds she was a small women, but had a sense of adventure, travelling all around the world and using The Argory as a base camp for her adventures.
Lots To Explore
The house is full of rooms to explore and stories to be told, and the whole tour can take up to 2 hours. Take your time and wander through the main study, the servants quarters, the bathrooms and kitchen, and take time to look at all of the homes accents (including this wall of past family portraits) that make this property a real treasure to explore.
Lunch
When you're done exploring I recommend you head outside to have lunch at the Courtyard Coffee shop. Here you will find an array of hot drinks, cakes, scones and light lunches all made and prepared fresh on site.
A trip to The Argory is one that family members of all ages will truly enjoy. To learn more or book your own adventure to the Argory, or any of the other properties operated by the National Trust visit their website.
Excited to learn more about Northern Ireland? Check out these articles for information and inspiration!
Is this a sponsored post?: Yes, but while we were graciously welcomed to partake in this experience by Tourism Ireland, all of our thoughts and opinions are our own.