Can you picture this? Waking up to the sounds of birds chirping in the forest, breathing in clean fresh sea air, enjoying a cup of coffee on the porch while sunlight filters through old growth evergreen trees, packing up your picnic lunch for a day that you will spend at incredible beaches, and then cooking dinner on the BBQ while the kids soak off the beach sand in the tub. These are just a few of the experiences you and your family can have at the Stone's Throw Cottage Retreat.
The cottage is located in Qualicum Beach, a town on the Northeastern coast of Vancouver Island. It is home to spectacular beaches and ocean views; local artisan studios; hiking trails; golf courses; small shops; markets and festivals; gardens and restaurants serving up locally sourced food. The town is an outdoor lovers paradise!
Stone's Throw Cottage Retreat is the perfect glamping accommodation choice for families looking to explore the Qualicum Beach area and here is why!
Location
The cottage truly is a hidden gem in the woods, tucked among an old growth forest, it is just a short 10 minute drive from everything you could possibly want to experience. The town can get very busy in the summer with tourists, so having the cottage a short drive away gives you quiet and solitude after a busy day of exploring.
The Local Beaches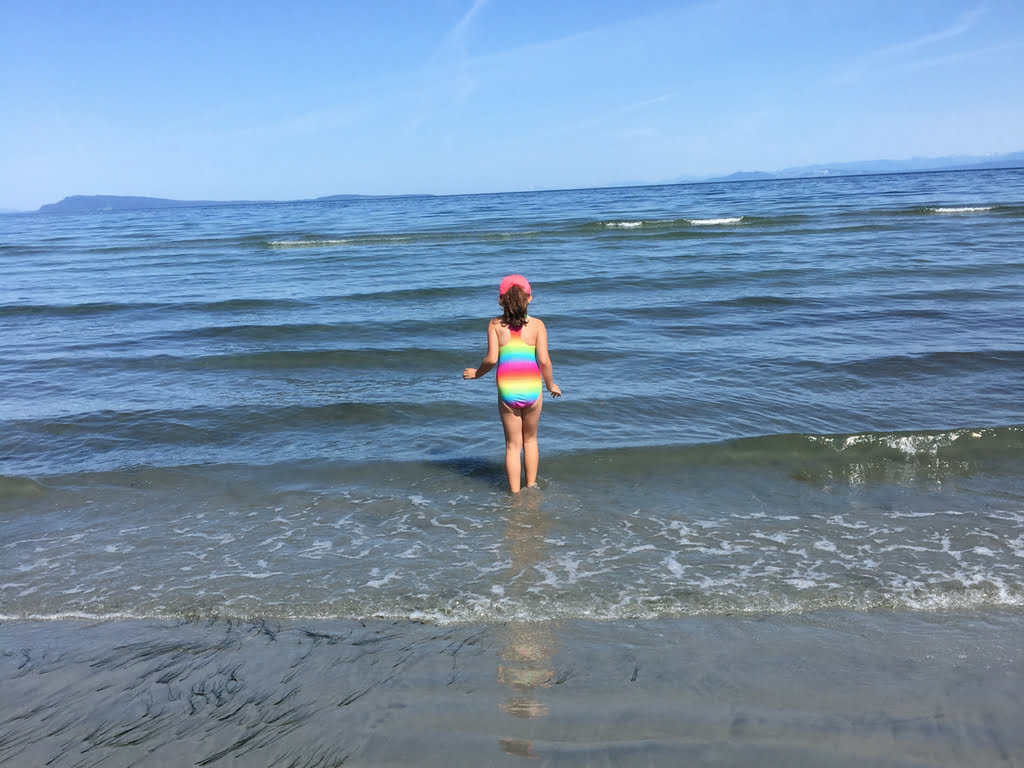 One thing that keeps families coming back to Qualicum Beach is right there in its name, the beaches! Kilometer after kilometer of incredible soft sandy coastline is the perfect setting for every member of the family. Sandcastle constructing, laying in the sun, shell collecting, jumping the waves as they hit the shore and picking up the tiny crabs as they scamper across the sand are all activities that make for an epic family beach day! Stone's Throw Cottage is only a quick 10 minute drive from the local beach, making it the perfect base camp.
Amenities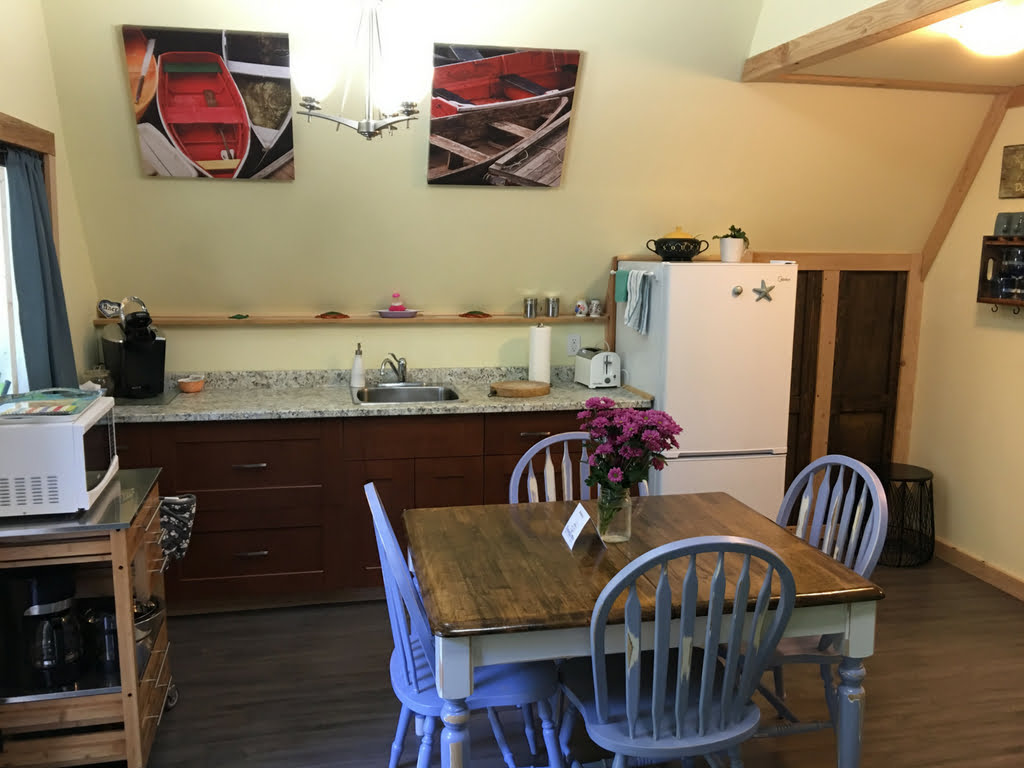 The cottage is extremely well equipped. It has every cooking utensil you could need, a fridge, microwave, keurig coffee maker (complete with pods!), kettle, BBQ (with a side burner). There is no stove or oven, but between the BBQ and microwave, it is easy to cook meals for a family. There are even books and games to enjoy while you are there.
Comfort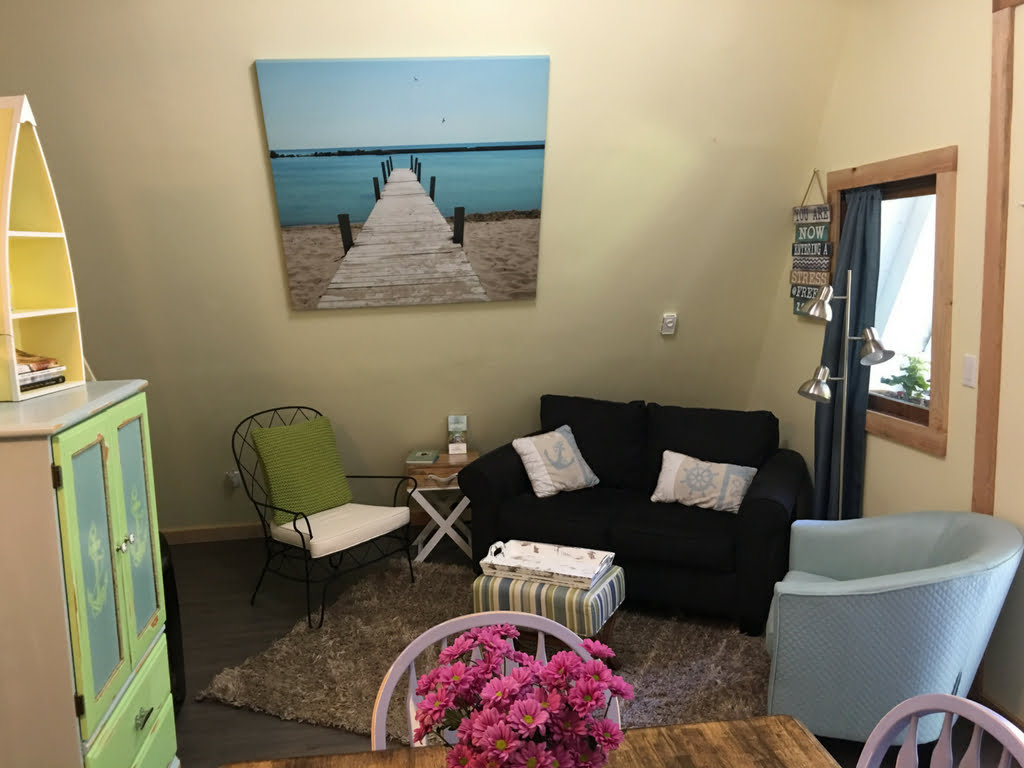 The cottage boasts a very charming and unique beach theme throughout. The living room has a couch and 2 cozy chairs. There is a full bathroom with a tub, a dining room table for 4 and a big table with 6 chairs on the front deck.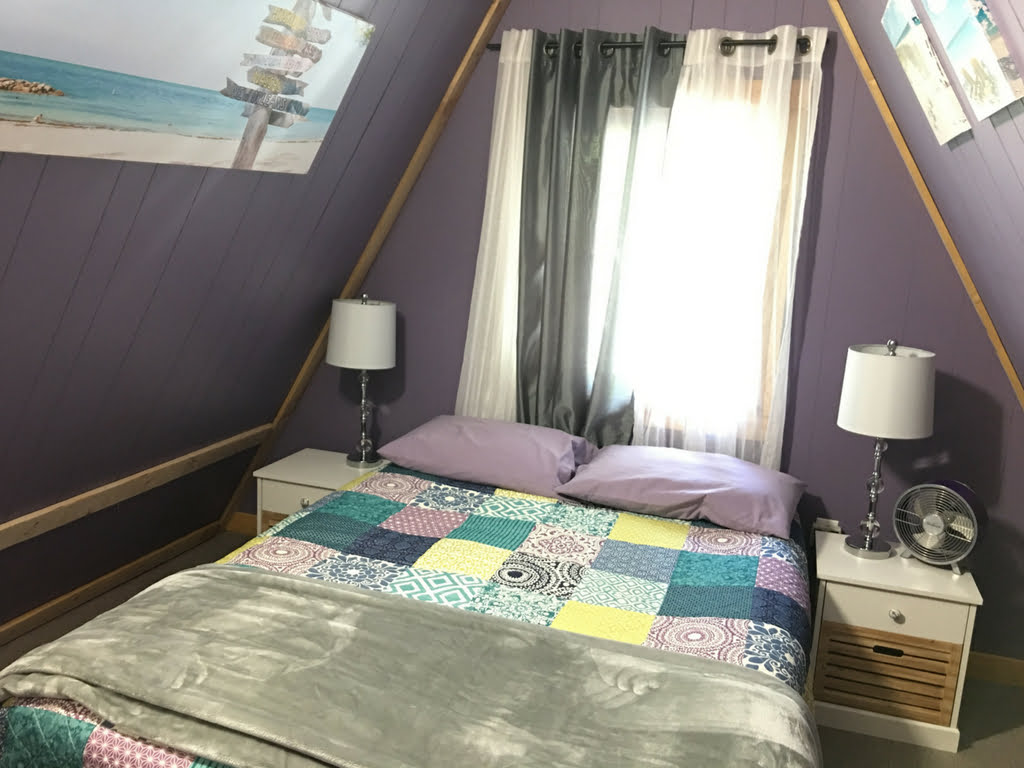 There are 3 bedrooms, able to accommodate 6 people (one downstairs with a queen bed and two upstairs; one with a double bed and the other has two twins). The beds were warm and comfortable, a perfect place to rest your head after a busy day of adventures.
Dog Friendly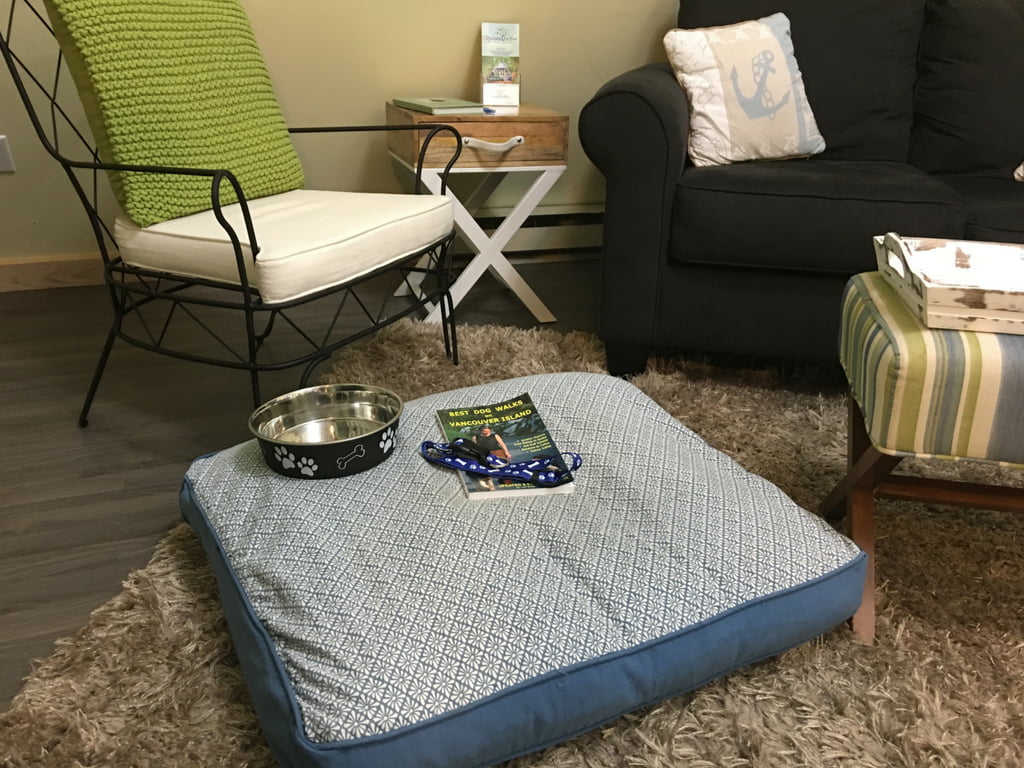 Families are often looking for a place to stay where their 4 legged furry family members are welcome to stay. The cottage has a fully fenced yard, dog bowls, leashes, dog beds and books about the best dog walks on Vancouver Island. If you are looking to take your pup with you on vacation, this is the place to stay!
The History and Hosts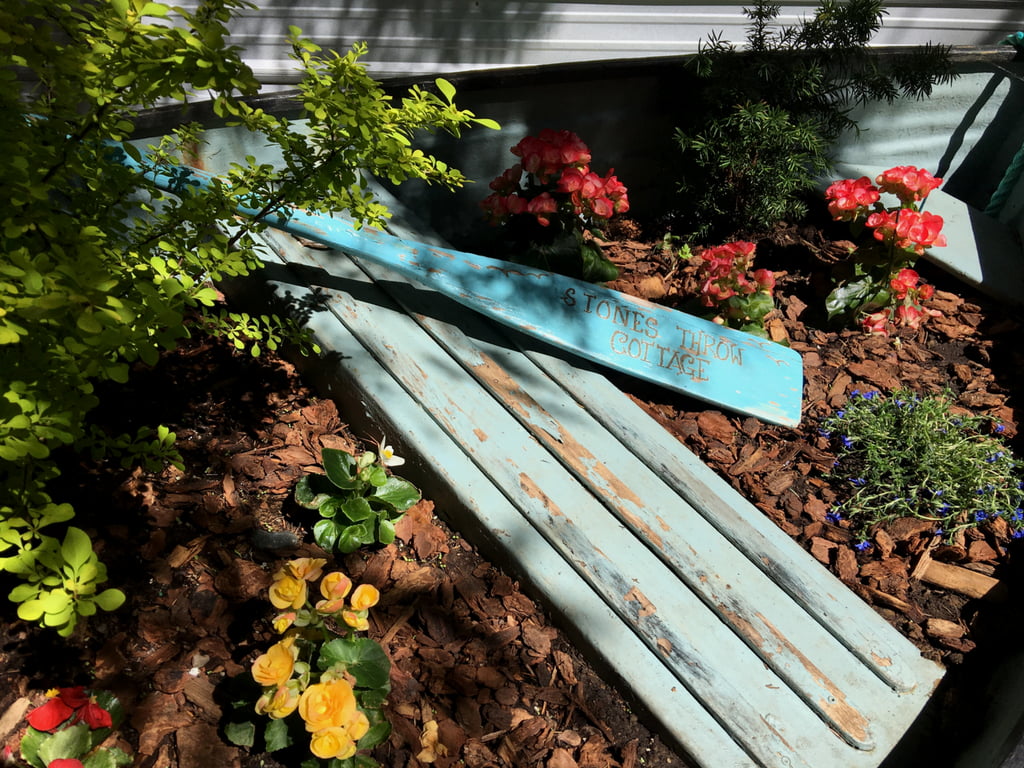 Built in 1978, the 800 square foot building served as the main home for the original owners and their 5 sons, until 1996 when they built a larger home on the property and then the cottage served as a place their friends and family would stay when visiting. The current owners, Christina and Jay, purchased the property in July 2016 and set to work doing the necessary renovations to turn the a-frame cottage into a rental property. Both having past renovation experience, they dived in and turned it from uninviting and cold, to a warm and cozy vacation rental property. They welcomed their first guests to the cottage in September of 2016.
The cottage got it's name for two reasons. First, it really is a stone's throw away from everything (beaches, hiking trails, restaurants, etc.). Second, Christina's grandmother's maiden name was Stone. She was a very strong, dedicated and stubborn woman, much like the challenges Christina and Jay faced during the renovations. And with that, the cottage got its name.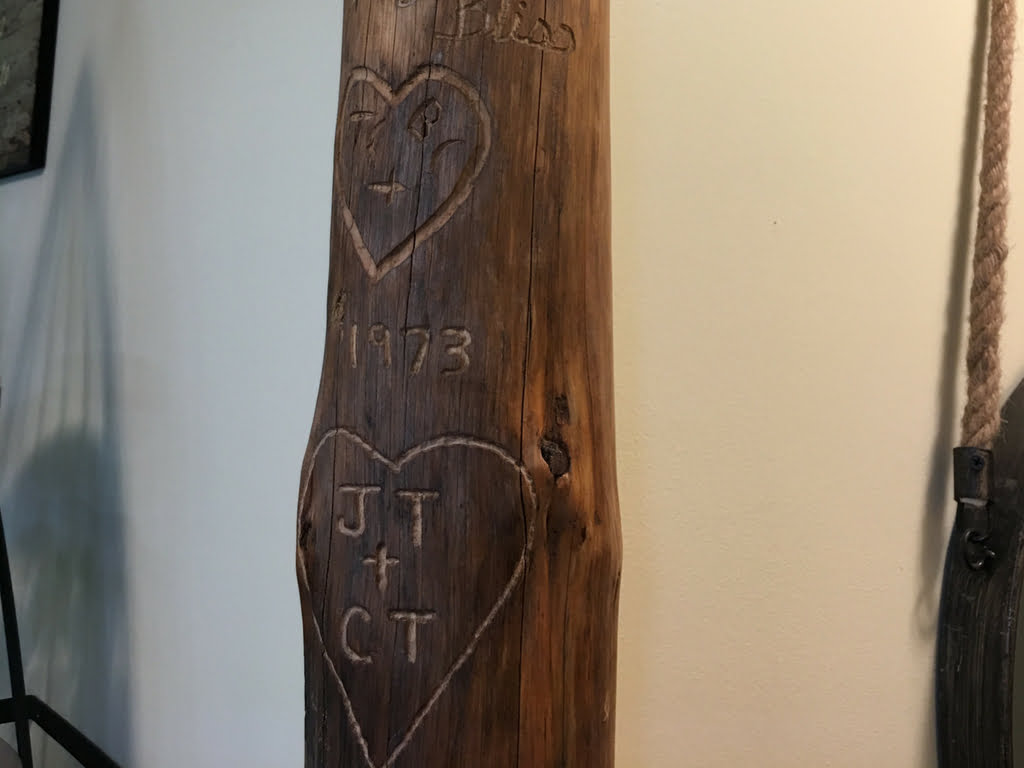 During your stay, make sure you take a look at the before and after photos on the wall. The transformation is incredible. Search for the carvings on one of the corner posts inside the cottage. These are initials of not only the original owners who once called the cottage their home, but also the initials of Christina and Jay and all their friends and family who inspired them and who poured love and hard work into the cottage to make it what it is today.
When speaking with Christina, she said "Stone's Throw is not just a place to stay, it is not just another vacation accommodation. It is a place that brings calm and peace. A place where families come together and build bonds and memories. The cottage is not just a business to us. It's an extension of our family to yours."
As soon as you pull into the driveway, continue through the trees and park out front, you feel welcome, you feel a sense of belonging and it feels like home. Interested in more family vacation destination ideas? Check out these locations!
Family Wilderness Getaway at Manning Park Resort
Best Location to Host Family Reunions in BC
Glamping Hub – Source for Unique Family Accommodations
Is this a sponsored post?: While we received a complimentary stay, our words reflect our experience and we're excited to share it with you.