Are you heading up to Whistler to do some mountain biking? Looking for the best Whistler bike rentals? I had the chance to meet with one of Whistler's newest entrepreneurs, Will Naylor, who recently opened up a small boutique bike rental shop in the upper village called Whistler Sports Rentals.
Will came to Whistler on vacation from England and fell in love with the Whistler area and lifestyle. He worked in ski shops for a couple years and this year leased the ski shop space for the summer, allowing him to open his own bike rental shop! I love meeting passionate entrepreneurs who are growing their business around things that they love!
Whistler Mountain Bike Rental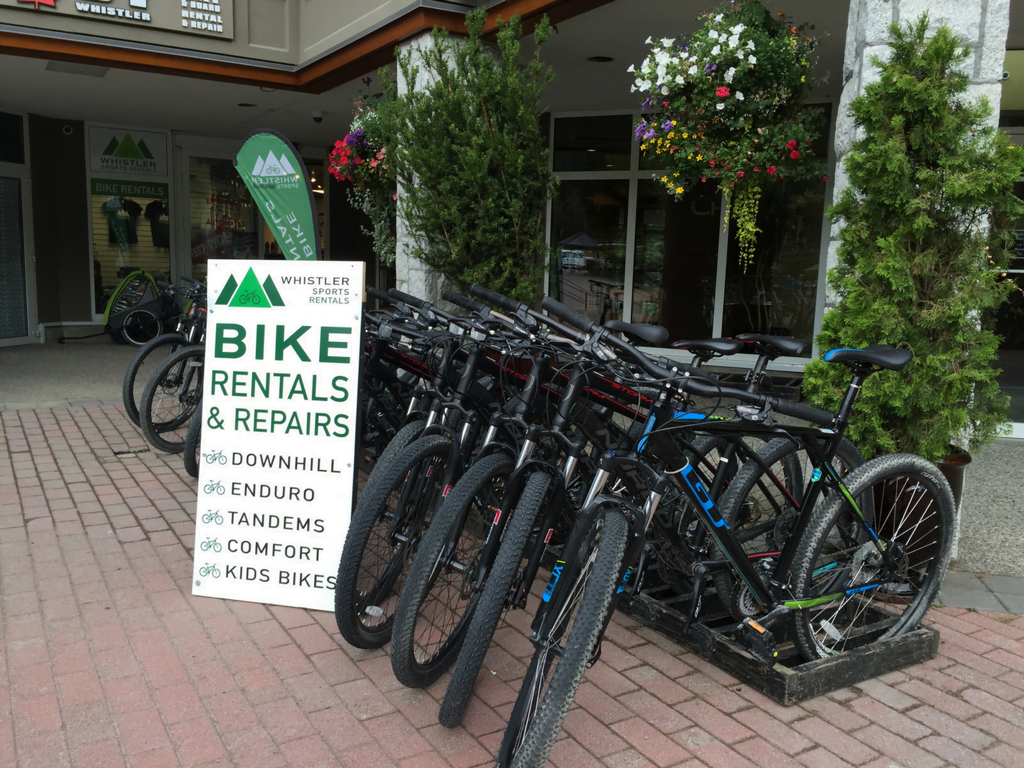 One of the questions that I first asked when Will invited me to his shop was, "Why would I rent a bike when I already have a mountain bike?" As a newer mountain biker I had NO idea about the difference between a cross-country mountain bike and a downhill bike but Will measured me up and got me fitted for the right bike. Will was kind enough to explain some of the differences:
A Downhill bike has a carbon frame which makes for a lighter, more responsive bike.
A Downhill bike has powerful 4-piston brakes that use less energy to brake, making it easier on your hands and arms. I really appreciated this after a couple hours on the hill as my hands and arms were feeling a bit sore…I would have been in a lot of pain with my bike!
A Downhill bike has maxxis minion tires that provide lots of grip… less chance of me sliding out on the dry dirt.
A Downhill bike has Rockshox Boxxer suspension that is lightweight and supple.
If you are looking for a Whistler downhill bike rental, come pay Will a visit and he will get you properly suited up!
Variety of bike rentals available
Whistler Sports offers riders a wide variety of bikes available for a test ride. I couldn't believe how different each bike felt when I rode them, so it was nice to be able to test a few out and see which was was the most comfortable.
Put a lid on it!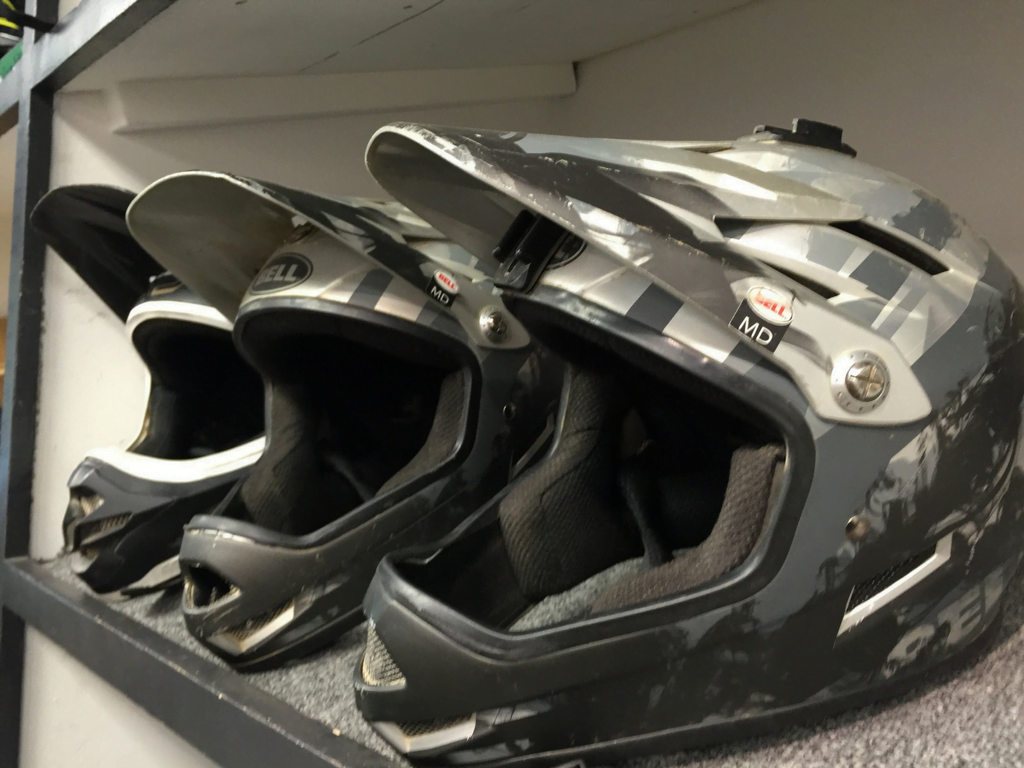 Be sure to protect your noggin when you're out on the hill! While a full face helmet isn't required on the hill, it is definitely recommended. I was surprised at how lightweight and comfortable the helmet was, as I was worried that it was going to restrict my vision, but I felt quite comfortable and didn't feel that it inhibited my experience at all.
Beyond the mountain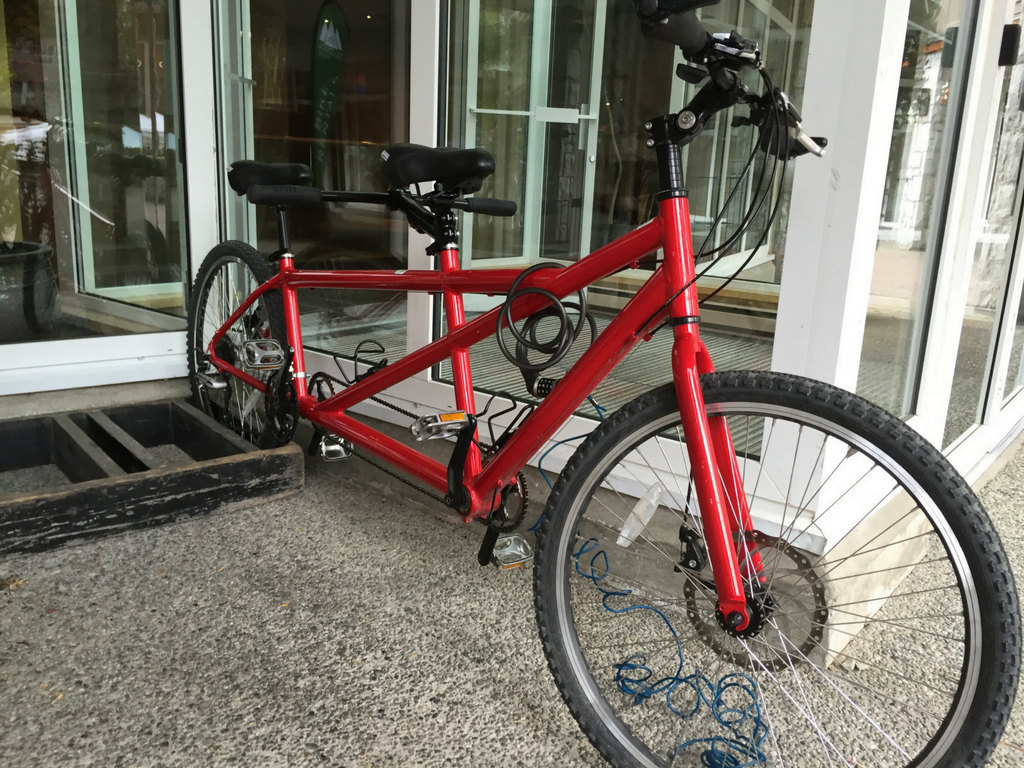 Whistler has an extensive bike trail system that ranges from basic, paved scenic paths, to expert level back country trails. So if you've got family members who are interested in taking the easier route you can rent tandem, carriage bikes, or even kids' bikes to get you out exploring Whistler.
Go Shopping
Have you ever thought of buying a used bike from a bike shop? We fell upon the kid's bike section and before I knew it, found ourselves shopping for bikes… oh wait, that was the kids pulling at our sleeves! While we didn't walk out of the shop with a bike on that day, we did our research and learned that the end of season is the best time to purchase used bikes and that we could save a LOT of money by doing so. My kids don't read my blog so I can tell you a little secret… we're hoping to put new bikes under the Christmas tree this year!
So whether you're new to Whistler Mountain Biking or a seasoned professional looking to visit Whistler and hit the park, we recommend getting your bike at Whistler Sports Rentals. Feel free to check out their website, drop them an email at [email protected] or give them a call at 604-966-4409.
While you're visiting Whistler we recommend staying at the Aava Whistler Hotel… Whistler's most bike friendly hotel!
Make sure you check out our blog about Whistler ATV Tours, another must-do while in Whistler!