I felt on top of the world as I stood at the peak of a snowy hill within the Chalets Lanaudière resort. Somewhere in the distance hockey sticks and pucks scraped across a frozen pond as skates cut through the top layers of the solid ice. Kids cheered as their team scored a goal. Dogs barked below us as the sled they pulled behind them carved—whoosh—through the snow. Children and adults alike screamed happily as their tubes carried them down the slope in front of me and as my kids came closer I could hear them panting heavily due to the combination of their uphill climb and the subzero temperatures.
Since our ultimate Canadian winter road trip began we have seen the best of Canada in the winter: the frozen ponds, massive snowy hills and the red noses and cheeks resulting from adventures in the chilly outdoors. But standing there in that moment I realized that this—the scraping of ice, whooshing of sleds and the quick breath of a cold and happy child—is the sound of winter in Canada. And it is abundant at Chalets Lanaudière.
Chalets Lanaudière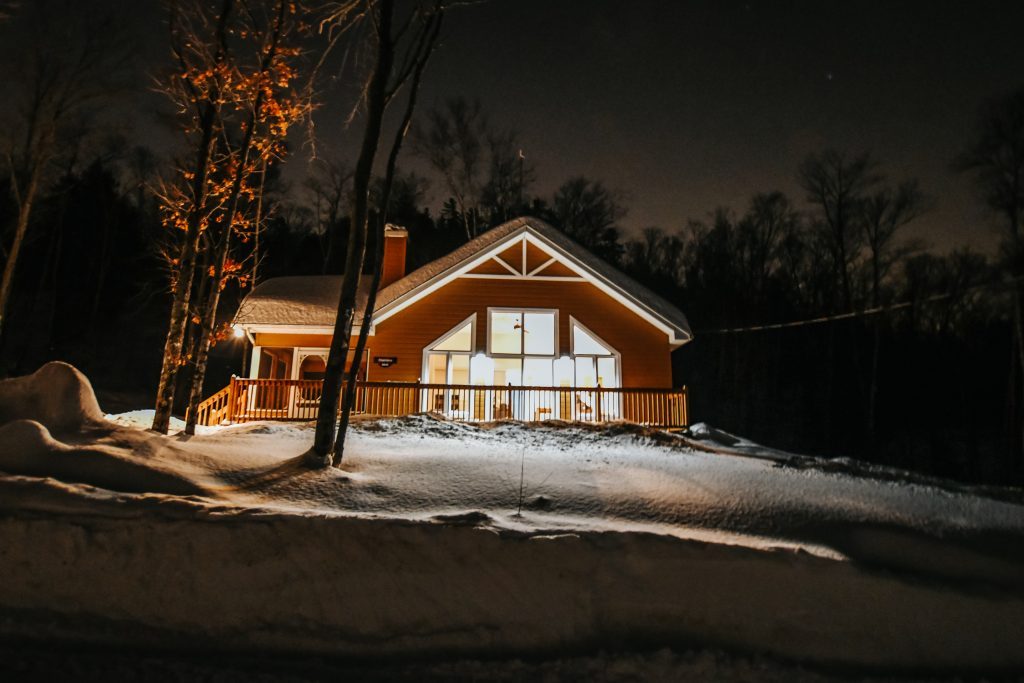 Set on an absolutely breathtaking property in Quebec, Chalets Lanaudière is a dreamy getaway into nature. Looking around one has to think they tapped in to a child's treehouse-in-the-forest fantasy and elevated it to create a high-end and well planned year-round resort in the woods.
From tenting sites (summer only) to yurts, cabins and cottages that sleep anywhere from 4 to 50 people, you would be hard-pressed to find a combination of family or friends they cannot accommodate. Strategically placed all around the sprawling property, each private cabin gives you the feeling of having the entire resort to yourself.
We were only here for one night but I would have loved to settle in for an entire week because there was so much to soak up and explore.
Getting Outside at Chalets Lanaudière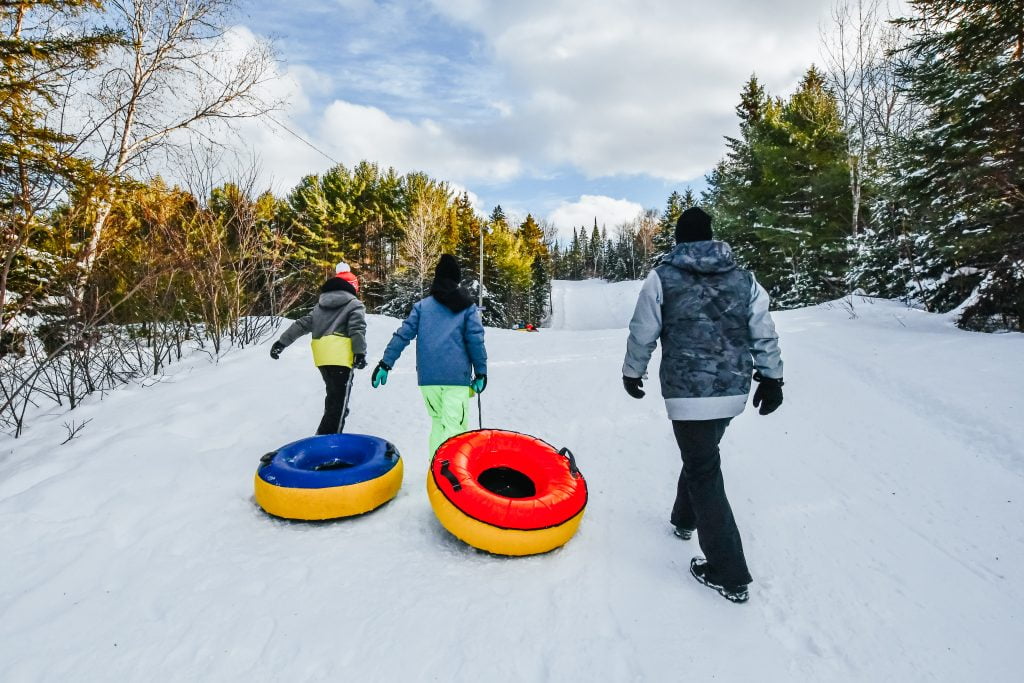 While Chalets Lanaudière is a year-round resort, we were able to enjoy it in its winter glory and, in turn, enjoyed the winter activities. What they have created is a playground for snow lovers. With options like outdoor skating rinks, broomball, cross-country skiing, snowshoeing, tubing and more, there is something for everyone. And don't worry if you don't have the right equipment. A rental centre is available on-site so you can gear up and enjoy!
Mom Tip: Give yourself at least two nights at Lanaudière, if not three. With so many outdoor adventures to explore, you're family will want to be able to have the time to enjoy them all.
Getting Cabin Cozy at Chalets Lanaudière
Once we had reached that magical moment where we were perfectly exhausted from all of our outdoor adventures it was time to head back into our chalet, "Clairiere" for that post snow downtime! Once we took off the layers and laid them out by the fire to dry off it was time for board games, chips, salsa, and candy… the perfect apres adventure indulgence!
Mom Tip: Head to the front office before you head back to the Chalet to load up on board games! With almost 100 to choose from there's something for everyone in the family to enjoy!
No Such Thing As Cabin Fever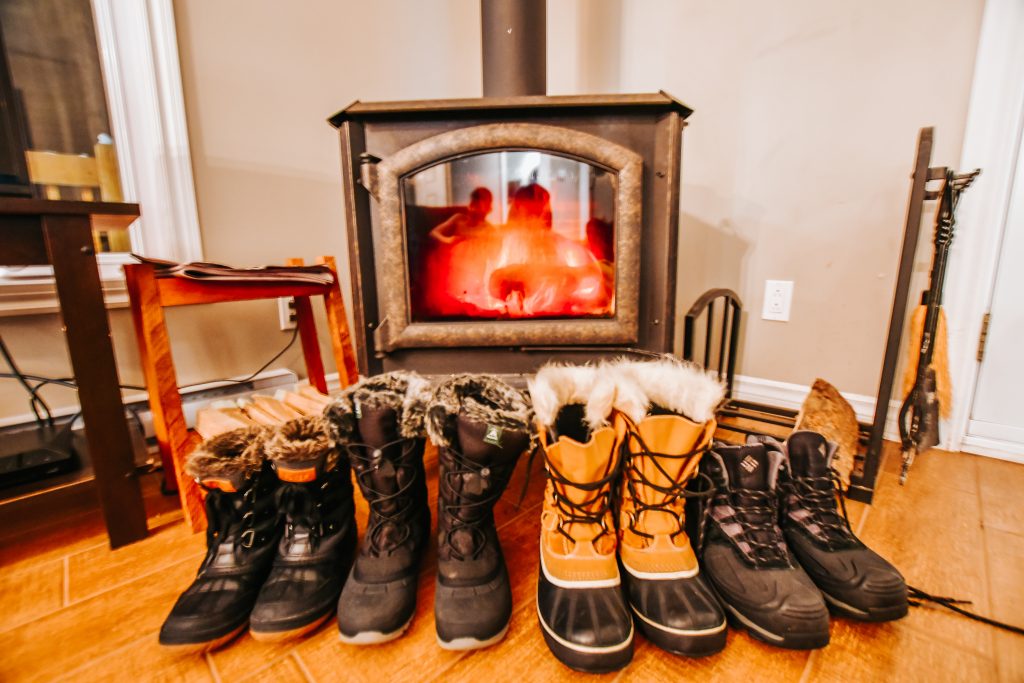 A family that plays together, stays together. We know vacations are good for the soul but there's evidence far beyond the "vacation high" we get when you travel as a family. And having a chalet as a basecamp for you family holidays is the perfect way to build an adventurous getaway into your itinerary.
"Clairiere" or "Home" for the night allowed us to unplug from the world, enter into long conversations without interruptions, get outside and explore the area by foot, tube, and skate, and soak in the laughter that sang from my little kids, something that I know I will miss in the not too distant future.
And that's where the magic happens… taking time from the everyday to invest in spending real quality time with your family. The Chalets at Lanaudière are kid approved, allowing both parents and kids to have the best winter family experience.
Turning Profits Into Opportunity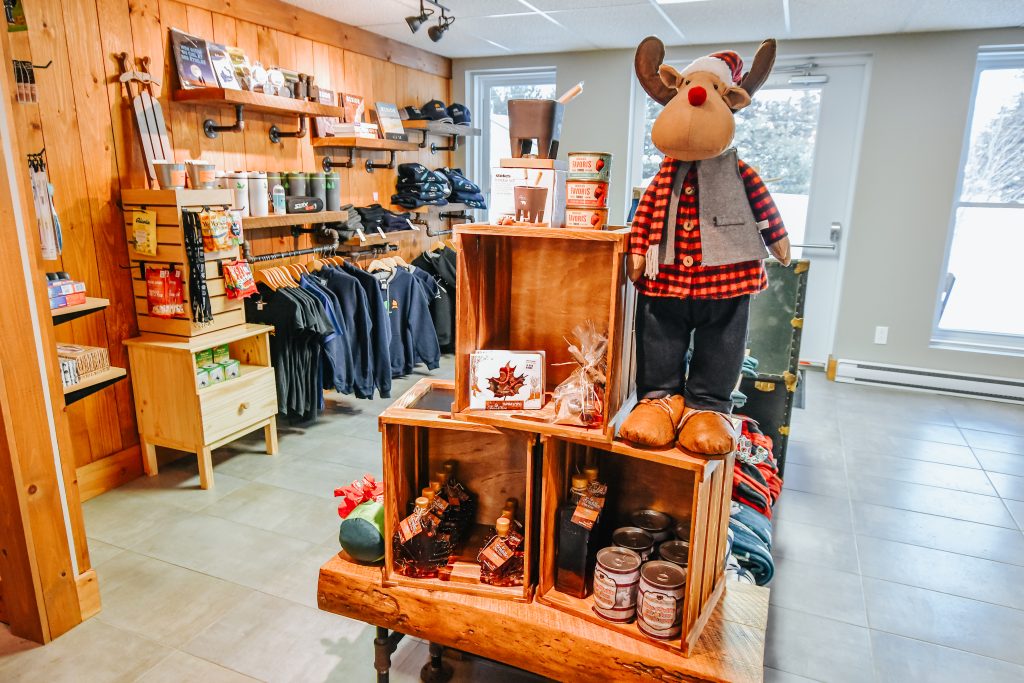 Our stay at Chalet Lanaudière put us right in the middle of Canada's natural environment. The resort is beautiful, the activities are endless and the accommodations were thoughtfully equipped and laid out. But book your vacation here and not only will you enjoy everything they have to offer, you will be supporting their community minded mission.
Chalet Lanaudière gives 100% of their profits to Camp Mariste. Doing this provides children with special needs the opportunity to attend camp with the goals of helping them improve their self-esteem, discover their potential and more.
I absolutely love seeing a tourism based social good business giving back to the community in this way. They provide an amazing experience for their guests at their resort and for some of the kids who need it most at camp. See for yourself what I'm raving about when you book your trip to Chalet Lanaudière. And when you're there, take a moment to close your eyes and listen to the sounds that surround you. You will hear Canada.
---
Inspired to check out Quebec and Ontario? Read the blogs below for some ideas from our trip!
Is this a sponsored post?: Yes, while our time at Chalets Lanaudière is sponsored all views and opinions are our own.