Her stories were older than my grandmother, and Captain Colin equally shared her decades of experience out on the seas. The Violet Mac (named after the Captain's Mother) a 30-foot electric converted boat, had started off her adventures sailing in London's Temps River. Later she'd had sailed the amazon. Now she was living her glory days, with a rebuilt hull and an electric motor, welcoming guests from around the world to experience Halifax from the water on what is the best Halifax Harbour boat tour.
All Aboard The Violet Mac
A small group gathered on the dock, a few minutes before we were set to launch out onto the ocean. With a rippling Canada flag flapping gently in the wind above us and the warm summer air surrounding us, we were set up for a perfect day out on the water.
Meet Your Captain Colin!
With a weathered hand on the wheel and eyes straight out on the water, Captain Colin weaved his stories with us in between checking the wind on his iPhone, spotting sealife, and scanning the marine vessels that dotted the shore, to see if anything noteworthy was worth sharing. With a passion for his city, and with approval from his wife, Captain Colin created Halifax Harbour Tours, an electric boat and small group guided experience. With a maximum of 8 guests, the Violet Mac allows you to experience a no noise, no fumes, and zero exhaust intimate eco-friendly harbour cruise in the heart of Halifax.
Welcome To Halifax with a Harbour Boat Tour!
We had barely wiped the sleep out of our eyes after our cross-country traverse to get to Halifax. But with its location, just steps outside our hotel room, the Halifax Harbour Tour was the perfect way for us to start exploring this beautiful East Coast City.
The short 60-minute tour took us up and down the city's waterfront, helping us orient ourselves to the city, identify key landmarks and points of interest, as well as allowing us to see the city from the best vantage point, the harbour!
The Unique Violet Mac – Halifax Harbour's Most Recognized Boat
One of the most recognizable boats in the harbour, the Violet Mac welcomes you onboard for a peaceful and slow-paced experience. The only noise is the water lapping up against the hull, or the chatter coming from visitors walking along the historic boardwalk. This picture-perfect boat is the perfect welcome to the Halifax Harbour Tour.
What Will You See on a Halifax Harbour Tour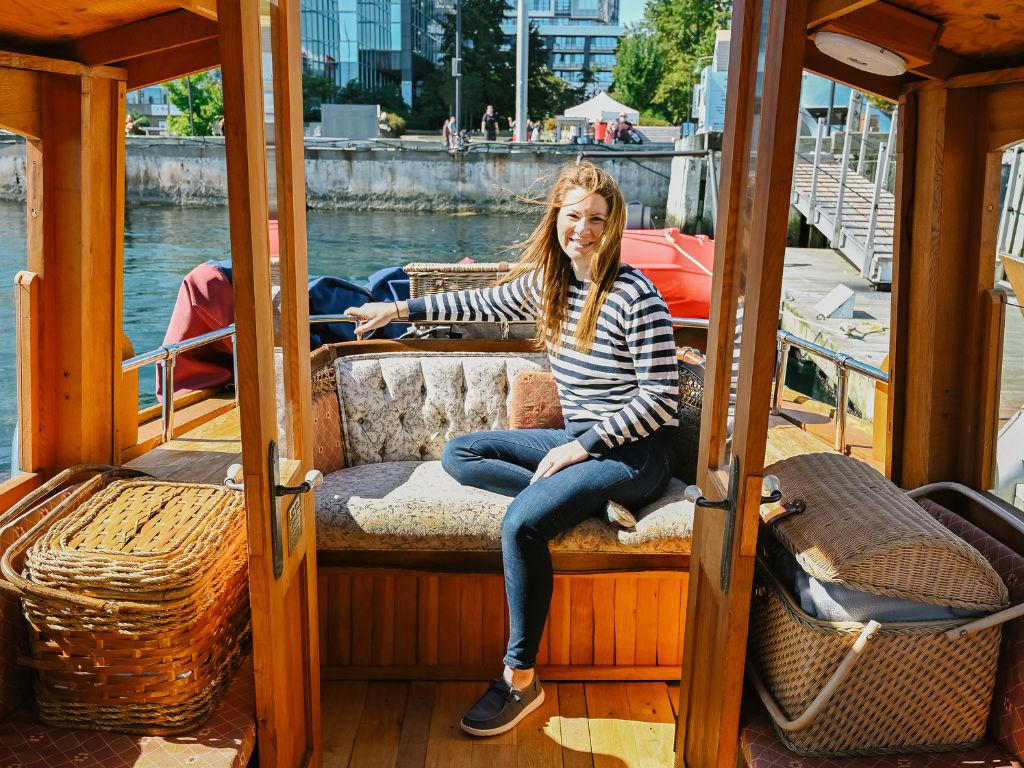 As the capital of Nova Scotia, Halifax is a popular tourist destination for those looking to experience everything that this Canadian maritime city has to offer. Halifax Harbour Tours offers a unique opportunity to view the city from the water, and there is no shortage of things to see.
The 60-minute tour takes you past famous landmarks such as the Halifax Citadel and the Maritime Museum of the Atlantic, Pier 21, the city's stunning boardwalk, and many shops and restaurants that you'll want to go and visit after your tour. You'll also get a close-up look at the working harbour, where you can see everything from lobster boats to container ships, to navy ships.
No two tours are the same and Captain Colin will craft a customized tour depending on what's happening in the harbour. Whether you're a local looking for a new perspective on your city or a visitor looking to explore everything that Halifax has to offer, a Halifax Harbour Tour is sure to be an enjoyable and educational experience.
Halifax Harbour Tour Highlights
Here are some of our favourite highlights from our trip. Note, no two trips are the same, so while you're pretty much guaranteed to see the big city sights, the active harbour changes so much that you may see different things on your tour.
All Eyes On Lunch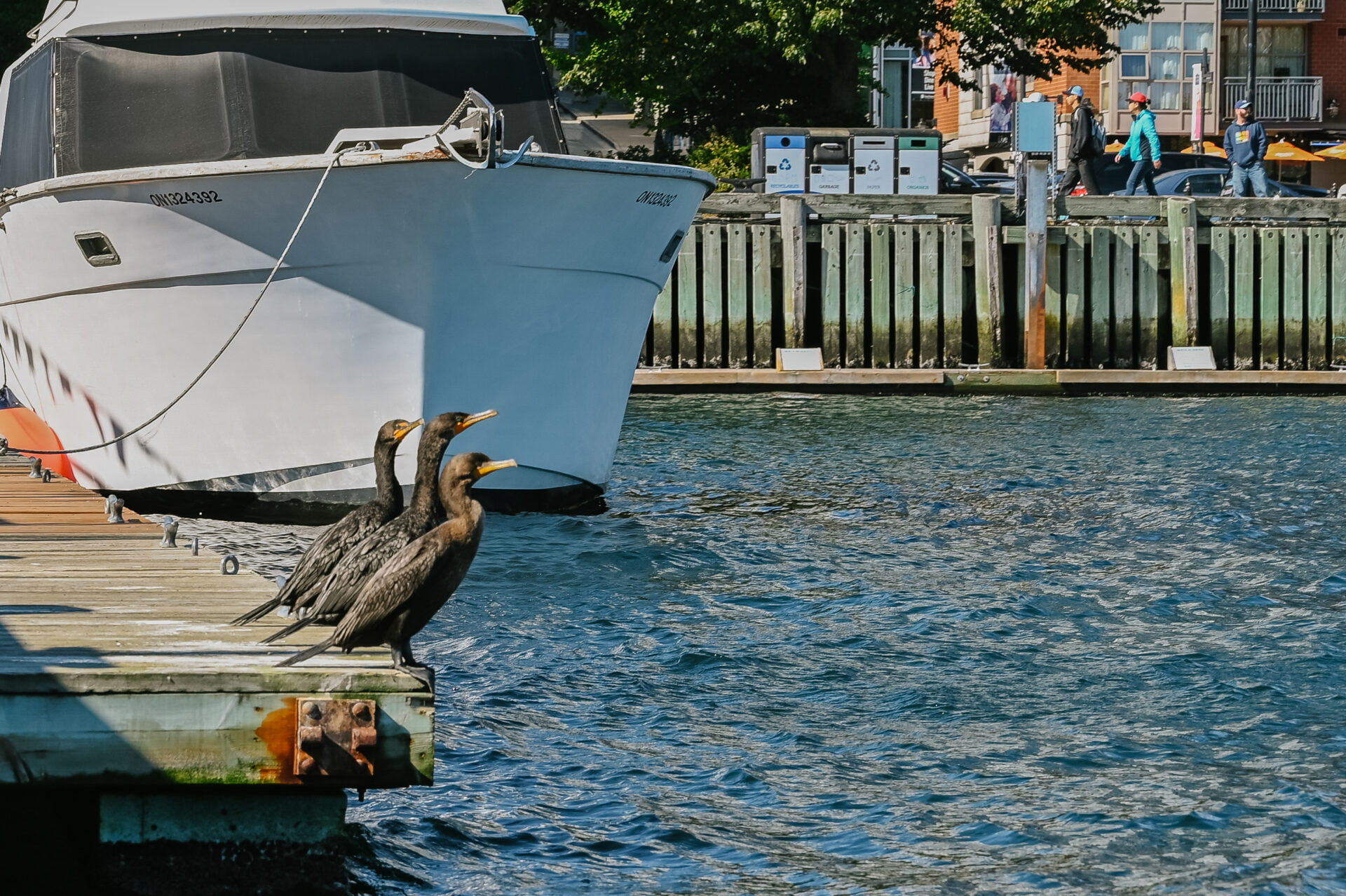 These cormorants are native to Halifax and a common sight along the harbourfront. They are large black birds that are often seen perched on docks or rocks, or swimming in the water in search of fish. Cormorants are excellent swimmers and have long, hooked beaks that help them to catch their prey. They are also equipped with webbed feet and long necks, which help them to move smoothly through the water. Cormorants are interesting birds to watch, and their presence is a sure sign that the Halifax harbour is healthy and teeming with fish.
Halifax Maritime Museum of the Atlantic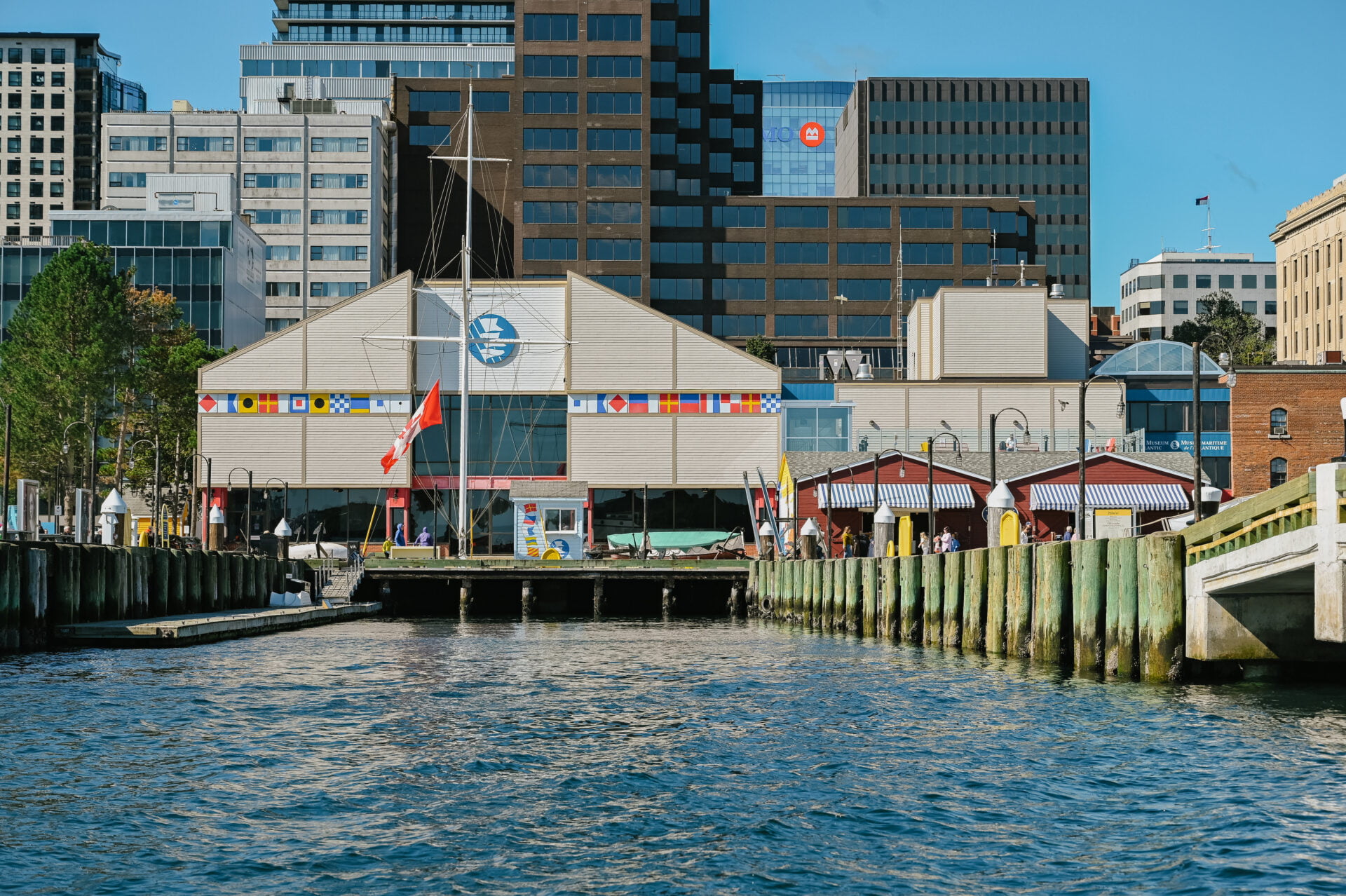 The Maritime Museum of the Altantic is a must-see for anyone interested in the history of this great city. Located on the waterfront, the museum offers stunning views of the harbour, as well as a wealth of information about the city's maritime past. Visitors can explore exhibits on topics ranging from the early days of Halifax's settlement to the city's role in the Atlantic fisheries. The museum also houses a large collection of artifacts, including ship models, paintings, and maps. In addition, the Maritime Museum of the Atlantic offers a variety of educational programs for all ages. The museum is an essential part of any visit to Halifax and is sure to leave guests with a greater understanding and appreciation of this fascinating city.
Pier 21 – Where Our Canadian Story Began
My daughter grabbed my arm with excitement when the Captain said, "And now THIS is Pier 21." Pier 21 in Halifax is one of the most iconic and well-known places in the city. We had only just found out days before our trip that this is where my own Grandfather had entered Canada, almost 100 years ago as a five-year-old boy. We knew it would be our next stop after our harbour tour.
The pier is located on the Halifax Waterfront and was once used as an immigration shed for new arrivals to Canada. Today, Pier 21 is home to a museum that tells the story of Canadian immigration. The museum is designed to educate and engage visitors of all ages. It features interactive exhibits, multimedia presentations, and personal stories from immigrants.
HMCS Sackville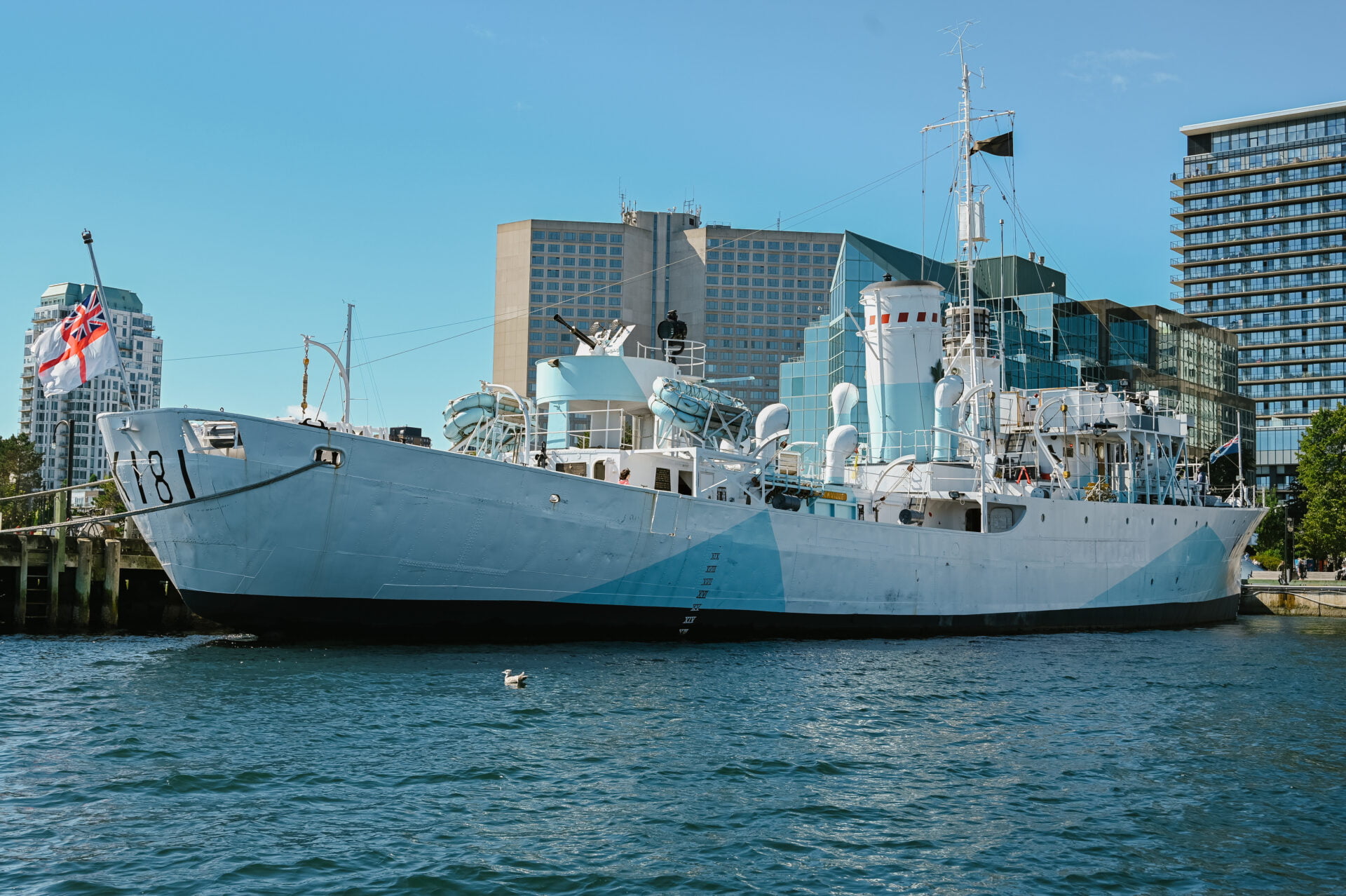 Commissioned in 1941, HMCS Sackville was the lead ship of her class of corvettes. She served with the Royal Canadian Navy during the Second World War, conducting convoy escort duties in the Battle of the Atlantic. Following the war, she was decommissioned and laid up in reserve. In the early 1960s, she was reactivated and assigned to Halifax as a training ship for reservists. She remained in this role until she finally retired from service in 1985. In 1988, the HMCS Sackville was designated a National Historic Site of Canada, due to her status as the last Flower-class corvette known to exist. She iis now a museum ship, and is open to visitors year-round (I wish we had time to go, we will definitely stop on our next trip to Halifax!). Located in Halifax Harbour, she offers a glimpse into life aboard a wartime convoy escort vessel. With interactive exhibits and guided tours, HMCS Sackville is a must-see for anyone interested in Canadian naval history.
Halifax's Newest Hotel – The Muir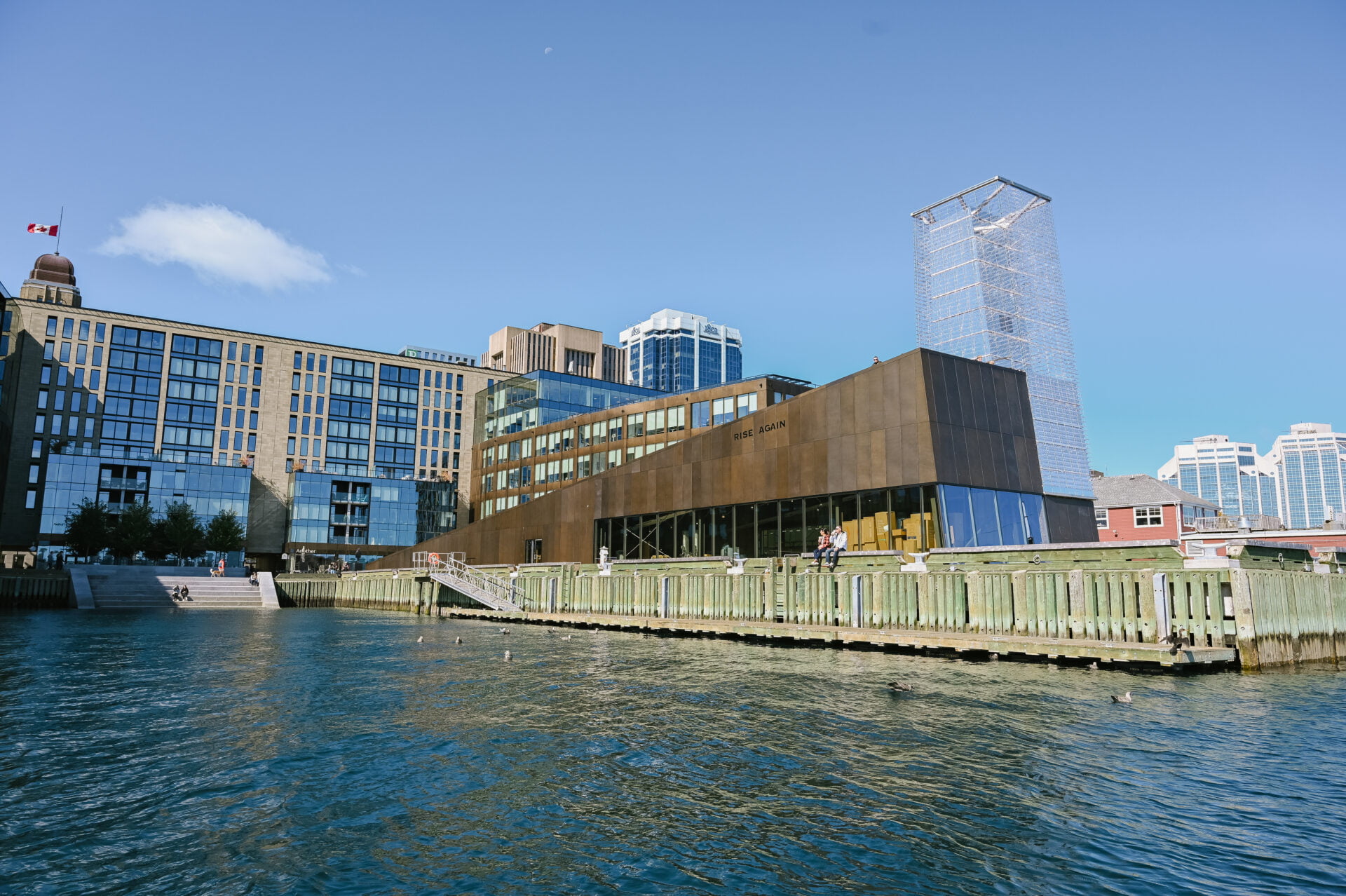 The Muir, Halifax's newest hotel, is situated in the heart of downtown and offers stunning views of the harbour. The hotel itself is a sleek, modern space with plenty of amenities to make your stay comfortable and enjoyable. The rooms are spacious and well-appointed, and the staff are attentive and helpful. The Muir also has an excellent restaurant, serving both local and international cuisine. Whether you're looking for a weekend getaway or a longer vacation, The Muir is sure to make your trip a memorable one.
The Tall Ship Silva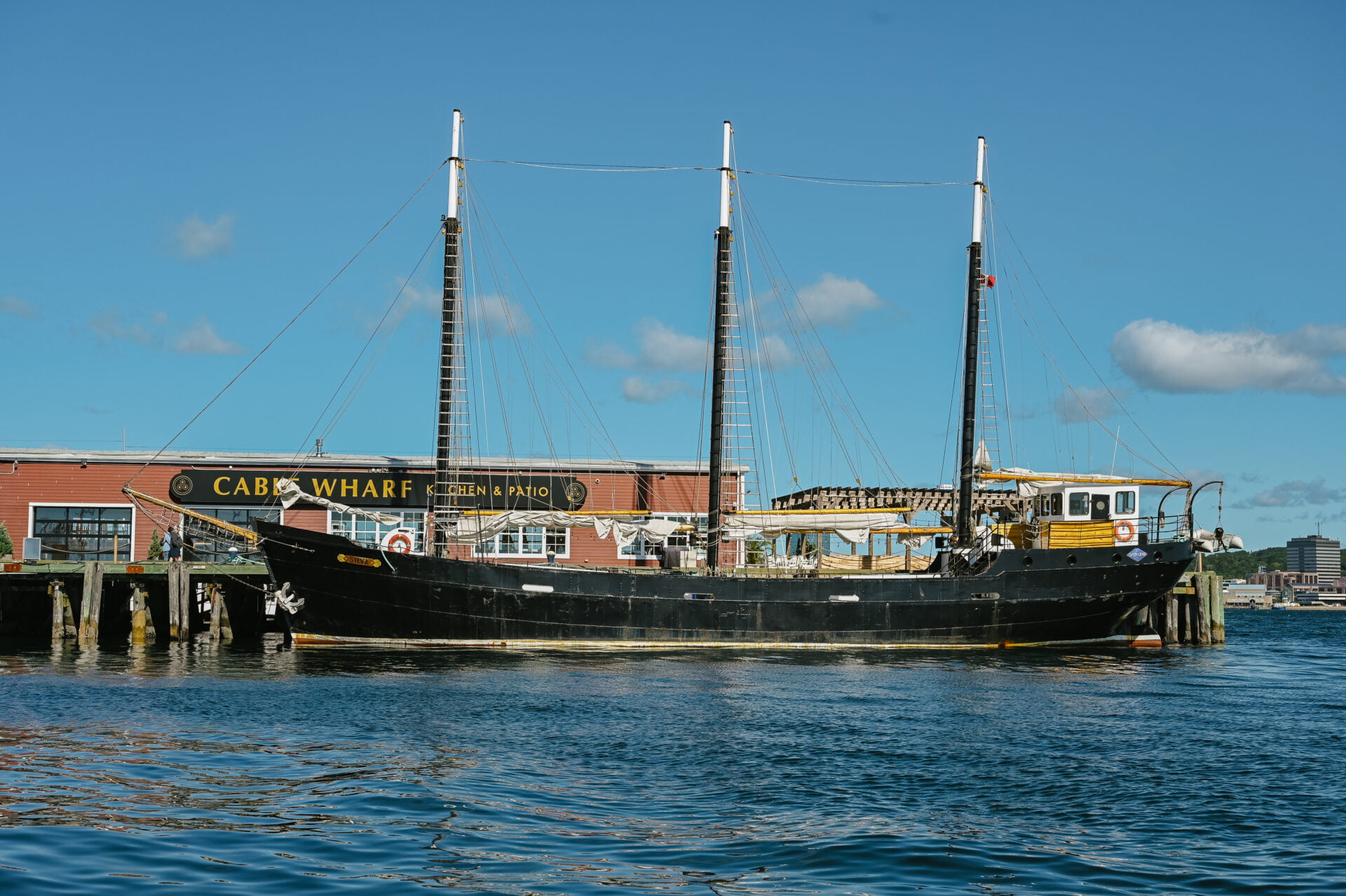 This black beauty had me envisioning Captain Jack Sparrow ordering his crews about as they set out to sail. While totally fiction formed only by my imagination, this incredible ship has quite the history.
The Tall Ship Silva was built in 1939 in Sweden and was originally used as a sailing vessel for the Swedish merchant marine. She was later converted into a passenger vessel and has since undergone many different restorations now calls Halifax home where you can visit her or head out on a tour. She is 37 metres long with a beam of 7.3 metres, and the area of her five sails is 227 meters squared. The Tall Ship Silva offers an authentic sailing experience and is a popular tourist attraction in Halifax. Visitors can explore the decks, learn about the ship's history, or just enjoy the view from the harbour.
Click here to book your Tall Ship Silva experience!
Halifax Restaurants & Eateries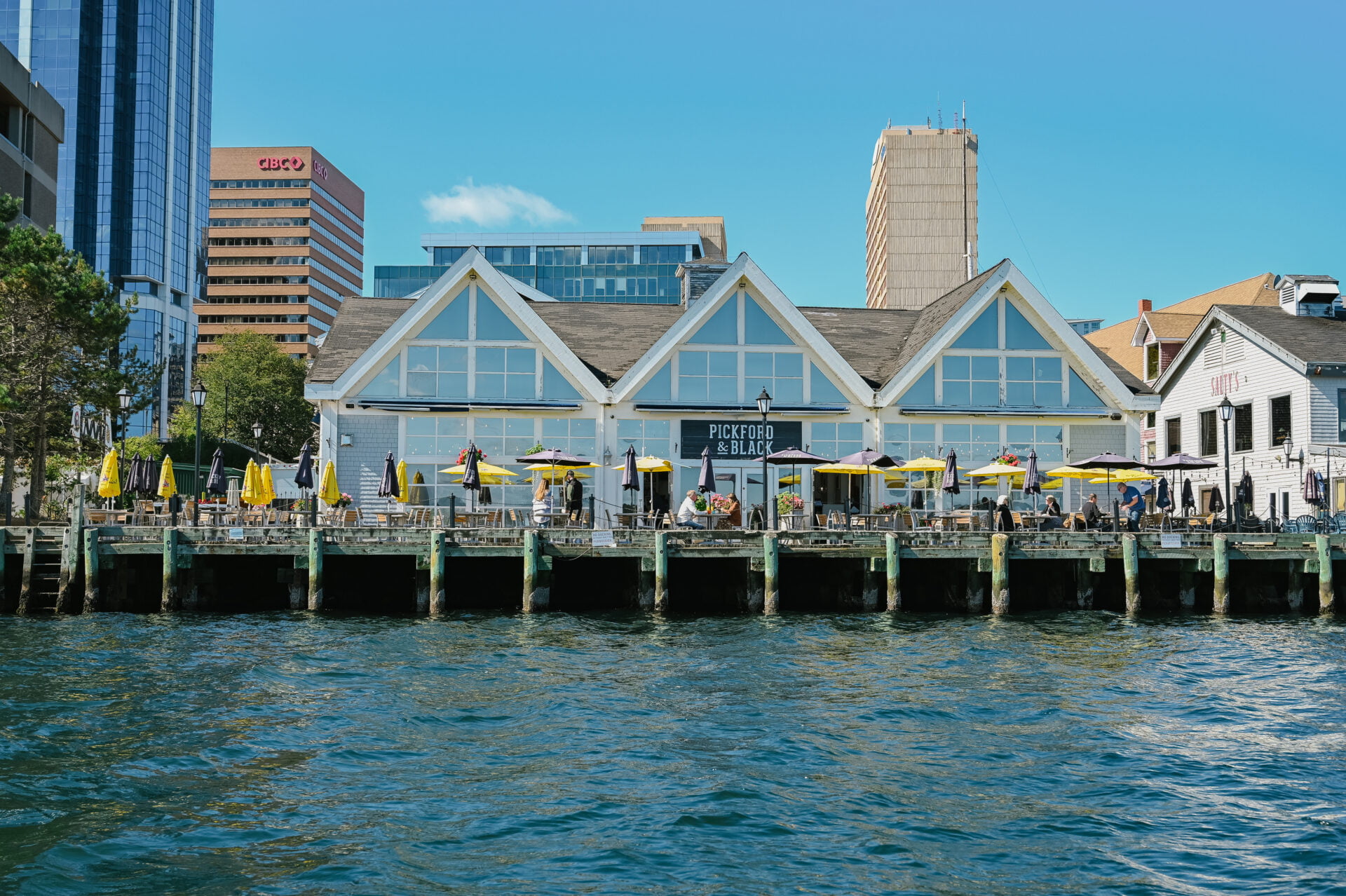 The Halifax Boardwalk is a great place to find unique shops and restaurants. For example, the Pickford and Black restaurant. In 1876 this building was a shipping firm that started out as ship chandlers and grocers, and then grew into a booming steamship line that delivered goods throughout the Maritimes, and even to Cuba and Bermuda. Guests won't have to go that far but can expect amazing local seafood, craft beer, incredible views and the East Coast atmosphere at Pickford and Black.
Does Halifax Have a Boardwalk?
The Halifax Boardwalk is one of the city's most popular attractions, and it's easy to see why. Stretching for over two kilometres along the waterfront, the boardwalk offers breathtaking views of the harbour and the nearby Halifax skyline. It's also a great place to people-watch, as locals and tourists alike come to stroll, bike, or skate along the boardwalk. And of course, there are plenty of places to stop and grab a bite to eat or a refreshing drink or settle into one of the colourful chairs and enjoy the view out over the harbour.
Active Naval Harbour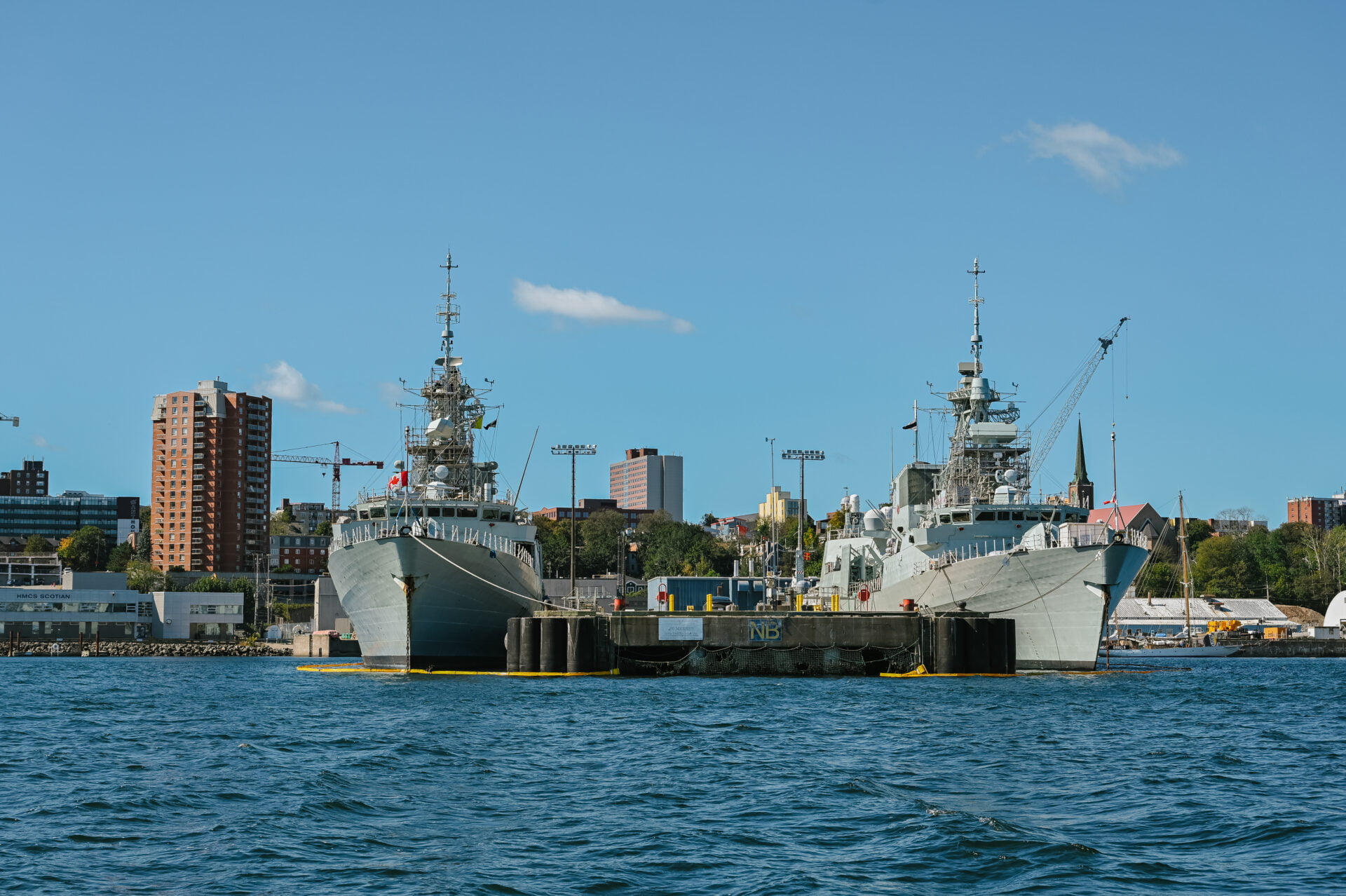 Halifax is an active Naval Harbour and one of Canada's busiest seaports. Visitors aboard the Violet Mac may see a variety of vessels including warships, submarines, supply ships, and civilian boats. The harbour is also home to the Halifax Shipyard, where new ships are built and old ones are repaired. This is one of the reason's why there's a tour disclaimer that every tour is different, because with the harbour being so active who's in the harbour changes every hour!
Quick Questions about Halifax Harbour Tours:
What is the best time of year to go on a Harbour Boat Tour in Halifax?
There is no bad time to go on a Halifax Harbour Boat Tour, but the best time of year is definitely the summer. The warmer weather means that you can enjoy the sun and the fresh air while you take in the sights of the harbour. The longer days also mean that you can make the most of your tour by staying out until sunset. And with only 8 guests on each boat tour, you don't have to worry about encountering crowds on your tour. Whichever time of year you choose to go, you're sure to have a great time on a Halifax Harbour Boat Tour.
Should I tip the Captain and the Tour Guide?
While it is not required, tipping the Captain and tour guide can be a nice way to show your appreciation for their services. The captain is responsible for planning out a route that will enable you to see most of the city and ensuring that everyone on board has an enjoyable experience. The tour guide is usually the one who provides information about the area, points out interesting landmarks, and supplies historical insight. While tipping is not expected, it is always appreciated. If you decide to tip, a suggested amount would be $5-10 per person.
What is the Best Harbour Boat Tour in Halifax?
After our experience on the Violet Mac, we think that this eco-friendly, non-invasive experience is the only way to go. However, we also look forward to checking out the equally eco-friendly sailing experience with the Tall Ship Silva on our next trip.
Click here to book your Tall Ship Silva experience!
What should you wear on the Halifax Harbour Boat Tours?
The most important thing to remember is to dress for the weather. If it's sunny, be sure to apply sunscreen and wear a hat to protect yourself from the sun's rays. If it's cool or windy, dress in layers so you can adjust your clothing as needed. No matter what the weather I'd recommend bringing an extra layer as it's often a bit colder once out on the water. And don't forget your camera! With Halifax's spectacular views, you'll want to capture the memories of your boat tour forever.
How to Book a Private Boat Tour
With only 8 seats on board if you are travelling with a group it would be a really unique experience to book a private tour onboard the Violet Mac with your crew. Just call or email Halifax Harbour Tours to book a time that works for your party and discuss rates and any special inclusions. 
Can we bring children on a Halifax Boat Tour?
According to the Captain, "Of course! We love welcoming families aboard our Halifax Boat Tours." In fact, they offer a special discount for children under the age of 12 when accompanied by a group of four. Their boat tours are the perfect way to see Halifax from the water. Plus, kids love getting up close to the harbour seals and seabirds that call this place home.
Which experiences are best for boat tours & water sports in Halifax?
There are many different experiences that are perfect for boat tours and water sports in Halifax. One option is to take a leisurely cruise around the Halifax harbour, taking in the sights and sounds of the city from the water. For those who want a more adrenaline-filled experience, there are plenty of options for watersports in Halifax. Jet skiers can often be seen in the harbour and there are plenty of companies that offer rentals and tours. There are also several excellent beaches in Halifax, where you can swim, sunbathe, and enjoy stunning views. No matter what your interests are, there is sure to be a perfect experience for you when it comes to boat tours and water sports in Halifax.
---
Check out these Articles for More Inspiration For Your Trip: