When I read that Hoodoo Adventure Penticton's motto was "work hard to play hard," I knew that this was my type of company. A climbing gym and kayak centre in the heart of Penticton, owners Mike and Lyndie Hill are passionate about their business, but their reach far exceeds the walls of the rock climbing facility that surrounds them.
Running a successful business has allowed the Hill's to pursue something they are truly passionate about, making sure every child has the opportunity to get outside. In 2016, their not for profit organization Y.O.R.S., was officially founded. This organization runs after school and summer programs for children teaching them hiking, biking, rock climbing, SUP, kayaking, and outdoor skills. A bench in their facility says, "If you want to know the future, create it" and Hoodoo Adventures Penticton is creating a future filled with people who are skilled, passionate, and who care about the outdoors.
Nature is not a place to visit. It is home. – Gary Snyder
Vaseaux Lake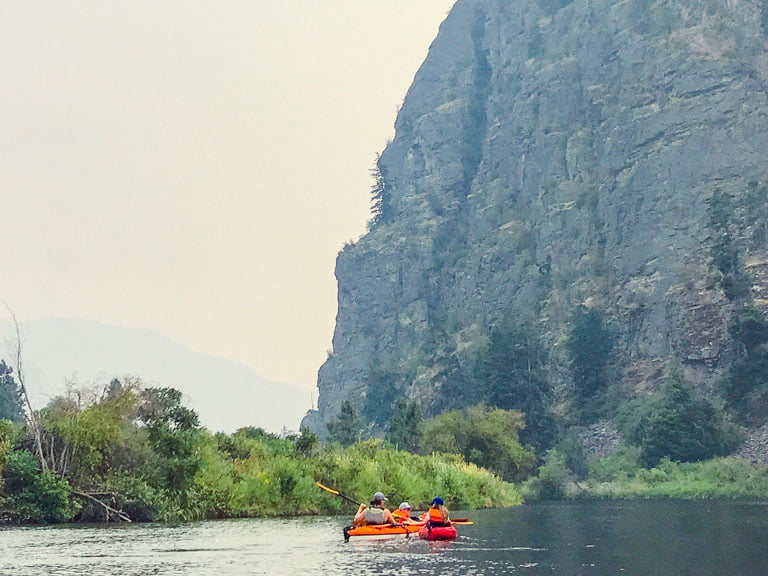 This passion for education and children was evident the evening we took part in a kayaking tour of Vaseaux Lake. After loading up in the Penticton office, we jumped in the van for a 35 minute drive to Okanagan Falls and Vaseaux Lake. A lush lake with a side channel and sink holes to explore awaited our arrival!
Little Paddler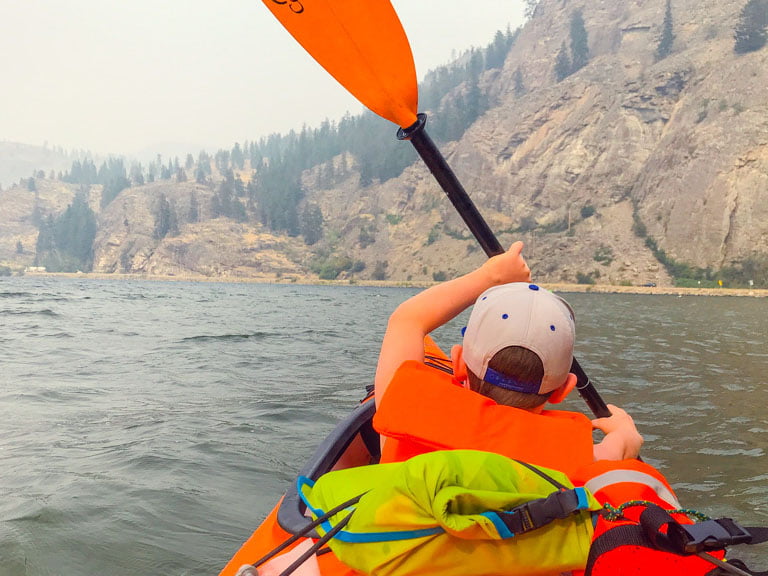 My son and I jumped in the double kayak, as I knew his little arms would tire and I wanted to make sure I had control to get him where he needed to be! I love being in a double kayak as it gives you lots of time to talk, sit and reflect. One of my favourite moments of the trip was when we were sitting still in the water, not saying anything at all, just being on the lake together, listening to all the sounds of nature around us.
Strong Paddler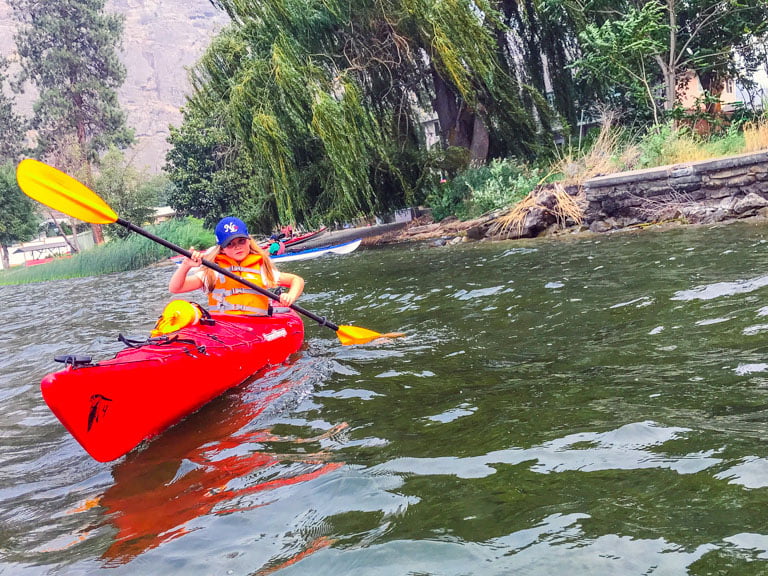 One of my daughters favourite summer activities is kayaking and you could see her chest puff up a bit as the instructor said "You're a really strong paddler." While he may have been over inflating the truth to help build her confidence, it was great to see her being independent and having fun exploring the water on her own.
McConnell Rock
We toured down the south end of the lake, which brought us to an amazing glacier formed cliff wall named McConnell Rock. We posed for several photos in front of this amazing geological formation.
Searching Inside Sinkholes
Sinkholes are areas of land that have dropped into the earth below. Then water from the lake has gone in and filled it in. They are more protected areas, almost like a really big pond… which makes for reed and tree lined edges and the perfect home for turtles! We were fortunate enough to quietly sneak up and catch a glimpse of two painted turtles who were out sunning themselves!
Practicing Paddling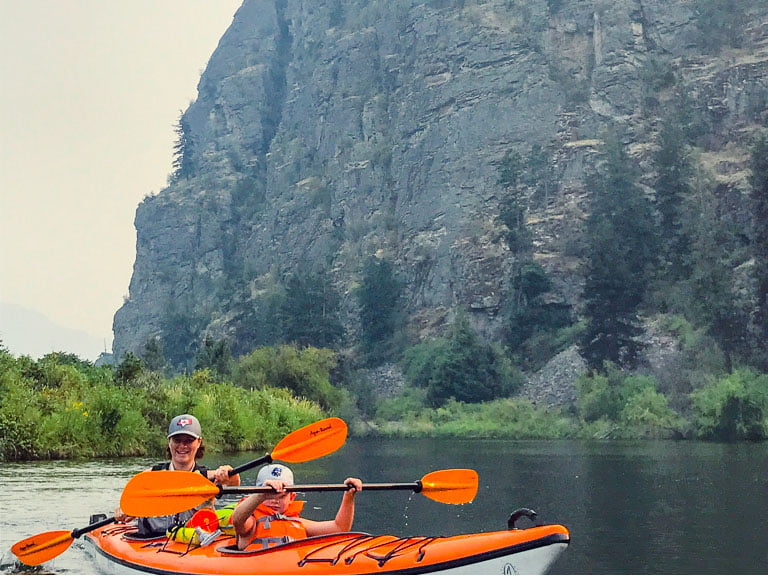 After two hours of exploring it was time to head home, which meant we had to paddle hard against the current to get back to the boat launch! I certainly got a workout hauling my 7 year old and the double kayak!
More Adventures Please!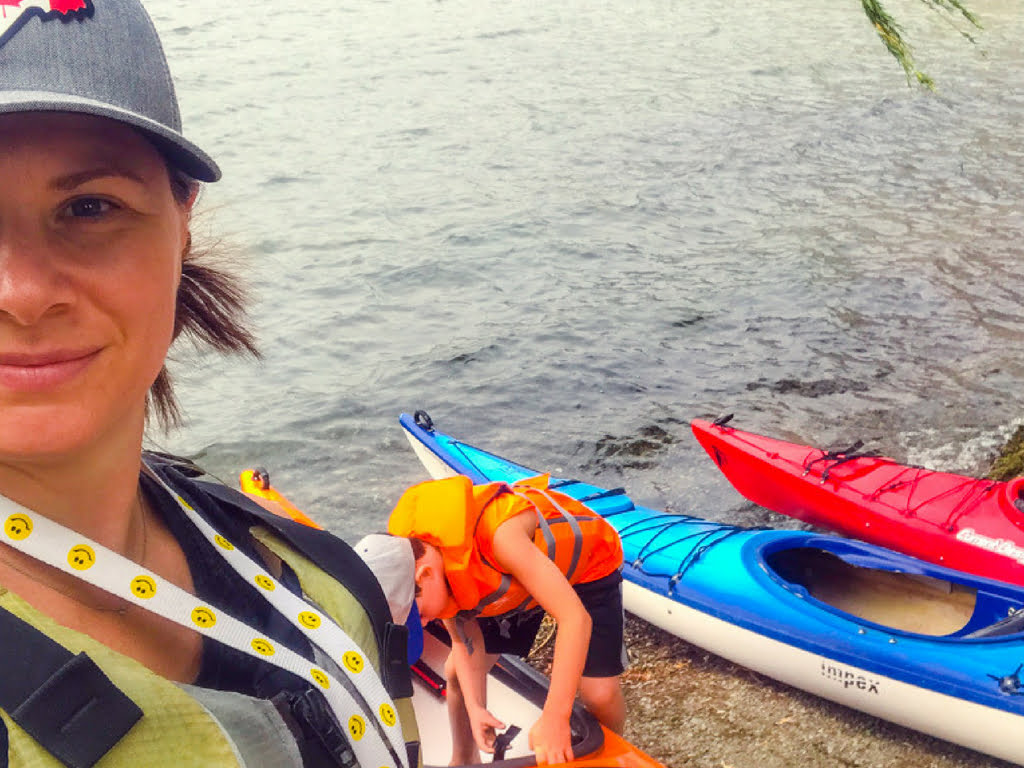 Hoodoo Adventures are adventure and outdoor addicts! They do what they can to get people outside, challenging themselves and having fun. I found out they also host a variety of races and events and think I may have to find a team and sign up for some of them.
During off season, the team at Hoodoo Adventures Penticton team picks up steam and hosts a variety of outdoor events for athletes of all levels to take part in. Come and explore the area via registering yourself or a team, check out some of their flagship events and opportunities:
Elevator
6 disciplines including paddling, road biking, run / snowshoe, mountain bike, Nordic ski, hike, and downhill ski / board. Participants work their way across 6000 meters of elevation from the valley of Pentiction up to the mountain top in Apex! With a range of categories and the capacity to register as a team, this event is one worth experiencing first hand. The best part? 100% of the proceeds are donated to the Youth Outdoor Recreation Society, which dedicates itself to getting youth outdoors! To learn more about this event click here.
Kelowna Ski2Tree
Another multidisciplinary race, competitors will get to race in 6 different disciplines showcasing the best of Kelowna's outdoors all in one race. Race through Nordic trail networks, down back roads with views over valleys and vistas, and paddle on picture perfect lakes. The best part? Crossing the finish line in downtown Kelowna in front of the Tree Beer Institute where you can celebrate your success with a pint (or two). All proceeds from this race are also invested in getting youth outdoors through the Youth Outdoor Recreation Society! To learn more click here.
Freak'n Farmer
Presented with Home Hardware, this obstacle course in Oliver takes racers over and through 20 kilometers of obstacles, mud, and muck! If you're looking for a shorter course you can try the 5 or 10 km loops. Kids can get in on the action and take part in one of the 2 dedicated age appropriate, kids courses. Looking to celebrate post race? Check out the "Half Ploughed" after party! To learn more about the Freak'n Farmer click here.
Hoodoo Adventures Penticton has a lot of opportunities to get outdoors, whether you're looking for an easy afternoon paddle on the lake or looking to make a weekend adventure out of it and try one of their adventure races. To learn more about Hoodoo Adventures Penticton and to book your own adventure, please visit their website.
Heading to the Okanagan? Check out these articles for trip planning inspiration!
Is this a sponsored post?: While we were invited to experience this kayak tour by Hoodoo Adventures Penticton, our thoughts and opinions are our own.