"If we take nature for our guide, we shall never go astray." -Cicero
It can only be described as experiencing the future while travelling to the past…
At least that's how it felt the second we arrived at Le Baluchon Éco Villégiature, Québec's premier eco-tourism resort. Nestled on 1,000 pristine Canadian acres tucked directly between Québec City and Montreal in Saint-Paulin, Le Baluchon Éco Villégiature is a place I've dreamed of visiting for many years…since I first became obsessed with the idea of eco-tourism and transformational travel.
And now that I've experienced this magical place first hand, I am thrilled to say that Le Baluchon Éco Villégiature is an absolute dream come true.
A Resort Built with Purpose
First conceived in 1982, the founders of Le Baluchon Éco Villégiature started with a vision that they've held true to for nearly 40 years. To them, a resort experience should be so much more than luxurious linens, a day at the spa, a plunge in the pool, or a nice meal. Sure, you can enjoy all those wonderful perks and activities at Le Baluchon Éco Villégiature, but that just begins to scratch the surface of why this place is so special.
For Le Baluchon Éco Villégiature, the true value in travel comes from an experience that stretches and transforms guests, allowing them to leave not only relaxed and refreshed, but a more thoughtful, improved citizen of the world as well.
Billing themselves as an "eco-resort," the transformation for guests largely comes from the way they interact and think about nature and the environment. Though it's easy to take for granted, Canada is home to some of the most incredible natural wonders that dot the earth. Spend any time at all here, and you'll quickly be reminded of this fact. Everything they do is bathed in nature, and teaches guests how to responsibly enjoy the wonders around us.
From the materials used to build the guest rooms and the locally-sourced, sustainable food options available on site, to the never-ending list of outdoor activities that take guests back to the days our ancestors lived off the land, a stay at Le Baluchon Éco Villégiature is a stay with purpose. A world-class resort showcasing the absolute best of what winter in Québec has to offer.
And for our family, it was a stay that reminded us of how important it is to embrace the world right outside our doors.
The Rooms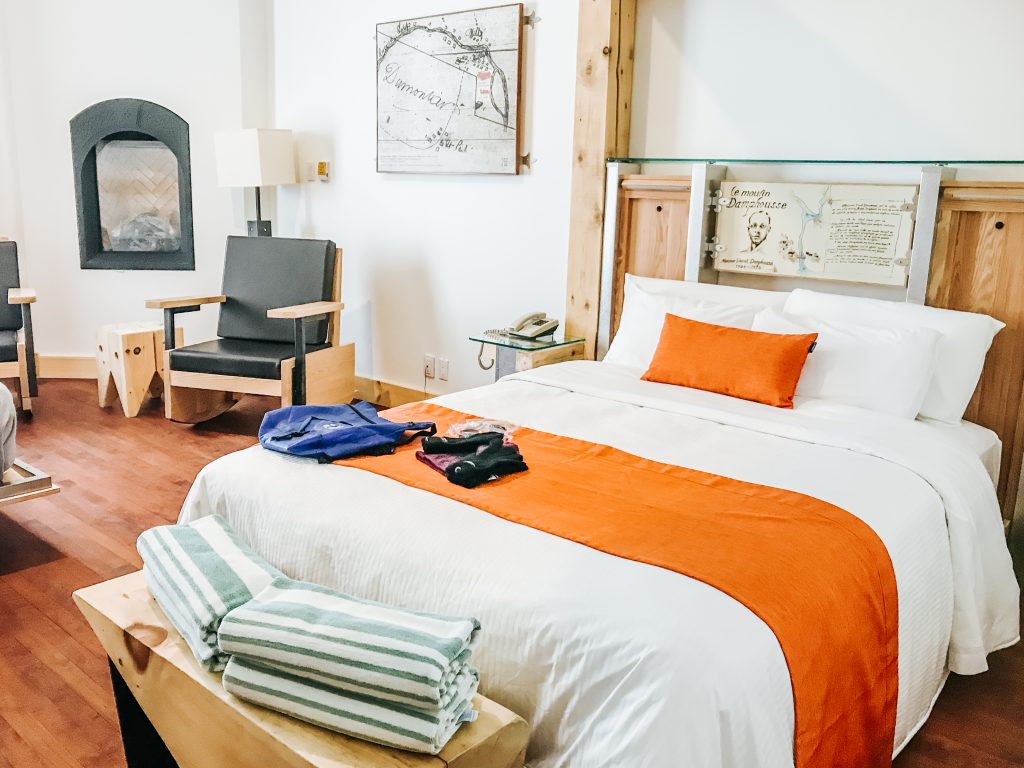 A quality resort experience always begins with an amazing room, and Le Baluchon Éco Villégiature absolutely delivers.
After being greeted by the pleasant front desk staff, we made our way through the lush hallways and opened the door to what can only be described as a stunning guest suite. Everywhere we turned, we saw bits of nature being brought indoors. From the natural wood cabinets and glass countertops, to the beautiful log beams and recycled iron accents, our room felt clean, modern, and naturally rustic, all at the same time.
Le Baluchon Éco Villégiature was built using what they refer to as "Slow Design." Having been born and bred in Saint-Paulin and trained as a Biologist, owner Louis Lessard wanted to share the richness of the local environment, land, heritage, and history with his guests, all the while building a resort with as little ecological impact as he possibly could. That is why all the rooms at Le Baluchon Éco Villégiature feature unique, one-of-a-kind touches and materials sourced from local craftsman. To Lessard, the point was not to buy a bunch of materials in bulk and erect his resort in as little time as possible. The point was to go slow, make ethical choices, and stay true to the land on which they built.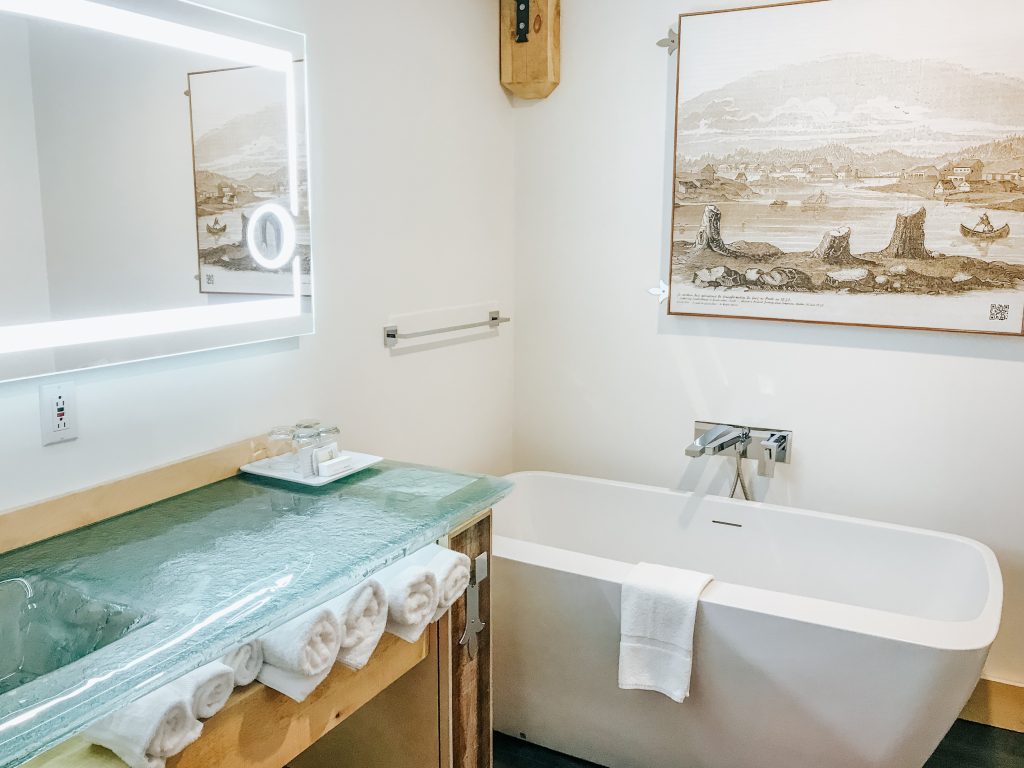 And this "slow design" philosophy drips from every single surface at Le Baluchon Éco Villégiature.
With such a focus on the environment and the carefully preserved grounds, it came as no surprise to see that the view from our room was like something out of a Canadian nature magazine. And as if this weren't enough to remind us of our surroundings, Le Baluchon Éco Villégiature added beautiful subtle touches with its choice of artwork, which included canvases showcasing how the river and landscape around us looked back in the 1800's.
With all the wonderful natural wooden accents in the room, it even smelled fresh…like you had just stepped into the forest on a dewy spring morning. And judging by the few rare minutes of silence from my family as we first entered the space, all four of us were clearly taken aback by where we were. It was the first of what would be many transformational experiences during our stay.
The Experience
Once settled, it was time to explore Le Baluchon Éco Villégiature and take advantage of the main reason we had always wanted to visit: the beautiful surroundings.
Immersed in the local environment, Le Baluchon Éco Villégiature offers a seemingly endless variety of activities and ways for its guests to interact with nature. Here too they preach going "slow" – the point is not to cram your days with as many activities as you can. The point is to be thoughtful and deliberate, picking the activities that will bring you and your family the most joy, and greatest lasting memories.
Winter at Le Baluchon Éco Villégiature is especially enjoyable, as the snow-dusted surroundings and 35km of winding groomed trails allows for all sorts of incredible adventures. You can rent a fat bike, cross-country skis, or snowshoes and head off on a self-guided tour. If you'd rather someone (or something) else do the work, the resort is happy to arrange for a horseback tour or a horse-drawn sleigh ride. And for those looking for a little more speed, you can even rent a snowmobile or hop on a sled pulled by real Canadian snow dogs!
No matter which activity you choose, Le Baluchon Éco Villégiature makes it easy to get outside and immerse yourself in the Canadian winter wonderland.
Dogsledding with a Little "Hup"
With so many incredible winter activities to choose from, it was hard to decide where to start. Fortunately, our kids made the decision easy for us, as they both naturally gravitated towards the beautiful sled dogs. With that, we found ourselves bundling up in preparation to take to the trail.
Dogsledding at Le Baluchon Éco Villégiature is an experience unlike any other. While I have been fortunate enough to have already experienced the joy that is racing through the snow on a sled powered by these magnificent creatures, I have always been merely a passenger. However at Le Baluchon Éco Villégiature, they put their guests in the driver's seat, allowing me to guide my very own sled!
After meeting our friendly musher for the afternoon, we went through a series of training exercises to ensure our entire family was comfortable with how things worked. Once we all had a handle on the sled and how to control the dogs (including the magic word – "Hup!" – which is what gets the dogs moving), our kids were cozying up with big blankets in front, while my husband and I took to the driver's position.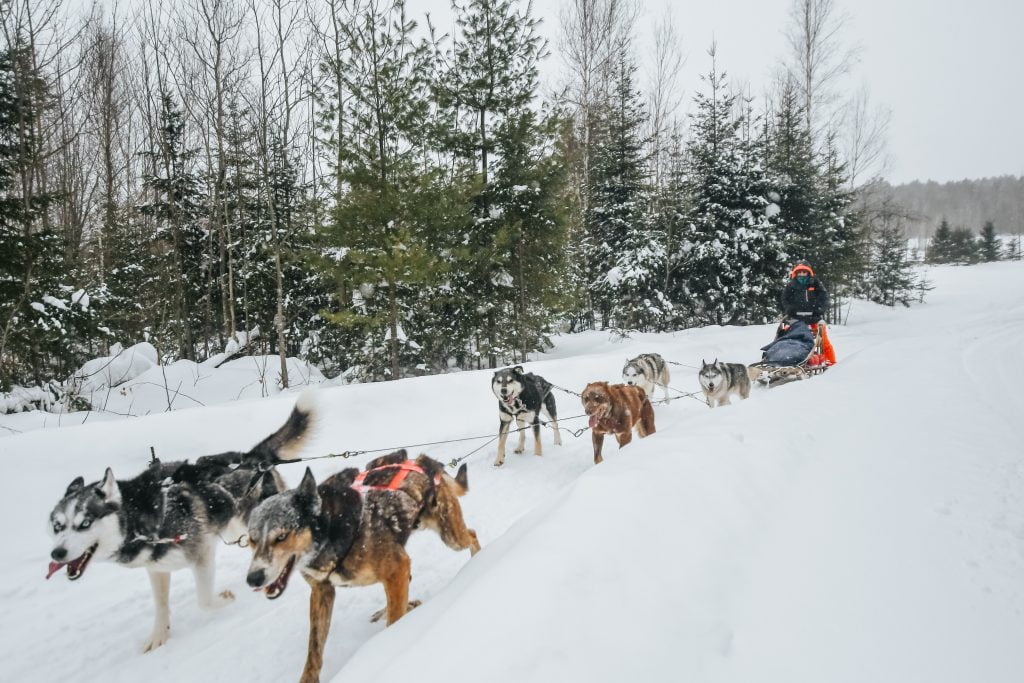 Tucked in and ready to go, all it took was a little "Hup!" and we were off on the trail.
The grounds at Le Baluchon Éco Villégiature as otherworldly. So carefully preserved, it felt as though we had stepped right into the past, viewing the land for the first time as our ancestors might have done. Huge trees surround the trail, reaching high into the sky with their snow-covered limbs. We passed the majestic river, the old windmill on the ridge, and the beautiful on-site chapel, all of which looked like a page out of a history book. As we enjoyed the brisk pace set by our excited four-legged friends at the front of the sled, the entire family couldn't help but smile as we took it all in.
Le Baluchon Éco Villégiature promised naturals wonders…and oh did they deliver.
The Nordic Spa
After a long day outdoors exploring all the wonderful winter activities this resort has to offer, there's no better feeling than returning home to pamper yourself at the resort's world class spa.
Based on the rich Scandinavian spa culture, the Nordic Spa at Le Baluchon Éco Villégiature offers a relaxing experience that bathes guests in natural luxury. Located on the banks of the Rivière du Loup, the Nordic Spa combines the traditional Scandinavian hot and cold plunge pools in an intimate, natural setting that promotes true wellness.
In addition to the Nordic Spa, Le Baluchon Éco Villégiature offers many traditional spa and beauty treatments you'd except from a world-class resort, including massages, facials, manicures, exfoliation, and so much more.
The Food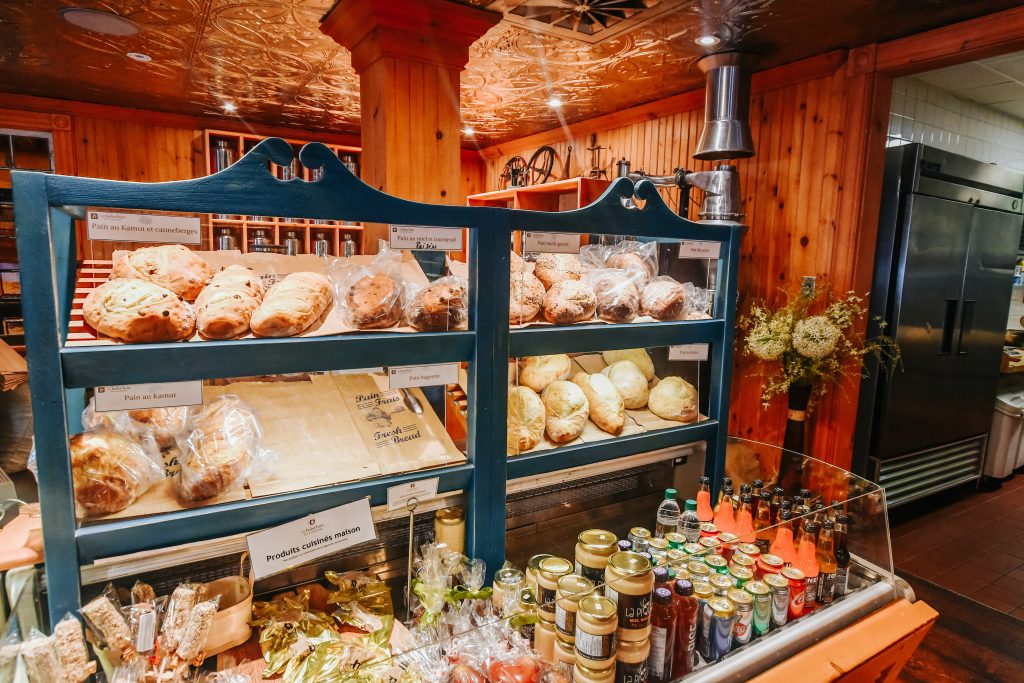 One of the best parts of the eco-tourism experience at Le Baluchon Éco Villégiature is the food.
With several on-site dining options to choose from, there is no risk of guests going hungry. And while each dining location offers a unique menu and experience, all the kitchens and chefs across the property focus on remaining true to Le Baluchon Éco Villégiature's environmental pledge. In fact, over 80% of all the food served on site comes from local sources that the resort has known and worked with for years.
Here's a look at all the places to eat and drink during your stay at Le Baluchon Éco Villégiature: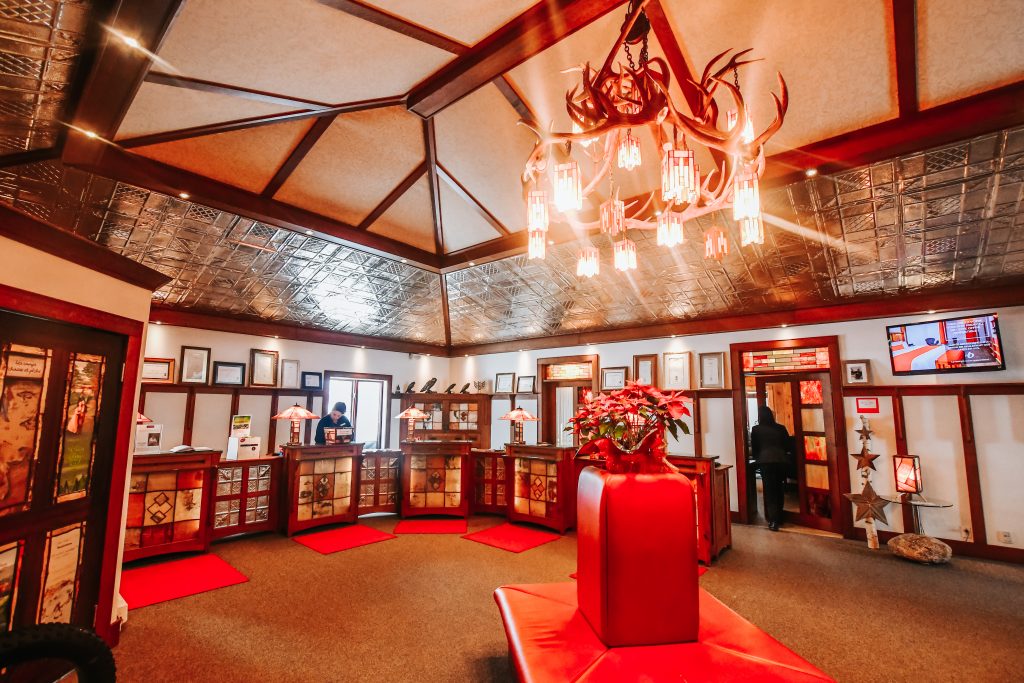 The centerpiece of the culinary experience at Le Baluchon Éco Villégiature, The Dining Room offers refined, modern cuisine in the beautiful, nature-inspire setting that is seen throughout the property. From delicious in-season soups and salads using ingredients grown on site, to some of the most incredible locally-sourced fish and meat you'll ever eat, there is something for everyone at this mainstay of the resort.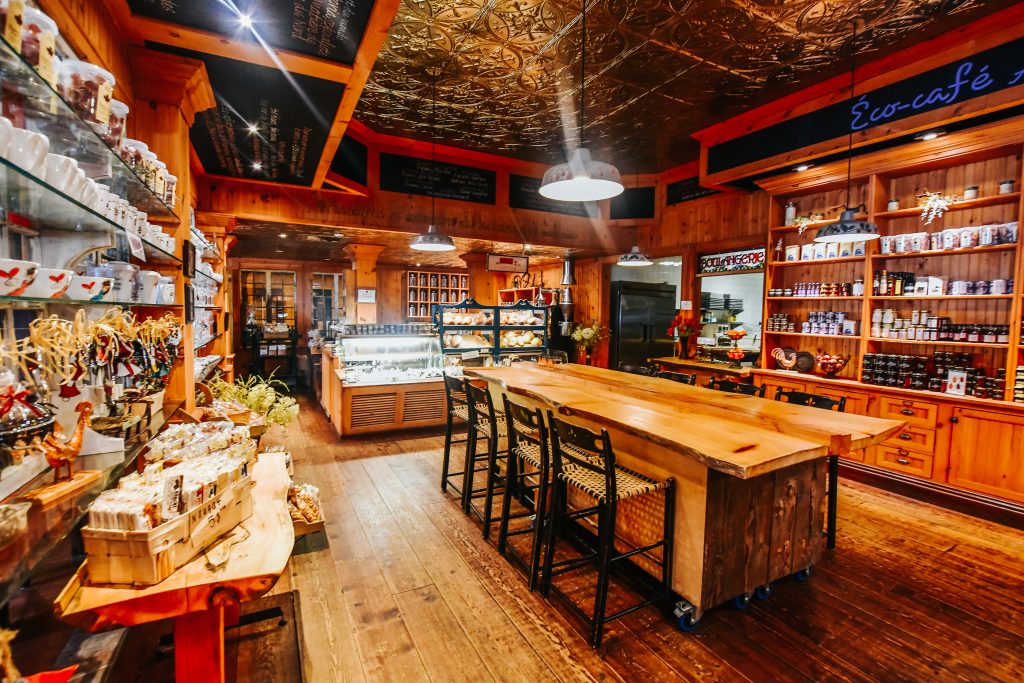 Au Bout Du Monde Eco-Café
For organic, natural foods served in a unique, relaxed atmosphere, Au Bout Du Monde Eco-Café is the perfect place for breakfast or lunch. Here, the team really takes the eco-friendly policies to heart, serving only fair-trade coffee roasted on site and soft, buttery pastries made using locally-sourced grains and dairy, all served in compostable cups and plates!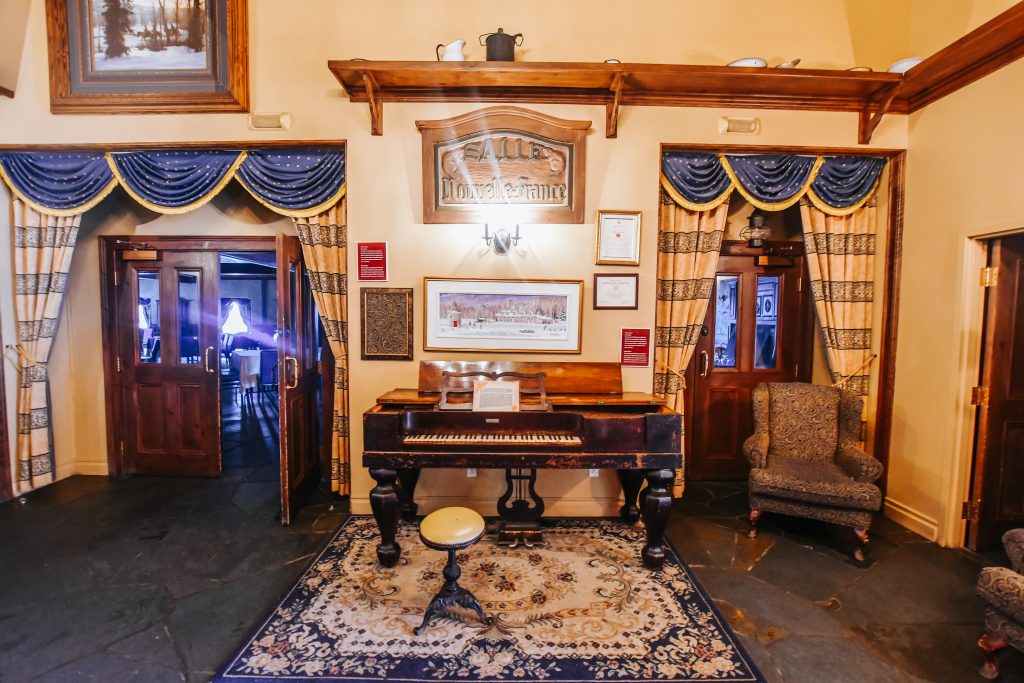 Eco-Lounge
A great place to grab a drink and a snack after a long day on the trails, Eco-Lounge offers delicious cocktails and artisanal tasting platters in a relaxed, modern setting. Whether you choose to pull up a chair at the bar or sit back in one of the cozy armchairs in the sitting room, Eco-Lounge is the perfect setting to relax and share your highlights of the day with new friends and old.
Why Resorts Like These Matter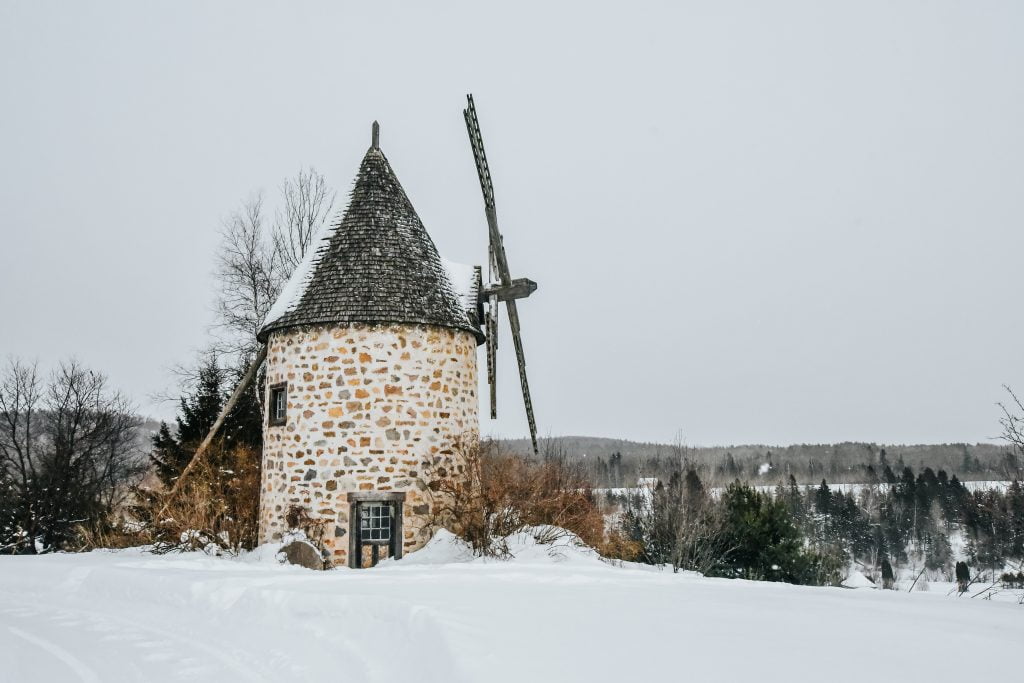 It's hard for me to articulate just how special our time at Le Baluchon Éco Villégiature was. It has all the makings of a five-star, world-class resort, and would certainly have my vote to make it onto Condé Nast Traveler's Top 10 Destinations list. But this is just the beginning of what it means to visit Le Baluchon Éco Villégiature.
Though you spend your evenings tucked in warm, luxurious beds in exquisitely designed modern guest suites, every step you take at Le Baluchon Éco Villégiature is a step into the past. A glimpse at the generations that came before us. A look into soul of the Canadian wilderness.
Our trip to Le Baluchon Éco Villégiature is hard to describe because there are no words that can capture this type of feeling. The transformation we experienced. The blending of the new and old. All I can say is that after our stay, we will never be the same again. These incredible memories are seared into our brains, and will serve as a daily reminder of what it means to live and travel thoughtfully, and with purpose.
The world is waiting to offer us so much more than we usually let it during our day-to-day routine. But not at Le Baluchon Éco Villégiature. Here, you and the world around you become one as you take full advantage of all it can give to you, and you can give back to it.
And once you experience this feeling, you'll never be the same again.
---
Interested to see what else we got up to in Quebec and Ontario? Check out the blogs below!
Is this a sponsored post?: Yes while our time here is sponsored, all views and opinions are our own.