Is there anything better than a girlfriend's getaway? A weekend away, filled with laughter, good food, and adventure. If you're looking for the perfect destination for your next girl's road trip, look no further than Tofino. This coastal town is located on Vancouver Island in British Columbia and is known for its stunning scenery and endless outdoor activities. From hiking and biking to whale watching and of course surfing, Tofino has something for everyone. So pack your bags and join us on The Ultimate Girls Road Trip: An Adventure Filled Tofino Girls Getaway!
Perfect Cottages For Tofino Girl's Getaway
Welcomed to Tofino by the luxurious Long Beach Lodge Resort, the guest list was quickly filled when I posed the question, "Who's in for a Tofino girls getaway?" The resort is impossible to say no to. This oceanfront resort offers stunning views of the Pacific Ocean and is just steps away from the beach. The lodge has a variety of rooms and suites to choose from, so you can find the perfect space for you and your girlfriends. We chose to stay in one of their cottages, giving us ample space for our group of 5 women. With 2 bedrooms and a pull out couch, a full kitchen, and a very exciting private hot tub, being in the cottage was just the start of what was an adventure-filled weekend!
A few of my girlfriends commented on how spoiled they felt as if the staff had anticipated not only their needs but also their dreams. The kitchen was stocked with hot chocolate, popcorn, nuts, as well as coffees and teas for enjoyment. They also ensured we had the comfort items we would need at our fingertips including umbrellas, jackets, and robes, maximizing our comfort during our stay.
Private Hot Tub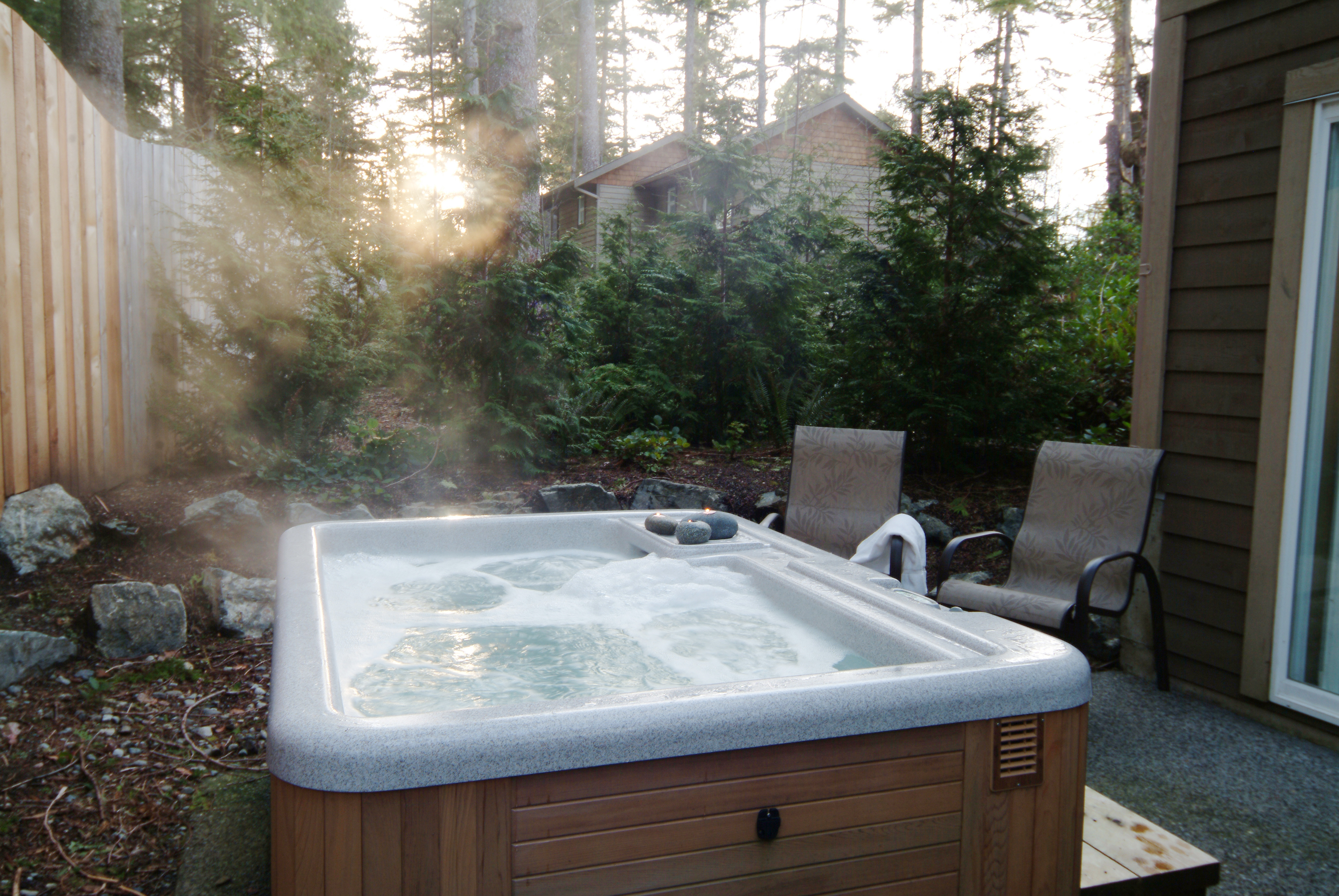 "OMG we have our own hot tub!" squealed Katelynn, and the girls all ran to the backyard to see that our own private hot tub oasis was awaiting us in our backyard. We hadn't even unpacked our bags and the bikinis were already top of mind as we dove head first into our Tofino girls getaway!
Amazing Beach Access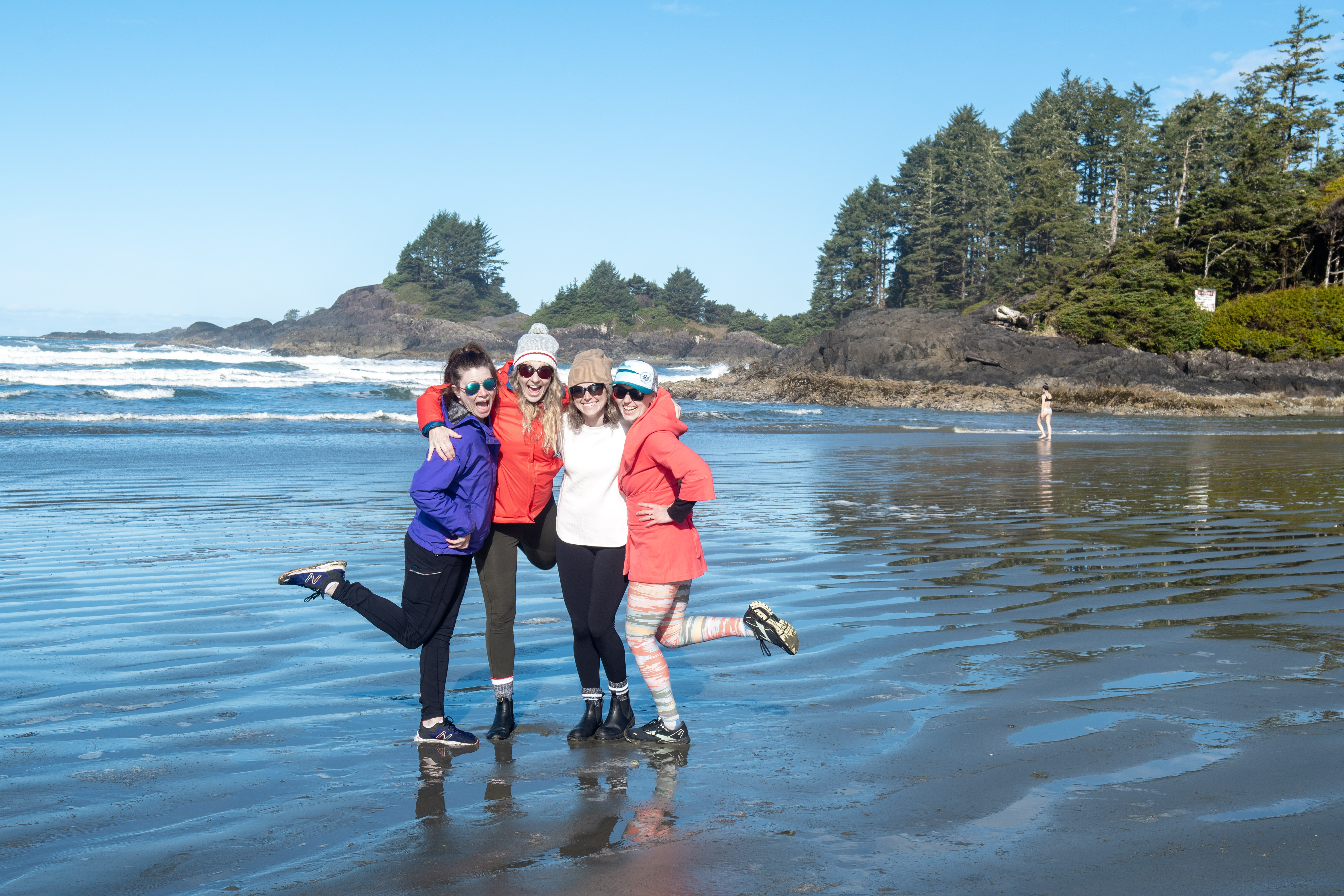 There's nothing like walking along the beach with your girlfriends to fuel your soul and recharge your bones. Located only a few steps from our front door, we found ourselves waking up early to soak in the morning sun, and heading out late at night to enjoy the moon rise. Time seemed to stop out on the beach, with no one reaching for the phones to check messages or do anything other than capture photos of the incredible scenery. Any downtime we had was at the beach, or crawling along the rocks and finding a little place to cozy in and embrace all the sights and sounds of the sea.
Immersed in Nature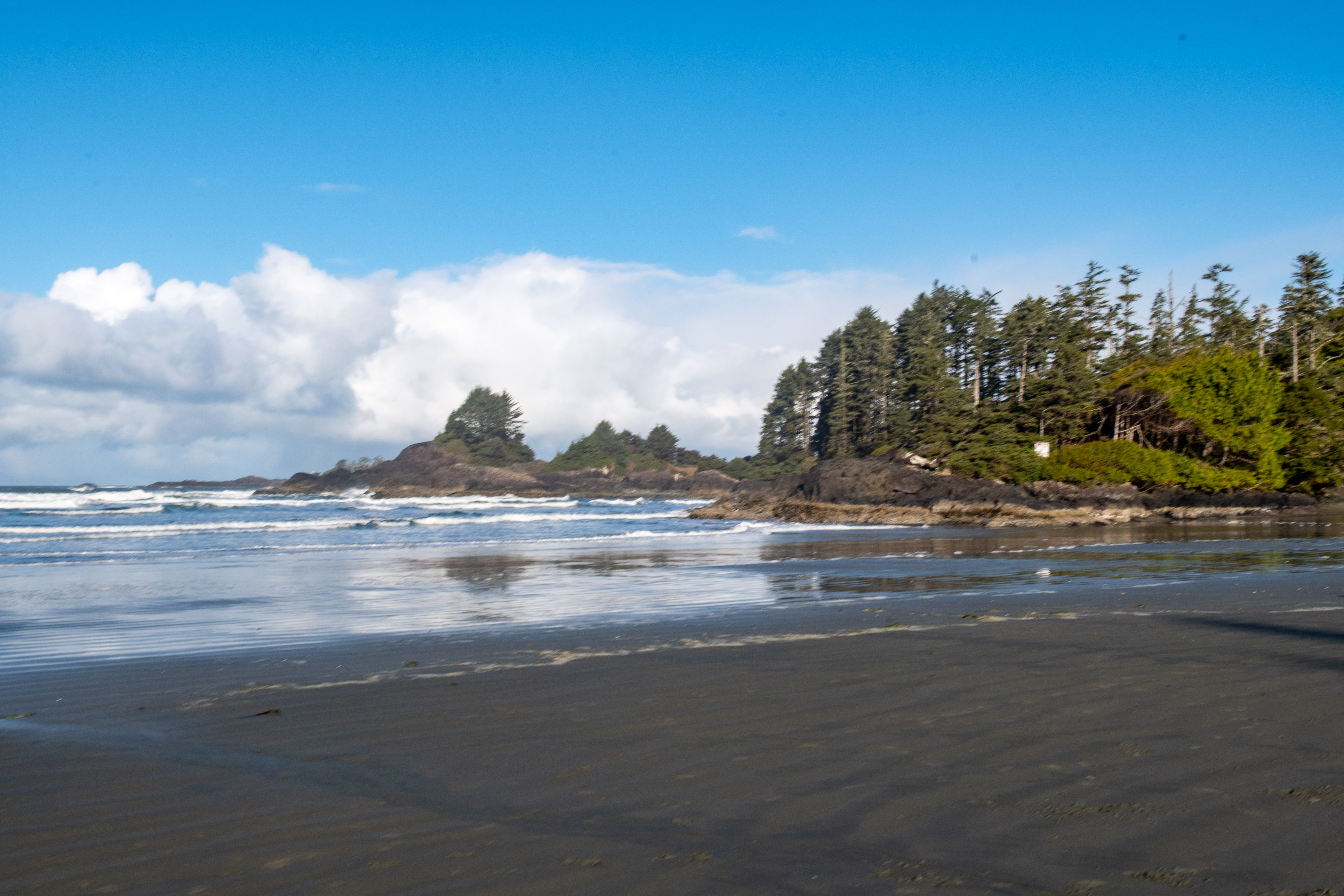 From the second you wake up you are surrounded by nature. Out your back door is old-growth forests and you can regularly see one of the local residents coming by to say hello (well we're not sure how squirrels say hello but we're pretty sure that's what they were doing). Out your front door is lush and natural forests and greenery, showcasing how the cottages are a part of the surroundings as much as the surroundings are a part of the cottages. As you feel wrapped up in nature no matter where you are, in the cottage you feel calm, relaxed, and at one with Mother Earth.
Restaurant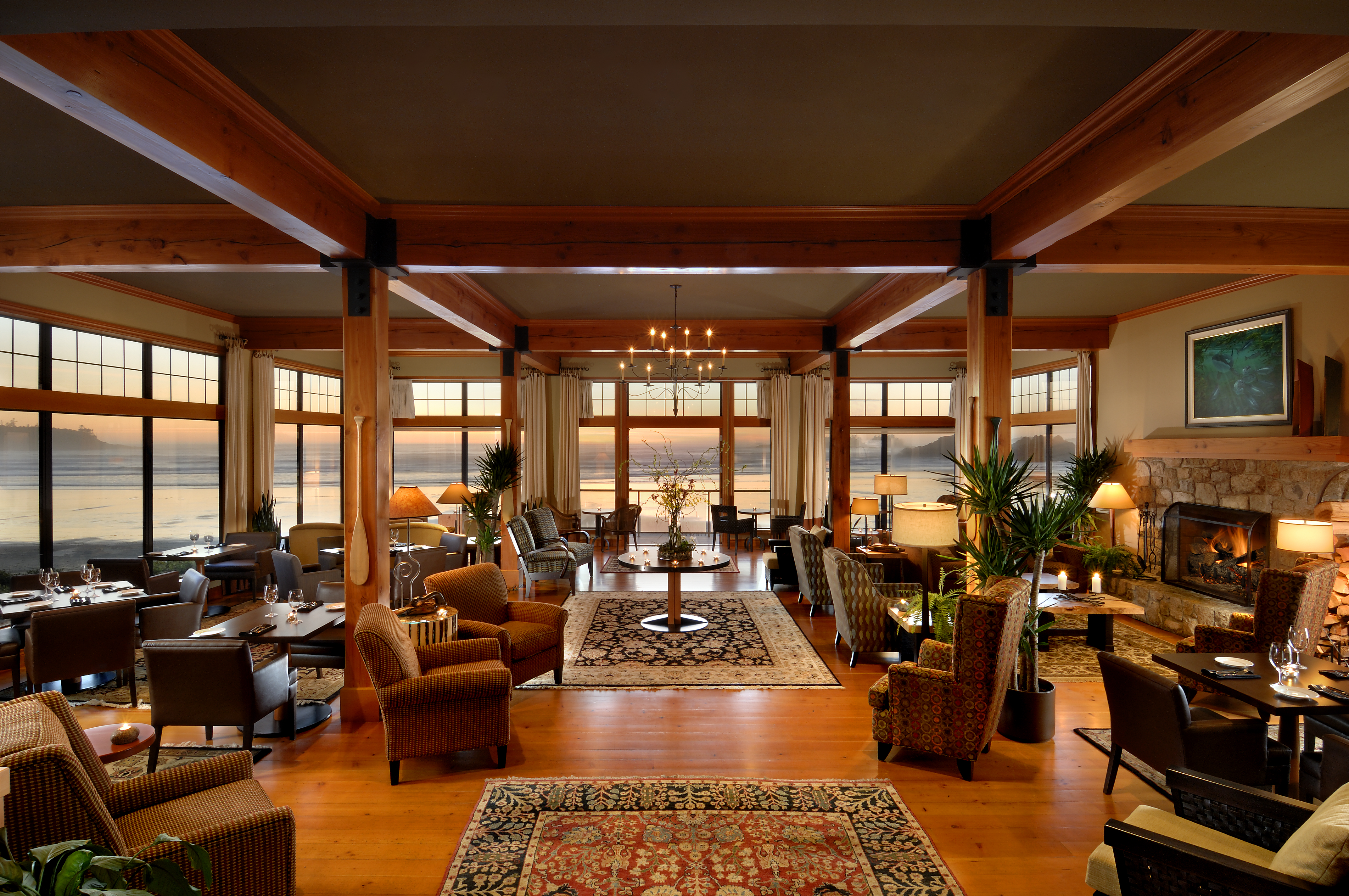 There's nothing that puts you into vacation mode like not having to worry about what's for dinner, and better yet being spoiled with incredible nourishing and flavourful food when you do sit down at the table.
In the heart of the Long Beach Lodge Hotel is the Great Room welcoming you with a combination of large timber framing, open spaces for natural lighting and unparalleled ocean views. It's the ideal spot to watch storms or sunsets with friends as you enjoy their modern furnishings that are paired beautifully against local art pieces from around Vancouver Island!
Embracing the rich west coast surroundings, their award-winning cuisine tastefully brings together farm-fresh ingredients and seafood bought daily. With emphasis placed on local & sustainable products like mushrooms that are foraged from forests or produce grown by small producers in close proximity to where they're caught; you can experience a truly distinctive dining experience that is only a few steps away from your cottage.
What To Do On A Girl's Getaway To Tofino
While Tofino offers a lifetime's worth of adventures, we loved being at the Long Beach Lodge Resort as you didn't have to leave! From surfing lessons to hiking, a nordic spa, to world-class dining, there was so much to do that we stayed at our Long Beach Lodge basecamp for almost all of our stay! Here's a summary of our recommended adventures for your Girlfriends Getaway in Tofino:
Surfing Lessons
Often thought about as a young man's sport, I was elated to hear that all of my friends were up for trying surfing for the first time in Tofino. A world-class surfing destination, the big waves looked a bit intimidating until I explained that we'd be playing in the smaller surf while we developed our skills.
We geared up at the Surf Shop (more like a Surf Spa) just a few steps away from our front door at the Long Beach Lodge Resort.
Once we were in full gear, we headed down to the beach and our inspiring instructor Ava posed a question, "What are you most nervous about?" Sarah shared that she was worried she was going to be too cold. Katelynn was also worried about the chilly temps as well as getting hurt falling. But once they hit the water, the temperature was the last thing they were talking about… how could they through their ear to ear smiles!
They were transformed from newbies to official surfers within an hour and both fell in love with the sport. After the lessons, I asked them "If you could tell your newbie self something what would it be?" And they said: " It's not as hard as you think, the wetsuit really keeps you warm and it is way more fun than you expect!"
So these ladies proved that you're never too old to try something new and I walk away with two more surfing buddies. A win-win if I do say so myself.
Walk out to Pettinger Point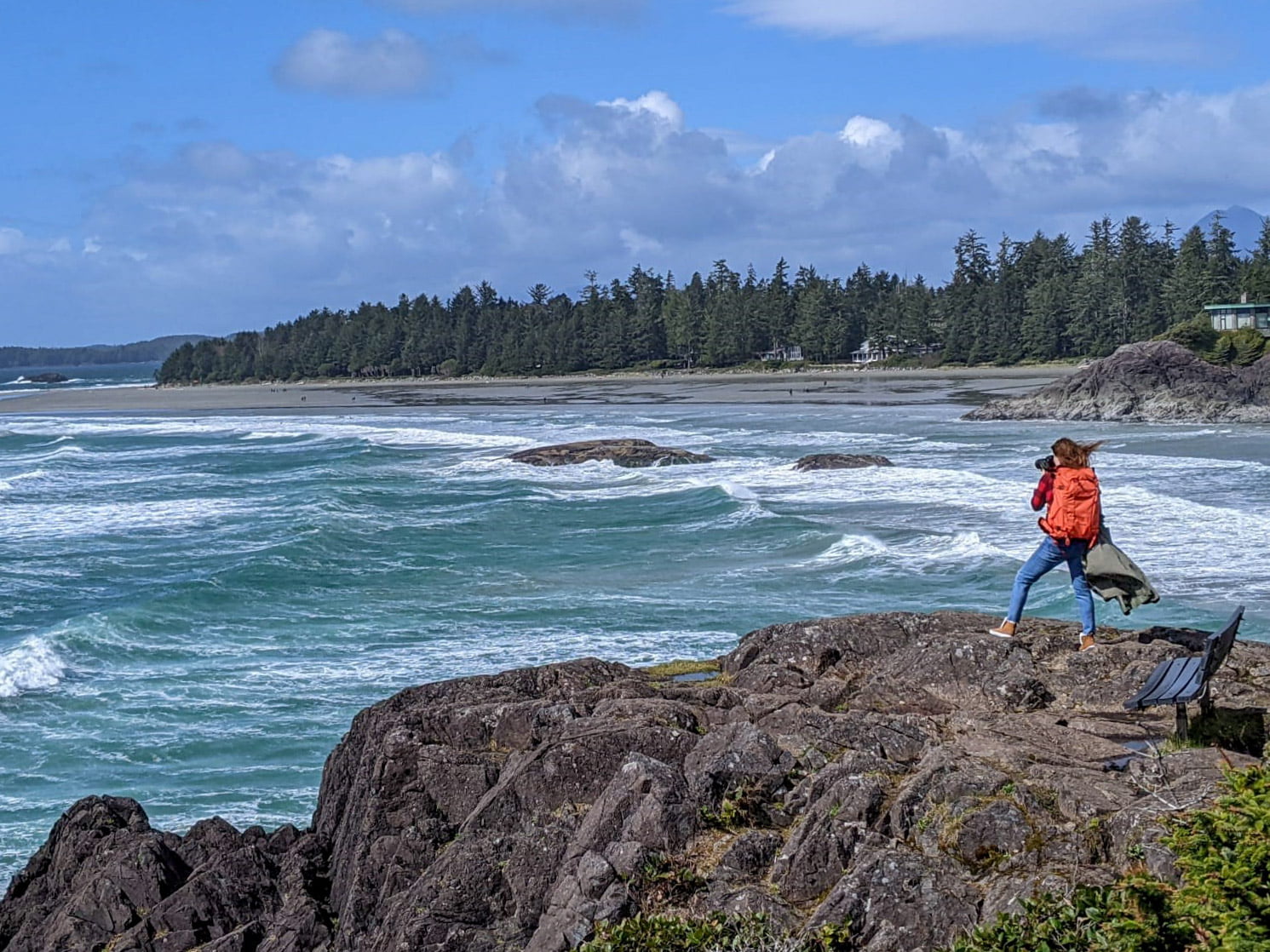 Pettinger Point is a hidden secret for locals and visitors to enjoy some peace, relaxation and ocean scenery. Located at the north end of Cox Bay Beach, it's a 20-minute walk from your front door to what feels like the edge of the world. The journey to the point takes you through a canopy forest above, with a boardwalk filled with stories below. With a variety of lookouts and incredible scenery to soak in, this quick 20-minute hike can turn into a 3-hour meander as you embrace every element of the sea that surrounds you. Whether you do a morning sunrise hike or end your day watching the sunset from the point, a trip to Long Beach Lodge Resort isn't complete without a visit to Pettinger Point.
Tuff City Nordic Spa Experience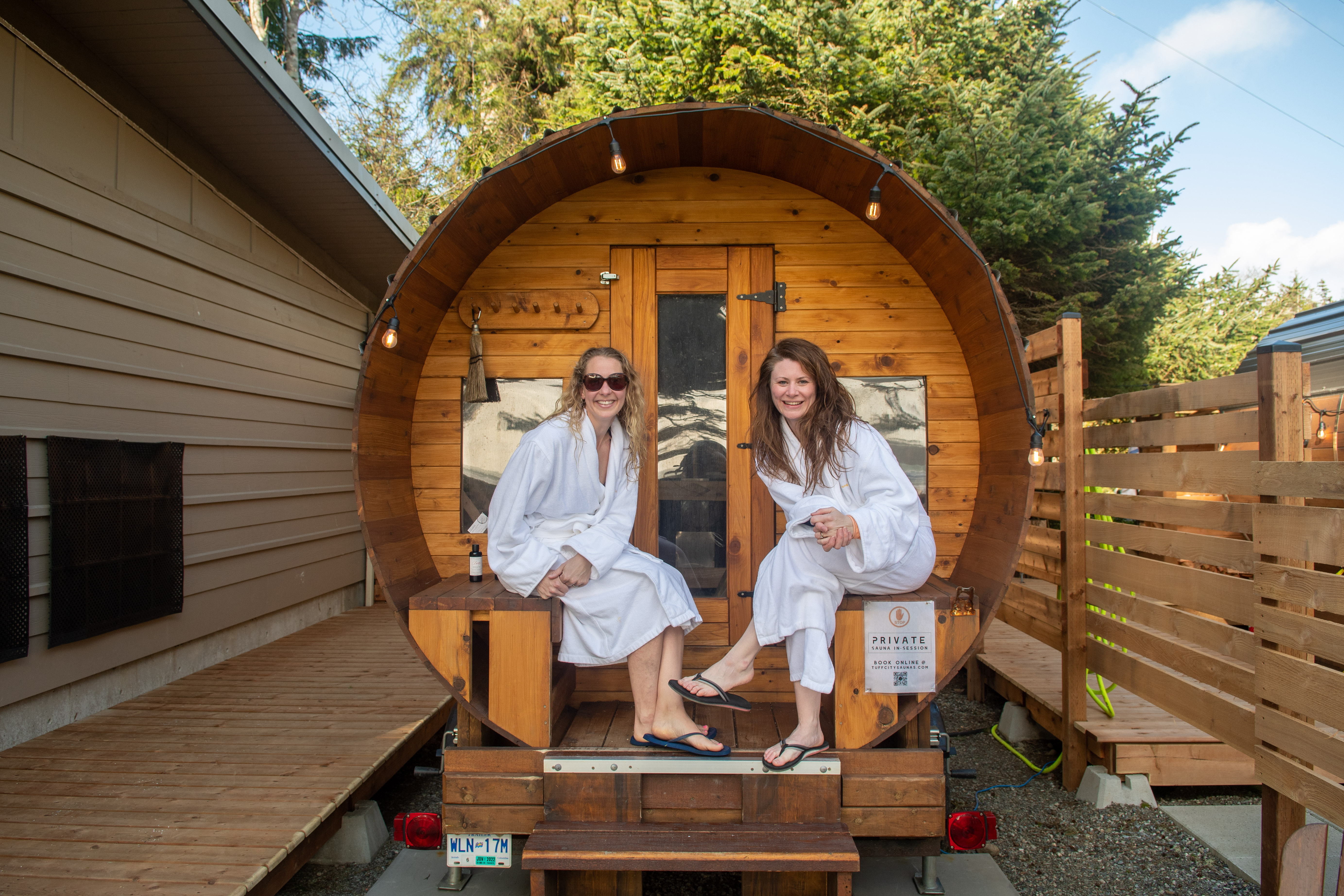 "Hot ↠ Cold ↠ Rest ↠ Repeat"
Tuff City Spas brings the Finnish-style Nordic Spa experience to the West Coast in Tofino. There's no other cold-plunge experience compared to the mighty North Pacific – the world's largest salt lounge. This self-guided experience was unique as our guide greeted us at the oceanside retreat and taught us how to use the wood-fired saunas. After that we were on our own to sauna, sweat, run into the ocean for some cold therapy, rest, and then repeat. While some of us took the big plunge and others preferred more of a "cooling off in the wind" approach, we all had an incredible time and the two hours flew by! The best part? We could walk right to the saunas in our bathing suits and robes from our cottages at the Long Beach Lodge Resort!
Beach Combing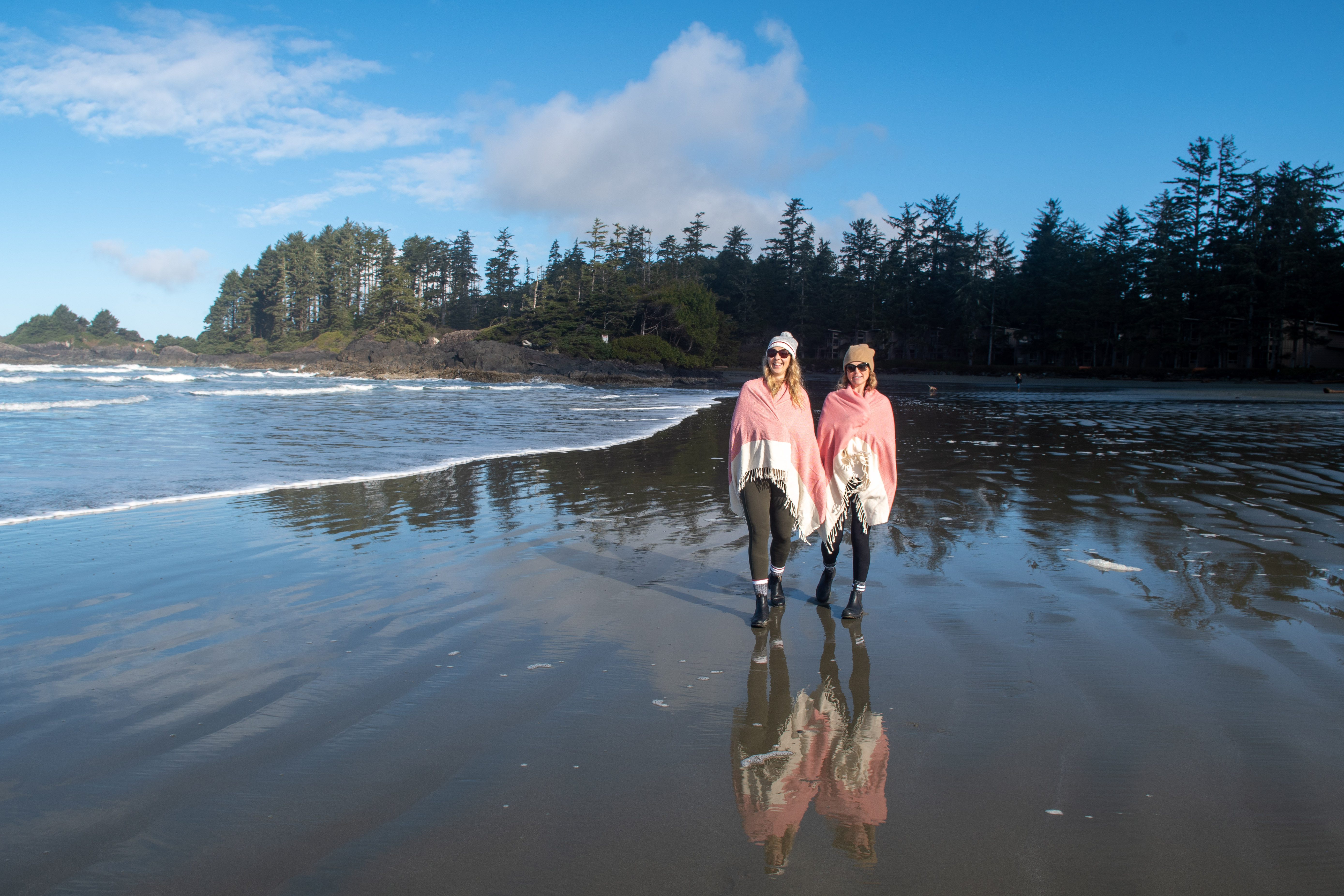 There's nothing like smelling the salt in the air, feeling the wind in your hair, and losing all track of time, responsibilities and obligations. The only sensations are the sand beneath your feet and the conversations with yourself or your friends as you walk along the beach alongside Mother Ocean. Something that needs no guide but we all certainly need more of, Cox Bay Beach is the perfect place to wander, get lost, and rediscover yourself and the world around you.
Group Yoga Class in Tofino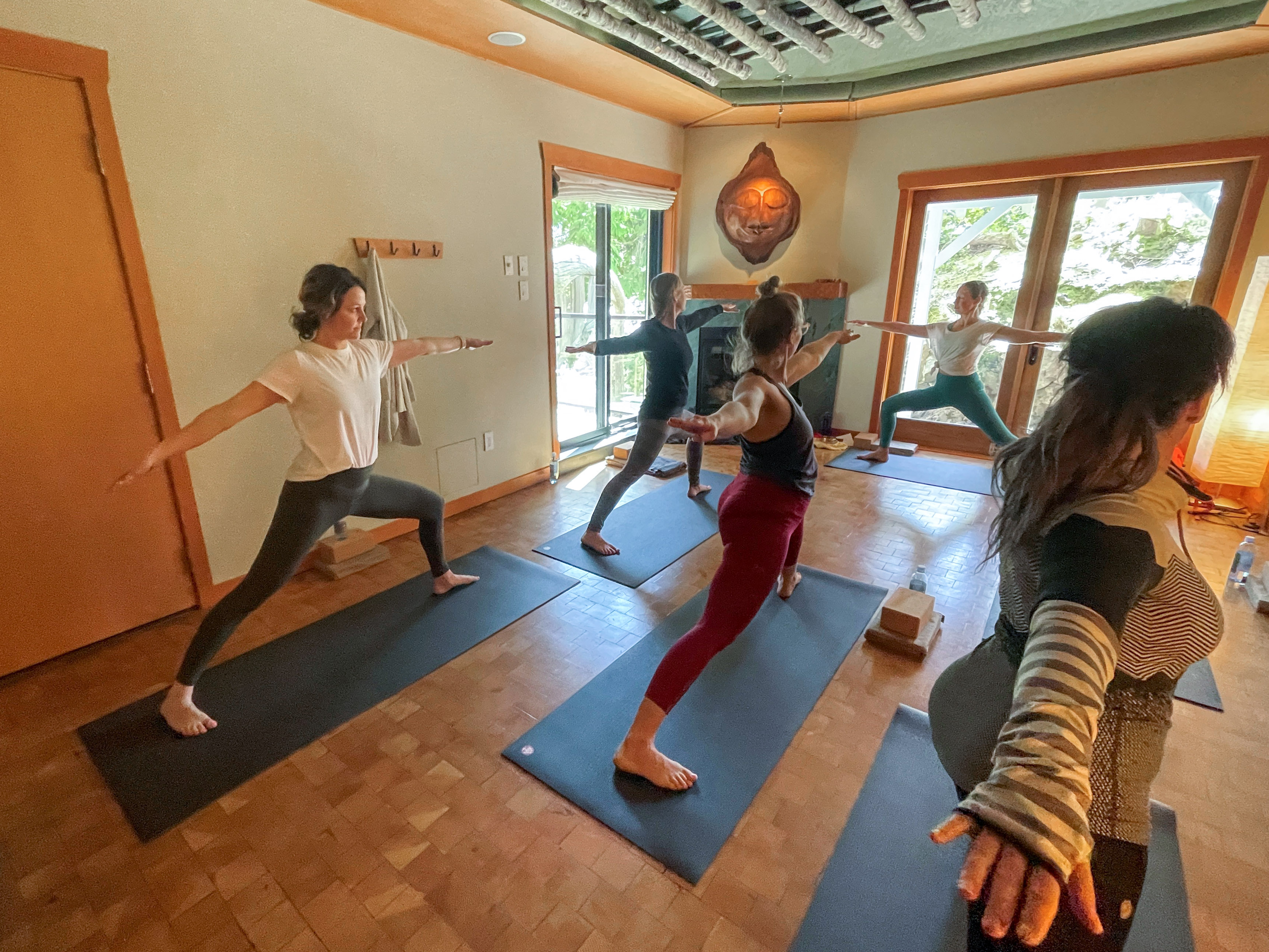 After a day of surfing and time at the spa, we were excited to head over to the Wickaninnish Inn for a private yoga class in their Rainforest Haven Studio. Our custom class was designed to stretch out and replenish our bodies after our day of surfing, providing us with energy and strength, as well as calm and restorative time within our practice. Our absolute favourite (and first ever) surprise was the warm blanket that was laid on us at the end of practice, inviting us to truly embrace all of the lessons of the class, seek deeper peace, and take some time to relax and deeply unwind.
Feeling rested, energized, and fulfilled we decided to continue our Wickaninnish experience by heading over to The Pointe Restaurant for a nourishing lunch, and incredible views over Chesterman Beach. It was the perfect complementary experience for the Girls Getaway in Tofino.
Visit Tofino Townsite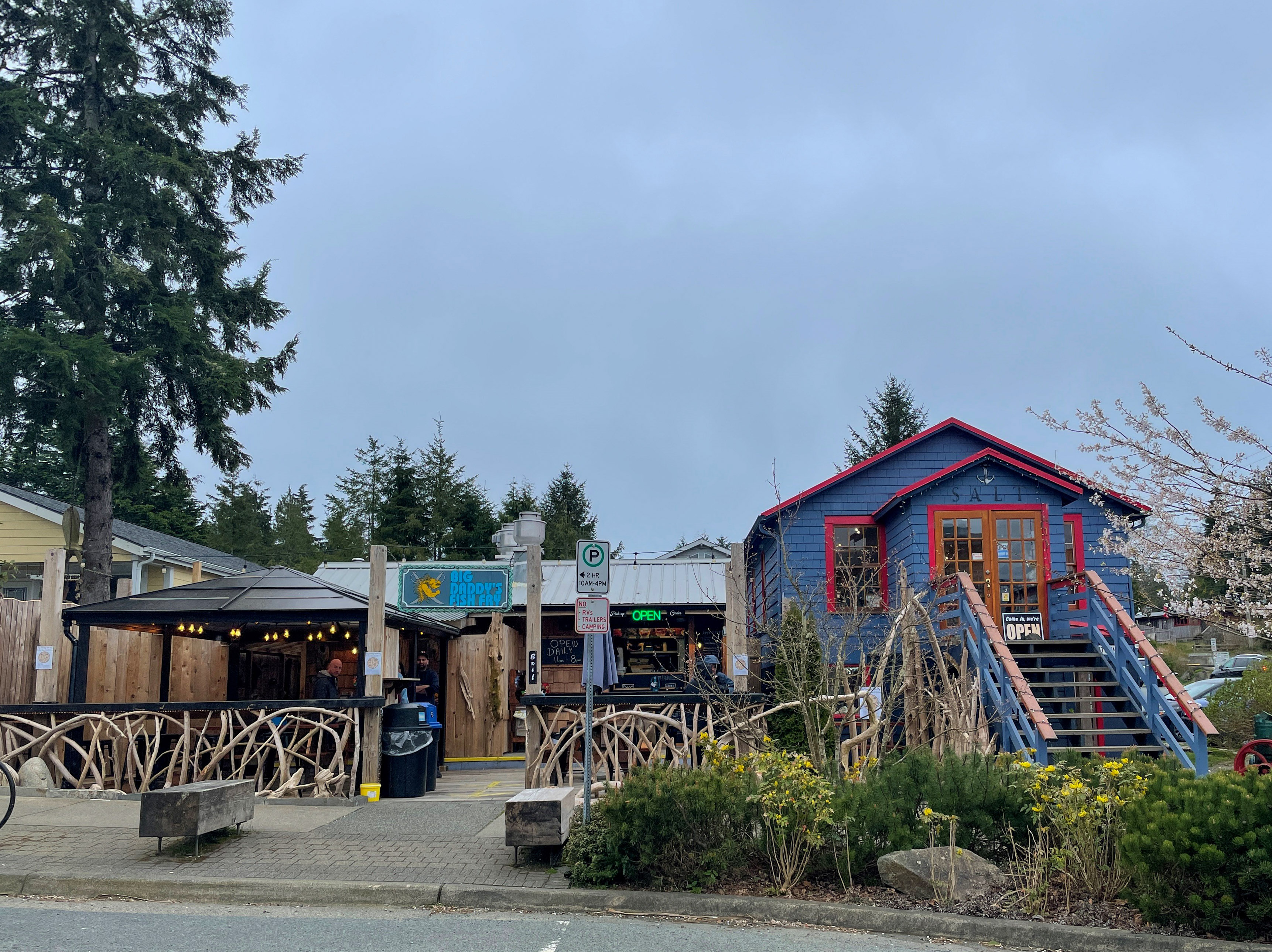 A trip to Tofino isn't complete without a visit to the downtown core! One of the girls on our trip asked, "Are we actually going to head into town?" realizing that we had spent 3 of our 4 days on-site at the Long Beach Lodge, never having to leave! However, we were excited to head into town for some retail therapy. Tofino is home to a variety of unique shops, selling everything from locally made art to handmade jewellery. If you're looking for souvenirs to take home, there are plenty of options.
Environmental Leadership
One of the best parts about Long Beach Lodge Resort is their commitment to sustainable tourism. They are a carbon-neutral resort and are passionate about protecting the environment. From their use of solar panels to their on-site recycling program, they are doing everything they can to minimize their impact on the planet and protect the incredible environment which we all get to enjoy.
As visitors, we can do our part to be sustainable as well. Renting bikes for transportation, packing reusable water bottles and being conscious of our energy consumption are all small ways that we can help make a difference.
How to Plan A Girls Road Trip To Tofino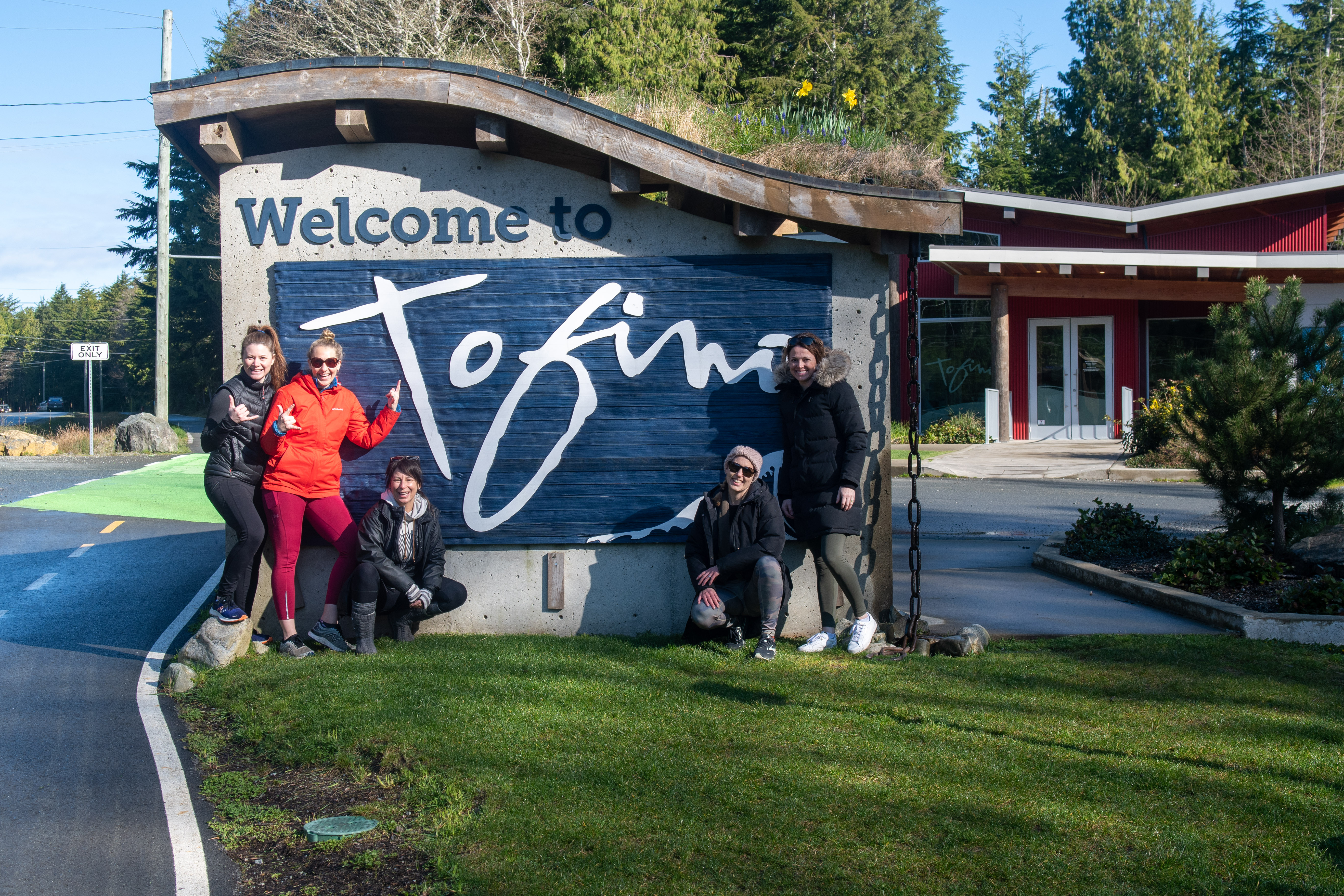 1. All Aboard BC Ferries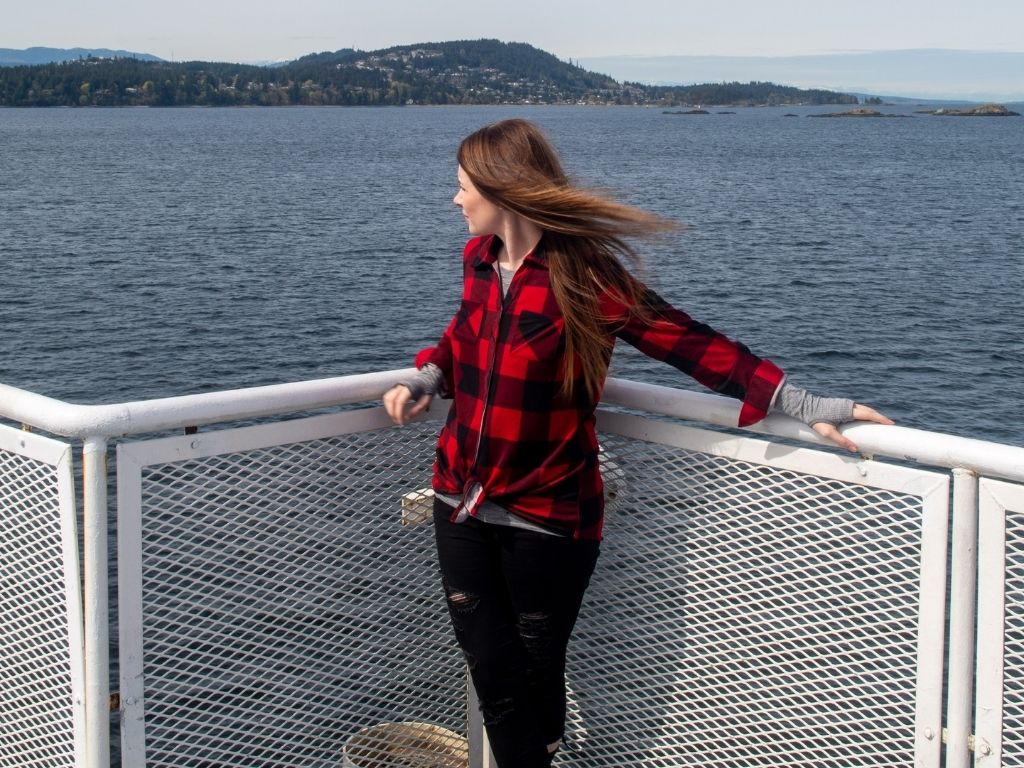 The first leg of your road trip to Tofino is aboard BC Ferries…my favourite way to commute. Sailing across the Salish Sea means that I'm off on an epic adventure, with the ocean as my highway and incredible 360-degree views. I love being able to travel to some of BC's most sacred places all while sitting back with my camera and taking pictures of it all.
When planning, I recommend that you book your ferry reservations ahead of time to reduce your wait time at the terminal and make for a smoother sailing (pun intended). And if you're looking for great deals, check out BC Ferry Vacation Packages where you can enjoy savings and make planning easier and your adventure more affordable!
2. Road Trip – Check in and Hit the Road
The second leg of your trip will be a road trip through Nanaimo, Parksville and Port Alberni before making your way over to the West Coast. Do look ahead at driving sites like Drive BC as there is major construction happening at the Kennedy Lake site, which could result in delays from 30 – 60 minutes (longer at night). We timed our trip around the road closures and as a result, experienced smoother sailing to our destination.
Other Tips and Tricks For Planning the Ultimate Girls Getaway in Tofino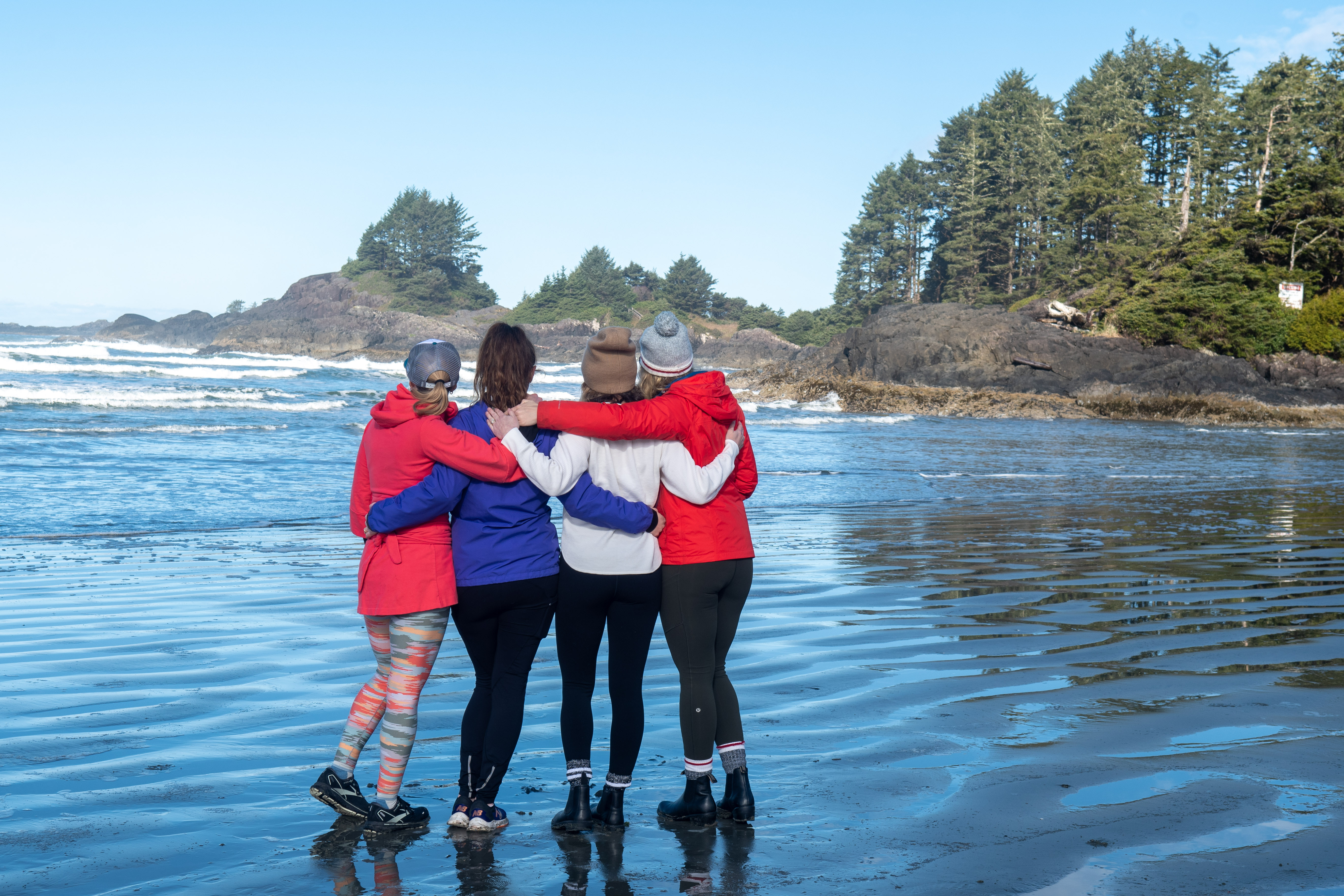 How many days do I need to spend in Tofino?
Tofino is worth the commute, but it is a destination that takes a while to get to. I don't recommend going for less than 3 days in order to be able to really rest, explore, embrace the location and most importantly take part in adventures!
What is the best month to visit Tofino?
While summer in Tofino is epic, it's also peak season, meaning more visitors, harder to secure reservations, and often fog in August… so I prefer to head over to Tofino in the off season, allowing for bigger savings, less crowds, and more fun for me! I've never been for storm watching season and I think that it would be epic!
When is STORM watching season in Tofino?
From October to March, the town is battered by storms and huge waves. While this might not sound like the ideal vacation for some, it's actually one of the most popular times to visit Tofino. The dramatic weather creates an otherworldly landscape and the perfect photography opportunities combined with the excuse to hunker down and watch mother nature put on a show.
---
Looking for Articles that are Women Inspired? Check these out!