"Let's go surfing now. Everybody's learning how. Come on and safari with me. Da na na na na na na"
We danced our way into Maeva Surf to the sounds of my daughter and I belting out all of the surfing songs we could think of. While we have been lucky enough to try surfing in many places around the world from Tofino to Ireland, Laval indoor surfing was going to be our first experience at surfing inside and we were bouncing—literally—with excitement.
Surfing isn't exactly an adventure one might think of when planning an ultimate Canadian winter road trip. Certainly, during the middle of winter, any natural body of water in Eastern Canada isn't very inviting. But when Maeva Surf invited us to come hang ten at their indoor surfing facility we couldn't refuse. The added bonus of playing on the waves on this self-proclaimed water baby's birthday—Moi—made it all the more special.
Maeva Surf – Laval Indoor Surfing Experience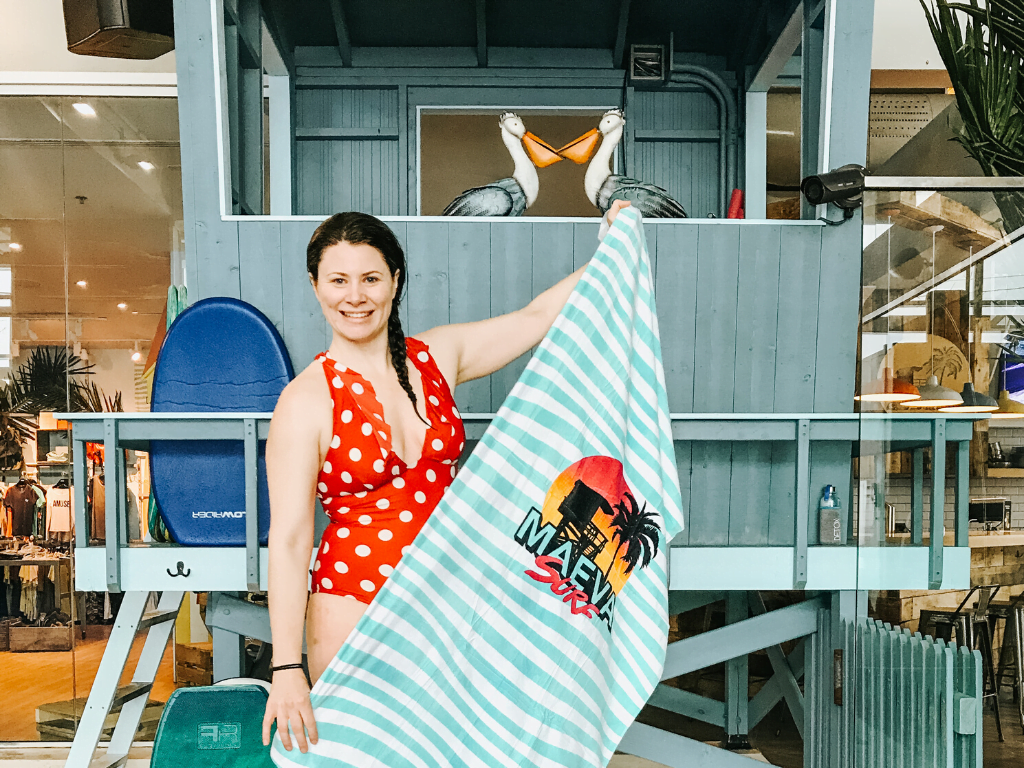 Maeva Surf is an indoor surfing facility located in Laval, Quebec—about a 30-minute drive from Montreal. Beginners to experts can take to the waves with different available packages. Whether you want to stick to bodyboarding or work up to stand-up surfing, their qualified and enthusiastic instructors are there to help you every step of the way.
But there is more to Maeva Surf than just surfing. Their in-house bistro offers you the chance to eat, drink and watch the action taking place in the water. Play a game of foosball before you go and check out the surf shop to get yourself ready for the waves.
Surfing 101—Intro to Surfing
Lesson one? Check your swimwear. The last thing you want to happen while you're out on the waves—or crashing into them—is to lose your bathing suit. Full-pieces and shorts knotted tightly are the way to go. Thankfully we were prepared and did not learn this lesson the hard way.
Once suited up, our instructor took us onto the deck for our crash course in all things surfing. We learned all about what to expect when we hit the water and some basic tips for bodyboarding and stand-up surfing including a safety overview. But as we all know, learning about something is one thing—applying what you've learned is a whole other ballgame.
Surfing 102—Getting Comfortable on the Bodyboards
One-by-one our instructor took us into the waves and one-by-one the waves shot us up and over the barrier. But as we got a feel for the boards—how to steer and where to point the noise—we started to ride the waves instead of having the waves ride us.
Surfing 103—Practice and Play
This is when it went from fun to really fun! No longer being shot up over the barrier, we were carving back and forth across the water with ease. With our newly-found confidence, it was time to start adding some tricks to our repertoire. Easier said than done.
We tried the yo-yo—didn't work.
We tried the 360—really didn't work.
We ended up splashing, crashing and laughing with almost every trick attempt but we did manage to get up on our knees in a "look Mom, no hands" type of moment.
Surfing 201—the Stand-up Laval Indoor Surfing Experience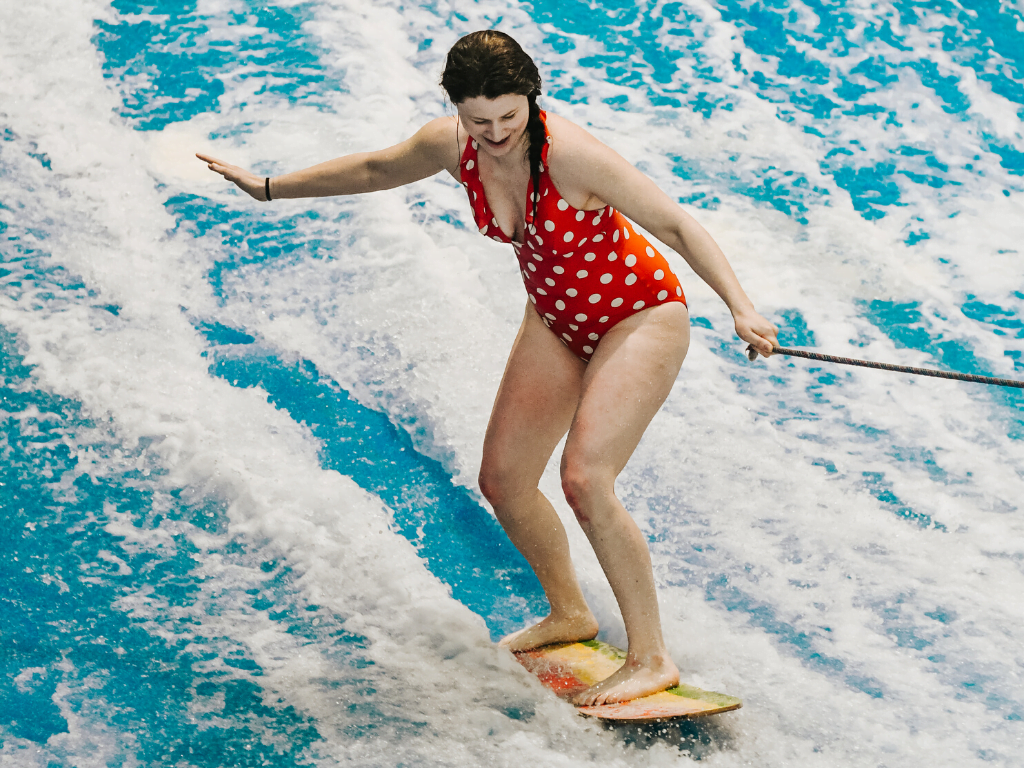 We graduated to the stand-up surfboard and my goodness was it hard! It is a small board over fast water and the leg strength and balance required to keep yourself stable is significant. I gave it a good effort—tried it a couple of times—but ultimately went back to the bodyboard to play around for the rest of our time.
The Best Ways to Experience Maeva Surf – Laval Indoor Surfing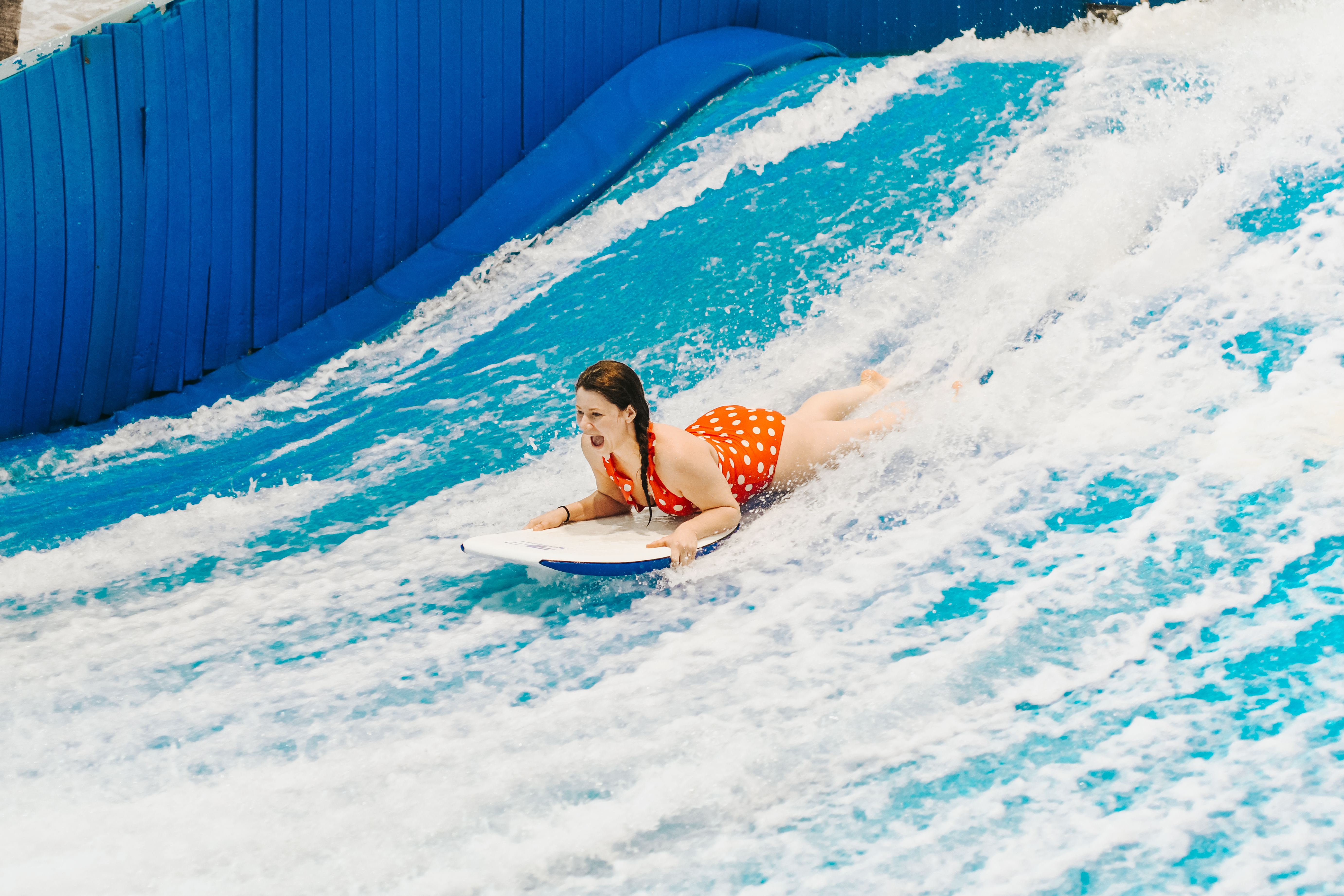 We were here as tourists and I 100% recommend checking it out if you are passing through. But Maeva Surf also offers tons of great options for the local community from birthday party packages to corporate events, private rentals and more. It's a great place to host a party, play with your kids or work at improving your own surfing skills.
With this year being their 10th year in business, they have clearly made an impact in the Quebec community by making this awesome sport available year-round in a fun, welcoming and safe environment. Big congratulations to them for this huge achievement!
---
Planning an Ultimate East Coast Canadian Winter Road Trip? Check out these other articles for inspiration!
Is this a sponsored post?: Yes, while our visit to Maeva Surf was sponsored, our views and opinion of our experience are our own.