I could barely get my breakfast down as my stomach was turning at the thought of what I was supposed to do. My bag was packed, my bike tuned up, and I was fully dressed for my women's mountain bike camp Whistler, yet, the butterflies in my stomach simply wouldn't calm down:
What if I'm not good enough?

What if I crash and hurt myself?

What if I can't keep up?

What if I embarrass myself?

Is this selfish spending money on this day?

What will my kids do while I'm gone?
However, I had signed up and registration was opening in a few minutes, so it was time to leave the comfort and safety of my hotel room and head over to the base of Blackcomb to sign in.
I was met by a group of equally nervous women… some even pacing, not afraid to show their nerves. However, once we met our guides, we quickly realized that we were in for a VERY different experience!
Here's what you can expect from a woman's mountain bike camp Whistler:
Everyone is Nervous
For some reason, as women, we often let self-doubt rein when put in situations like this. However, our guides could see right through us and were quick to step in, introduce themselves and answer our questions. Their kind and calm demeanour, as well as expertise quickly created a very welcoming and fun environment which put the nerves at bay.
Everyone is Welcome
When I say everyone is welcome… I mean EVERYONE! Whether you've never even seen a mountain bike before, or are a seasoned rider looking to refine your skills, every woman is welcome on the hill. This was no more evident than a woman who was from Australia, who had NEVER mountain biked before and left her 9 month old baby and 2 year old with her husband to head out on a new experience. She was very nervous at the beginning of the day but I got to see her at the end and she was boasting an ear to ear smile!
Appropriate Skill Leve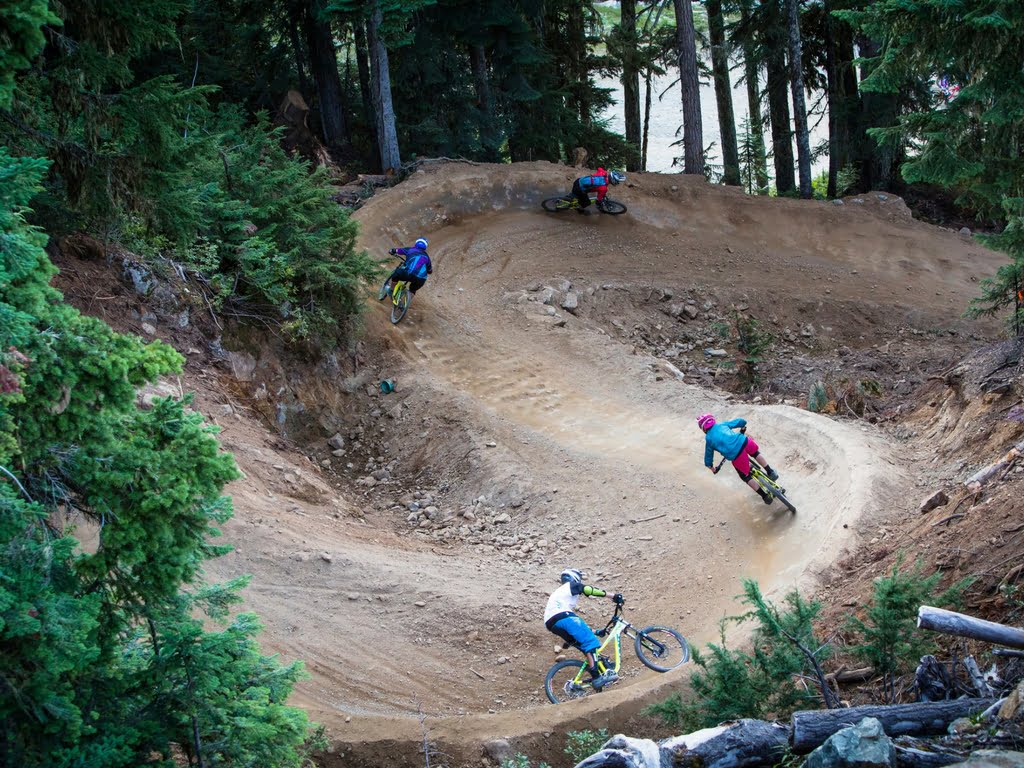 When you sign up you need to share your skill level, which is easily done through the skill guides that they offer. (Similar to what you would see when you're signing your kids up for ski school). This allows the group to be split into appropriate skill levels, ensuring the safety of the group and an amazing experience for all riders.
Split Skill Again
If you start up on camp and you or your coach realizes that you're in the wrong skill level of the group you'll be moved up (or moved down) to make sure you're in the right level. There were 8 groups I think when I looked, everything from beginning to beginner intermediate, to intermediate, and so on.
Chauffeur Experience
Once you've met with your group it's time to hit the hill. One of the best parts about doing camp at the Whistler Bike Park is that you don't have to ride to the top of the hill as you and your bikes take the chair lift up! This means more time riding and less sweaty laps up the hill.
Start off Slow
Once you reach the top of the hill you'll start off on the "bunny hill" of bike parks. This is a place for you to test out the bike, ride around on some very small humps and bumps, learn some turning technique, and get comfortable. This also gives your coaches a chance to see where your skill level is at and see where you need guidance and support.
Easy Runs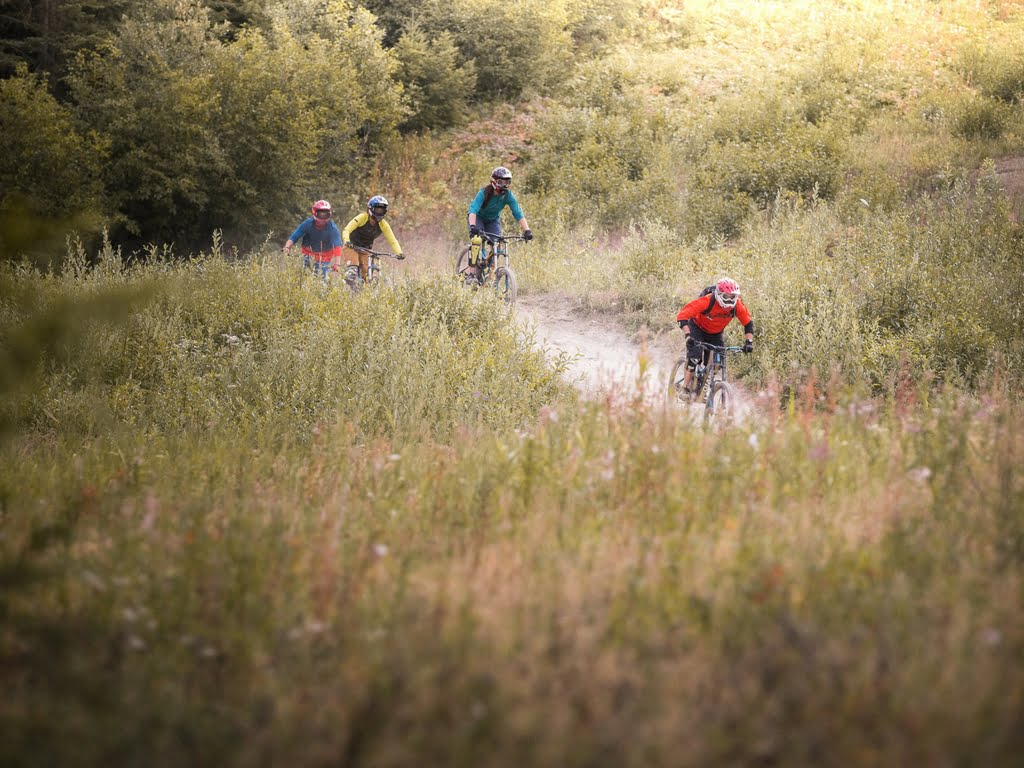 Your first run will probably be on a green run. A nice, easy, fun and flowing ride down the hill. IF you're a first timer wondering if you can do this… you can… There were a LOT of kids on this hill learning how to ride their bikes!
Time on Hill and Repetitions
I loved the layout of the day and the time that we had on the hill to develop our skills. We rode for about 3 hours, had lunch, and then we're back on the hill for about another 3 hours. I loved that it gave us time to do runs multiple times and practice our skills or learn some new ones!
Session, Session, Session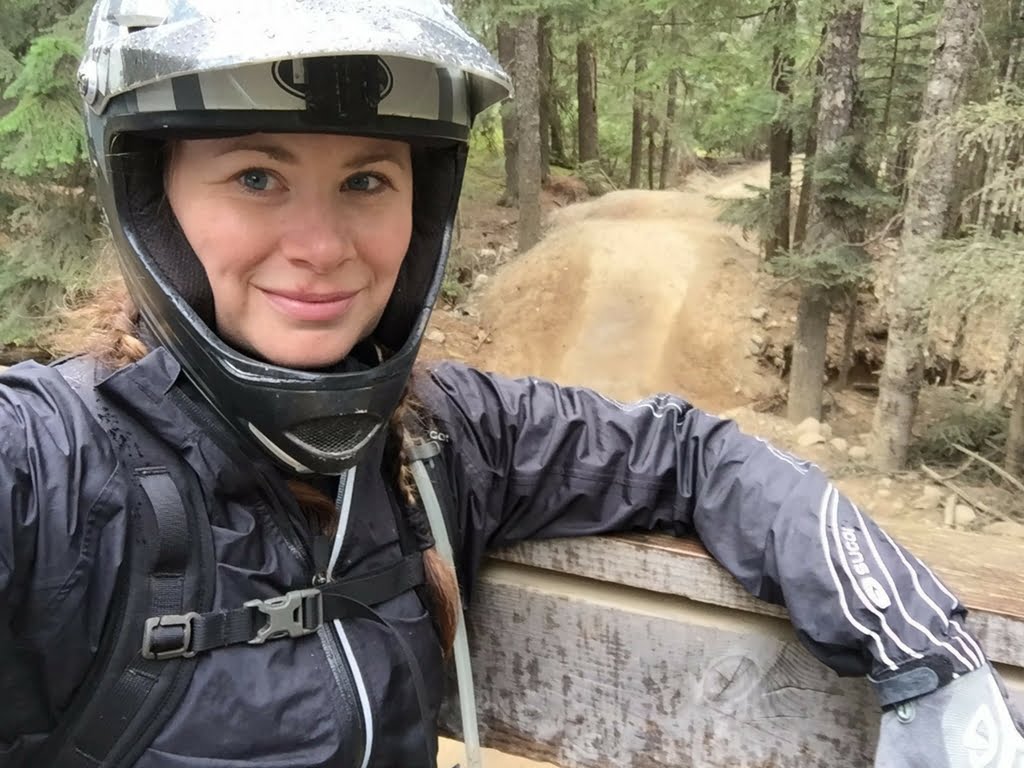 One important element to developing your on-hill skills is to do a "session". This is where you stop at a particular point in the trail, whether it be a tight turn, a small drop, or a little bridge and learn the best technique to navigate that area. You're often shown by your coach and then you get to try the area… often more than one time.
No Stupid Questions
A simple but powerful motto was evident among our group and our coach encouraged as many questions as possible. It was our day to be out on the hill to learn as much as we could!
No Egos Allowed
The best part about women riders is that there are no egos on the hill. Everyone is so kind and welcoming and excited to share the sport with other women. Not only does this create a more fun environment, but it creates a more welcoming and supportive one.   
Apres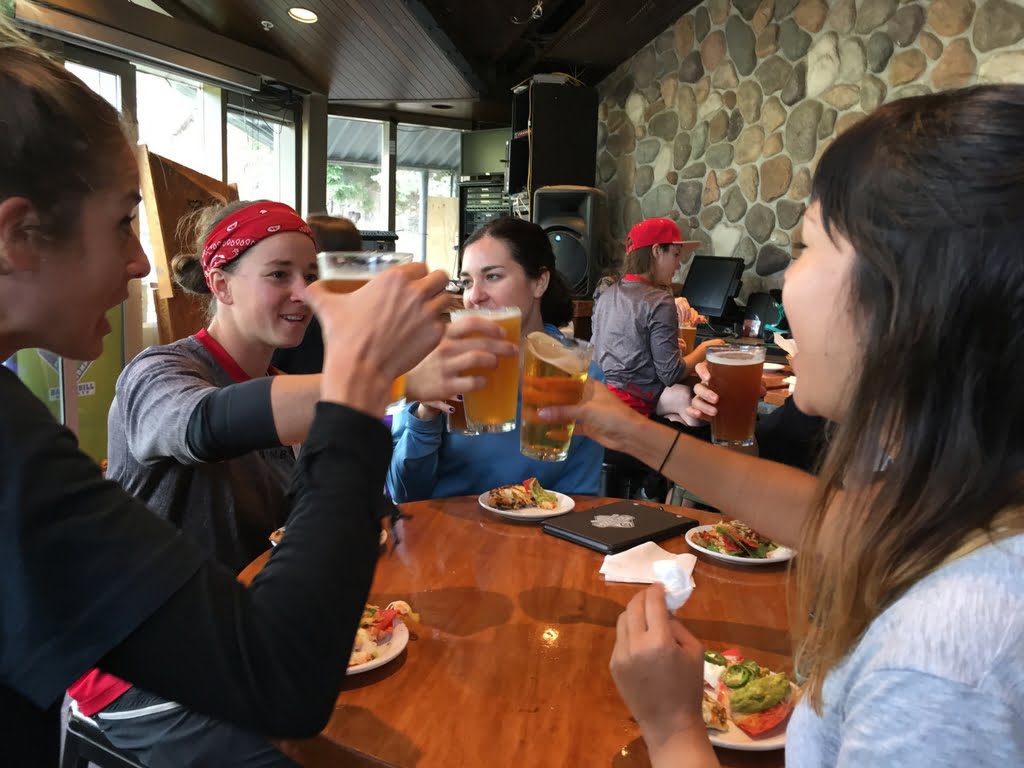 After we finished our ride everyone met in the village for apres appies and drinks at the GLC (all a part of your camp entry fee). The bonus part was that there were great prizes from sponsors like Liv (and I was lucky enough to win a new bike seat!)
The Whistler Bike Park officially opens this weekend and with that kicks off registration for Women's Bike Camps!
Dates: June 25, July 23, and Aug 20
Cost: $99
What's Included:
a full day of coaching with their top women's coaches
Top of the World access (subject to operating dates)
apres session at the GLC
product giveaways
private trail access
What to Bring: For an additional fee, you can add a rental to your registration should you not have the required equipment (this rental includes a bike, helmet, elbow pads and knee pads). Don't forget a water bottle, rain jacket (this is a must even if it isn't raining, it can be cool at the top of the mountain), good close-toed shoes, and a camera to snap a bad-ass trail ripping selfie to show your Instagram friends!
For more information about the women's mountain bike camp Whistler, visit their website.
Is this a sponsored post?: No, I was not paid to do this post or had my entry fee compensated… I simply registered and had an amazing experience at the Women's mountain bike camp Whistler and wanted to share! I hope this inspires you to go outside your comfort zone and try something new… and I highly suggest this camp as a starting point!
Are you planning your own bike trip to Whistler? Here's what I recommend:
Bike Rental: Whistler Sports Rentals
Where to Stay: Aava Hotel
Other Activities: Peak to Peak, Whistler ATV Tours, and Whistler Tree Trek Tour