"We're doing it, we're doing it" we squealed as if we were Thema and Louise after a bank heist. While the only thing we had stolen was time away from our busy schedules, my daughter and I had just hopped into the driver's seat of a CanaDream RV and had hit the road in the motorhome, squealing the whole way. With our "road trip tunes" blasting we hit the highway, arms out the windows, hair blowing in the warm fall breeze. The scenery would light up our road over our one-week road trip and the memories we would make in our Nova Scotia RV rentals would be irreplaceable.
But if you've found this article, chances are you're looking to plan your own epic East Coast adventure and I wanted to help you determine the best Nova Scotia RV Rentals for you to choose from. There are a variety of RV rentals available in Halifax Nova Scotia to fit any type of traveller. For our trip to Canada's East Coast, we wanted to share our authentic experiences to help you choose what RV would be best for you. Here's a breakdown of the different types of RV rentals available in Halifax Nova Scotia and what to expect with each model.
Nova Scotia RV Rentals
Maxi Travel Camper
Perfect for a couple or small family, my family owned a travel truck camper like this when I was younger and I loved it. Compact with all the comforts you need without all of the logistics of the bigger models, the Maxi Travel Camper is a great way to "rough it in 5-star luxury." With a lighter load, you'll save money on gas and the rental fees are less compared to the bigger units. You'll also be able to navigate smaller spaces, like parking lots, roadways, and backroads as you'll be driving a standard-size vehicle. If you're looking for simple comfort, or this is your first time RVing, this is a great unit to start in.
RV Rental Highlights
Sleeps: 2 adults plus one child
Engine Size: 6.7L
Interior Height: 6'4"
Vehicle Length: 23'
Deluxe Van Camper
Where comfort meets "The Gram" this unit is designed for those wanting the convenience of a single unit that is easily accessible from the ground floor. Functional with an interior kitchenette, and spacious dining and sitting area, this is the ultimate unit to pull right up to the beach and set your eyes on the surf at sunset. Suitable for 2 people (max) this unit wouldn't work for larger families.
RV Rental Highlights
Sleeps: 2 adults max
Engine Size: 3.7L
Interior Height: 6'3"
Vehicle Length: 22'2"
Super Van Camper
The perfect little unit for a young family, this Class B+ Super Van is designed for those who want a more intimate experience. These smaller RVs are great for couples or young families who want to explore with all the comforts including a kitchenette and bathroom, as well as basic sleeping quarters.
RV Rental Highlights
Sleeps: 2 adults, 2 Children
Engine Size: 6.8L
Interior Height: 6'10"
Vehicle Length: 23-27'
Midi Motorhome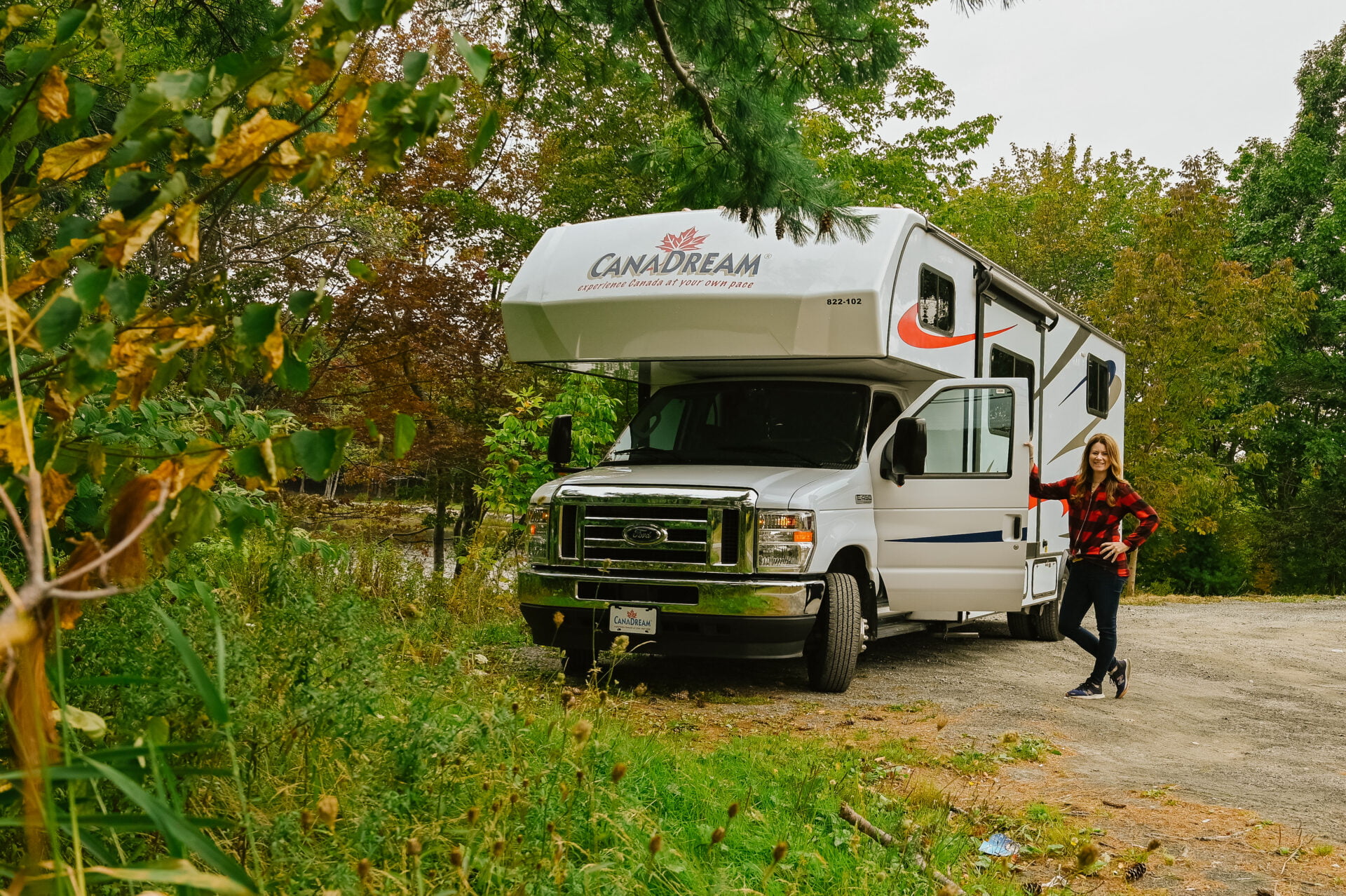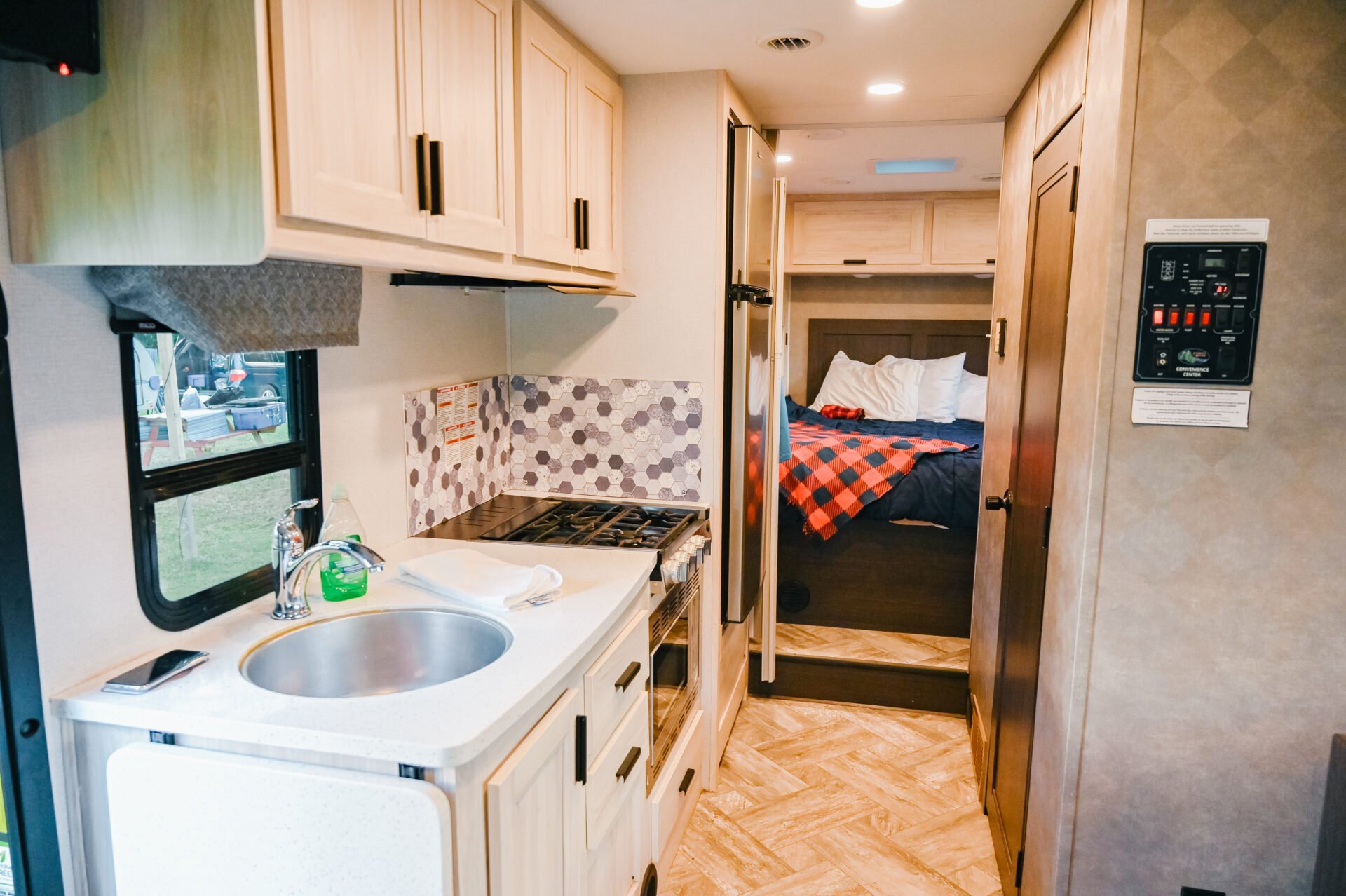 We'd like to introduce you to Jenny, a smaller RV that allowed us all the comforts of a big unit with the convenience of a smaller vehicle. With a big queen bed in the back (perfect for sleepovers) 2 cab over beds, and a fold-out dinette, there was no shortage of space. We loved it so much we're looking forward to planning another trip! In this unit, you could sleep up to four adults and two children (it would be cozy though, I think max 5 would be ideal).
RV Rental Highlights
Sleeps: 4 adults, 2 Children (I wouldn't recommend more than 5)
Engine Size: 6.8L
Interior Height: 7'
Vehicle Length: 24-28'
Maxi Plus Motorhome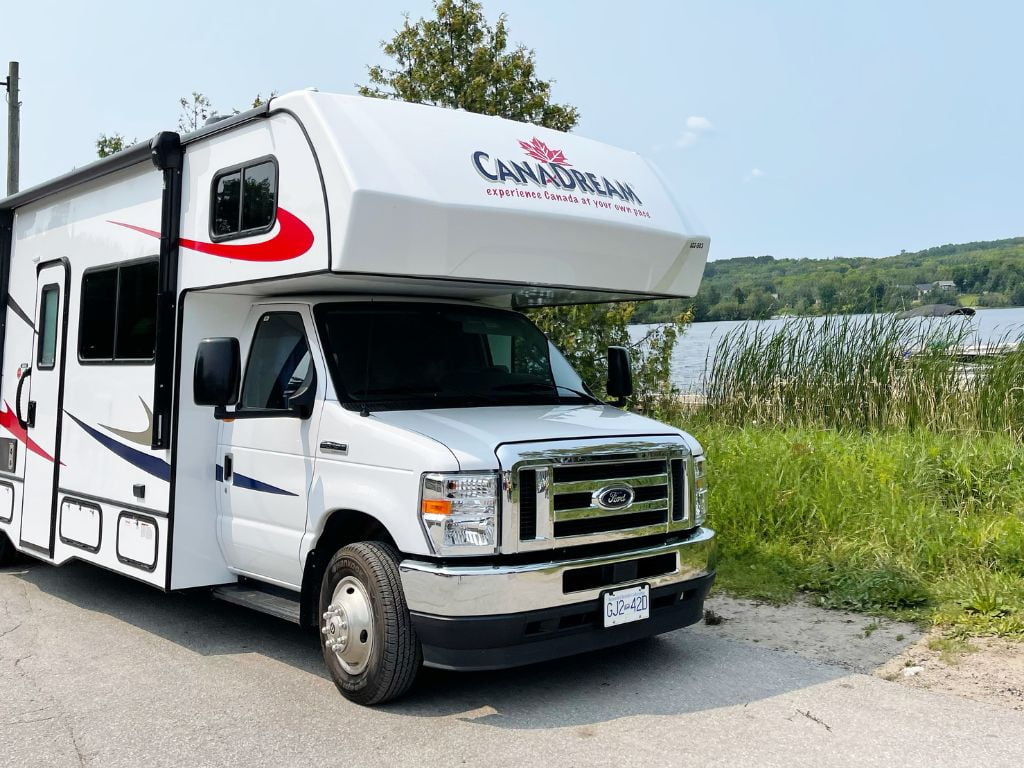 Looking to travel in luxury? Introducing the boss of the road, the Maxi Plus motorhome! With space to invite extra family or just spread out, this is the one we have our eyes on for our next adventure when we bring the boys. With tip-outs to stretch the square footage, there's lots of space to hang out and rest after a busy day on the road. The queen size bed in the rear bedroom is extra enticing since it'll ensure a night of good sleep for my six-foot-tall husband. With five separate sleeping spaces, you can sleep 4 adults and 3 children in the Maxi Plus Motorhome.
As an allergy family, we love being able to stock up the fridge and eat on the road on our own schedule. With a 10 cubic foot fridge, full stove, and convection microwave oven we can cook like we're home making for a healthier (and more economically friendly) adventure.
RV Rental Highlights
Sleeps: 4 adults, 3 Children
Engine Size: 6.8L
Interior Height: 7'
Vehicle Length: 30-33'
How To Prepare For an RV Rental In Nova Scotia
Once you've selected your ideal RV and confirmed your booking, CanaDream will send you a link with 2 videos to watch that will consist of "training." These took about one hour to watch and were very helpful in teaching me what to expect and how all the operating systems in the RVs would work. From propane to fresh water, to grey water and black water, to heating and cooling, there are a lot of systems designed for your convenience and comfort. I think it would have been overwhelming to learn them all at pick up so it was great to learn them from the comfort of our home and then orient myself to them upon RV pick up.
Driving an RV Rental in Nova Scotia
While I put on a brave face for my daughter I was feeling nervous to drive a big RV all by myself. However, the Midi Motorhome was very easy to maneuver and had great sightlines with the huge side mirrors and a large rearview video mirror that gave me a 180-degree view out the back. With lane departure and collision warnings also installed, it made it easy to stay within the lines and drive. While I typically don't have that problem, I especially appreciated this function for international guests who are used to driving on the opposite side of the road.
Road Tripping Across The East Coast
Nova Scotia's East Coast is a plethora of stimulation for the senses, especially in the fall. When the leaves are turning rich colours of reds and yellows, and driving by you see them swirl around you. With the ocean around every corner and winding roads that take you down scenic sites, there's nothing like a Nova Scotia Road Trip to experience life on Canada's East Coast.
Eating on the Run
While Nova Scotia is known to have an incredible food scene, my daughter and I have a ton of allergies, and having the RV to stock up and serve meals in was a time saver and added comforts and safety of home. Plus being able to eat on the run enabled us to be able to hit the road again quickly and head out on more adventures!
Setting Up Camp For the Night
One of the most fun parts of camping was pulling into our sites for the night and setting up camp. My daughter loved putting out the tip-outs while I was outside getting the hoses hooked up and the picnic table set for dinner. Once the campfire chairs were out it was time for the traditional campfire treats, which really is the perfect way to wrap up a day of road-tripping across Nova Scotia.
Planning Out Your Next Days Adventures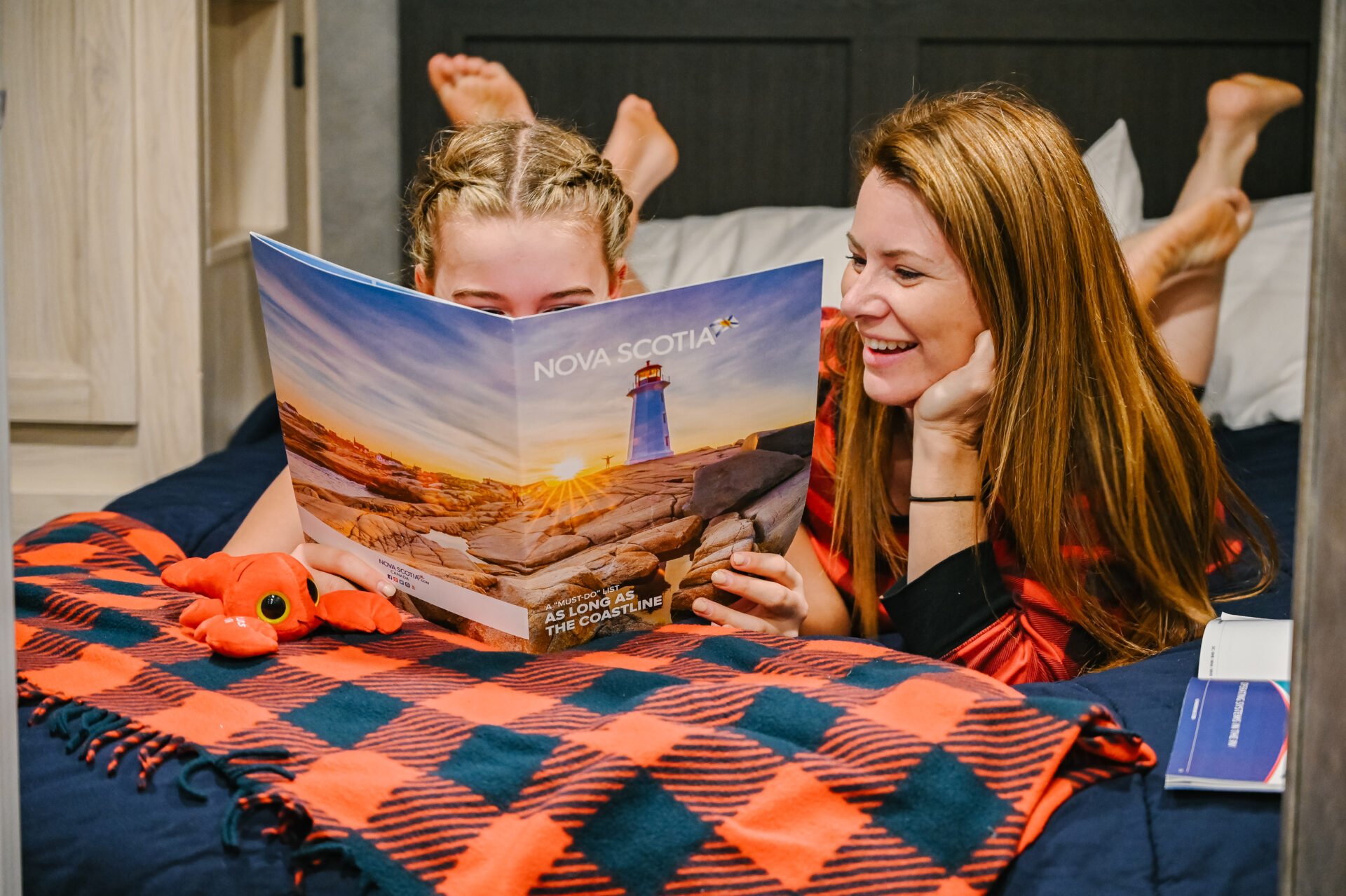 Memories like this don't come often enough… and while this photo was staged we stayed on the bed looking through maps and itineraries as we planned out our next day of exploring. Involving kids in the planning is one of the best ways to keep them engaged and enjoying the whole holiday.
How to Save On Gas For Your Nova Scotia RV Rental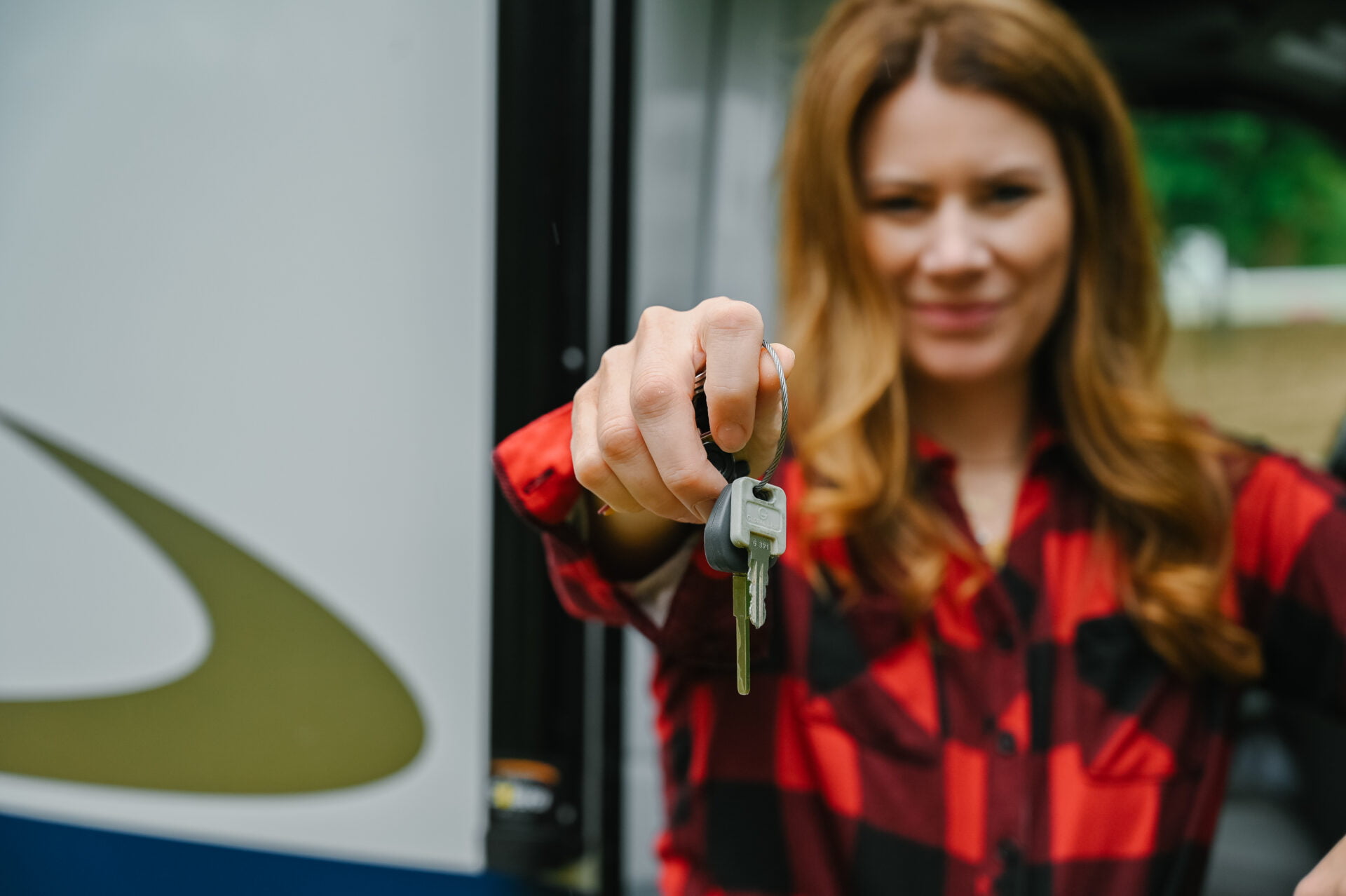 One of the benefits of renting with CanaDream is their partnership with the Journie Rewards Partnership. This gives drivers a savings of up to 12¢ per litre, which can especially add up if you're driving one of the bigger RV Rentals in Nova Scotia.
How to Book a Campground in Nova Scotia When Renting an RV
Canada's National and Provincial Parks book up fast so if you're planning to stay in one of the most popular sites be sure to book ahead (booking dates typically range from two months to one year in advance, and National Parks typically open for reservations in January of the same year).
However, in order to make it easier for visitors CanaDream Club gives renters access to over 1000 campsites across Canada, many located close to major attractions and national parks. Stack that with the benefits of discounts and you can find a great place to camp without the hassle of competitive booking. To learn more visit the CanaDream Club website.
Your Guide to RVing through one of Canada's Most Vibrant & Historic Cities
We've put together an extensive guide showcasing our favourite places to explore around Halifax. With over 5000 words and 20+ photos, click this link to see more photos from our trip and choose the top stops that you want to visit on your RV Road trip to Halifax.
CanaDream Itineraries – Best RV Itineraries for Nova Scotia and Canada!
One of the most fun parts of a trip is the planning and CanaDream makes it easy by offering you a selection of thoughtfully planned itineraries. Whether you're looking to just stay in Halifax or head coast to coast, check out this page to learn more and choose an itinerary that best suits you.
CanaDream Coupons
Who doesn't love a deal? And if I had a direct CanaDream coupon to offer you I would, however, I don't. So I reached out to the company and researched different ways you can save money with CanaDream and here are some great ways to get discounts with CanaDream:
First Night Free with CanaDream
If you're a fall adventure seeker then this deal is for you. If you book for pickup on or after August 15 for fall trips returning by October 31, you'll get the first night free on RV rental bookings for six nights or more. Now at the time of posting this article, this promotion is only valid for pick-up locations including Vancouver, Calgary, Toronto and Montreal, so be sure to check if you're specifically wanting Halifax as a pick-up location to see if this deal is available at the time of booking.
CanaDream Winter Deals
Want to head out on a winter RV adventure? CanaDream offers custom-built winter RVs that are ready to keep you warm and dry while you explore all the wonders that winter has to offer. They have some great winter deals on now, so be sure to check them out on their website.
Canadream Relocation Deals
Also called, "One Way RV Rental Canada" helping all of the RV's get back to where they need to go can be like getting a big Canadream Coupon, only better. With flexible dates and a variety of to and from locations, you can save a lot of money and plan an amazing trip with these options. Above is a quick peek at what was available at the time of releasing this article, but gives you a great insight as to the types of Canadream discounts you can scoop up. Click this link to learn more.
CanaDream Reviews
Are you searching for CanaDream reviews? Well, we now consider ourselves experts after spending a week on the road in the MHB, so let me tell you a bit more about our experience.
Disclosure: As travel writers, we were working in collaboration with Tourism Nova Scotia and CanaDream sponsored our RV during our stay. In order to be transparent I think that's important to disclose to you. So while we received a complementary RV, this article is unpaid and the views are our own.
CanaDream Halifax Reviews
After we explored the beautiful city we hopped in an Uber and headed to the CanaDream Halifax location to pick up "Jenny." The staff were almost too helpful, making our pick up easier than expected. I had anticipated being there for about an hour, having to go through the systems and expectations, picking up equipment and more, but we had the opposite experience.
CanaDream Reviews
After sharing proof of license and credit card deposit we were given the keys and sent on our way. As we had completed the online training, and the staff had packed up all our gear, all we had to do was put the key in the ignition and hit the road! I loved this aspect, especially travelling with children, no hassle just time to hit the grocery store and stock up.
CanaDream RV Rental Reviews
"Jenny" quickly became our adventure buddy and we couldn't have been happier with our experience with CanaDream RV Rentals. From the moment we became friends it was clear that Jenny was ready for adventure, as she was loaded up with all the supplies we would need, and ready to keep us safe while on the road. From a well-stocked kitchen to comfortable linens, to extra conveniences like camping chairs, we were able to get right to exploring in our RV rather than worrying about the details. So our CanaDream RV Rental Reviews are both 5 stars and we are excited to start planning another adventure with CanaDream soon! (Hint summer 2023!)
Can you take an RV to Nova Scotia?
Yes, RV rentals are easily accessed in Nova Scotia or can be brought into Nova Scotia from either New Brunswick, PEI, or Newfoundland.
Can you park your RV anywhere in Canada?
Nope, RV's are best parked in campsites sites where services are available (such as electricity and water). However, Canada offers a plethora of campgrounds to choose from including National Parks, Provincial Parks, and Private campgrounds. Camping on the side of the road, in parking lots, or offroad can often lead to challenges or being asked to move so I prefer to just book at campgrounds with amenities to serve our family.
Winter RV Rentals In Canada
Are you chasing "Pow" and wanting to explore our beautiful country in the winter? With "Ski Safaris" you can explore the winter in an RV, with the winter-ready Maxi Motorhome. You'll stay warm in temperatures as low as -30, allowing you to camp close to the ski hill and hit fresh tracks the next morning. Learn more about winter RV rentals here.
There are many different types of RV rentals available in Halifax Nova Scotia, each with its own set of benefits. Whether you're looking for luxury or affordability, there's an RV rental out there that's perfect for you. So start planning your trip today and see what all Halifax has to offer!
---
Check out these Articles for More Inspirational Travel Ideas: