Have you ever wondered what it would be like to do a cross Canada camping trip? We're a few days away from our 2017 road trip and I can tell you that it's been a logistical challenge, but one that is totally do-able with the right planning!
The Challenge…
We will be travelling from Vancouver, BC, Canada, located on Canada's West Coast to St. John's Newfoundland, which is on Canada's East Coast, or a distance of 5020 kilometres from coast to coast. Once we arrive in St. John's we will be picking up a rental car and then unpacking and preparing to camp across Newfoundland, Nova Scotia, and PEI. This means 3 provinces, and 9 different stops over 16 days. We need camping gear that is plane friendly, only essential clothing and equipment, and a detailed list of what we need to purchase when we arrive.
Sound daunting?
Well, this type of logistical challenge is one that I'm up for and if you're reading this blog, well I am thinking that you are too! So I've compiled a list of what and how we're packing so that you can plan your own cross country adventure!
Step One – Start Early!
We started the packing process about a month ago. This isn't typical for our family, as we travel a lot and can mobilize quickly if we need to head out (perhaps a special thanks to our handy camping checklist!). However, we don't want to forget anything at home and incur extra expenses or be caught unprepared on the other end of the country, so we cleared our spare room and started putting aside things to pack.
Involve The Kids
We sat down with the kids and discussed what to pack for a road trip and why. We talk about the different types of clothing we should bring, such as good clothes versus play clothes. For my son, who's particularly hard on clothing, we're bringing a lot of items that are on their last legs. That way if we find souvenirs or are running out of space, we can find a donation box for those items and not have to pack them home. Once we've decided everything we need, the kids write out their lists and then head upstairs to pack. This way, when we arrive they will know what they have and be happy with the clothing options that they got to choose from.
Pack Light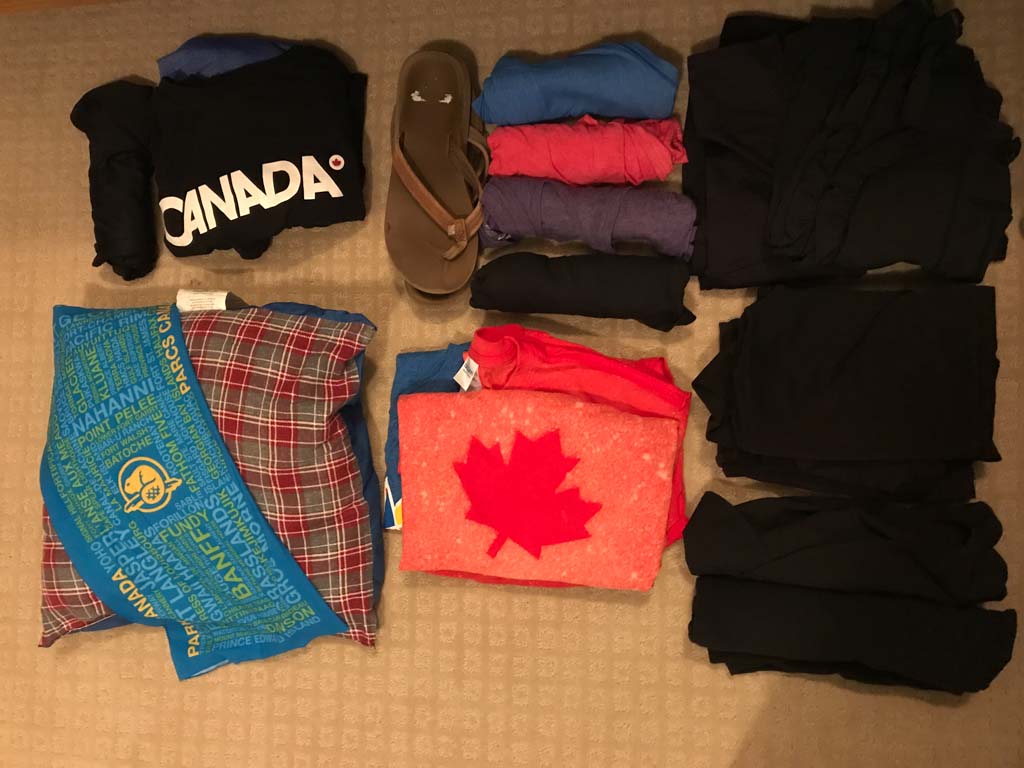 The lighter you pack the easier your trip will be. Here's what I'm bringing for our two week adventure, while hoping to do one laundry stop in the middle of our trip:
2 pairs of pants
2 pairs of capris
2 pairs of shorts
4 Canada themed t-shirts
3 tank tops
1 long sleeve shirt
1 pair sandals
1 Parks Canada scarf (Which is great for an eye mask too!)
For the plane ride, I will wear: running shoes, sweater, rain jacket, and bulkier items.
Camping Bin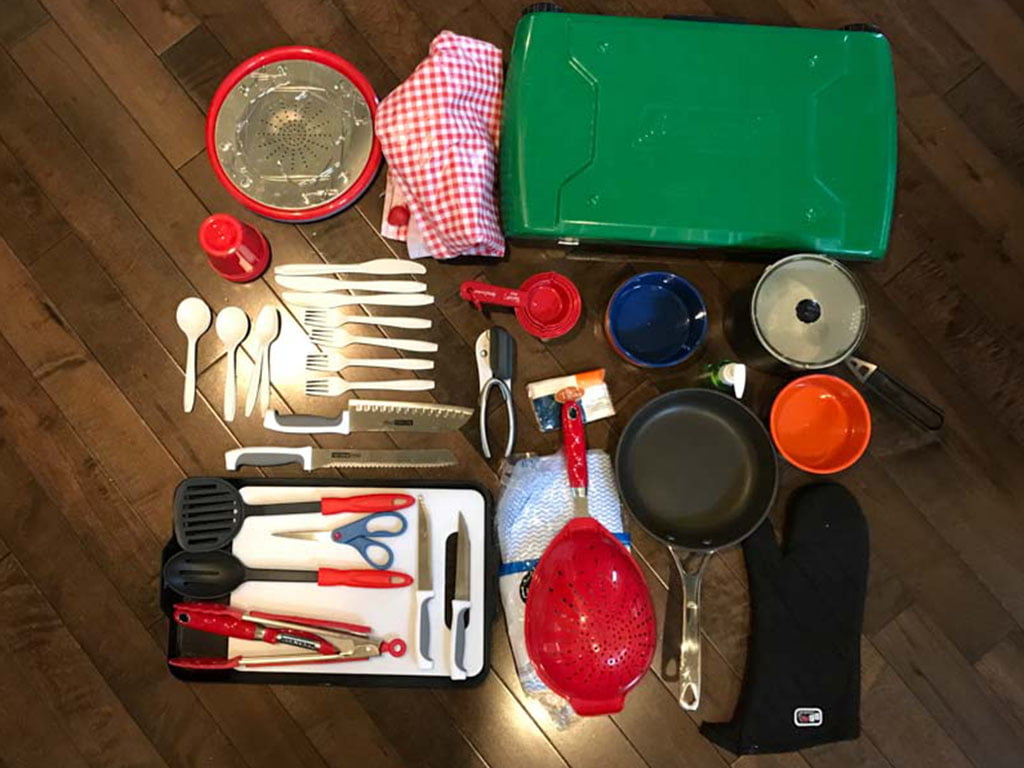 When planning to pack your family camping equipment onto a plane there are a few things you need to remember. The first is to pack only what you absolutely need. You'll see that we have a small pot and a small pan, but a larger, two-burner grill top that we will use for most meals. We've only got one spatula and one spoon, and enough plates and bowls for each of us.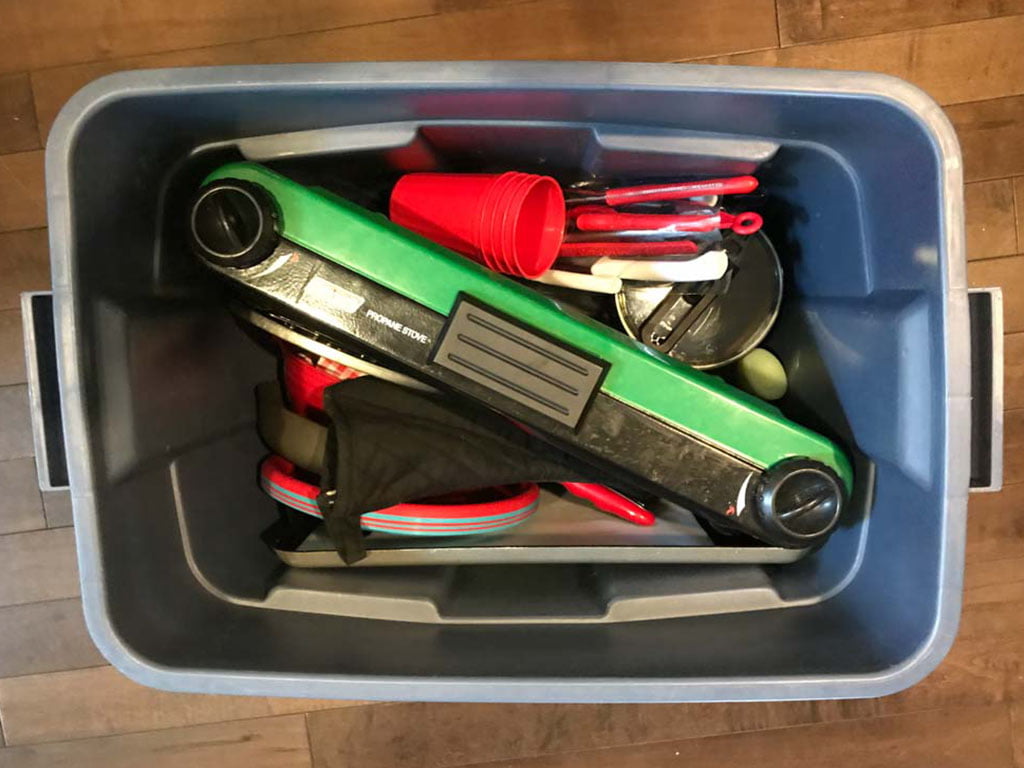 When packing it all up make sure you capitalize on every single inch available. For example, I opened up the stove and put all the utensils, cutting boards, and dishcloths inside, using up what would essentially be dead space. After all of this was packed up it fit nicely inside a Rubbermaid bin. We topped up the bin with sleeping bags and extra clothes so that everything was snug and wouldn't bang around too much. (And came 6 pounds underweight too!).
As you can see, we have not packed propane for the stove or lighters. These are prohibited items when flying and we will purchase these when we arrive. Make sure you check with the airline you are flying with for their rules and requirements regarding checked luggage weight/size, prohibited items and carry on baggage allowances. You wouldn't want to be told at the airport that you couldn't bring something with you or it wasn't packed correctly.
Ditch The Makeup
Here's the actual set of toiletries that I'll be bringing on our trip… the absolute essentials. Toothbrush and toothpaste, contact lenses, spare contacts, face cream, deodorant, face wash, nail file, shampoo and conditioner. You'll see that the nail file and toothbrush are well-loved. On our last day, we will throw those out and have one less thing to pack home.
Prize Box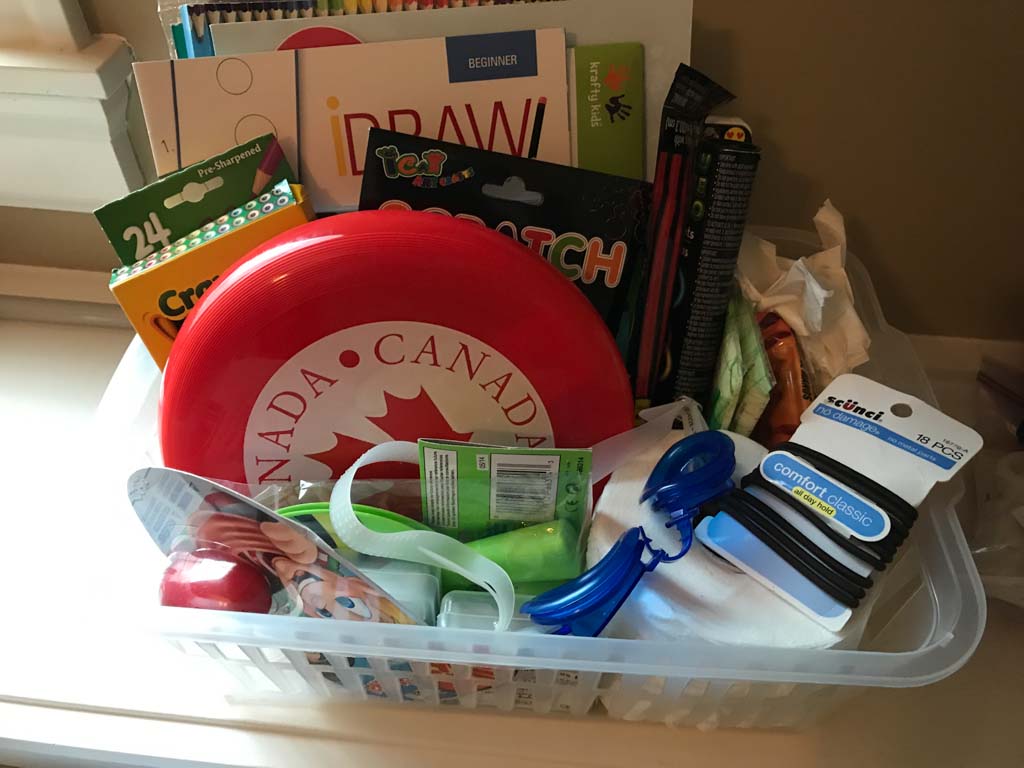 If you've read my step by step guide on How to Pack for a Road Trip you would have seen me emphasize the importance of a prize box. This is a box that sits in the front seat and holds essentials like wet wipes, gum, and hair ties, but also a bunch of treats, games, and activities for the kids. We deconstructed the prize box and stashed all the goods in with our camping gear box, and then stored the basket in our cooler. But so many of you asked, "Are you taking your Prize Box across Canada? The answer – Absolutely!
Cooler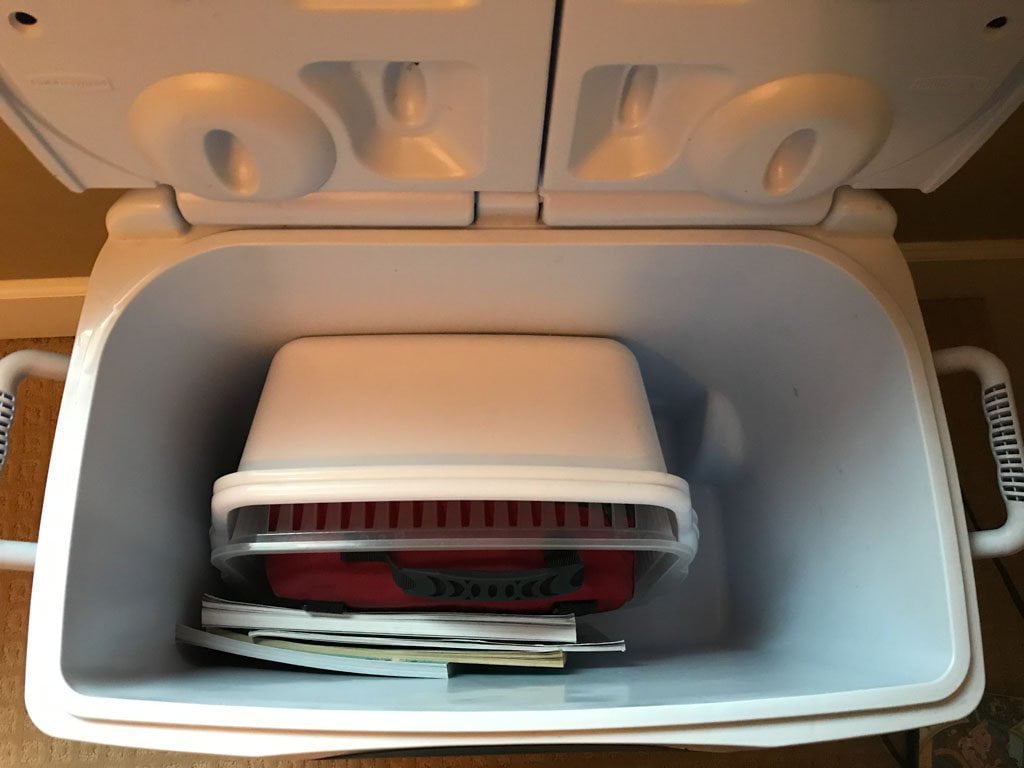 Don't forget to bring a cooler on your trip! We had thrown around the idea of just buying one when we arrived but I'd rather save the money and bring our own. The cooler is relatively light weight and doubles up as a great storage container for our goods, so we've loaded up the bottom with our dish washing bins and prize box basket. The top will be loaded on the morning we leave with frozen snacks and food for us (such as muffins, turkey meatballs, and other nut free dairy free food for my family – there's nothing worse than being hungry and not being able to get healthy food so we come prepared!).
Capitalize Your Carry On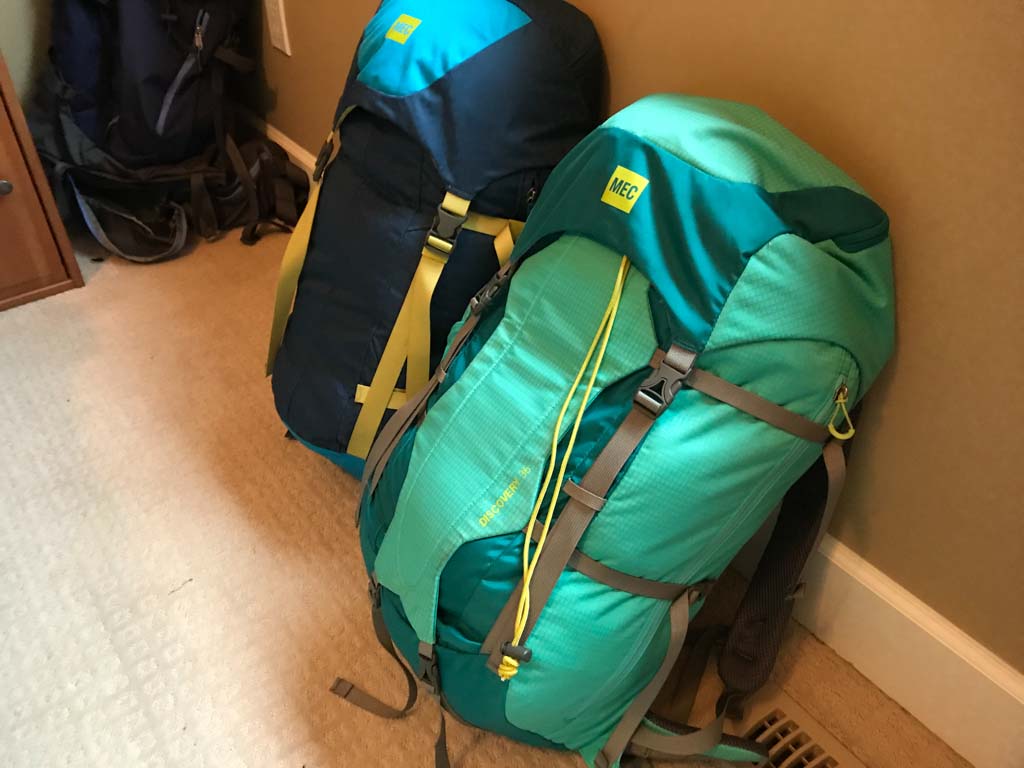 We will be checking four items, the cooler, the camping bin, and my husbands and my own bag. We will be carrying on our kids bags, and each of them will be carrying on their own backpack full of activities and meals for the trip. Be sure to think carefully about what you pack where. For example, we've got an extra set of our clothes in our kids bags in case something goes missing.
Bring Your Own Water Bottles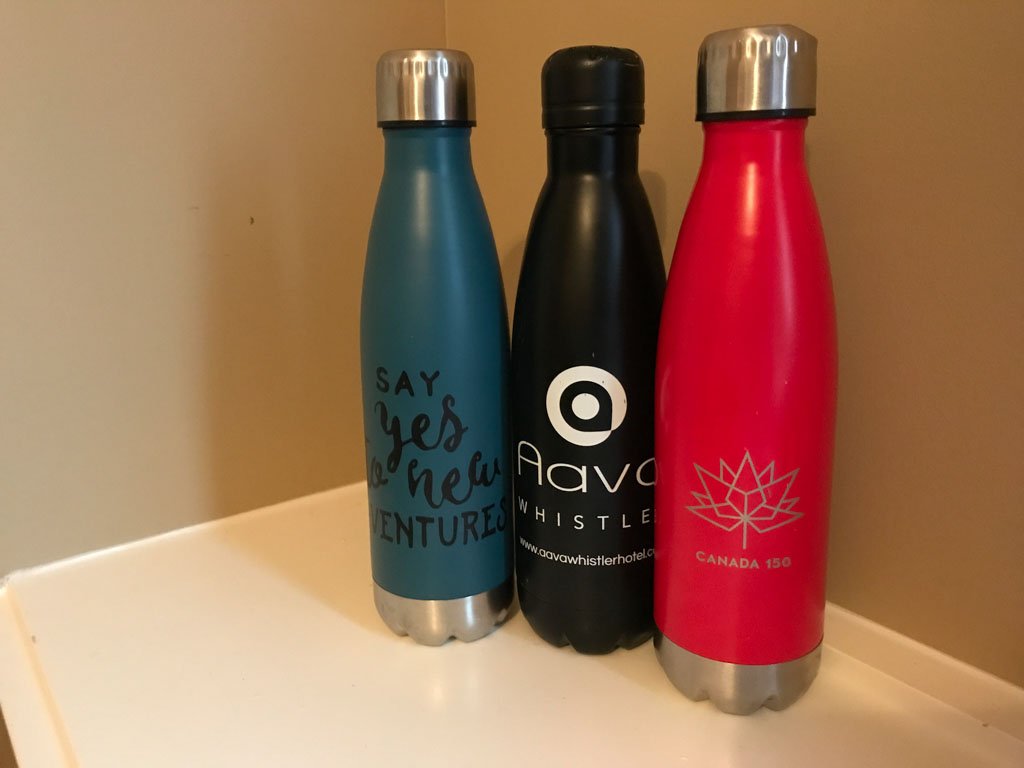 Water is EXPENSIVE and many airports have water refill stations that are perfect for water bottles. Keep your family healthy, happy, and hydrated and bring your own water bottles on the trip. When we land we will purchase a box of 16 litres of water that we will bring camping. There are no excuses for anyone to be thirsty, and I won't be spending $1-2 at every gas station stopping for drinks!
It's Not Going to be Perfect
Let's be honest. I travel a lot and feel like I've got this under control but there will inevitably be something I forgot, something I should have done differently, or a tool or piece of equipment I should have brought. And that's okay. In those moments we will modify and adapt, or go without, and all of those skills are important things for my family to learn along the way too!
Follow along on our 2017 road trip by liking our Facebook Page, following us on Instagram at @FamTravelWriter or joining in on the conversation on Twitter at @FamTravelWriter
Now that you know what to pack for a road trip, are you feeling inspired to plan your own trip? Here are a few blogs to get you started:
Is this a sponsored post?: No, we just wanted to share what to pack for a road trip with our followers!