Our hands were overflowing with cameras, video recorders, tripods, and props as we scrambled through the rocks taking photos from every angle. The sun had broken through the clouds creating the most perfect weather for our trip on some Peggys Cove tours, which quickly became one of the most memorable spots we've ever visited.
Peggy's Cove is one of the province's most popular tourist destinations, and with good reason. There are so many things to see and do in this beautiful area far beyond expectations. But what if you want to see more than just the lighthouse and the fishing boats? Here are seven amazing tours that you can choose from to craft your own ideal Peggys Cove Tours.
First, let's answer some quick questions about Peggy's Cove.
Disclaimer: This article includes affiliate links from which I may earn a small commission if you choose to purchase your tickets. Money goes to help fund Adventure Awaits and keep more informational and educational articles coming your way!
Is Peggy's Cove worth it?
Peggy's Cove is a must-see destination for anyone visiting Nova Scotia. The picturesque lighthouse and quaint fishing village are straight out of a postcard, and the nearby beach is perfect for admiring the rugged coastline. If you're looking for an Instagram-worthy destination with plenty of photo ops, going on Peggys Cove tours is definitely worth a visit. But even if you're not into taking pictures, the natural beauty of this place is sure to impress. The rocky coastline and crashing waves are endlessly fascinating, and the scattered fishing boats painted with vibrant colours add a touch of whimsy. So if you're looking for a place to relax and enjoy some stunning scenery, Peggy's Cove is definitely worth a visit. With its unique landscape and dramatic seascapes, Peggy's Cove is one of the most popular tourist destinations in Nova Scotia.
Why is Peggy's Cove so famous?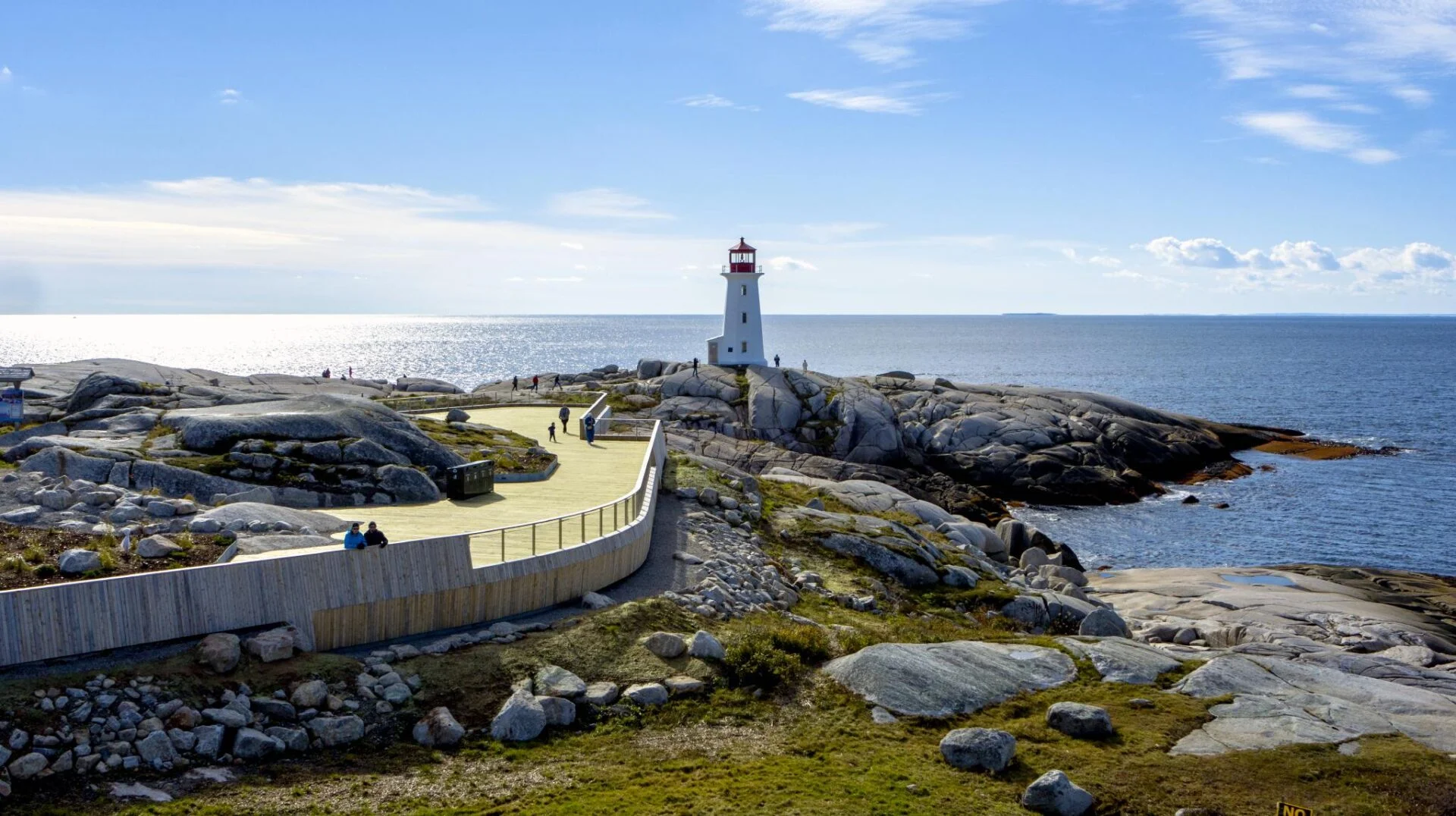 Peggy's Cove is one of the most popular tourist destinations in Nova Scotia, Canada. The small fishing village is home to a picturesque lighthouse, which has become an iconic symbol of the maritime province. But what makes Peggy's Cove so special? The answer lies in its unique history and natural beauty. Peggy's Cove was first settled by a group of English immigrants in the late 18th century. The village quickly became a thriving fishing community, and its harbour was soon teeming with boats. In the early 20th century, Peggy's Cove became a popular destination for artists and photographers. The stunning landscapes and seascapes inspired many famous works of art, and the village soon gained a reputation as a creative haven. Today, Peggy's Cove is beloved by visitors from all over the world. People come to admire the picturesque lighthouse, explore the charming village, and soak up the magical atmosphere. Whether you're looking for inspiration or simply want to escape the hustle and bustle of everyday life, Peggy's Cove is the perfect place to unwind and recharge.
How do I spend my day in Peggy's Cove?
I'll be honest, on our visit to Peggy's Cove we thought we'd be going to snap a few photos of the lighthouse and that would be the extent of our experience while on our Nova Scotia RV road trip. Wow, were we wrong! Upon arrival, we were greeted by a vibrant fishing village. The shops have been transformed into dynamic artist galleries inviting you to come and explore inside. From custom carvings to paintings, maritime crafts, jewellery, and souvenirs, there's a full day worth of shopping that can be done before you even get to the lighthouse!
Dotted in between these iconic shops is a variety of grab-and-go style restaurants, with the lobster roll being one of the region's hot commodities.
After you weave your way through the beautiful city you are welcomed to the iconic lighthouse. Surrounded by granite, Peggy's Cove Lighthouse sits out on the rocks overlooking the stunning scenery. On a warm sunny day it's easy to hang out on the rocks for hours, taking photos, watching the waves come crashing in, and of course, doing a little people-watching while you're there.
We extended our visit by doing a hike across the bay so that we could look back at Peggy's Cove. There are lots of ways to spend your day at Peggy's Cove and you can customize it to suit your interests. But learn from us and give yourself extra time to explore as this experience is so much more than a lighthouse!
Peggys Cove Tours
Peggys Cove Tours – Large Group Tour $99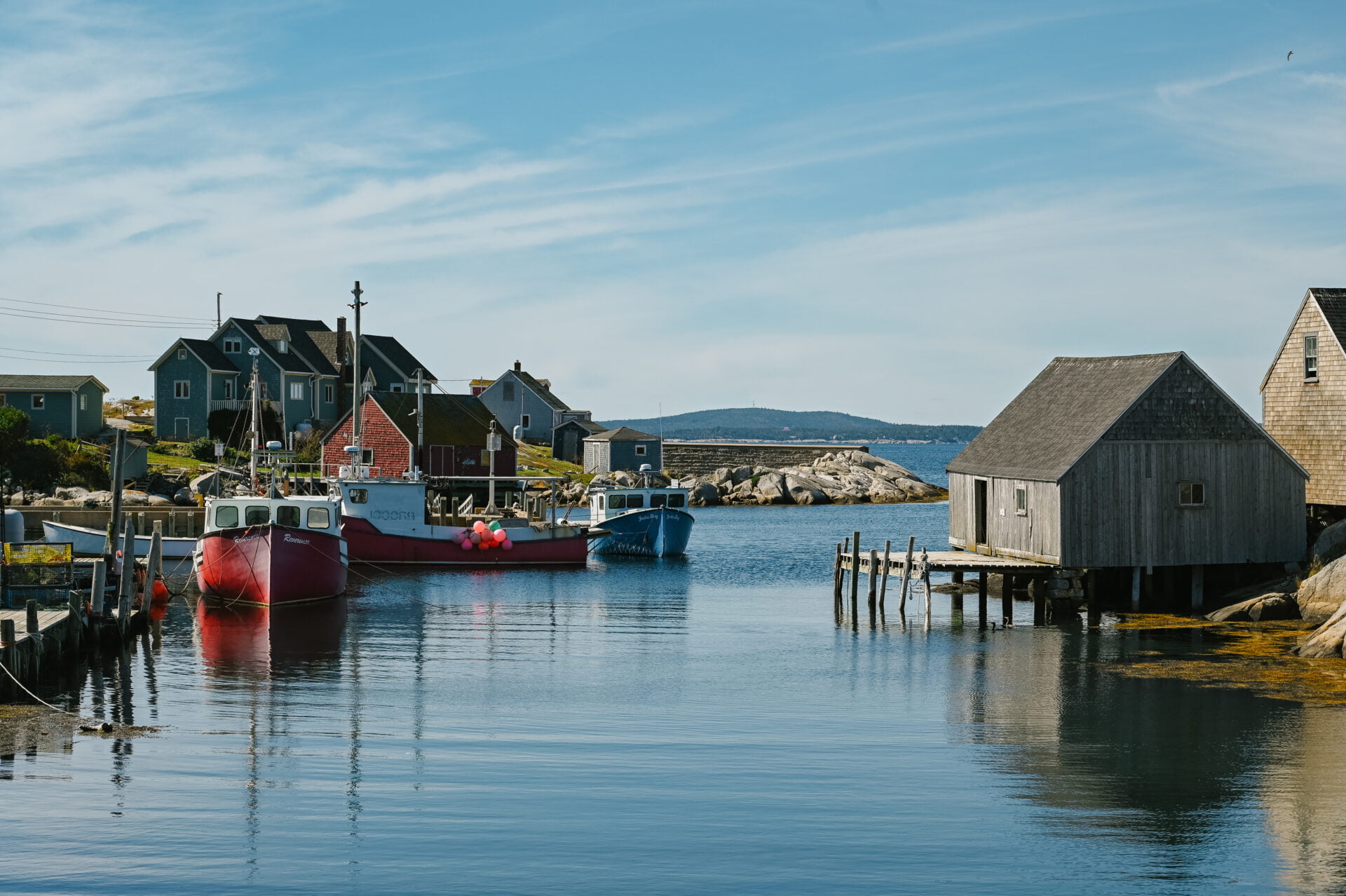 If you're looking for an economical way to travel (and perhaps meet some new friends) hop on board this large tour bus and join the crew on this Peggy's Cove tour. Not only will your tour showcase the unique lighthouse and surrounding community, but you'll get to enjoy seeing many other coastal communities. West Dover, East Dover, Big Lake and Shad Bay, to name a few. Be sure to pack a daypack including the essentials, extra layers of clothing (it's colder on the water) camera and extra batteries]. Be sure to leave room in your pack to pick up some crafts from local artisans!
Click here to book your Peggy's Cove group tour!
Peggys Cove Tours – Small Group Sunset Tour to Peggy's Cove $79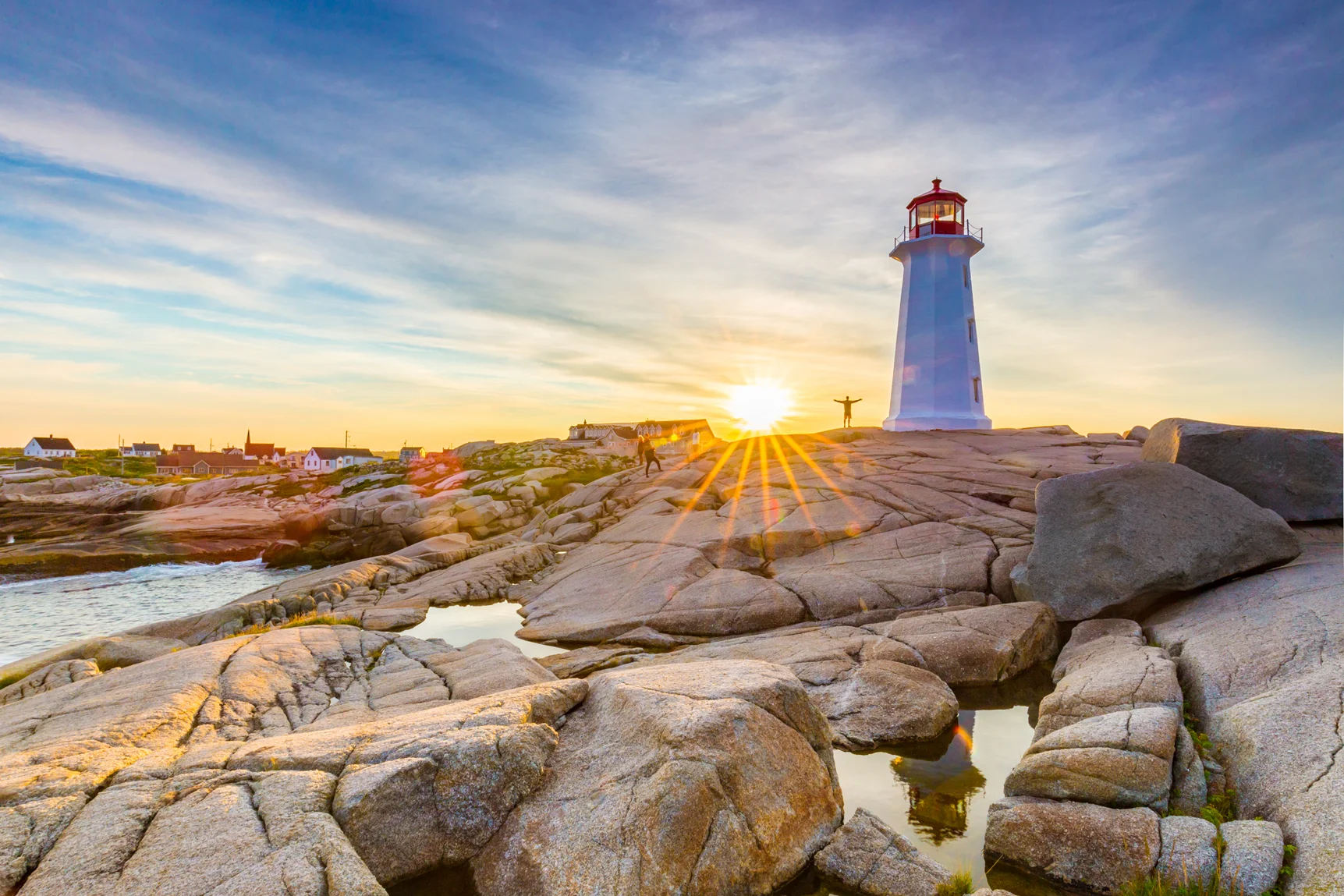 With a max of only 6 guests and a price point of $79, this is a perfect tour for those looking for a smaller and more intimate experience. Your tour starts off at your downtown Halifax hotel where you will get picked up and then head out towards Peggy's Cove. Along the way, you'll enjoy narrated tours with a local guide who will introduce you to not only the infamous lighthouse but many bustling communities and points of interest along the way. Once you're in Peggy's Cove enjoy shopping at one of the artisans or grab something to eat while you watch the sunset. Upon your return to Halifax, you'll get to see the city light up, and catch many iconic points of interest under a different lens.
Click here to book your Peggy's Cove small group sunset tour!
Peggy's Cove and Halifax Tour – $115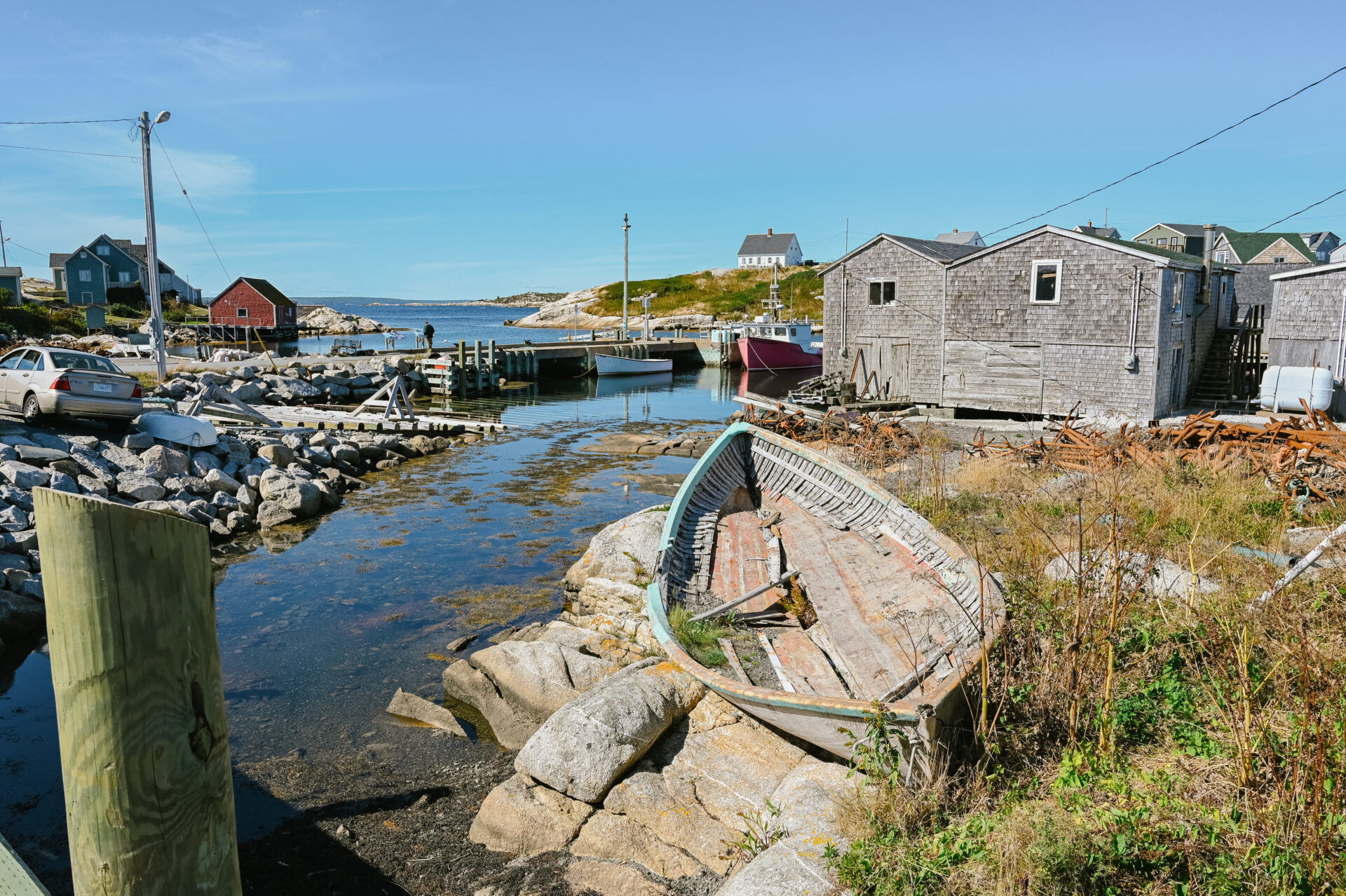 Interested in seeing it all but are limited in time? This Peggy's Cove tour also enables you to tour around some of the most popular spots in Halifax as well as do an extended stop at Peggy's Cove. This guided tour takes you to Pier 21, St. Paul's Church, Halifax Citadel National Historic Site, Fairview Lawn Cemetary, Acadian Maple Products, and if time allows the SS Atlantic Heritage Park. Your guide will introduce you to each of these popular sights, sharing the history and significance that they play in Halifax's history. Admission tickets to each of these attractions are not included, but this tour is more of an introduction and orientation and then if it is something you'd really like to circle back to (I recommend Halifax Citadel National Historic site for sure!) then you can loop back on your own time for a self-guided tour. This all-encompassing tour is a great way to see a lot of Halifax attractions as well as be able to experience the community of Peggy's Cove.
Click here to book your Peggy's Cove and Halifax tour here!
Peggy's Cove and Lunenberg Tour – $450 / group (max. 6 people)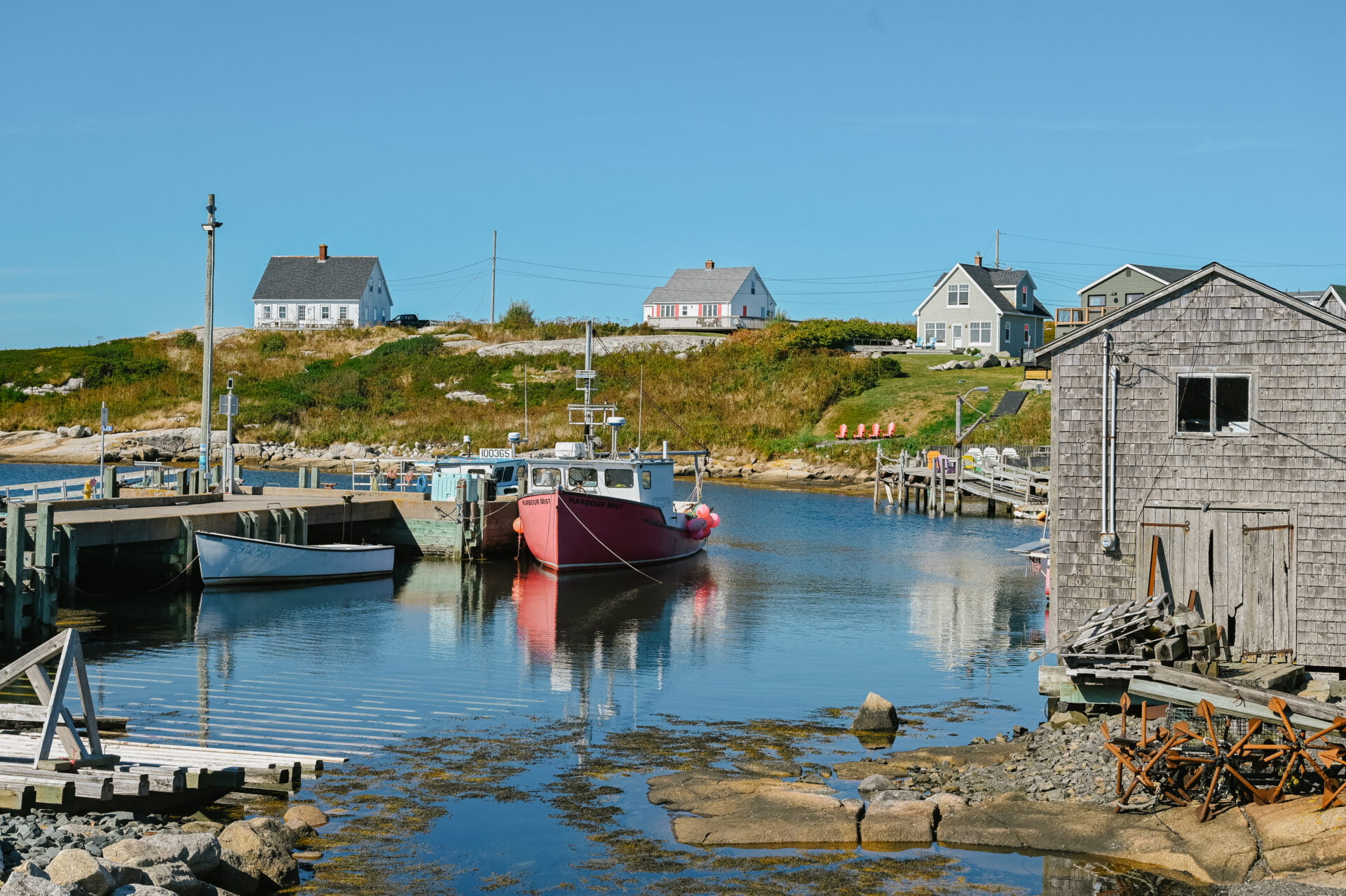 Whether you're coming in on a cruise ship to Halifax or just travelling with a small group of family or friends, this private tour will allow you to see Peggy's Cove and Lunenberg during this 8-hour experience. Local guide Bruce will invite you to his taxi minivan, which can accommodate 6 guests (but 5 will fit more comfortably). Your tour will include Lunenberg, originally settled by German, Swiss and French immigrants in 1753, this cute town is famous for its waterfront, fishing industry, vessel building, and architecture. The next stop is Peggy's Cove, where the original lighthouse that was built in 1868 stands over the fishing village while looking out to St. Margarets's Bay (the one that is there now was built in 1914). You'll enjoy the private tour while you meander through the coastal communities on your way to both of these iconic Canadian destinations. This is a great way to add to your trip to Nova Scotia!
Click here to book your Peggy's Cove and Lunenberg private tour!
Peggys Cove Tours, Mahone Bay, and Lunenberg – $196
Take in all that Nova Scotia's Lighthouse Route has to offer and experience Peggy's Cove, Mahone Bay, and Lunenberg with this group tour. A full 8-hour day will have you stopping at several points of interest to see lighthouses, and fishing villages, meeting with local artisans and of course sampling fresh off-the-dock cuisine. Your guide will share stories that stretch back over 250 years, helping craft Nova Scotia to be the place it is today.
Click here to book your Peggy's Cove, Mahone Bay and Lunenberg group tour!
How do I get from Halifax to Peggy's Cove without a car?
Peggy's Cove Express Tour from Halifax – $60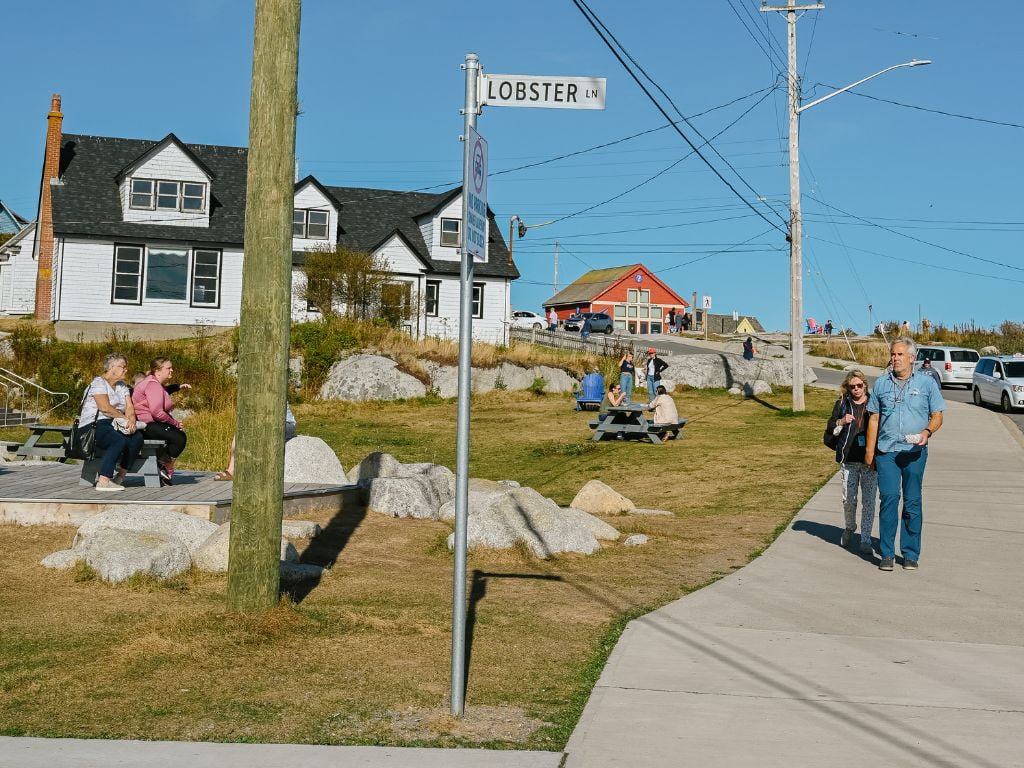 This small group tour is the perfect opportunity for a direct driver/guide to take you to see Canada's iconic lighthouse. Your guide will pick you up at your hotel in downtown Halifax and then take you on a one-hour drive on this Peggys Cove tours. Your guide will share the sights and sounds of Halifax as well as stories while you journey through Peggy's Cove. This 3-hour trip is the perfect option for those looking for an express tour.
Click here to book your Peggy's Cove express tour from Halifax!
Peggys Cove Tours Daytrip from Halifax – Bus Tour $82.81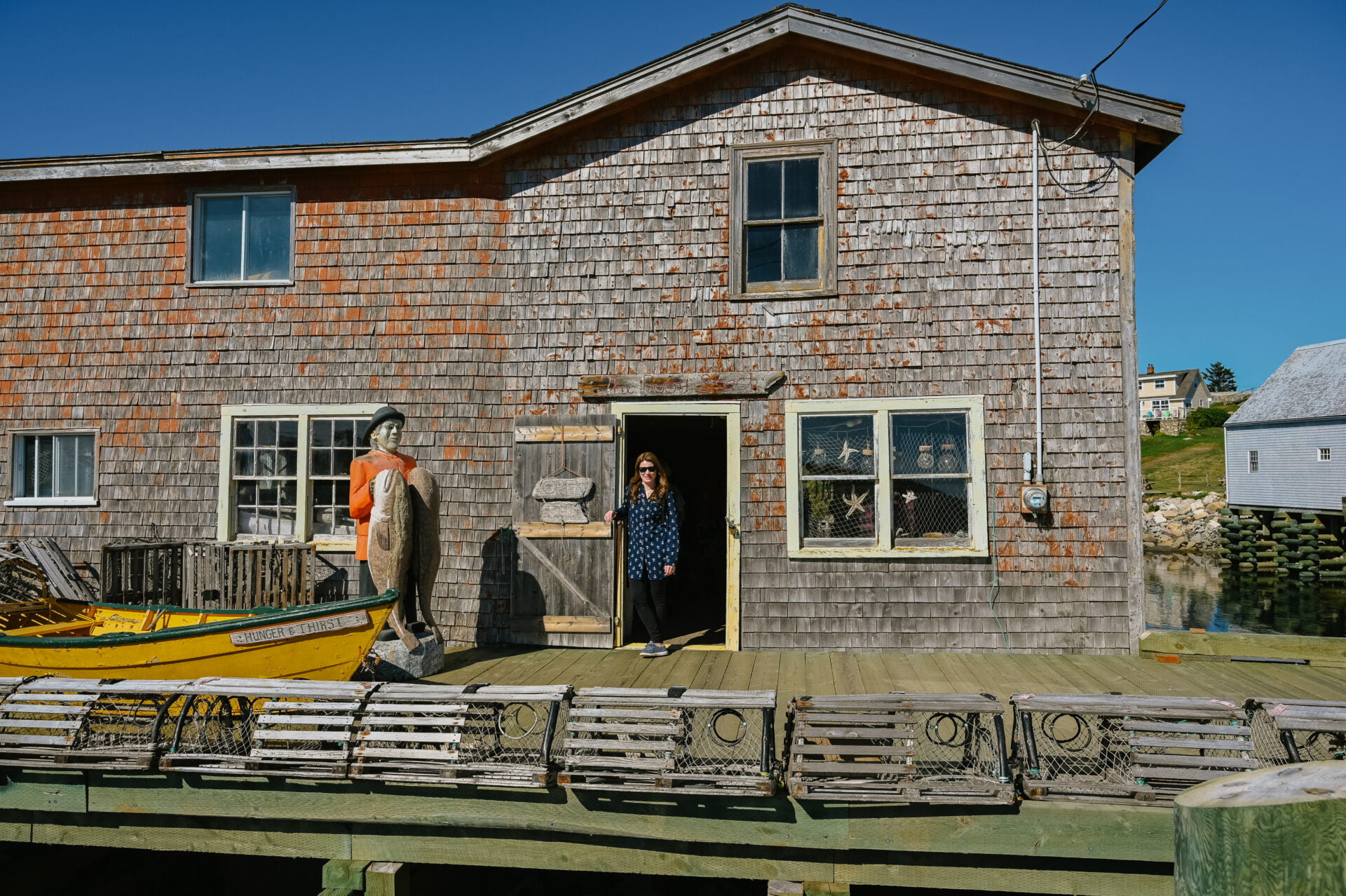 Climb aboard an air-conditioned motorcoach for the drive west to Peggy's Cove, the location of one of Canada's most photographed lighthouses. Your host will share stories along the way, showcasing a variety of places not to be missed and historical points of interest. Once you arrive at Peggy's Cove you'll enjoy free time, allowing you to explore the quaint fishing village at your own pace. Whether you hang out on the rocks and watch the scenery, spend time shopping, explore the art galleries, or grab a lobster roll or sweet treat, there are lots to do while visiting the village.
Click here to book your Peggy's Cove day trip from Halifax!
Other FAQs about Peggy's Cove
Is Peggy's Cove open?
Peggy's Cove is open and ready for visitors! (the only exception is extreme weather where it may not be safe for visitors, at which time the area may be closed). During the peak summer season, Peggy's Cove can get really busy so I recommend visiting during off-peak times, or off-season. We highly recommend going on Peggy's Cove tours so you ensure you see all the best highlights.
Can you go inside the lighthouse at Peggy's Cove?
No, the lighthouse is closed to visitors however that won't take away from your trip to Peggy's Cove as there's a lot to do beyond the lighthouse. Because there is so much besides the lighthouse, we suggest Peggy's Cove tours so that the tour guide can take you to all the best spots.
What is the best time to visit Peggy's Cove?
This really depends on what you'd like to experience. Photographers tend to want to go during the golden hours (sunrise and sunset), whereas others like to plan around having a meal during their visit. Those looking to shop will want to be there when the stores are open, while others would love to avoid the crowds and head there during quieter times.
How long do you need to visit Peggy's Cove?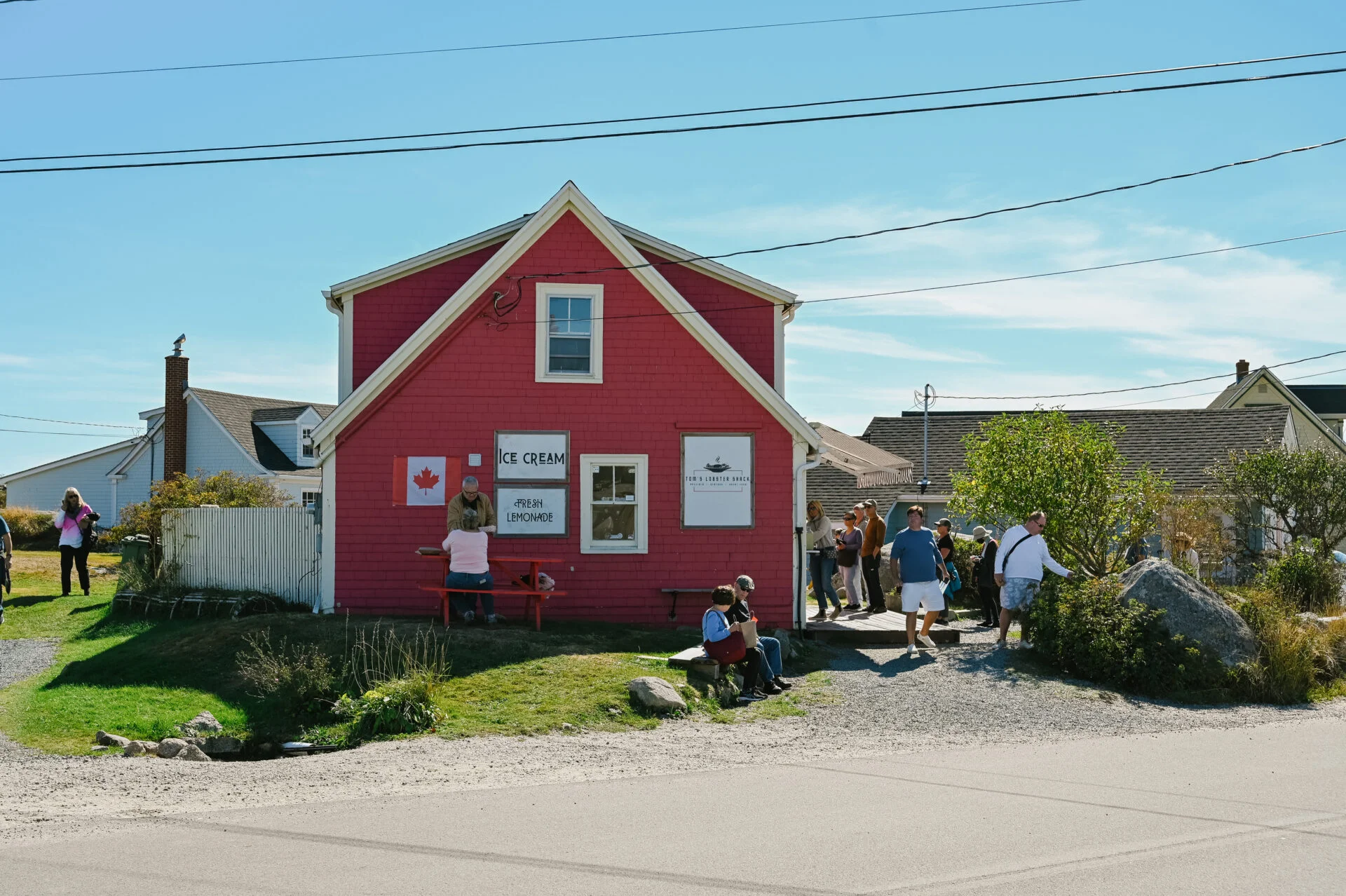 When planning a trip to Peggy's Cove, it's important to factor in how long you want to spend exploring the area. The small village is picturesque and there are plenty of photo opportunities, but it's also worth taking the time to hike the nearby trails and enjoy the stunning views of the coastline. I would recommend going for at least two hours, but more if you're a wanderer (and if the weather forecast is good!). And if you have a full day, I highly suggest booking one of the above Peggys Cove tours for the full experience.
How do I spend my day in Peggy's Cove?
Must-sees include exploring Peggy's Point Lighthouse grounds, visiting the local shops, and enjoying a meal with a view. If you're looking to spend more time in nature, there are several great hiking trails in the area that can be easily accessed from the village.
What is there to see between Peggy's Cove and Halifax?
While Peggy's Cove is "the destination" for many visitors, getting to Peggy's Cove should be incorporated into your travel plans and can easily be done on one of these Peggys Cove tours. With the Eastcoast Lighthouse Way providing world-class views, you'll be driving through incredibly scenic small towns, that would love to welcome you in to stop and explore. From a snack stop at one of the charming cafes or bakeries to meet up with the locals, or a made-to-order lunch for your own oceanside picnic, to renting bicycles to explore the area off the beaten path, this area is one that isn't meant to be driven through, like a cup of good tea, sip and savour your experience. To learn more about our recommended stops and the best places to stop on the way to Peggy's Cove visit this link.
---
Looking for more Halifax adventures? Check out these articles: