The warm breeze off the Atlantic sea gently guides you down the boardwalk welcoming you to slow down, embrace your surroundings, and absorb the sights and sounds that are uniquely found in Halifax. The warm hospitality of the east coast not only lies in the sandy shores but in each Nova Scotian that greets you along the way. The combination of the wonderful people and the unique land make Halifax the perfect place for you to go on a Halifax road trip RV adventure.
Halifax is located in the center of Nova Scotia and is a city that should be explored slowly and with intention. This vibrant east coast city is home to stunning architecture, rich history, and plenty of outdoor activities to enjoy. Whether you're visiting Halifax for the first time or you've been before, we've put together a Halifax road trip guide to help you make the most of your time in this unique Canadian city!
Halifax Road Trip Itinerary
The Halifax Regional Municipality (HRM) is a great place to explore via RV. Not only will you be able to see everything the HRM has to offer at your own pace, but you'll also be able to extend the positive impact of your tourism dollar by spending more time in the region. When you travel slowly and intentionally, you have the opportunity to connect with the local community in a way that isn't possible when you're just passing through. You can learn about the history and culture of the HRM, and get a true taste of what it's like to live there. In addition, by spending more time in the region, you'll be supporting local businesses and creators.
Halifax Road Trip Guide
In support of slow and intentional travel, my daughter and I had a CanaDream RV rental for the week and spent the time exploring 4 different regions within the HRM, including Halifax City, Dartmouth, Eastern Passage, Bedford/Sackville as well as a day trip to Peggy's Cove. This Halifax road trip guide will showcase the highlights from each region as well as provide you with links to where you can find out more about what to explore and where.
Halifax Area
A great first stop when visiting Halifax is the downtown business area. This area of the city is walkable and all of the major attractions are easily accessible. While we had our RV we opted to park it in the closest big box parking lot and take an uber downtown for the day so we didn't have to navigate a tight downtown core while trying to find parking with the bigger vehicle.
Here are our top recommendations for what to see in Halifax:
Halifax Harbour Tour
The most magical way to orient yourself to the city is to see Halifax from the water. Captain Colin and his crew invite you to climb aboard the Violet Mac for an adventure of a lifetime, Halifax's favourite harbour tour. The Violet Mac (named after Colin's Mom) is an all-electric, environmentally-friendly, 1930s-style harbour launch that can carry up to eight passengers. This small ship experience will allow you to hear stories from the captain and the crew while you enjoy your customized tour. Be sure to ask Captain Colin about the history of the Violet Mac, as she's been on adventures around the world!
The highlight of the tour for me was seeing Halifax from the water and taking hundreds of photographs of the beautiful Canadian city. My daughter was enthralled with the storytelling, especially the story about the Halifax explosion in 1917.
But the best part of the Halifax Harbour tour is that the local marine wildlife loves the whisper-quiet electric motors. So, you are sure to see some birds, mammals, and other aquatic life in the harbour during your tour, getting a closer look when compared to bigger non-electric boats.
This small ship eco experience is a great way to support the local economy, be environmentally friendly, and create a unique way for you to immerse yourself in the destination you're visiting without leaving a negative environmental impact.
Click here for a full article showcasing our experience on the water.
Pier 21
Pier 21 is a place of hope, freedom, and opportunity. For nearly a century, this ocean liner terminal welcomed millions of immigrants to Canada. Today, it is home to the Canadian Museum of Immigration at Pier 21 which tells the stories of those who journeyed to this country in search of a better life. Visitors to Pier 21 can explore the museum at their own pace, learning about the immigrant experience through interactive exhibits and personal anecdotes. We loved being able to head down to the library where they were able to pull my grandfather's records, including the manifest from the boat that he sailed over from and stories of what life was like after landing.
It was very surreal to stand in the same doors my ancestors had walked through. Whether you are looking to learn about Canadian history or simply want to enjoy a unique museum experience, Pier 21 is sure to impress.
Click here for more information and to plan your visit to the Canadian Museum of Immigration at Pier 21.
Citadel
The Halifax Citadel National Historic Site is located in the heart of Halifax, Nova Scotia. Visitors can explore the fortifications, visit the museum, and take part in living history programs. The Halifax Citadel was built in 1749 and served as an important military stronghold for over 150 years. Today, the Halifax Citadel is operated by Parks Canada and is open to the public year-round. Visitors can explore the extensive network of tunnels, bunkers, and artillery batteries, and learn about the military history of Halifax. The Halifax Citadel is also home to a living history program, which offers visitors a unique opportunity to experience what life was like in a 19th-century fortification (watch for the soldiers marching across the gravel). With its rich history and variety of activities, the Halifax Citadel is an excellent place to explore Halifax's past and look out over the city's future.
Click here for more information and to plan your visit to the Halifax Citadel National Historic Site.
Halifax Boardwalk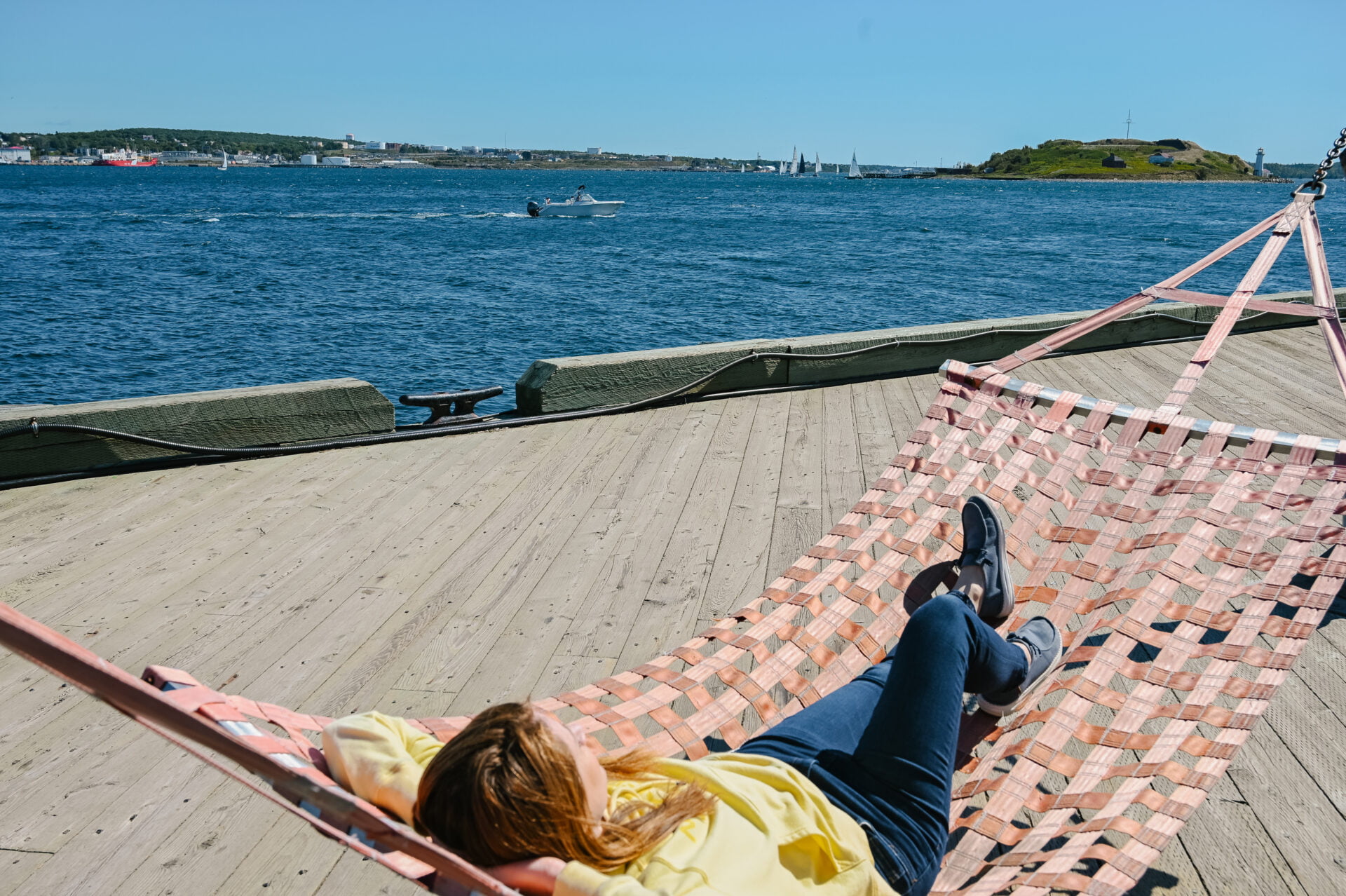 A trip to Halifax wouldn't be complete without a stroll (or two) along the Halifax boardwalk, so be sure to add this stop to your Halifax road trip plan. Stretching for over four kilometres along the waterfront, the boardwalk is home to a variety of shops, restaurants, and cafes. Visitors can also enjoy live music, street performers, and panoramic views of the harbour. Or you can slow down your stroll and stop and enjoy one of the hundreds of "rest stops" along the way, such as the hammocks, Adirondack chairs, or oceanside benches. The theme is to take your time and embrace your surroundings to their fullest potential.
The boardwalk is also a great place to people-watch, as it is often crowded with locals and tourists alike (and some of the world's cutest dogs!). In addition to being a popular destination for leisurely strolls, the boardwalk is also a bustling hub of activity for joggers, cyclists, and inline skaters. So whether you're looking to relax, eat, shop, or get active, the Halifax Boardwalk is sure to have something for everyone.
Is Halifax a walkable city?
One of the best ways to explore Halifax is on foot. The downtown area is very compact and easy to navigate, and there are plenty of parks and green spaces to enjoy. Additionally, the city has created a number of walking trails that wind their way through some of Halifax's most popular attractions, and hubs like the waterfront are ever-evolving. Be sure to take comfortable walking shoes and expect to get lots of steps in!
Click here for more information and to plan your visit to the Halifax waterfront and boardwalk experience.
Halifax Maritime Museum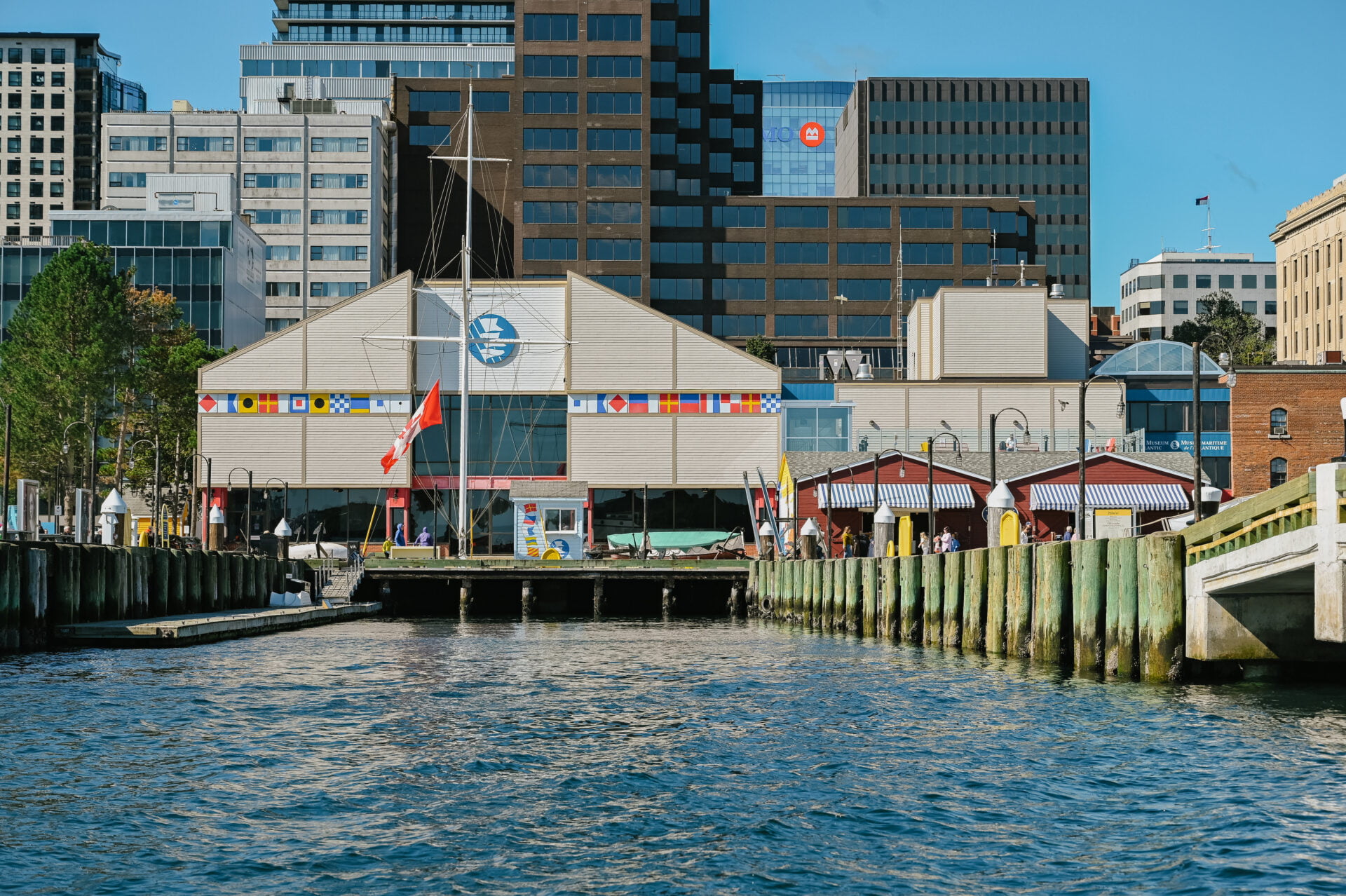 My daughter is a history enthusiast and passionate about the Titanic, so one of our first stops on our Halifax road trip had to be to the Titanic Exhibit at the Maritime Museum of the Atlantic. Located on the waterfront in downtown Halifax, the museum is one of the most popular tourist attractions in the city. With a variety of exhibitions, boat models, artwork, artifacts and interactive displays, the waterside museum does an excellent job of showcasing the province's long history and deep maritime roots.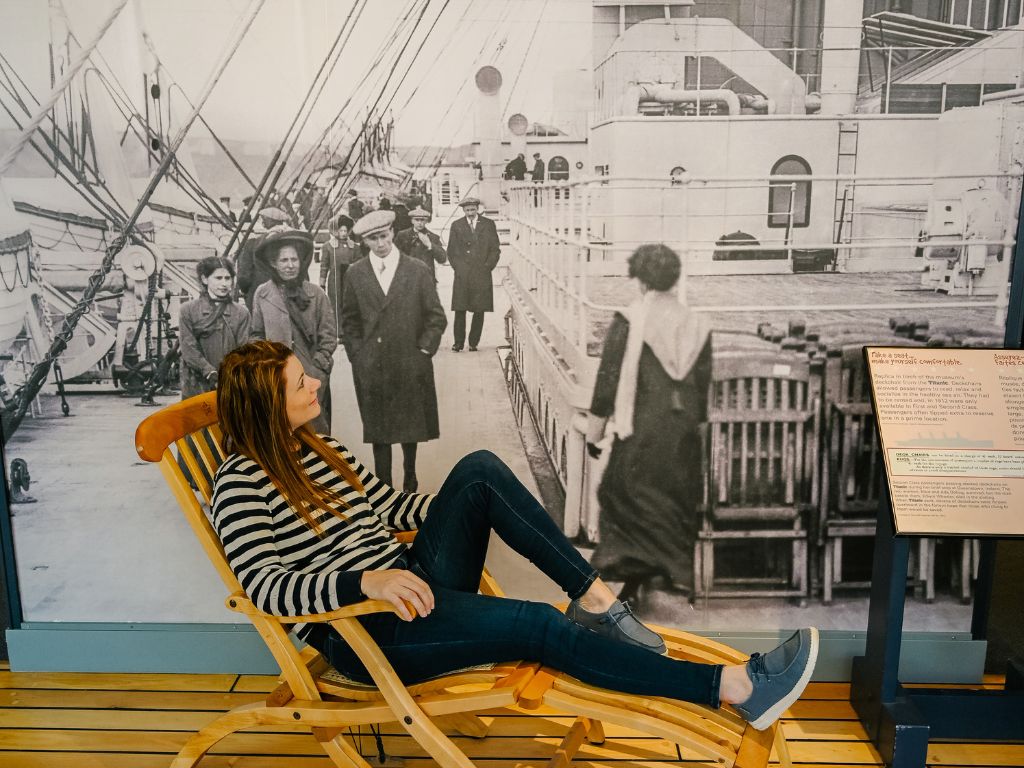 The small Titanic exhibit hosts the largest collection of wooden artifacts from the ill-fated ship. Being able to see recovered artifacts and have them showcased next to iconic images from the popular film helped connect the items we were looking at to the stories that they told. Earlier in the year, we visited Belfast's Titanic Museum, so it was very interesting to see the story being told from the locals' experience, which happened on the other side of the Atlantic.
Click here for more information and to plan your visit to the Maritime Museum of the Atlantic.
Museum of Natural History
The Museum of Natural History in Halifax, Nova Scotia is a great place to learn about the natural history of the area, with many surprises awaiting you, while showcasing history you wouldn't expect to see on an island. The museum is home to Gus, a 100-year-old Gopher Tortoise, who is very popular with visitors. On sunny days you can join him for a walk outside in the backyard, and on rainy days (like when we were there) he roams around, finding his favourite spots and taking visitors for a walk!
While there you can also learn about the different types of rocks and minerals found in the area, as well as the plants and animals that live there… like the Mastodon! The museum is also a great place to see some of the local wildlife, including birds, squirrels, and rabbits. The staff at the museum are very knowledgeable and passionate about the natural history of the area, and they are always happy to answer any questions that visitors may have. Overall, the Museum of Natural History in Halifax is a great place to learn about the local flora and fauna. Gus, the resident tortoise, was our favourite highlight, but there are many other interesting things to see and learn about at the museum, so be sure to add this as a stop on your Halifax road trip.
Click here for more information and to plan your visit to the Museum of Natural History.
How many days do you need to see Halifax?
Halifax is a bustling city with plenty to see and do. While you could easily spend a week (or more) here, you could also get a taste of the city in just a few days. If you're short on time, start with the boat tour of the historic Halifax waterfront. Then head to the Citadel, an 18th-century fort overlooking the city. Don't miss the Maritime Museum of the Atlantic, which chronicles Halifax's rich maritime history. You should also take some time to explore Halifax's vibrant art scene. Check out the Art Gallery of Nova Scotia, or wander through one of the city's many art galleries and public art installations. And no visit to Halifax is complete without a trip to Peggy's Cove, a picturesque fishing village about an hour outside of the city. With its rich history, diverse culture, and natural beauty, Halifax has something for everyone – and three days is just enough time to scratch the surface.
Do you need a car to get around Halifax?
No, you don't need a car to get around Halifax. There are plenty of other ways to get around, including walking, biking, taking the bus, and hailing a cab. Plus, Halifax is a small city, so it's easy to get around on foot or by bike. And if you do need to go further than walking or biking can take you, the bus system is reliable and affordable. So whether you're exploring Halifax for the first time or just trying to avoid parking fees, or parking your big RV, know that you can get around just fine without a car.
Camping in Halifax – Closest Campground To Halifax
While we were visiting Halifax we based ourselves out of the KOA Halifax, only a 30-minute drive out of the downtown core. This top-rated RV park offers everything you need for a comfortable and enjoyable stay, including full hookups, laundry facilities, and a heated pool (open seasonally). Plus it has a ton of other activities for everyone from canoeing, basketball, movie nights, concerts, arcades, and more. It is a great base camp for your Halifax road trip.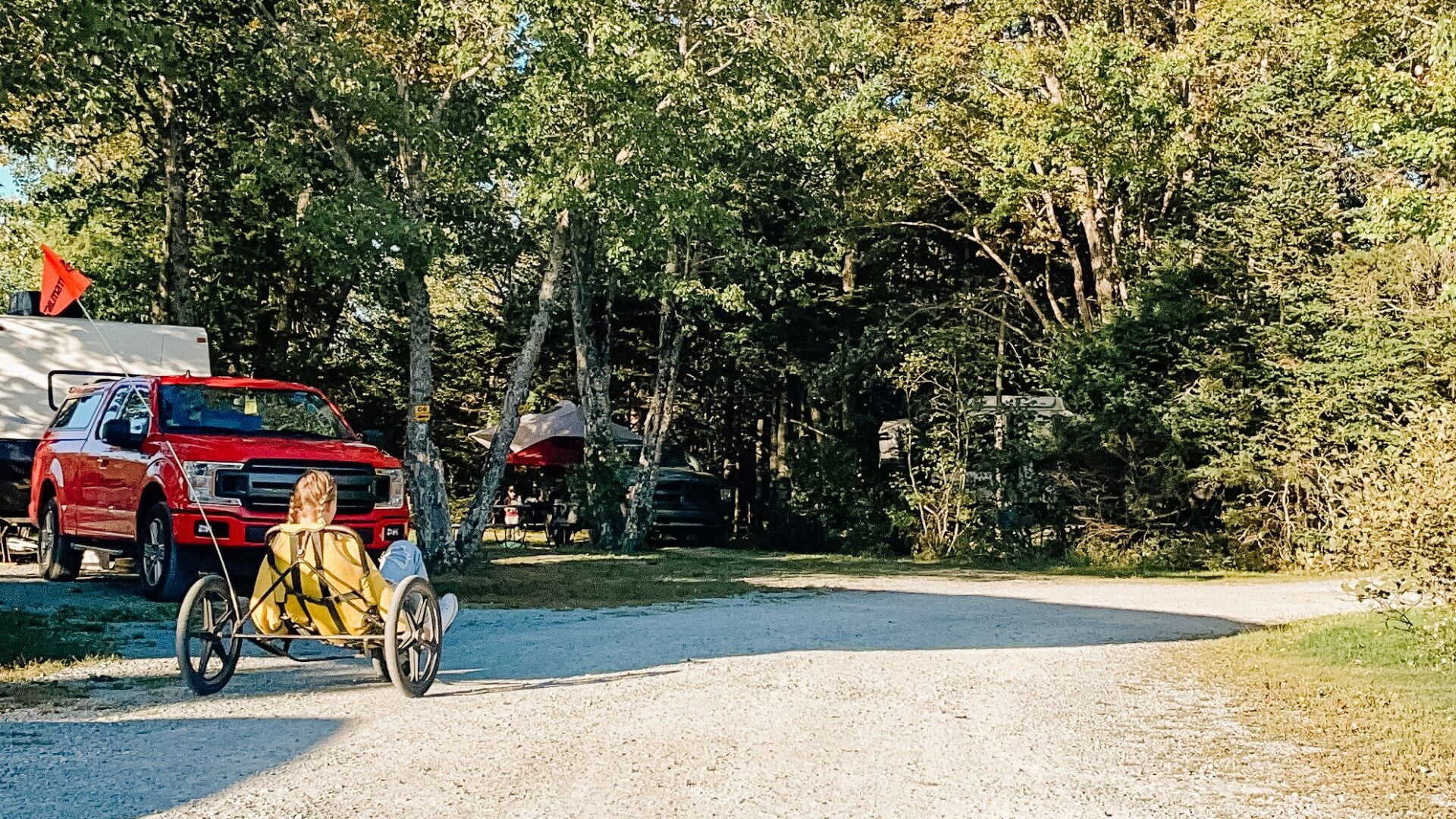 Our favourite part was the "kite bikes" which we rented for $3 for 30 minutes and had us racing around the park laughing and having so much fun (it's harder than it looks and takes a while to get the hang of!)
Click here for more information and to book your camping spot at the Halifax West KOA.
Where to Park an RV in Halifax
For simplicity's sake, we parked our RV at the Halifax Shopping Centre Annex, allowing us to take a quick 13-minute Uber ride to the downtown core and not have to navigate the city (or the bridge tolls).
Dartmouth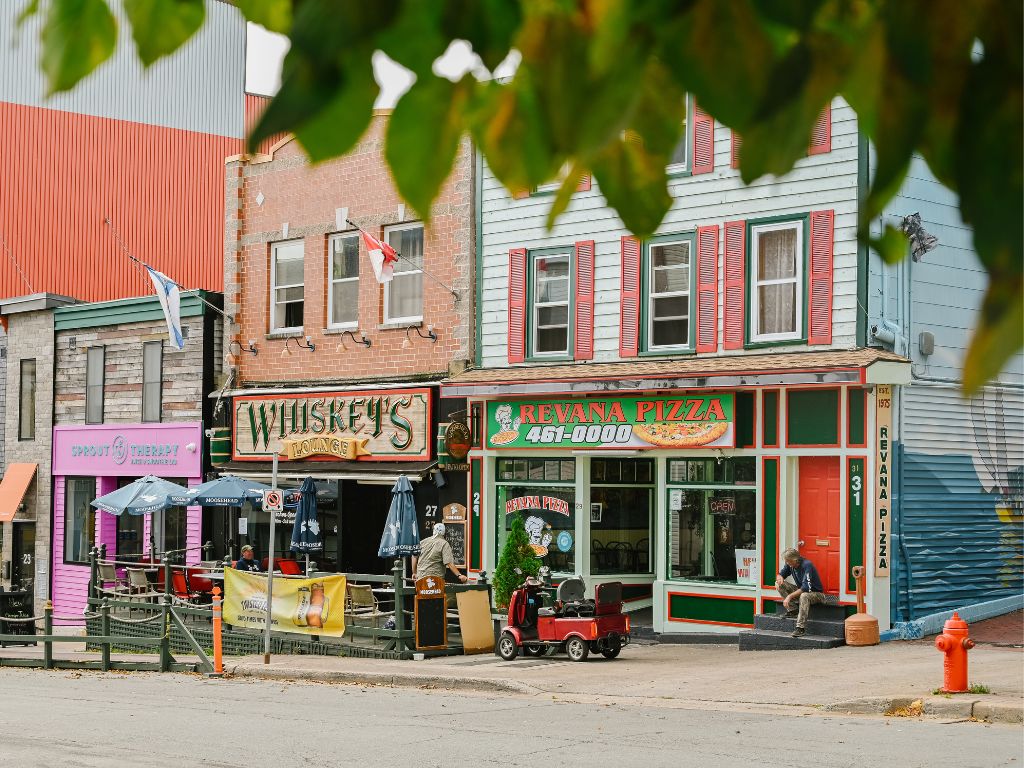 Located directly across the Halifax harbour, Dartmouth offers more than just incredible views of the Halifax skyline. At the ferry terminal, there is a hub of activity to welcome guests including the World Peace Park, an indoor farmers market, a touch tank to connect with the authentic locals, and more. Outside the ferry terminal, there's a variety of shops and restaurants, making it the perfect place to spend a day or two exploring. If you're after adventure there's a variety of local parks inviting you inland to explore via hike, bike, or canoe! Here's a list of top things to do in Dartmouth that we recommend you check out while on your Halifax road trip!
Kayaking in Shubie Park, Dartmouth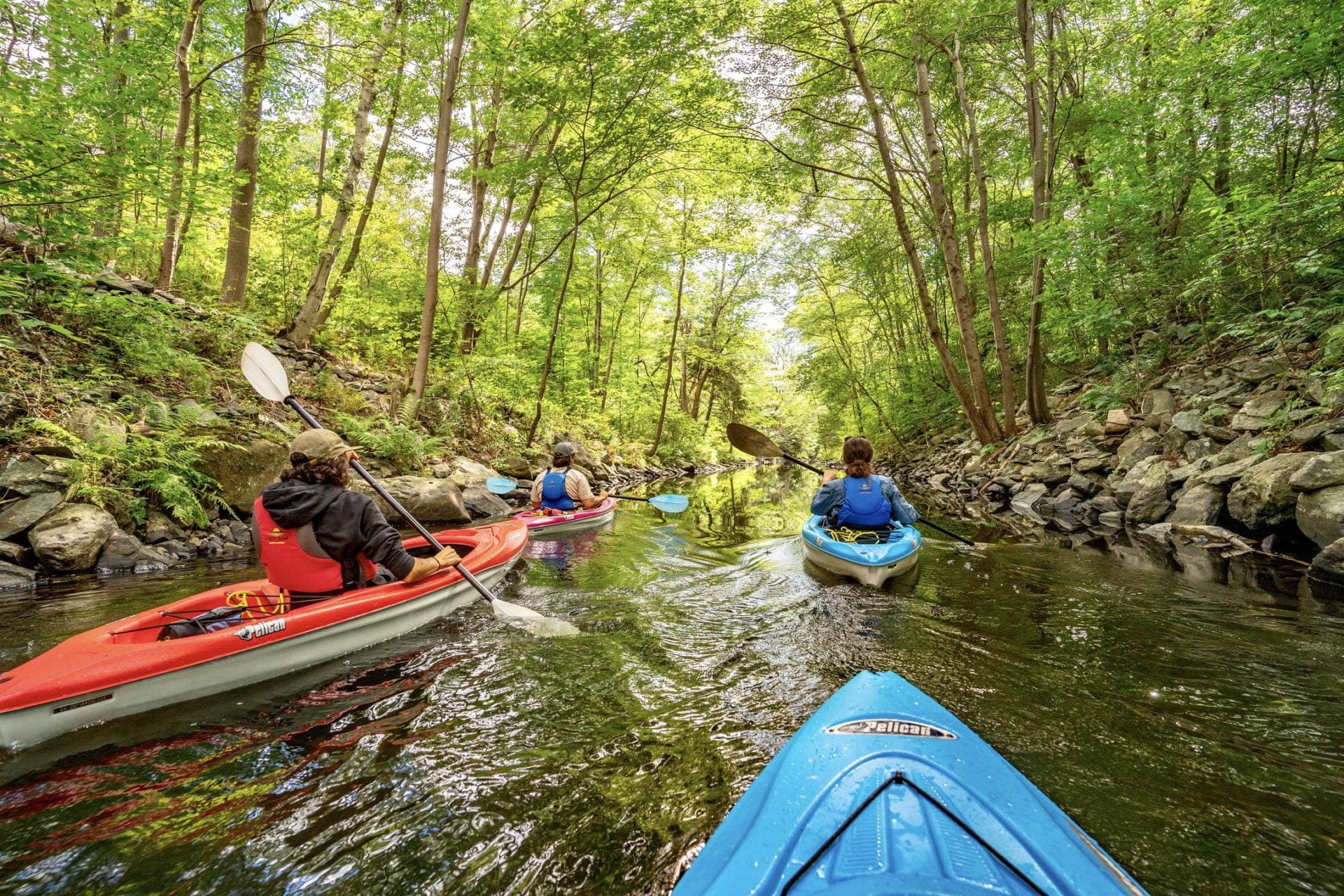 Kayaking in Shubie Park in Dartmouth, Nova Scotia is an adventure you won't soon forget. Paddle through glassy waters flanked by towering trees, and keep your eyes peeled for wildlife like turtles, beavers, and ducks. Take a break on one of the many pullouts, or continue exploring the park post-paddle by going for a hike in the woods. With over 40 acres to explore, you could spend days getting lost in nature. And when you're ready to head back to civilization, Shubie Park is only a short drive from Downtown Dartmouth. So whether you're looking for a relaxing day on the water or an exciting adventure, Shubie Park is the perfect place to canoe in Nova Scotia. Click here to read 21 outdoor adventures to explore in Dartmouth.
World Peace Pavilion at Ferry Terminal Park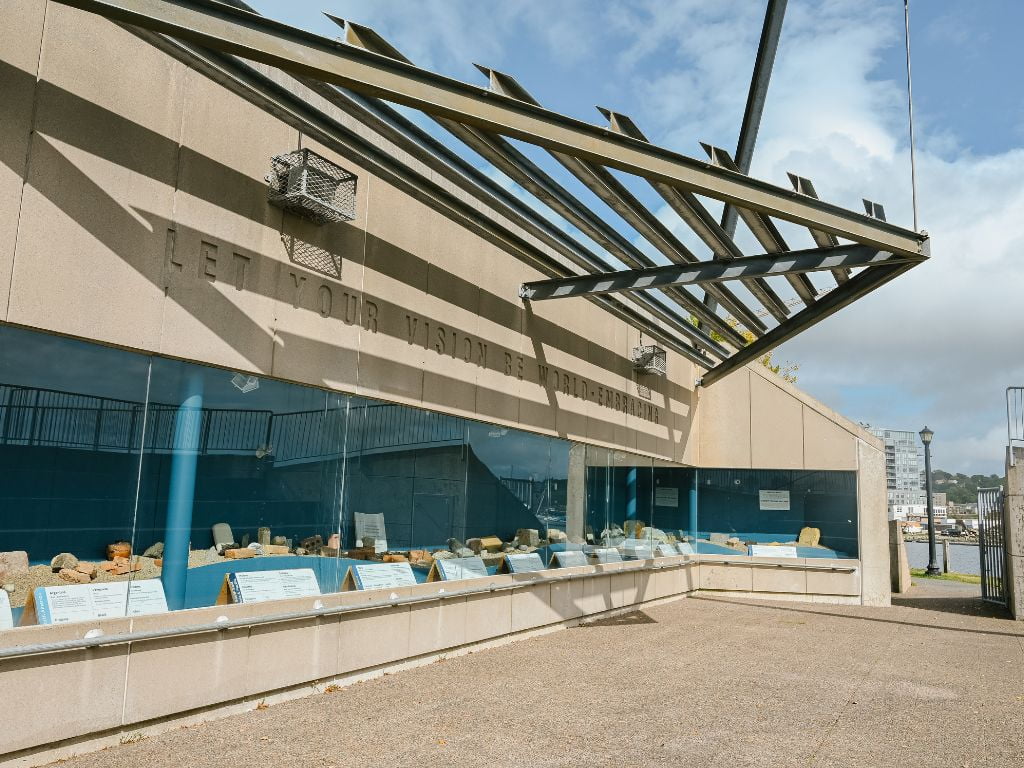 Whether you take the ferry over from the Halifax side of the city or drive up to the Ferry Terminal, a walk over to The World Peace Pavilion is an interesting spot to stop during your Halifax road trip. The idea for the World Peace Pavilion started with the Metro Youth for Global Unity in Dartmouth, Nova Scotia. Over six years this diverse group of leaders sent letters to countries all around the world asking for donations to their peace pavilion. "A rock from the earth we all share, and a brick for the ability to shape our future". The result was a pavilion that was created to display over 100 donations from 70 countries around the world. Some of the most unique items included a chunk from the Great Wall of China, remains from the Berlin Wall, and precious gems such as amethyst from Uruguay were also gifted.
Opened in 1995, the Peace Pavilion now sits overlooking the downtown skyline and is a unique architectural structure that is one of 25 peace pavilions found worldwide. Above the display is engraved, "Let your vision be world embracing" a powerful inspirational quote to guide us all.
Taz Records, Dartmouth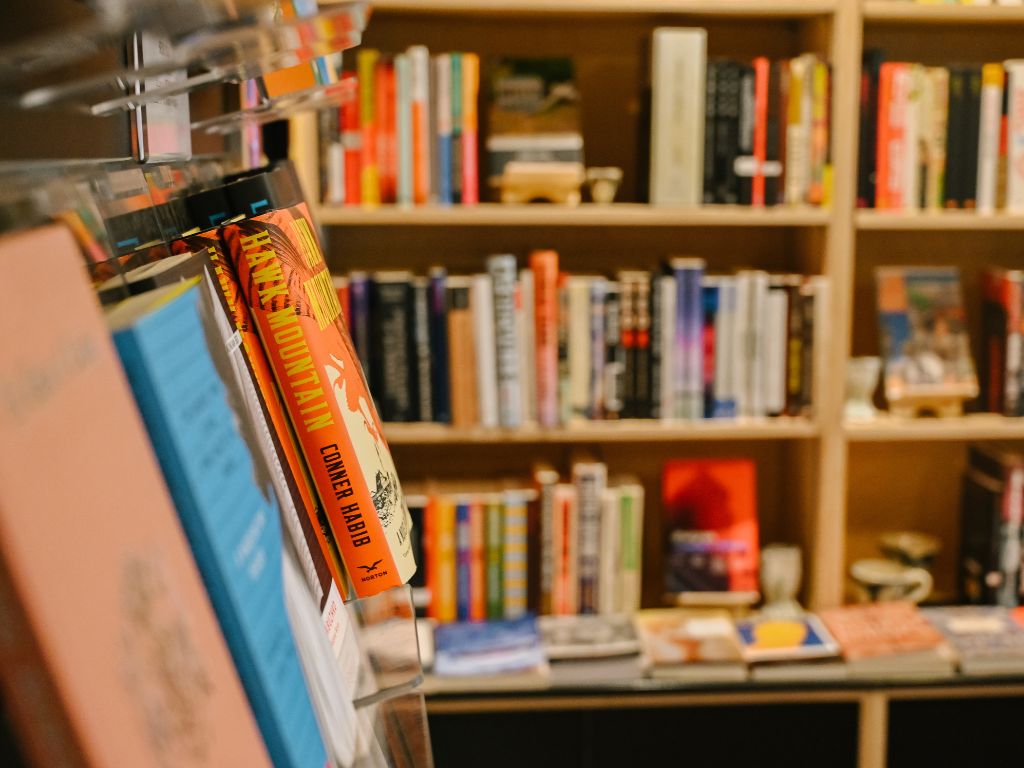 Taz Records is a unique one-of-a-kind local record store/coffee shop/book store in Dartmouth, one of three locations around Halifax. Between the three stores, they have over 30,000 records, and sell new and used music on vinyl, cassette, and CD. The Dartmouth location has a local vibe, where you can pair your record shopping with a cup of joe, and also pick up some great new or used books while visiting during your Halifax road trip. Stopping at Taz Records is an experience, not your ordinary shopping trip.
Back To The Sea Society Touch Tank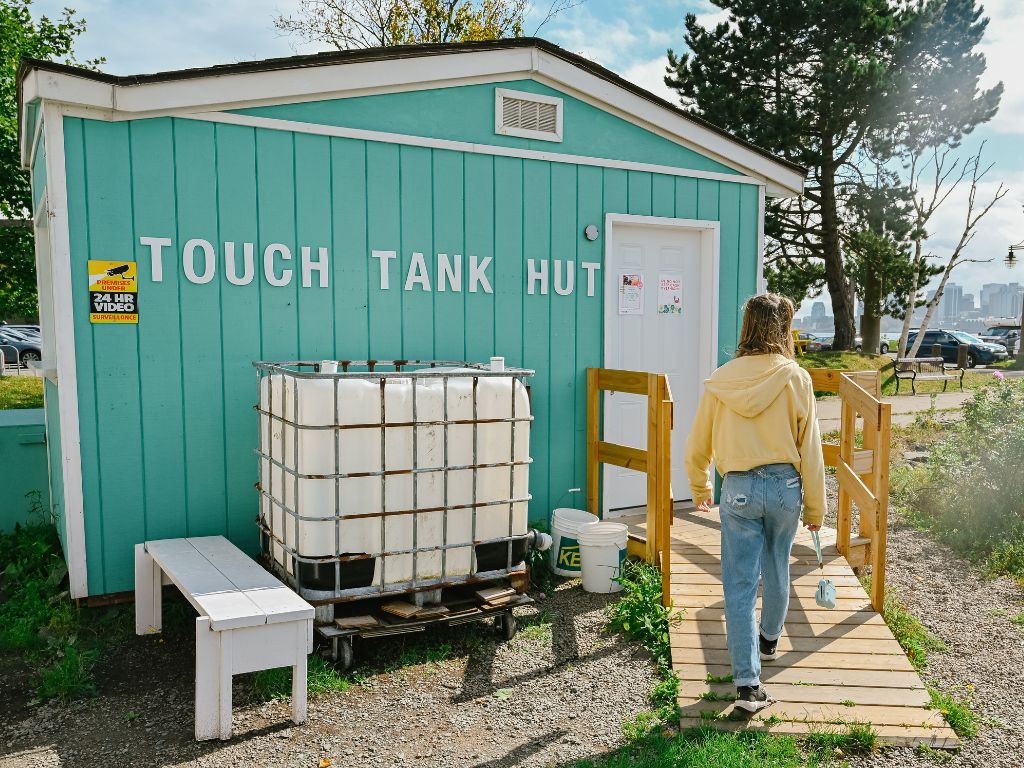 The Back To The Sea Society touch tank is a unique educational "Community Aquarium" experience located on the Dartmouth waterfront, next to the ferry terminal. Community Aquariums are alternative marine education centres that spark inspiration for ocean protection. The touch tank offers a hands-on experience by displaying smaller, local, shallow-dwelling animals, which strive to minimize the impact on the ocean environment.
Opened in 2017, the Back To The Sea Society touch tank is open seasonally for visitors to connect with the ocean and learn more about conservation and marine biology. The Back To The Sea Society has a long-term goal of opening an aquarium in 2025. If you're interested in visiting please note it is primarily open from May to October. For a list of 21 things to do in Dartmouth click here.
Click here for more information about the Back To The Sea Society and to plan your trip to the touch tank experience.
Alderney Landing Farmers Market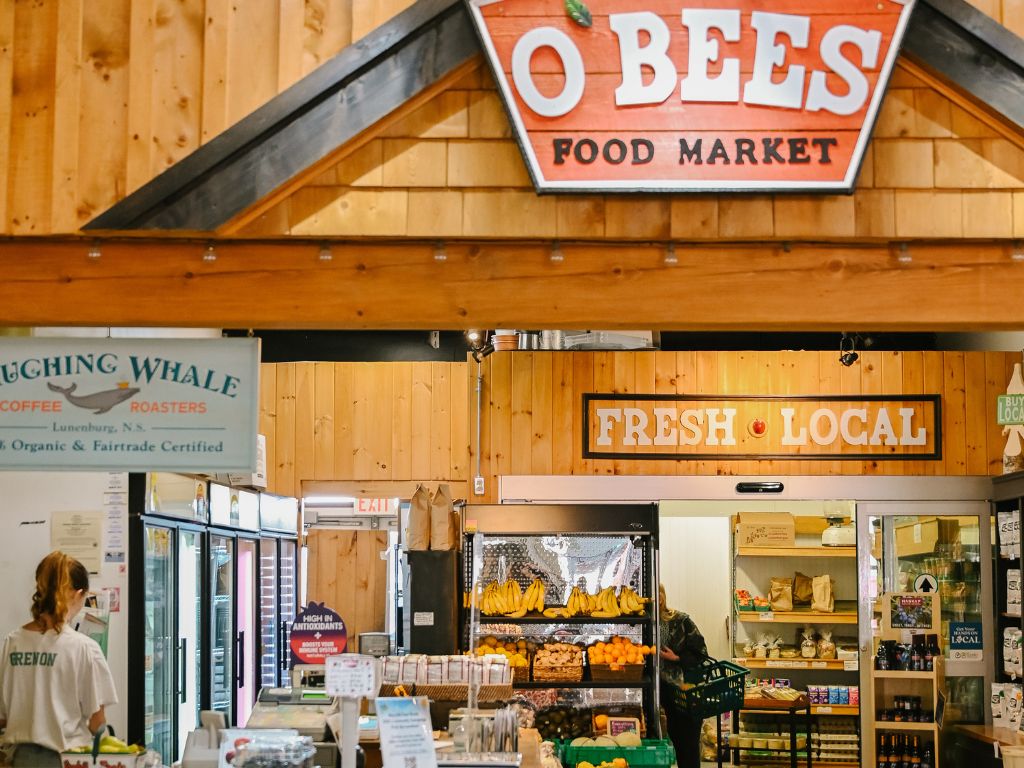 The Alderney Landing Farmers Market, located in the Ferry Terminal building, is a hub for community connections and local market-style shopping, all looking out over the downtown Halifax waterfront. The market is open seven days a week, with pop-up stores opening on their own schedule. You can shop for fresh fruits and vegetables, seafood, baked goods, flowers, and more. There is also a craft market with artisans selling jewellery, pottery, and other handmade items. In addition to the market, Alderney Landing hosts weekly concerts and festivals throughout the summer months, a great way to further explore this amazing community experience while on your Halifax road trip.
Click here for more information and to plan your visit to the Alderney Landing Farmers Market.
Best Campground in Dartmouth
If you're looking for an adventure in the great outdoors and the perfect place to explore from, look no further than the Shubie Campground. Located just ten minutes from the shore in Dartmouth, it is the closest campground to Downtown Halifax. Once you've parked your RV for the day you aren't stuck in the campground, as this location allows you to access a variety of ways to continue exploring. Whether you jump on public transit, grab an Uber or a bike, you can leave your RV at the park and head out exploring from this great location. Anywhere you want to explore is just minutes away.
This campground offers plenty of activities for nature lovers of all ages, as it is nestled next to beautiful Lake Charles and a 75-acre park. Take a dip in the lake to cool off on a hot summer day, or explore the hiking trails that wind through the park. If you're feeling really adventurous, you can even rent a canoe or kayak and paddle your way down the streams or out onto the lake. On-site guests can enjoy a variety of amenities including a tennis court, playground, playing fields, and gardens, not to mention all the fun on-site camping things you can enjoy (did someone say ''s'mores"?). With "the best staff you'll find anywhere" and immaculate facilities, this campground is the best basecamp for your Halifax road trip adventures. Whatever you do, you're sure to have a memorable experience at Shubie Park Campground.
Click here for more information and to book your campsite at the Shubie Park Campground.
Eastern Passage
The Eastern Passage is a beautiful and popular tourist destination in Nova Scotia, located only an hour outside of Halifax's downtown core. Visitors can enjoy stunning views of the Atlantic Ocean and visit a variety of beaches. Hiking, biking, and camping are also plentiful in the many parks and nature reserves in the area. The area is also home to a variety of wildlife, including moose, deer, and bears, as well as it being a bird watchers' paradise. In addition, the Eastern Passage is a great place to enjoy fresh seafood, with many restaurants and markets offering a wide variety of local catches. Whether you're looking for a relaxing vacation or an exciting adventure, the Eastern Passage has something to offer everyone, so be sure to add it to your Halifax road trip itinerary.
Cow Bay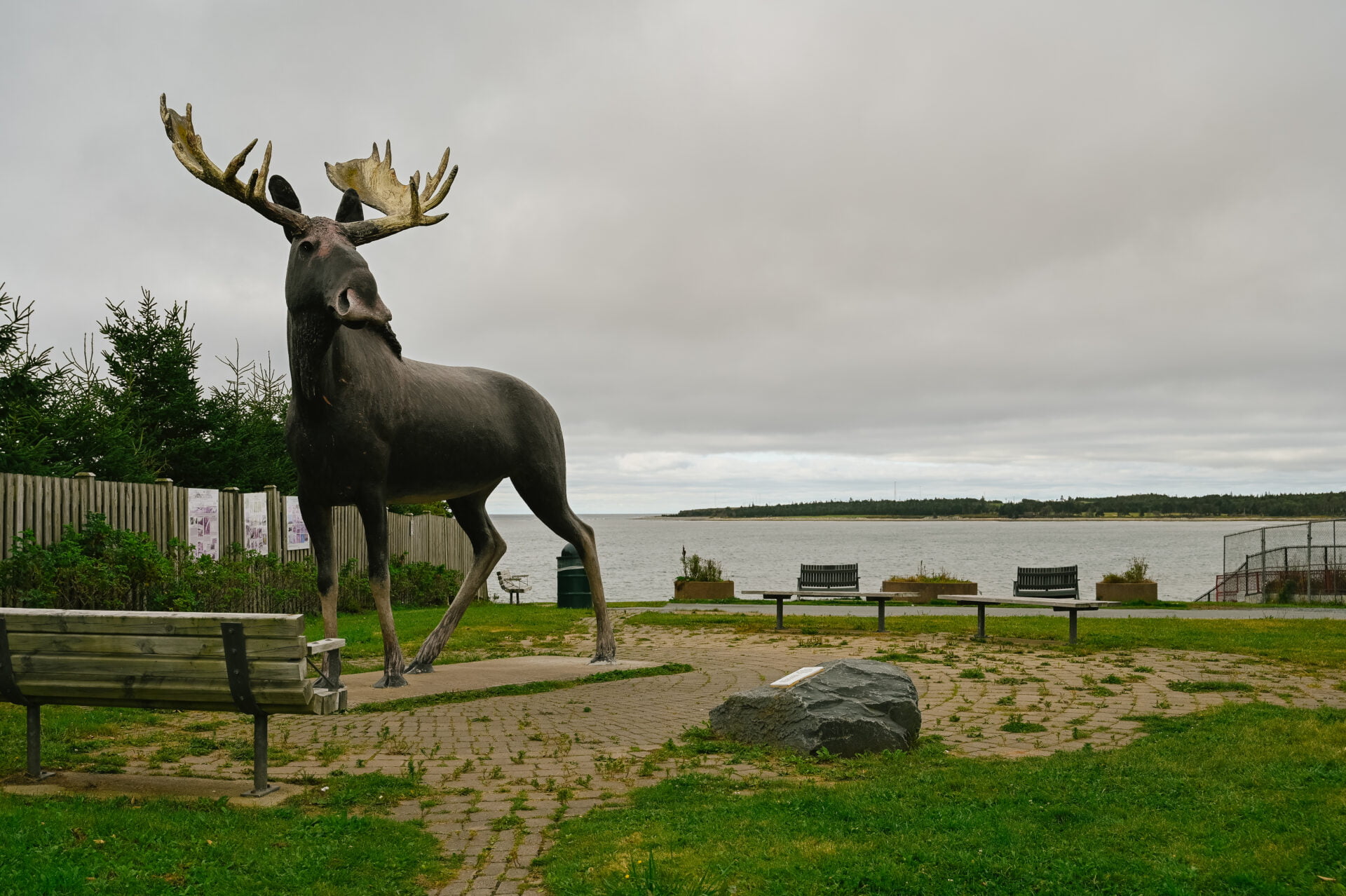 If you enter the Eastern Passage from the West the first greeting you will get is in Cow Bay, where a 20-foot-tall moose will welcome you. Originally built in 1970 and weighing in at 2.5 tons, this moose has now become an iconic landmark to both visitors and locals alike. Once you're done posing for photos, be sure to head down to the right where you can access a white sandy beach, the perfect spot for a picnic. Note, this beach doesn't have any amenities such as washrooms or changing facilities so come being prepared to be self-sufficient (which is why we loved having the RV as we could head back for washroom breaks as well as grab snacks and water when we needed to).
Rainbow Haven
Our favourite beach near Halifax is Rainbow Haven. With 400 meters of white sand and pebbles that wind along the Atlantic Ocean, it's easy to see why this place is popular with both tourists and locals. This park goes on for miles, and you can even drive a rainbow loop taking you through the marshlands that surround the park. Locals love all of the hiking trails that wind around and through the park and you'll quickly see dog owners on the beach throwing balls for their puppies. The park is open year-round and offers a variety of activities for visitors to enjoy, including swimming, hiking, picnicking, and bird-watching. Rainbow Haven is also an important nesting site for several species of birds, including the endangered Roseate Tern. In addition to its natural beauty, the park also features a series of interpretive displays that provide information about the local ecosystem and the history of the area. Whether you are looking for a place to relax or an adventure, Rainbow Haven Provincial Park is sure to please you, so make sure it is a stop on your Halifax road trip. Here's a complete guide to other places worth visiting when in Eastern Passage.
Lawrencetown Surf Co.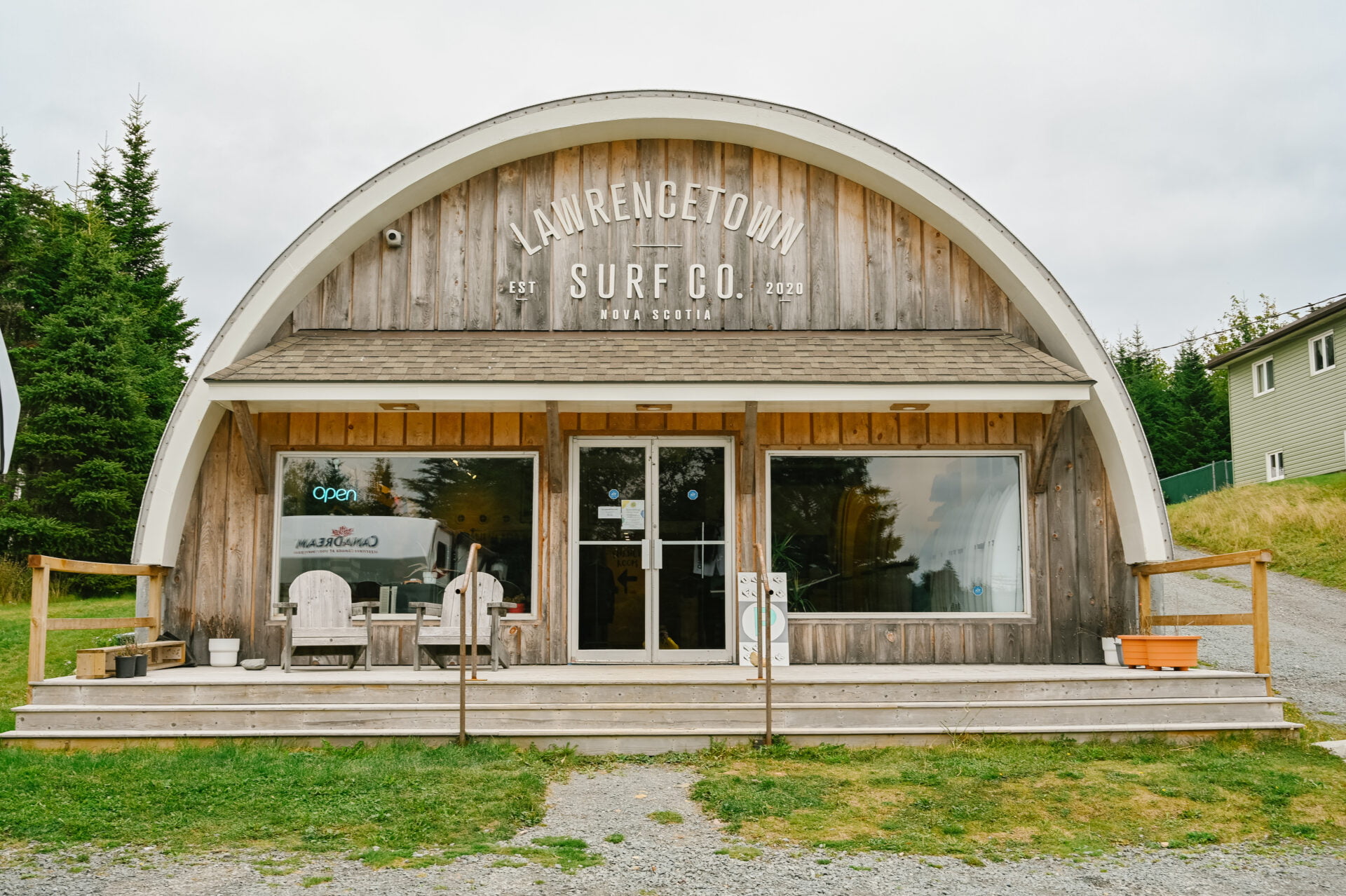 A VW Bug and a trendy Quonset-shaped building beckoned us off the road and we were quickly walking up the steps to one of the coolest places to hang out in the Eastern Passage area. Lawrencetown Surf Co. is a surf shop, where you can come and hang out, shop for local merchandise, lounge in their living room, and of course, learn about the local surf culture. The staff is always friendly and helpful, and they really know their stuff when it comes to surfing. The shop rents out boards and wetsuits, and they also offer lessons for both beginners and experienced surfers, a great experience to add to your Halifax road trip. Lawrenceville Surf Co. is the perfect place to get your adventure on in Nova Scotia!
Click here to learn more about Lawrencetown Surf Co. and all that they offer.
Lawrencetown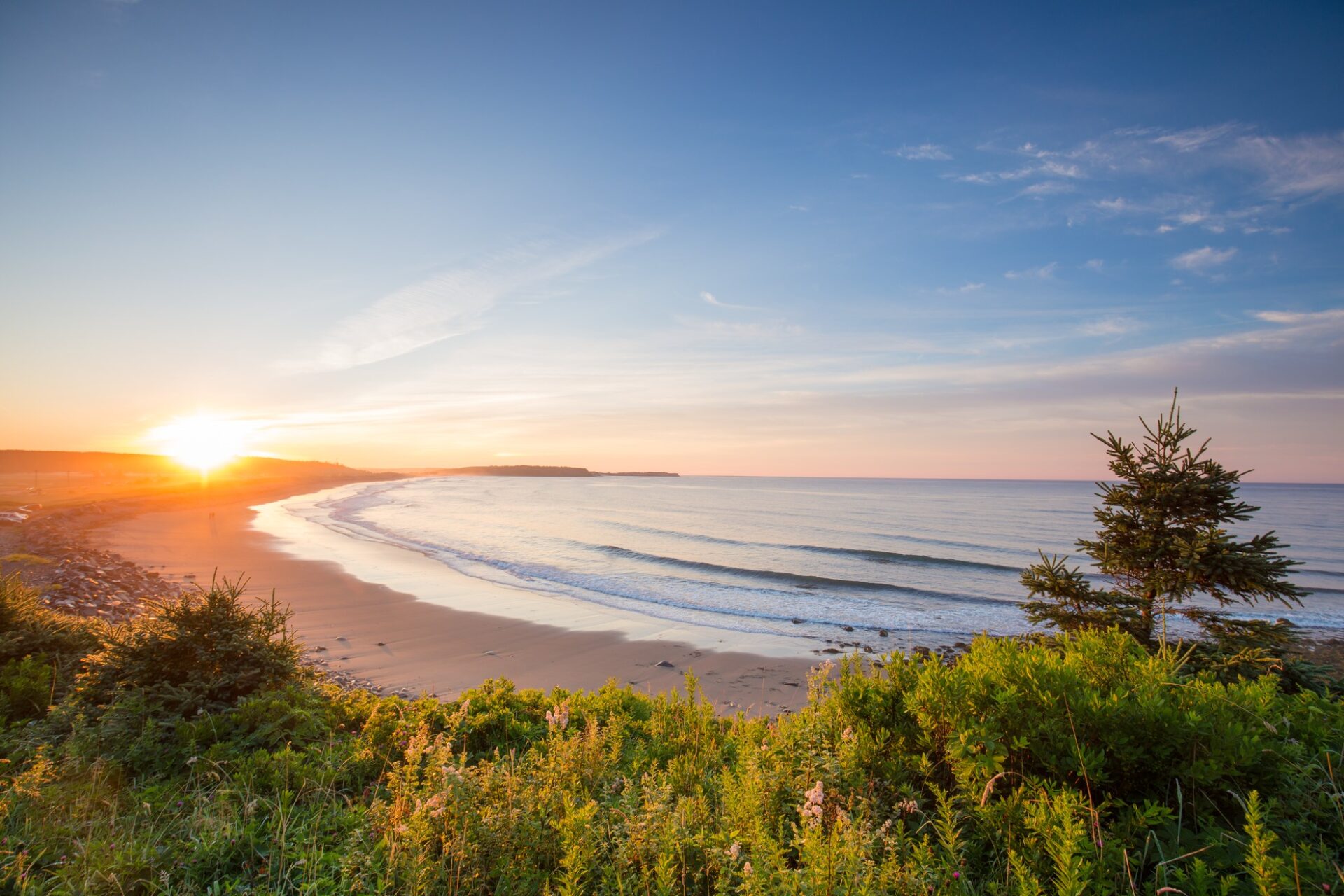 Lawrencetown is a small community located in the Eastern Passage, in an area of Nova Scotia that reminded me of an earlier version of Tofino, BC. The community is situated on a narrow strip of land between Halifax Harbour and the Atlantic Ocean. Lawrencetown is home to a variety of businesses, including a grocery store, a hardware store, and a number of restaurants, but overall is a quiet smaller town, the perfect place to escape for the day or a few days. With the popularity of kite surfing and regular surfing, a few new businesses have popped up and I can envision this trend continuing. Whether you're looking to go surfing or just want to watch from the sandy shores, Lawrencetown is a great place to see one of Nova Scotia's famous shores.
Bedford – Sackville
The Bedford-Sackville Region sits at the end of the Bedford Basin and offers incredible views of the Halifax Harbour from the boardwalk in DeWolf Park. The area is known for being family-friendly and is filled with a variety of great places to explore the outdoors such as the historic Hemlock Ravine Park. With local shops and restaurants like the Bedford Basin's Farmer's Market and Garden Center, as well as many big box stores such as those in the Sunnyside Mall, the Bedford – Sackville region is one where you can stop and stay for a while rather than rushing through. Here's a complete guide to what to see and do in Bedford, be sure to add it as a stop on your Halifax road trip.
Bedford Basin Farmers' Market
The Bedford Basin Farmers Market is a unique Nova Scotian market that offers visitors a chance to see some of the best local produce and products. Located along the ocean in Bedford, the market is where you can see locals stocking up on everything from fresh market produce, to international spices, to fun novelty food. In the same building is a grab-and-go style restaurant that serves breakfast and lunch, specialty sandwiches, sweets, as well as everything you expect to see at a bistro, except without a big corporate logo. While the food is amazing, the views from where you get to eat are equally mesmerizing. After getting your eats, you can choose from a top balcony view over the Atlantic or a cozy corner to sip and savour your meal. This locally sourced oceanside vibe makes for a great atmosphere at the Bedford Basin Farmer's Market, and it's one of the reasons why the market is such a popular destination for locals and tourists alike.
Click here for more information and to plan your visit to the Bedford Basin Farmers Market.
Dewolf Park – Boardwalk & Playground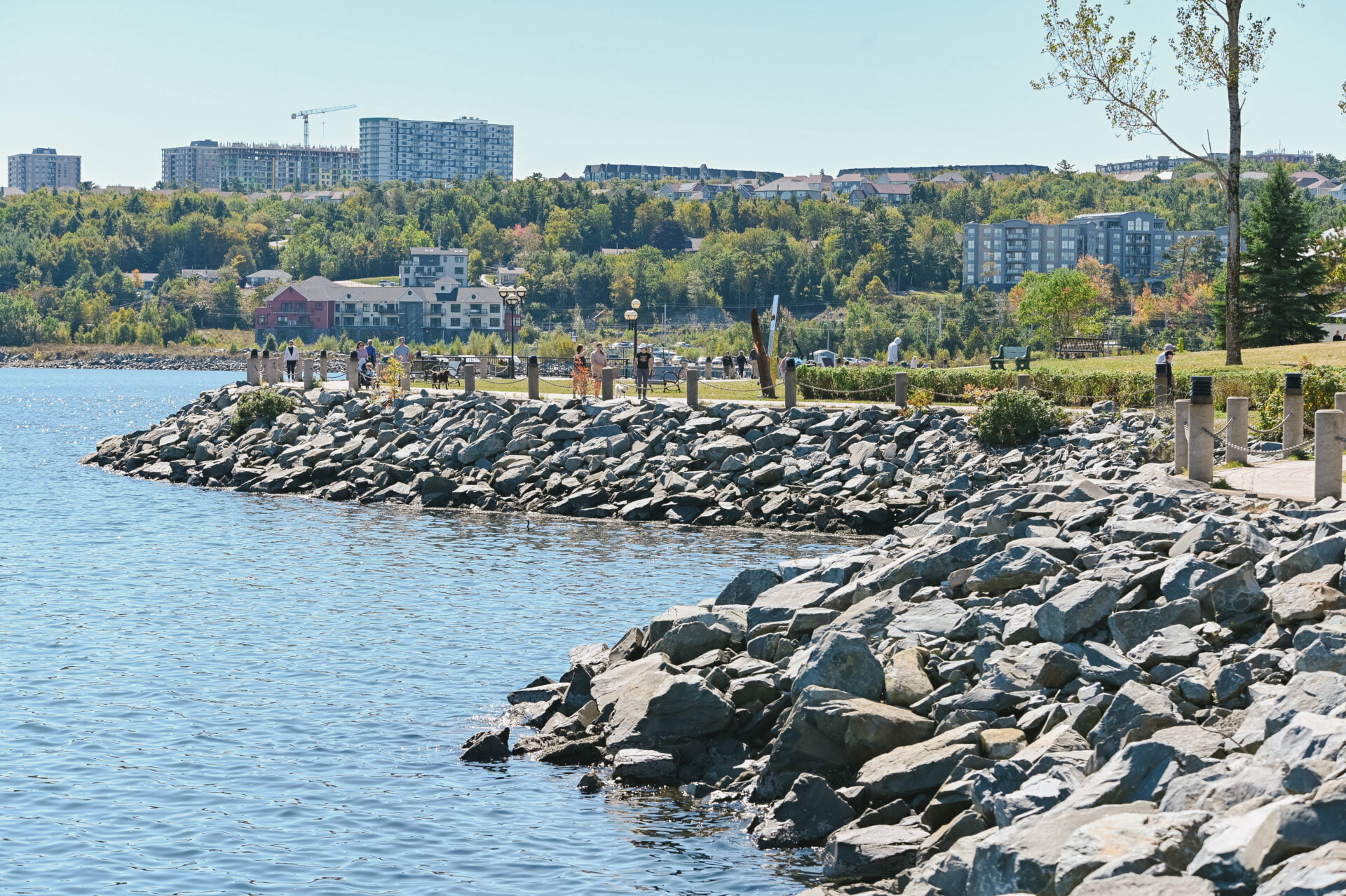 DeWolf Park is located in Bedford, near Halifax, Nova Scotia. This park features a boardwalk that winds along the coast of the Bedford Basin, with views of the ocean, as well as weaving alongside a playground. The park is used often for community events and running, and is well-frequented by families, pets, walkers, runners, and those using the docking site for water sports. With a great view over the Halifax skyline, it's a wonderful place to hang out for a stop, or for the whole day.
Parking Information: Parking is available at the DeWolf Park parking lot or along the streets. We found street parking in the RV effortlessly and it was easy to turn around when it was time to depart.
Hemlock Ravine Park
Hemlock Ravine Park is one of the best places to explore in Bedford, Nova Scotia. This historic park was originally a country estate built for Lieutenant Governor John Wentworth in 1780. This 200-acre park offers visitors a variety of different trails including the Rockingham Loop (1.2 km) and the Wentworth Loop (800 meters) The Ravine Trail, and the School Trail. There's also an off-leash dog park, a heart-shaped pond, and lots of birds to discover for bird watchers. With the size of the park and the variety of places to explore, this is a place you can spend the day, or come back to again and again, so be sure to add it to your Halifax road trip itinerary. It was especially beautiful when we visited at the beginning of the fall and I can only imagine that the park will get more incredible as the season's full colours come into view.
Fultz House Museum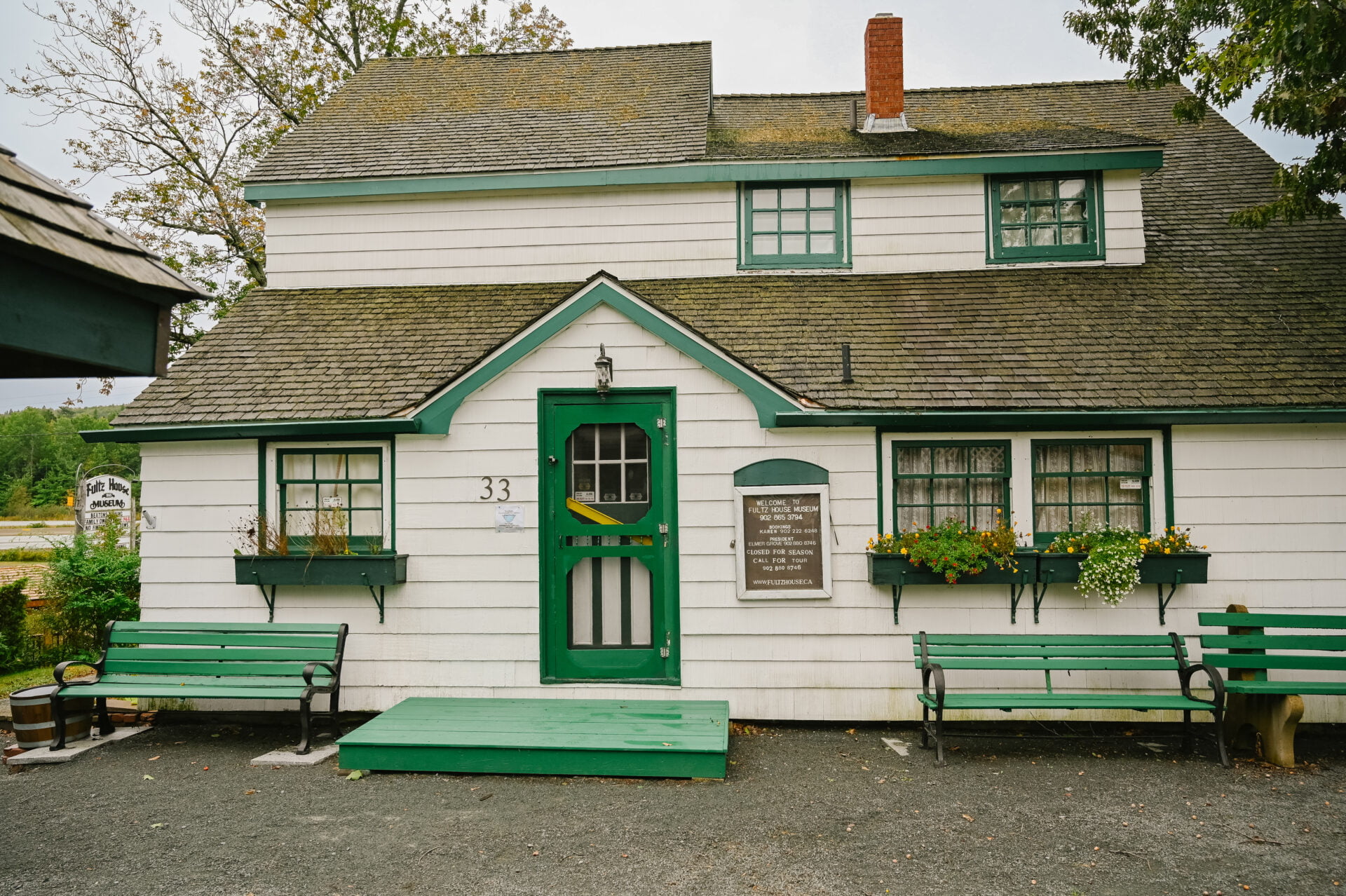 The Fultz House Museum is a historic house in Bedford, Nova Scotia that was constructed in the 1860s. The museum is open to the public from May until September, and it is operated by the Bedford Heritage Society. The Fultz House Museum is a two-storey house that was built in the Georgian style of architecture. The house was built by George Fultz, who was a successful merchant in Bedford. The Fultz family lived in the house until 1912 when they donated it to the Bedford Heritage Society. The society has restored the house to its original appearance, and it now contains furniture and artifacts that belonged to the Fultz family. Visitors to the museum can learn about the life of early settlers in Bedford, and see how they lived.
Click here for more information about the Fultz House Museum and to plan your visit.
While Peggy's Cove is the destination for many visitors, getting to Peggy's Cove is half the adventure. With the winding beautiful roads through incredibly scenic small towns, there are lots to do along the way that will enable you to experience all that Nova Scotia has to offer to make this the best day trip on your Halifax road trip. Whether you choose to stop in at one of the charming cafes or bakeries to meet up with the locals, pick up an order and enjoy an oceanside picnic, or rent bicycles to take a slower pace, this area is one that isn't meant to be driven through, like a cup of good tea, sip and savour your experience.
Best Places To Stop On The Way To Peggy's Cove
Train Station Bike and Bean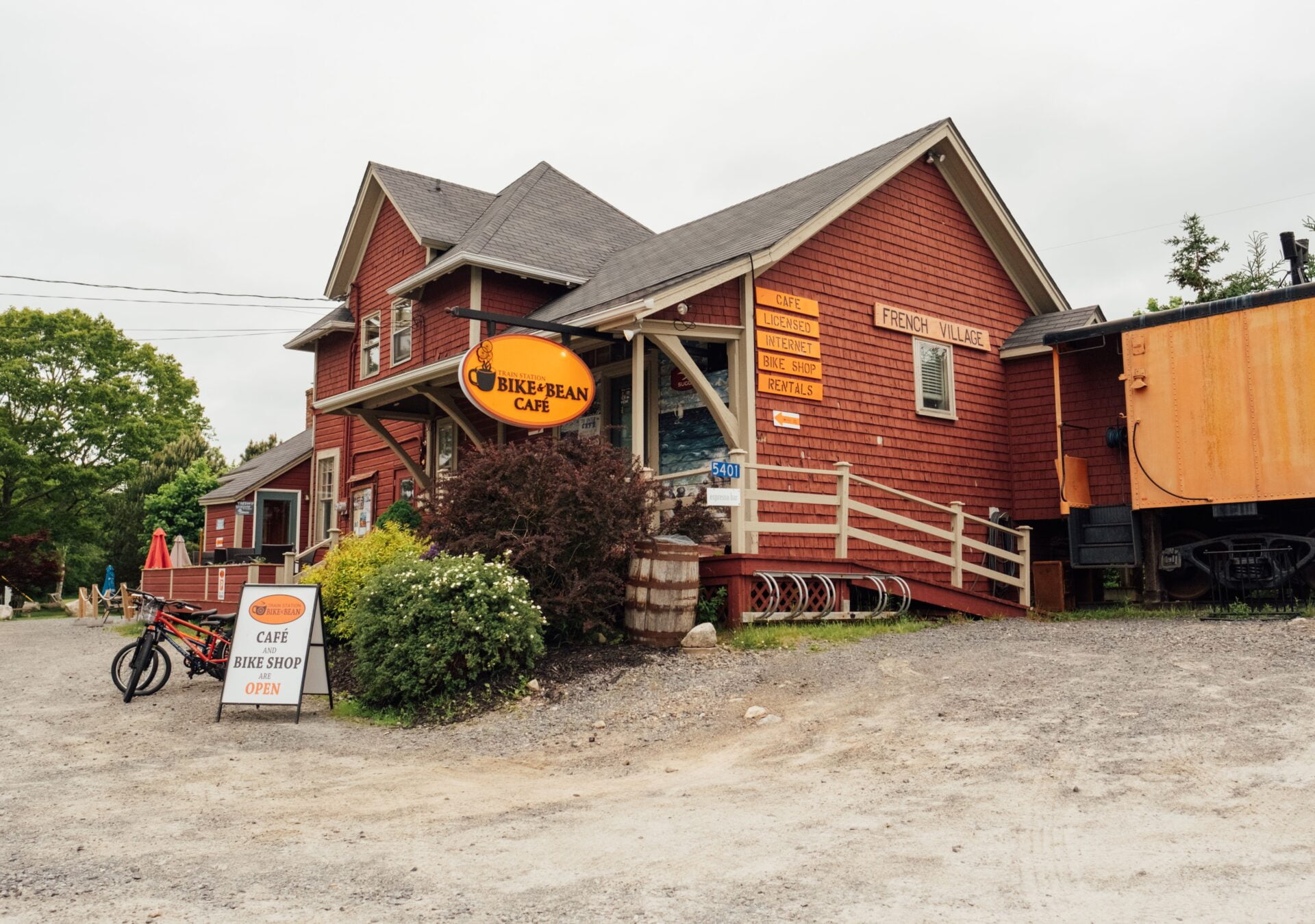 Nestled at the edge of the picturesque St. Margaret's Bay in Nova Scotia, Upper Tantallon is a small village with a big personality. With its quaint shops and restaurants, scenic views, and friendly locals, Tantallon is the perfect place to embrace slow travel and expand your visit beyond the top sights.
We recommend stopping at The Train Station Bike and Bean. This licensed, dine-in and takeout cafe is also a bike shop. The shop's home is located in the French Village Train station that was built in 1901. So fuel up and then grab some bikes to head out and experience this unique East Coast coastline.
Peggy's Cove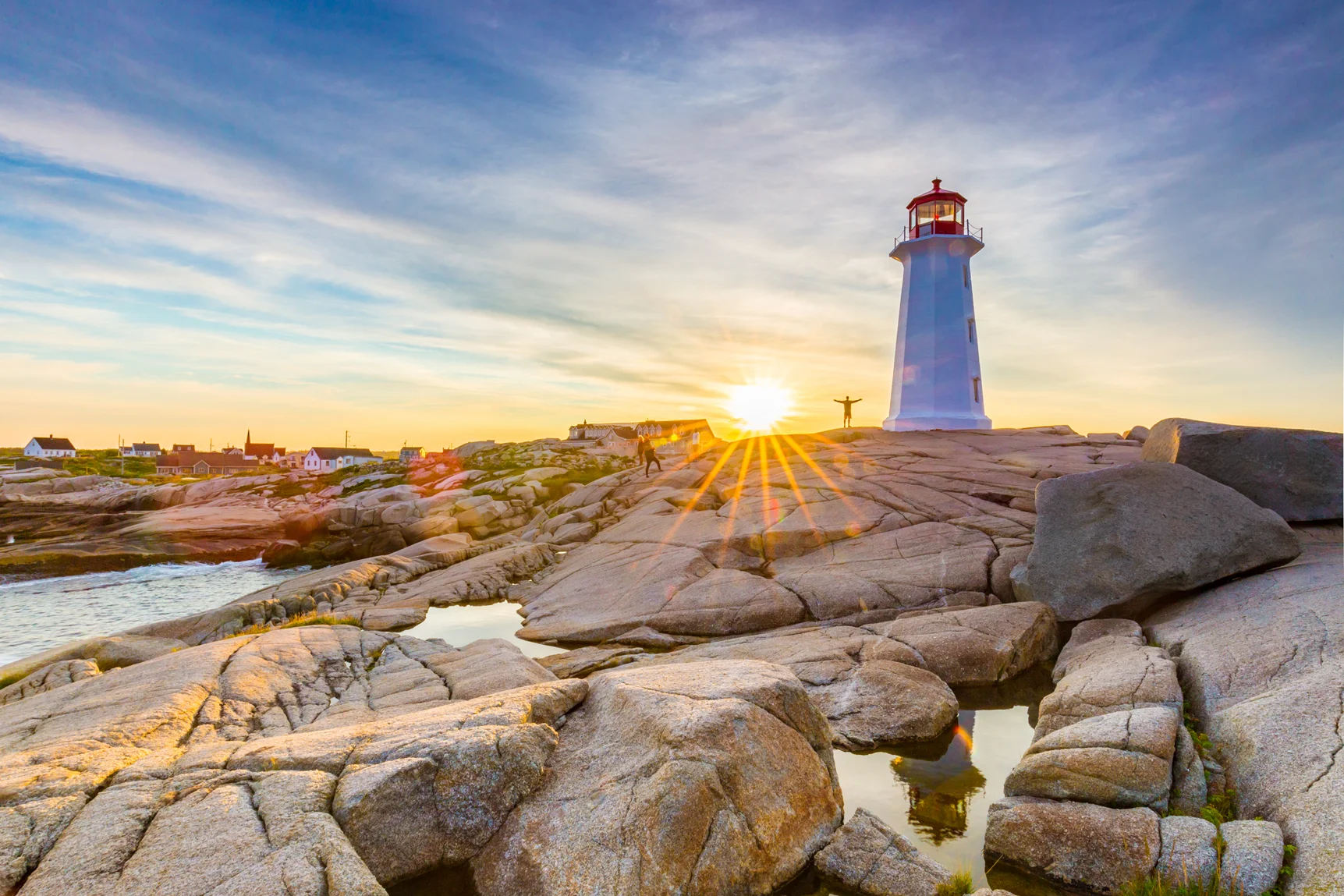 Visitors to Peggy's Cove will find a small fishing village with a big personality. While we were expecting just to see a lighthouse, we were surprised by the active fishing town that surrounds the iconic cove. The village is home to a working lighthouse, which has been in operation since 1915. Visitors can climb to the top of the rocks next to the lighthouse for spectacular views of the surrounding coastline. The village also features a number of restaurants and cafes, as well as several art galleries and shops selling local crafts. Peggy's Cove is a popular destination for photographers and nature lovers alike, as it offers dramatic scenery and a chance to see some of Nova Scotia's iconic wildlife, including bald eagles, ospreys, and seabirds. Only an hour out of Halifax, Peggy's Cove is an absolute "must-see" Halifax road trip stop for anyone in the region. Just give yourself lots of time so that you can fully immerse yourself in the Peggy's Cove experience.
SS Atlantic Park
The SS Atlantic Heritage Park is a must-see for any history buff or nature lover. My daughter loves learning about the Titanic and so discovering another shipwreck from the same company (The White Starline) was a very interesting fact for her to investigate. Located in Terrance Bay, Nova Scotia, the park is situated on the site of the shipwreck. In 1873, the SS Atlantic sunk just off the coast, taking nearly 500 lives with it. Today, the park is home to a memorial honouring the victims of the tragedy, as well as a hiking trail that winds through the forest. The park also has a small beach where you can relax and enjoy the sound of waves crashing against the shore. Whether you're interested in history or nature, the SS Atlantic Heritage Park is sure to leave a lasting impression.
Parking note: During the busy season I could see parking for RVs being a challenge so be sure to take your time and park somewhere on the street where you can easily get into and out of parking. Up at the visitor centre may be too tight during peak season (we were there after it was closed so we had the whole parking lot to ourselves and were able to enjoy the sunset over the harbour).
With this Halifax road trip itinerary, you'll be able to explore all that the HRM has to offer. Whether you're a first-time visitor or a returning guest, we hope you'll take the time to enjoy everything this vibrant East Coast city has to offer. From its stunning architecture and rich history to its incredible outdoor activities, Halifax is a city that should be explored slowly and with intention.
---
More Articles To Help Your Plan Your Halifax Road Trip: