Are you looking for the perfect summer road trip? One that will take you to beautiful world-renowned destinations all while travelling comfortably in an RV? If so, a Nova Scotia RV road trip is just what you need! With plenty of RV parks and campgrounds to choose from and an abundance of things to see and do, Nova Scotia is the perfect destination for travellers looking for adventure.
Ultimate Nova Scotia Road RV Trip Itinerary
The best part? We've done all the work for you… putting together the ultimate 14-day Nova Scotia RV road trip itinerary for you. This extensive article will give you a day-by-day playbook on what to do, top attractions, fun adventures, and the best place to camp each night. Ready? Set? Let's RV through Nova Scotia!
Disclaimer: While I share my own thoughts and stories about these experiences, should you click on the affiliate links, I may receive a small commission on that sale which helps fund Adventure Awaits.
Day 1 & 2 – Halifax Region
Settle in and start exploring on your own schedule.
If you're looking for a stunning seaside destination with plenty of history, Halifax is the place for you. Halifax is rich in maritime culture and plays an important role in Canadian history. The Halifax waterfront is home to the iconic Halifax Citadel, a star-shaped fortress that served as a British military base for over 200 years. Today, the Citadel is a national historic site and one of the top tourist attractions in Halifax. Just down the street from the Citadel is the Maritime Museum of the Atlantic, which houses exhibitions on everything from early shipbuilding to the devastating Halifax Explosion of 1917.
Halifax Harbour Tour
One of the best ways to start off your tour of Halifax is on the water, we loved the intimate small cruise experience that we had on Halifax Boat Tours with Captain Colin. No visit to Halifax would be complete without exploring its vibrant downtown core, which is packed with great shops, restaurants, and cafes. You can spend a whole week exploring just the Halifax Regional Municipality District so be sure to not only hit the big sites but check out this article to find some of the not-as-well-known gems the city has to offer.
Halifax Sailing Tour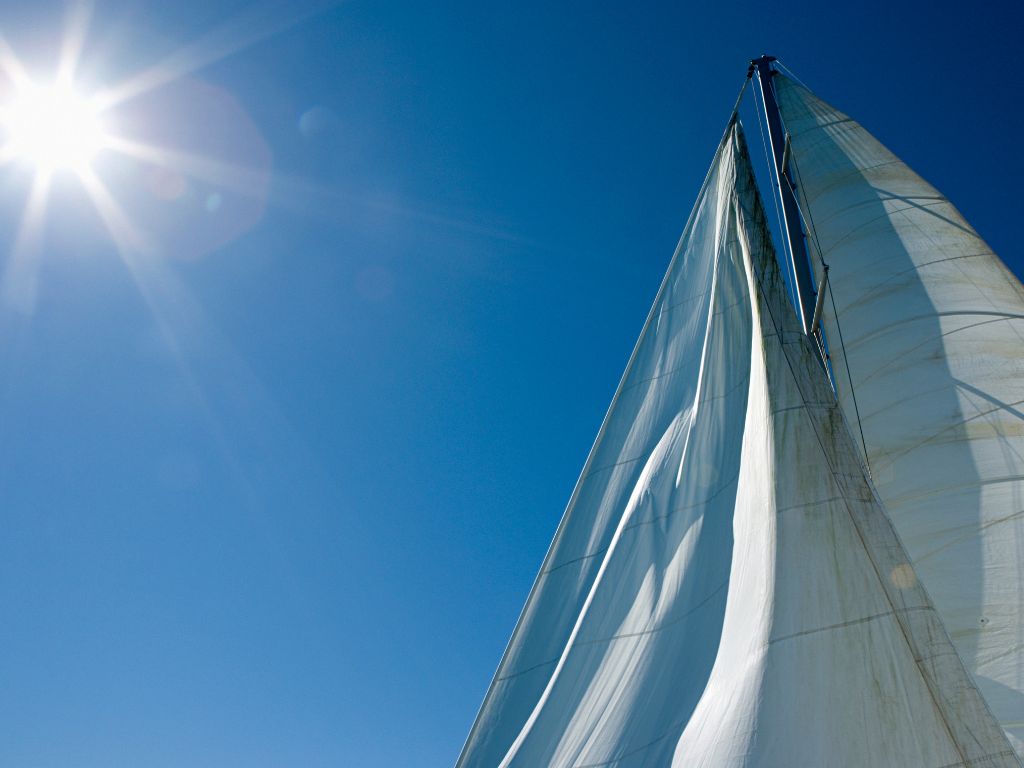 If you're really wanting to get into the East Coast spirit nothing is more appropriate than heading out on a sailing excursion. "Soak up the coastline views in this small group sunset cruise out of Halifax Harbour." You'll sail down the narrows of the Northwest Arm and experience a stunning sunset all while enjoying locally sourced wine and cheese.
Click here to book your Halifax Sunset Wine and Cheese Yacht Sailing adventure!
Is Halifax Nova Scotia Worth Visiting?
Hands down if you're planning a trip to Nova Scotia you need to stop and explore this beautiful city. A unique mix of European influence, with deep ties to their Maritime heritage, welcomed by the kindest people on the planet, this city is something that has to be seen and explored. 2022 was my first trip to Halifax and I can assure you it won't be our last (we're already planning our next trip back!).
RV Parking Halifax
Parking an RV in Halifax can be quite difficult so we opted to do two different things. The easiest was staying at the Shubie Park Campground and using that as a base camp for exploring Dartmouth and Halifax. Dartmouth is just across the harbour from downtown Halifax and so the Shubie Park Campground is a great place to park the RV in Halifax and then launch your adventures from there.
The second option when we were staying further out was to park at a large big box store on the edge of the city and then take a $13 Uber ride into the downtown core. This convenient option was welcomed by the retailers as we'd often stop and restock the fridge before hitting the road again.
Day 3 – Halifax to Liverpool
236 KM/91 MI – Approx. 2 hours 46 minutes
SS Atlantic in Terrence Bay
After picking up your RV you'll head west along Highway 3 and then take the 103, and then the 33 down to your first stop, the SS Atlantic in Terrance Bay. If you're a history buff, make time to visit this shipwreck and memorial site. In 1873, the SS Atlantic struck land and sunk taking nearly 500 lives with it. This is a smaller seaside community with narrow roads and less parking so take your time and find places to park as you may still be adjusting to RV life and don't want to get cramped into a spot where you can't turn around.
Peggy's Cove – Nova Scotia RV Road Trip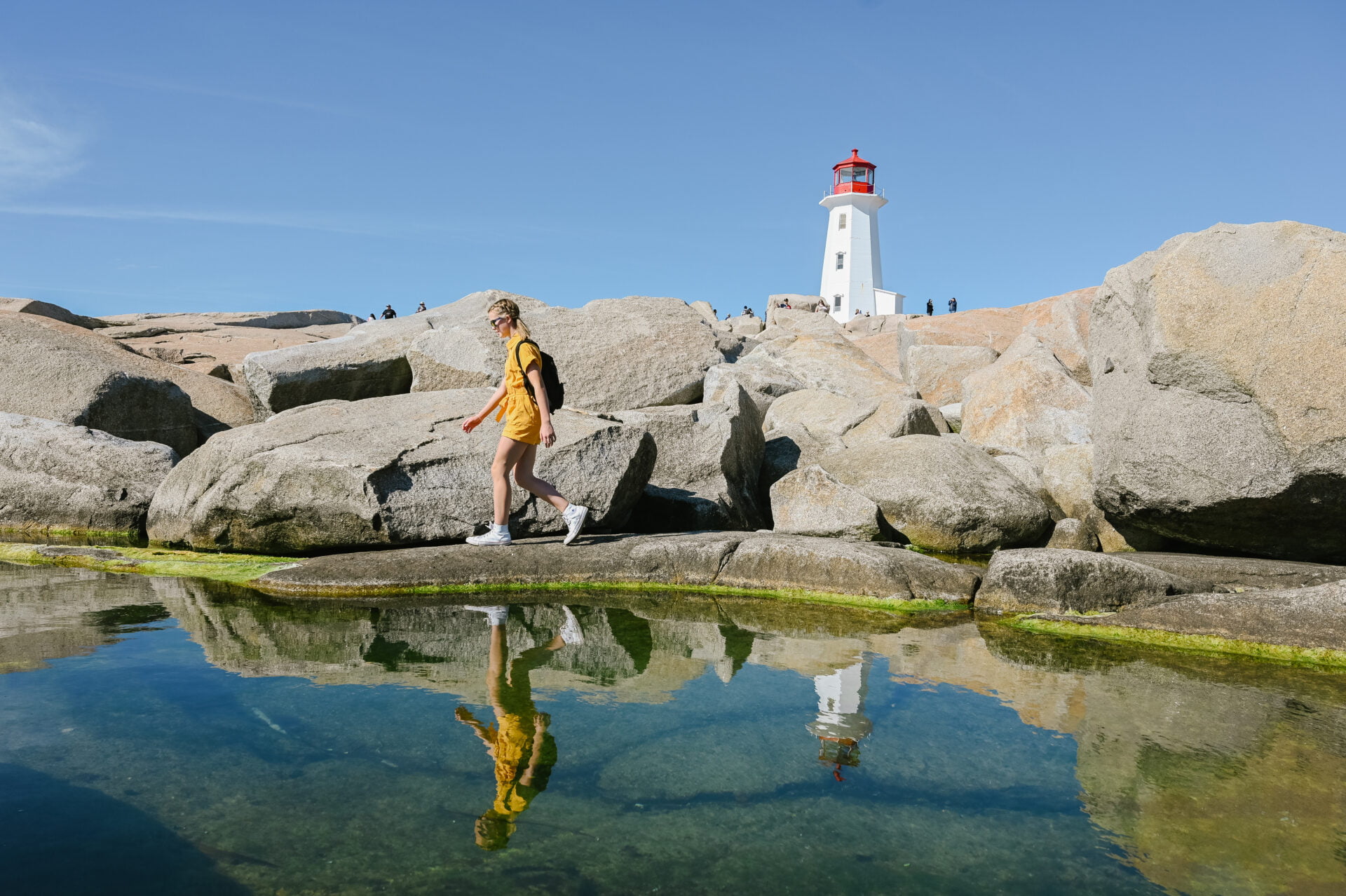 Situated on the Eastern Shore of St. Margarets Bay, Peggy's Cove is one of Nova Scotias' most popular tourist destinations. The tiny village is home to just a handful of buildings, but its picturesque setting and world-famous lighthouse make it a must-see for anyone visiting the area. Visitors can expect to find a small café, gift shop, and museum near the parking lot, as well as several scenic hiking trails that wind their way around the cove. Of course, the highlight of any visit to Peggy's Cove is the chance to see the iconic lighthouse up close. Standing on a rocky outcropping at the edge of the cove, it has been a sign of welcome for sailors returning home for centuries. Today, it remains an enduring symbol of Nova Scotias' maritime heritage.
Coffee & Adventure Stops
Be sure to stop along the way during your Atlantic road trip. When driving from Peggy's Cove to Lunenberg be sure to stop in Tantallon. This small town has quaint shops, restaurants, cafes, and even the "Train Station Bike and Bean." Here you can dine in, take out, or rent a bike and head out for a scenic cruise! Such a great way to intimately explore the region.
Lunenberg
Lunenberg is a small town located on the South Shore of Nova Scotia. Founded in 1753, Lunenberg is known for its well-preserved architecture and historical significance. The town is one of only two urban communities in North America designated as a UNESCO World Heritage Site. Guests will be welcomed by a mix of 18th and 19th-century buildings as they wander through winding streets, visit the Fisheries Museum, or take a scenic boat tour. There are also a number of hiking trails in the area, which offer stunning views of the Atlantic Coast.
Hidden Gems Tour Lunenburg
With a rich history, Lunenberg's story is best told by those who live there. This two-hour sightseeing/storytelling tour with take you around magnificent seascapes, and treasured working fishing villages. You'll have a lot of opportunities to stop along the way, enjoying many picture-perfect locations. This small group tour only accommodates 8 guests, allowing for an intimate experience and a great way to connect with the locals and see the hidden gems and behind-the-scenes stories. "This tour is a must-do if you want to experience firsthand what the locals already know."
Click here to book your Hidden Gems Tour in Lunenburg!
Bluenose
Lunenberg is also home to Canada's most famous sailing ship, the Bluenose. I can say, after being on the deck of this incredible tall ship that it is a really neat experience and I'd recommend checking their schedule to see if you can see it when it's in port in Lunenberg, or even head out for a sail on board. Don't fret if it's not in the harbour, check their schedule and see if you can catch up with it in another place on your Nova Scotia RV road trip.
Liverpool
Liverpool, Nova Scotia is a small town with a big heart. Nestled on the coast of the Atlantic Ocean, Liverpool is known for its beautiful beaches, friendly people, and laid-back atmosphere. Visitors can enjoy plenty of activities in and around town, from exploring the local history to taking a hike in one of the nearby forests. There's also no shortage of great places to eat and drink, with many local restaurants and bars serving up fresh seafood and traditional Maritime cuisine.
Best RV Campground in Liverpool
Fisherman's Cove RV – Open May 15 – October 31
Location, Location, Location! Perched only a four-minute walk from Hunts Point Beach, this little campground is the perfect place to pull in and settle for the night. Located in Queens County, you'll find lots to do once you've parked the RV, from strolling over to the beach at sunset, to dining on fresh local seafood, taking in an evening hike, or just settling down at your campsite. Sit back and relax after your first big day on the road at Fisherman's Cove RV. Reservations are recommended, especially during the busy season. Click here to learn more about adding this accommodation spot to your Nova Scotia RV road trip.
Day 4 – Liverpool to Yarmouth
205 KM/127 MI – Approx. 1 hour 37 minutes
This scenic day will have you loving your Nova Scotia RV road trip through and through. Before leaving Liverpool, head out to Fort Point Lighthouse Park (head there for sunrise if you're really keen!). The drive between Liverpool to Yarmouth along Highway 103 is one of the most scenic in the province. You'll wind your way along the coast, taking in picturesque views of the ocean as you go. Some recommended places to stop include Sable River, East Jordan, Shelburne, Barrington, Shag Harbour, Tucket, and Wedgeport. The journey will take you through quaint fishing villages and rolling hills, giving you a taste of the true Nova Scotian spirit.
Yarmouth Nova Scotia
Yarmouth, Nova Scotia is a historic seaport town located on the Southwestern tip of the province. The town is home to a number of historical sites and cultural attractions, as well as beautiful beaches and hiking trails. Visitors can explore the town's history at the Yarmouth County Museum and Archives, or take a stroll through the scenic Victorian gardens at the Yarmouth Town Clock. My favourite "must-see" spot is the Cape Forchu Lighthouse (and fun IG-worthy roadside stops along the way). If you're looking for an adventurous activity, there are plenty of options for whale watching, fishing, and kayaking in the area. And of course, no visit to Yarmouth would be complete without enjoying some of the local seafood. Head to one of the many seafood restaurants in town for a delicious lobster dinner served seaside.
Best RV Campground in Yarmouth
Castle Lake Campground
They say adventure begins at Castle Lake Campground, and with 250 campsites nestled right on the lake, I can see why. With fully serviced sites for your RV, you can set up and then head out exploring the beautiful property. From kayaking on the lake to fishing, to staying up late at night to do some stargazing, Castle Lake Campground offers you a fabulous glamping experience in Yarmouth. Book ahead to secure your spot.
Day 5 – Yarmouth to Annapolis Royal
131 KM/81 MI – Approx. 1 hour 26 minutes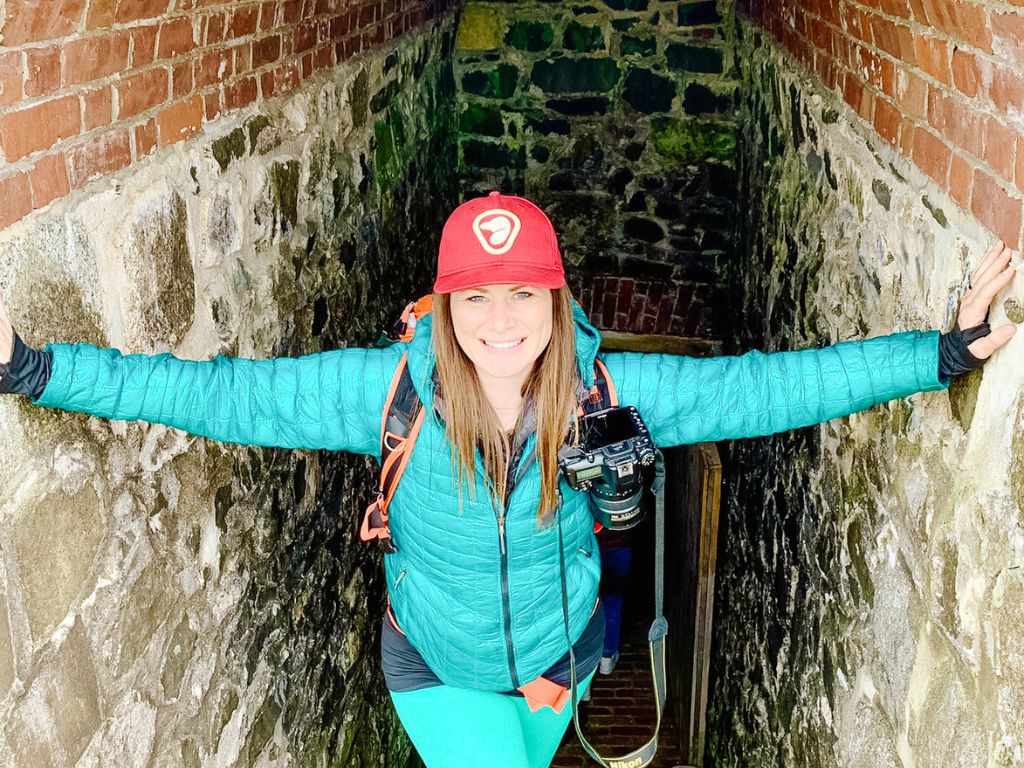 Continuing along the Evangeline Trail towards Annapolis Royal today will welcome you to a mix of East Coast nature and introduce you to history that dates back centuries.
Your first stop should be Mavillette Beach Provincial park. This 2 km expanse of sand and dunes is a great place to explore. Be sure to stop at the park's interpretative panels, bird watching platforms, or take part in a guided tour. If time allows stop at Saint Alphonse, home to I'Eglise St. Alphonse, a charming Acadian church.
Smugglers Cove Provincial Park and Meteghan are also beautiful points of interest to stop on your road trip.
If you love seafood then a stop at Digby is required! Home to one of North America's largest scallop fleets, Digby is home to the world-famous Digby scallop!
Finally, make your way to Annapolis Royal, a small town located in Nova Scotia, Canada. The town is situated on the Annapolis Basin, which is an inlet of the Bay of Fundy. The town is also home to Fort Anne National Historic Site. Fort Anne is a must-see for any history buff or fan of Canadiana. The fort has a long and storied history, dating back to the early days of European settlement in North America. Visitors can explore the fort's well-preserved grounds and learn about its many notable moments, including its role in the French and Indian War and the War of 1812. The fort also played a significant role in the Acadian Expulsion, making it an essential site for those interested in this dark chapter of Canadian history.
Once you're done visiting Fort Anne you can explore a variety of shops and restaurants in town and either choose your restaurant for dinner or pick up something to take back to your campground.
Best RV Campgrounds in Annapolis Royal
Whale Cove Campground – CanaDream Partner Site
This 4-star oceanside campground has all the amenities you and the family will need for your stay. On-site you'll find facilities including washrooms, laundry, playground, library, pool table, games, and puzzles. Neighbouring your campground you'll find a boat launch, Nautical Seafoods Market and Cafe, you can walk the bottom of the ocean at low tide (30 feet/10 meters below tide), head out hiking on Delap's Cove Hiking Trail or head over to Hampton Beach Lighthouse and wharf. If you're a CanaDream client book through your website portal to secure 10% off.
Dunromin Campground
Located right next to the seaside town of Annapolis Royal, this 4-star waterfront campground sits on the shores of the Frenchman's Basin. There the water flows into the mighty Bay of Fundy which has the highest tides in the world. With premium waterfront RV sites to choose from including open, shaded, and wooded sites, you can enjoy the east coast breeze or get out on the water right from your campground.
Day 6 – Annapolis Royal to Kejimkujik National Park
78 KM/48 MI – Approx. 45 minutes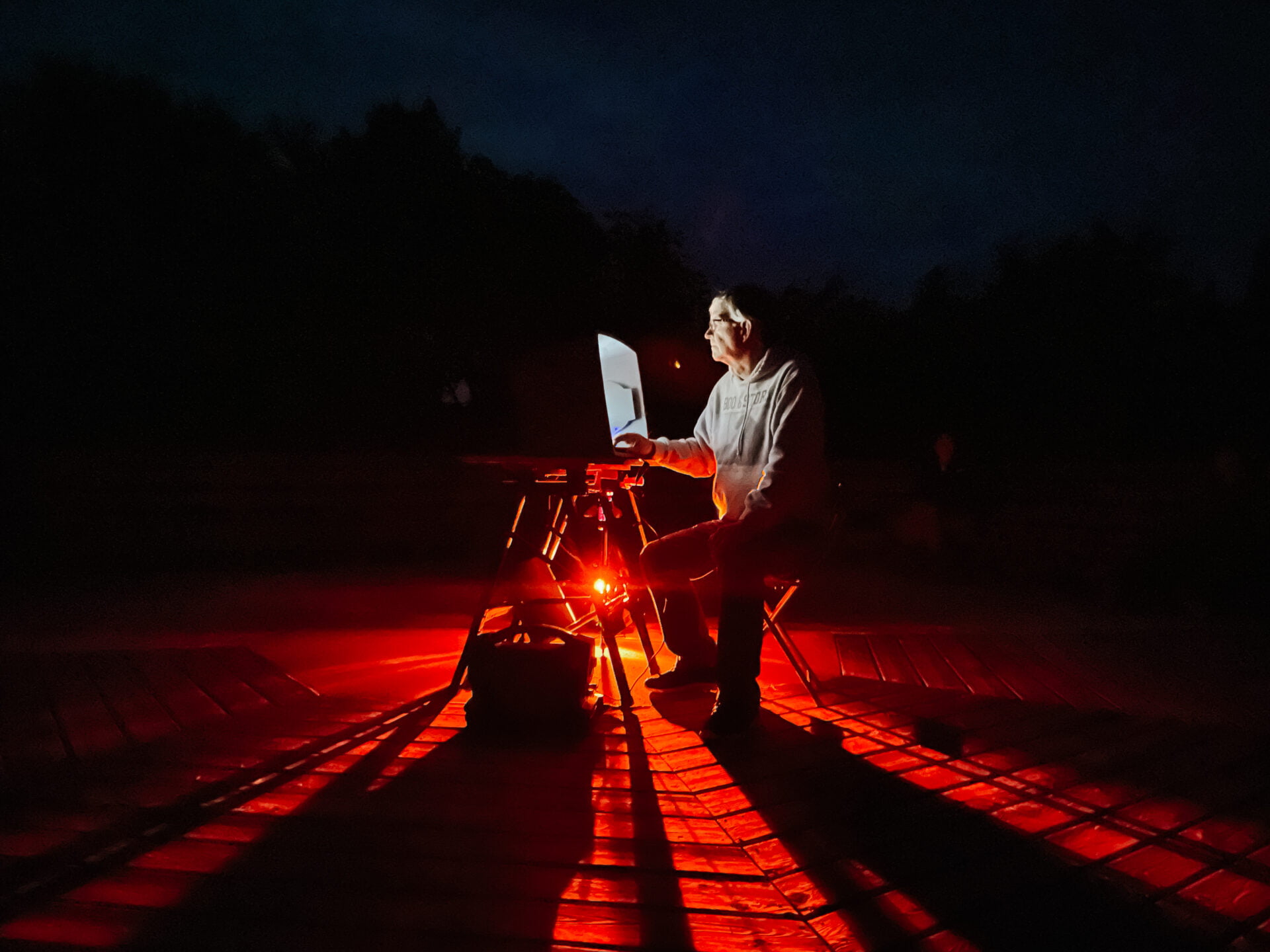 This short drive to Kejimkujik National Park is perfect as it'll give you the whole day to explore one of Nova Scotia's most iconic National Parks. I was fortunate to spend three days on-site, kayaking, canoeing, biking and hiking around this beautiful park.
One of the most special experiences was a private guided experience to see the pictographs. This experience is only available with a private guide so be sure to sign up for this if you're interested. Be sure to also take time to explore their different accommodation options including Ôasis, cabins, and oTENTiks! Check out the full list of what to do at Kejimkujik National Park here.
How to book an RV site at Kejimkukik National Park
Bring your RV and choose a cozy campground for the night! Reservations are recommended ahead of your arrival as this is a popular destination for both tourists and locals. Reservations typically open in February for that calendar year and if you're needing a specific date be sure to book as soon as reservations open.
Day 7 – Kejimkujik National Park to Truro (via Grand-Pré)
254 KM/158 MI – Approx. 3 hours
Hit the road and head up to the epicentre of Acadian culture at Grand-Pré National Historic Site. I'll be honest, as a Westcoaster, I had never learned about Acadian Culture and was embarrassed about the lack of knowledge I had about this integral part of Canada's history. "Sitting on the edge of my wooden seat, gripping onto my headphones, sweat started to fill my body as a tear rolled down my face. The tragedy that is the history of the Grand-Pré was hard to fathom. 450 men tricked into a meeting, then to be pulled from their families and their land, possibly never to be reunited again." Click to learn more about why you should visit Grand-Pré National Historic Site here.
Truro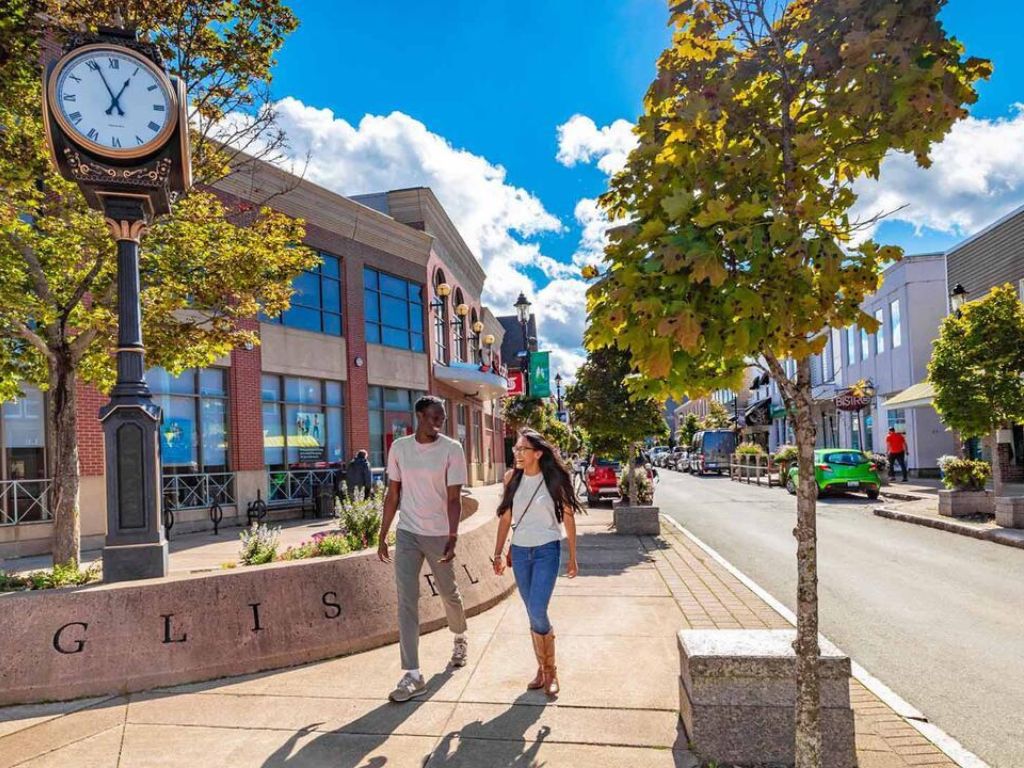 Truro is known as the "Hub of Nova Scotia" through its central location, and historic downtown vibes. The town is a great place to base yourself and then head out to explore the famous tidal swings in the Bay of Fundy, at the Truro Tidal Bore Viewing Visitor Centre. Inland you'll find a vibrant historic downtown district with unique shops and dining options. Inglis Street is a point of interest not to be missed as it showcases specialty boutiques and landmark stores like Nova Scotia Emporium and Stanfield's Factory Outlet.
If your schedule allows head over to Victoria Park, a 3000-acre park inviting visitors to explore the old-growth forest filled with eastern hemlock trees, a dramatic steep-sided gorge, waterfalls, and a challenging 175-foot climb up to the top of Jacobs ladder. If you're looking for more of a scenic oceanside trail check out the Cobequid trail, an 18km network of cycling and hiking trails travelling through Acadian farmlands and dykelands.
Best Campground in Truro
Scotia Pine Campground, with the slogan, "There's good times at the pines," their amenities prove that they are here to provide guests with a wonderful experience. Guests will enjoy a pool, playground, and weekend events including live music! Their amenities include clean washrooms and laundry, which when being a few days into your trip you might want to restock on (also allowing you to pack less stuff!). To learn more and book your adventure visit their website.
Day 8 – Truro to Pictou (via Cape Chignecto)
344 KM/214 MI – Approx. 4 hours 25 minutes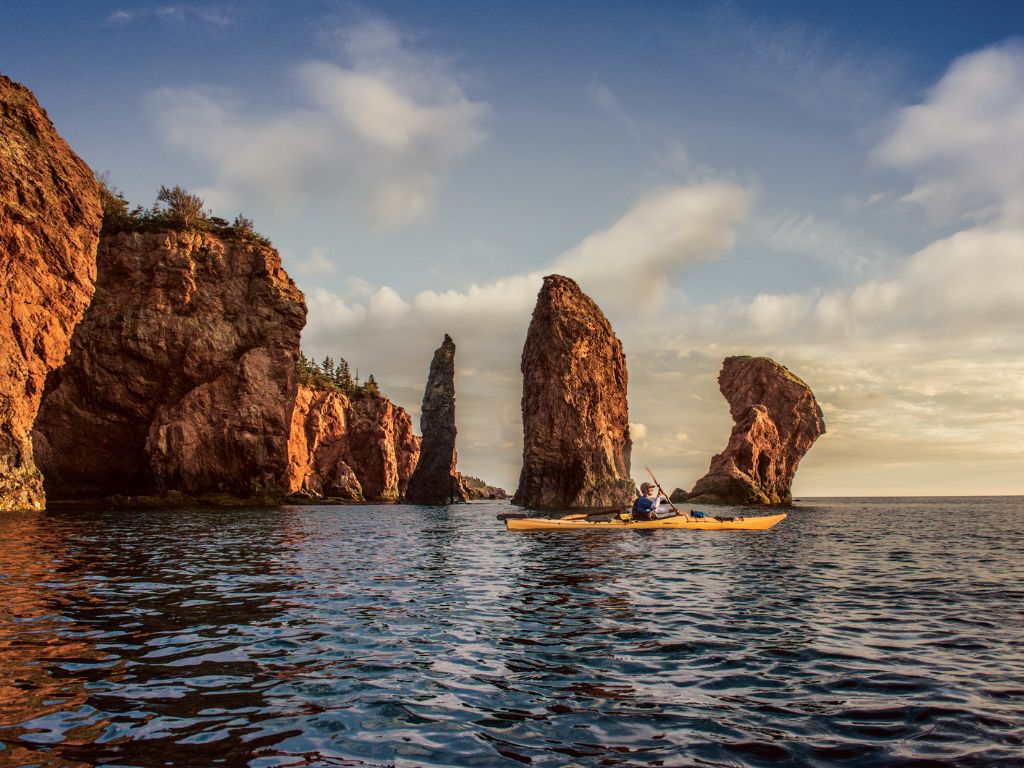 Cape Chignecto & Economy
Today will bring another one for the memory books as you travel along the Fundy Shore and witness the power of mother nature as the highest tides swing in and out twice a day. View landscapes that have to be seen to be believed and "walk on the bottom of the ocean" in Economy. There you can take photos, do some clam digging, build rock houses, and go bass fishing.
Parrsboro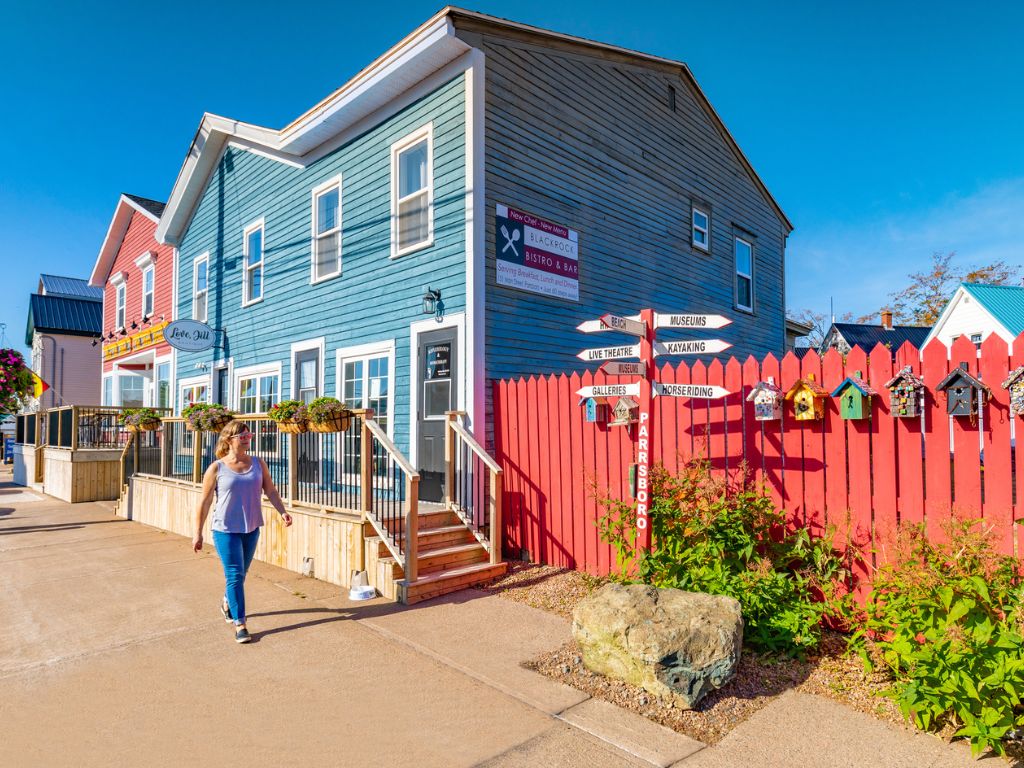 The next stop on your Atlantic road trip is Parrsboro, the largest community in the area. Rock lovers, this is the place for you where you can visit the Minas Basin and look for zeolites and other semi-precious stones including agate and amethyst right on the beaches!
Cape Chignecto
Your day will continue in Cape Chignecto but with so many adventures to explore you'll have to prioritize what you want to do in the day as there are more options than time will allow.
Visit, the site of Nova Scotia's largest provincial park, with a hiking trail that circumnavigates the cape along rugged cliffs rising high above the Bay of Fundy. From Amherst, take Highway 6 towards Pugwash and Tatamagouche. Here the Northumberland Shore follows 450 km (280 mi) of shoreline along the Northumberland Strait with over thirty fine sand beaches which offer an irresistible invitation.
Kayaking Day Tour
If time allows, one of the greatest ways to see and experience the region would be a kayaking tour with Three Sisters Kayaking. You will paddle from Spicer's Cove into Cape Chignecto Provincial Park. There you can see the towering cliffs of Cape Chignecto from the water level. From keyholes to archways, and sea stacks you'll have the best view, including the famous three sisters!
Lunch is included with the tour (with vegetarian options) which may be a great fit since this is such a busy and action-packed day. This tour is also great for families as two-person kayaks are available.
Click here to book your Three Sisters Sea Kayaking Day Tour!
Pictou
Your day will wind down in beautiful Pictou, NS. Situated on the Northumberland Straight, this bright colourful oceanside town will welcome you with open arms. After your long day of adventure, you can settle into one of the local restaurants and enjoy a lovely meal before winding down in your RV for the day.
Best Campground in Pictou
Harbour Lights Campground
Fourth Generation owners will welcome your family to the campground, where they were raised and continue to raise their families today. The campground is open from May 15 – October 15 and offers fully serviced sites for your RV. With a private beach, swimming pool, and all the comfort amenities (power, dump, washrooms) you'll have a great experience hanging out with locals and making new friends at Harbour Lights Campground.
Day 9 – Pictou to Cheticamp
264 KM/164 MI – Approx. 3 hours
Today may be one of the most exciting days of your Nova Scotia RV road trip as you'll be entering Cape Breton Island, a unique experience that stands on many people's bucket lists. Take your time on the drive and soak in the magic that is the Cape Breton experience, stopping for photos and soaking in all the scenery along the way.
Your tour will take you through Scottish-inspired towns including New Glasgow and Tracadie before crossing the Canso Canal Bridge which is considered to be the official divider welcoming you into Cape Breton Island. Continue on East, taking your time as you follow the coastline through Port Hood, Mabou, Inverness and Dunvegan.
A great place to stop for lunch is Mabou Provincial Park, allowing for some wonderful photo opportunities overlooking the Mabou Valley. We enjoyed stopping at small bays and fishing villages to do some beach combing with the kids, and shop with local artisans when we came across some small towns. Another recommended place to stop is Inverness Beach, which is on the Gulf Of Saint Lawrence. Broad Cove Banks is to the south of Inverness which also allows you to see Inverness from a distance giving you a beautiful viewing spot.
Finally make your way to Cheticamp, where you'll want to give yourself ample time to soak in the Acadian culture. This bustling fishing village is thriving with Acadian culture and you'll hear these sounds and sights in the restaurants and shops, and when meeting the locals. Cheticamp is well-known for rug hooking and other fine crafts, so be sure to check out the local shops for this unique art.
Best Campgrounds in Cheticamp for your Nova Scotia RV Road Trip
Cheticamp National Park
If you are planning in advance, or in the off-season I'd highly recommend booking a stay at the Cheticamp National Park. This Parks Canada site offers guests an incredible experience, through not only its beautiful facilities but their on-site interpretative programming, providing you with an opportunity to learn about the culture, environment, and animals that make this place so special. Whether you're travelling with kids or just a kid at heart there are a lot of amazing programs from kids' theatre, to Acadian music, to wide games, geocaching, and animal educational programs, Parks Canada does an incredible job welcoming guests and creating a memorable experience.
The park also offers a variety of campsites, suitable to your needs and amenities include showers, toilets, kitchen shelters, wood stoves, fire pits, and a playground. There is direct access to 4 of the parks 26 hiking trails and you're only a short drive down to Cheticamp town and nearby beaches.
Hyclass Ocean Campground – CanaDream Partner Site
If you're looking for a campground with direct water access this is it. With kayaking, canoeing, and paddleboarding available from your site, Hyclass Ocean Campground. Owners Valerie and Dave grew up in Nova Scotia and now welcome you to their beloved campground with the East Coast charm that never gets old. From fully serviced sites to tents and cabins, you can choose your camping style in this great oceanside campground.
Linwood Harbour Campground – CanaDream Partner Site
Located 10 minutes from Cape Breton Island, the Linwood Harbour Campground overlooks the scenic Linwood Harbour. This is a great place to start your Cabot Trail adventure! With 36 overnight sites, free wifi, extra large pull-throughs, power hook-ups, laundry, fire pits, and a playground and outdoor games for the kids, this is a great place to camp and launch your next days' adventures.
Day 10 – Cheticamp to Baddeck (via Cape Breton National Park)
261 KM/162 MI – Approx. 4 hours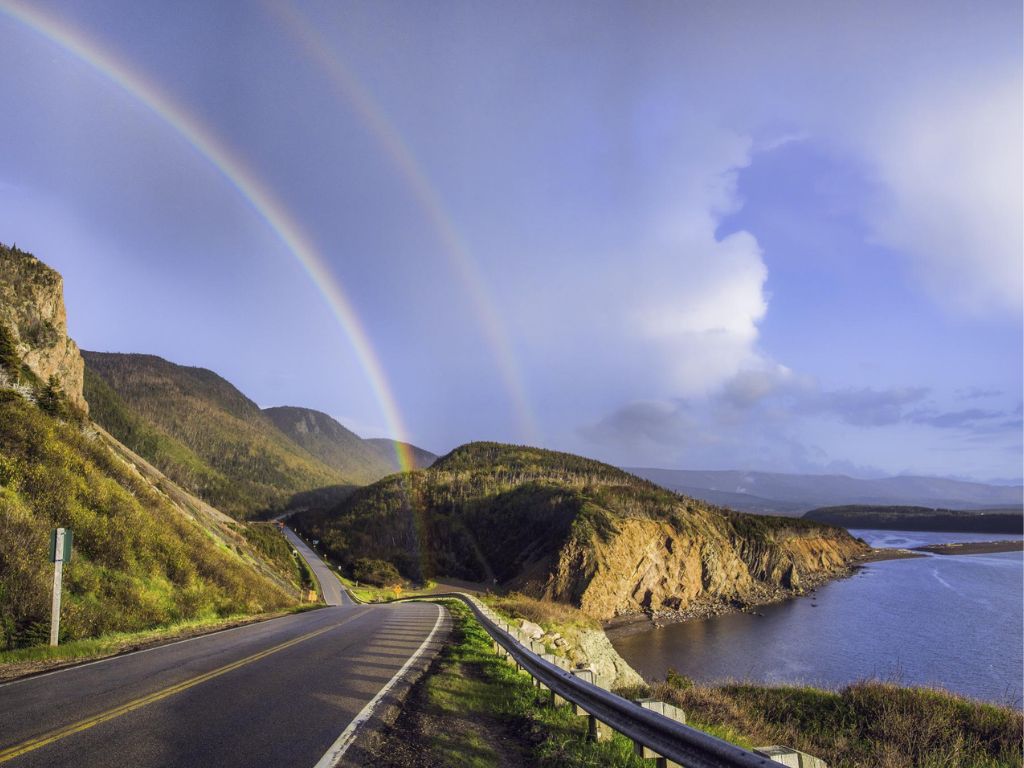 Explore the world-famous Cabot Trail, known as one of the most spectacular drives in North America. Whether you're there in peak summer season or soaking in the colours of the fall, the Cabot Trail is truly extraordinary and you're going to love the scenic views and incredible experience. There are lots of places to stop along the way including Pleasant Bay, which is a working fishing village that also is the location of the Pleasant Bay Whale Interpretive Centre.
MUST DO – Hike The Skyline Trail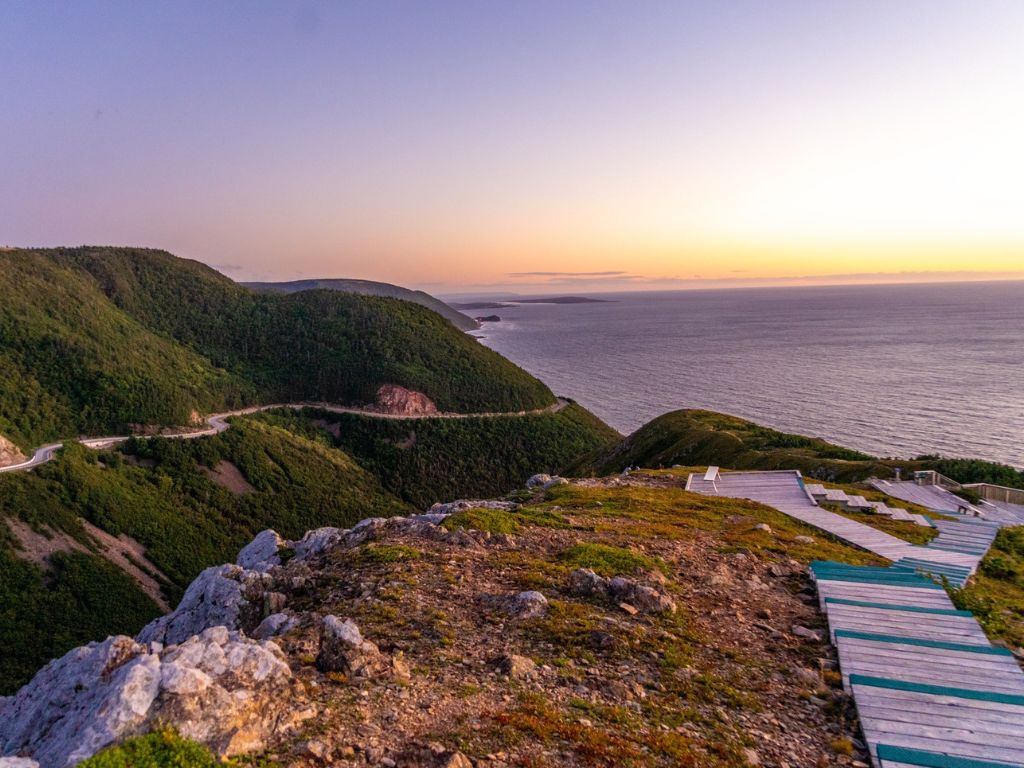 If you're mobile and able, you have to experience one of Canada's most famous hikes. It's not that often that I ever say "MUST DO" but this is an exception, and for good reason. The skyline trail in Cape Breton is one of the most unique and breathtaking hiking trails in all of Nova Scotia. The trail winds its way along through the forest out to a scenic ledge, offering dramatic views of the coast and the surrounding mountains. Visitors can also see an abundance of wildlife, including moose (practice safe animal practices and keep your distance, it's alarming how big these animals are and they need to be respected and viewed from a distance). So be sure to add this to your Atlantic RV road trip plans, you will not be disappointed!
Can you drive an RV on the Cabot Trail?
The Cabot Trail is one of the most scenic drives in Canada, and driving an RV is a great way to experience it. In celebration of Canada's 150th, we did a big East Coast Roadtrip and one of the highlights was driving the Cabot Trail. The trail winds its way through the picturesque Cape Breton Highlands, offering dramatic views of the coastline and countless opportunities to explore. There are plenty of campgrounds located along the route, so you can easily find a place to stay for the night. And because the trail is looped, you can start and finish your journey in the same spot (if you're looking for a shorter version of this itinerary).
Best Campgrounds in Baddeck
Baddeck Cabot Trail Campground – CanaDream Partner
Baddeck Nova Scotia has a ton of incredible places to visit and the Baddeck Cabot Trail Campground is centrally located, allowing you to visit as many as time will allow on your trip. You can plan to check out the Village of Baddeck, the Alexander Graham Bell Museum, and The Gaelic College, all from your campground.
While camping you can enjoy everything from a "campers lounge" to canoe and kayak rentals, a swimming pool, and all the comfort amenities you may need. Learn more about Baddeck Cabot Trail Campground by visiting their website.
Bras D'or Lakes Campground – CanaDream Partner Site
If you're looking to be on the lake, camp at Baddeck's only lakefront campground, the Bras D'or Lakes Campground. Located on the UNESCO-designated biosphere, and the closest campground to the village of Baddeck, this smaller campground is all about location, location, location! To learn more and see photos visit their website.
Day 11 – Baddeck
Learn from my mistake, and give yourself more time in Baddeck than you planned. This great little town is not to be rushed!
Baddeck is a beautiful town with lots to see and explore. Take a leisurely stroll on the boardwalks and government wharf with wonderful photo opportunities, including the lighthouse, eagles and sailboats, or browse the various arts and craft shops around the village. Enjoy a day at the beach on Kidston Island, a short ferry ride away or hike to the scenic Uisige Ban Falls.
Alexander Graham Bell National Historic Site
Did you know that Baddeck is the place where Alexander Graham Bell, the famous inventor of the telephone, was from? Be sure to visit the national historic site named after him to get a glimpse into this world-famous inventor genius's life and understand how his work helped shape the world we live in (if you're reading this on a "phone" imagine what he'd be thinking if he were alive today!). At the site, you'll get to see beyond the phone and see inspiration from his inventions including airplanes and kites, to deaf education and artificial respiration. "Feel his legacy come to life as you explore remarkable artifacts, photos and full-scale replicas that mark his masterful career as an engineer, inventor, scientist and humanitarian." From the rooftop gardens, you can see the retreat "Beinn Bhreagh" Gaelic for "beautiful mountain". The whole family will enjoy this stop on your Nova Scotia RV road trip.
Day 12 – Baddeck to Louisbourg
116 KM/72MI – Approx. 1 hr 23 minutes minutes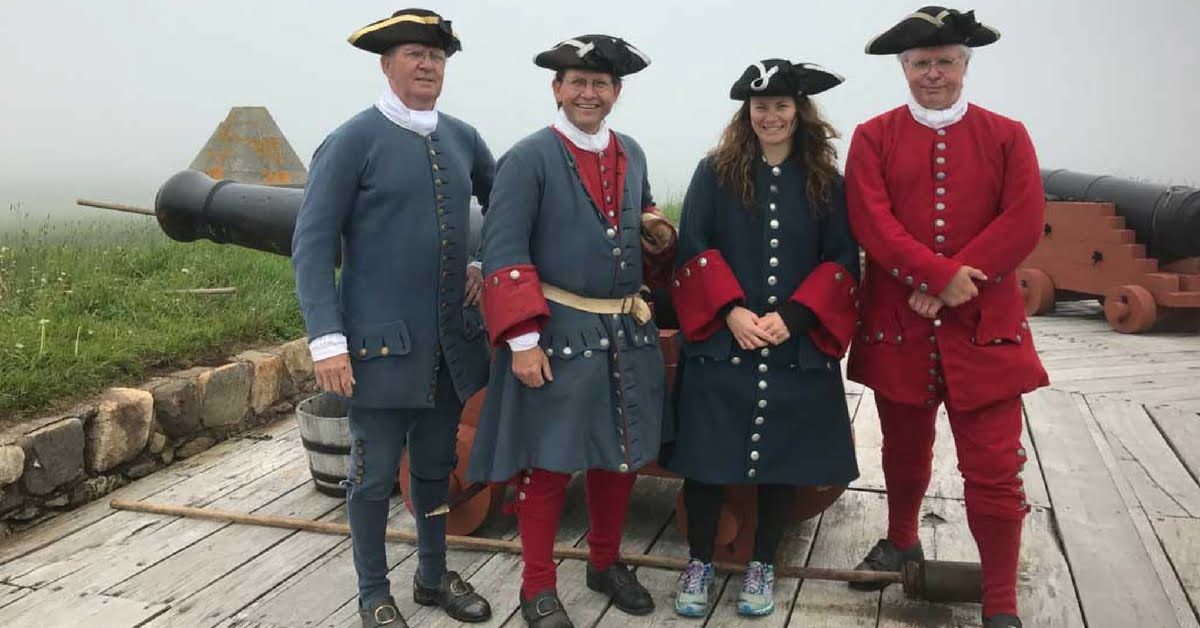 Today's short drive will have you heading back on Highway 105 to South Haven before travelling east on Bras D'Or Lakes drive through to Sydney. One of our favourite places was the Fortress of Louisbourg National Historic Site located 40 minutes past Sydney. This is where we spent Canada's 150th anniversary on Canada Day 2017! I had the opportunity to ignite one of the cannons and my husband shot a musket, and you can too! Just sign up for the special experiences upon arrival.
Best Campsite in Louisbourg
Pecks Cottages and Riverdale RV Park
Louisbourg's best (and only) RV park is definitely Peck's Cottages and Riverdale RV Park. Located minutes from the Fortress and the Beggars dinner, this campground is a perfect place to lay your head after a big day of immersed historical experiences and escapades. With a kind staff, a great location, full hookups, and all the amenities you need be sure to book ahead to secure this excellent RV campsite.
Day 13 – Louisbourg to Sherbrooke
277 KM/172 MI – Approx. 3 hours and 30 minutes
From Louisbourg, you'll travel west along the shores of the Bras d'Or Lake as you start to make your way back towards your starting point of Halifax. Along the way stop in St. Peter's, known as "The Gateway to the Bras d'Or Lake." There you'll find a full-service community located on a narrow strip of land that separates the Atlantic Ocean and the Bras d'Or Lake. Be sure to allocate time to visit St. Peter's Canal National Historic Site.
The majority of your day will be travelling back to the mainland through Antigonish, then inward to Sherbrook before you settle into camp for the night.
Best Campground in Sherbrooke
Nimrod's Campground
With 60 sites spread out over 2 levels, you can choose to have a lake view experience with pull-through or back-in access. Or you can head to the upper level and enjoy a more secluded and wooded experience. These spacious sites will have you settling in quickly and easily before you tuck in for the night. If you're travelling with a crew, caravans and group campers are welcome!
Day 14 – Sherbrooke to Halifax
182 KM/113 MI – Approx. 2 hours and 25 minutes
This is your final day and we've got an action-packed itinerary for you to experience everything the Eastern Shore and the Eastern Passage Region have to offer. We'd recommend an early start so you can get most of your driving done in the morning and soak in the scenic seaside views while you make your way west toward Halifax.
Lawrencetown Beach
The perfect place to stop for lunch is one of Nova Scotia's most famous beaches. Lawrencetown Beach is the perfect place to enjoy the Nova Scotia coastline. Visitors can swim, surf, paddleboard, and windsurf in the beautiful Atlantic waters. The sand dunes are perfect for a nature hike, and picnicking is allowed in specified areas.
Lawrencetown Surf Shop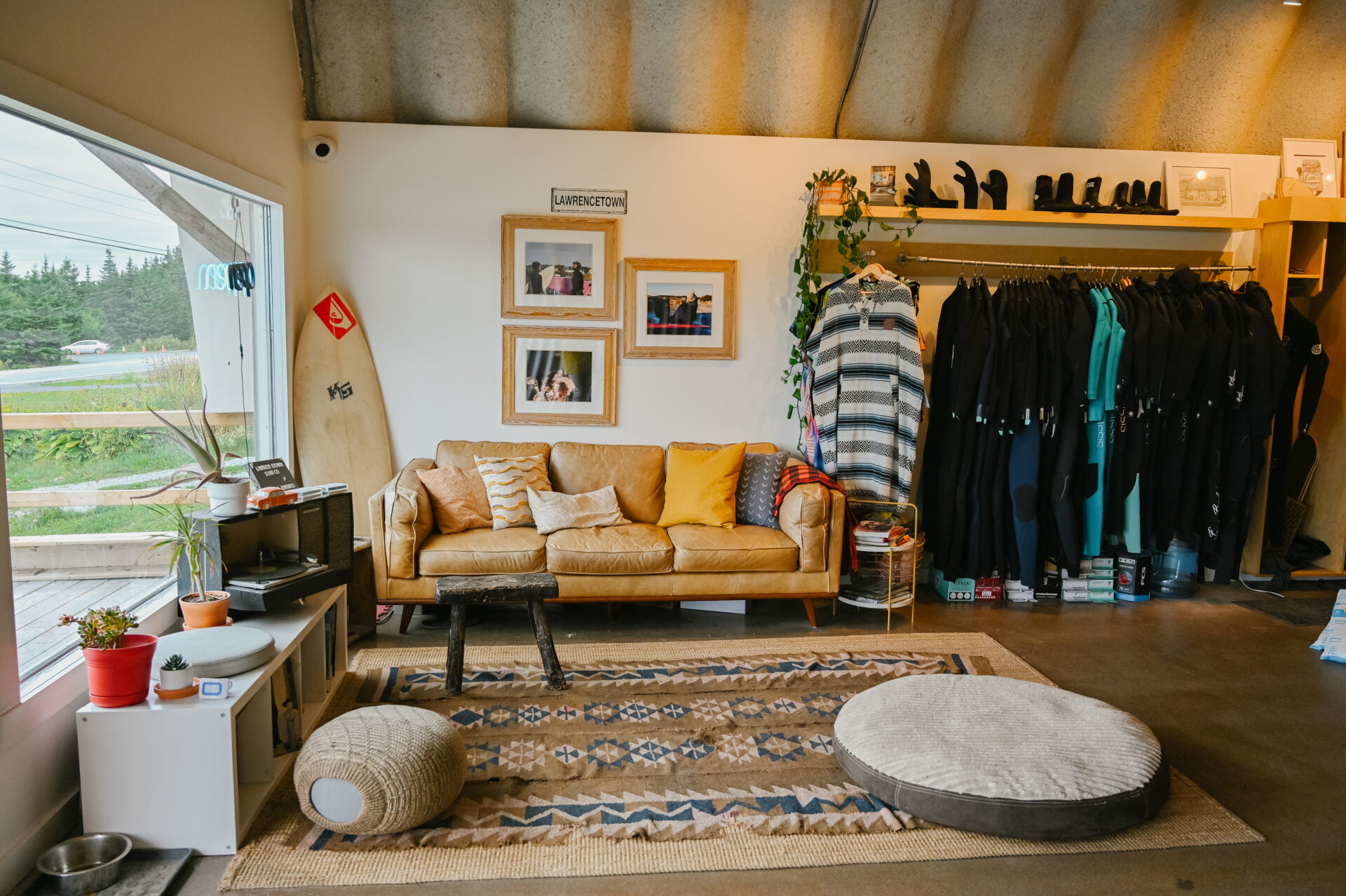 My daughter nominated the Lawrencetown Surf Co. "The Coolest Surf Shop in Nova Scotia" and I can't argue with you there. So if you're into surfing or have kids that would love a cool stop on their way, pull your RV into their big parking lot and check out this amazing local shop while on your Nova Scotia RV road trip. Here's an article we wrote that shows you more about this great little locally-owned shop.
Rainbow Haven Beach
Located in between the Surf Shop and Cow Bay is Rainbow Haven Park, a stunning secluded beach and a network of trails waiting for you to explore. You could spend a whole day here swimming, sunbathing, picnicking and hiking through the long grasslands. While Lawrencetown beach is well known and quite popular, Rainbow Haven is a little less known (still popular) but definitely worth the visit.
Fisherman's Cove
This colourful row of fishing houses along the boardwalk welcome you to shop and stroll your way through some of the best collection of artisans' work in Nova Scotia. A 200-year-old fishing village on the edge of Halifax, you'll be able to look out over the city all while shopping or dining on some incredible seafood. Bring your camera as you'll want to take lots of photos of this mecca of art and history! Be sure to check out our experience at Fisherman's Cove on our Nova Scotia RV road trip.
Dartmouth – Views over Halifax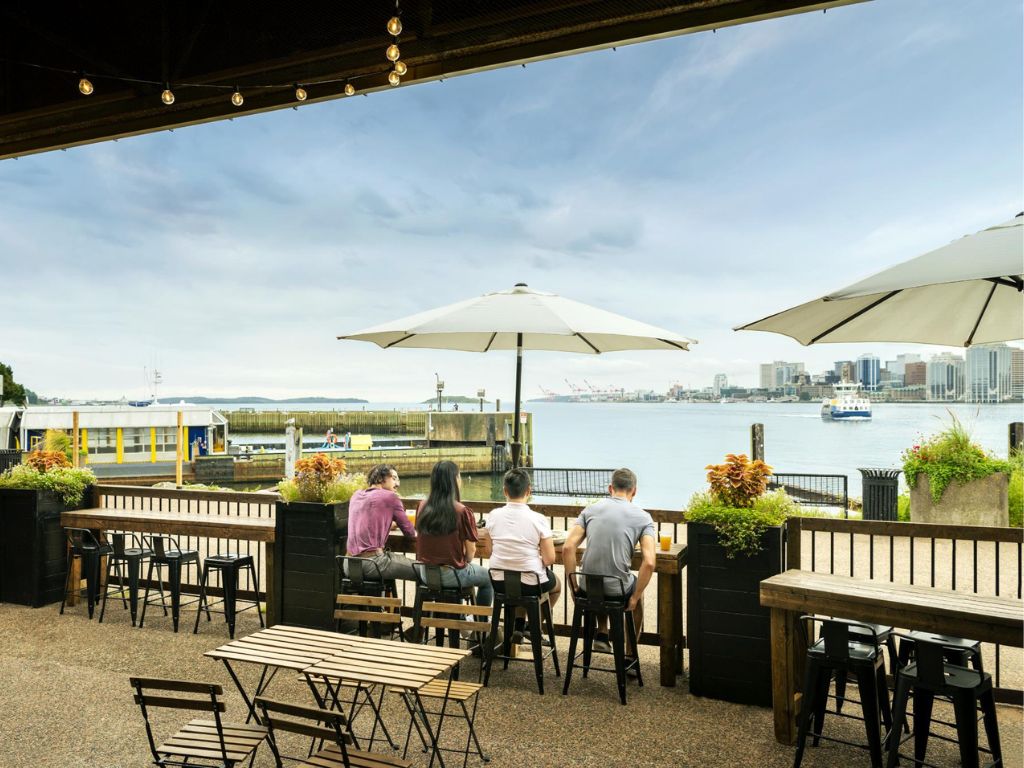 The Alderney Landing Ferry terminal is great to pull the RV in for one last stop before you make your way to your campground for the night. There you can check out skyline views of Halifax and stroll Ferry Terminal Park and Peace Pavillion. After you've taken in the outdoors head inside and grab whatever essentials you need for making your last dinner. From fresh seafood to bakery, to vegetables and fruits you can get what you need easily inside this wonderful market.
Best Park RV in Dartmouth
Shubie Park Campground
Located only 12 minutes from Alderney Landing, this is the closest RV park to Halifax, allowing you to be centrally located and get anywhere you need to go, quickly! This big open campground has all the amenities you want including a playground, tennis court, and laundry combined with the luxuries you need like power and sewer hookups. If you're wanting to go out for one more night on the town, you could leave your RV at the campground and Uber/ferry into Halifax quite easily, making your last Nova Scotia memories before you head home.
Nova Scotia RV Campgrounds
RV Sites In Nova Scotia
You'll note that throughout this article I've featured some of my recommended places to stay. If you are booking with CanaDream you'll see that I noted their partners in the itinerary, because CanaDream clients get preferred booking rates and discounts at these sites.
If you have the capacity to book ahead I would, and be sure to include as many National Parks in your itinerary as I love the interpretative programming that is available for visitors at our national parks. Sites typically have reservations open in January / February so be sure to check in and plan your reservation strategy so that you can secure the spots you want.
Nova Scotia RV Road Trip Tips, Questions, and Answers:
What to take on an RV Road Trip:
Camera Backpack
Binoculars (so you can get an up-close view of wildlife while keeping a safe distance!)
What is the best month to go to Nova Scotia?
This really depends on what you want to experience. I've been in spring, summer, and fall and each offered a completely different experience for me to enjoy. The spring was warm and since it was off-season didn't have many crowds, plus offers savings because it's not peak season, so that's a big win for me.
The summer was EPIC, there's nothing like camping under the stars in Cape Breton National Park! The warm weather and the fun summer adventures make it easy to see why so many people prefer a summer road trip to Nova Scotia.
Fall was spectacular and my next trip will be driving down the Cabot Trail, winding our way through the fall foliage while looking out over the Atlantic Sea.
And while I've never done a winter road trip, I'm sure there are a lot of incredible benefits to touring the region in the off-season! Email me if you want me to do more research on this season for you.
What should I not miss in Nova Scotia?
Nova Scotia has a lifetime's worth of adventures to explore, but if you're looking for "must-see" experiences I'd have to say my top four Nova Scotia RV road trip adventures include:
Halifax – My new favourite city!
Cabot Trail in Cape Breton National Park
Annapolis Royal
Peggy's Cove Region
---
Check out these Articles for More
Nova Scotia Travel Inspiration!