A year ago (yikes!), we asked you, our loyal followers, to share your favourite small-town getaways. And you delivered! You shared insights, activities, and photos of places that, for varied reasons, hold special meaning for you and your family. The sense of community that many small towns exhibit is reflected in this generous, open sharing of knowledge. It's one of the reasons we do what we do. Thank you for letting go of the 'finders keepers' mentality, and giving others the chance to share in your experiences.
Due to the large response, we had to narrow down the list a bit. There was one theme that seemed to connect many of your replies – the ocean. There is something about the ocean that seems to draw us to it. Perhaps it is the sense of power and size the ocean exudes that puts everything into perspective. Or the fact that it spans the globe, connecting continents and peoples across vast distances. Whatever the reason, it featured prominently in your responses. Featured below are some of the seaside small town getaways that you shared, along with some tips of our own. Thank you again, and enjoy!
Porteau Cove/Britannia Beach
Suggested By: Xenia Hui-Leung
Tagline: Water Days and Forest Forays.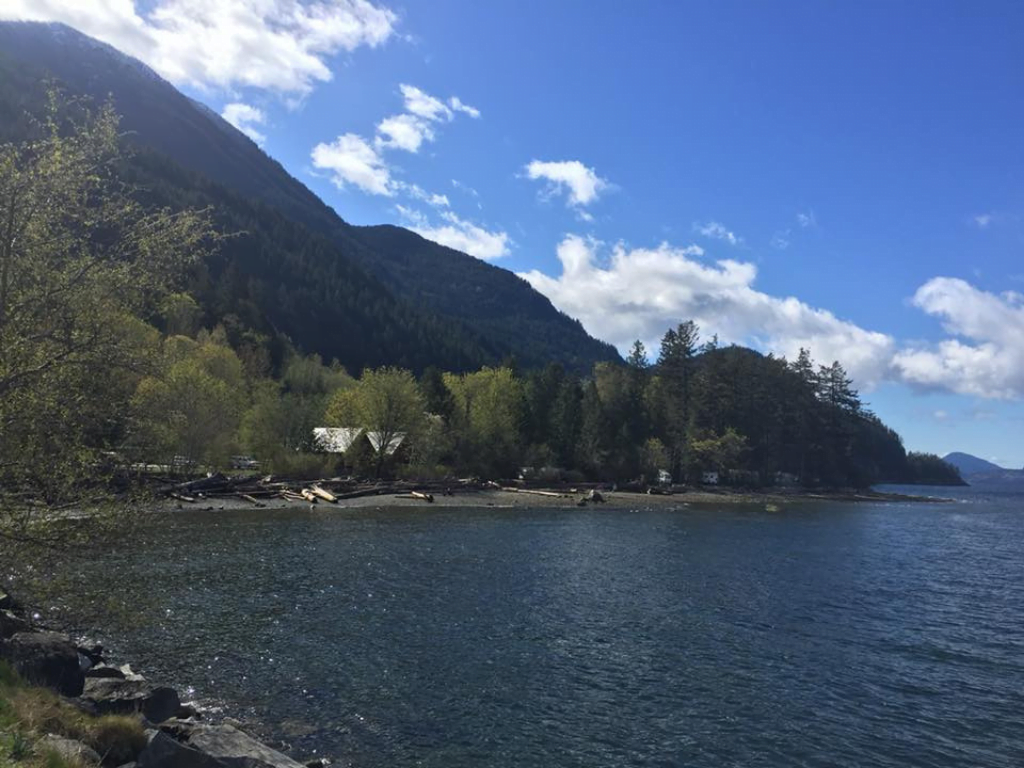 Porteau Cove and Britannia Beach, while just a short drive north from Vancouver on the sea-to-sky highway, are a world away from the big city. For many, they are just milestone markers on the way to Squamish or Whistler. But this area is a destination unto itself, with easy access to hiking, rock climbing and, of course, beaches and watersports on the waters of Howe Sound. Technically, this is more of a region than a 'small town'. However, its proximity to Vancouver makes it a feasible day-trip destination. That and its wealth of outdoor activities warrants it a place on this list.
Highlights
Porteau Cove Provincial Park is a very popular camping spot during the peak summer season. Known for swimming, windsurfing, and diving, the park is 100% reservable and books up quickly. In addition to campsites, cabins are also available for rental. Again, planning ahead is key. With limited accommodations in the area, Squamish may be your best option for an overnight stay. Or, as we suggest, make it a day-trip getaway.
The Britannia Mine Museum is a great family adventure destination that includes gold panning, a mill site that is a registered national historic site of Canada, and, wait for it – underground tours. You and your family can don your hard-hats and climb aboard a rail car for a guided underground mine tour to learn what life was like for the workers of what was once BC's largest copper mine. Notorious for its pollution of Howe Sound, the mine's run-off is now treated and monitored, thanks to efforts by the BC provincial government and the University of British Columbia.
Nearby, Murrin Provincial Park offers swimming in Browning lake and a number of rock climbing routes, if you are vertically inclined. For a hiking challenge, the Petgill Lake trail starts at the park parking lot and climbs steeply through the forest to the small lake. Hint: the best view is actually from a lookout point ten minutes past the lake. Drive a few more minutes north, and you will arrive at Jami's all-time favourite hike: the Stawamus Chief.
Gabriola Island
Suggested By: Mark and Kelly Henault
Tagline: Cerulean Blue and the Ocean, too.
Gabriola Island, a short ferry ride from Nanaimo, is known for its vibrant arts community and, of course, the ocean that surrounds it. One of the Gulf Islands, it boasts rocky points, hidden coves, beaches, and trails to explore by foot, kayak, or mountain bike. Art lovers rejoice, for here you will find your people. Jewellers, leather workers and painters are just some of the artisans who call Gabriola Island home.
Highlights
Trails, trails, trials! The Gabriola Land and Trails Trust is a community organization dedicated to developing public trails and lands for recreation on Gabriola Island. They even have an interactive map available to use on your mobile phone.
The Isle of the Arts Festival, hosted by the Gabriola Arts Council, is held in April of each year and showcases local artists, artisans, and musicians.
Tofino
Suggested By: Erin Haylock
Tagline: Longboards and Long Beaches.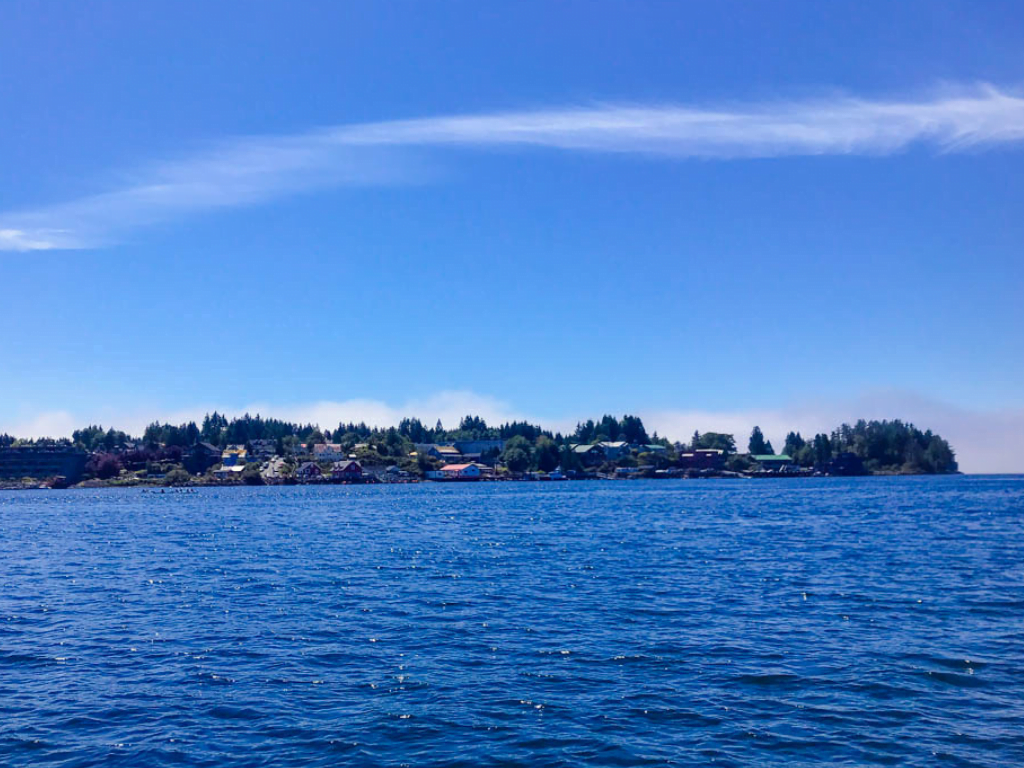 Tofino, long considered Canada's surfing mecca, is a small town with a frontier feel. It seems to draw the free-spirited and the adventurous unto itself. Remote and rugged, Tofino lies on the west coast of Vancouver Island and is subject to the full force of powerful Pacific storms. Swells from the west and visitors from the east both end their journeys here, where the sea meets land.
Highlights
Pacific Rim National Park, just south of Tofino, offers stunning scenery and an interpretive centre, along with its famous beaches. Wander the shoreline among the ever-present, ever-morphing mists and experience the odd mix of solitude and comfort that this unique landscape evokes.
Coffee! This town knows good coffee (and even roasts some of its own) and serves it up in a variety of unassuming, authentically west coast coffee-houses.
Ucluelet
Suggested By: Amanda Gould
Tagline: Work hard, Play Hard.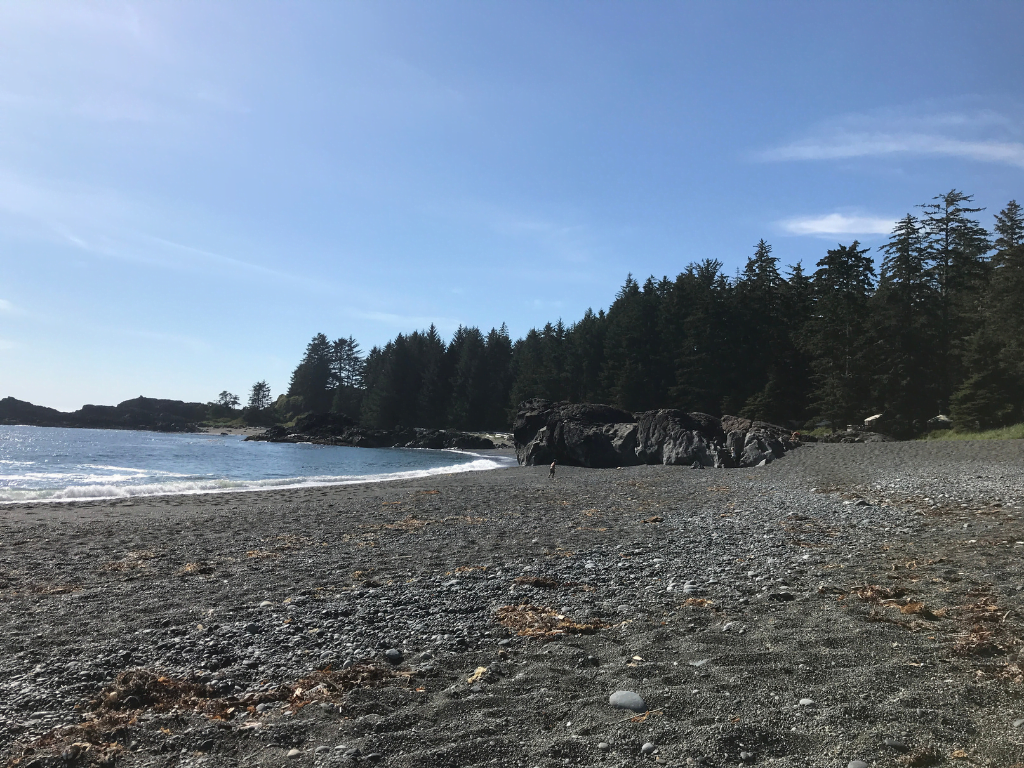 A short drive south of Tofino along the Pacific Rim Highway, Ucluelet is Tofino's edgy sibling. While tourism has grown rapidly, Ucluelet maintains it's working roots. Traditionally based on the fishing and forestry industries, it has capitalized on its wealth of outdoor opportunities. Recreation activities include hiking, kayaking, and, of course, surfing.
Highlights
The Wild Pacific Trail is a newly developed series of short, scenic, and family-friendly hiking trails near Ucluelet that are wheelchair accessible. Check out the five tiny tree-houses, known as painter's perches, along the Artists Loop.
Come July, check out Ukee Days, a weekend festival of logger sports, music and west-coast fare.
Port Renfrew
Suggested By: Vanessa Hodgkins
Tagline: Trails and Beaches and Salmon, Oh My!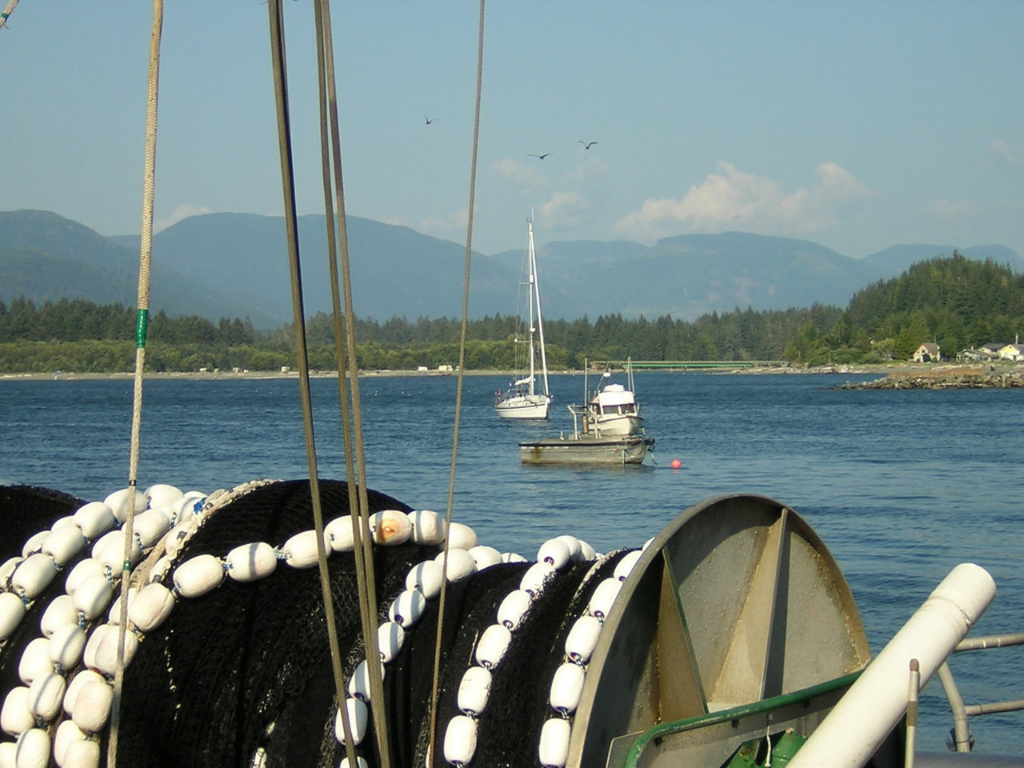 Take Highway 14 north-west from Victoria and you eventually find yourself at Port Renfrew. Perhaps best known for its world-class salmon fishing, Port Renfrew is also perfectly situated near the southern terminus of the West Coast Trail and the northern terminus of the Juan de Fuca Trail. Visitors from around the world come to challenge themselves on these bucket-list hikes. But there is more to do in Port Renfrew than epic multi-day hiking expeditions. Incredible beaches and forests are within easy reach for families and those seeking a more relaxing getaway.
Highlights
Botanical Beach, just south of Port Renfrew, is known for its incredible tidal pools. Visit at low tide and the kids will be amazed at the incredible variety of marine life they can find among the shallow pools.
Get lost in wonder amid the giants of Avatar Grove, a magnificent stand of old growth red cedar and Douglas Fir trees a few minutes north of Port Renfrew.
Egmont
Suggested By: Jen Thibodeau
Tagline: Standing Waves and Peaceful Days.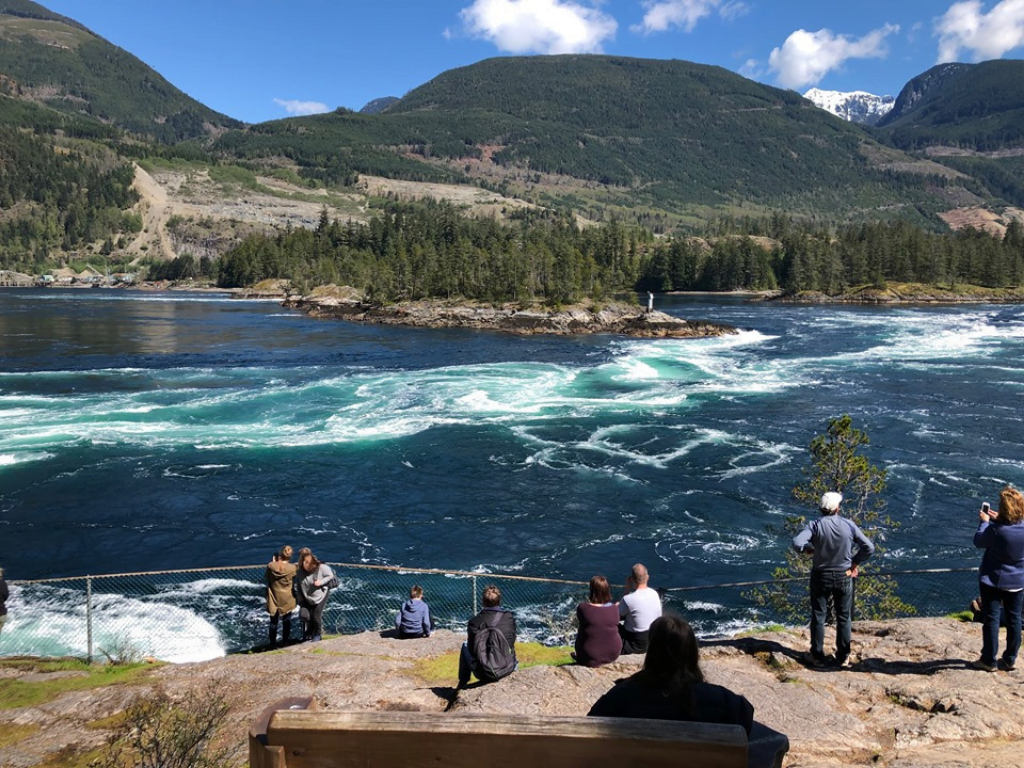 BC's Sunshine Coast has it all – ocean, lakes, beaches, hikes, great food and fabulous festivals. While Sechelt, Gibsons, and Powell River are the largest and best-known communities in the area, there are many smaller gems hidden among the bays and inlets. Egmont, a very small community at the start of Sechelt Inlet, is a perfect example. Rich in First Nations culture and surrounded by beauty, Egmont is a great place to breathe deep, relax, and just be.
Highlights
Skookumchuck Narrows is the site of one of BC's most spectacular natural wonders. Twice a day with the tides, 200 billion gallons of water flow through the narrows between Jervis and Sechelt inlets causing incredible whirlpools and rapids. A flat, four-kilometre trail leads to two viewpoints where you and the kids can watch kayakers and surfers ride the incredible standing waves produced by the strong currents. It's a unique sight, as these experienced athletes remain stationary and the water moves beneath them. For the best experience, be sure to check out the tide charts for timing your visit.
If you enjoy kayaking or stand-up paddle boarding, the calm, protected waters near Egmont offer islands and waterfalls to explore.
Roberts Creek
Suggested By: Debbi Grace
Tagline: Relax. Unwind. Eat Fish & Chips.
The small village of Roberts Creek lies 20 minutes north of the Langdale ferry terminal, the jumping off point for visitors to the Sunshine Coast. Half-way between Gibsons and Sechelt, Roberts Creek is quiet and crafty. Home to many artists, musicians and artisans, Roberts Creek punches well above its weight class when it comes to arts and culture.
Highlights
Fish and chips. Just across the highway from the village is a fantastic little fish and chips shop. There are a couple of small outside tables available, but we recommend taking your food to go and heading down to the pier at the village to enjoy it with a view!
Each year, local artists repaint the community mandala, a large art piece located near the Roberts Creek pier. Its vibrant colours and interwoven patterns reflect the spirit of the tight-knit community.
Pender Island
Suggested By: Pennie Jennie
Tagline: Twice the Island, Twice the Fun.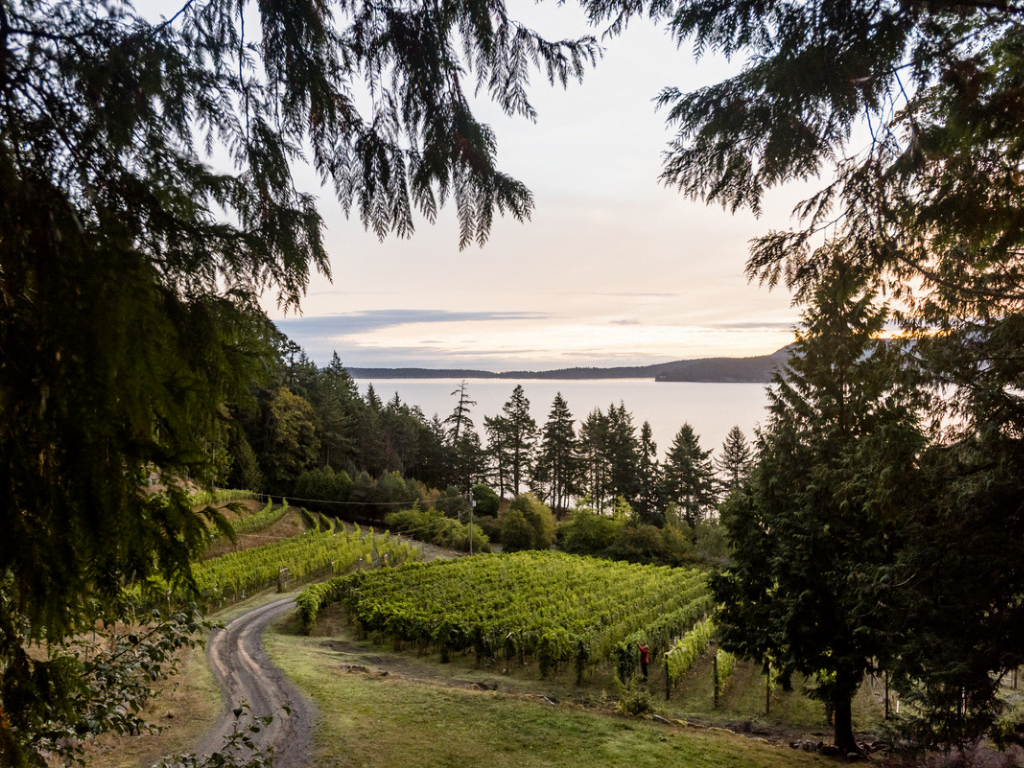 Pender Island, one of the Gulf Islands in the Strait of Georgia between Vancouver and Victoria, is actually made up of two islands – north Pender and South Pender. Each island has its own unique geography and personality, but the community is one. The islands are not overly developed and have maintained their rural, farm feel. Like all the Gulf Islands, beaches, parks, boating, and watersports are easily accessible.
Highlights
Visit the farmer's market to sample local farm produce and artisan wares each Saturday from the May long weekend until Labour Day.
Glamping made easy. Check out Woods on Pender, a unique mix of accommodations on Pender Island.
British Columbia is full of many small town communities just ready for exploring. And if you are an ocean-loving family like we are, then you are sure to enjoy these ones!
Check out BC Ferry Vacations for more seaside adventures!
Days full of sunshine are heading our way! Here are some other articles to help you in your family planning adventures!
Vancouver Day Trips for Families
Is this a sponsored post?: No, we just wanted to share these wonderful family friend small bc town getaways with our followers!