While travellers from all around the world have to put their dream trip to Canada on hold, we Canadians have a unique opportunity to be able to explore one of the world's most magical destinations, right here in our backyard. Perhaps that is why our national anthem starts with "O Canada?" This is why we want to share with you these 23 Canadian Eco Tour Adventures that are sure to be unforgettable experiences for your family.
Is Ecotourism Popular in Canada?
From "far and wide" Canada has some of the most amazing bucket list eco experiences for families to explore, but we also have an opportunity as Canadians to support our Tourism Industry by investing in our local market this year. In 2019 the Canadian tourism industry generated 104.9 billion dollars in tourist spending with 22.1 million people visiting our country that year. In 2019 1 in ten jobs in Canada were connected to the tourism industry which contributed to $43.5 billion in GDP.

Locations in Canada that Offer Ecotourism Opportunities
As one of the largest countries in the world, Canada has some of the most diverse ecosystems on the planet with more bucket list experiences a person can make than they will ever achieve in one country. Each province and territory offers visitors a unique opportunity to explore the landscapes, flora and fauna that make up that region. So whether you're looking to stay local and explore your backyard or want to travel across the country, here are 23 Canadian Eco Tour Adventures perfect for your exploring!

Best Canadian Eco-Tourism Destinations
2023 is your year to go on an epic adventure right here on Canadian soil. To challenge yourself to explore your backyard and discover new opportunities across our beautiful country. Surround yourself with spectacular scenery, world-class outdoor experiences, come face to face with new animals and create magical moments with your family. Here are my top 23 Canadian Eco Tour Adventures to inspire you to #ExploreCanada this year:

1. Polar Bears & Beluga Encounters in Churchill, Manitoba
Imagine the excitement of rolling over the frozen ice in an Electric Vehicle Tundra Buggy®, only stopping to let the local polar bears cross. The tundra buggy drivers are knowledgeable on the region's history and the local wildlife, and get you an up and close personal interaction with one of Canada's most magnificent mammals.  Floe and Drift are two of the local polar bears who live in the Western Hudson Bay area that the Frontiers North guides named through the Polar Bears International (PBI) polar bear tracking program. While Polar Bears are typically the stars of the show, be sure to keep your eyes out for many other local animals on your tour, equally exciting and sometimes elusive. Want to keep the adventures rolling? Frontiers North also offers zodiac tours with Belugas. This intimate experience will bring you face to face with wild belugas, whose friendly demeanour will make you feel like you're on a playdate with giant puppies!
Where to explore: Family owned and operated since 1987, Frontiers North is an internationally recognized leader in authentic and sustainable adventures in Canada's north. This certified B Corp organization has been recognized as a "company that takes the extra steps needed to leave a positive impact on our travellers, on our employees and on the communities where we operate." They are also a platinum sponsor of PBI and through their partnership have collaborated and supported a number of projects to inspire people around the world. Frontiers North is a company that understands its opportunity and responsibility and has brought them together to create unique itineraries that deliver meaningful experiences with a focus on wildlife, photography, and experiential adventure travel, thus making my 23 Canadian eco-tour adventures list.
2. Family Surfing in Tofino, British Columbia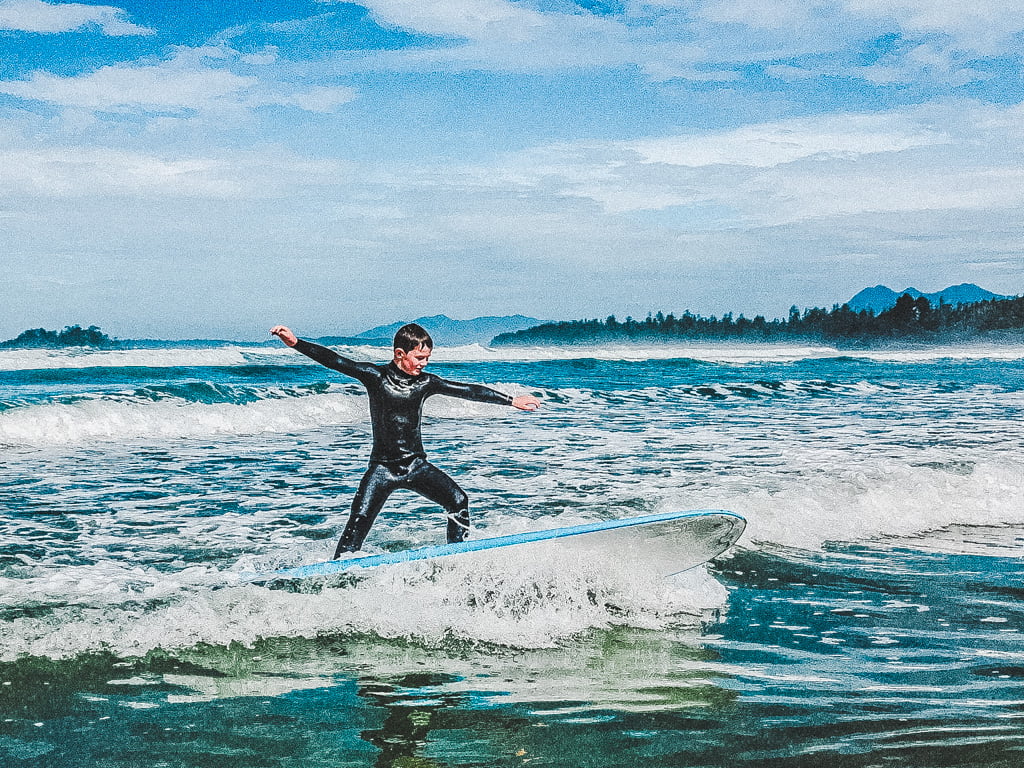 There's nothing like learning how to surf along the sandy beaches of Tofino, BC. With a lower center of gravity kids often pick surfing up better than their parents, leaving smiles on the faces of everyone in the family. The crashing waves on the edge of the coastal forest are the perfect pairing for a spectacular seaside family vacation, offering you lots of activities to explore beyond the surf. Marine explorations, hot springs, hiking, biking, food trucks to fine dining, national parks and educational programs, the biggest problem you'll have with your trip to Tofino is not having enough time to do it all.
Where to stay: The Long Beach Lodge offers surfers the unique ability to walk right from their surfing lessons into the hot tub, no cold waiting and changing on the sand required. Once my kids had experienced this level of luxury surfing it was the new standard in how to surf. The family-friendly resort is filled with a variety of activities for you to explore and the perfect base camp for you to head out and explore the Ucluelet and Tofino region. Tofino is the ultimate West Coast family adventure and why it has made my 23 Canadian eco tour adventures list!
3. Family Road Trip Along The New Fundy Trail Parkway, New Brunswick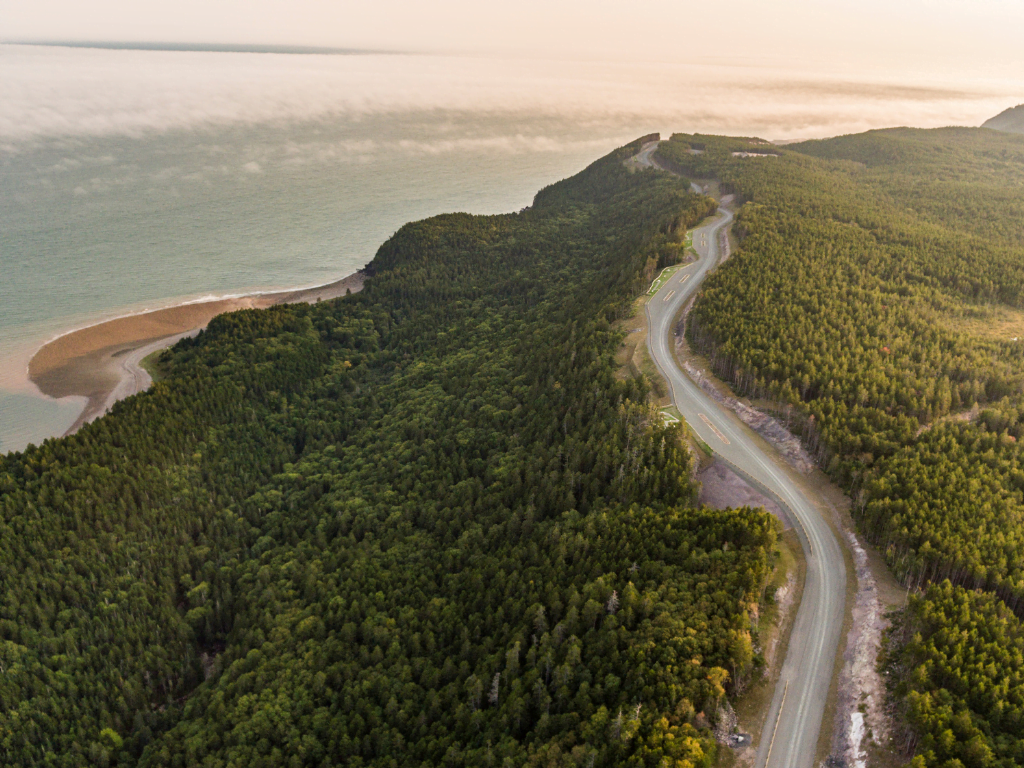 After 26 years in the making, the new Fundy Trail Parkway is now complete. This spectacular scenic coastal drive now links the entire southern portion of the province from St. Stephen in the west to Sackville in the east. Visitors can expect cascading coastal cliffs, walking and hiking trails, and lots of stops along the way (don't forget your camera). Explore world-renowned Fundy National Park, Hopewell Rocks and Cape Enrage and UNESCO designated sites Fundy Biosphere Reserve and Stonehammer Geopark. To start planning your visit the Fundy Trail Parkway website here.
4. Go Glamping in a National Park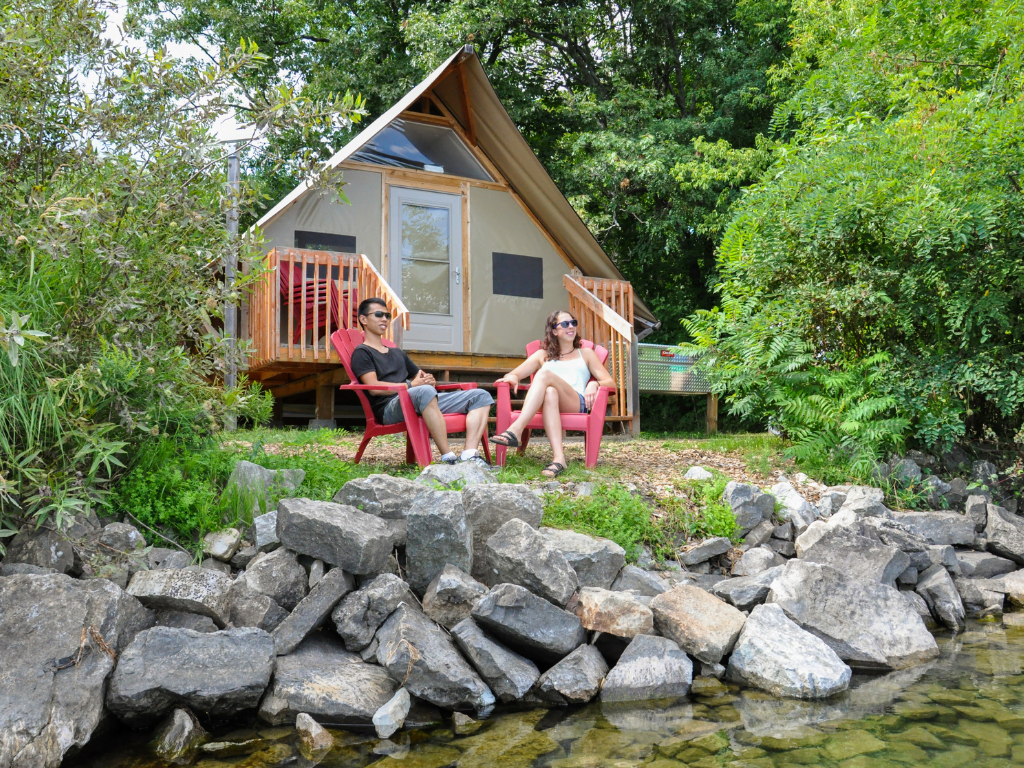 Canada's National Parks are one of our greatest treasures and Parks Canada has created many wonderful immersive experiences for visitors to explore. More comfortable than a traditional tent, glamping in a national park offers more conveniences of home in an environment that puts you in the center of all the action, with fewer logistical plans needed. Waking up in the morning you're likely to be greeted by local residents, and depending on which park you're at that could be Elk in Banff, Moose in Gros Morne, or a pod of orcas off Pacific Rim National Park.
Incredible scenery combined with high-quality educational programming makes our National Parks a treasure waiting for every family to explore. With a variety of glamping options for families, from oTENTik, Oasis, Microcube, Yurt, Teepee, or other custom accommodations, there's so much more than a "bed" to retreat to at the end making this a unique (and very affordable) option for Canadian families to explore. This is why all of Canada's National Parks make this ultimate 23 Canadian eco tour adventures list.
5. Connect With The Coast at Klahoose Resort, Desolation Sound, British Columbia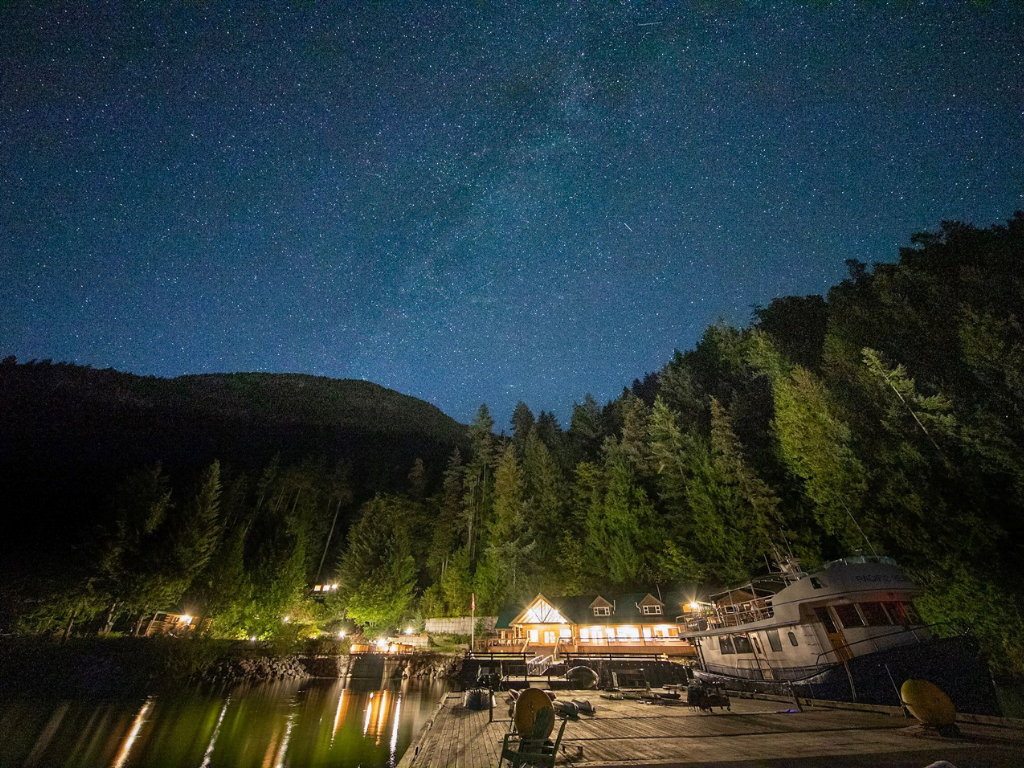 Accessible only by boat or seaplane, your adventure begins before you've even arrived as you traverse your way through Desolation Sound to the Klahoose Wilderness Resort. This off-the-grid experience offers your family an all-inclusive luxury experience in the coastal wilderness of Desolation Sound.
Klahoose is BC's newest Indigenous cultural experience offering families a resort that reflects the traditional values and offers an immersive exploration into the wilderness, culture, and wildlife in the region. The best time for families to visit is in the summer months when kids can enjoy spending their time outdoors, swimming, kayaking, SUP, and hiking. This hands-on adventure will have children pulling up prawn traps, investigating intertidal zones, and checking out the off-the-grid power system. If you are visiting after August 25th  (note this date), you will be taken further into the rainforest to see BC's beautiful Grizzly Bears, as they feast on salmon in a remote wilderness river. Back on shore families can take part in Indigenous activities such as cedar weaving, storytelling, and evening campfires.
To learn more about Klahoose visit their website here.
6. Explore Canada's Culture With Indigenous Lead Experiences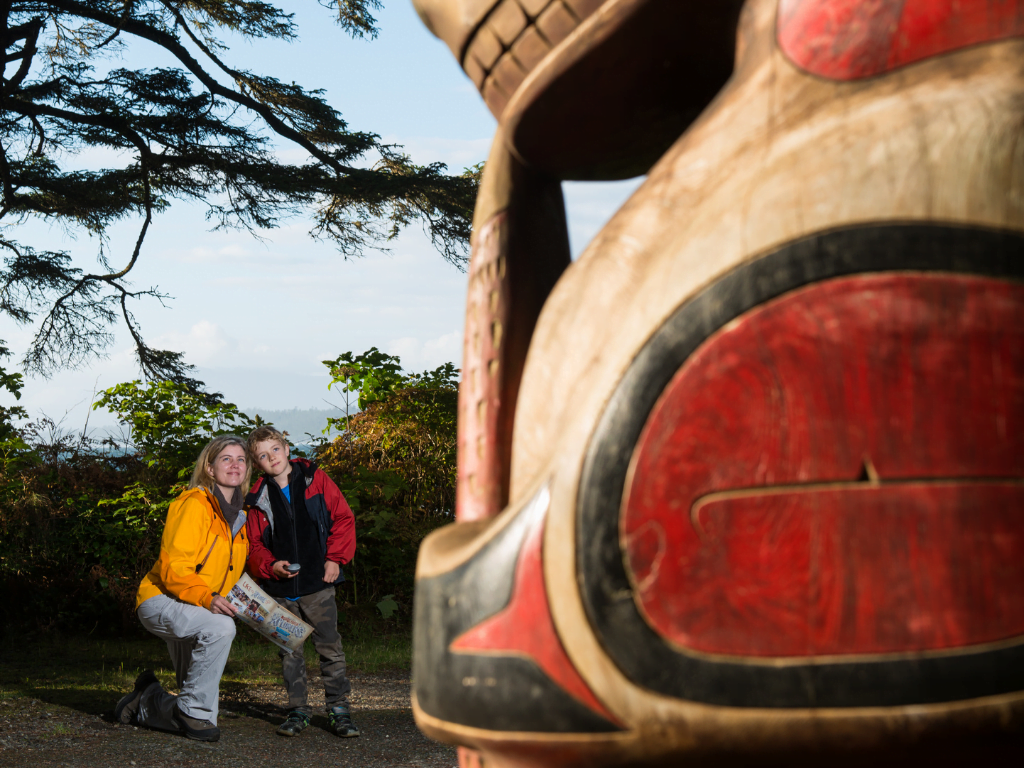 Learning how to connect with our land's people and history is a unique experience for Canadian families to explore. With more and more indigenous-owned and operated resorts, adventures and activities starting up families can look to explore the indigenous culture, food, land, and animals of the region they are visiting.
Parks Canada offers a variety of educational programming in their Visitor Centers as well as on-site in parks, connecting visitors to the indigenous culture in the park. And with so many National Parks to explore and a wide range of unique indigenous history across Canada, it's a great way to connect with history, culture, arts, and stories. We are so happy to have Parks Canada on our list of 23 Canadian Eco Tour Adventures!
If you're looking to explore an experience outside of our National Parks look for adventures and experiences that are owned and operated by Indigenous people. Local Tourism Boards are experts on service providers and are a great way to get advice on companies that they recommend.
7. Explore The Capital with Summer Celebrations or Skating in Ottawa, Ontario
A mix of culture, nature, and Canadian pride, Ottawa is a place where you can kick off Canada Day in our nation's capital, or choose to go skating on the Rideau Canal in the Winter. Exploring our capital city with the family is something every Canadian kid will enjoy. A strikingly clean, vibrant, and active city, the pride of the nation is on display at every corner.
Winterlude is the celebration of the season and the streets are filled with activities for the whole family including giant slides, art displays, music, food, and entertainment. Summer brings warmer weather and a variety of outdoor activities including kayaking, biking, beaches, and boat tours.
8. Go Beach Hopping in the Gulf Islands, British Columbia
A Mediterranean-like climate awaits as you wake up to the sound of the waves hitting the sand. An otter swims by with her baby on her chest while she sneaks in a nap before swimming off to find the morning breakfast. An eagle eyes you from above, one eye on you and one eye looking out for its own meal. The sound of orcas cascades over the waves to remind you how we're a small part of Mother Earth's world. With picture-perfect scenery complete with so many amazing residents, exploring the beaches of the gulf islands is an iconic Canadian experience into a rare Westcoast ecosystem. Making this area of BC the perfect addition to our 23 Canadian eco-tour adventures list!
Families can kayak, hike, or cycle the lush paradise exploring mountain-top viewpoints, lighthouses, and shores and lagoons that will have you beachcombing for days. A popular park for locals and visitors to explore, be sure to book early and plan ahead for your adventure.
9. Marvel In Mother Nature at Clayoquot Wilderness Lodge, Vancouver Island, British Columbia
The first time I ever saw the above image it was a catalyst moment that changed the projection of my life. The image showcases a grand tent perched on the edge of a mountain top showcasing some of the most magnificent scenery that BC has to offer. A place where families could go and have a unique eco-experience, letting mother nature engulf them and showcase all of the wonders of her world. And with that, Adventure Awaits was Born – I knew I wanted to tell stories about unique places like this around the world and teach families how to explore such regions.
Named after Clayoquot Sound, a 62-mile wide inlet on the Pacific Ocean, this UNESCO-protected Biosphere Reserve hosts a diverse range of ecosystems including temperate coastal rainforests, old-growth forests, deep ocean fjords and rocky coastal shores. At the center of the reserve is Clayoquot Wilderness Lodge, a luxury wilderness resort welcoming visitors to experience one of BC's most magical sanctuaries.
Families can stay in the luxurious white canvas tents, which in 2021 were reimagined with a fresh and new contemporary look. These unique accommodations offer guests an opportunity to have a truly immersive experience with the unique ecosystem they are surrounded by. The outdoors will beckon you to come and explore the region through hikes, yoga, wildlife spotting, and even fishing and heli-tour experiences. You'll be invited to culturally connect with the land as the lodge is located in the First Nations territory of Ahousaht and guests are invited to visit this ancestral village. To learn more about this unique BC experience visit the Clayoquot Wilderness Lodge website.
10. Stay on the Rocks at Rockwater Secret Cove Resort, Sunshine Coast, British Columbia
Perched on the rocky shores of the sunshine coast lies the Rockwater Secret Cove Resort. Families are invited to glamp in the refurbished cabins. Originally built in the 1950s and used by hundred and fishermen, these updated retreats are the perfect basecamp for families looking to explore the sunshine coast. Guests will love the private oasis overlooking the Salish Sea, this is truly the definition of an immersive experience, where you'll be soaking in your surroundings with all of your senses.
When you venture out, there will be a variety of adventures to explore. From beachcombing and kayaking, yoga, hiking, mountain biking, snorkelling, diving, and harbour tours. If you're interested in heading into town you can explore golfing, art galleries and a variety of unique eateries. To learn more and book your adventure visit the Rockwater Secret Cove Resort website.
11. Sleep Under The Stars at Siwash Lake Wilderness Resort, 70 Mile House, British Columbia
Your very own dark sky reserve awaits families at Siwash Lake Resort. Children will enjoy the astronomy travel experience of sleeping in the fresh air canvas tent while stargazing from the deck, or from underneath the special skylight built into their unique accommodation. The experience is only elevated if you soak in the scenery from your private hot tub, or around a private family campfire at night.
With climate change at the forefront, many families are looking to invest in travel experiences that are not only sustainable but also regenerative. Siwash Lake Wilderness Resort is a small and private resort suited to those who are committed to sustainable, regenerative and impactful life-enriching experiences. A luxury wilderness resort where horses, adventure, and ecology are all intertwined and guests get to experience authentic, off-the-beaten-path rugged adventures.  Siwash Lake Wilderness Resort recently survived a massive wildfire and their oasis now showcases the resiliency as the ecosystem starts to regenerate. "We are here to show how we can thrive amid an uncertain future within a powerful, ever-changing landscape — helping to cultivate environmental & cultural connection in others." To learn more about Siwash Lake Wilderness Resort, visit their website here.
12. Run Wild at Wild Skies Resort, River Hills, Manitoba
Ten acres of unscheduled play await you at Wild Skies Resort, Manitoba's first luxury glamping experience. This family-owned paradise resort is situated on the Whitemouth River and brings you the magic of the outdoors, creating deeper connections with each other and the place you call home during your stay. Whether it's marvelling in the morning frost, staring at a shooting star, being mesmerized by the ripples in the water, or losing track of time around a campfire, Wild Skies resort evokes your inner child and provides you with a place to let that child out to play.
When you're ready to settle down for the night families will love cuddling into the geo-domes next to the Whitemouth River. These perfect 4 person glamping pods combine the luxury of luscious linens, a skylight to watch the stars, a kitchenette, private showers, a wood stove and a solar fan to keep you cozy all night long. In the mornings, you can wake up and check out the panoramic view overlooking the river, and start your day with a family campfire and breakfast on the patio. To learn more about how to book your luxury wild retreat visit the Wild Skies Resort website.
13. Embrace Prairie Life at Bin There Campground, Moose Jaw, Saskatchewan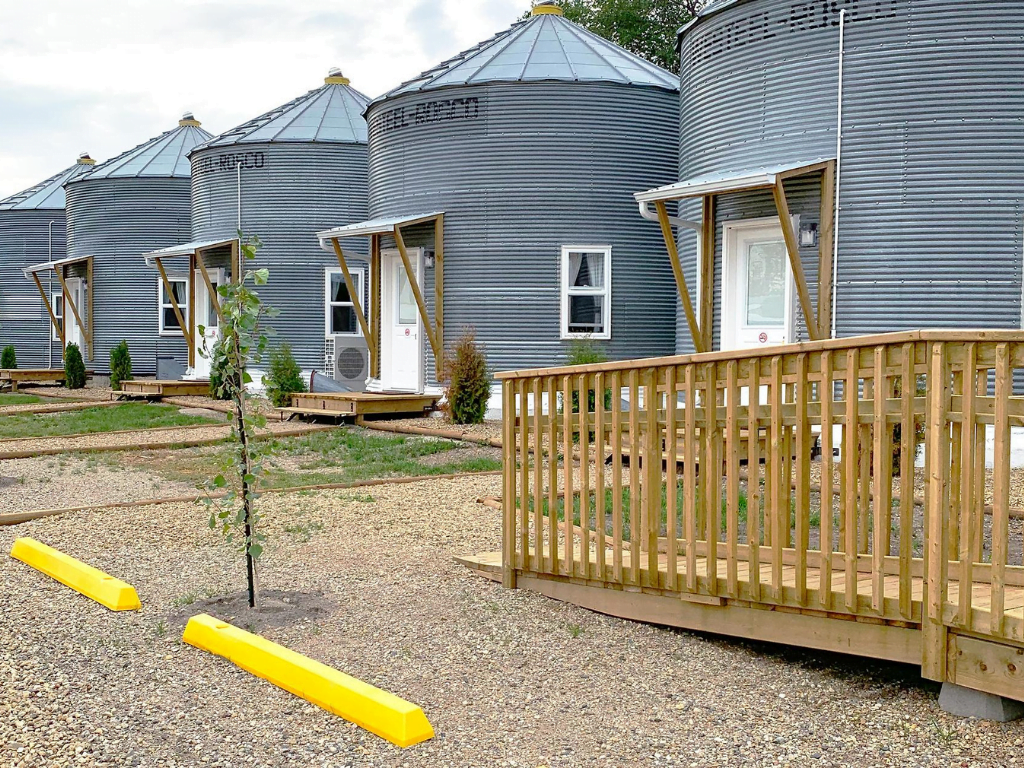 Does it get any more authentic than staying in a converted grain bin cabin in the middle of Saskatchewan? These transformed bins are the vision of retired farmers, who now welcome guests to their farms, using the land in a whole new way. These two-story cabins are equipped with skylights, two queen beds, and even heat and air conditioning, putting your comfort a priority while giving you the full life on the prairie experience.
Families can enjoy a variety of on-site activities including the nightly feeding of the trout in the pond, hiking on local trails, or tee-pee ring tours. If you're looking to venture off-site there is the Nicolle Flats Interpretive Area or the Buffalo Pound Provincial Park close by, both offering a lot of eco experiences for families to explore. To learn more and book your prairie experience visit the Bin There Campground website.
14. Chase The Northern Lights at Blachford Lake Lodge, Yellowknife, Northwest Territories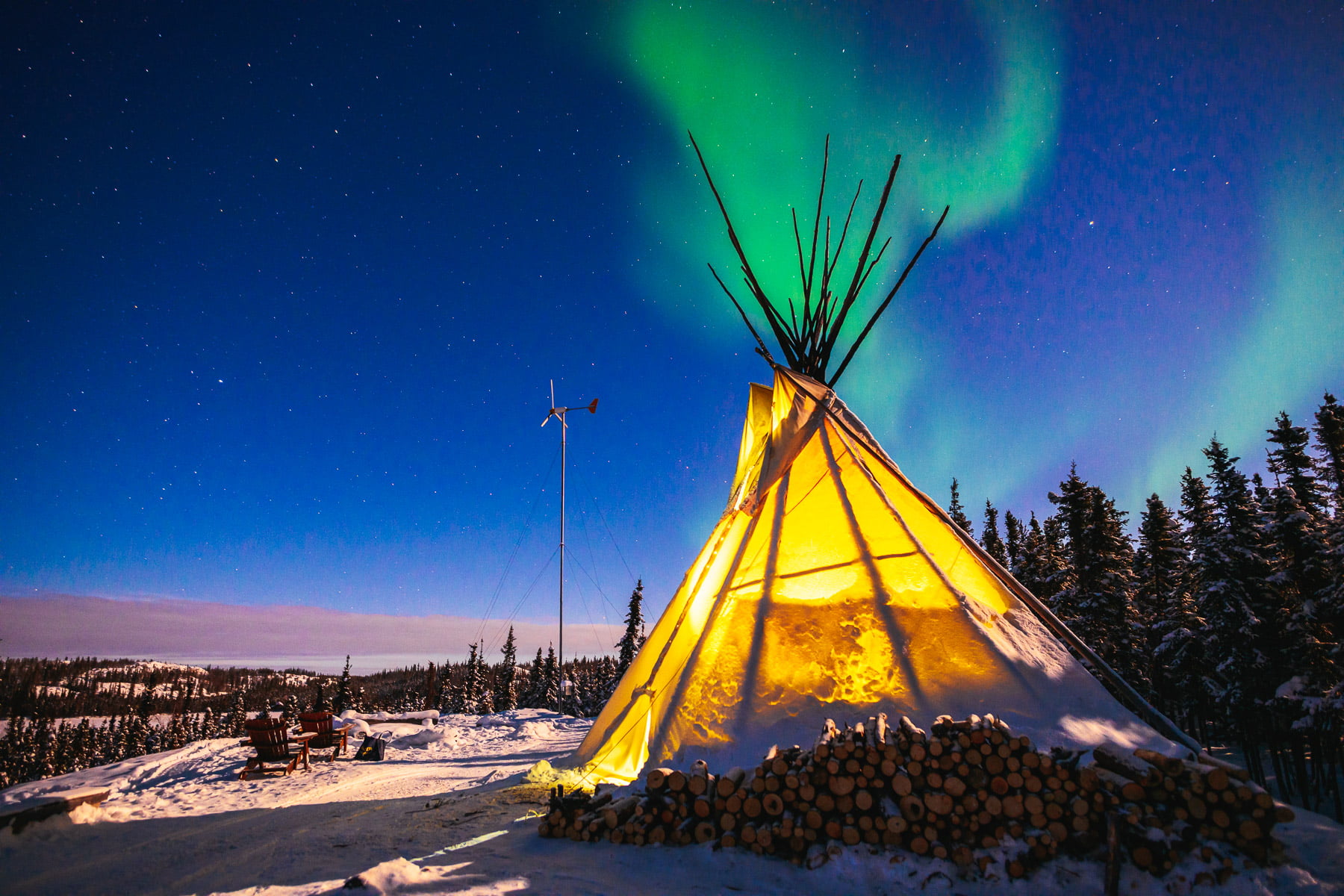 The aurora borealis awaits your arrival at the Blachford Lake Lodge. The dancing sky will wrap itself around you, leaving you in awe no matter what direction you turn. Each night is a new "show" with mother nature showing off in all the colours of the spectrum. Imagine staying warm around the campfire in this tipi while you wait for the lights to rise up into the sky.
Families can expect an off-the-grid experience in Canada's North but know they are travelling in comfort with the luxury experience. Yes, you'll find family-style cabins, hot running water, flush toilets, and luxury food awaiting your adventure at Blachford Lake Lodge. The most important part is the large style windows to ensure you don't miss any of the aurora happening outside! There is a reason why Blachford Lake Lodge made my top 23 Canadian eco-tour adventures list. To learn more about packages, booking, and the whole scope of this epic adventure visit the Blachford Lake Lodge website.
15. Embrace The Eco-Tique Experience at Le Baluchon Éco Villégiature, Quebec
Number 16 on my 23 Canadian eco-tour adventures list can only be described as experiencing the future while travelling to the past… At least that's how it felt the second we arrived at Le Baluchon Éco Villégiature, Québec's premier eco-tourism resort. 1,000 pristine Canadian acres await your family with an "eco-resort," experience awaiting. The transformation for visitors largely comes from the way they interact and think about nature and the environment. From the materials used to build the guest rooms and the locally-sourced, sustainable food options available on-site, to the never-ending list of outdoor activities that take guests back to the days our ancestors lived off the land, a stay at Le Baluchon Éco Villégiature is a stay with purpose.
Le Baluchon Éco Villégiature is a world-class resort showcasing the absolute best of what winter in Québec has to offer. In the winter, families can experience dog sledding, a Nordic spa, fat bike skiing, cross-country skiing, private carriage rides, horseback riding and hiking. Summer brings forth a whole other host of activities including hiking, biking, a maple stand and sugar house, horseback riding, and a variety of trails, ponds and places to explore and see beaver dams, local flora and fauna, and historical buildings. To see more photos from our recent winter trip and get detailed insights on how to plan your trip check out this article.
16. Hit The Hay on Ice at Hôtel de Glace, Quebec
Walking through the front doors of Hôtel de Glace you quickly recognize that you are in a place of imagination, whimsy and creativity. Where artistry meets architecture and challenges generally accepted ideas of indoor and outdoor living. A place that blurs together fantasy and reality to prove that life doesn't have to be so serious. A hotel stay is more than a sleepover, it transports you to a whole new level of living.
Families can book a stay at this unusual accommodation choosing from 42 rooms and themed suites. With options of one to three beds, in-room fireplaces and even a suite with a private hot tub and sauna, you are sure to be able to find the right accommodations for your family.
The temperature inside the hotel, no matter the weather outside, is between -3o and -5o C (23o and 27o F). Sleeping bags built to resist even colder temperatures along with an insulated bed sheet and pillow are provided. But just in case someone in your group realizes they are not the ice queen they thought they were, your reservation at the ice hotel also gets you a traditional room—for the same night—at the 4-star Hôtel Valcartier which is about a one-minute walk away. Not only does this give you a Plan B for you and the kids, but it also gives you somewhere to store your luggage and take a shower.
And while our kids loved the ice hotel, they equally loved the Bora Park where we went from -30 outside to +30 inside! 102,000 square feet of summer fun await including a large wave pool, 14+ water slides, a family pool with water games, a multi-activity adventure river, a double surf wave and a terrace restaurant. To learn more about the ice hotel and our experience check out this article.
17. Reimagine Camping at Huttopia in Sutton, Quebec
"At Huttopia, we have been rethinking the Art of Camping since 1999." Families can indulge in glamping with comfortable and functional accommodations, including nice and cozy beads immersing you in the outdoors while ensuring your comfort at every turn. Suited for groups of up to 6 people, Huttopia understands that families come in all sizes and that there's nothing more special than a group hanging around a campfire at night.
While your kid won't want to leave the tent, they could be enticed by all of the fun activities that await them. Swimming, fishing, yard games, forest-free play, and scheduled activities all await, ensuring the kids are having fun and enjoying mother nature's backyard. To learn more about the full Huttopia experience and unique accommodations visit: their website here.
18. Choose Your Glamping Style At Chute Lake Lodge, Naramata, British Columbia
A resort that is over 100 years in the making Chute Lake Lodge welcomes families to explore the future of camping while appreciating the past rich history of the land. Nestled lakeside in Naramata, BC your unique stay is a "design your own experience" where you can choose how you want to travel, where you want to stay, and how you and the family want to explore. With accommodations ranging from lakeside tents for two, to large family log cabins, you can find the perfect basecamp for your Naramata adventure.
When you're not inside soaking in the luxury glamping experience head on out to take on a plethora of activities. Ebiking and mountain biking, hiking, paddle boarding, swimming, canoeing and more await you. To learn more about this incredible glamping experience visit the Chute Lake Lodge website.
19. Float Your Boat at Staying AFloat in Pleasantville, Nova Scotia
Nothing says Nova Scotia better than being on the water, making this location the perfect East Coast location in my 23 Canadian eco-tour adventures list. Ketch Cottage is a cute little float that sits on the shores of the beautiful LaHave River in Bridgewater, NS.  This home welcomes you and the family aboard to experience an authentic East Coast stay. With over 400 sq ft of space, this floating cottage features all the comforts you'll need including a loft bedroom, full bathroom, full kitchen, and even a TV and digital package (not that you'll need it) and a cozy 200 sq ft deck. Enjoy your time on Ketch Cottage barbecuing, fishing, soaking up the sun or sitting by the fire to wind down the day.
Adventurous families will enjoy being on the Lighthouse Route, an iconic roadway that is home to Nova Scotia's best sandy beaches including Risser's, Crescent and Green Bay Beach. Looking to head to town, visitors can hop over the river and explore the Town of Lunenburg, a UNESCO World Heritage Site and check out the stunning geography of Oven's Natural Park. With too many places to explore the only recommendation is to ensure you've booked enough days to stay at Ketch Cottage to see it all. To learn more visit the Staying Afloat Vacation Rentals website.
20. Make Basecamp at Glamp Camp in Waterborough, New Brunswick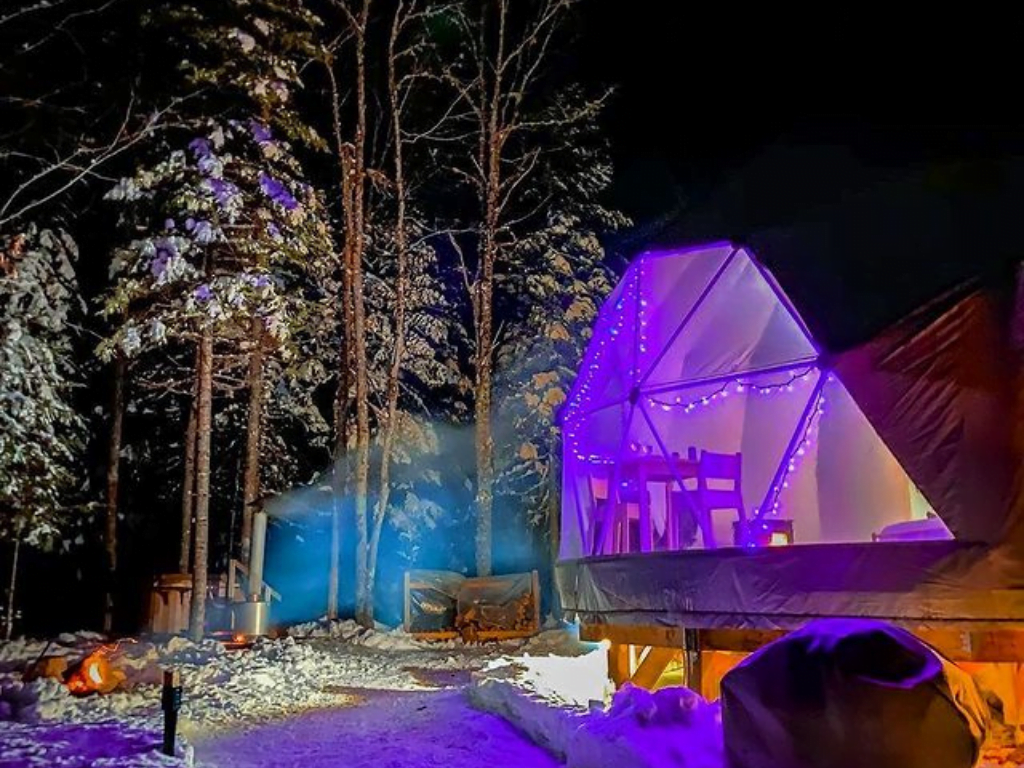 "A fusion of glamour and camping, glamping is a way to authentically experience the most awe-inspiring places worldwide." Situated on a private 90-acre wooded property in Waterborough, New Brunswick is Glamp Camp. It features 10 luxurious themed fully-equipped stargazer domes awaiting your family adventure. Glamp Camp allows you to embrace a camping experience without the hassle of bringing your own camping gear or sleeping on the ground. Each dome has fine linens, cozy blankets, plush towels and luxurious robes, perfect for wearing to and from your private wood-fired hot tub! The necessities to fuel the family are all there too, with a fully-equipped kitchen with a mini-fridge, microwave oven, induction stovetop, coffee maker and kettle as well as the necessary pots, pans, cutlery and crockery.
If you dare to leave the dome you can embrace mother nature-led activities including hiking in the summer and snowshoeing in the winter. With lots of availability now is the time to book your next adventure before they fill up: visit their website here.
21. Experience an EcoLodge next to Canada's Highest Mountain at Mount Logan EcoLodge, Haines Junction, Yukon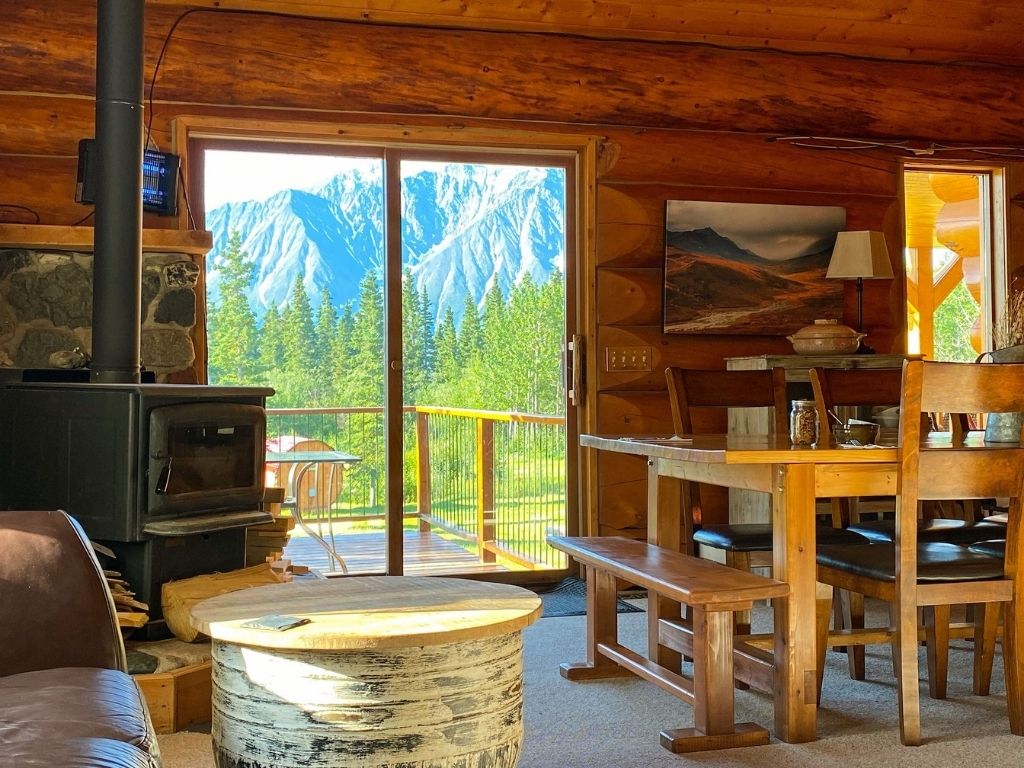 "Yukon Glam" is the new trend to be embraced at Mount Logan EcoLodge. Located just a 2-hour drive outside of Whitehorse, Mount Logan Ecolodge boasts stunning views of Kluane National Park, allowing families to enter the call of the wild and start exploring Canada's North. Summer guests can head out and explore fishing, kayaking, guided hikes, electric fat bike tours, in Kluane National Park and the surrounding area, and yoga back at the lodge. For those looking for a true arctic experience, head up to the lodge in the winter and embrace northern lights tours, ice fishing, and dog sledding.
At the lodge, back from your excursions, you'll fuel up with family-style dinners and then choose from a variety of accommodations including a 4-person yurt that even has a skylight for aurora viewing. There is also a Gold Rush-era cabin, a "Yukon-glam"well-insulated wall tent with two levels and interior timber beams, plus it features a wood stove. Finally, a new "Mount Archibald Pod" cabin with a panoramic window to provide views of the mountains in the South while the North-facing window allows you to take in the aurora borealis. To plan your Yukon adventure visit the Mount Logan EcoLodge website!
22. A Restorative Escape Awaits at Echo Valley Ranch & Spa, Clinton, British Columbia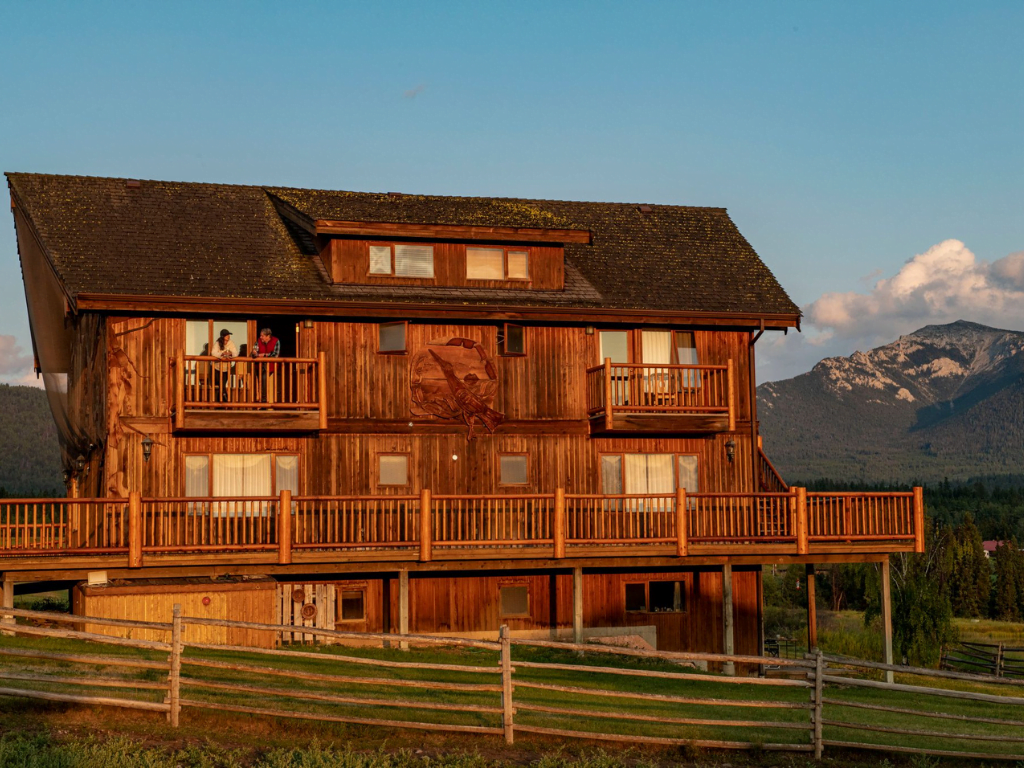 For 25 years, Eco Valley Ranch has given guests the opportunity to experience adventure, revitalize their spirit, and connect with nature in its eco-luxury oasis. Calling the Cariboo Region home, this family-owned retreat isn't merely a vacation destination, it's a transformative, "a once-in-a-lifetime awakening of their spirit and a rediscovery of their childlike sense of wonder."
The whole family will love exploring the local region through a variety of soft adventures including hiking, cycling and fishing, taking you through the 160-acre property that sits majestically at the convergence of four distinct geographic regions: the Marble Mountains, the Mighty Fraser River and Canyon Desert, Cariboo Plateau Boreal Forest, and the Cariboo Grasslands. This pristine sanctuary enables guests to achieve a feeling of peace and relaxation through a variety of activities including morning yoga and forest bathing, stimulating body and soul, all while enjoying the comfort of magnificently appointed rooms and cabins and the luxury of five-star cuisine. To learn more and plan your visit: Echo Valley Ranch & Spa.
23. Explore the Wild West Coast At the Wickaninnish Inn, Tofino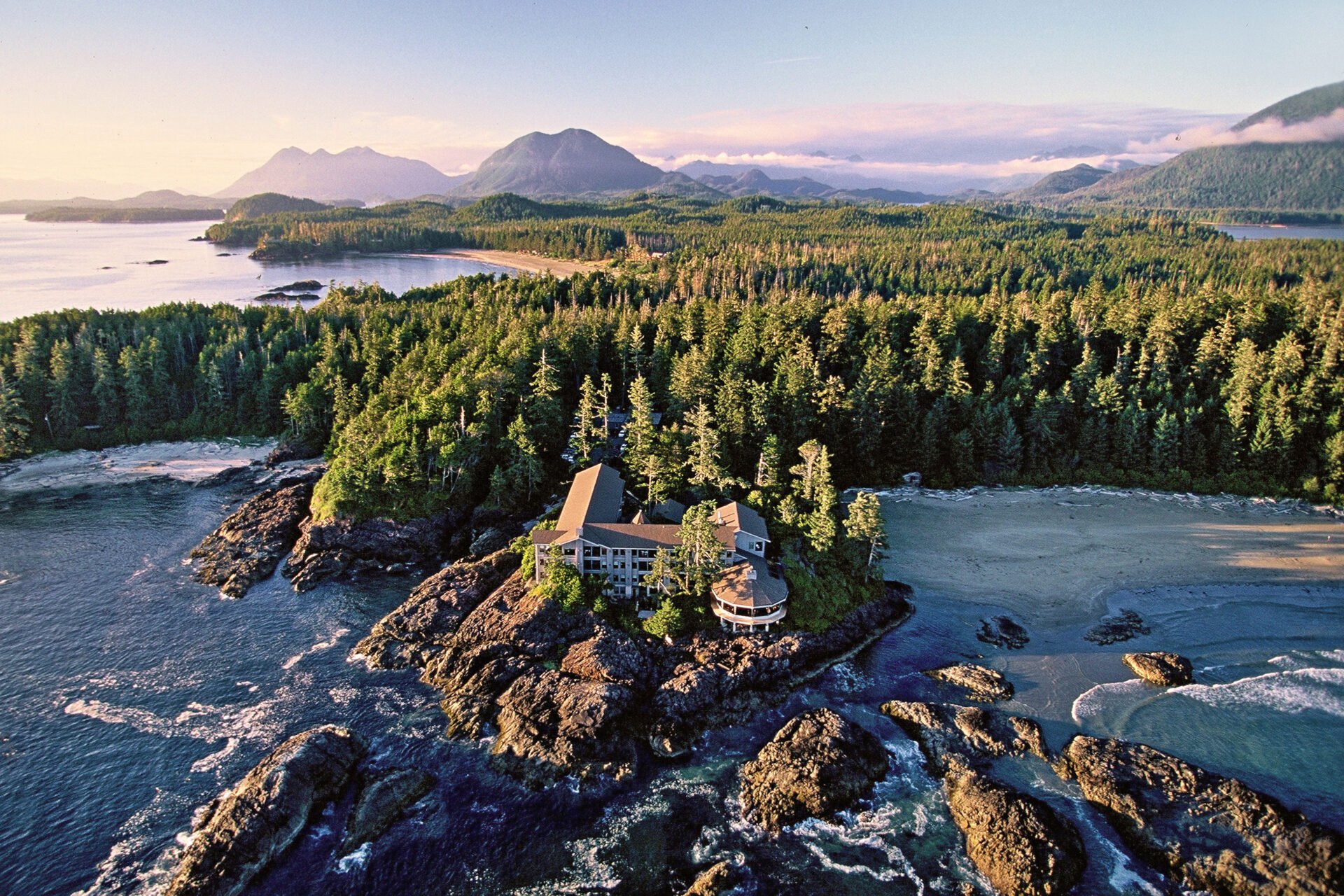 If you're looking for a luxury eco experience, the Wickaninnish Inn in Tofino is a bucket list type experience offering unparalleled luxury in one of Canada's most beautiful destinations. For 25 years the resort has been interwoven with the environment of which it calls home, immersing guests in a front-row experience over the black rocks of Tofino's shores. "The story of the Inn starts with Charles McDiarmid who was raised on this majestic coastline, where he grew up watching the huge waves crash into the sandy beaches that run parallel with old-growth rainforests. Today Charles can walk down the winding dirt path recounting his childhood from many years ago. On these trails, you can feel the seven-year-old spirit and envision Charles as a child running barefoot, back and forth in between the off-grid family cottages with his brothers."
Visitors will enjoy a luxury stay with front-row rooms overlooking the shores of Chesterman Beach. While Tofino is known for the summer, the winter storm season is something to be rivalled with, and the Wickannish Inn gives guests a front-row seat to the storms.
Bonus – 9 Alberta Eco Tours Worth Exploring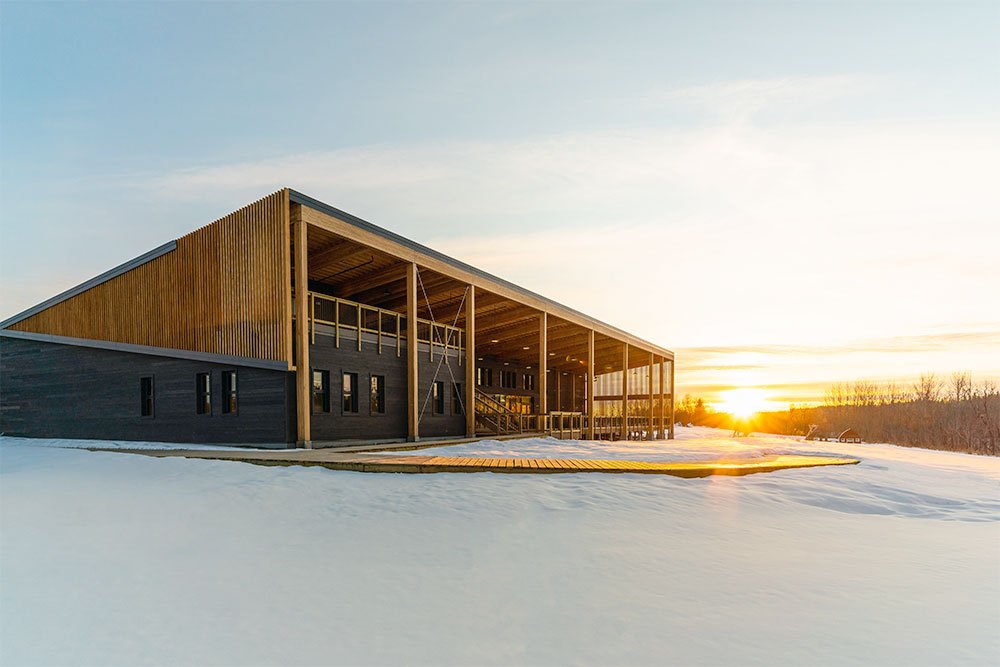 Alberta is a great place to enjoy eco experiences. From hiking to learning about the flora and fauna of a region to rafting in the Rockies to staying in a new Indigenous-owned Wildlife Park, Alberta is a great starting point for those looking for eco-adventures. Here are 9 Alberta eco experiences for you to enjoy with your family.
What Activities Might an Eco Tourist do:
As you can see from the extensive list above, there are a variety of ways to experience Canada's Eco-Tourism Scene. Eco Tourists seek out places that have incredible natural environments and are passionate about exploring the region all while leaving a positive impact on the destination. Eco Tourists can decide what tours they want to experience which can include:
Hiking
Biking
Walking
Swimming
Surfing
Snorkelling
Horseback riding
Snowshoeing
Dog Sledding
Photography
Beach Combing
Cultural Immersion Experiences
And more!
Tips for Booking a Canadian Eco Tour Experience:
Canadian Eco Experiences provide families with a way to travel and experience the ecosystem in the regions they are visiting, all while learning how to travel sustainability to minimize their environmental impact. The goal is for your trip to leave the place better than you found it, through financial investment with your travel dollars, regenerative travel through your ecotourism, and education for the next generation to invest and protect in our planet.
When Booking Your Trip Look for Places that:
Strive to minimize their environmental impact.
Use ethically sourced materials.
Provide economic support to their local community by hiring local, and purchasing from local suppliers.
Put systems in place to encourage guests to reduce their environmental impact (composting food, low-flow toilets, reusable towels, and way more).
Embrace models of transformational and regenerative travel.
Grow and harvest their own produce.
Offer interpretive programs that connect guests with the history and ecosystem they are visiting (Parks Canada does a great job of this!).
Are B Corp Certified – "B Corp status is reserved for companies that meet the highest standards of verified social and environmental good, Public transparency in self-reporting and Legal accountability to balance profits and purpose."
Are members of trade associations such as the Transformational Travel Council (Like me!).
Tips for Creating a Great Glamping Eco Experience:
Before you arrive, confirm what's included (and what's not). Things like bedding, towels, and kitchen supplies may or may not be included depending on where you stay.
Learn about local fire safety requirements and if fires are allowed on-site. If they are be sure to put it 100% out before you retire for the evening.
There's no such thing as bad weather, just bad clothing. Check the forecast and pack the appropriate clothes for adventures!
Exercise Bear safety by having a BARE campsite.
Leave the site better than you found it and pack out what you packed in.
Stay on hiking and biking trails to avoid erosion.
We hope this article has inspired you to go on an epic adventure right here on Canadian soil. To challenge yourself to explore your backyard and discover new opportunities across our beautiful country. Let me know in the comments if there are other Canadian Eco Adventures I should explore!
---
Check Out These Articles to Help you Plan an Epic Canadian Adventure Road Trip!
Sponsorship Disclosure: No, this is not a sponsored post. I feel strongly about families taking part in ecotourism and transformational travel experiences and therefore wanted to share these incredible Canadian places with my readers.