"Mom, can I have a 12 hour nap?" Tired and beyond exhausted, my seven year old crossed the finish line. Soaking wet from head to toe with chilly 8 degree mountain air surrounding him, he was in a bit of physical shock and wanting a warm blanket and to rest. He wouldn't yet be able to understand what he accomplished on the race today.
The Kids Adventure Games is an outdoor adventure race that takes competitors climbing, bouldering, descending, problem solving, navigating, balancing, wading, biking, and sliding through a variety of age appropriate obstacles. As teams of two, they work together to complete the challenging and fun obstacles that both test and inspire them, the perfect introduction to the sport of adventure racing!
Pre Race Skills Camp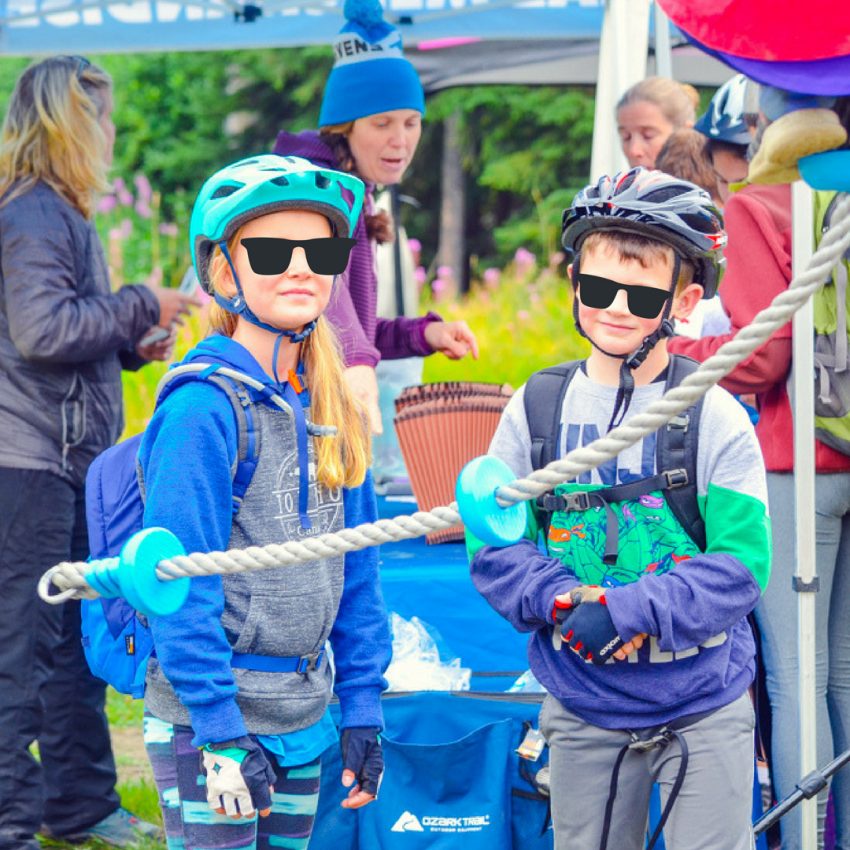 Prior to the Kids Adventure Games big race, my kids took part in the four hour skills camp. It was broken down into four one hour clinics, where kids got to develop their skills in mountain biking, climbing, teamwork, and adventure racing 101. This was a great confidence builder, as my kids were able to understand what disciplines they were strong in, and able to work on areas where they need to build skills. The best part for me was that they got to get all their race questions answered and left the clinic feeling confident and prepared for the race. All their pre race jitters were gone and they were ready to hit the start line!
The Start Line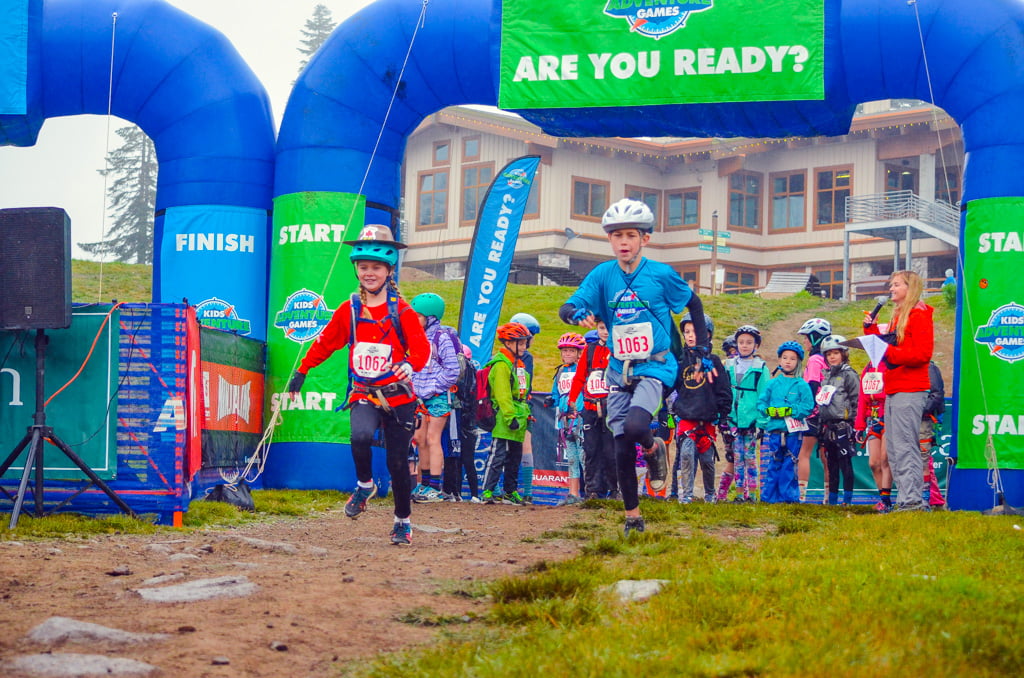 The weather was uncharacteristically cold, where as last year they were worried about dehydration this year we were worried about hypothermia! At a chilly 8 degrees it was important that the kids were layered up and kept warm for the Kids Adventure Games big race!
Showing Our Canadian Spirit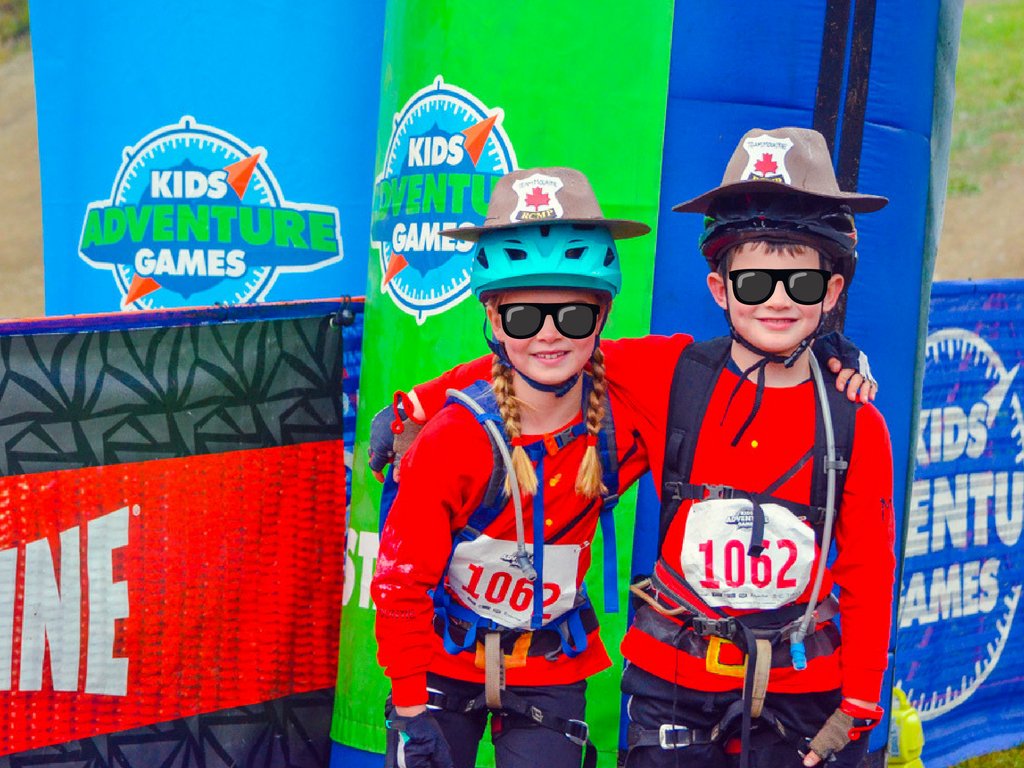 Costumes are encouraged and my daughter was inspired by Taylor and Courtney aka, #teammountie on the Amazing Race and since we were Canadians competing in the US, we felt it was a good fit. A trip to the craft store and a few hours later we had full, adventure friendly mountie costumes for the kids to compete in. My daughter wore them with pride and pulled from her heroes, Taylor and Courtney, as she ran through the trails saying phrases like, "Go Team Mountie" and "In it to Win it". The best part? They won for best costumes at the end of the race… the icing on the cake for our little team!
Compete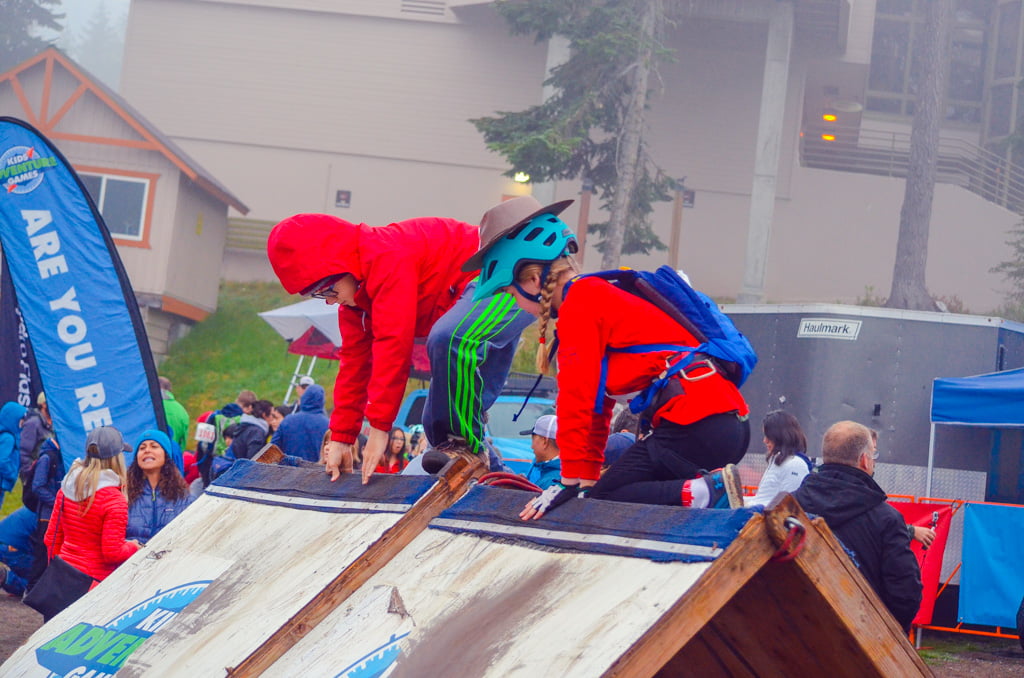 3,2,1 and they were off, first fling over the peaked wall and running off to the chairlift to take them to the mountain top of adventures! The excitement was palpable and they took off, adrenaline filled and ready for the unknown!
Challenge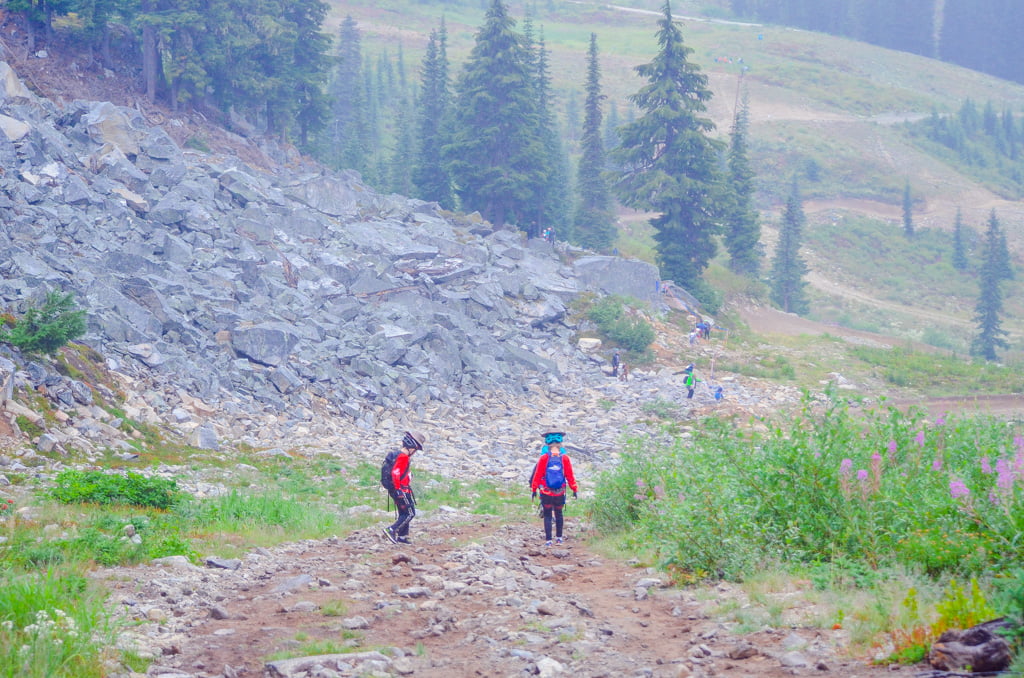 The first obstacle on top of the mountain was a huge descent over gravel and mountainous terrain. This proved to be the most challenging obstacle for my daughter, as the slippery slope and the lack of control put her outside of her comfort zone. Her team of four quickly became a team of two, as the faster group moved quickly down the hill and on to the next challenge. This was outside her comfort zone and is exactly what adventure racing is all about. There were times where she felt frustrated, had to push herself and had to also eat some humble pie as she couldn't move as quickly as others. All great lessons to learn in the sport and also in life.
Perseverance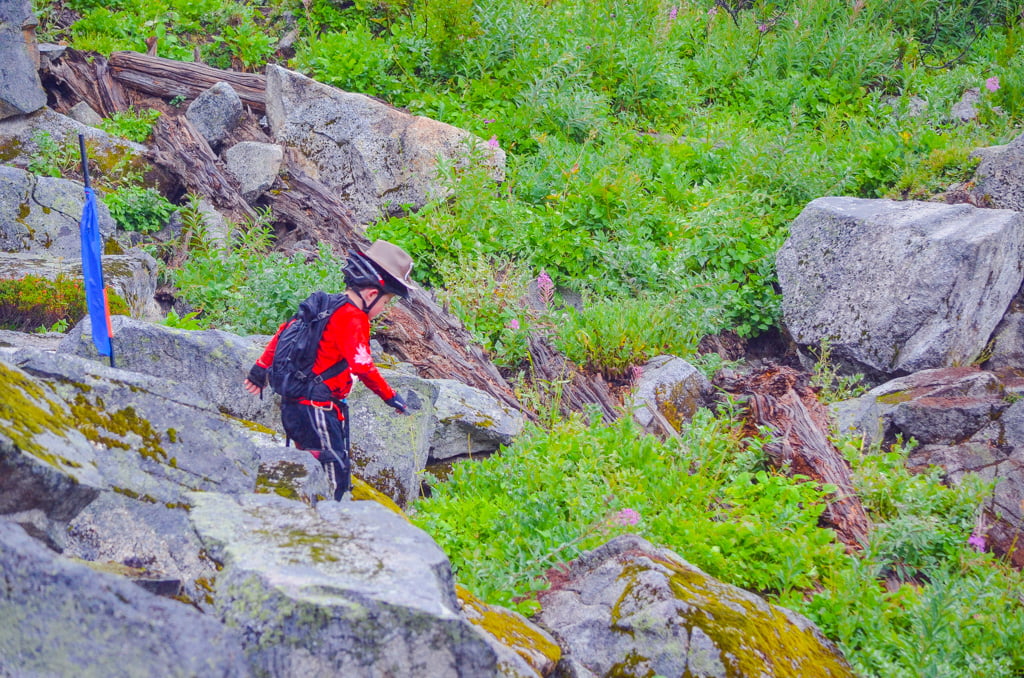 Next station was the bouldering, and on this very cold and slippery day, this was no easy task. However, as a team they navigated quickly through the large rocks and they didn't know we could see them (thank you zoom lens) but we could also hear them cheering each other on. "Go Mountain Goat," "Good Job Otter!" and "Go Mounties" was what we heard in the hills. Being left on their own to team build together was exactly the challenge this race wanted to provide these competitors.
Problem Solving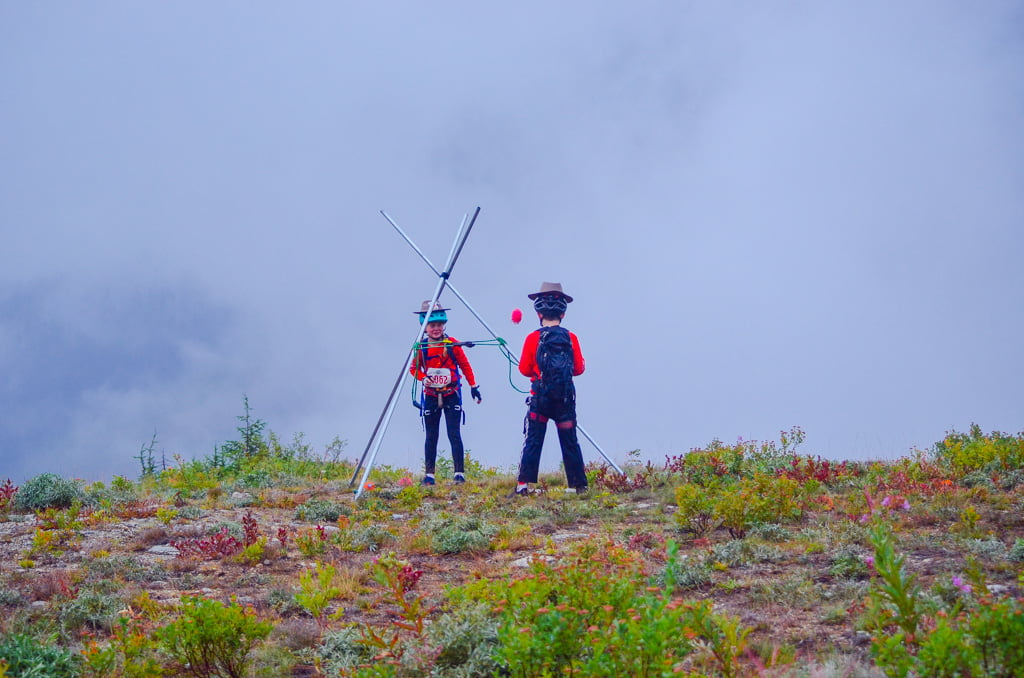 Next was a catapult, where the team had to work together to catapult and catch water balloons. Being able to hear them say phrases like, "It's okay, we're not giving up" and "Good job buddy, only one more" was inspiring, considering it was coming from a 7 year old. As soon as they completed the challenge they sprung out into the forest and took off navigating down the trail.
Dedication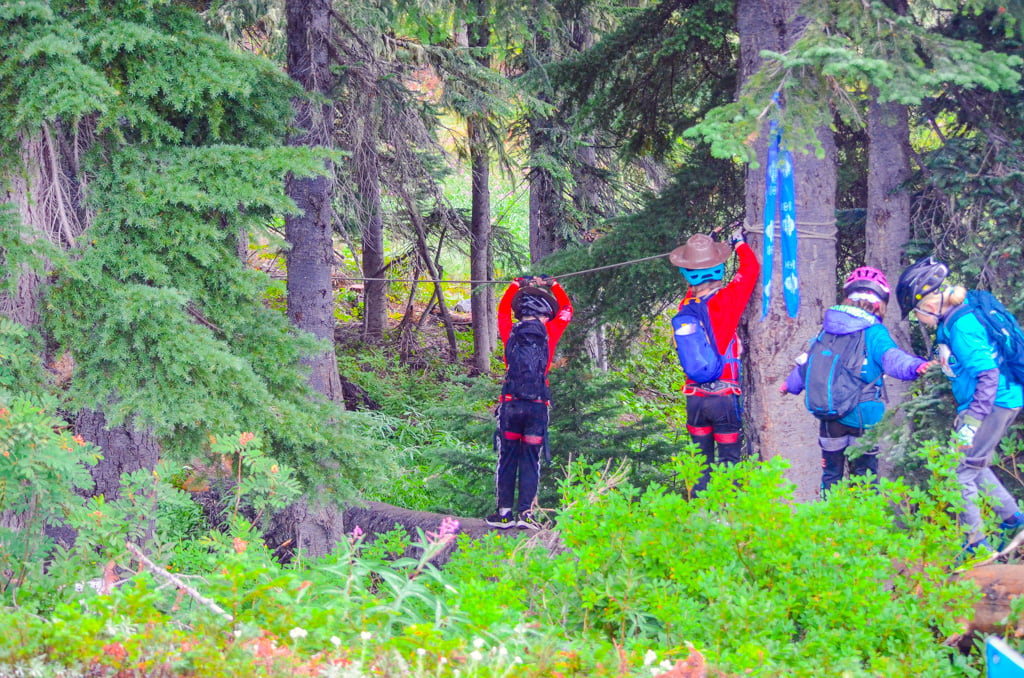 About halfway through the 3.5 mile race the adrenaline started to wear off and the kids had to dig a bit deeper to complete their obstacles. I was so impressed not only how the volunteers and parents cheered them on but how other athletes and they themselves kept pushing themselves.
Navigate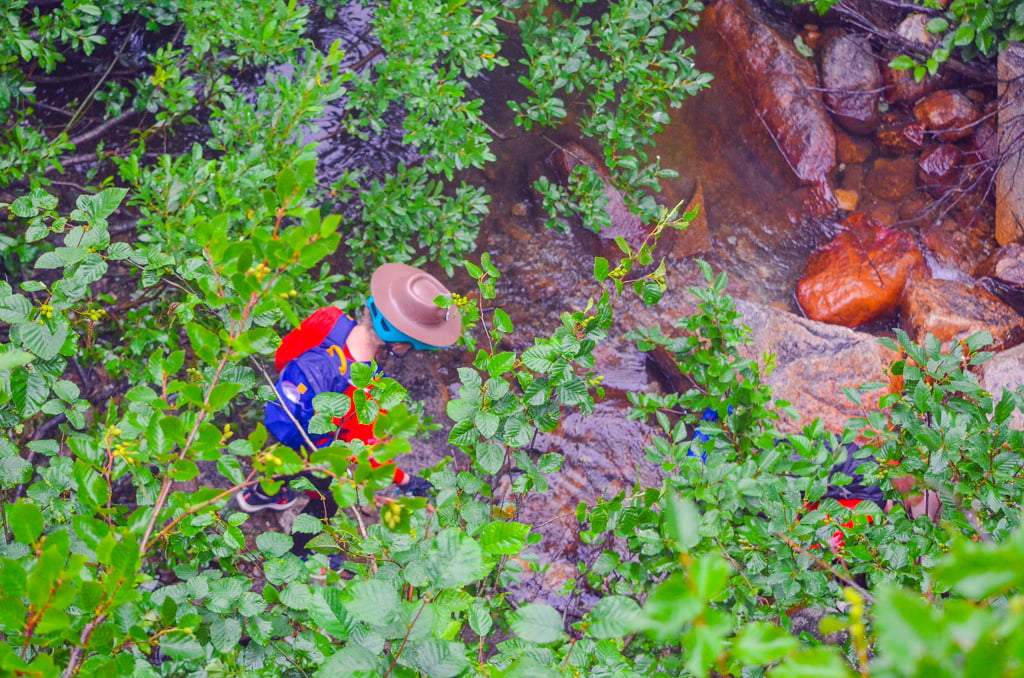 Can you see the Mountie? Look a little closer for a bit of red and you may see him down in the creek bed. This chest deep creek was very cold (freezing they said!) and they had to make their way through an underground tunnel, up through a creek bed, and then traverse up the side of the bank back into the forest. Worried that it was too challenging, all fears turned into a smile as my son quickly looked up mid race and smiled big… he knew I'd have my camera and wanted to pose for a picture! Racing or not he knew how to be camera ready!
Exhaustion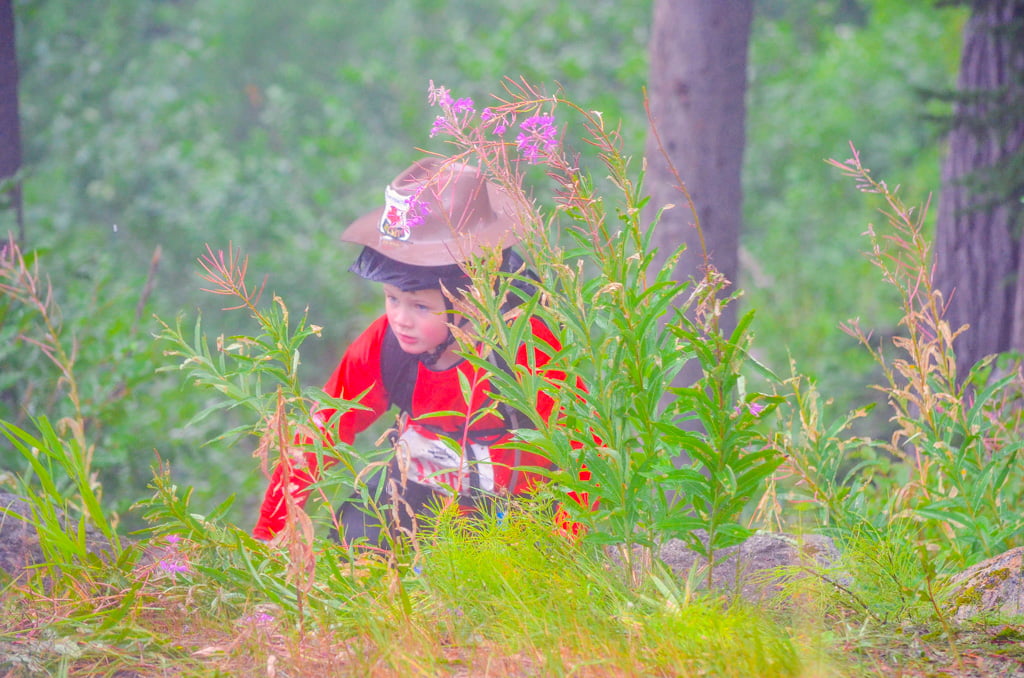 With two obstacles to go, soaking wet from the river, cold, and probably hungry the kids looked "done," but knew they had to push on. I fought my Momma instincts hard, as I just wanted to wrap them up and take them home, but knew that the process of pushing through these challenging times are an important obstacle in themselves and within the race. We cheered them on and shook our cowbells and helped motivate them towards the finish line.
The Final Plunge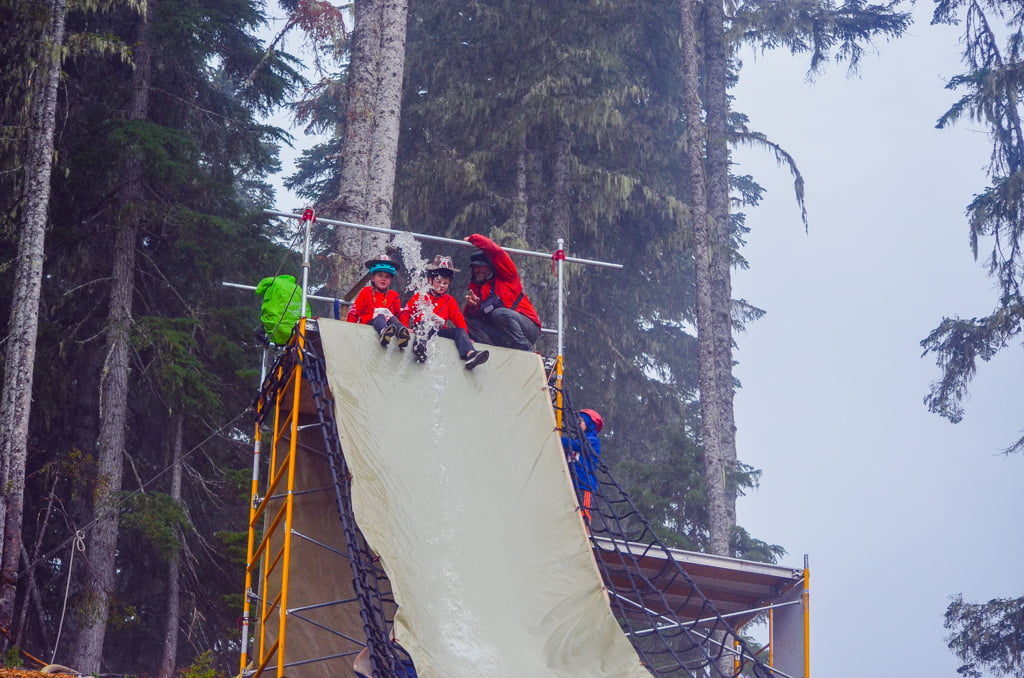 A huge 25 foot drop into an arctic pool was the final obstacle, and while my son was ready to fly down it, my daughter needed some extra motivation. Scared and soaked she emerged, well, lets just say less than impressed. The volunteer was great and got her moving out of the pool quickly and onto her final stop… the finish line.
It's hard to see your kids face adversity and be upset. Really hard. Like, "Did I make a mistake by signing her up?" hard. But 24 hours later it's nothing but a memory and all of the highs of what she accomplished far exceed that unpleasant 10 seconds on the slide.
Someday in her life she's going to face a challenge that is as big and as scary as it was looking down of a scaffolding at that 25 foot drop. Whether it's breaking up a relationship, quitting a job, or making a big move in life, it'll seem daunting and easier to back out of then to go through. But when that challenge faces her I hope she remembers that amazing little 9 year old girl, who sat on top of the slip and slide, took a deep breath and took the plunge. That even though the process was scary and it landed in an arctic pool, and well, let's be honest was less pleasant than it was fun, she survived. And she's stronger for it. I hope when the day comes that she pulls from the confidence and courage that that little girl had and believes in herself to make the moves in life she needs to. That after all, is what adventure racing is… showing us that when we get out of our own way, what we can truly accomplish.
The Finish Line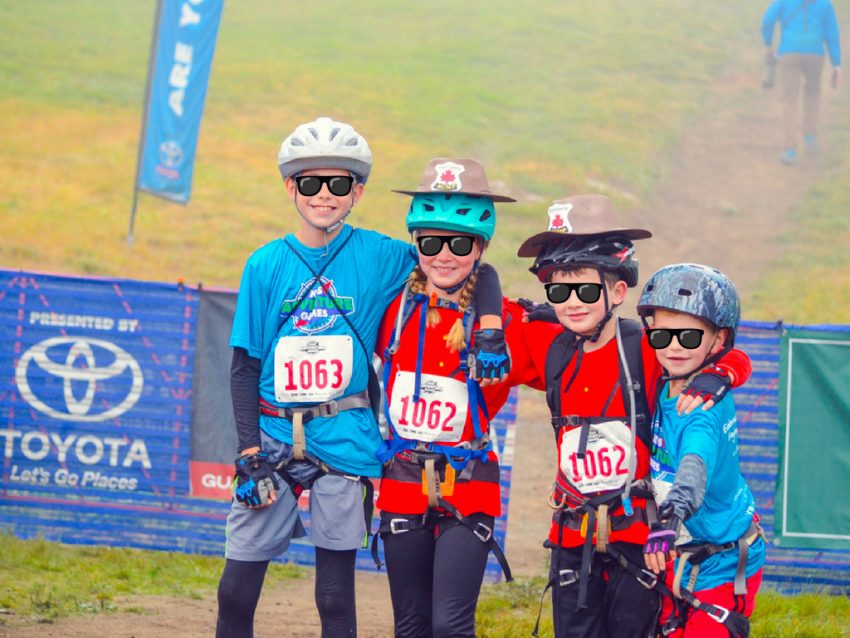 They were cold, soaking wet and ready for warm food and dry clothes. The magnitude of what they had accomplished would settle in… after a cup of hot chocolate that is!
The Race Director said that this race was the hardest one they had ever put on. That the kids faced weather and conditions they had never seen before. What a welcome to the sport… and while I'd like to say it gets easier from here, let's be honest, it's adventure racing and the only predictable thing about AR is how unpredictable it is!
The one thing I do know is how proud I am of my kids. At how they faced adversity and exceeded my expectations. At how all of their adventures brought them to this race and I hope this reminds them how capable they are and that they continue to have an adventure filled life. After all, they are the inspiration behind Adventure Awaits!
To learn more about the Kids Adventure Games check out their website.
Check out our video:
https://www.youtube.com/watch?v=DCT76migDHg
Looking for more inspirational stories? Check out these articles that are full of overcoming fears and obstacles in our lives.
Mountain Biking Lessons – Building Confidence
Should You Move? – Big Life Decisions
Rugged Rafting Princesses – Stepping Outside Your Comfort Zone
Jami Savage – I'm Not As Brave As You Think
Is this a sponsored post?: While my kids were invited to participate in the Kids Adventure Games, their experiences and our thoughts and opinions are our own!