I turned around and looked into the back seat of the van. There, my 6-year-old daughter and 60-year-old Mom shared a look of excitement and a bit of fear as they sat quietly pondering what was about to happen.
Had I made a mistake I questioned myself? Was this too risky? Too out of their comfort zone?
My daughter has been dying to go ziptreking and my mom said she wanted to try it for her 60th birthday, but now… they sat quietly, my daughter biting her lip and trying to put on a brave face for what was about to happen.
After a windy, bumpy road through the snow we reached the Mountain Chalet at the Whistler ziplining Ziptrek Ecotours. It was a beautiful two-story A-frame Chalet nestled in the snowbanks and mountain hillside. Snowflakes the size of dimes were falling and it was work carrying our legs through the unploughed entrance. We had officially arrived and it was time to get geared up.
Our instructors lined us up in front of our harnesses and showed us how to step in. They got us strapped up, pulled in, roped in and ready to go. Time to hit the course!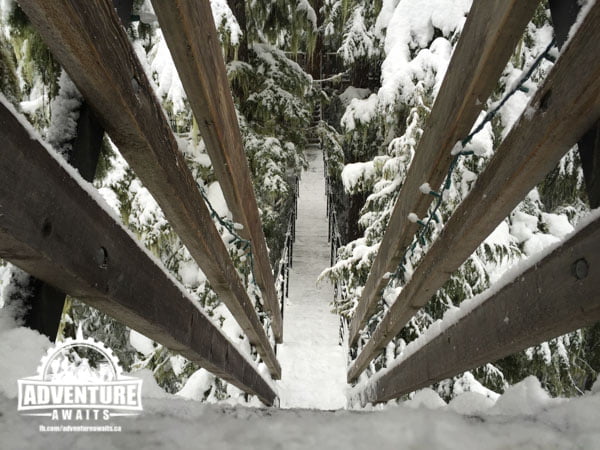 The looks of anxiety rose as we hiked through the snow up onto the first platform. My husband and I looked at each other and worried that one of us would be missing out on the tour thinking our daughter would bail at the last second.
Kier – one of our amazing tour guides – put us through the safety drill. The only thing to do now was to fly. "Who wants to go first?" "I do?" and my six year old's hand shot up in the air. Now I was the one who was hesitating! No familiar faces would be on the other end other than the lovely staff member, Carmel. Would she be okay? The decision wasn't up to me anymore, as before we knew it she was with Keir and getting locked into position.
Any anxiety she had quickly disappeared and I saw my little girl pick her legs up and go soaring between the trees yelling "whooo-hooo" the whole way through.
It was my Mom's turn next and she was anxious about her departure… she put on a brave face and jumped up on the line and within minutes the same "Whooo-hooo" could be heard from the next generation. Both of them had been nervous for no reason. It was clear they were having one heck of a good time!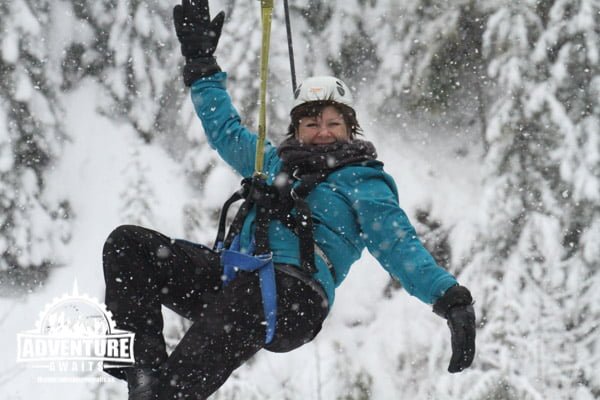 With our inaugural runs under our belt we continued through our five-line tour. The trek took us back and forth across the Fitsimmons creek where we landed in the stunning Coastal Temperate Rainforest. Ziptrek Ecotours is a company that takes both adventure and education seriously. While you're having fun zipping they are also taking time along the way to stop and educate guests about the forest that is our home for the day. The Whistler ziplining location that we were trekking through is a precious eco-system that needs to be taken care of. At their peak Coastal Temperate Rainforests covered less than 1/5 of 1% of the Earth's surface. Today, 50% of those forests are gone. BC is now responsible for 25% of all remaining Coastal Temperate Rainforests in the world.
Our Guides took the time to introduce us to Doug, a 750-year-old Douglas Fir tree, and allowed us to play with the hanging lichen that only grows 1 cm per year. The growth on the trees showed how healthy the forest was, and the Ziptrek staff are diligent protecting the environment and promoting environmental awareness. They are leaders in sustainable business practices and are active members in several environment protection organizations.
The combination of ecotourism and adventure was perfect for our family. The variety of the tour kept us moving and engaged. Each line also offered variety to riders. The instructors encouraged us to go forward, backwards, faster, and even "freestyle" where I tried to go upside down (harder than it looks!)
The instructors were tons of fun, making my 6-year-old feel like a VIP and yet challenging her to try new things every way. They also challenged me to return to try out the Sasquatch… a 2.1 Km line that you can get going over 150km/hour on. I'm pretty sure I'd be the anxious one if I were to try that!!!
Thank you to Ziptrek Ecotours for providing us with such an amazing experience. Everyone in my family, from my 6-year-old to my 60-year-old mom had an amazing, exhilarating time. Apparently they are okay being pushed outside their comfort zone… which is great because that is what Adventures are all about!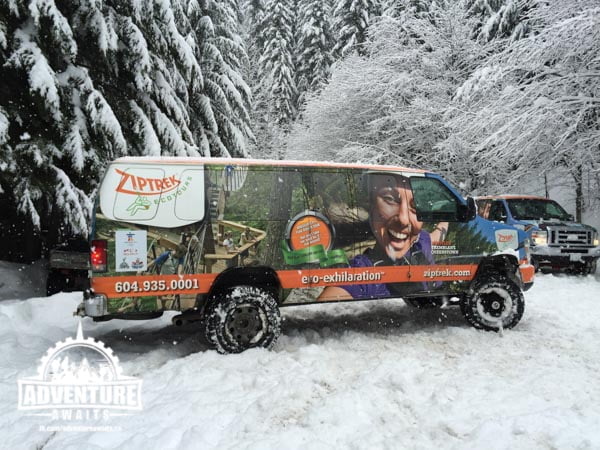 To learn more about the Whistler Ziplining Ziptrek Ecotours check out: http://www.ziptrek.com/whistler-canada