Whether you're looking for a weekend adventure or have family visiting and want to explore we've got your complete list of Fall Family Day Trips Around Vancouver for you! From wading through cranberries in historic Fort Langley to hiking up Minnekhada to check out the changing views in the valley, to heading to VanDusen Gardens to watch the changing foliage, you bring the family and choose your best place for an autumn adventure!
Take The Cranberry Plunge!
Drive out to the iconic cranberry fields in Fort Langley and take the cranberry plunge. Perfect for family members over 4 years old, you can put on some waders and pose among the bright red floating berries! Talk about a new way to capture some fall memories!
Your plunge experience is an add-on to your tickets, which will ensure you get the full cranberry field experience. Your harvest walk starts off with a stroll around the perimeter of the field to see how the beater machine works and the cranberries being pumped off the field. Enjoy the self-guided audio tour and feel free to roam at your own pace, posing for photos where necessary! Be sure to check out the antique cranberry cleaning equipment in the fruit packing room and learn some local history while there. Check out the brand new farm store to purchase their products, just in time for Thanksgiving! For more information and to purchase tickets, visit their website.
Take A Hike In Minnekhada Regional Park, an Adventurous Fall Family Day Trips Around Vancouver
Fall isn't complete in our family without an annual hike up High Knoll at Minnekhada Regional Park. The crunching of the leaves, the scrambling up the rocks, and the incredible view over the Fraser Valley is the reward after the short hike. Perfect for kids and the inlaws too, this hike is the perfect level of exercise for the whole family and is a great adventurous Fall Family Day Trips Around Vancouver.
For all the details you need to plan your hike check out this full blog post I wrote along with some teaser images to inspire you.
Howl Over Halloween at Fly Over Canada!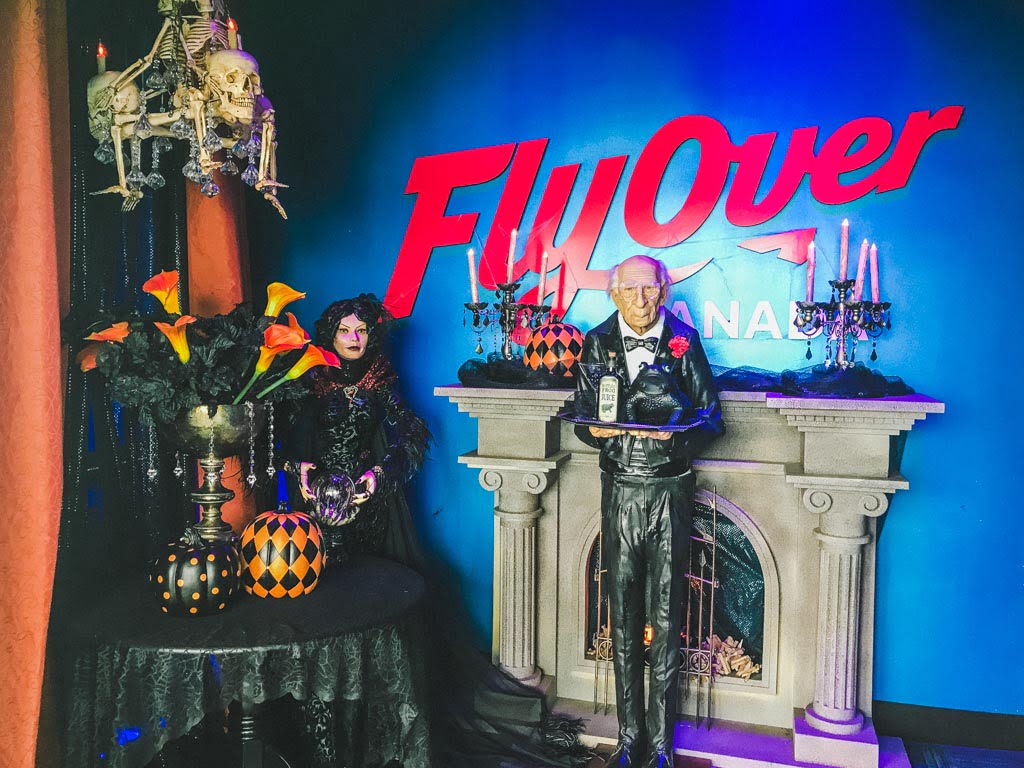 Be a tourist in your own town and head down to FlyOver Canada for a Halloween Howl. Take flight on a witches broom and fly over our beautiful Canadian countryside … and end your ride with a spooky celebration with big music, seasonal scares, and a few special surprises that I won't spoil for you! Tips and tricks:
Masks and Vaccine Passports Required
Book ahead of time to skip the line
Pair with an afternoon under the leaves in Stanley Park or dinner out on the town for an autumn escape in the city.
To learn more head over to their website.
Hint: Head over to our Instagram Page to stay tuned for a giveaway next week!
Embrace Surrey's New Spice Trail, a Culinary Fall Family Day Trips Around Vancouver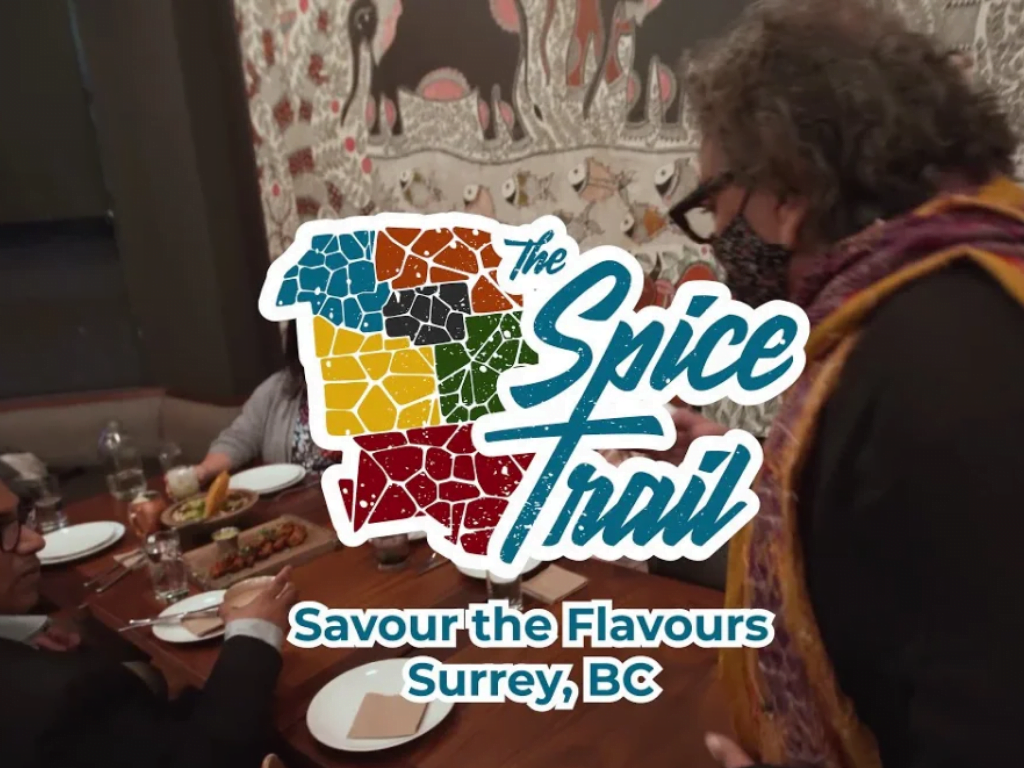 Fall is all about Spice and the perfect time to take the family on Surrey's new spice trail. Created in partnership with Discover Surrey and the South Asian and Multicultural Cuisine Food Scene this "Trail" includes over 30 restaurants, cafes, and retail stores that all want to showcase their spice!
"This delicious self-guided tour has been laid out over Surrey's six neighbourhoods, including North Surrey, Fleetwood, Guildford, Newton, South Surrey, and Cloverdale. And is then further organized by ethnicity, vegetarian options, and style, such as South Asian street food."
Highlights of the Spice Trail:
Southern India – Kerala Kitchen: Beef Ularthiyathu (dry roast) and dosa (Indian style crepes)

Northern India – Apna Chaat House: Golgappa and Sev puri (street snacks)

Caribbean – Di Reggae Café: Jamaican patties and Oxtail stew

Malaysian – Meks Delight: Thai red curry and Teh tarik (pulled tea)

Nepalese – Spice of Nepal: Gorkha spinach chicken and Chicken momos jhol (dumplings)

Afghani – Afghan Kitchen: Mantu (dumplings) and the lamb shank
To plan your day trip visit www.SpiceTrailSurreyBC.com for more information including an interactive map, travel-blog descriptions of each restaurant, and tips on how to get more out of your family dining experience.
Explore The History Behind Our Region's Newest UNESCO Biosphere!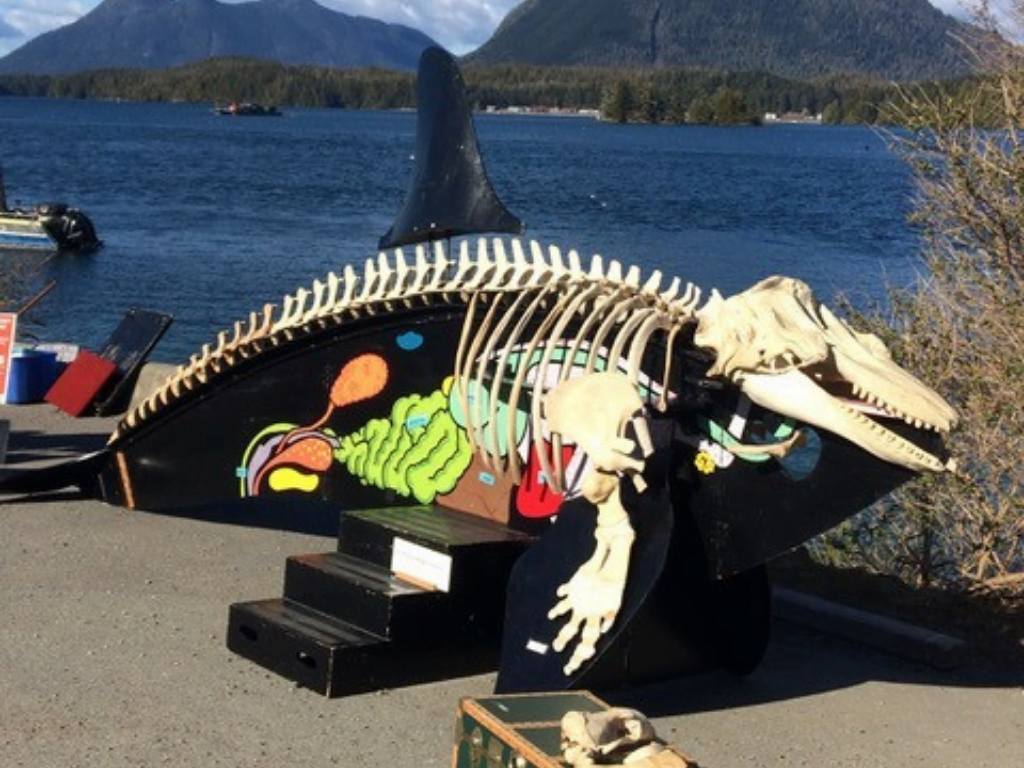 Howe Sound/Átl'ka7tsem was recently designated as a UNESCO biosphere region and the Brittania Mine Museum is launching a new temporary exhibit to celebrate. Located in the Terralab STEAM learning space, from October 1st to 31st, "Ore and Orcas: The Remediation of Howe Sound" is a dynamic visual display showcasing the O120 Orca bone display and other marine specimens, to shine the light on the remediation of the Howe Sound marine ecosystem."
"Partnering with the Strawberry Isle Marine Research Society (SIMRS), the Beaty Biodiversity Museum, and the Porpoise Conservation Society, the visual exhibit and marine specimen displays will look at the mine's history – including the impacts of pollution and subsequent remediation, recovery, and protection with the EPCOR Water Treatment Plant – through the lens of its impact on the Howe Sound food chain."
To learn more and plan your visit check out their event page here.
Stroll The World-Renowned Seawall, an Iconic Fall Family Day Trips Around Vancouver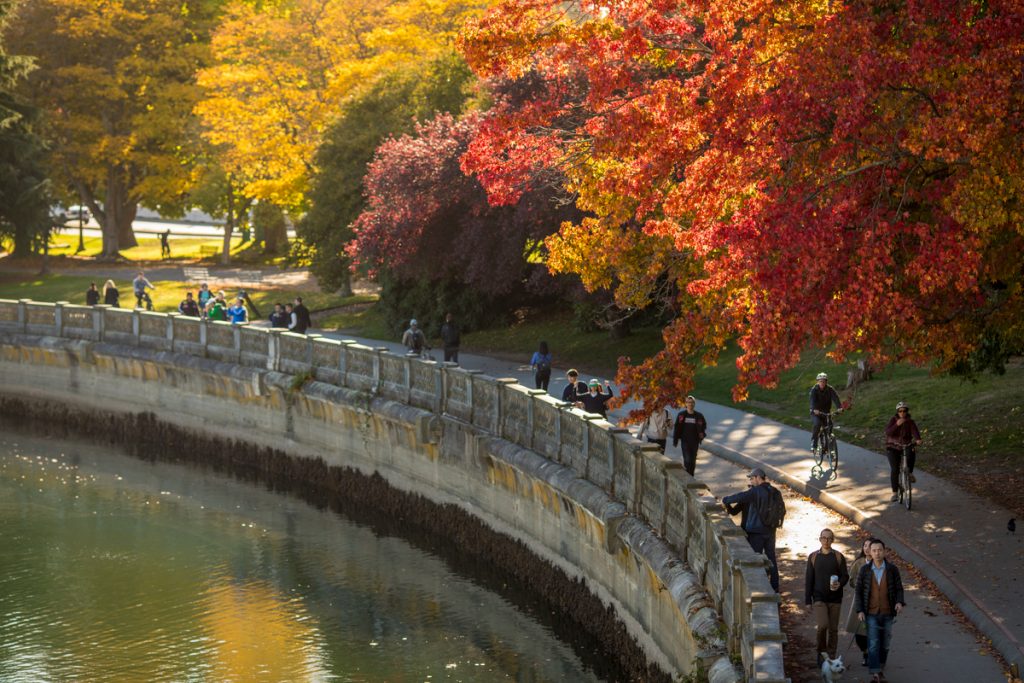 Unless you live downtown Vancouver it's probably been a long time since you strolled along the Stanley Park Seawall. But this world-renowned park is right here in our backyard and the perfect family day trip to go and see the changing leaves as they fall from the trees into the lapping waves of the ocean. From bright reds to vibrant yellows, and musty oranges, bring your camera as mother nature puts on a show for you on the seawall, where the forest and mother ocean meet up in a place that is only Vancouver.
Go On A Scarecrow Stroll In Surrey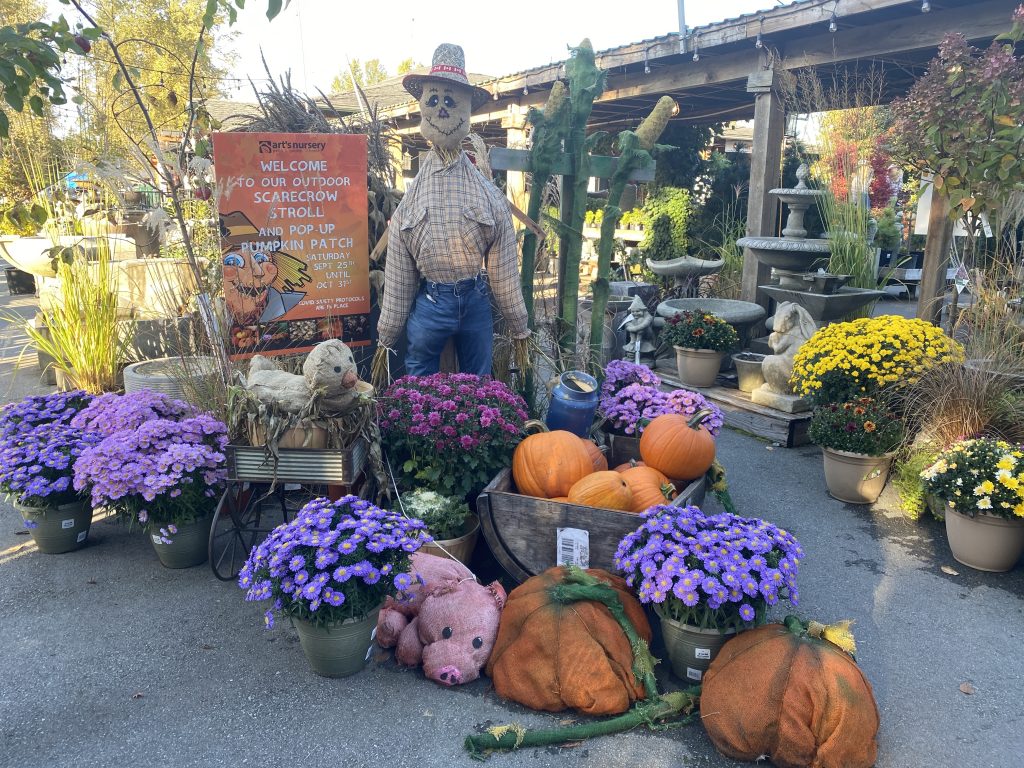 Head down to Arts Nursery until October 31st to stroll outdoors and seek out 60+ different scarecrows. Pose for pics in the pop-up pumpkin patch. Challenge the family with a scavenger hunt. Heading out on the weekend? Be sure to enjoy the live music and a visit from the O.W.L Society! And for $14.95 you can pick up your own Scarecrow kit to take home and build with proceeds going to charity!
Overnight Excursions, Extend Your Fall Family Day Trips Around Vancouver
If you're looking for an overnight escape check out these fun weekend ideas:
Stargazing in Manning Park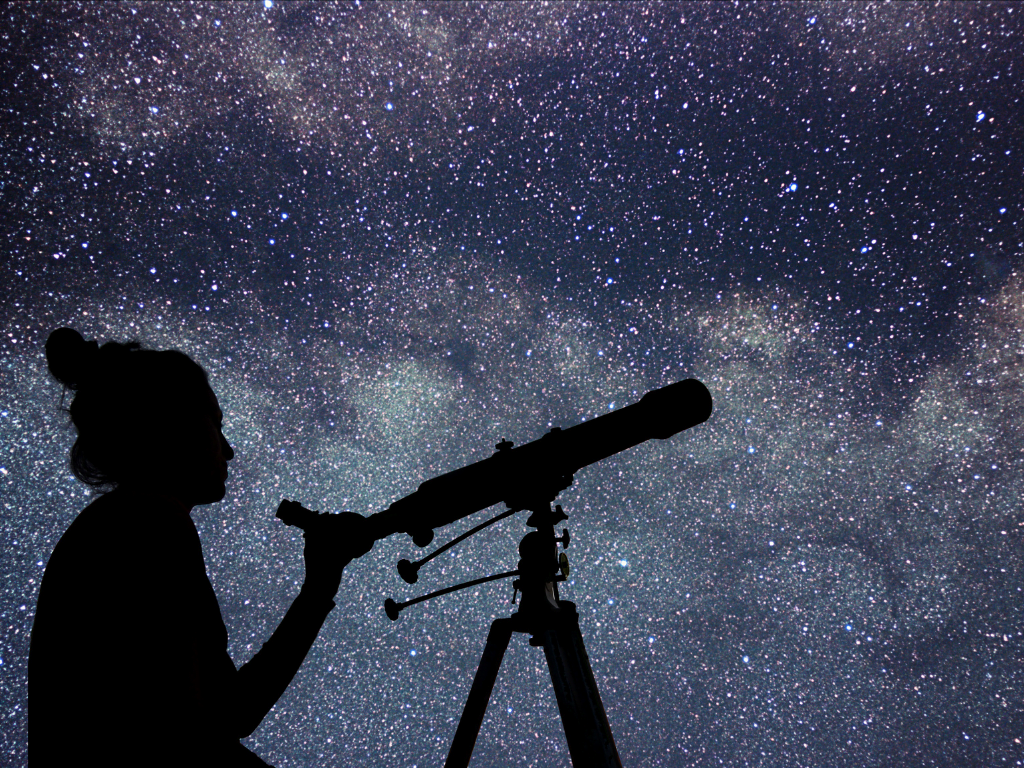 Located in a "Dark Sky" region, Manning Park offers incredible views of the galaxy. This year they are offering immersive experiences that will get you as close to the stars, all while keeping two feet on planet earth. And if you book a night you can steal some star gazing discounts like 25% off your room! Depending on when you stay you can expect to enjoy activities including:
Ask an astronomer

Welcoming remarks, beginner telescope use

Outdoor Guided Stargazing: Windy Joe Field

Astro Activities for Kids

Jim Bernath Meteorite Collection on Display

Workshops/Talks: Beginner Astronomy, Moon Talk, History of Robotic Exploration, Light Pollution Abatement

Outdoor Guided Stargazing: Lightning Lake or Cascade Lookout

Solar Viewing

Themed menu items at the Pinewoods Dining Room

Self Guided Stargazing Challenge
To learn more about this unique local experience visit the Manning Park website.
Self Guided Tours Through The Changing Seasons In Whistler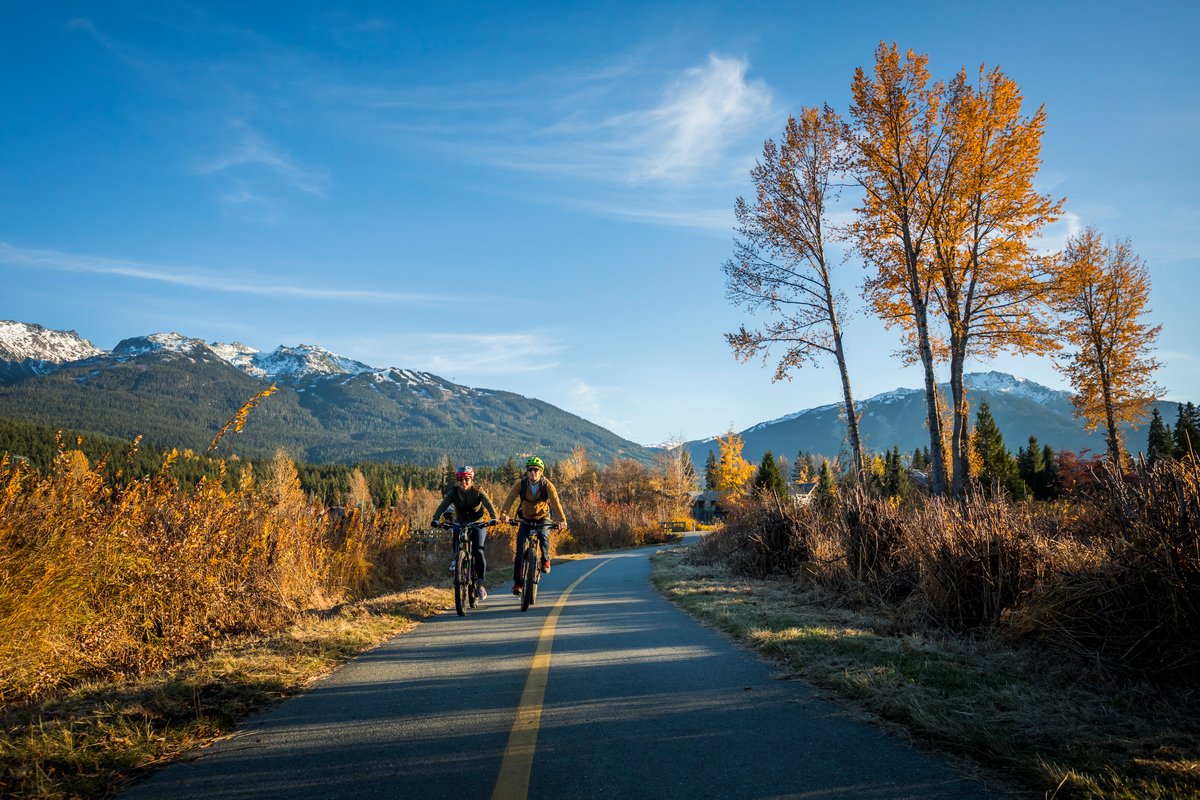 Fall in Whistler is incredibly special to me (I got married there in this season!) With the changing colours of the foliage, the quieter village and more space to roam, the cozy corner fire, and appies after a day of exploring, it's one of my favourite places to celebrate the season.
This year there are lots of wonderful "new or new-to-you activities," Whistler has launched an app that visitors can download to access fun and informative self-guided tours. Here are some of the family-friendly highlights:
Fitzsimmons Creek Accessible Nature trail

– a short exploration of biodiversity on Whistler's first accessible nature trail.

Whistler's Cultural Connector

– follow a pathway that leads you between six cultural institutions and uncover the stories that enrich Whistler's culture.

Natural Wonders

– explore the biodiversity and geology of Whistler on this 11-kilometre tour that is best enjoyed by bike or E-bike.

History & Heritage:

Whistler from 1914 – 1965 – learn about the early non-indigenous settlers and visitors who arrived in Whistler after 1914.
Learn more and plan your adventure by visiting the Whistler website.
---
Looking for more Vancouver Adventures? Check out these Articles for Inspiration!
Is this a sponsored post?: No, this is not a sponsored post. We are just looking to inspire families to get outside and enjoy the glorious fall season that we get to experience here in the Lower Mainland of BC.