"Mom, you have to let me take a video of this place. It's like, the perfect place for families to stay!" I quickly was required to hand over my phone so my daughter could start filming. "After all Mom, that is our job right, tell other families about really cool places? Well, this one is amazing Mom, come on, let's go!"
And with that, we were off to explore the grounds of the Silver Dart Lodge Cape Breton, which was no easy task! Set on 90 acres, this huge property has a lot of amenities and a lot of places for guests to explore. Here's a photo tour of our stay, and scroll to the bottom to see my daughter's first video for Adventure Awaits!
Chalets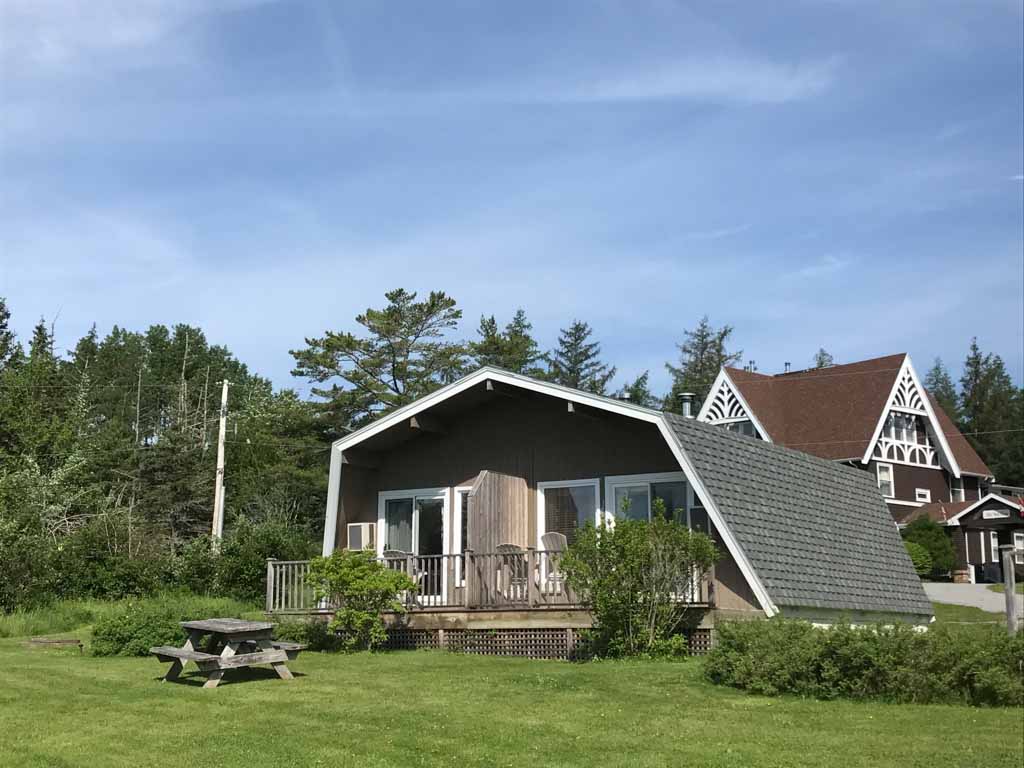 The duplex chalets are awesome for families. With the back decks overlooking a large field and the children's play area, parents can sit and enjoy the afternoon sun while kids chase each other between the monkey bars and basketball court.
Excellent Rooms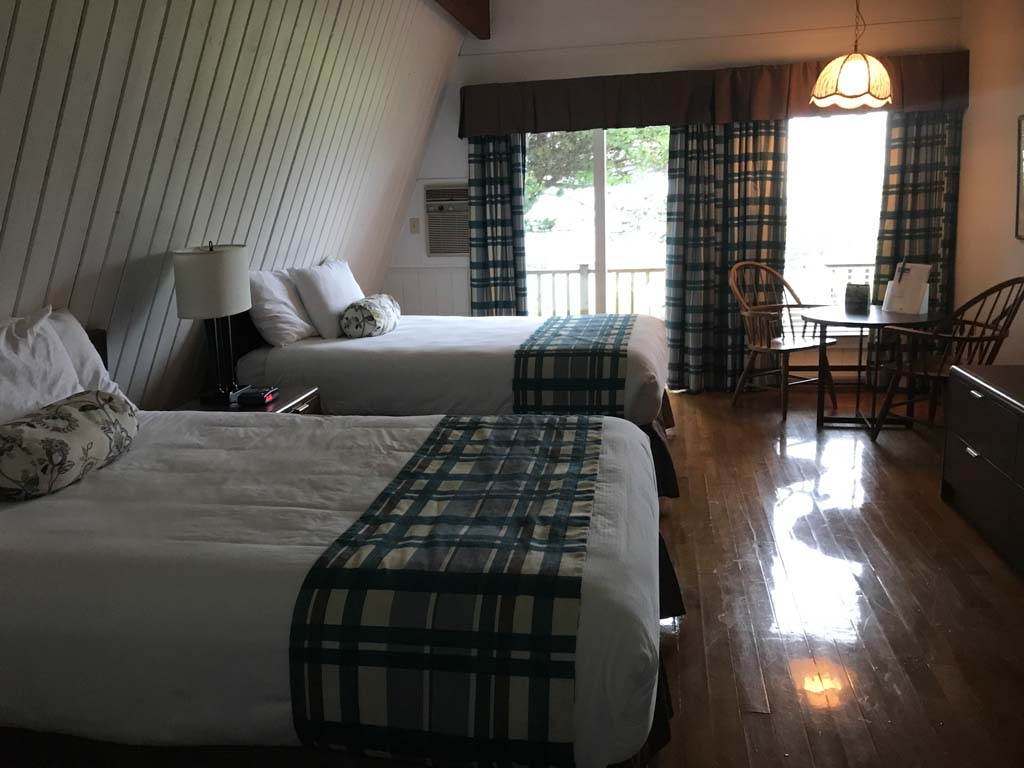 The rooms are filled with east coast charm, adding to your maritime experience. They also have all the luxuries you could ask for, including a kitchenette and wifi! When we first arrived it was a rainy day and we loved cuddling into our little cottage and having a movie afternoon.
Heated Pool
In the centre of the property, there is an outdoor heated pool. My kids loved being able to run to the pool with their Dad and I loved being able to sit on the deck and do some work, while hearing them giggle in the background.
HUGE Playground!
Let's just take a minute and give 5 stars to the hotel for an amazing playground and kids area. Not only did they have a huge play structure (most hotels don't go this big), but they also have a basketball hoop and a huge treasure chest of sports equipment for kids to play with. So whether you're looking for a Frisbee or a soccer ball, you'll find hours worth of outdoor play in their big bin!
Laundry Facilities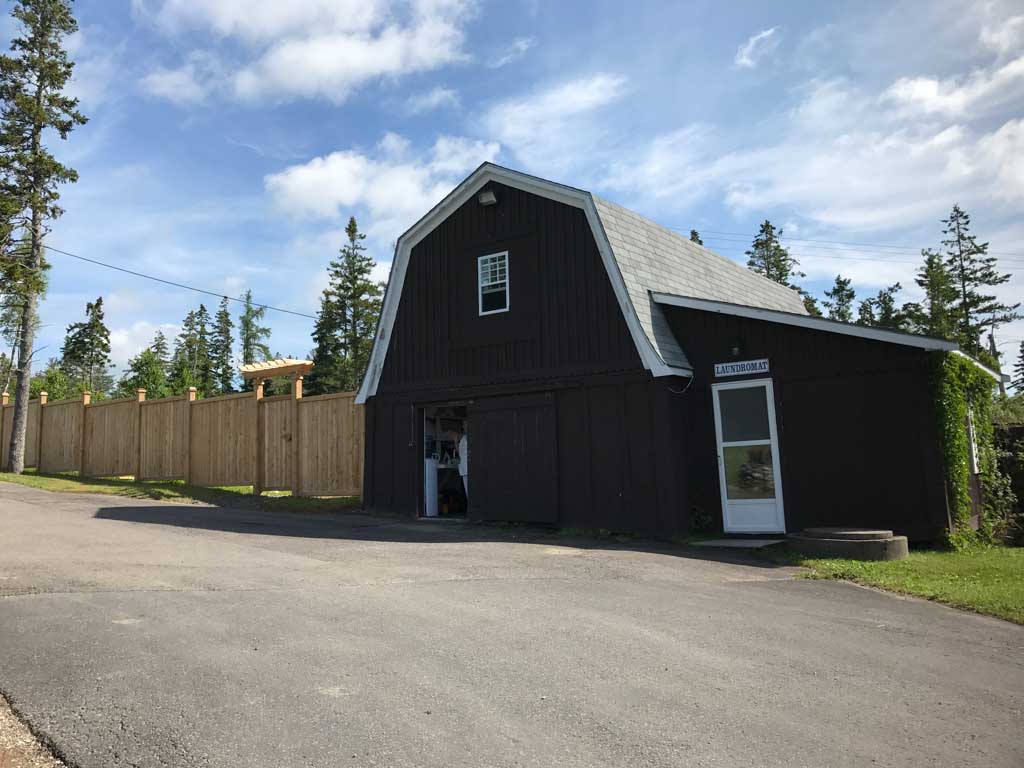 Our stop in at the Silver Dart Lodge Cape Breton represented the halfway point in our trip, or in other words, we were out of clean clothes! I loved that they had on site laundry, and it was located right next to our cottages, making it super easy and close to go back and forth and switch out loads. The front desk staff were also super helpful, offering to exchange quarters for us as well as sell us laundry detergent and fabric softener.
Restaurant With A View
The on-site restaurant offers amazing meals for every member of the family. We were super excited that we got to eat there as they were 100% able to accommodate my daughter's nut allergy… something that rarely happens. One of our favorite memories from our trip was dinner and looking out over the amazing view.
Walking trails, private beaches, lookout decks, and more!
Whether you're looking to go for a walk on one of their private trails, head down to their private beach, hang out on one of the lookout decks, or enjoy a drink in one of the red chairs, this place has more amenities then one could possibly explore in a single visit. I can see why families go back year after year!
Location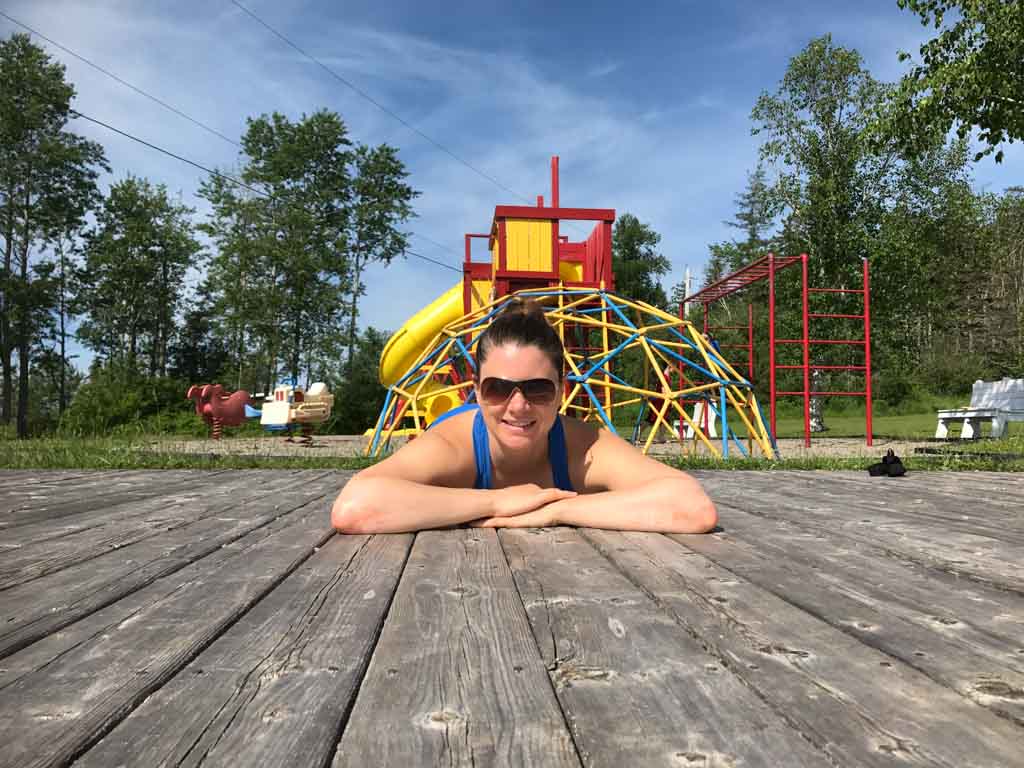 If you're looking for a great place to stay, the Silver Dart Lodge Cape Breton is the perfect location. With it's epic views overlooking the Bras d'Or Lake, you'll have quick access to the beach all while being only a 2.5 km out of downtown Baddeck. From Silver Dart Lodge you'll be able to explore some of Baddeck's biggest tourist attractions, such as the Alexander Graham Bell National Historic Site. It's also a great launching point to explore the world-famous Cabot Trail. 
Video Debut
Here's the world premier of my daughters first video! I think she chose a pretty awesome property to feature!
If you go:
Book ahead if you can. While the property has over 90 rooms, the popular chalets do fill up, especially on busy dates.

Make reservations for the restaurant. If there's a particular night that you'd like to eat at the restaurant I'd recommend making reservations for the window seats overlooking the lake.

Bring your bathing suit – With beaches and pools to be exploited, be sure to bring a bathing suit or two

Have fun!
Is this a sponsored post?: Yes, our time at Silver Dart Lodge Cape Breton is sponsored. However, we take the responsibility of shared posts VERY seriously and only work with partners we can wholeheartedly recommend and services we would purchase ourselves.
Read more about our East Coast Adventures here:
Cape Spear National Historic Site
Signal Hill National Historic Site
How to Explore St. John's in One Day
Hunting for Icebergs in Newfoundland
Terra Nova National Park
Gros Morne National Park
All Aboard – Gros Morne Boat Tour! Music, Memories and More!
Butterflies, Bugs and Bees – Hands on Experiences at Newfoundland Insectarium
The Fortress of Louisbourg
Cape Breton Highlands National Park
PEI National Park
Stepping Back to Simpler Times at Shaw's Hotel
Learning the Lobster Trade with Top Notch Charters
What Brings You to PEI May Not Be What Keeps You There…
East Coast Road Trip Summary[/fusion_builder_column][/fusion_builder_row][/fusion_builder_container]