It was clear that we were out numbered by an older generation of seniors and bikers. However, we all had one thing in common, we were beaming with excitement as we took in the sights and sounds of this once in a lifetime experience. While we tried to articulate to our children how lucky they are to be having this amazing experience, we're not sure that it's something they will actually appreciate until they are much older. This trip reminded us of how lucky we are to live in Canada and have this amazing country to explore, and how people wait their whole lives to come and explore places like Nova Scotia's Cape Breton Highlands National Park.
Cape Breton Highlands National Park is located on the Northern portion of Cape Breton Island in the beautiful province of Nova Scotia. While the park has many amazing places to explore, the park is most famous for the Cabot Trail, the winding road that takes visitors around the park, through spectacular ocean and mountain views.
We spent three days in the National Park, one night at Ingonish Beach and the next two at Cheticamp. We stayed in a Parks Canada oTENTik, which enabled us to pack up and move quickly to our next destination, all while still being able to partake in the parks programs along the way.
Here's the top ten things we loved about Cape Breton Highlands National Park:
Ingonish Beach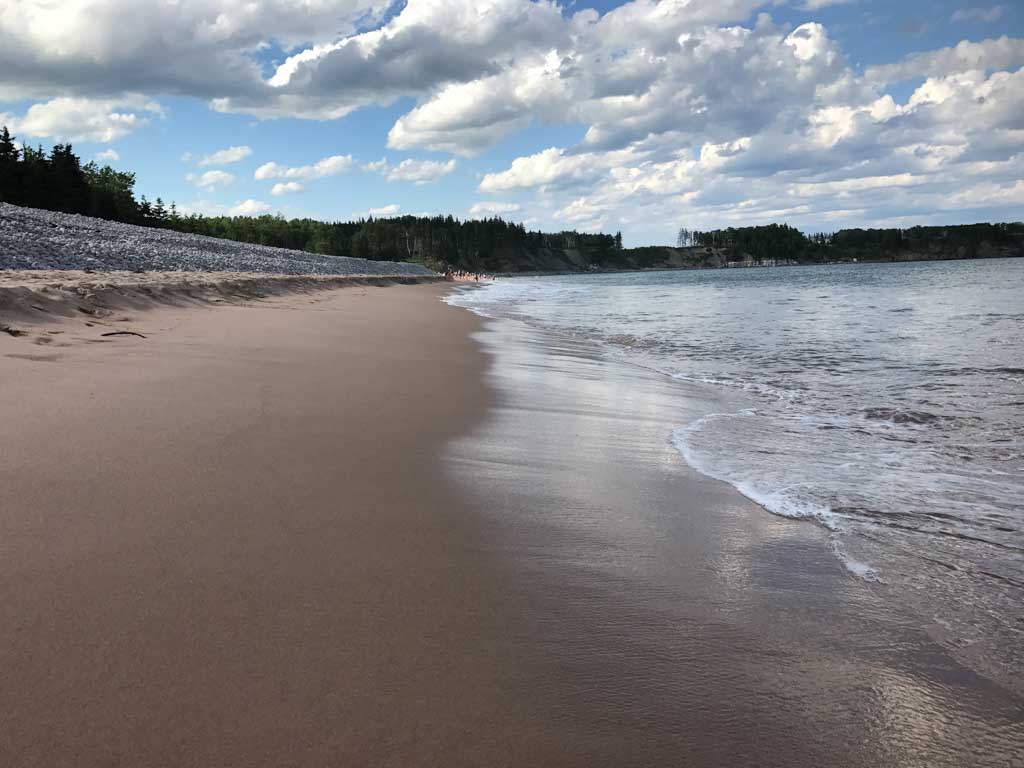 When we told the ladies at the Silver Dart Lodge that we were going to Ingonish Beach the next day they swooned and said how lucky we were. It wasn't until I was standing on the warm red sand watching my children squeal as the cold waves crashed down onto them that I understood what they were talking about.
Ingonish Beach is a beautiful, long sandy beach, that is perfect for families to explore. With a sloping grade out to the ocean children can play safely along the edge, as long as they are strong willed enough to stand up to the waves and brave enough to defeat the chilly temperatures!
If you're needing a break from the beach, the park has so much more to offer, including a beach side snack shack, washrooms, and a soccer field. The best part? Directly behind the beach is a freshwater lake! This site is perfect for those looking for gentler, warmer waters. It also has a beautiful new and huge beach front playground that is perfect for kids looking to burn off some steam.
Keltic Lodge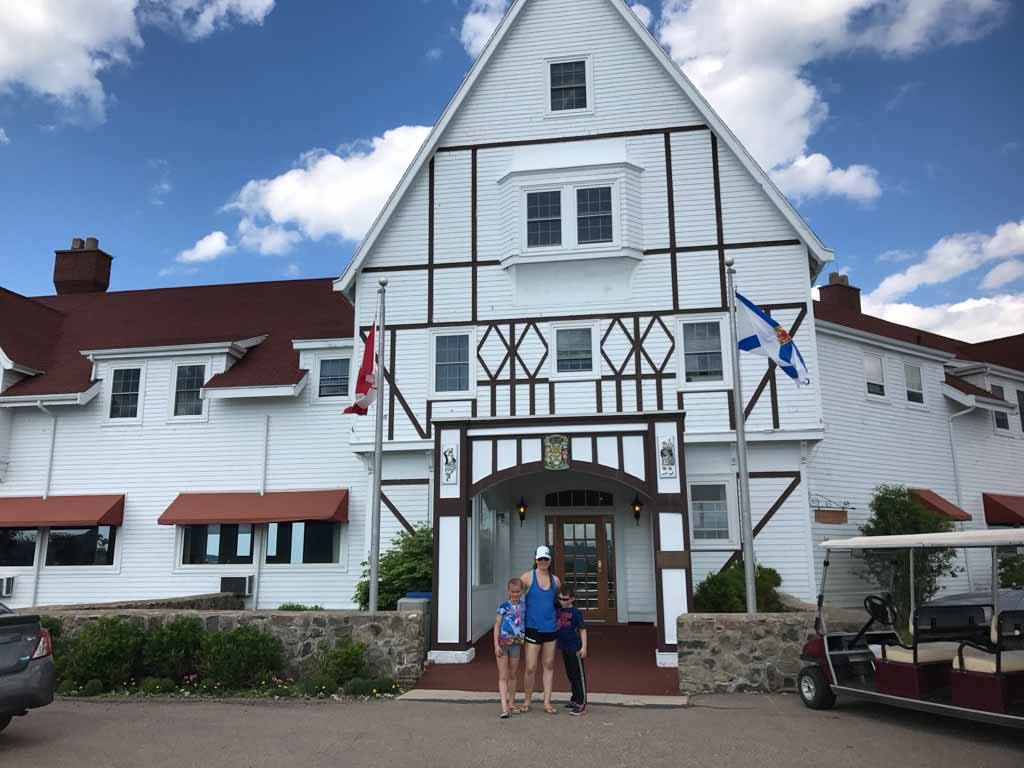 Situated on the headland, overlooking Ingonish Beach, sits the iconic Keltic Lodge. This stunning property boasts one of the world's most famous golf courses and surrounding properties as well as many vacation spots that are worth driving by. While you're there stop and check out one of the amazing view points and see if you can spot an eagle or whale while you're there!
10 Hikes in a Day Challenge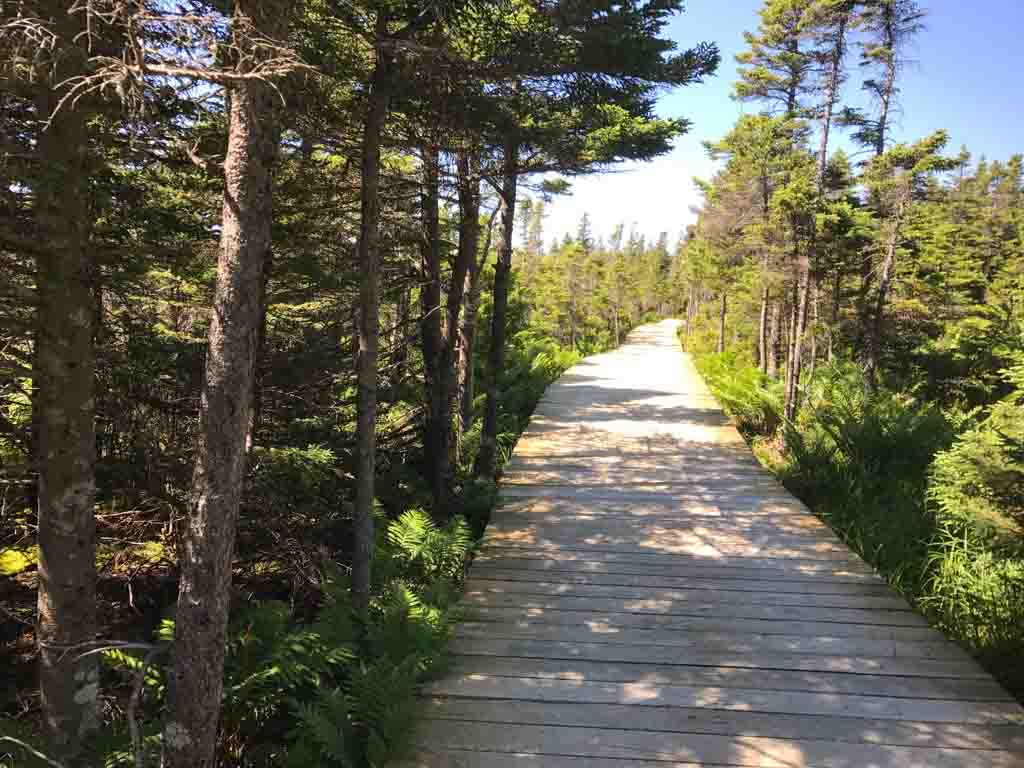 There are over 20 hikes in Cape Breton Highlands National Park and many of them are what I would call "micro hikes," being 1 – 3 km in distance with little elevation. Challenge yourself to do 10 hikes in one day, allowing you to explore a variety of elements within the park. Be sure to snap a selfie at each location and then take your pictures to a visitor information centre to get your own special souvenir!
Ingonish Beach Campground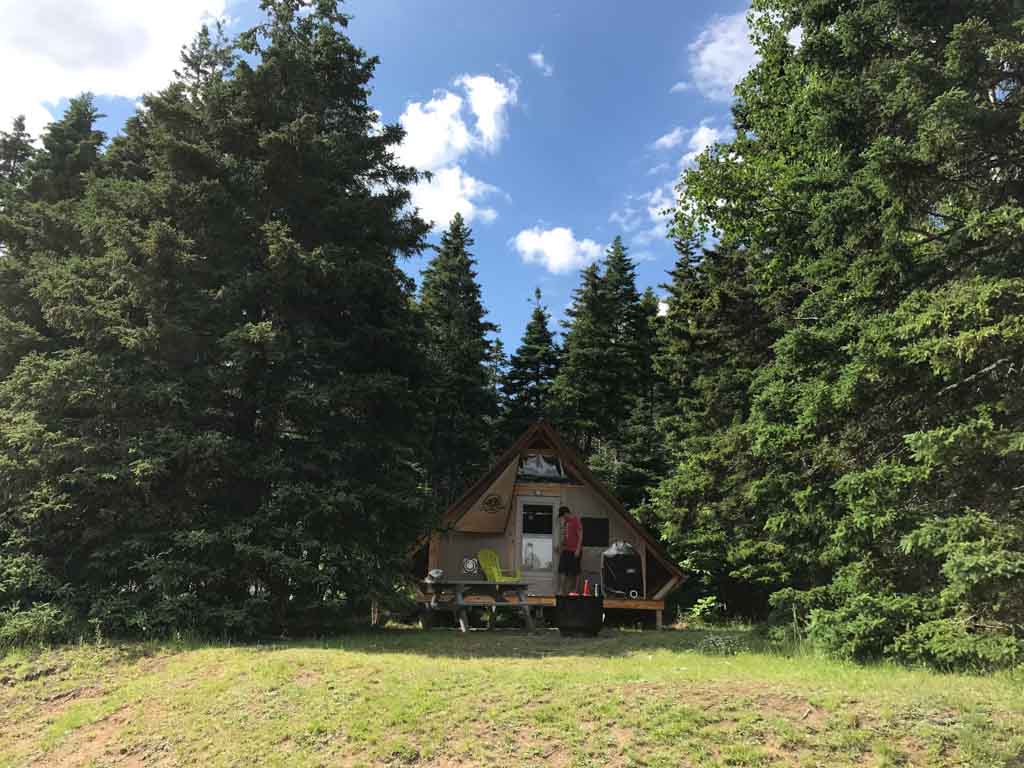 The main Ingonish Beach Campground is about a 5 minute walk or drive around to the actual beach. However, if you happen to stay in one of the beach side oTENTiks, you'll get a whole different experience! This picture is taken looking back over our campsite, and directly behind me is the Ingonish Beach! It is the ultimate site as you can easily go back and forth to the ocean, or the lakeside beach, or let the kids head over to the playground. If you're looking for the best site at Ingonish Beach, I recommend booking these ones.
Cabot Trail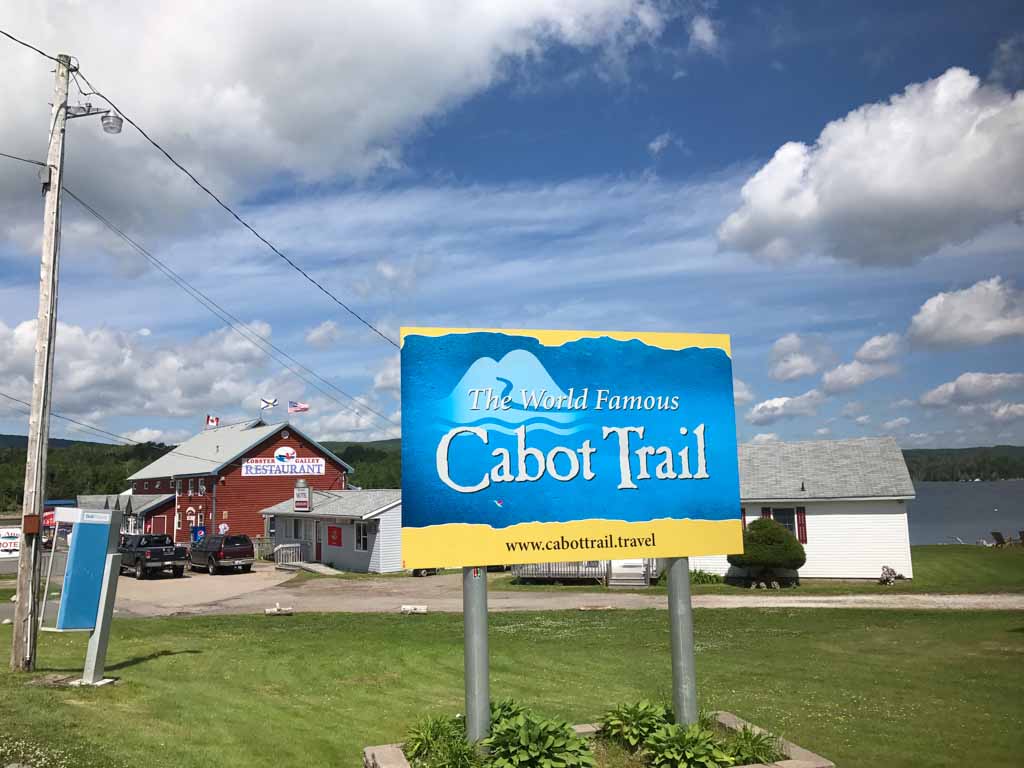 The Cabot Trail is one of Canada's most famous drives and is a destination that tourists flock to from all around the world. With amazing ocean and mountain views, and a stunning and fun road to experience it all, makes this drive a "must" for many travellers.
The Cabot Trail wraps itself around the Cape Breton Highlands National Park and while it can be done in one day, I would recommend giving yourself at least 2 – 3 days to really experience all the park has to offer. With hikes, historic sites, and amazing restaurants, you won't want to rush your experience on the Cabot Trail.  
Biggest piece of advice: Choose your direction carefully. The Cabot Trail is essentially a loop so you can choose whether you're going to drive clockwise or counterclockwise. If you drive clockwise you'll be on the "inside" land as you drive along the coast, which is good if you're a driver (or passenger) who doesn't like to be next to steep cliffs. However, if you're wanting the famous views and a little less traffic the counterclockwise may be a better fit.
300 Year Old Maple Sugar Tree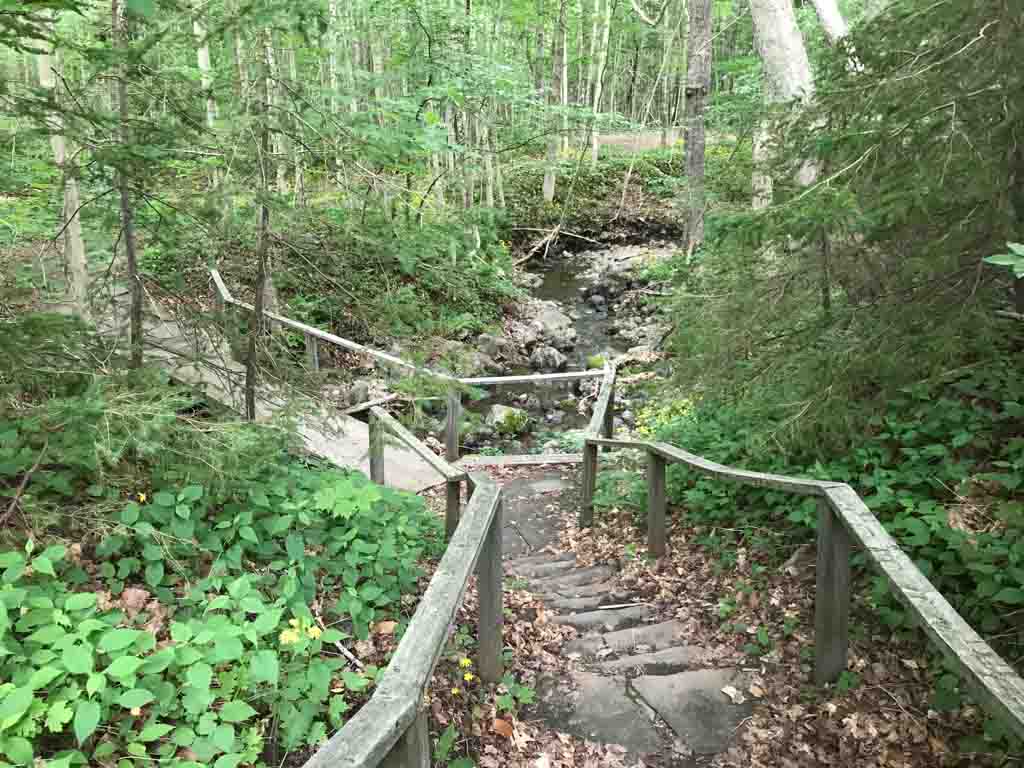 Have you ever seen a 300 year old maple tree? This Maple tree forest is a dedicated space for these beautiful trees to bloom. We took a quick 15 minute stop and walked the 1 km loop through the forest, checking out the amazing maple trees and their surrounding ecosystem. This is a coyote habitat, so be sure to keep your eyes open for the locals and know what to do if you see one (most park entrances have educational signs about any animals in the area as well as what to do if you see one).
Skyline Trail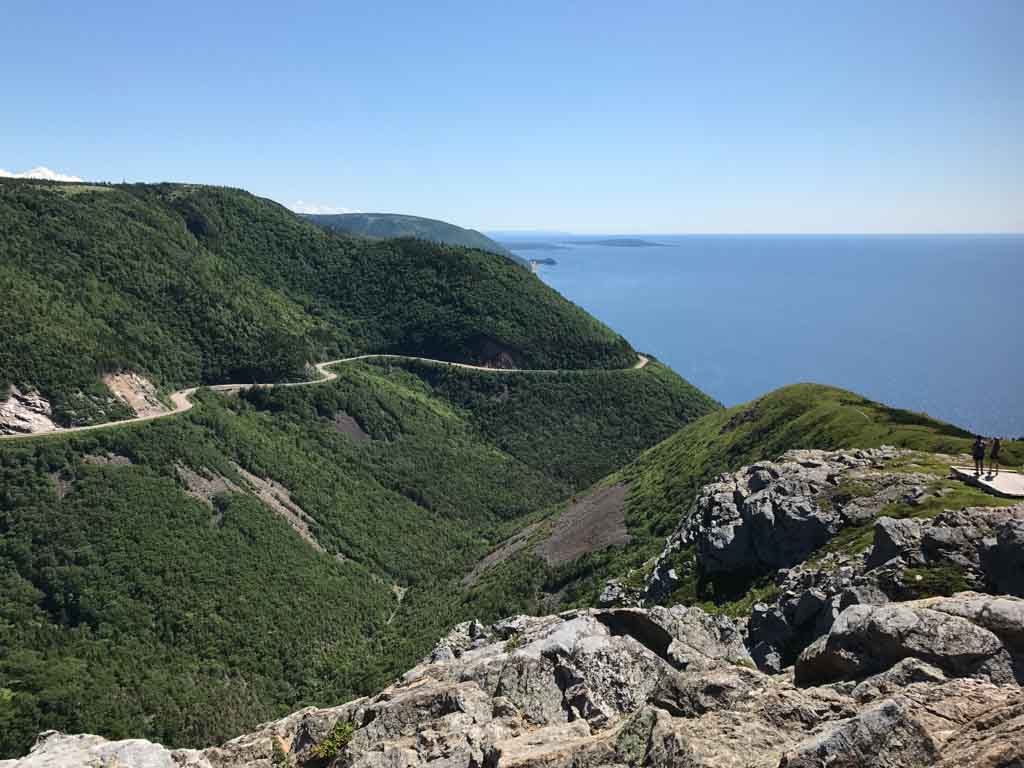 If there is one place you absolutely must stop at it is the skyline trail. This hike is considered a "Classic Canadian Experience" and the scenic views and animal sightings make it such a special hike. At just over 9 km long, this easy hike is more of a walk as the paths are all well groomed and it has little elevation. Along the way be sure to keep your eyes open as moose are plentiful and your odds of seeing one (if you're looking) are high. At the end of the trail you'll be rewarded with world class panoramic views that look out over the Cabot Trail and ocean. The best time to go is sunset, and Parks Canada offers guided tours (sign up available at the visitors center).
Park Programs – Cadleigh
Parks Canada is always offering amazing experiences for visitors and our invite to a Cadleigh was just another example! This local band performed a variety of traditional songs, each accompanied with it's own history and origins to help to truly immerse us in the maritime culture.
Inukshuk Beach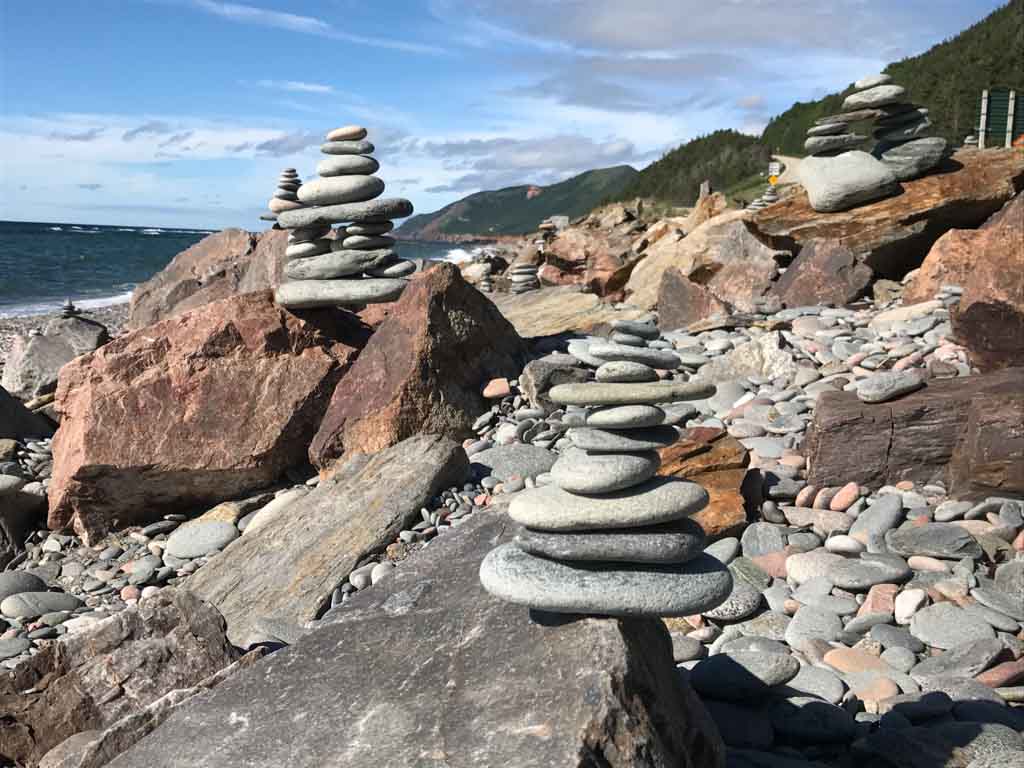 Unofficially, our official name for this special little roadside beach was "Inukshuk Beach." We stopped to see the beach but instead found hundreds upon hundreds of little rock statues. Of course, we had to take a ton of pictures and then try to build our own before we left.
Beachcombing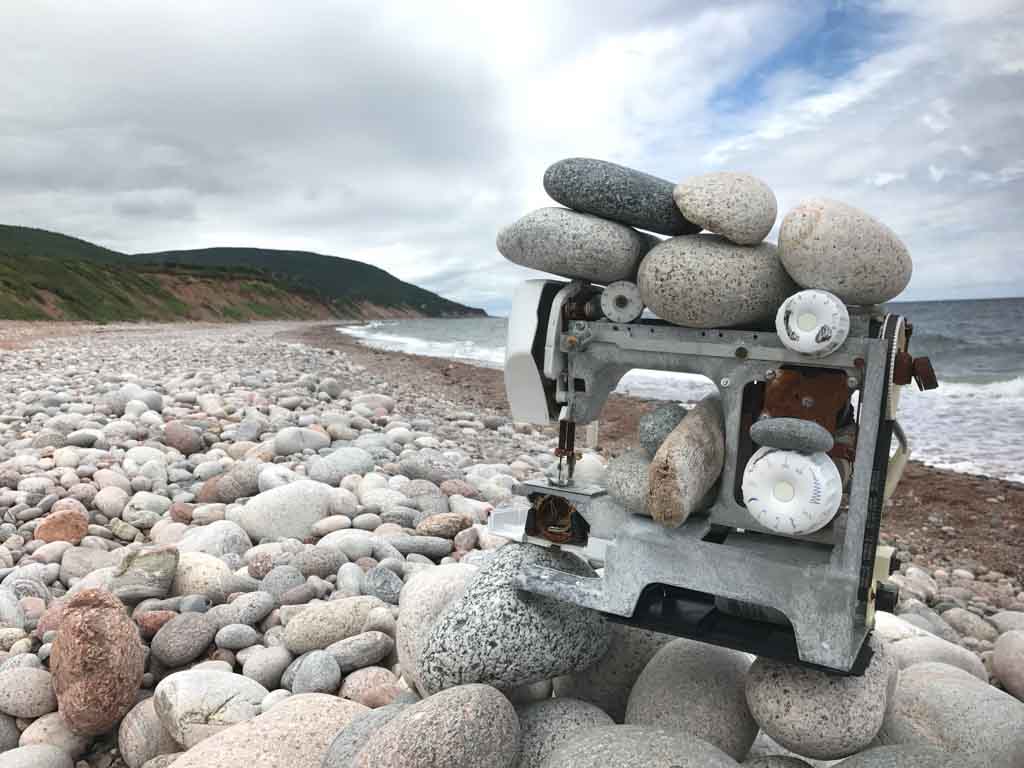 Our family loves to beachcomb and we found the beaches of Nova Scotia to offer different types of treasures to be found (including this decorated sewing machine). The beaches had a ton of shells and rocks (compared to Canada's west coast) and a lot less litter, and sea glass to be found (which was a good thing!). We loved searching out for all these treasures, and then capturing photos before we put it all back. My kids always want to take their precious items home, but we keep reminding them with the motto, "Take nothing but pictures, leave nothing but footprints."
Cheticamp Campground
Our last night in Cape Breton Highlands National Park was spent at the Cheticamp Campground, and what we believe was the best site in the place. Located next to a babbling brook, this private site was the perfect place for us to spend a couple days and unwind, and the kids enjoyed playing in the accompanying forest and water. I tried to take my son out on the rocks for a photo and ended up falling into the water, leaving me soaking wet from the waist down. It was an entertaining moment but it also reminded my children that the waters edge is a safer place to play then rock hopping.
Beaches Around Cheticamp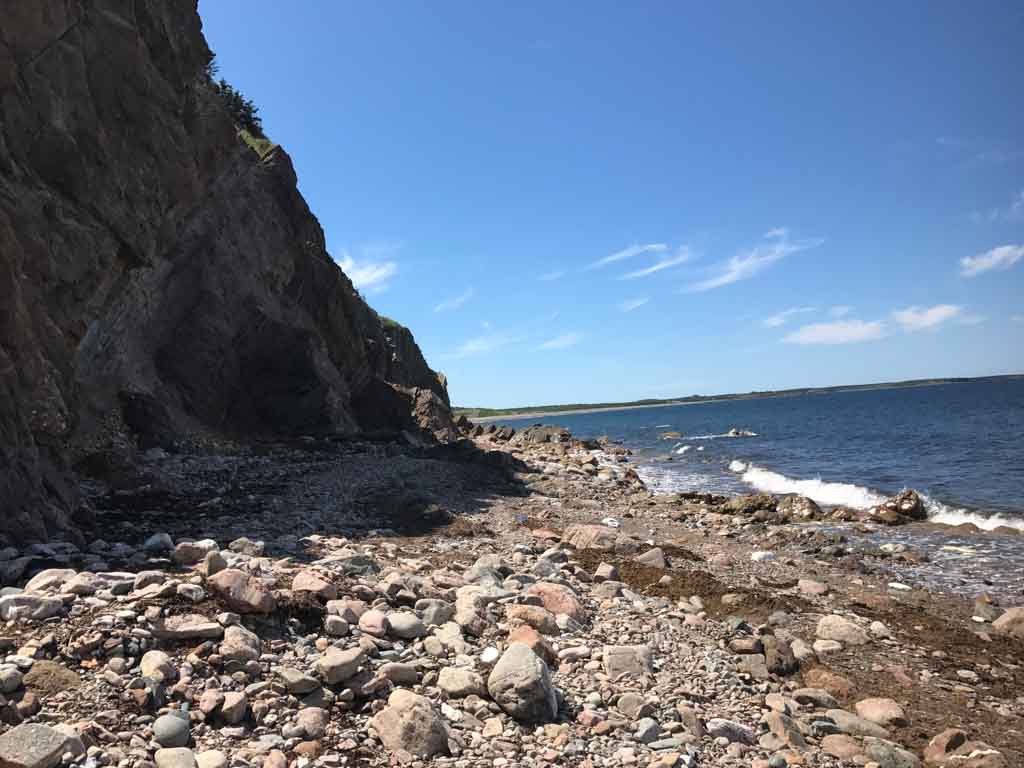 Be sure to check out one of the amazing beaches around the Cheticamp Campground. There are a variety of beaches, from long sandy ones to windy rock faces… each offering it's own experience. (and most of them barely inhabited). We recommend that you dress in layers, as depending on where you visit, you may want to add on a jacket or take off a sweater, always better to be prepared!
So while this destination is typically enjoyed by seniors it is the perfect place for families to explore and shouldn't be something that sits on your "someday" list. From sandy beaches, to hikes, to parks programs and amazing campgrounds, Cape Breton Highlands National Park is the ultimate destination for families looking for a truly Canadian experience.
My 8 year old daughter would like to say, "Kids can explore beyond hikes. My favourite thing to do there was find kelp and seaweed at the beaches. Have an awesome trip if you go there!"
If you go:
Choose the time of year, each season offers a different experience.

Decide if you're going to drive clockwise or counterclockwise.

Book accommodations ahead of time if there's a specific place you want to stay. While there are last minute accommodations available they are not guaranteed.

Get gas! Gas stations are few and far between so be sure to always have enough in the tank to get to the next destination.

Bring bug spray and sunscreen… and apply them liberally if you're stopping for a hike or hanging out in the woods.

Watch out for moose. Encounters happen regularly and you'll need to drive cautiously in case one decides to jump in front of you. If that happens, give them their space and wait for them to move along.
Is this a sponsored post?: Yes, however my opinions and reviews are my own.
Read more about our East Coast Adventures here:
Cape Spear National Historic Site
Signal Hill National Historic Site
How to Explore St. John's in One Day
Hunting for Icebergs in Newfoundland
Terra Nova National Park
Gros Morne National Park
All Aboard – Gros Morne Boat Tour! Music, Memories and More!
Butterflies, Bugs and Bees – Hands on Experiences at Newfoundland Insectarium
The Fortress of Louisbourg
Silver Dart Lodge
PEI National Park
Stepping Back to Simpler Times at Shaw's Hotel
Learning the Lobster Trade with Top Notch Charters
What Brings You to PEI May Not Be What Keeps You There…
East Coast Road Trip Summary[/fusion_builder_column][/fusion_builder_row][/fusion_builder_container]