Are you interested in taking your family camping but are not sure where to start?
It can seem a bit overwhelming for those looking to book their first camping experience. From trying to navigate booking websites, to what to pack and what groceries to bring. Staying home could be the easier choice, but certainly not the most fun way to spend a summer!
We're here to help! As lifelong campers, we've broken down the basics on what you need to do to have a great first camping trip. We've also summoned support from our awesome Adventure Awaits community and asked them to provide their recommendations and pictures of the Best Campsites for New Campers in BC!
When and How to Book
Gone are the "Good Old Days" when we could load up the car after school and head out to a campground. Now, when January rolls around people are already planning their May Long weekend camping trips and getting ready to beat the rush when site booking days open.
Unfortunately now, in order to book a site, it's a first-come, first-served timed reservation for both our National and Provincial Parks. This can be very challenging (and frustrating) if you're looking to book a spot. We recommend setting an alarm for reservation day and using both your phone and computer to try and get a spot. TIP: Have your account set up and be logged in prior to reservation opening time.
In our "Where To Go" section below we include links on how to book each of the suggested sites, but here's a basic timeline for how the big booking sites work:
Canada's National Parks – Booking opens in January and you can book for the whole calendar year.
BC Provincial Parks – Bookings open four months (to the date) ahead of the day you want to camp. TIP: If looking to book on a busy weekend take a few days off early and book in for the Wednesday or Thursday and give yourself a long weekend. You'll increase your odds of getting a site and get to spend some more time camping… win win!
Private Parks – Most private parks are open over a year ahead for booking, but you have to inquire with each one to determine their own booking requirements.
What to Bring
Trying to decide what is a must and what needs to stay home? We are regular campers and have perfected not only the art of camping, but also the ability to pack up for a last-minute adventure in under half an hour. How? We have this handy "Ultimate Camping Checklist" and when we're heading out on a camping trip we print it off and everyone scrambles around the house to gather our items! Click this link to get your copy of the checklist!
Where to Go
When looking to book your first camping trip we recommend families find a place that is:
Easy to get to. Therefore all of these destinations are 6 hours or less from Vancouver.

Has onsite amenities, the more the better! With washrooms being a bare minimum (for those families that tent) We looked at sites that also included showers, water, power, and fun things like playgrounds, lakes, pools, play fields, and more.
Here's a list of the Best Campsites for New Campers in BC:
Blue Lake Resort
Located 15 Kilometers north of Boston Bar, or just a short two-hour drive from Abbotsford, Blue Lake Resort is the perfect getaway for families looking for a quick escape. This campground offers a variety of accommodation offers including tents, rustic cabins, RV and sites for 5th wheels and motor homes, making it a great destination for groups with varied needs. While you're there enjoy playing in the lake, hiking through mountain trails, renting a boat, or riding your ATV through the miles of available trails. This place is a kid haven with a playground, youth centre, chickens and goats, and even a bouncy castle!  With thousands of acres of untouched wilderness, this is the perfect place to start a new family tradition. This location would also be great place to host a family reunion! To make a reservation, visit their website.
Mile High Resort
Who wouldn't want to wake up to this view! At Mile High Resort this is only the beginning. Located just south of Kamloops, this stunning resort like property offers so much more than a traditional site. Use your campsite (or rent one of their amazing cabins) as a base and spend the days mountain biking, hiking, renting an ATV, playing at the playground and animal farm, or shopping at the "general store". Need a lazy day? Perfect, lay by the lake or paddle around on an SUP or kayak. One quick visit to their website will have you booking your next family adventure! 
Rolley Lake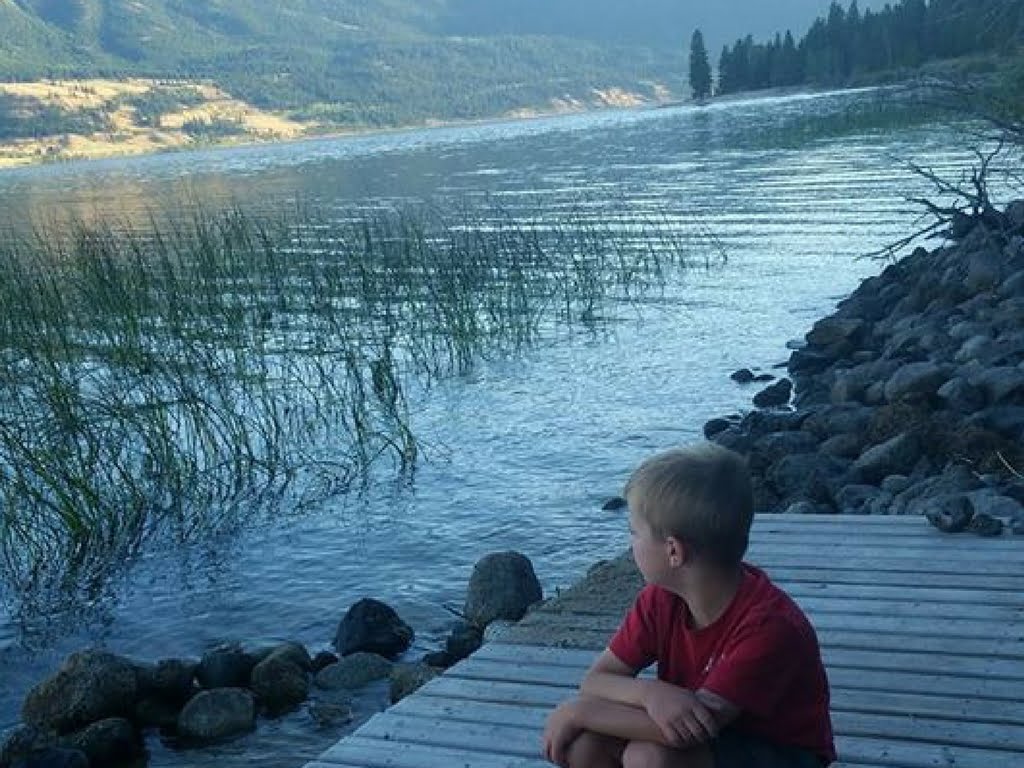 Only a short hour drive out of Vancouver brings you to Rolley Lake in Mission, BC. The warm lake water provides ample opportunity for fishing, swimming, kayaking and Stand up paddle boarding. Need a break from the water, check out the hiking, picnic areas, playground, or biking trails. For more info and to book a site, visit their website. 
Alouette Lake
A very popular destination for both visitors from the Fraser Valley and Vancouver, it's easy to see Alouette Lake is such a great destination. Found inside Golden Ears Provincial Park this area has so much for families to explore including water sports (water skiing, boating, windsurfing, swimming, canoeing, fishing) to exploring the park by horseback, bicycle, hiking, or climbing. With a variety of camping experiences to be had including large group sites, this is one of the best campsites for new campers in BC looking for adventure! For more details and to book, click here.
Kettle River – Train Tracks and River Floats!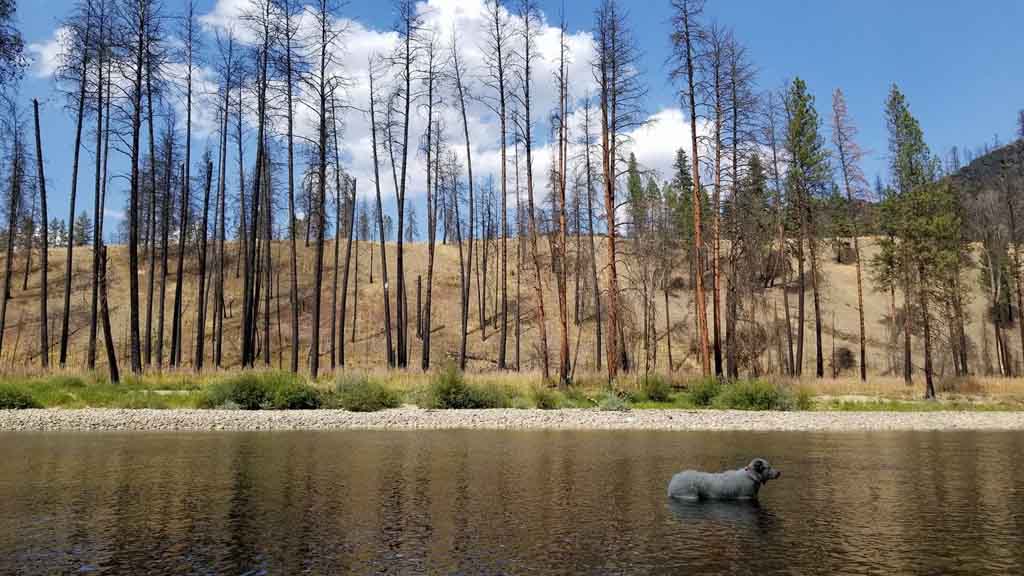 Chances are camping at Kettle River is on your bucket list, and if it isn't, it really should be. Known for the abandoned Kettle Valley section of the Canadian Pacific Railway and the excellent inner tube riding down the river, Kettle Valley is oozing history and adventure, all in one trip! Bring your bicycles and spend one day riding down the historic tracks and spend the next day floating down the river with the family. One family said, "Best amenities of any provincial park I've been in. Even the "outhouses" have flush toilets and sinks. The playground and dirt bike park are a great place for kids to make friends." – Lindsay Zaiser Summers. For more information on campgrounds and to book a site, click here. 
Chilliwack Lake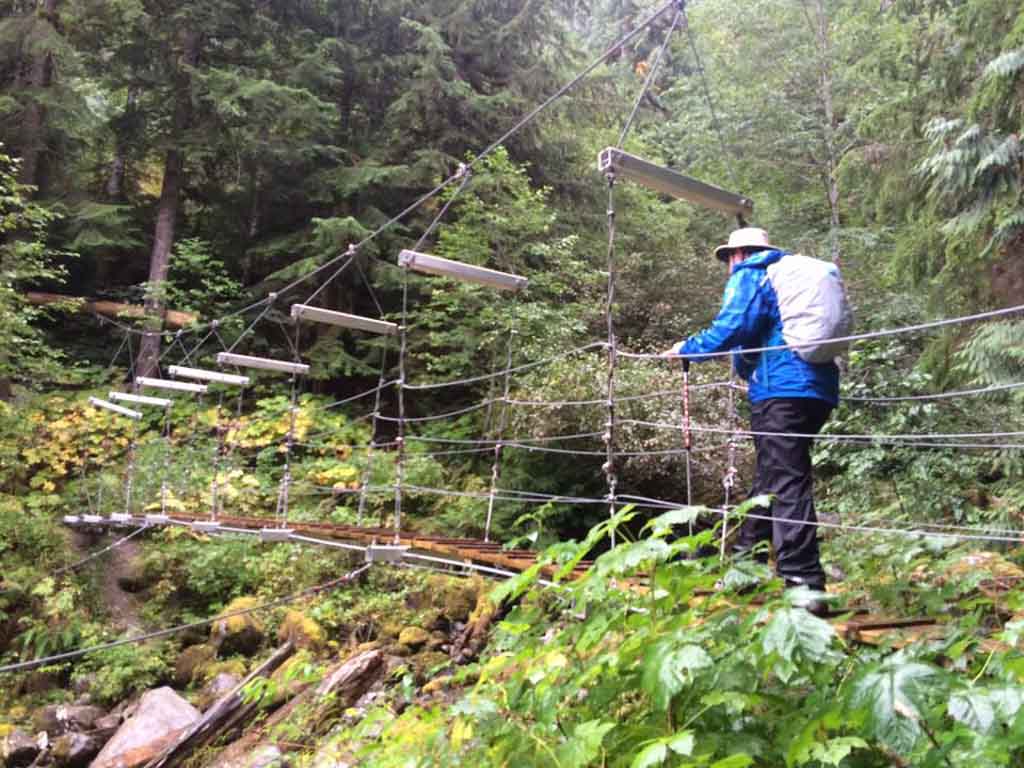 Rugged BC terrain welcomes you to Chilliwack Lake. but don't be deterred, that's not the only reason you'll love this park. A vast valley bottom lake surrounded by an old growth forest welcomes you to the Chilliwack River Valley. There families can explore all types of water activities including boating, water skiing, windsurfing, paddle boarding, and swimming. Want to skip getting wet, head off for a local hike and you'll explore amazing trails such as the one pictured above! Click here to book. 
Lightning Lake – E.C Manning Provincial Park
Almost everyone has driven through Manning Park on the way to their vacation but those who know it's secret choose to make this their destination. The secret? Manning Park is absolutely AMAZING! With a stunning, family friendly lake only a few kilometers from the highway, it's a shame so many people drive by.  Lightning Lake Campground is the perfect place for families to use as a base camp for adventure. From there they can kayak, canoe, swim, or hike around the lake! This destination is only 2 hours from Vancouver making it the perfect weekend getaway! To book, visit here.
Fort Langley National Park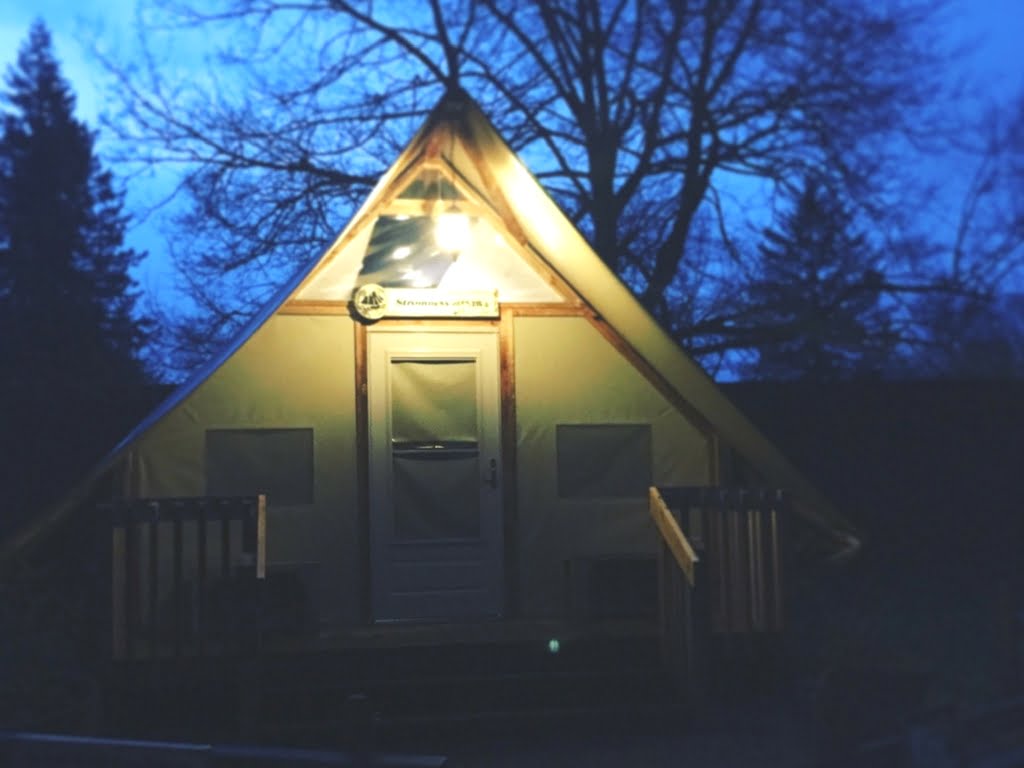 Imagine waking up in another century. That's what it feels like when you open your door at the Fort Langley National Historic Site. After a good nights sleep in an oTENTik you'll have the whole fort to yourself as you roam around and check out all of the attractions. Visit the blacksmith and ask him what he's working on, or ride bikes around the loop before you head back for a morning breakfast. The kids will love the freedom to roam and parents will enjoy sitting around a large campfire getting to know other campers. Tip: Bring Ear Plugs, the train runs through the night and will wake you if you're not a sound sleeper. Bookings open in January, visit here to reserve! 
Porpoise Bay Provincial Campground
Known as "The perfect base camp for exploring the Sechelt Inlet" this park provides guests more opportunities to discover than could ever be explored. One family said, ""Lots of places for the kids to explore at the park and around the Sunshine Coast too!" This park is in the middle of a second growth forest, surrounded with open grassy areas and sandy beaches. Water lovers will enjoy all of the activities from canoeing and kayaking, paddle boarding, swimming, and fishing. Or head for land and enjoy hiking, cycling, and time at the campfire. To book your site, visit here. 
Fintry Provincial Park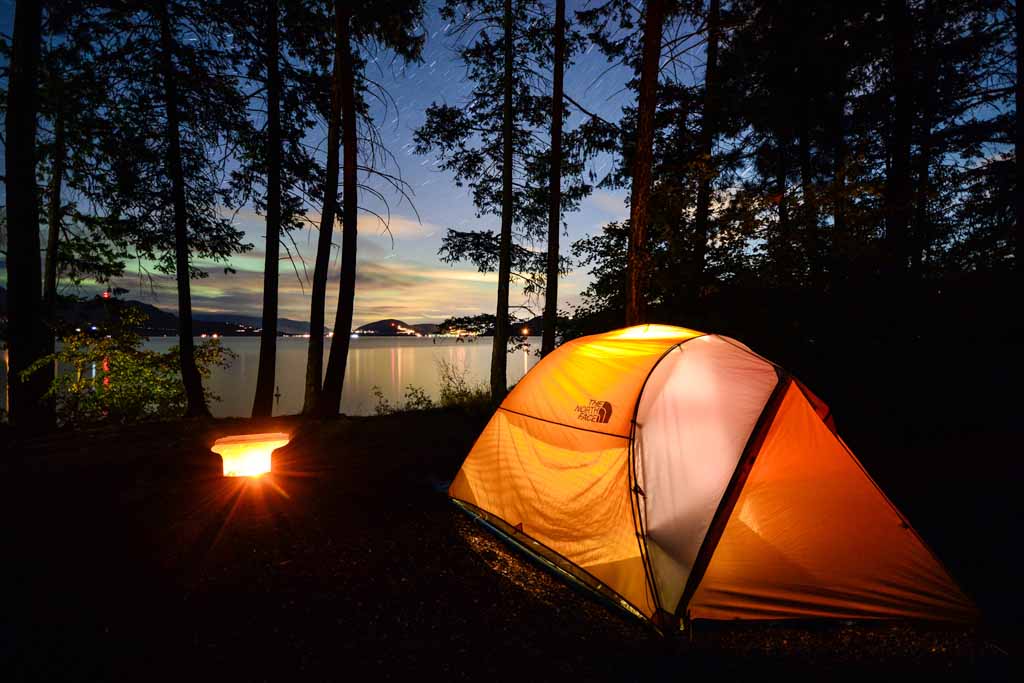 Fintry Provincial Park is a very unique park compared to many of BC's other Provincial Parks and the rest of the parks on our 'Best Campsites for New Campers in BC' list. With a rich history and fascinating geological composition, be sure to give yourself a few days to explore this park in full.  Families will love exploring the geology, both on the lake and by land. The park has two dramatically different topographical areas and families can explore over 2 kilometers of natural sandy beach waterfront, canyons and a series of waterfalls and deep pools. There's lots of opportunities for kayaking, canoeing, swimming, hiking, and hanging out at the beach. .
The historian of your family will enjoy visiting all the historic sites that were from the time when the 360 acres was the Fintry Estate. Visit the Manor House, the octagonal barn as well as other farm buildings. Naturalists will enjoy all of the different protected ecosystems to explore including the wetlands, which boasts a large eagle's nest, old growth cottonwoods, and waterfalls and kokanee spawning grounds. To learn more about this fascinating park and a piece of BC's history or book your visit click here.
Rathtrevor Provincial Park
"There is something about taking a ferry to Vancouver Island that really makes me feel like I'm on holidays. Rathtrevor Provincial Park is a favourite of ours, as there are so many fun places to visit nearby – Coombs, Little Qualicum Cheeseworks, the farmer's market in Qualicum, Parksville. Or you can just enjoy the amazing beach at Rathtrevor and explore the tide pools when the tide is out." This family sent us so many photos, not only of the amazing beach, but also all of the little day trips and local communities to explore that we could have done a whole blog just on this park. Needless to say, we will be booking an adventure there soon and we recommend that you do to! To book, visit their website.
Hicks Lake
Hicks Lake Campground is located just north of Harrison Hot Springs and is part of Sasquatch Provincial Park. Within Sasquatch Provincial Park there are three main lakes, Hicks Lake, Deer Lake, and Trout Lake. Hicks Lake is perfect for families as its ideal for motor boating and water sports (such as canoeing, kayaking, paddle boarding). This campsite made our Best Campsites for New Campers in BC list because it's very family friendly. Offering all the basic amenities campers needs as well as fun things for kids like a playground! Only 2 hours from Vancouver Hicks Lake is the perfect weekend getaway! To book, visit here. 
Miracle Beach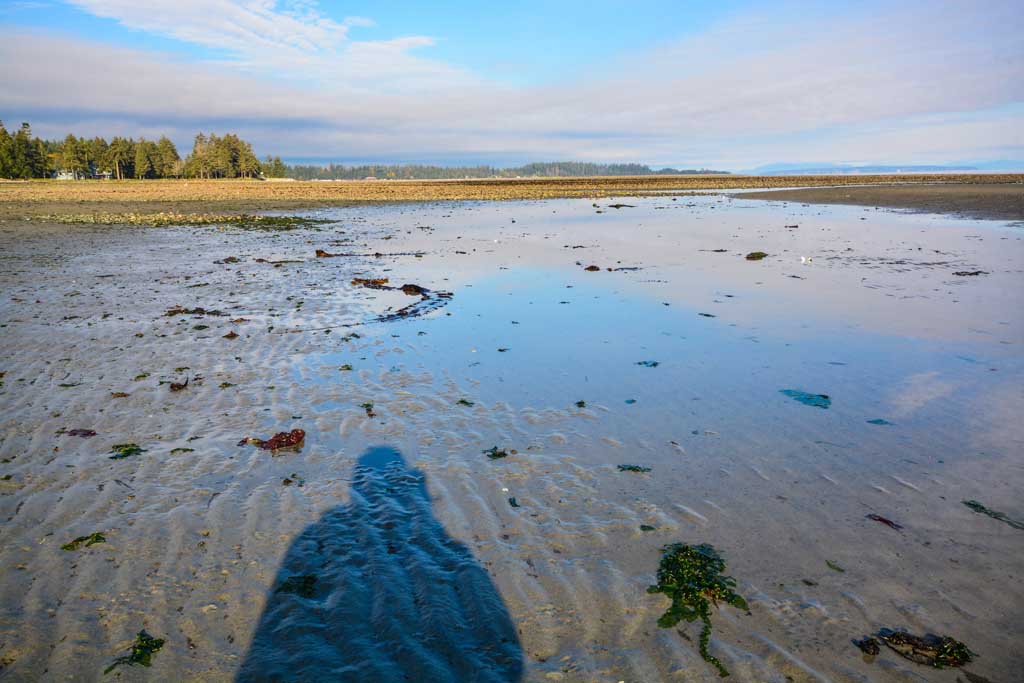 With a name like Miracle Beach I thought, "Can it really be that amazing to have that name?" But after hearing the recommendations from other families and doing a bit of research I can see why it's earned that name. As one of the "most popular family destinations in the Comox Valley" Miracle Beach provides visitors with a broad, safe sandy beach to explore. Load up the cooler with drinks and snacks and head down to the sand for an afternoon of sandcastle building, swimming, exploring tide pools, and playing in the sun. When you're ready to head back to your base camp you'll be welcomed to a private, spacious campsites, a playground, hot showers, a large picnic area, and lots of trails begging to be explored. This park has quickly made our summer bucket list so we just had to include it in our Best Campsites for New Campers in BC list! Book here. 
Alice Lake Provincial Park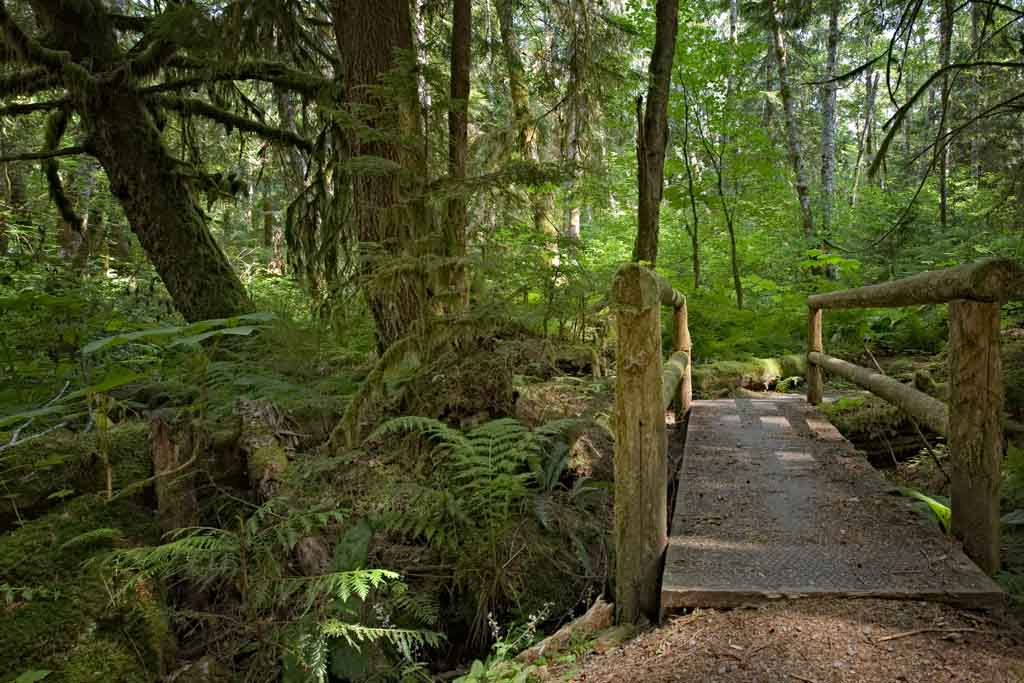 For over 60 years families from all around southern BC have been flocking to Alice Lake Provincial Park for summer fun. The park is unique in that there are four freshwater lakes that dominate the scene providing an abundance of swimming opportunities and lots of hiking in between each lake. Families enjoy the close proximity to Vancouver as well as all of the amenities that the park has to offer (such as washrooms, picnic areas, playground, mini bike park, great campsites, canoe rentals and more). This is one of the most popular sites on our Best Campsites for New Campers in BC list, so be sure to have your "game face" on when booking. 
Cultus Lake Provincial Park
A 1 hour and 20 minute drive from Vancouver is Cultus Lake, located close to Chilliwack. This park has 4 campgrounds with a total of 301 sites. Each campground has wonderful day use areas with beaches, swimming areas, picnic tables and lots of space for a family to spend the day. There are a variety of hiking trails to explore and the Adventure Park is a short drive away. Once you camp here the kids will be begging to come back year after year! Click here to reserve your spot!
Birch Bay State Park
This beachside oasis is the perfect weekend getaway for those who don't have a lot of time for travel. Set along the ocean this park offers guests 8225 feet of saltwater shoreline and another 14,923 of freshwater shoreline found on Terrell Creek! Visitors will enjoy a variety of water activities including digging for clams (don't forget your license), wildlife viewing, sandcastle building, crabbing, windsurfing, sailing, paddling, and swimming! When you're family is ready to slow down for the evening, head back to the kid friendly campsite and enjoy some of the parks programs including environmental educational programs. To learn more visit here.
For another camping adventure in Washington check out The Glen at Maple Falls!
Ross Lake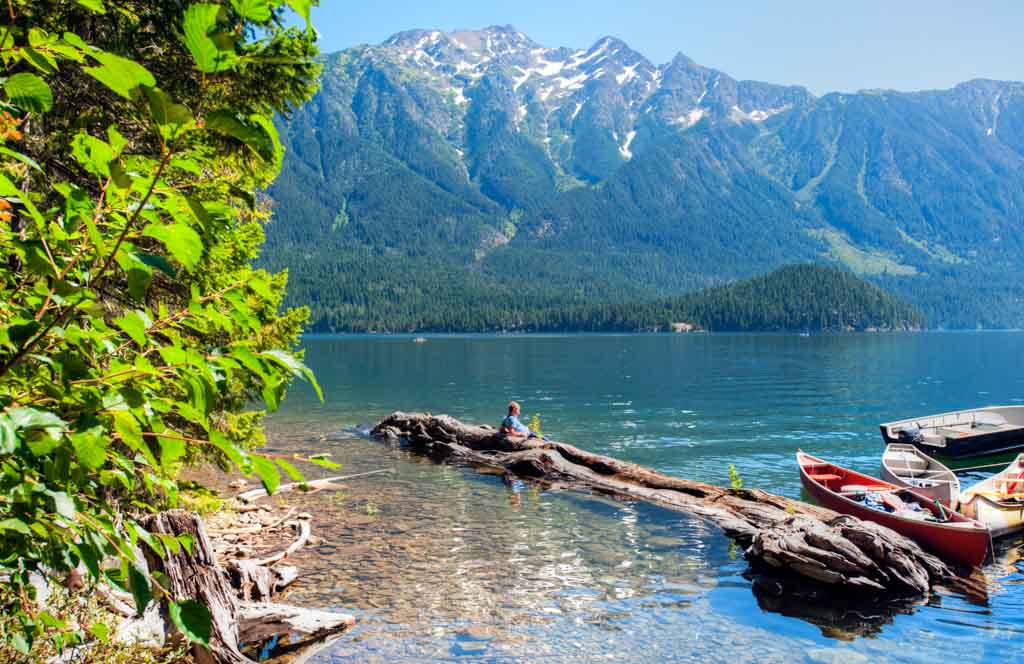 Readers and campers alike have recommended Ross Lake as the perfect destination for new campers. It's approximately 3 hours from Vancouver letting you get far enough away that you feel like you're on vacation, but close enough that you can commute after work. Visitors can enjoy a variety of activities including boating, canoeing, kayaking, paddle boarding, and swimming. To book and find out more information, check out their website.
Horne Lake Regional Park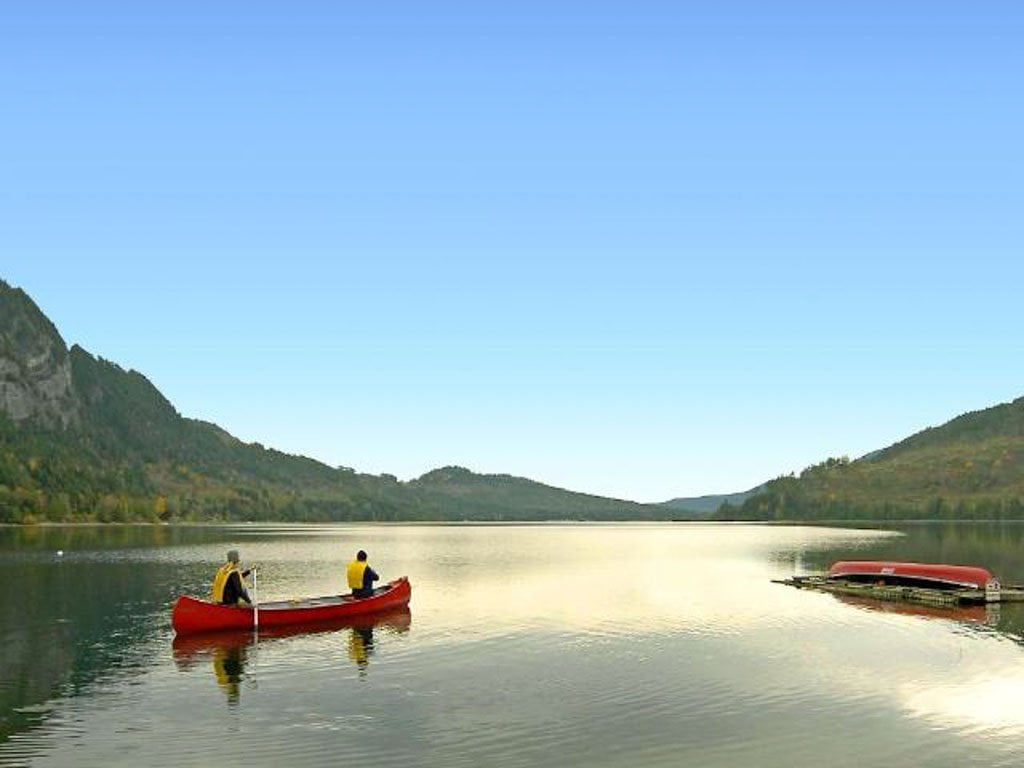 Located 45 minutes North of Nanaimo, Horne Lake Regional Park has so much to offer visitors! There are 5 kilometers of lake and riverfront to explore, making it the perfect destination for water lovers. Rent canoes or kayaks and explore the water or jump out and swim in the lake. Or head next door to Horne Lake Caves Provincial Park and go underground to explore mother nature's cave creations! Check out this video for a sneak peek! Bookings open April 1st at 8:00 am and can be made here.
Longer Adventures
Ready to take a long haul and go the distance? Here are the best campsites for new campers in BC that are worth the drive:
Green Lake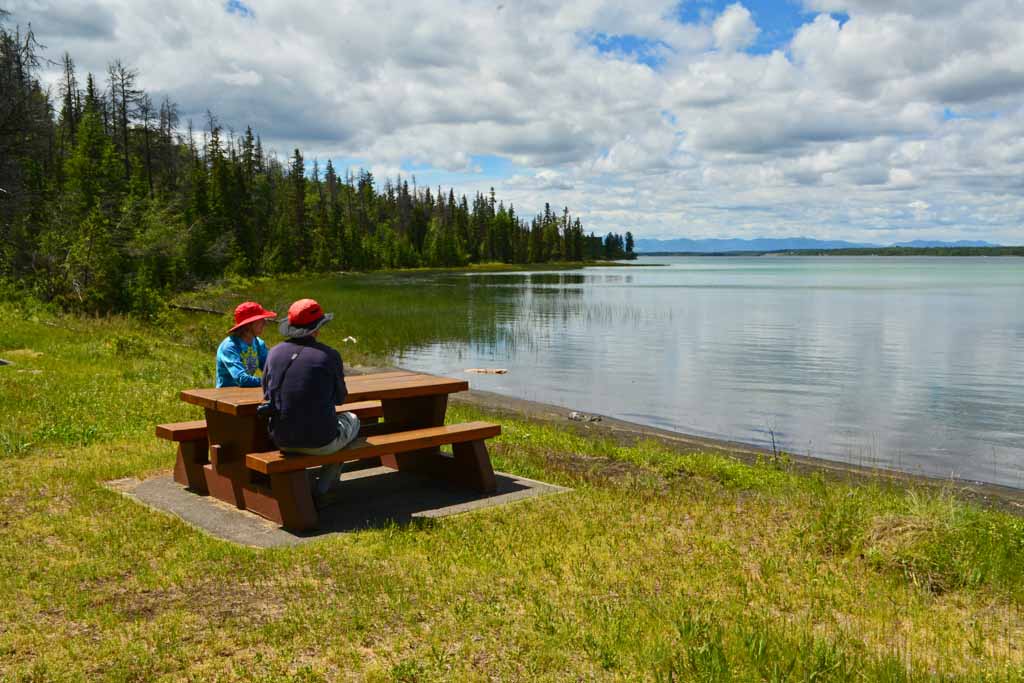 Located just East of 70 Mile House, this provincial park is home to 3 separate campgrounds, and is located on one of the largest bodies of water in the South Cariboo area of BC. Home to incredible fishing, endless boating, hiking, playgrounds, and picnic areas, there is no question why families make the 5 hour trek from the Lower Mainland year after year to this lake. Visit here to book!
Barkerville
Step back into the BC Gold Rush days with a stay at one of 3 campgrounds located in Barkerville, an 8 hour drive from Vancouver. The campsites are equipped with playgrounds, showers, flush toilets, pull thru spots (perfect for RV's) and are wheelchair accessible. Barkerville is a Government of Canada National Historic Site and the whole family will love exploring the 1,130 acre park that is home to over 100 historic buildings and 200,000 historic artifacts that were once part of the booming gold rush town. Click here to find out more and reserve a spot!
Are you interested in renting an RV for your next camping trip? Click here for more information.
Now that you are armed with this extensive list of fabulous family-friendly campgrounds, we hope you enjoy sitting down with your family and figuring out which one to book and explore first! Camping is such an iconic BC summer activity and we can't wait to hear all about your camping adventures, so please share with us!
Now that you know the best campsites for new campers in BC, check out these other blogs for some more great camping information!:
Friends invite you to camp with little notice? Here's How to Pack for a Last Minute Camping Trip!
When venturing out camping it's always best to be ready. Here's some great information on
How to Be Prepared for Ticks and General Bear & Wildlife Safety Tips