As I stood inside the Fortress of Louisbourg, my arm was shaking ever so lightly as I lifted it up to ignite the wick. A boom that resonated through my body went off, and with that cannon my Canada 150 dream came true!
Our whole East Coast Adventure had been planned around us staying at the Fortress of Louisbourg on Canada Day. I wanted to set off a Cannon and I was fortunate enough to be able to set off the first canon of the year, on July 1!
The Fortress of Louisbourg National Historic site is a reconstruction of an 18th century French Fortress. The present day fortress is the result of a 20 year reconstruction project, the biggest in North American History. The park itself is huge and is a living museum. The streets are filled with actors and the town functions like a real town would have back in the 1700's, with a fish shop, bakery, armed guards, and a place of worship. After seeing the Fortress of Louisbourg on Amazing Race we knew that it would be the ultimate place to celebrate Canada's 150th!
Recommended Experiences:
Self Guided Tour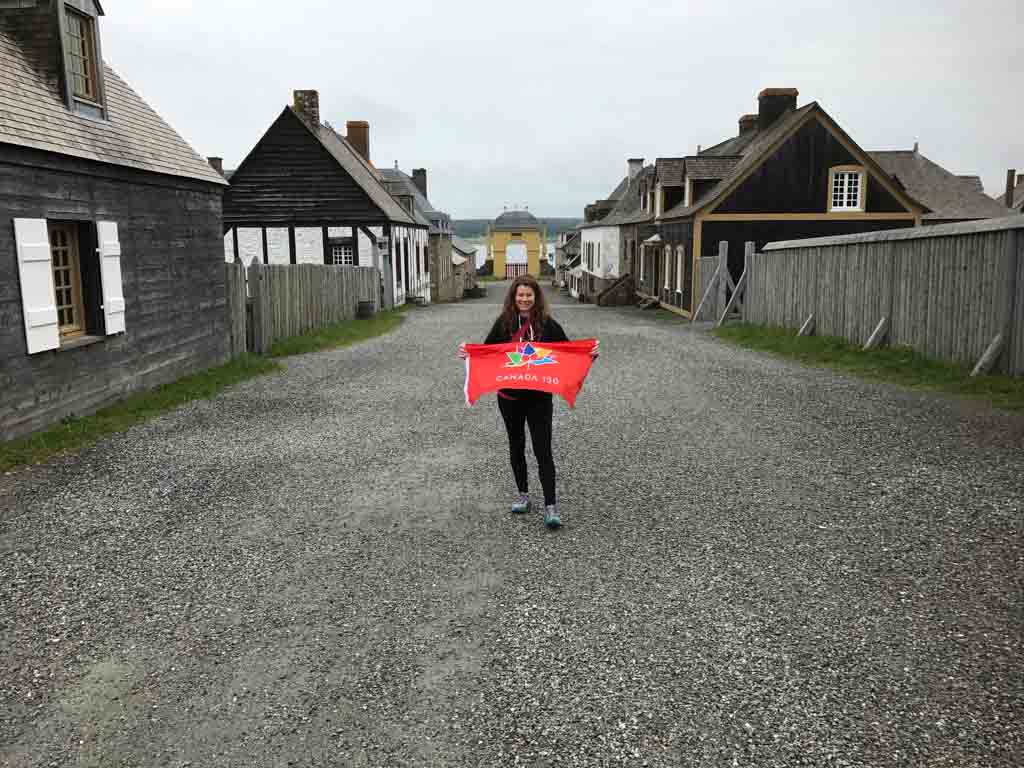 The sheer size of this historic site is hard to believe until you're actually here. With over 40 exhibits, street entertainment and special programs, there's lots to see and do while you're here. We spent the whole day at the Fortress and didn't get to go to everything!
Fire Off a Musket!
After I got to fire a cannon it was Jason's turn to fire a musket. He was a bit surprised to find himself in the middle of a demonstration but was up for it as he donned the traditional gear. These parks experiences are an additional cost but worth every penny. Such a unique once in a lifetime opportunity that I highly recommend!
Sign Up Your Kids For the Rookie Tour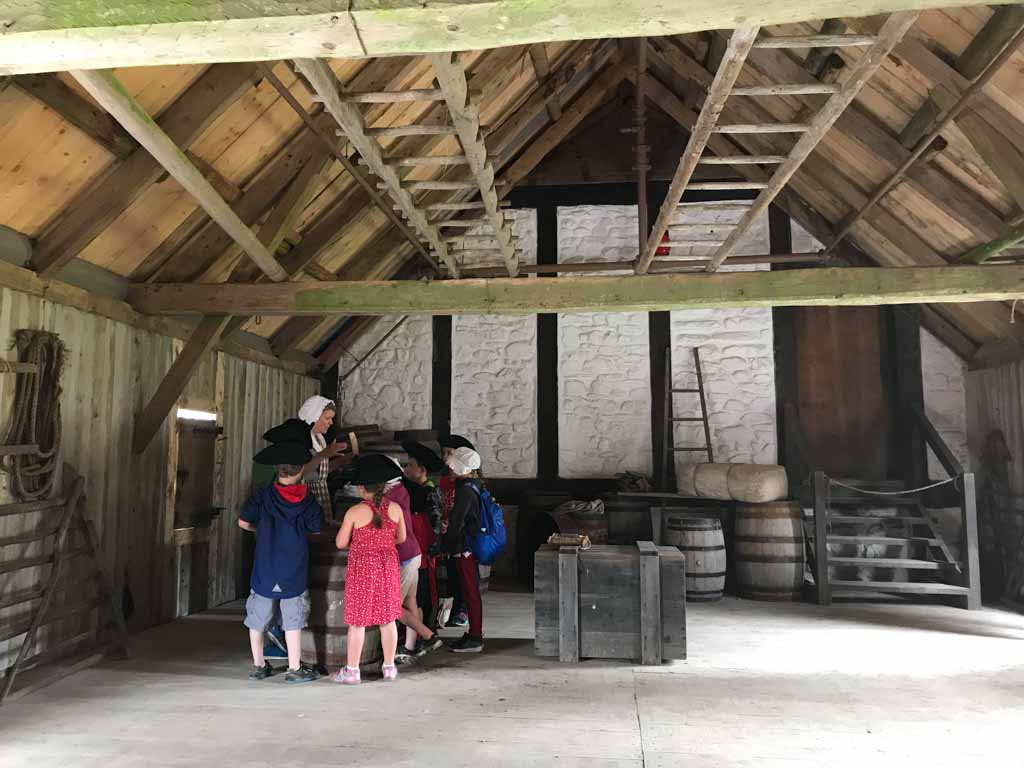 My kids took off on their own tour (of course we followed for pictures) where they got to see what life was like for kids at Louisbourg. Children as young as 7 would be put to work and they took training on how to do each task. From marching and carrying muskets, to gardening and feeding the animals, to learning how to clean a fish, this hands on program was educational and fun. They even got a special certificate signed by the king upon completion!
Tour Around Town
Walking around town was a ton of fun and there was entertainment at every corner. Whether it was hopping into one of the houses or businesses or waiting for a street performance to pop up, there was no shortage of things to do!
Taste the King's Bread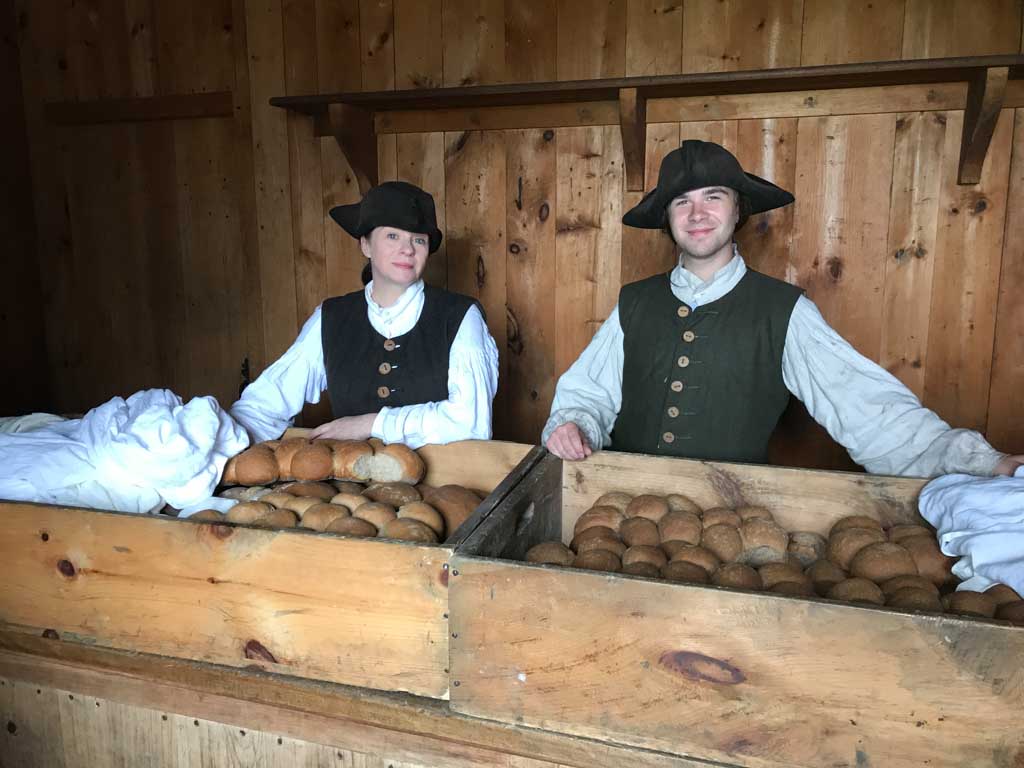 A stop at the King's bakery is an absolute must for visitors! You'll see everyone walking around town with brown paper bags and as soon as you get close to the bakery you'll know why. There's nothing like the smell or taste of fresh baked bread, a real treat – no matter what century you're living in!
Soak In The Sights and Sounds of 1740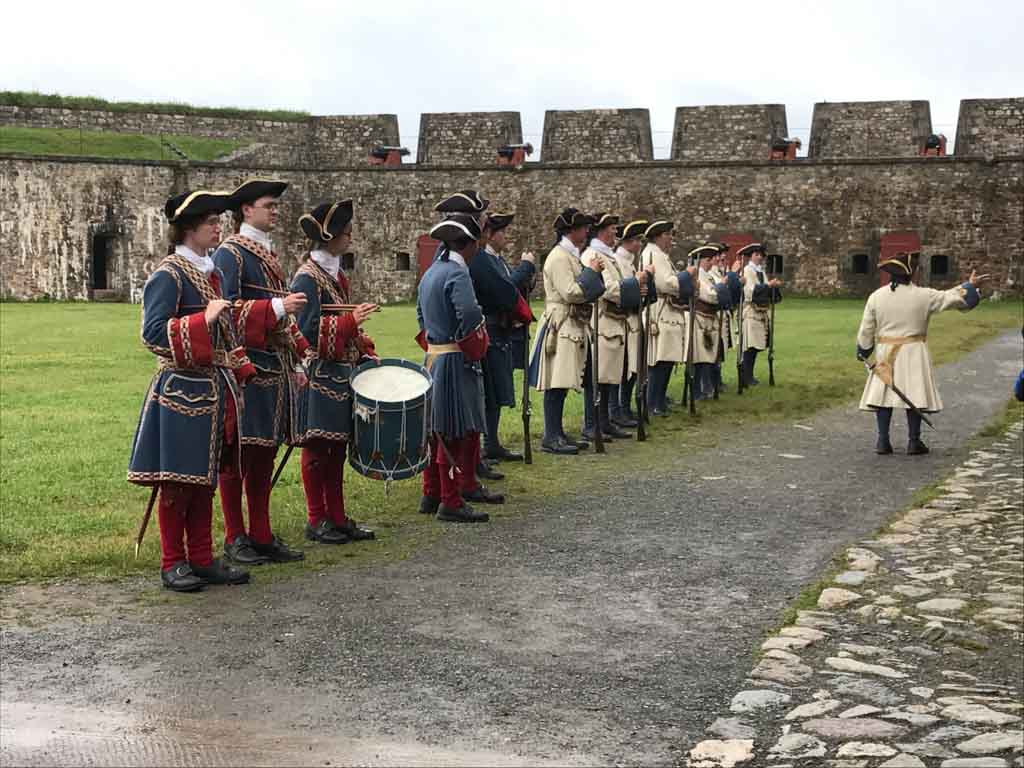 The living museum is a really neat experience as you never really know what's going to happen next. (Okay, if you're following along the schedule you will, but the kids sure didn't know!) From public shamings, to children's theatre, to marching processions, there's something happening around every corner!
Private Experience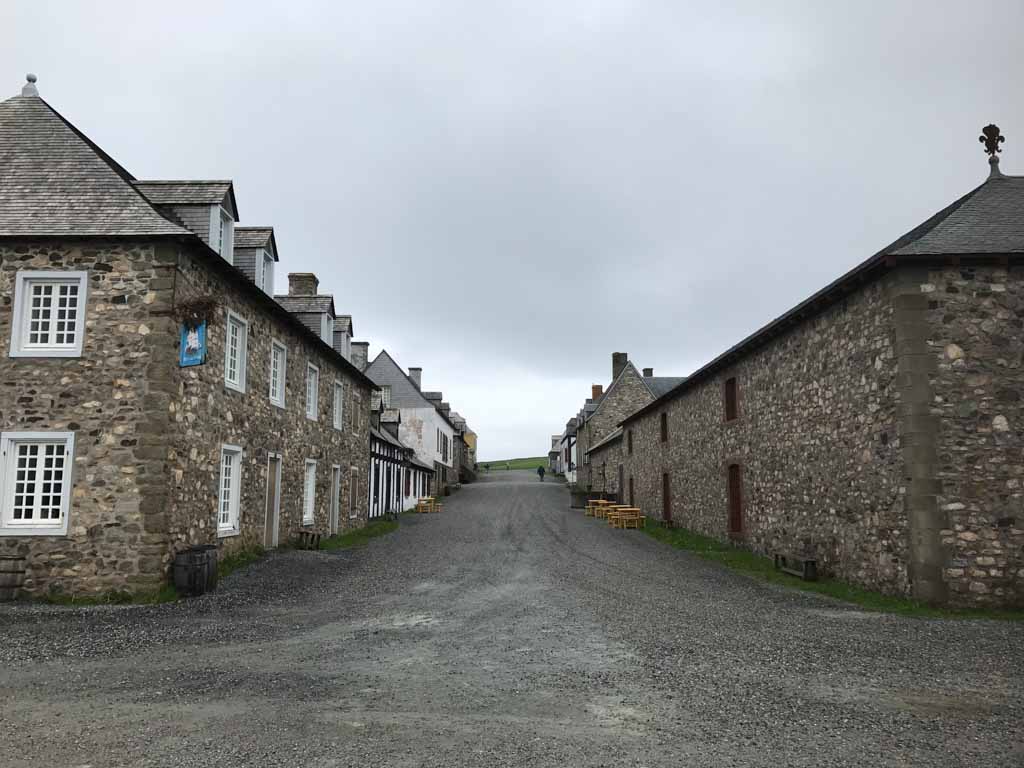 One thing that was quite unique was waking up inside the Fortress and having the place to ourselves before the public arrived. It was neat to wander through the streets and watch the town "wake up" in the morning.
Stay in Unique Accommodations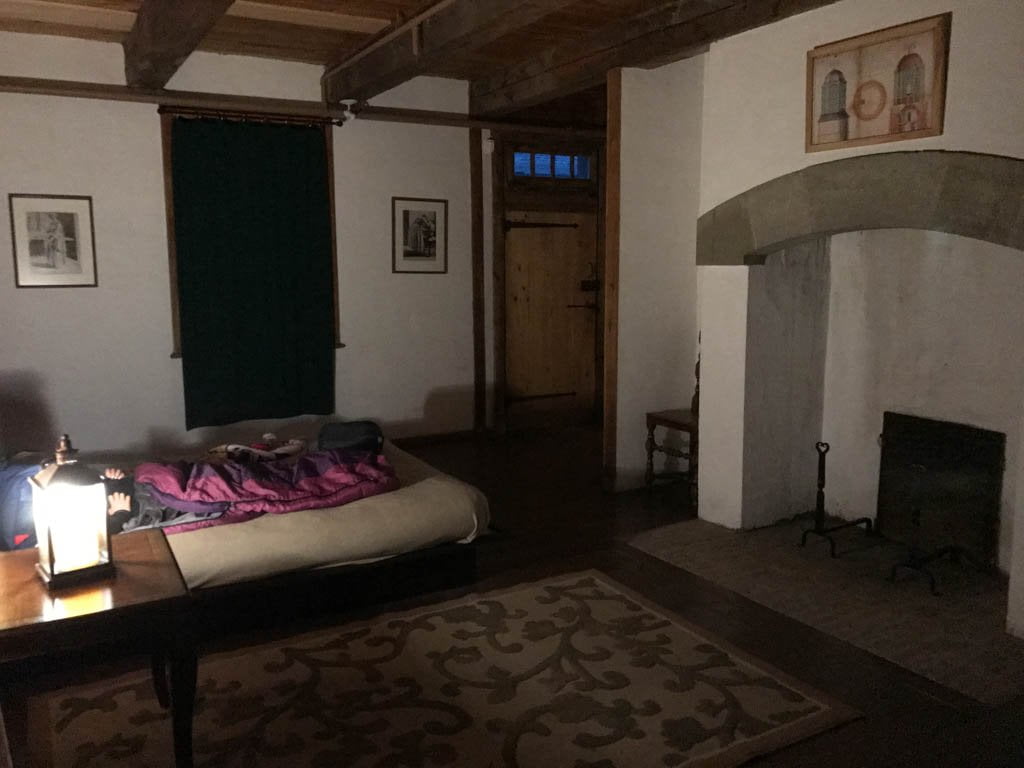 We stayed at the Fortress for two nights enjoying Parks Canada's unique accommodations. The first night we stayed at the Lutwig House, a house that was originally built in 1683. A fisherman who then became a judge lived here with his 12 children, and held court regularly in the foyer. It was a very comfortable experience, with two queen beds, washroom and kitchenette.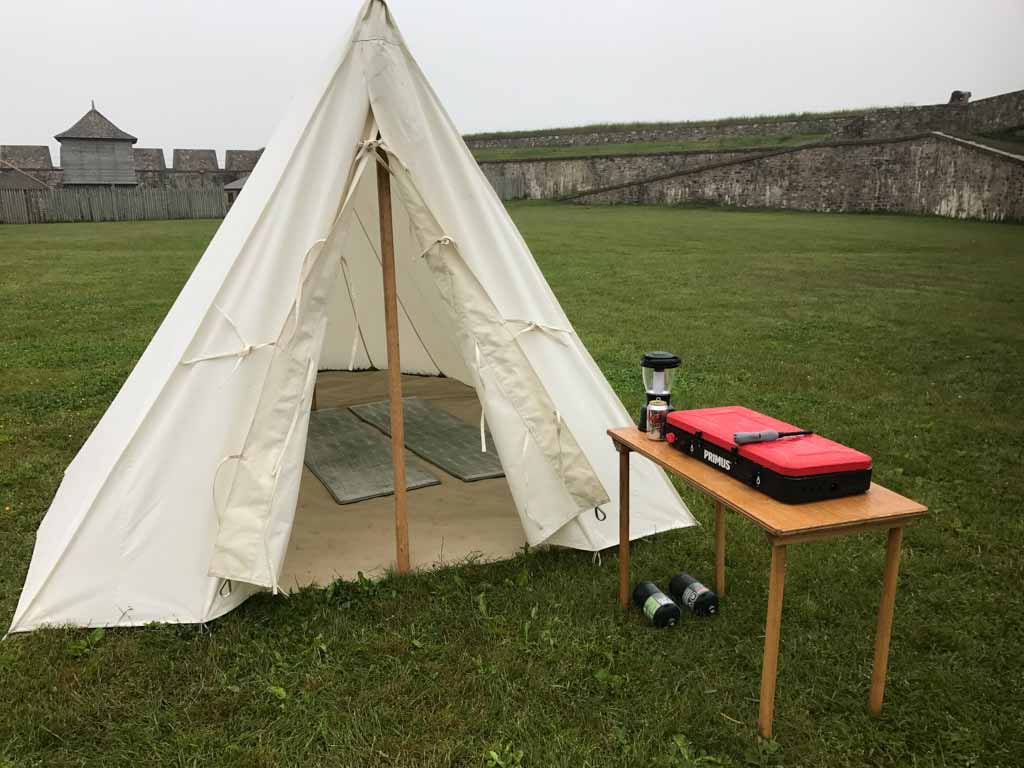 On our second night we camped out in the back yard in an 1800's equipped campsite. We were supplied with a canvas tarp and tent, a foam mattress and brought our own sleeping bags to cuddle into. Outside we had a campfire, stove for cooking, and washrooms close by. The tents were big and warm and a really fun experience for Canada Day.
Make New Friends Around the Campfire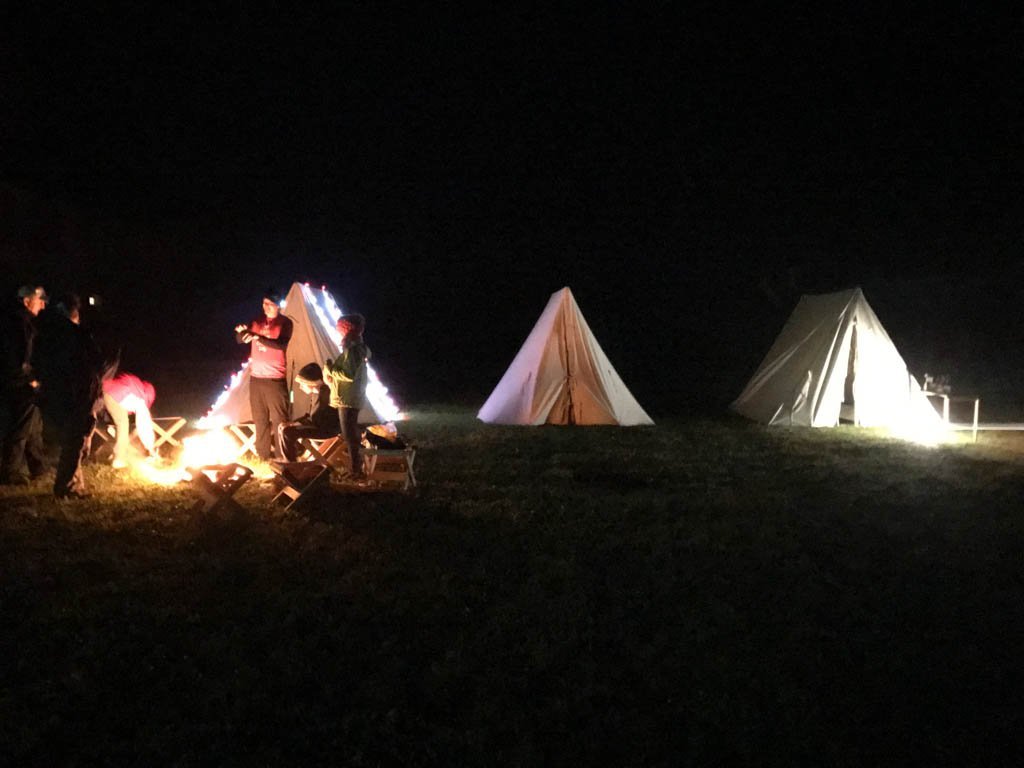 It was a really cool experience to celebrate Canada Day with other families from all around Canada. We had two other families who were staying in tents next to us, one from Quebec and the other from Vancouver. What was the most interesting to us was that the Quebec children didn't speak any English and our children didn't speak any French, however they all got along and played on the field for hours after it got dark! Does it get anymore Canadian than that?
When you go:
Give yourself a lot of time!

Book an experience or two

Get bread from the Kings Bakery

Bring walking shoes, snacks and water

Take part in the Beggars Dinner that night!
Is this a sponsored post?: Yes, however my opinions and reviews are my own.
Read more about our East Coast Adventures here:
Cape Spear National Historic Site
Signal Hill National Historic Site
How to Explore St. John's in One Day
Hunting for Icebergs in Newfoundland
Terra Nova National Park
Gros Morne National Park
All Aboard – Gros Morne Boat Tour! Music, Memories and More!
Butterflies, Bugs and Bees – Hands on Experiences at Newfoundland Insectarium
Silver Dart Lodge
Cape Breton Highlands National Park
PEI National Park
Stepping Back to Simpler Times at Shaw's Hotel
Learning the Lobster Trade with Top Notch Charters
What Brings You to PEI May Not Be What Keeps You There…
East Coast Road Trip Summary